All this week I am joining with Carolina from 30 Minute Crafts for some Craft Lightning. Each project this week will take you 15 minutes or less to complete (minus dry time). Be sure to head over and join in the 15 minute or less craft linky party for a chance to be featured this week.
I love how this painted garden stool turned out and I love that it is just like the Ballard Designs original. How much? I got this stool for $10 at a yard sale! My friend Myra at My Blessed Life made over a stool like this many months ago. Y'all I have been stalking the thrift stores ever since. This just goes to show you that perseverance really will pay off!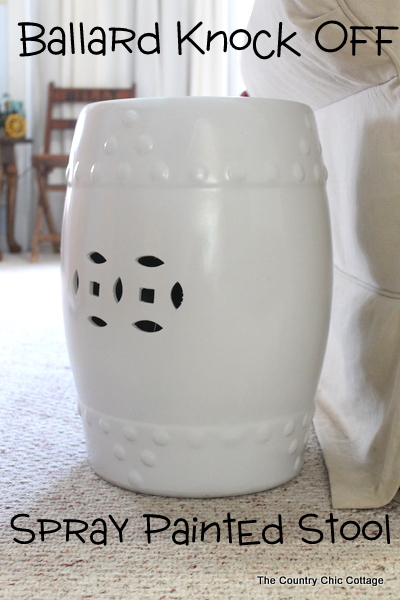 Ready to see what it looked like before I painted it? Oh yea that floral beauty below. This really goes to show you that you should always look at the shape of things while you are thrifting and ignore the color/pattern.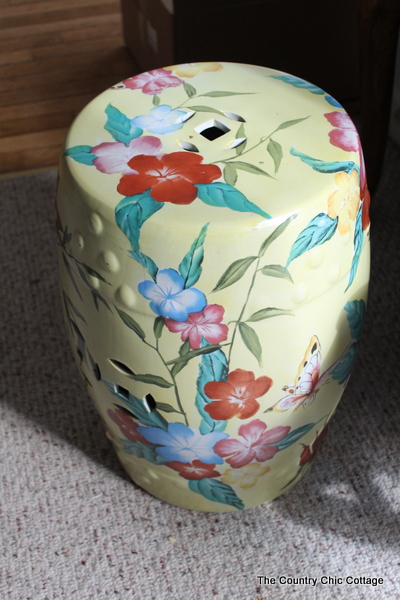 I gave this stool a few coats of Krylon Dual (paint and primer in one). Spray a few light coats on your items instead of heavy coats that tend to drip. Luckily our 15 minute craft week does not include dry time. But in less than 15 minutes of hands on time and for under $20, I had a stool that looks like it stepped right out of the Ballard catalog. You have to love that. This one is currently outside on the deck as a place to rest my drink while I am relaxing. It is perfect!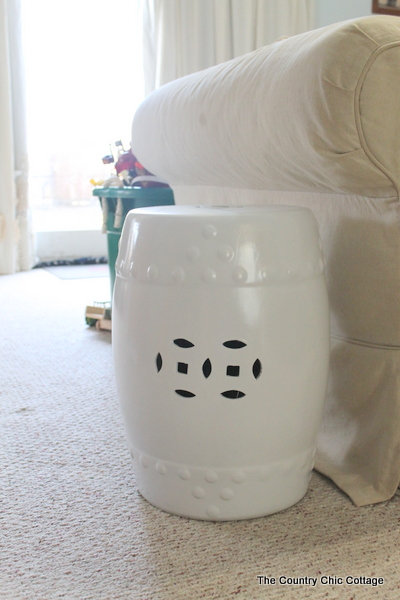 This is just day 1 of Craft Lightning week so y'all be sure to hang around. Every morning I will post a quick craft that takes 15 minutes or less to complete. Then you can head over to 30 Minute Crafts to see the quick craft that Carolina posted. Then each afternoon I will post a round up of quick crafts from some blog friends that are joining in the fun this week. I will also feature one quick craft each afternoon from the linky party so be sure to link up YOUR quick craft. I hope y'all will stick around all week for the fun — Craft Lightning is one of my favorite series!