It is time to start looking at planter ideas and sprucing up your outdoor space. Whether you are planting flowers or edible plants, a planter is a great way to grow anything in a confined area. You can use your porch or patio to grow some vegetables or just some gorgeous flowers.
This post is sponsored by Old Time Pottery, however, all projects and opinions are my own.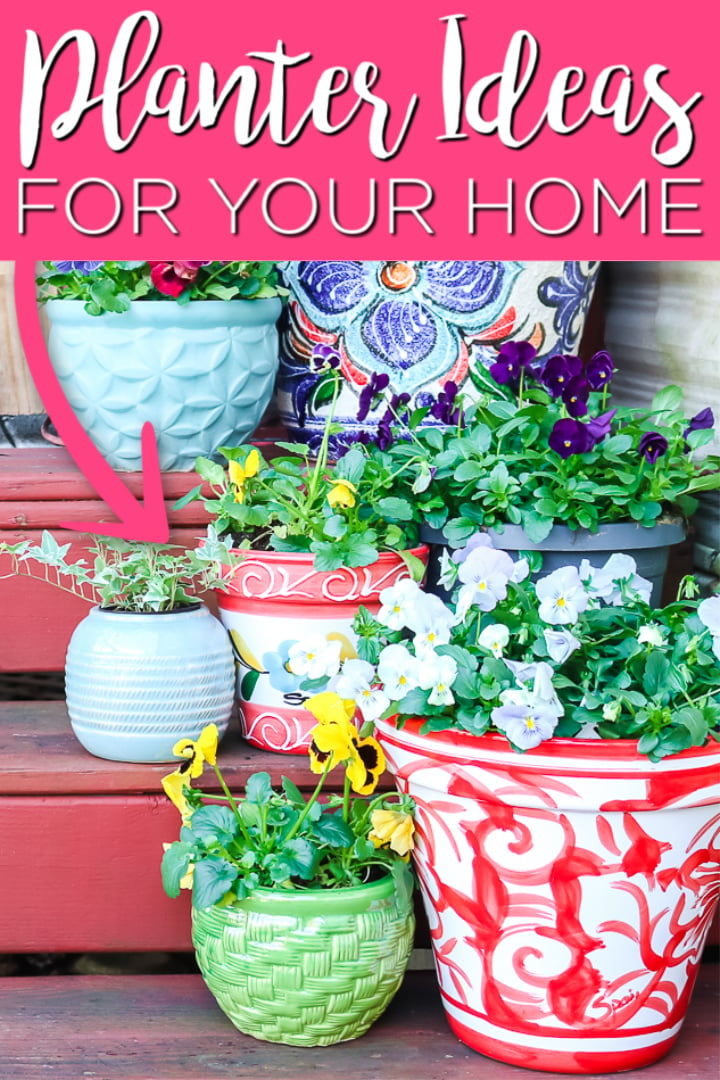 Planter Buying Tips
First, you will need to purchase your planters. Here are a few tips for picking the perfect pots for your plants as well as the area you have:
Look at the tags on your plants to see how tall and wide they will get. Pick a wide variety of planter sizes depending on the final size of the plants.
Drainage is key when it comes to planters so make sure either your pots have drainage holes or you add rocks to the bottom.
Add height with a variety of planters in different sizes. This will allow you to create a layered look easily.
Create a color palette and use that when shopping. Buy planters that all coordinate for a cohesive look.
When purchasing planters, use the tips above and you will want to shop a location with a wide selection. I love heading to my local Old Time Pottery as they have a huge selection and I can mix and match my pots right there in the store. Plus, I can pick up other items I may need to spruce up my patio while I am there. NOTE: You can also shop online and pick up if you are nervous about going into stores right now.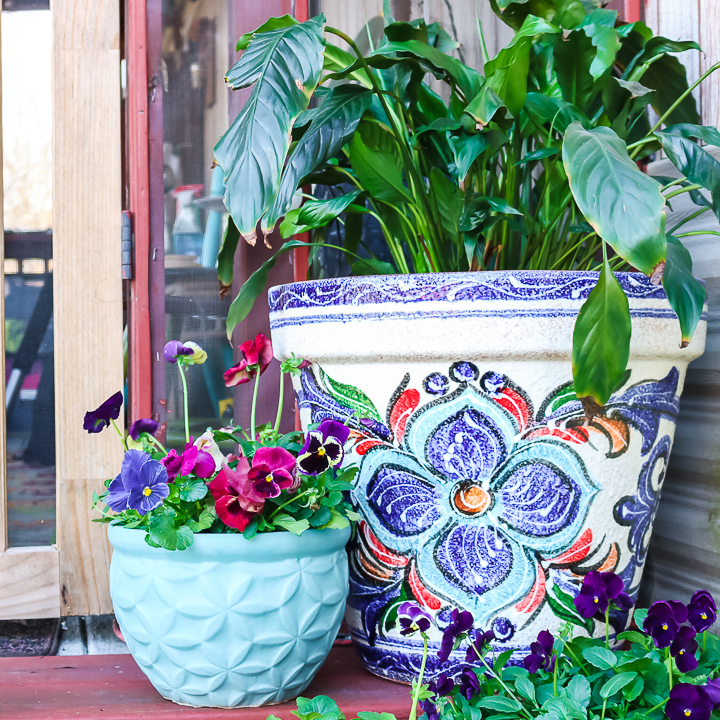 Picking Plants
If you are struggling with what to put in your planters, we have some help there as well! Here are a few tried and true tips:
Will you be adding your planters to the sun or shade? Be sure to pick plants that will work in the area.
You can also use the color palette we talked about for the planters to pick the flowering plants. Keep everything in the same hues to make a statement or throw in an odd color occasionally for some variety.
For large planters, consider adding more than one type of plant to fill it in. A good rule is to add something that thrills, something that fills, and something that spills. That will make your containers look full during the entire season.
Considering growing vegetables? If your plants will run, consider using a trellis inside the planter for vertical height and to help keep the plant contained.
Now you have your plants and planters, it is time to grab those gardening gloves and make your own container garden.
Adding Plants to Pots
You might think this next part is easy but you can give your plants the best start with our tips:
Above all else, choose a good quality potting soil.
Leave room in your planter for everything to grow but fill them up with plants in order to get a bit of instant satisfaction.
Make notes from the plant tags before discarding them. Are there any special care instructions that you need to be sure to follow?
Be sure to add enough soil to your planters. You don't want air pockets.
Water once you have added your plants in and regularly after that. Planters can dry out very quickly so check every day or twice a day to keep your plants healthy.
Fertilize every few weeks for maximum growth.
Don't be afraid to mix it up! You can even add an edible vegetable plant in the same container as flowering ones.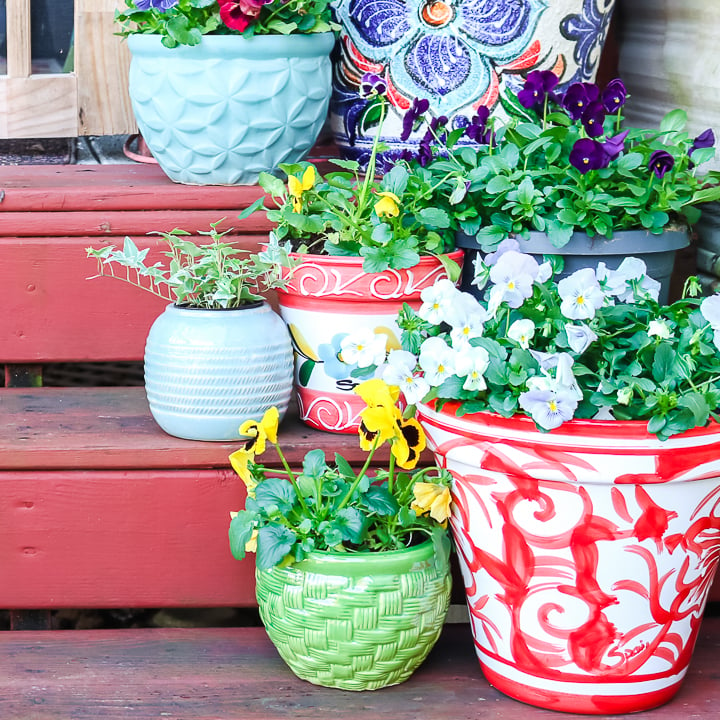 Planter Ideas for Display
Now that your plants are in their homes, how will you display your container garden? There are so many options!
Vary the height of your planters so you have tall ones in the back with shorter in the front.
Buy or make a plant stand to give height to smaller planters. You can even add those smaller planters to tree stumps or concrete blocks for a budget friendly solution.
Create a cute display on the stairs leading up to your porch for height that is built right in.
Add hanging planters to your display to get some color up high.
Porch railings are also great for smaller planters or you can add hooks for hanging baskets.
Think outside the box for locations for your planters. You might just find a new spot that looks amazing with a colorful pot.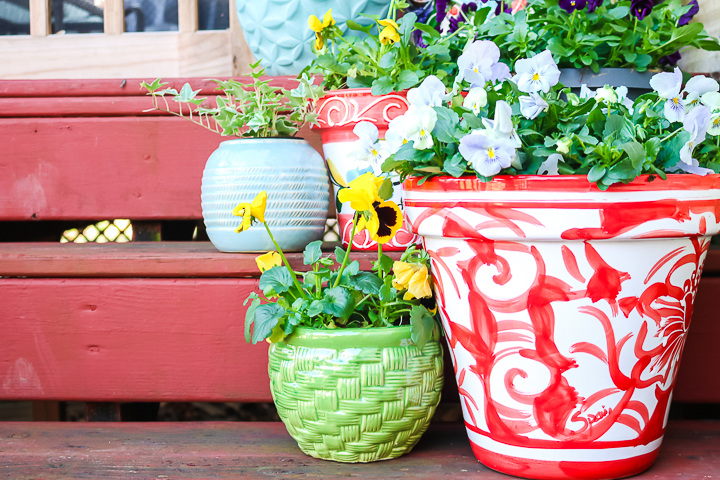 I used all of the ideas above and picked up my favorite planters from Old Time Pottery. I mean look at those colors!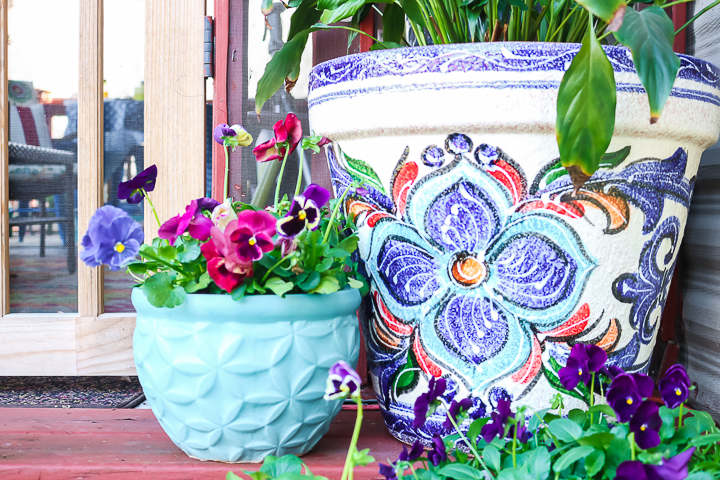 I then added in a variety of plants and added a display to the porch steps. I love how colorful this area is and how the planters set it off!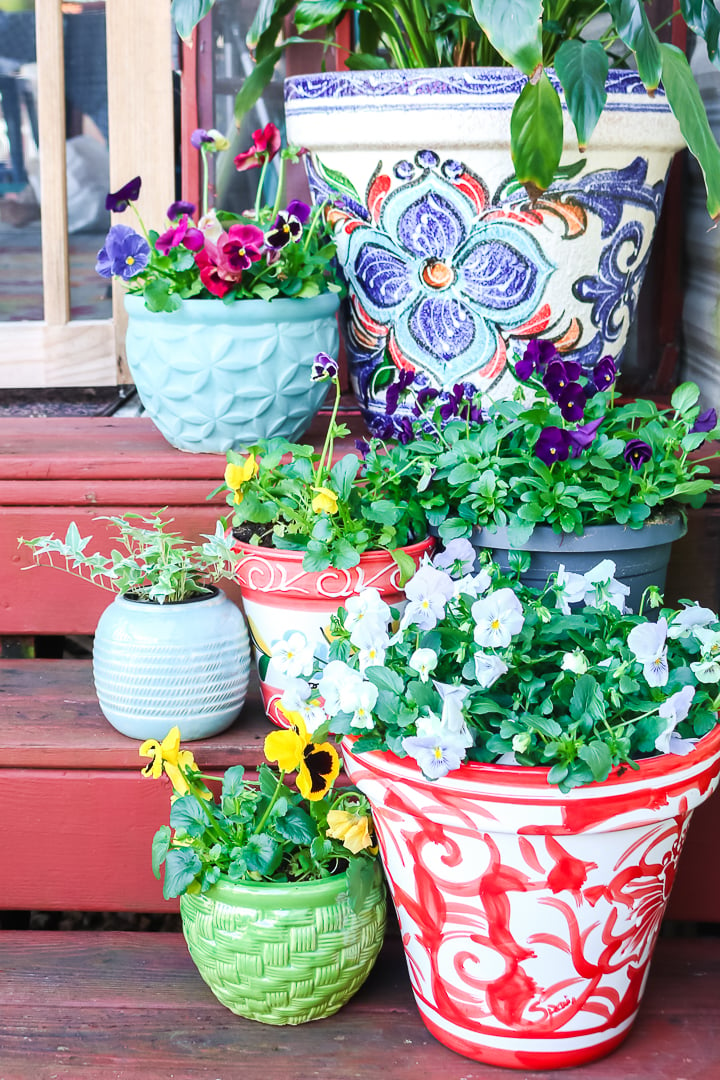 Will you be using a few of these planter ideas in your space? I hope this has inspired you to shop your local Old Time Pottery and create a container garden for your home this season.