I have a treat for y'all today. These printable mason jar gift boxes are going to knock your socks off. My friend Jen Goode from 100 Directions is here to share them. Jen is a super talented artist and she has agreed to share her brilliance over here once a month. I am thrilled to have her and this is a fabulous way to kick off her contributions here at the cottage. Take it away Jen….
I love wrapping gifts and finding fun ways to dress up boxes. Usually the small gifts are the most difficult items for me to wrap. Finding small boxes I like and then wrapping them up in pretty paper can be tricky, especially if you're an all thumbs kind of gift wrapper. So instead, I've created some printable gift boxes, already decorated and ready to go! I know how much Angie loves jars, so I thought it would be fun to make little boxes designed as mason jars, complete with little jar lid box tops. These printable gift boxes are really simple to make. Just download, print and glue together. You can dress up each box to give it your own personal touch by adding ribbon, glitter or other pretty accents. You can even color each paper jar however you like. Have fun!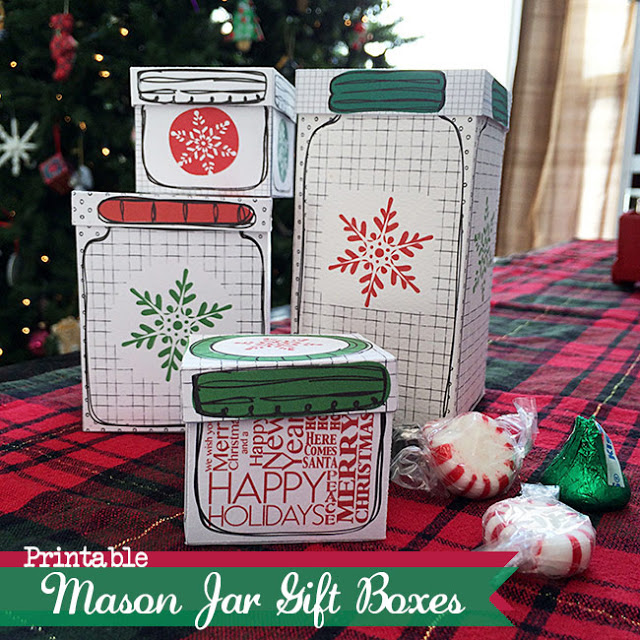 Worried about running out of ink with these pages? Did you know that if you have an HP printer you can print for just $0.03 per copy? Check out (affiliate link) HP Instant Ink and start getting your prints and ink for cheaper today!
Some tips using these Mason Jar Gift Boxes (click this link to print your own copy):
Score along the
RED
lines before cutting out the box pieces, Then folding will be much quicker.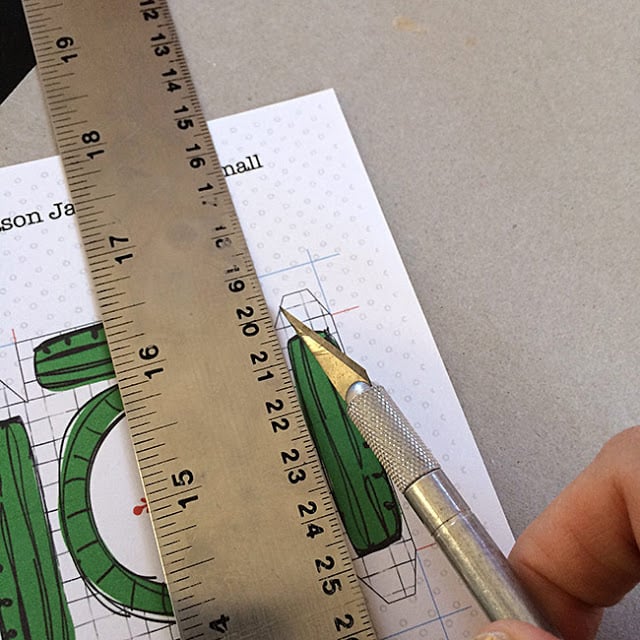 Next trim along the edges of each box piece. There are
BLUE
lines on each printable to help you.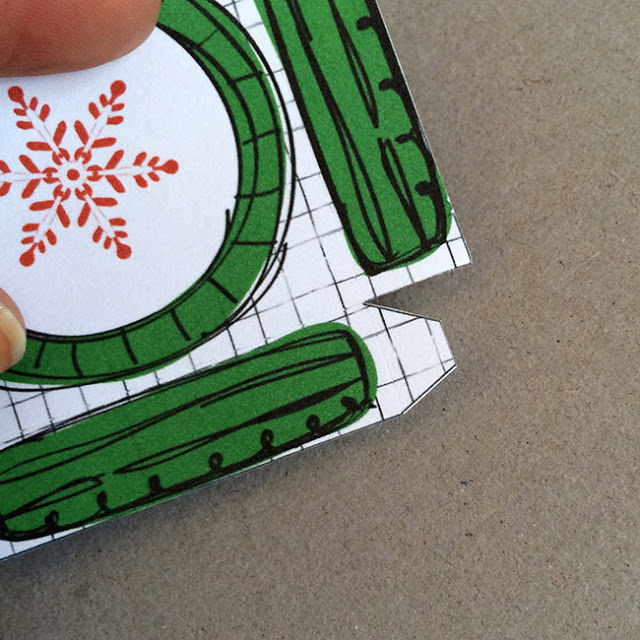 Fold where appropriate before gluing any tabs in place, this makes it a little easier to get nice clean fold lines.
When gluing edges in place, make sure to glue along the side edge before gluing any bottom flaps. The bottom flaps can be left unglued – folding only, but I recommend gluing the bottom flaps together if you plan to fill your boxes with anything heavy.
If you want a more sturdy box, print the box design on paper and then adhere to a piece of cardboard, such as a recycled cereal box, because scoring, cutting and folding.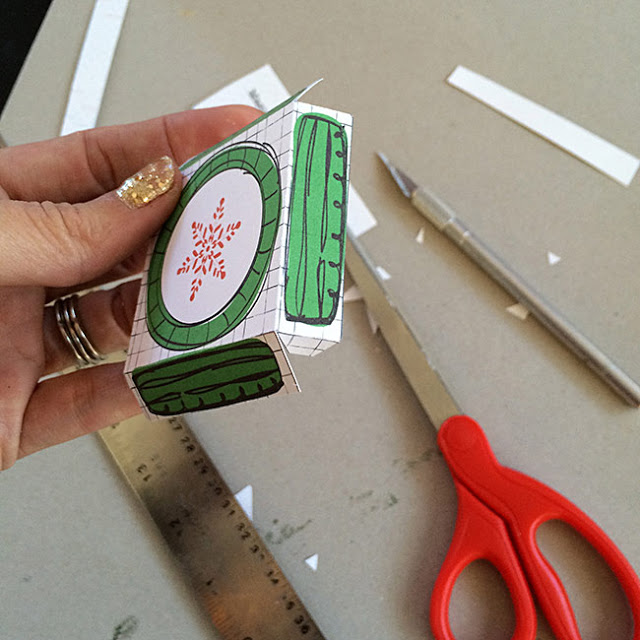 Mix and match the mason jar gift boxes however you'd like. You can stack them or use them separately. Add your own ribbon to dress them up, or simply use the box and lid sets as is.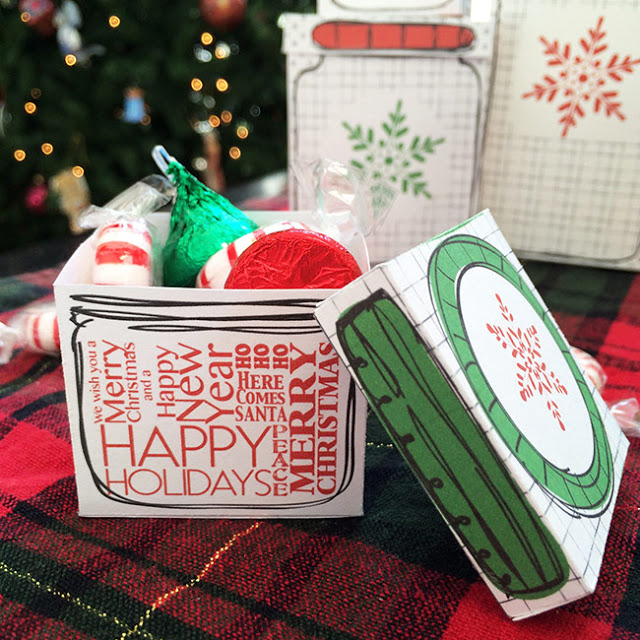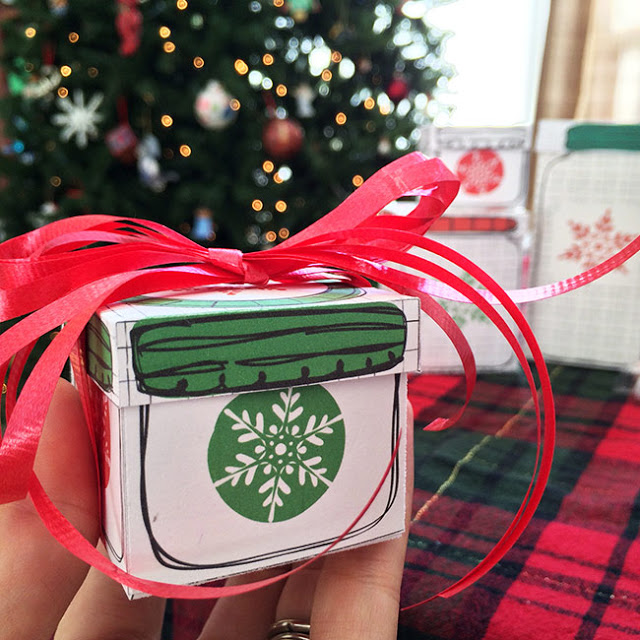 Have a fabulously festive holiday!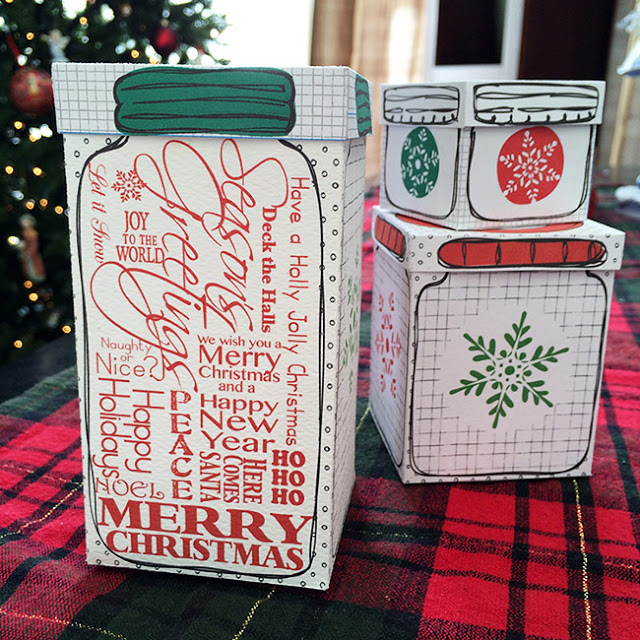 Thank you so much for sharing these with us Jen! I hope y'all enjoy these printable mason jar gift boxes and will use them for all of your holiday gift giving needs.
A Year of Jar Crafts
Sign up for our email list to get a FREE book with an entire year of jar crafts! 12 months, 12 crafts, tons of fun!