Jen Goode is back this month with some easy gift wrapping tips and even some free printable gift tags! Finish up your shopping then wrap up those gifts for a stress free holiday season!
Today I'm sharing some easy gift wrapping tips. I've also got free printable gift tags for you to use to pretty up all those presents you're wrapping. Gift wrapping is one of my all time favorite things about giving gifts. It's an opportunity to put a little of your own creative touch and give to someone special. It doesn't take much to make your gifts look fantastic.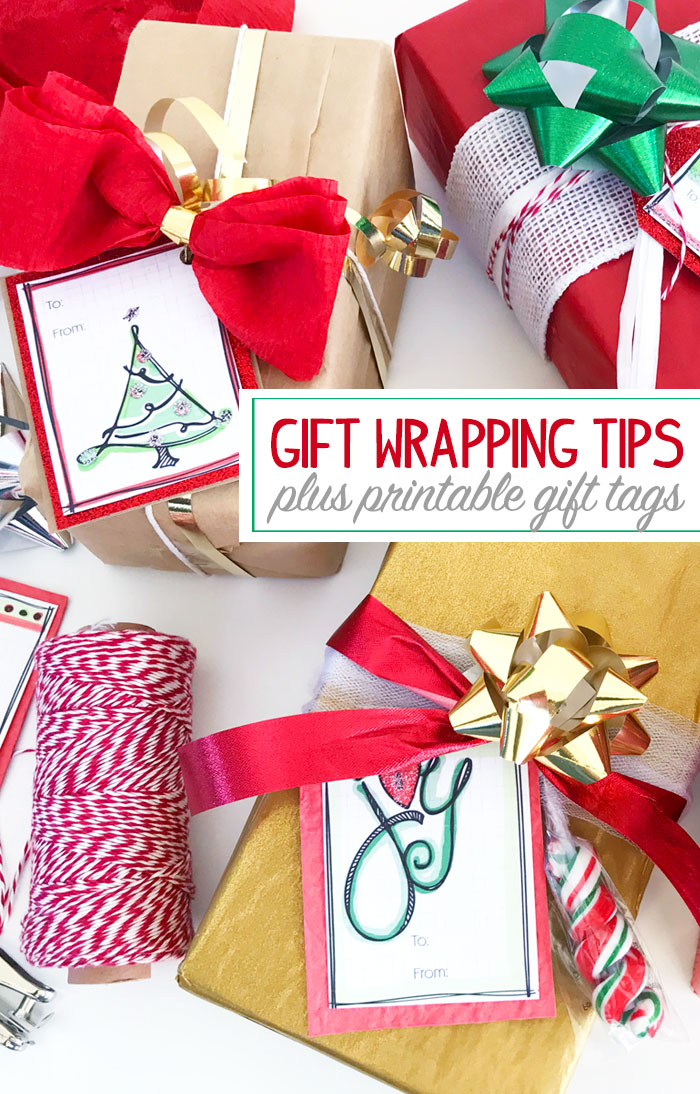 Easy Gift Wrapping Tips and Free Printable Gift Tags
Your gifts don't need expensive wrapping paper, bows and ribbon to look fabulous. I'm sharing my favorite tricks to help you wrap like a pro without spending a ton of cash. I like to use a variety of materials, but I tend to pick a color theme every year… the color theme helps me not go overboard with buying wrapping supplies and makes mix and matching easier.
My favorite gift wrapping materials
Good quality wrapping paper – not too thin that it rips easily, but not so thick it's difficult to fold and crease easily.
Tulle, crepe paper streamers and woven ribbon – is inexpensive and easy to tie, plus adds a nice, thick block of color to any gift.
Curling ribbon and twine – both are very affordable and easy to wrap in layers. Plus both are great for attaching gift tags.
Gift tags – You can buy tags, print gift tags, make your own gift tags or a combination. I have a variety of gift tags you can download and print for free.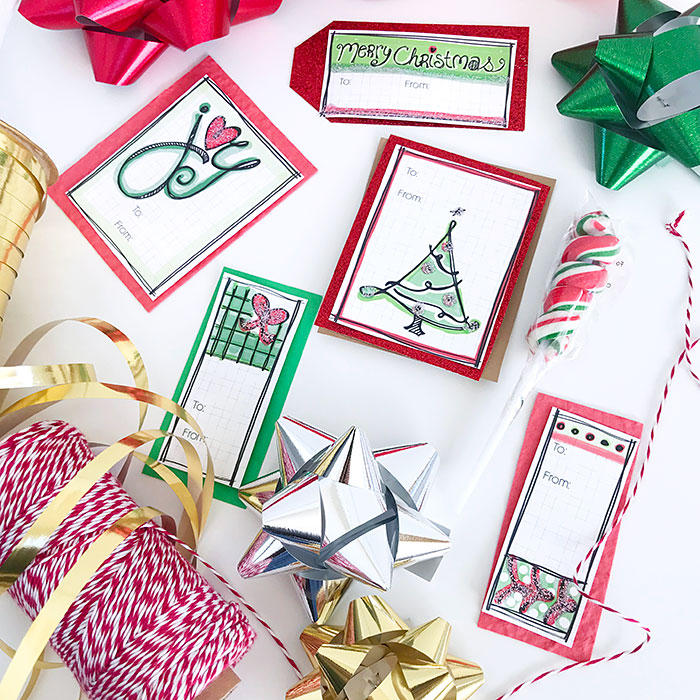 Gift Wrapping Tips – it's all in the extras
Always add a ribbon – ribbons can be anything. You can use a strip from fabric scraps, contrasting gift wrap or even cotton twine. Ribbon adds an extra dimension of color and a little bit of flare to every gift. I think you can skip a bow just by tying a little ribbon around the gift.. or add a bow for a pretty accent.
Think Layers – wrapping a gift with paper is just the first step. Add layers of paper, ribbon, twine or bows to create a more finished look.
Mix and Match – Just because the paper is shiny gold, doesn't mean you need to get all matchy-matchy with the finishing touches. Anything from a paper ribbon wrap to fancy curly bows, can create a beautiful look when combined on one gift. Add rustic twine to a metallic paper or a foil bow to brown paper wrapping.
Add extra treats – you can add extra little goodies to the outside of a gift and dress up the wrapping at the same time. Holiday candies, keepsake ornaments and pretty personalized tags all add that extra "something" to the gift wrapping.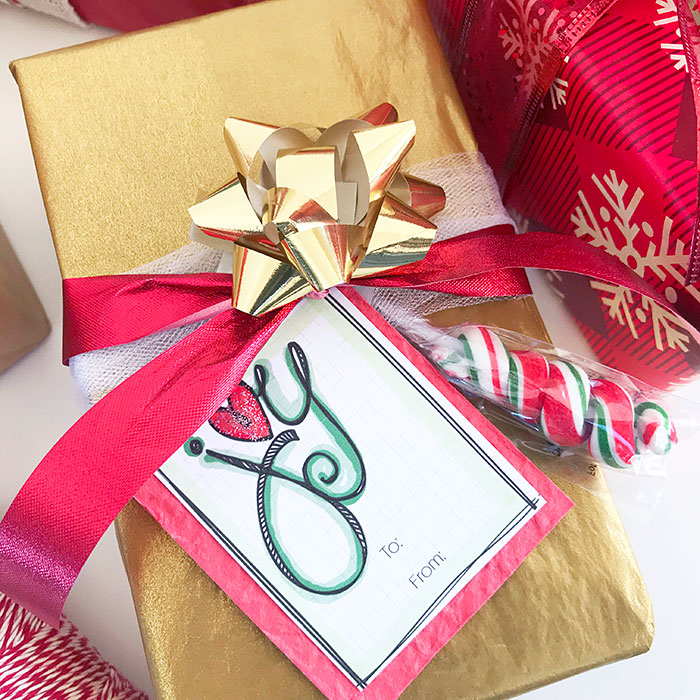 Don't forget the gift tag – Gift tags help us label who a gift is to and from. Gift tags also add extra personality and little bit of art to every gift. I think the gift tag is the perfect final touch to every gift. Download the Christmas gift tags I used in these examples
Extra Tip: You can customize gift tags by adding additional layers of fancy papers or touches of glitter.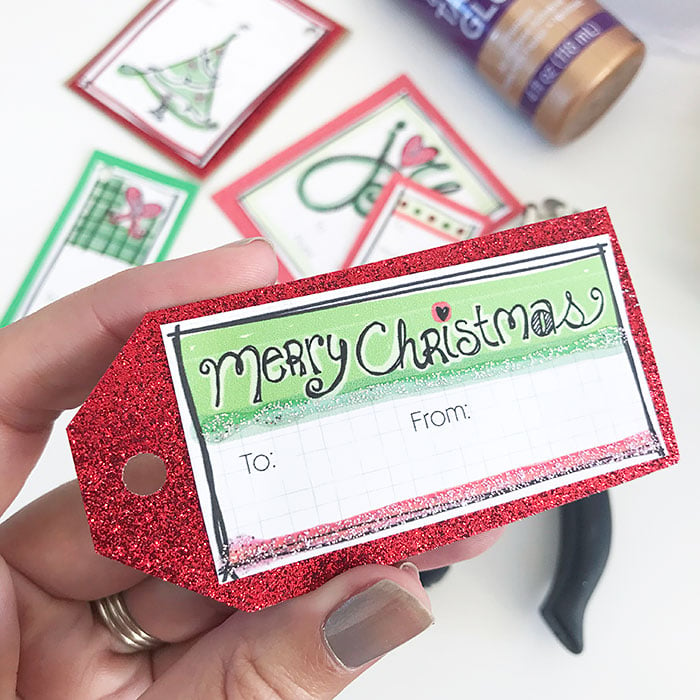 You can tie on gift tags using curly ribbon without needing to actually tie anything. Just string the curling ribbon through a hole in the tag and the curls will hold the tag in place.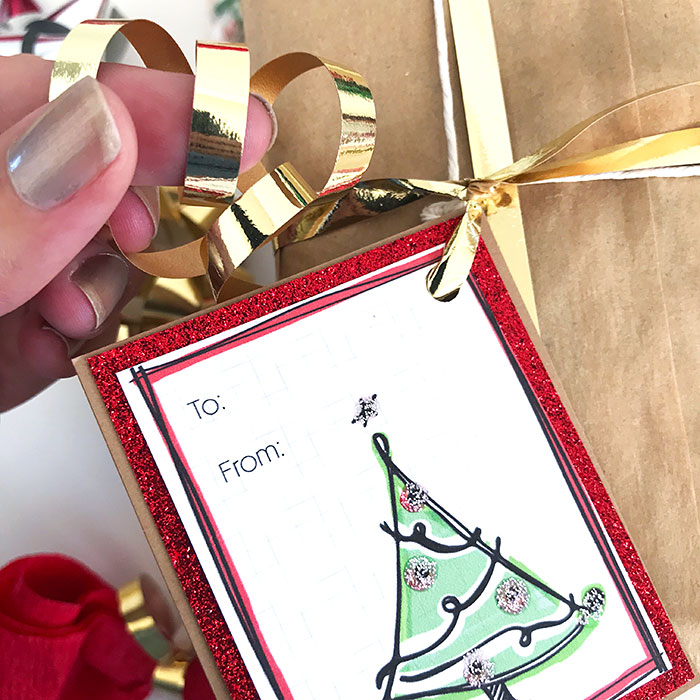 Ripped paper, no problem – It doesn't have to be frustrating if you accidentally rip the paper after you've wrapped the gift. Just cover up the flaw with the bow and gift tag.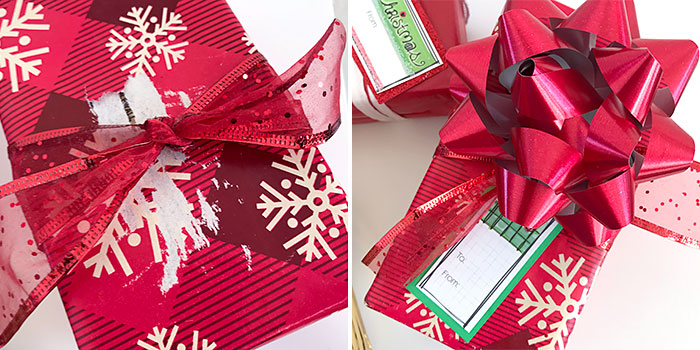 Next time you're wrapping gifts, add a little extra ribbon and a pretty gift tag to finish off the look. You can mix and match your gift wrapping supplies to create a number of different looks without breaking the bank. Make your own bows, curly your own ribbon and add a gift tag… whatever you decide to do, have fun with it! Happy Holidays!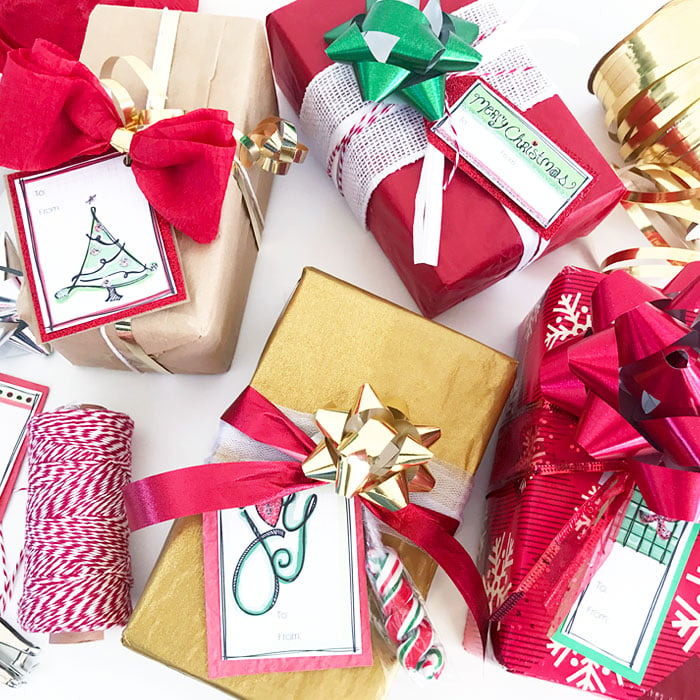 Love these easy gift wrapping tips and want more ideas? Try the links below!