This post and photos may contain Amazon or other affiliate links. If you purchase something through any link, I may receive a small commission at no extra charge to you. Any supplies used may be given to me free of charge, however, all projects and opinions are my own.
Mary Beth from Cupcakes and Crinoline is back this month with a fabulous pumpkin cake recipe. And yep….it even has chocolate chips in it!
Fall is not quite in the air yet but that doesn't mean that you can't start doing some baking or saving some special recipes for the holidays and the cooler days ahead.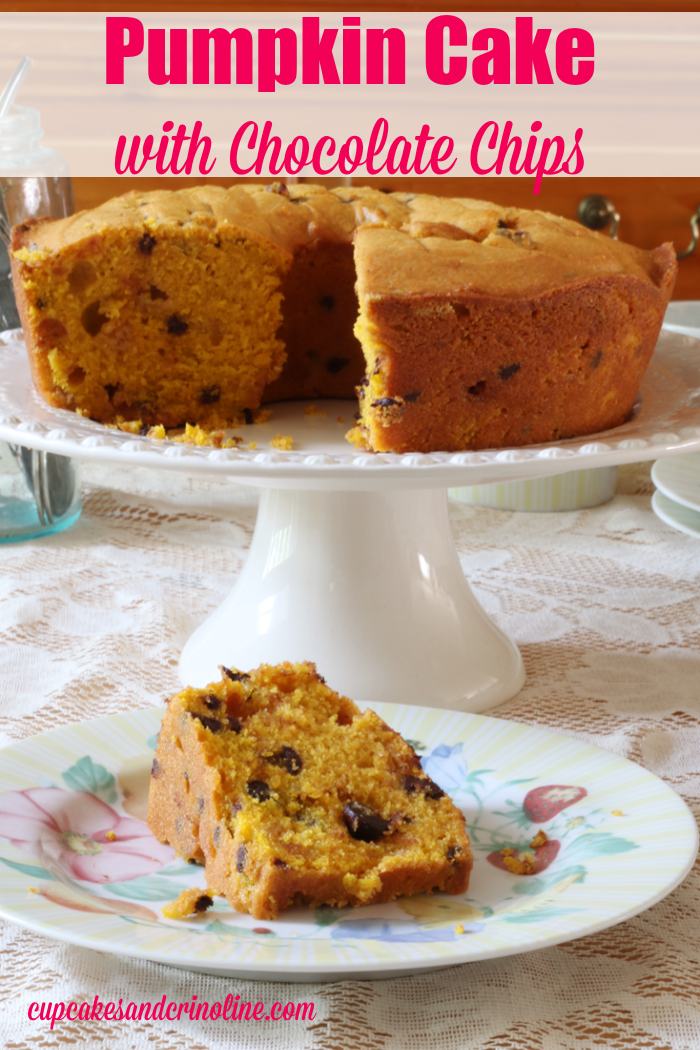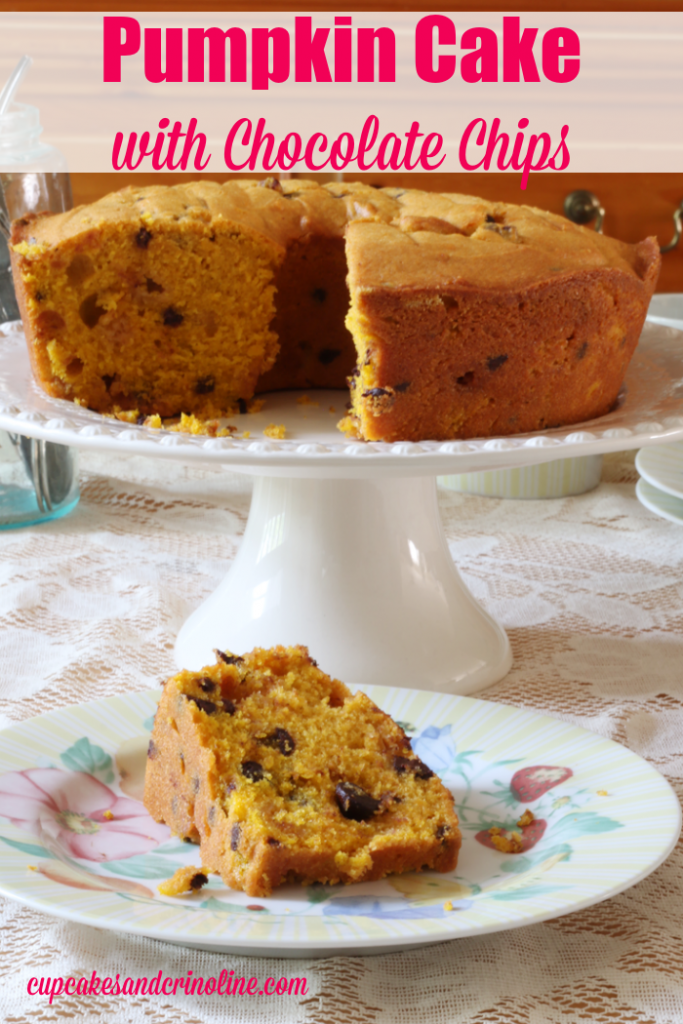 Pumpkin anything is a favorite of mine whether it be pumpkin cookies, bread, pie or cake. Add a mixture of semi-sweet, 60% Cacao and white chocolate baking chips and now you're speaking my language. This cake is perfect for dessert after a family dinner, to take to a pot luck or to serve to guests.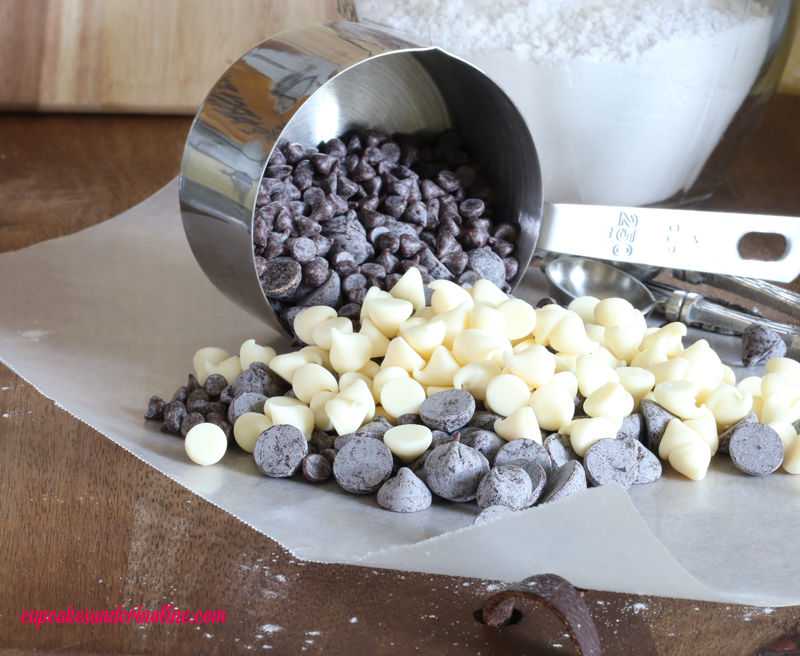 When I made this this the other day I found I had everything I needed already on hand. I like to keep a well-stocked pantry. 😉
Pumpkin Cake with Chocolate Chips Recipe
Ingredients:
1 1/2 cups all-purpose flour
1/2 cup cake flour
1 1/2 tsp. baking powder
1/8 tsp. baking soda
1/2 tsp. salt
1/2 cup of each – semi-sweet mini baking chips, 60% Cacao bittersweet chips and white chocolate chips (or 1 1/2 cups of your favorite baking chips)
11 tablespoons unsalted butter, softened
1 1/2 cups granulated sugar
4 large eggs
1 1/2 tsp. vanilla extract
10 ounces plain solid-pack 100% pumpkin in a can (2/3 of a standard-sized can)
Preheat oven to 350°.
Grease and flour or use a baking spray to coat a 10-cup Bundt cake pan.
Sift the all-purpose flour, cake flour, baking powder, baking soda and salt into a bowl and put aside.
Place your chips in another bowl and gently toss with 1 1/2 tablespoons of the sifted mixture to coat.
Cream the butter with a mixer in a large mixing bowl for approximately 3 minutes until it's fluffy. Add the granulated sugar 1/2 cup at a time beating thoroughly after each addition. Add eggs one at a time beating for 30 seconds after each addition. Add the vanilla extract and beat just until incorporated.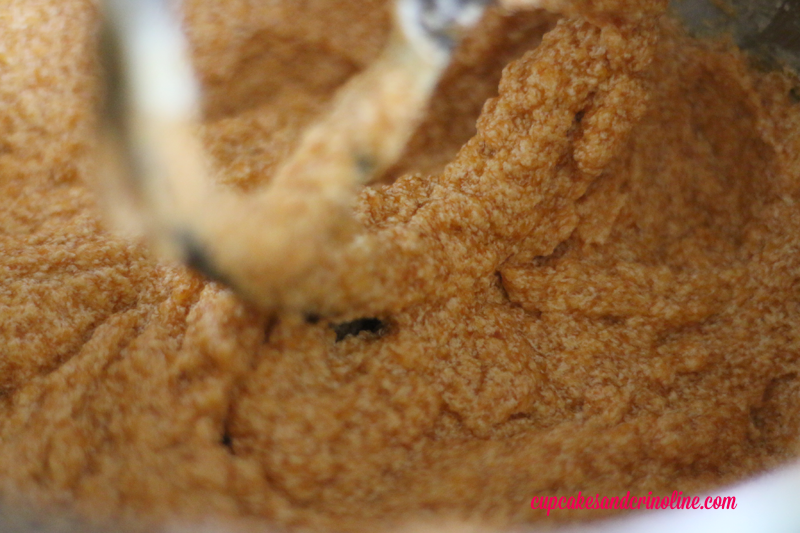 On low speed add the pumpkin and blend until combined. The mixture will look like it's curdled at this point but it will smooth out in the next step.
Again on low speed add the sifted mixture in 3 additions beating just until incorporated.
Gently stir in the chocolate chips.
Spoon the batter into the prepared Bundt cake pan and smooth the top with a rubber spatula.
Bake for 1 hour testing with a wooden pick or a cake stick for doneness. Add additional time in 5 minute increments if necessary until baked through.
Once the pumpkin cake is done baking remove from the oven and cool on a wire rack for 10 minutes and then flip onto another cooling rack and remove the pan. Allow to cool completely before serving. Yields 12 pieces.
You can dust a little powdered sugar over this or serve plain.
If you like baking with pumpkin you may also like this easy-to-make sweet pumpkin monkey bread.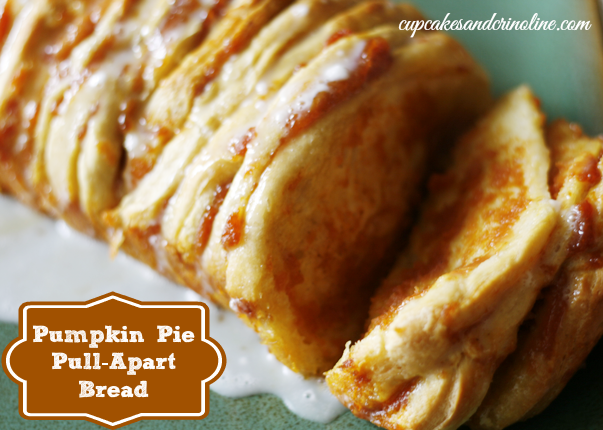 Looking for easy recipe ideas?
Struggling with supper and what to make? Do you wish you had a way to make meals faster? The dump recipes system allows you to make 10 meals in just one hour or less, rescuing your dinnertime and saving you time and money.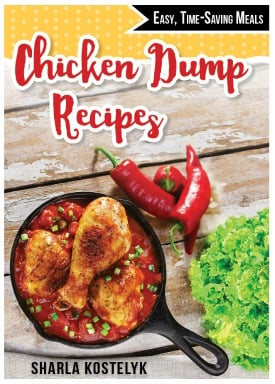 Want to try it for yourself? I have the perfect cookbook for you. Chicken Dump Recipes includes 5 plans, each with printable shopping lists and printable labels. Most of the 25 recipes included can go from the freezer to the crockpot, saving you even more time. All the recipes include gluten-free instructions as well.
What are you waiting for? Give the dump recipes system a try in your home and make meal time a bit easier!