If you've decided to purchase a Sawgrass sublimation printer it's time to pick a Sawgrass ink. There are three different options of ink to use in your Sawgrass sublimation printer. Which one is right for you? Keep reading to find out.
If you're still trying to decide which sublimation printer to purchase, check out my full post on sublimation printers here.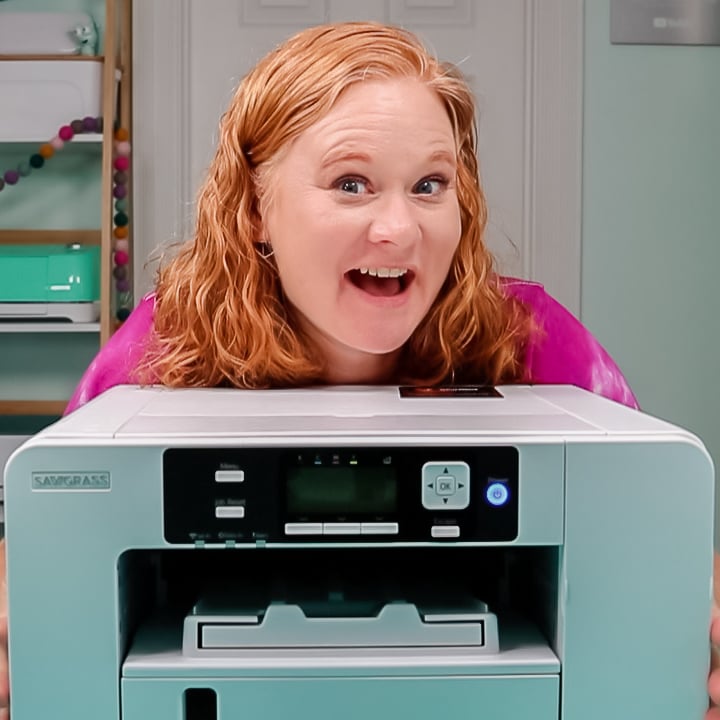 Today we're talking about picking a Sawgrass ink to go in your Sawgrass printer. You might be confused by the multiple ink options and choosing which one is right for you. We're going to talk more about the different ink options for Sawgrass printers. You can actually watch me discuss each different option by pressing play on the video below:
What are the Different Sawgrass Ink Options?
The three different Sawgrass ink options are SubliJet, EasySubli, and ChromaBlast. SubliJet and EasySubli are both for sublimation projects. ChromaBlast is a very unique ink and is different than sublimation. Let's look at each different ink and what it does so you can make the right decision for your crafting needs.
Can I Change the Ink I Use?
Before you decide on which ink you're going to use you need to know that whatever ink you start with is the same ink you will keep in your Sawgrass printer. You don't want to switch ink types. That's why it's important to research the different Sawgrass ink types before starting. Once you pick an ink, you're going to buy those refills for your Sawgrass printer.
Sublimation Sawgrass Ink Options
Let's take a look at each option and some of the pros and cons of each.
SubliJet Ink
The first Sawgrass ink we're going to talk about is the Sawgrass original ink SubliJet. This ink works on all sublimation blanks. It can work with the Siser EasySubli product however, you might have to try a few tricks to get it to dry. You can still get it to work, but it might take longer and be a little more frustrating for you.
EasySubli Ink
EasySubli ink does everything that the SubliJet ink does but it works better with the EasySubli product. If you don't know what Siser EasySubli is, I have a full post and video all about it that you can find here and here. Basically, sublimation works on light-colored polyester fabrics. Siser EasySubli is a product that allows you to get a sublimation-type look on darker colors or cotton fabrics.
Which Sublimation Ink Did I Choose?
I knew I wanted a sublimation ink to use in my Sawgrass printer. Because I knew I wanted to use the Siser EasySubli product quite a bit I wanted an ink that would work best with that product. Both of the sublimation ink options work great with other sublimation blanks so using EasySubli ink is the best option for me and the projects I'm going to be making.
EasySubli ink dries quicker when you print onto the surface of the EasySubli product. The product itself is a sheet and it feeds through the Sawgrass printer. So if you want to eliminate that frustration, I would go with the EasySubli ink from the beginning.
Those are the sublimation ink options. You really can't go wrong with either one of those. If you are going to use EasySubli a lot like me, I'd pick the EasySubli ink. If you're not going to use it, or not use it very often, go with the SubliJet.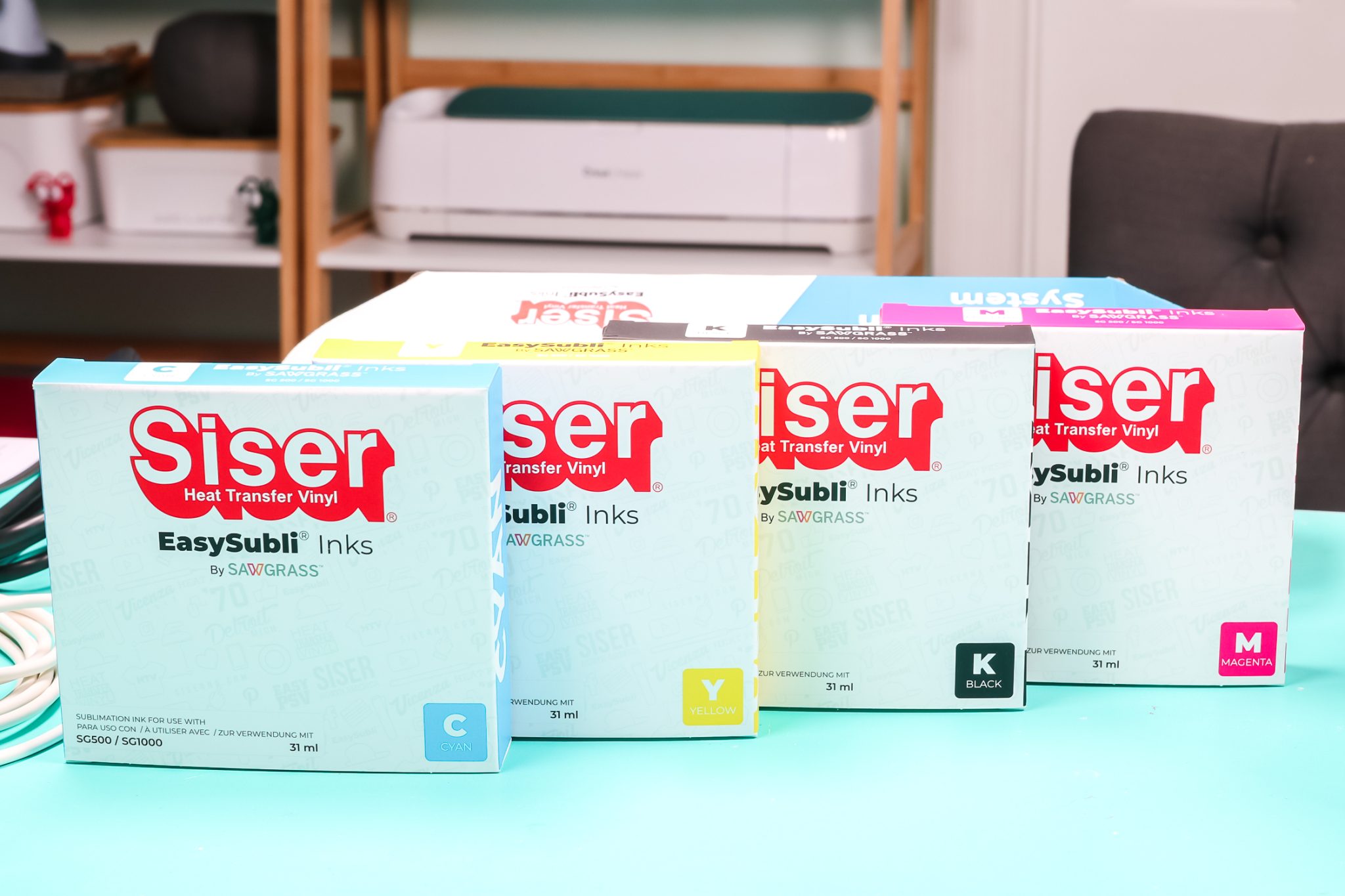 What is ChromaBlast?
The third ink type that you can use with a Sawgrass printer is called ChromaBlast. ChromaBlast is actually an ink and paper system. It's a special ink and special paper that is similar to a heat transfer paper product. It does have a better feel when it's applied to a shirt.
ChromaBlast is actually a very specific product because it's only for light-colored 100% cotton garments. That is the only thing you can put it on. You can't put it on other surfaces or sublimation blanks so unless you're planning to only make designs for 100% cotton light-colored garments this is probably not the right ink for you.
Final Thoughts on Sawgrass Ink Options
Now that you know a bit more about the different ink options, you can choose which ink will work best for your crafting needs. If you're planning sublimation projects, you'd choose either SubliJet or EasySubli inks. If you have a specific plan to make only 100% cotton projects, you could look more into ChromaBlast to see if it's best for you.
Where to Buy Ink for Your Sawgrass Printer
If you are ready to purchase ink for your printer, I highly recommend Heat Transfer Warehouse. It is where I get my Sawgrass printer supplies and I know you will love it as well. Here are a few of their options:
Hopefully, this helps you decide which Sawgrass ink is right for your Sawgrass printer. If you have any questions about Sawgrass inks, feel free to leave them in the comment section and I'll answer them for you.