This sublimation for beginners guide has everything you need to know to get started on your sublimation journey. From supplies you need to blanks to ideas for your first project, I have you covered! I have absolutely fallen in love with sublimation crafting and I think you will as well. So, what are you waiting for? Learn a little more about sublimation below then get started right away. You will be so glad that you did!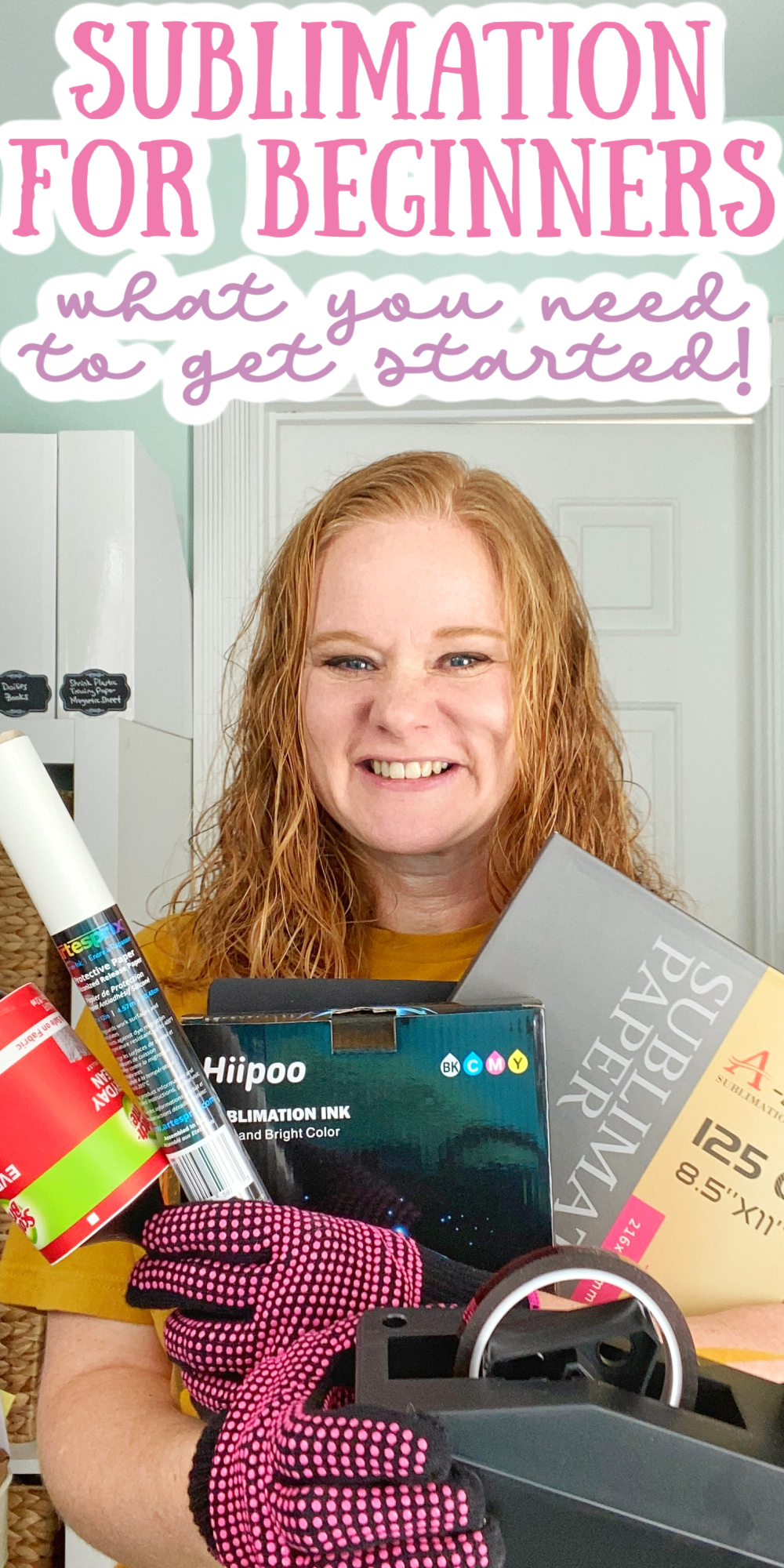 Sublimation for Beginners
Sublimation can be confusing when you first start. What is it? How does it work? What types of shirts do you need? There are so many questions! Well, I am here to answer them all!
What is sublimation? How does it work?
If you are completely new to this, you may be wondering when exactly is sublimation? How does it work? Dye-sublimation printing is a method for transferring images onto suitable material where the ink goes directly from a solid into a gas and infuses into your project. You can see more about the basics of the sublimation process here.
What surfaces or blanks does it work on?
Sublimation needs polyester or a poly-coating to react with to make it permanent. Therefore, you will need to find appropriate blanks for your projects. I usually recommend a fabric that is at least 75% polyester. As far as other types of blanks, you can find glass, metal, and so much more that has a polyester coating. See my top picks for sublimation blanks here.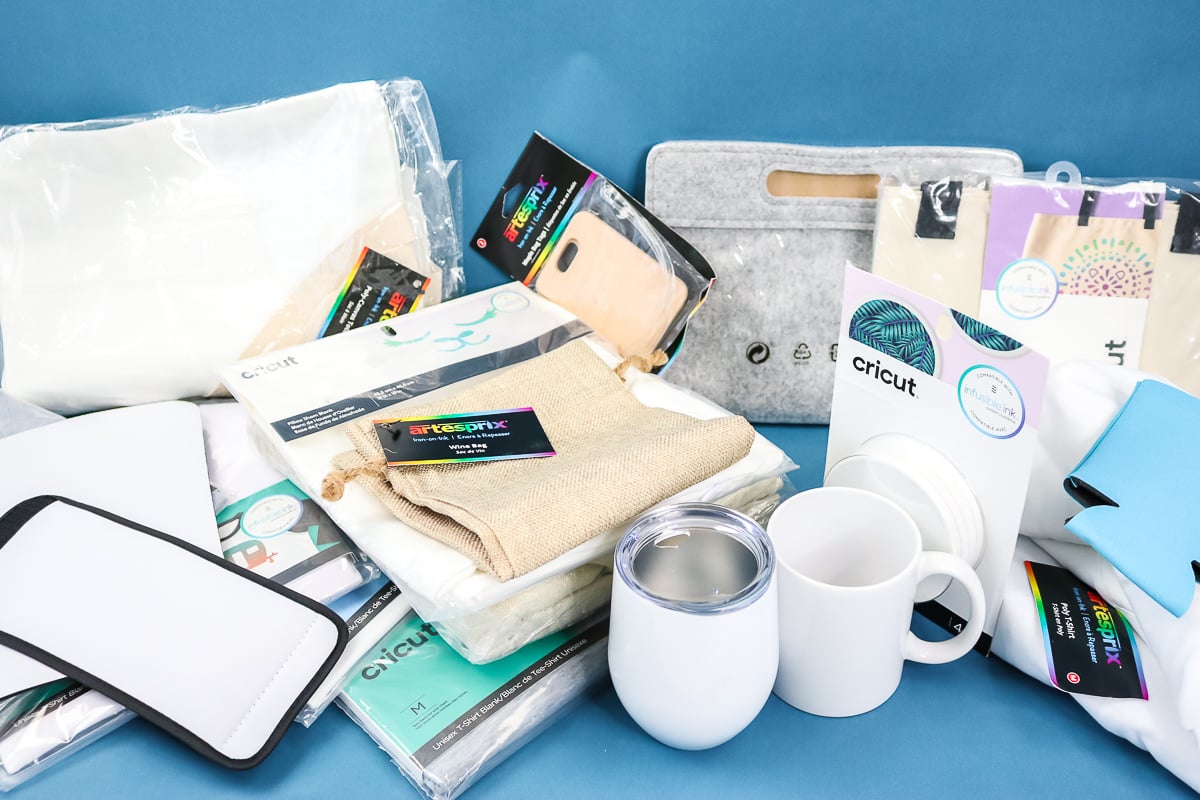 Is it better than HTV?
The short answer is yes but it does depend on what you are putting it on. For polyester fabrics, sublimation will outlast HTV every time. You can actually see some tests I ran here. However, if you want to put a design on a cotton shirt, you will want to use HTV. So, pick the right material for your project in order to get the optimal results.
How is it different from Cricut Infusible Ink?
Cricut Infusible Ink is actually a form of sublimation. Traditional dye sublimation requires that you have some sort of sublimation printer with sublimation ink. For those that don't have that, Infusible Ink can be a great option. With this material, all you need is a Cricut machine to experiment with all that sublimation has to offer. You can see more about Infusible Ink here. Warning: starting with Infusible Ink may lead you to want a sublimation printer ASAP!
What do you need to get started?
Now that you know what sublimation is, you may be ready to get started with sublimation crafting. What do you need? What is required and what is just nice to have? I am covering all of that and more in the sublimation for beginners video below!
Can't watch the video or missed some of the steps? You can follow along with my recommendations below as well!
Sublimation Printer and Ink
You will definitely need a printer and ink for most forms of sublimation. I took an Epson EcoTank printer and converted it for sublimation which is one option. You can see my printer conversion here and get the ink that I use here.
Alternatively, you can give sublimation a try with Cricut Infusible Ink, Artesprix Sublimation Markers, or even an Artesprix Sublimation Stamp Pad. Those are all great ways to dip into sublimation without the commitment of a printer. You are slightly limited with the projects you can create but it is a great way to get started.
Heat Press
You will need a heat source for your projects. Here are a few options for you to consider:
I will say that if you already have one of these, you can just start with it! There is no need to invest in something additional until you are ready for it.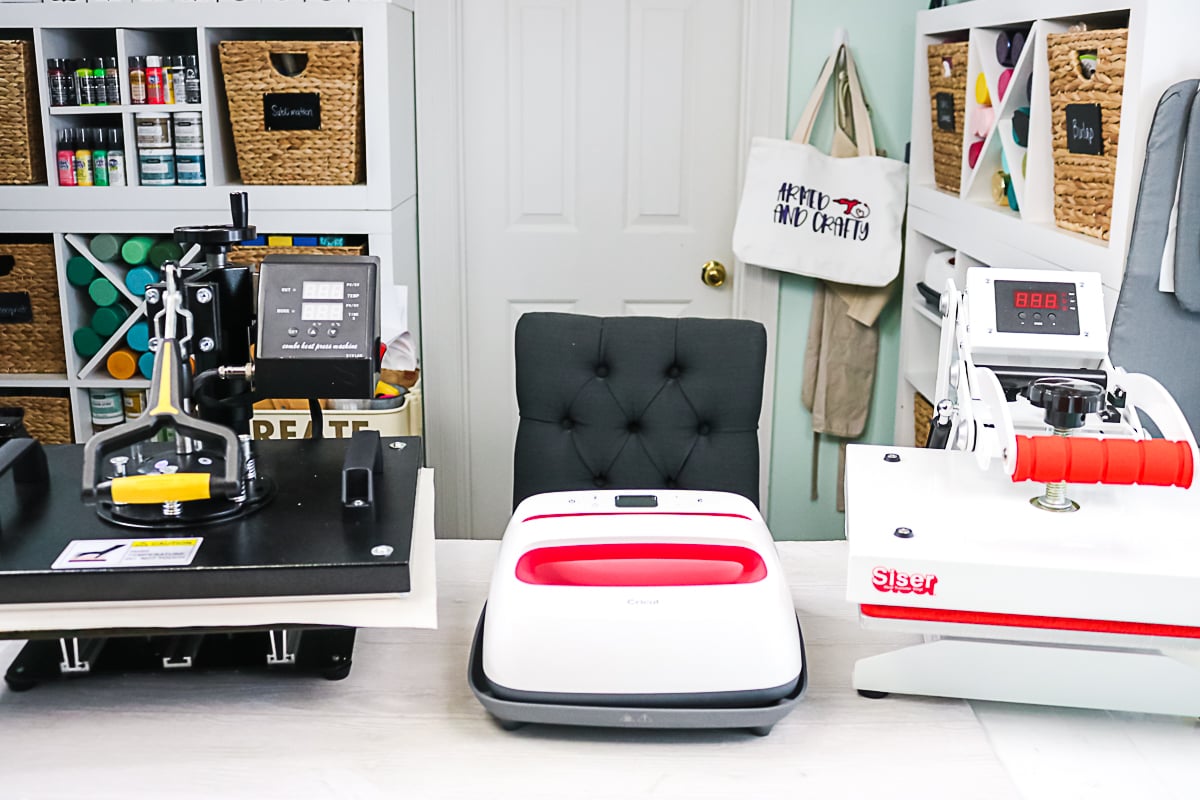 Other Supplies
Here are a few other things you may or may not need depending on what you are making. No sublimation for beginners guide would be complete without a list of supplies that every sublimation crafter should keep on hand.
Sublimation paper – you will need a sublimation paper for your printer for optimal results. See my sublimation paper comparison here for more brands.
Heat Resistant Gloves – I always recommend these as your
Lint Roller – you will need this when sublimating most items to remove debris.
Microfiber Cloth – use this for any items where you can't use a lint roller.
Heat Resistant Tape – I use three different brands right now and like them all. You can use Cricut, Artesprix (Use code CCC10 for 10% off), or Conde. I do like that the Cricut and Artesprix will fit on a standard tape dispenser.
Protective paper – Artesprix Protective Paper is my favorite (use code CCC10 for 10% off) but you can also use butcher paper or even copy paper in a pinch. I also like to keep white cardstock on hand as it is great UNDER your blank to protect your surface.
Protective pad – the Artesprix Sublimation Pad is my favorite but an EasyPress Mat will also work. You will want to cover both of these up before pressing.
Rubber Mat – this is something that you will see on the pressing instructions for some blanks.
Nomex Pad – again you will see this on pressing instructions for some blanks. I also like it inside of my convection oven to insulate the hot spots on my rack.
Roll of Foam – this material is great for adding under your blanks to help alleviate pressing marks that can occur on polyester material. I love the roll as I can cut it to the size I need instead of purchasing several different sizes of pressing pillows.
I am sure there are other supplies that you will run across during your crafting but these are the main ones that are needed. Start with this list and see which you may need before you get started with sublimation.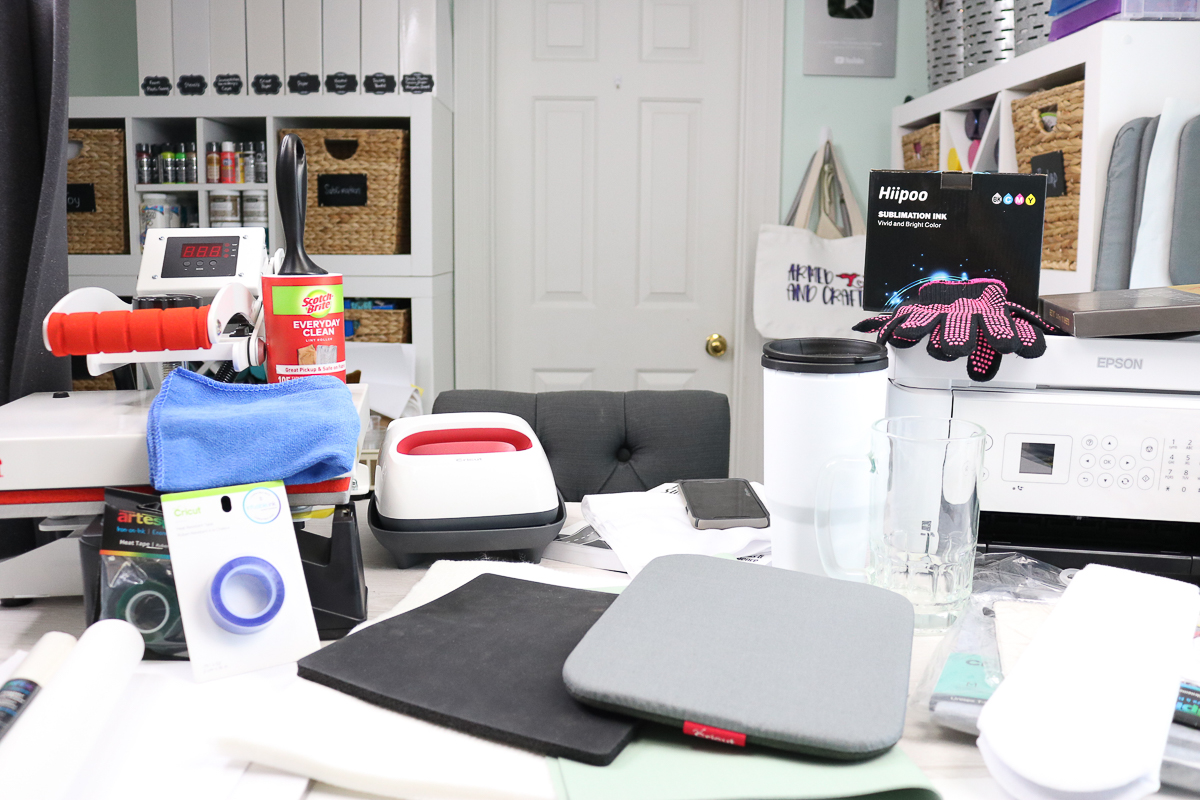 Computer Software
I am working on further posts about software and color correction but for now, you will need to size your designs correctly before printing. Here are a few options for that:
Cricut Design Space – this is free but there are size restrictions.
Canva – this free online program is perfect for sizing pictures before printing.
PhotoShop – a paid program but this will allow you to easily use any templates for the blanks that you are using.
I also have a trick in this video for using templates with no computer program required. That trick can get you through until you can afford to add some software to your sublimation crafting.
Sublimation Manual
I know I have readers that really love a hard copy book when learning a new skill. I really love The Road to Sublimation Success. It is a great guide to get you started with sublimation and it also has advice for starting a sublimation business. If you are looking for a book that will walk you through sublimation, this one is a great pick and will help you to understand the process and sublimate with success!
Starting a Sublimation Business
You may be reading this sublimation for beginners guide with the intention of starting a handmade business. You should also read my guide to starting a Cricut business as it is full of tips and tricks for selling handmade. I think you will find a ton of ideas in that post that you can use for a sublimation business as well.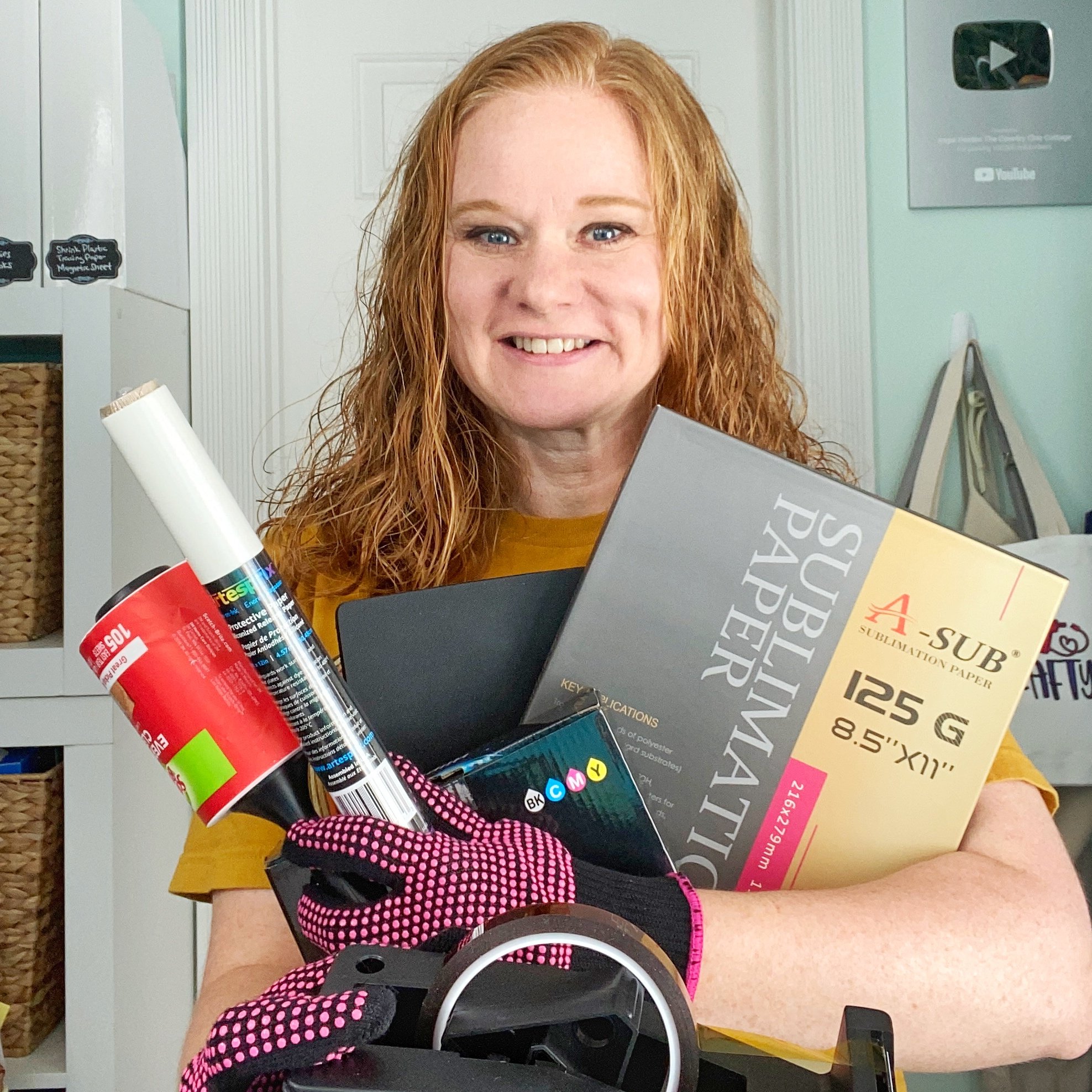 So, now that you have finished our sublimation for beginners guide, are you ready to get started? Order what you need and start sublimating today! Don't be scared or intimidated. I know that you can master this craft and make something amazing.