At Christmas, I had a piece of a white sheet thrown over this coffee table I have. I really liked the bright white. However, I am just not committed to painting it. Soooo…..the slipcover was born…..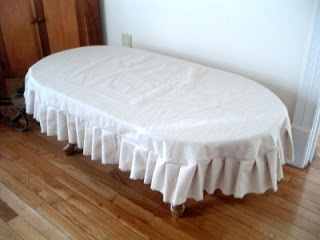 I have had this set of tables for many years and they are really nice! I don't use this one as a "coffee table" anymore but rather for displays. I am just afraid if I paint it I will tire of it and be back to stripping paint. So here is my before….
This was an easy one y'all! I took canvas drop cloth and literally cut it right on the table to the size I wanted….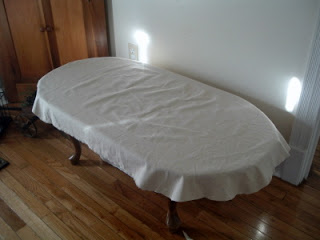 I literally used the length of my scissors to determine if it was the same all the way around…no measuring tape for me! 🙂 Course if your table is square or rectangular this step would be way easier.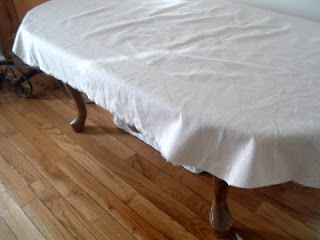 Then I took one looooong strip of torn canvas for the edge. Yes tear if for that lovely frayed edge! Mine was about 6 inches wide but that can vary. I ripped my canvas into 6 inch strips then sewed the ends together so I had a very loooong strip. Then just sew it to the table cover piece. Every few inches I made a pleat. No measuring, or pinning, or exact science. Wing it! It will look great!! After you finish sewing your pleats all the way around just cut off your long strip at the end and put a pleat there so that your raw edge is hidden! 🙂 Mine is at the back but you would never know it if it were in the front…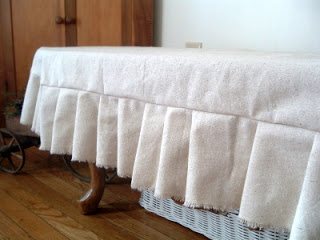 And when you get done….throw it on your table and you will LOVE it! 🙂 I love that white look without the commitment of paint!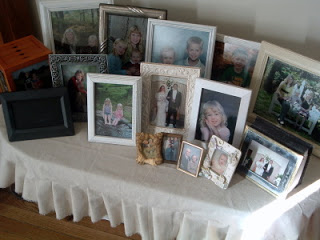 Perfect for a family photo display don't ya think??
~Thanks for stopping by!~