Do you have a party coming up? I created these sports party flags for my youngest's birthday party. You could easily use this same process for any party theme.
Looking for more sports party ideas? Check out my Sports Themed Birthday Party post here.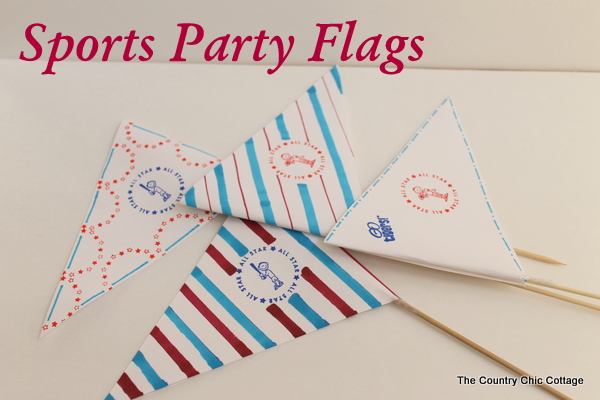 This project was originally shared in March of 2012, it has been updated with more information.
Sports Party Birthday
While planning my son's birthday I knew we would be doing a sports theme. He loves sports and it's a fun theme to create decor for.
While considering the centerpieces for the table I loved the idea of party flags on skewers.
Sports Party Flags Supplies used:
To make these sports party flags I used the following supplies:
How to Make Sports Party Flags
These flags are so easy to make. When I initially made these I used a stamp and scissors. I can no longer find that stamp set so I created a similar project in Design Space you can use that is linked above.
These original flags were kept simple. You could really get into making these sports flags more elaborate using your Cricut machine. Having your Cricut machine cut out your flag shapes gives you options for more than a simple triangle.
To make my flags I combined an All-Star stamp set and the dual tip markers. The markers each have a broad end and a fine end making them perfect for this project.
To begin making my flags I cut my cardstock out into triangles. This creates a single-sided sports party flag. If you want to create a double-sided flag cut out a diamond shape that you can fold in half around the skewer. This is how I have the design set up in Design Space.
Once you have your shape cut out you can decorate the flags to match your party theme.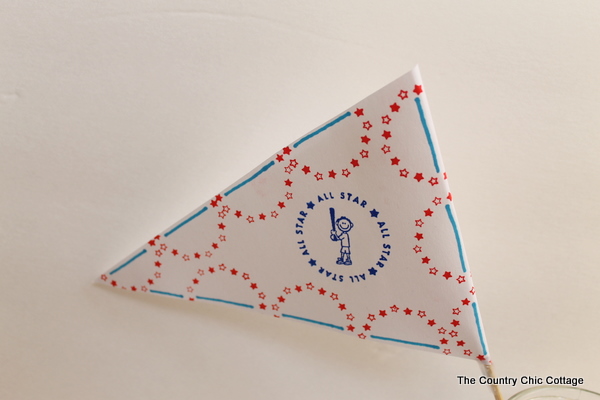 I used a red, white, and blue theme to match our school colors here. In the flag above I used two different stamps and the fine end of the marker to add lines between the stamped areas.
Using Dual Tip Markers
I loved mixing the broad and fine lines into the flags. In the flag below I used both the broad end of the blue marker and the fine end of the red marker to create the stripes that go around the stamp in the middle.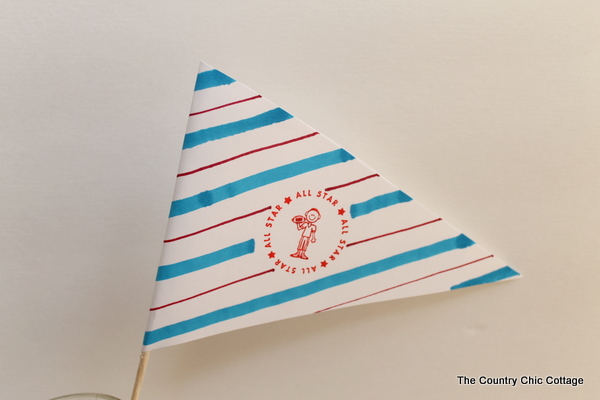 With the dual tips of the markers creating these lines was extremely easy.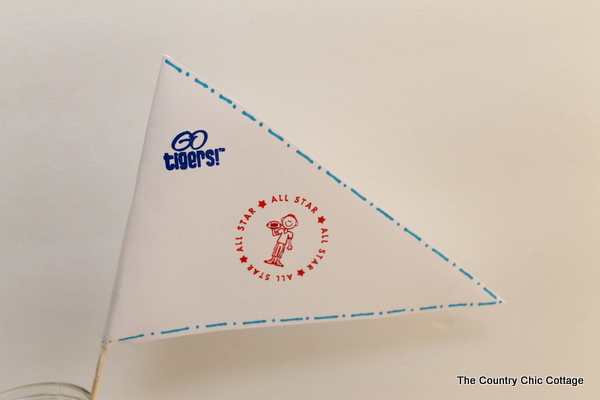 As you can see in all the flags I am combining both the stamps and the markers. Starting with the stamp in the middle of each flag gave me a pretty blank starting point. From there I was able to have fun with the markers adding stripes and dots.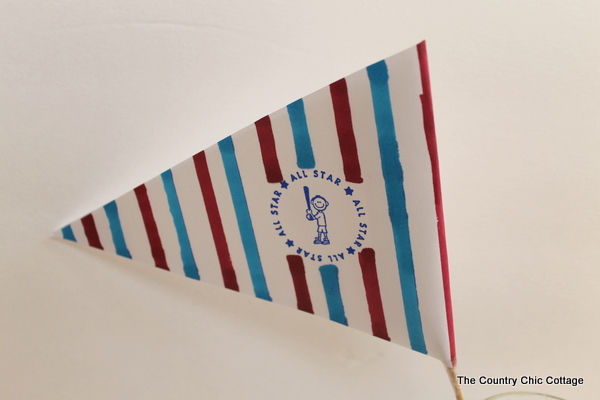 Finishing the Sports Party Flags
Once I had all the designs finished it was time to assemble the sports party flags. To put them together add the skewer to the wider end of the flag and wrap the end around the skewer. Using either hot glue or even tape attach the flag to the skewer.
If you decide to create the double-sided party flag, fold the flag around the skewer and then using a paper adhesive glue the two sides of the flag together.
Final Thoughts on Sports Party Flags
These flags were so fun to make. When I first thought of the idea I thought I would add the flags to a mason jar. You know how much I love using mason jars for decor. They look cute but when it was time for the party I came up with another idea.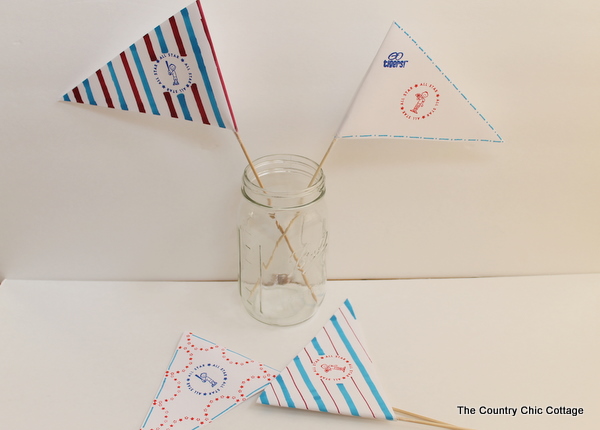 I found these cheer cones at the dollar store and they were even more perfect for holding the sports party flags. Didn't they turn out perfectly?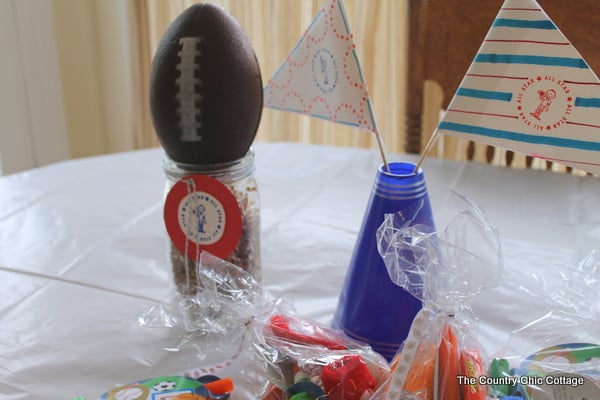 While I created these flags specifically for a sports party it would be easy to create something similar for any party theme. Having a princess party? Create party fans and add pom poms and ribbon. Having a summer BBQ use red and white checker paper with black ric rac trim. The possibilities are endless.
If you use the design in Design Space your Cricut machine will draw the centered stamped image and cut out the party flag for you making this project even easier than when I initially made them.
If you have any questions about creating party flags leave them in the comments and I'll get them answered for you. Have a great day.