I thought I would share a great alternative to a spring wreath today. My spring cone wreath can be made in 10 minutes or less and will look great on your front door. The cones for this project were provided by StyroCrafts.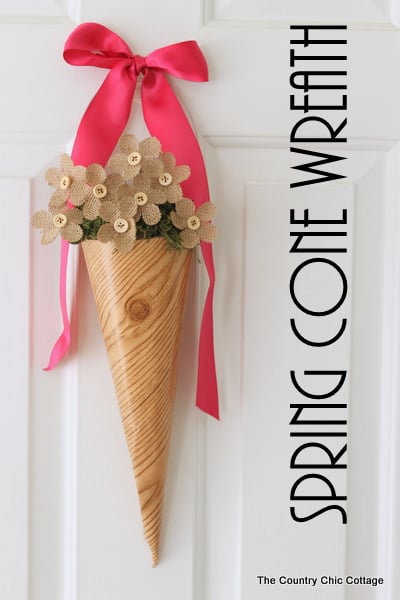 Want to make your own spring cone wreath? Watch the video below for the full instructions for the cone wreath as well as a spring tree ornament from
30 Minute Crafts
. We make both of the crafts LIVE for you in less than 10 minutes!
In case you missed any of the instructions on the video, here is a brief recap.
Cover a large cone with wood grain contact paper. I picked up mine at the dollar store. Trim any excess with a pair of scissors from the side as well as the top.
Add reindeer moss to the top of your cone with hot glue.
Add in these great burlap flowers from Consumer Crafts randomly in the top. Secure with hot glue.
Form an 18 inch piece of floral wire into a handle like shape and turn it in (90 degree angle) about 2 inches from both ends. Push those ends directly into the cone at the top through the contact paper. Push into the cone about 1 inch down from the top on both sides.
Add a ribbon to the top and you are ready to hang this one on your door.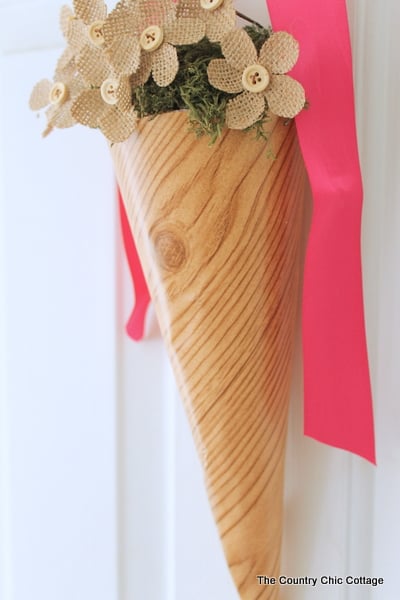 This spring cone wreath makes a lovely alternative to a traditional wreath. Change it up by using fabric dye for the flowers or a different pattern of contact paper. The possibilities are endless y'all. What will you do with this spring cone wreath idea?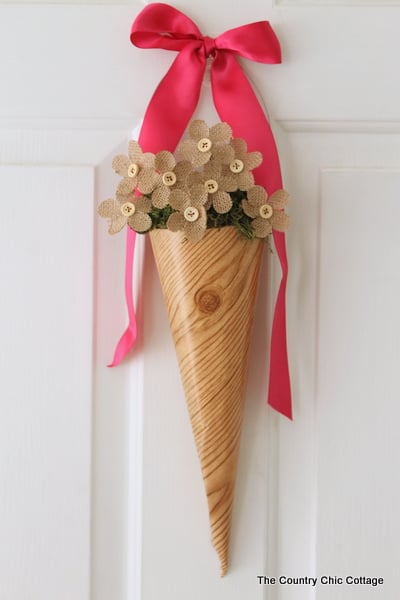 Portions of the products used in this tutorial were provided to me free of charge. All opinions and projects are my own however.