This easy DIY spring wreath idea creates a magical fairy mushroom garden for your front door. It's a design that's easy enough for anyone to make!
I LOVE making spring wreaths. There's something about watching the weather take a turn out of the last part of dreary winter and into spring that gets my creative juices flowing. I want to celebrate spring and add a touch of it everywhere I look!
I've made a large variety of spring wreaths over the years, from my Fly a Kite Spring Wreath from Socks to my Tulip Wreath for Spring (and more!). Now, I'm bringing a fairy garden spring wreath idea to life.
If you take a stroll through my spring wreath collection, you'll notice that this design is a unique addition. And it's so eye-catching!
Note: If you love spring wreath ideas, be sure to also check out my Easy DIY Spring Burlap Wreath, Coffee Filter Wreath for Spring, and Carrot Spring Wreath.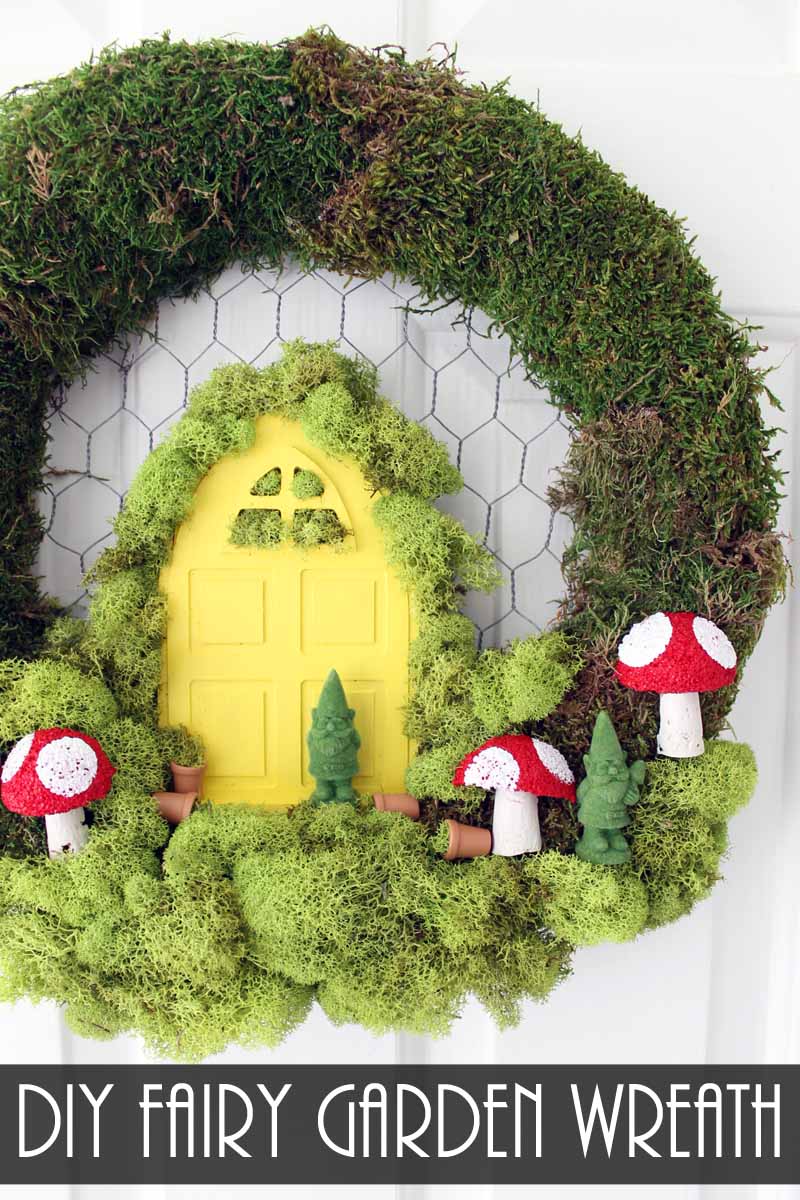 How To Make A Fairy Garden Spring Wreath
This is also a fantastic way to use up any leftover moss if you made my Marbled Eggs on a Moss Easter Wreath or Fairy House Mason Jar projects!
Supplies Needed
Here's everything you'll need to make this fun and unique wreath.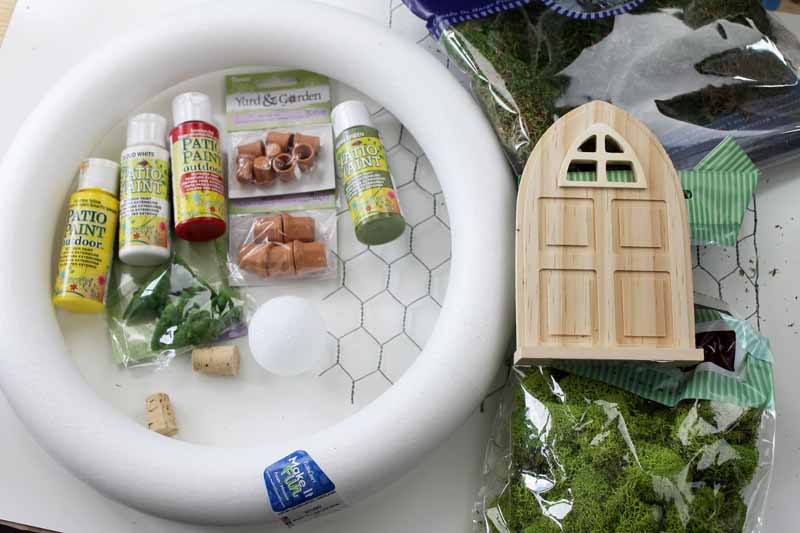 DIY Spring Wreath Instructions
Here's how to bring all the pieces together into this fun wreath.
Step 1
Start by making your mushrooms. Cut a styrofoam ball into fourths with your serrated knife. Paint with the red paint and then allow to dry.
Cut wine corks in half with a craft knife. Paint white and allow to dry.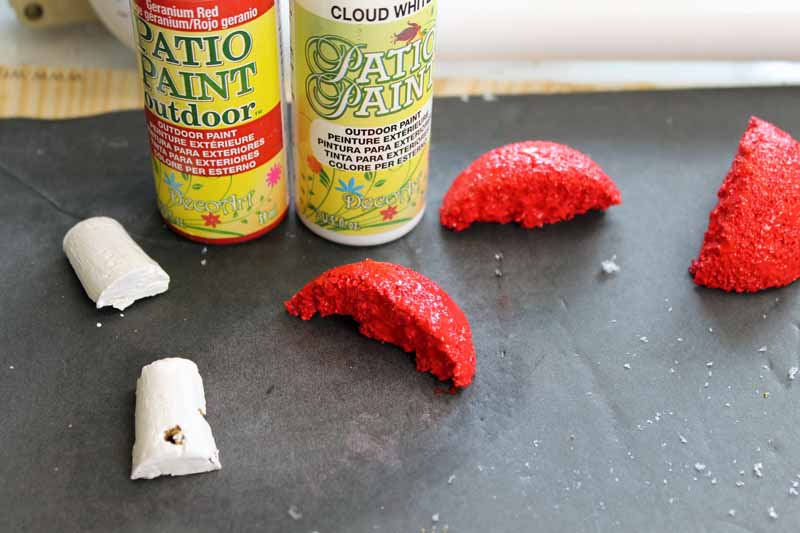 Once dry, add white circles to your mushrooms with a round sponge brush.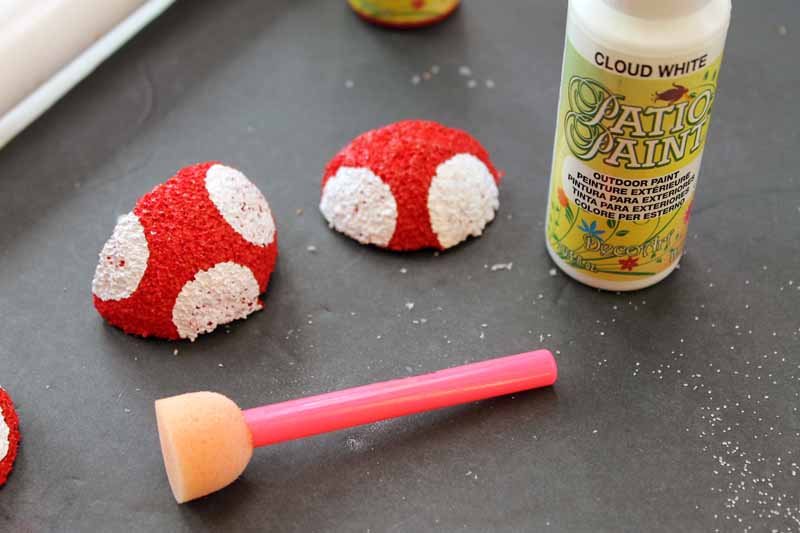 Step 2
Go ahead and paint your wreath foam green. This ensures that you will not see any white if you have gaps in the moss that you'll use to cover the form.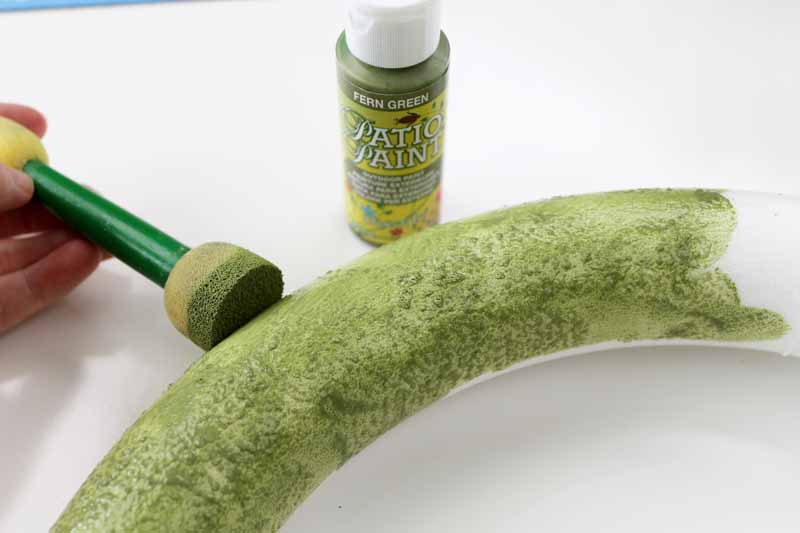 Step 3
Next, paint your fairy door! I used a few coats of yellow on mine to get enough coverage. Be sure to paint completely, especially if using this wreath outdoors.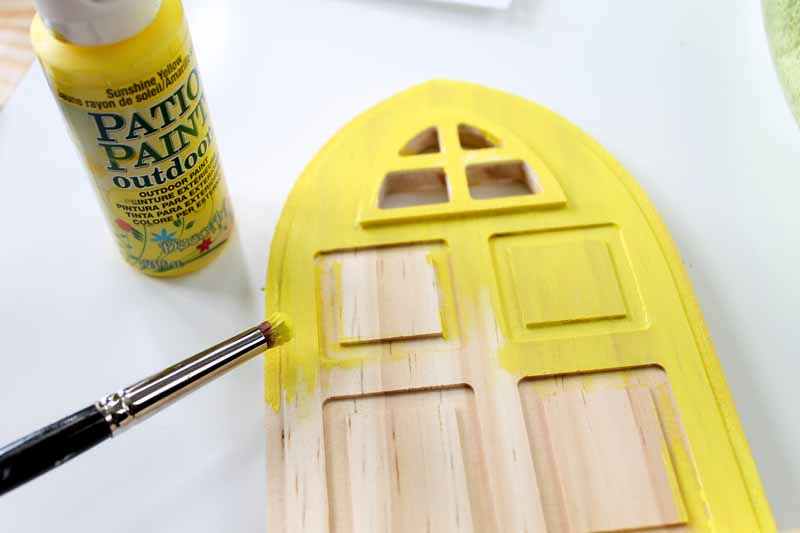 Step 4
Once your components are dry, you can begin to assemble your wreath.
Start by using wire cutters to trim a piece of chicken wire to fit the back of the wreath. Press the wire into the wreath form and use a bit of hot glue to secure it into place.
Note: You may want to wear protective gloves for this step because the wire is sharp. Ouch!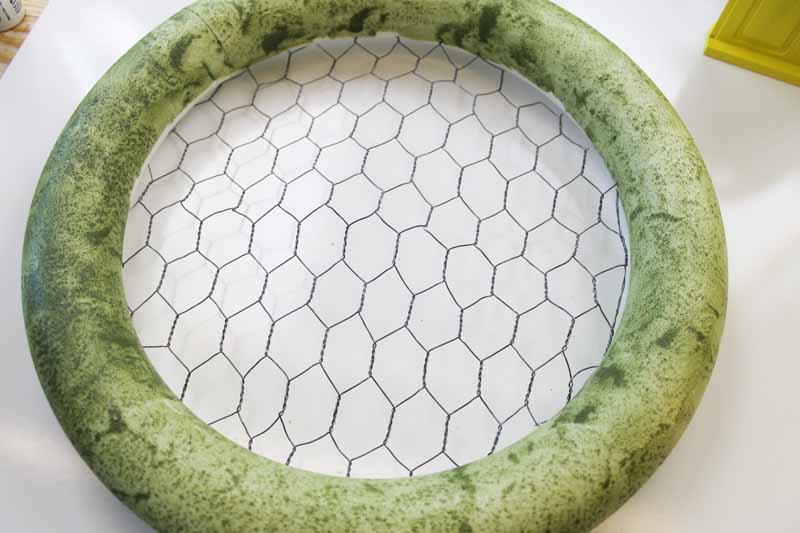 Step 5
Then, use sheet moss to cover your wreath entirely. Secure it in place with hot glue.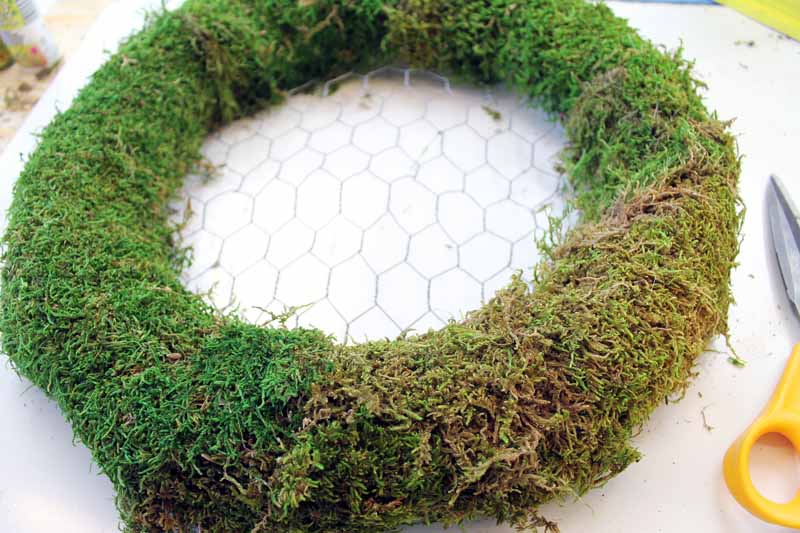 Step 6
Then you just start layering on your fairy garden elements.
I used the second type of moss on my wreath to really make it stand out. The miniatures you choose for your wreath are completely up to you (I used some clay pots and mini gnomes). Then, add on your mushroom pieces to complete the look.
Secure everything into place with hot glue.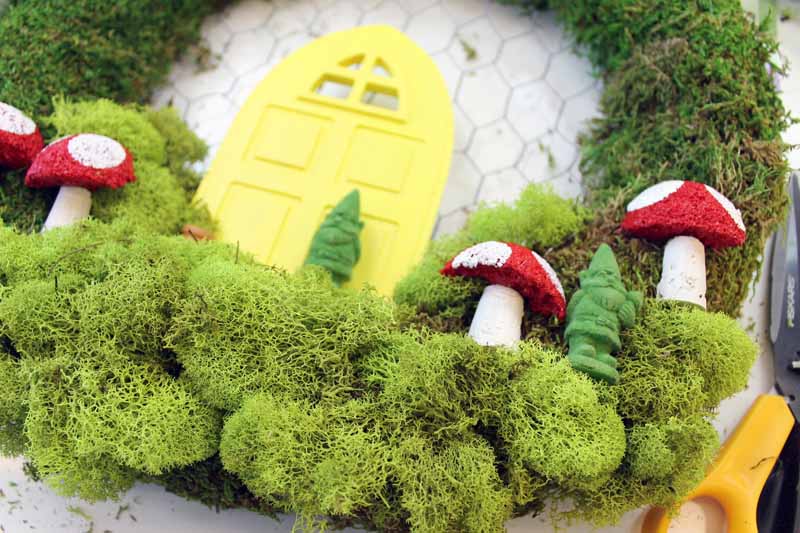 Note: I also added moss around my door and in the window to give the wreath a complete look. You can add as much or as little as you would like to your version. DIY spring wreath ideas are meant to be vibrant and customized!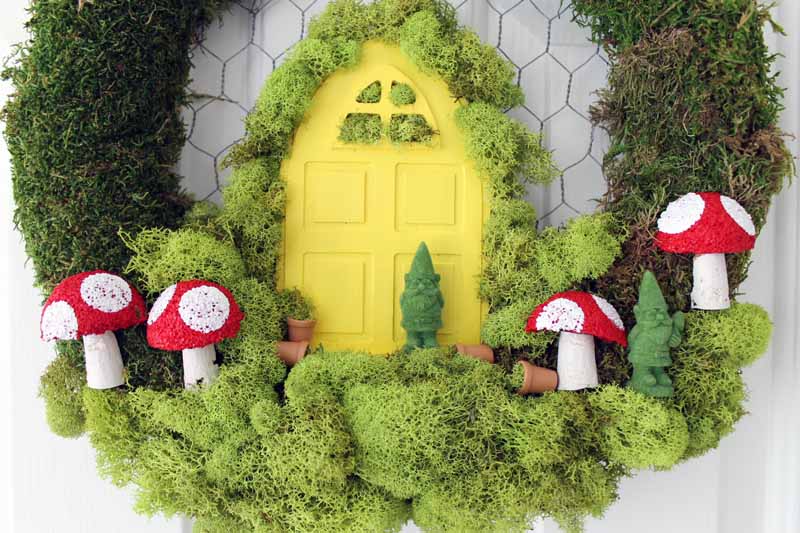 Once complete, all that is left is to hang it on your front door. Keep this one up all throughout the summer if you want to. Spring wreath ideas that transition to summer are my favorite!
FAQs
Can I use a grapevine base instead of the foam base?
That's a great idea! You can absolutely use a different base for this wreath to create a unique and personalized look for this design. If you do that, you may want to avoid putting some of the moss at the top so that the woody grapevine wreath shines through.
What other ways can I personalize and change this DIY spring wreath design?
There are so many ways to take this basic idea and make it uniquely your own! You could:
use a different wreath base
use different moss
change the color of the door
choose a different door style
use different miniature fairy items
use a different material for the backing (instead of chicken wire)
The sky's the limit – let your imagination soar and you can come up with amazing creations.
I hope y'all enjoy this fairy garden spring wreath idea and will make one for your home as well. Spring crafting is a great way to celebrate the changing seasons – and get the kids busy too!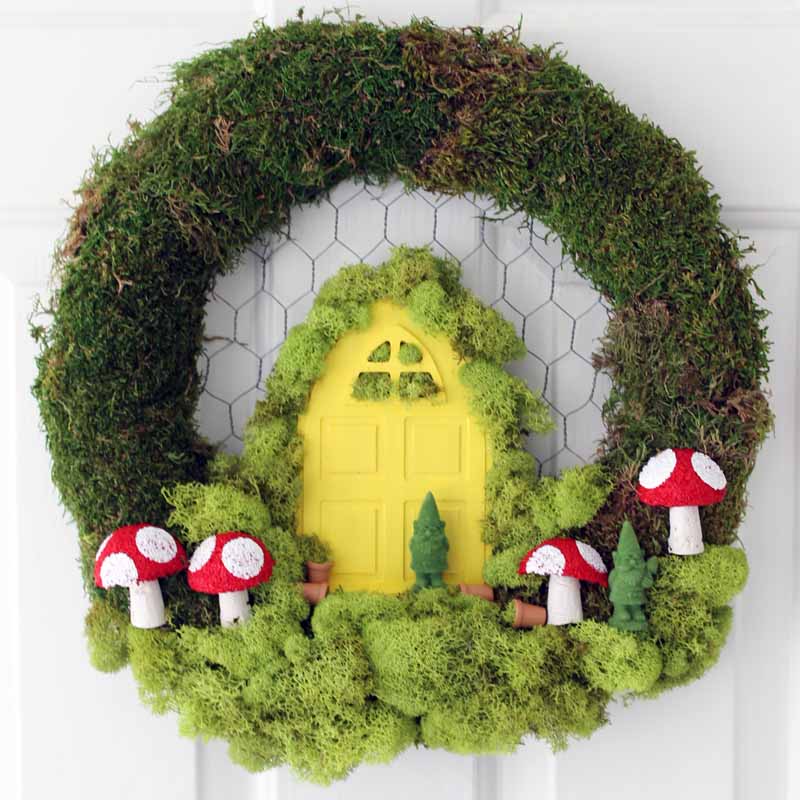 More Spring Wreath Inspiration
Want more spring wreath ideas? Try the links below!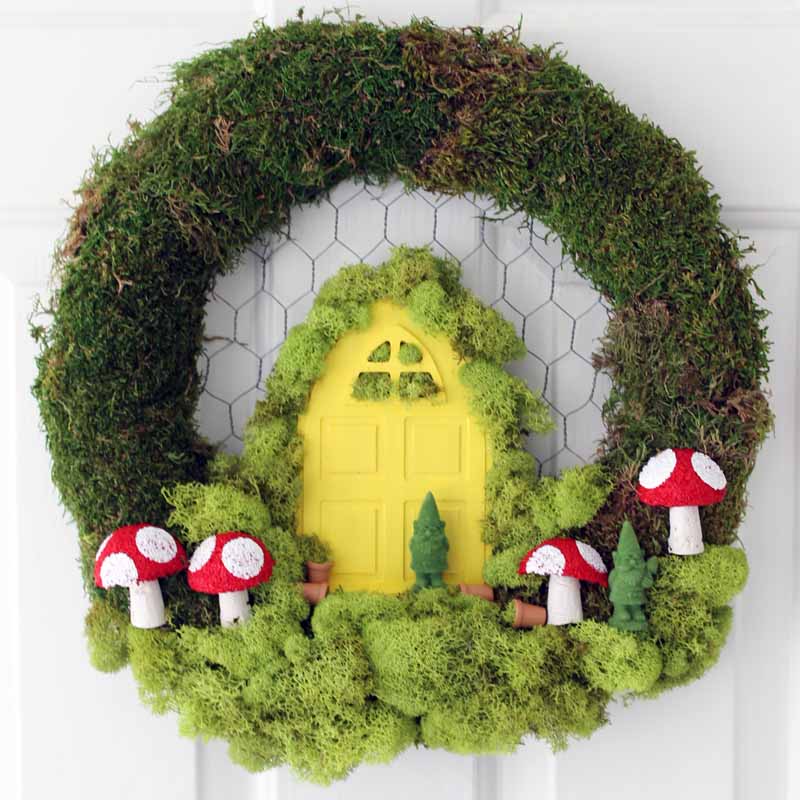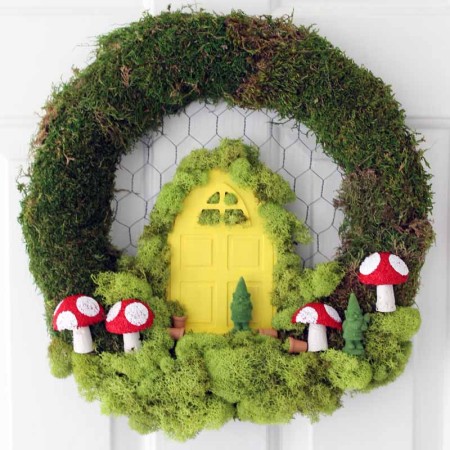 Fairy Garden DIY Spring Wreath
Learn how to make this quick and easy spring wreath that acts as a terrific statement piece on your door all spring and summer!
Supplies
Patio Paint

Fern Green, Geranium Red, Cloud White, and Sunshine Yellow

Styrofoam wreath form

Chicken wire

Wood fairy garden door

unfinished

Styrofoam ball

Wine corks

Foam brush

round

Serrated knife

Craft knife

Wire cutters

Hot glue and a glue gun
Instructions
Let's make some mushrooms! Use your knife to cut your styrofoam ball into quarters. Paint the pieces red and let them dry.

Cut the corks in half and paint them white.

Once the red pieces are dry, use your round foam brush to add white spots to your mushroom tops.

Paint the wreath form green.

Paint your fairy door (you might need a few coats).

Use wire cutters to cut out a piece of chicken wire for the back of your wreath. Secure it in place with hot glue.

Hot glue sheet moss to your wreath form.

Layer on your fairy garden elements, securing each on with hot glue. NOTE: I added bits of moss on and around the door for fun.
Tried this project?
tag us to show off your work!