My college aged daughter was missing a bookcase from her new apartment so over the holidays I painted an unfinished one for her. I thought I would snap a few pictures and share with y'all. Especially because it turned out AWESOME! I was lucky enough to be provided the new
Americana Chalky Finish Paint
as part of my work on the DecoArt design team. The paint I must say is amazing. For y'all that want to know, it is available online at Home Depot but will be in stores soon.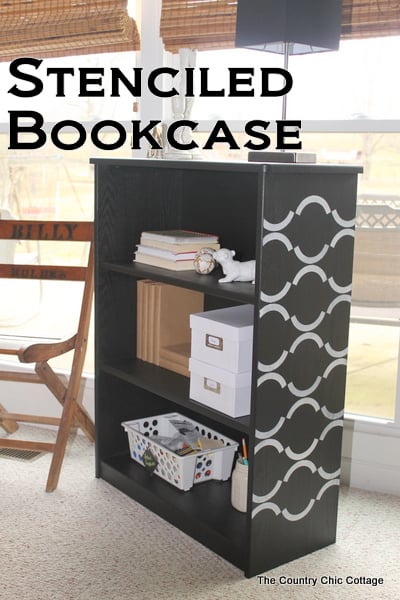 I started with a raw wood bookcase that I purchased from an Amish store here locally. I am a believer in quality made furnishing so that was my choice. You can use this paint on any unfinished or finished piece of furniture. The best part of the Americana Chalky Finish Paint was that I didn't need a primer. I dove right in with the paint in Carbon and a foam roller.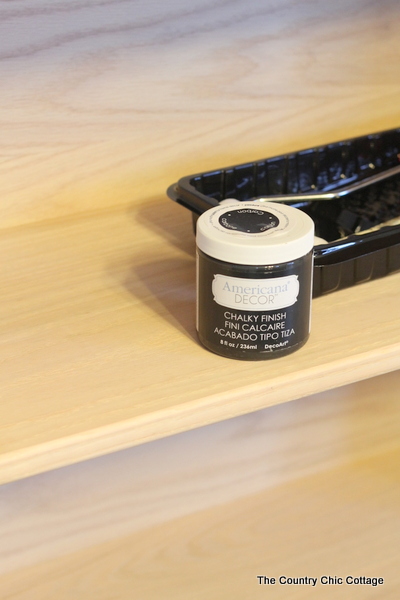 After two coats of black paint my bookcase was looking wonderful. I then grabbed a stencil that I used on by DIY container garden stand and to revamp a vintage cabinet. You can purchase your own version from Royal Design Studio. I used the Americana Chalky Finish Paint in Everlasting for the stencil detail. Just once light application and I was thrilled with the results. NOTE: Picture below is before wax and looks a little dusty from my stencil adhesive. The finished product after wax looked amazing.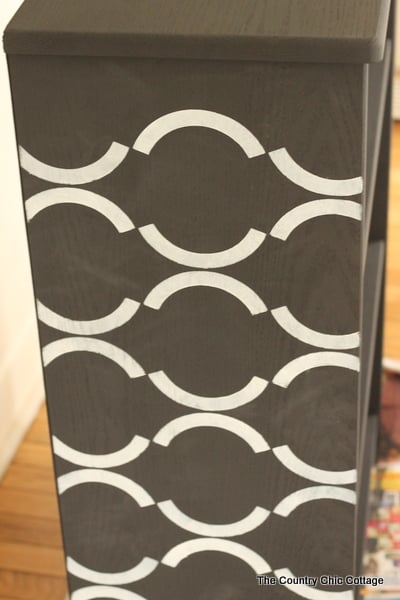 I then gave the gave the entire projects two applications of clear creme wax. The wax is also available as part of the Americana Chalky Finish Paint line. It goes on super easy and I buffed it to a super glossy finish. Please head on over and watch the videos, read the instructions, and follow directions if you are going to dive into a project using the chalky finish paint. They were a life saver for me and now that my painted bookcase has fully cured it is off to the college apartment.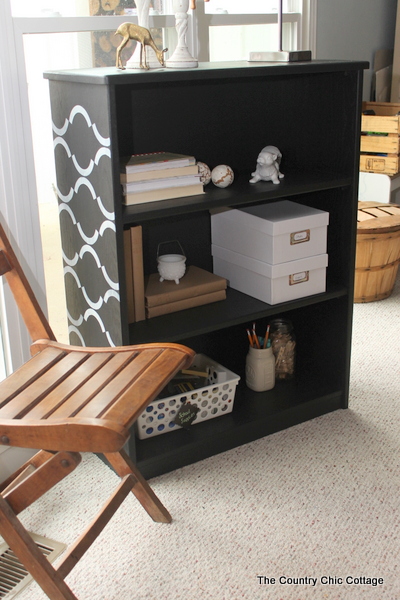 Did you tackle any paint projects over the holidays? Are you dying to try out the new Americana Chalky Finish Paint? Stay tuned for more projects using the paint right here or head to the chalky finish Pinterest board that DecoArt has put together. I hope you enjoyed my stenciled bookcase as much as I enjoyed painting it.
This post is a part of my work for the DecoArt design team however all opinions and projects are my own.
Sharing at Serenity Now.