Last week Gina from The Shabby Chic Cottage asked for a post this week on your fave Transformation Thursday post.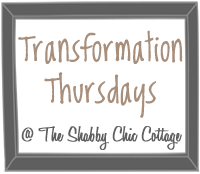 Boy she did not know what she was asking…I have only been doing this since January and I had a hard time! I decided on this one cause it was an awesome deal and I still have these two cloches — they make me smile everyday. And that is what this is all about right?? Hope you enjoy this rewind…
~*~*~*~*~*~*~*~*~*~*~*~
Yep $5 got me two — yes two — cloches!
And how do you get two for $5? Why glue stuff together from the thrift store of course! These two pieces I think anyone could find at a thrift or dollar store….
Glue em up with any glue that is made for glass. Add a bird and a "nest"….
Now these two pieces — it was like fate. I saw the hurricane first and I swear y'all right next to it was the other piece. Fate — I love ya!
Again just glue em up! I added a torn strip of fabric around this one. Just stamp on some random fleur de lis and you are in business. A few bottles and a bell….
Weekly Newsletter
Subscribe to get our latest content by email every week!