Follow this tutorial to make waterless snow globes for kids. These are safe and easy enough for kids to make with you!
I originally posted this craft idea on Crafts Unleashed and wanted to share it here with you next! This is the perfect craft to make if you are snowed in with your little ones. I love these cute little waterless snow globes and my kids really enjoy them too! They are super cute and even little kids can design their own.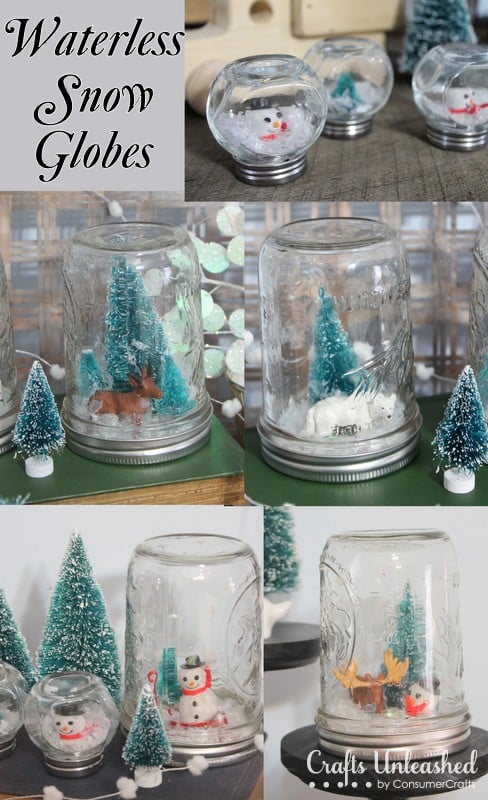 How To Make Waterless Snow Globes
Clear off your craft table, these little snow globes are a blast to make – alone or as a family!
Supplies Needed:
Faux Snow
Miniatures
Mason Jars with Lids
All of my supplies came from Consumer Crafts.
Just look at all the cute Timeless Minis I found! You can browse the extensive collection and pick out your favorites. They have so many fantastic options that will look adorable in a snow globe.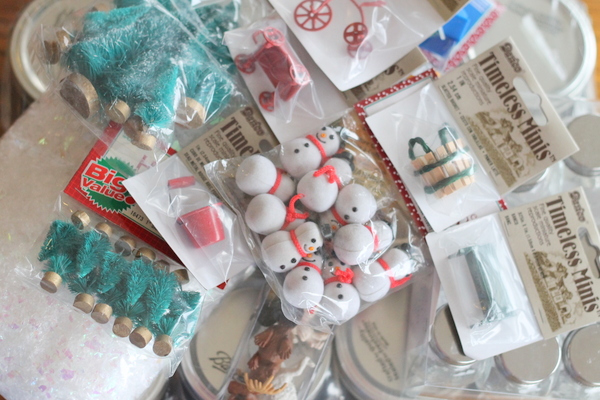 How To Attach The Miniatures To The Jar
The best thing about using a mason jar with a lid for a homemade snow globe is that you can attach the miniatures to the lid.
I used hot glue to stick the miniatures in place. This is where the creativity comes into play. What do you want the snow globe to look like? You can even paint the Christmas trees or add a family photo inside of it. The options are endless.
What Can I Use Instead of Water In A Snow Globe?
I used fake snow inside the jar instead of water. Kiddos can still pick it up, shake it, and watch the fake snowflakes swirl around.
There are lots of other ideas that I've seen too! Tidy Mom added glitter inside her snow globes. That's a mess I wasn't interested in cleaning up, so I skipped it, but it's a fun idea to be sure!
Another idea is to cut up some cotton balls and throw in some snow glitter, just like Alpha Mom does.
If you don't want it to look too "wintery" you can use bits of faux moss instead. I saw that tip on Think Make Share blog and it's so clever.
How To Make Waterless Snow Globes
Here's how easy it is. Just hot glue your miniatures to the lid, add a little snow to the inside of your jar, and assemble it all!
That's seriously all you have to do.
If you want any of the snow to stay put when you shake the globe, you'll have to hot glue some of it to the lid.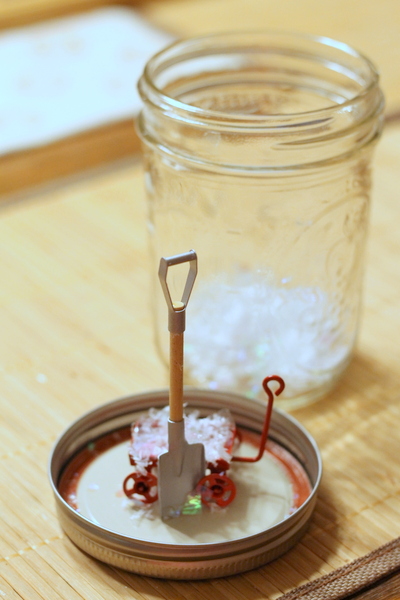 What Types Of Jars Are Best For Snow Globes?
You can use mason jars like above or Consumer Crafts has these mini cruets that I am in love with! They make the cutest snow globes ever.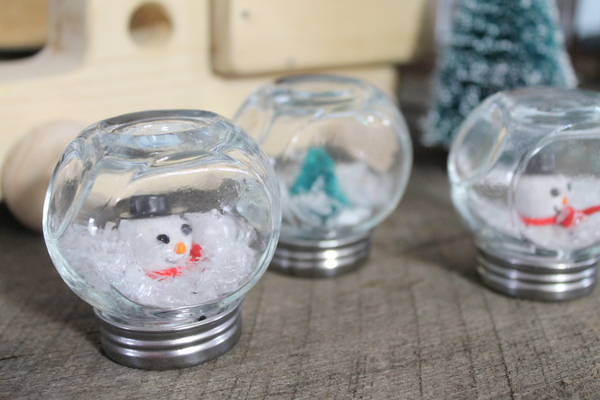 How To Design The Snow Globes
Just let your kids go wild with trees
, animals, snowmen, any miniature that you can imagine can go in these waterless snow globes.
This is where you can let your imagination run wild! There are really no rules for this step. Just fill up the jar with your favorite holiday or winter-like scene.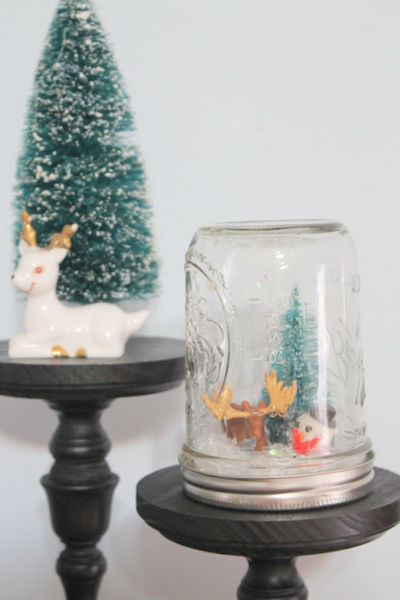 How Long Does It Take To Make Waterless Snow Globes?
This all depends on how in-depth or simple you make it.
We spent an hour or so designing tons of these snow globes and putting them together. What a great way to spend some crafty family time.
I'm sure you can spend more time than that if you paint the miniatures or try to add different textures in the snow.
If you want to get extra fancy, you can even paint the mason jars or add attach a vinyl holiday phrase with a Cricut cutting machine.
I love simplicity, so I kept my mason jars clear. I love seeing all the beautiful miniatures that are inside.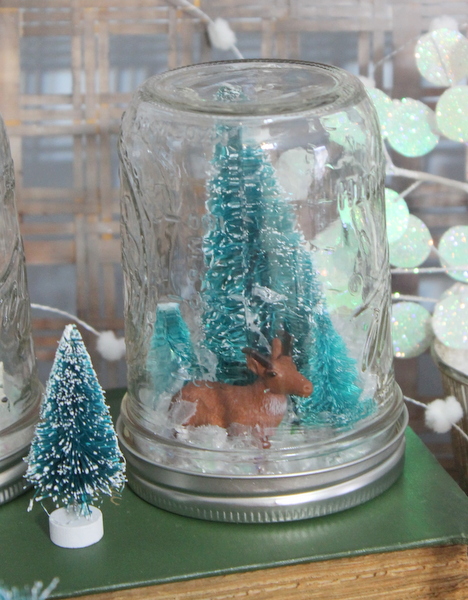 Display Your Snow Globes
Mine all went up on my winter mantel so we can enjoy them for a while. They are easy to take down and give a good shake every now and then.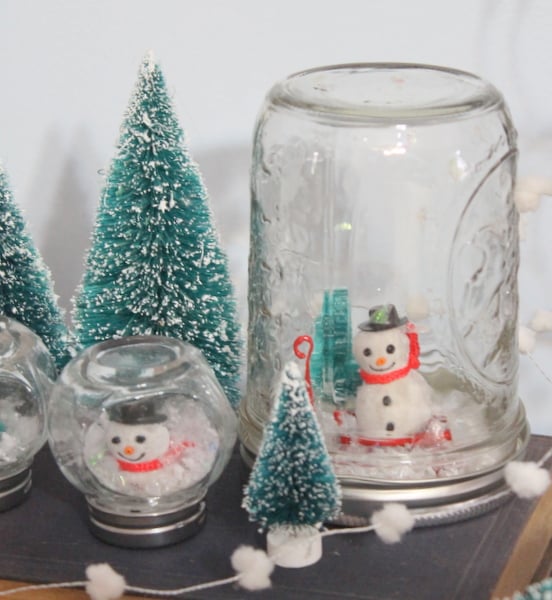 So while the weather outside your home is frightful, stay warm with this cozy activity for the kids. Then watch it snow INSIDE!
If you enjoyed this snow globe craft, you will enjoy some more Christmas crafts next. Try one of my favorites: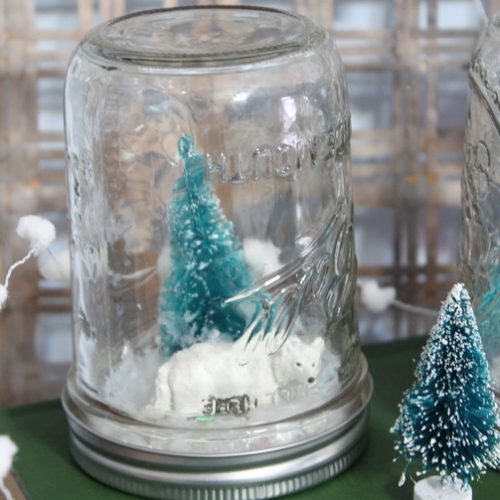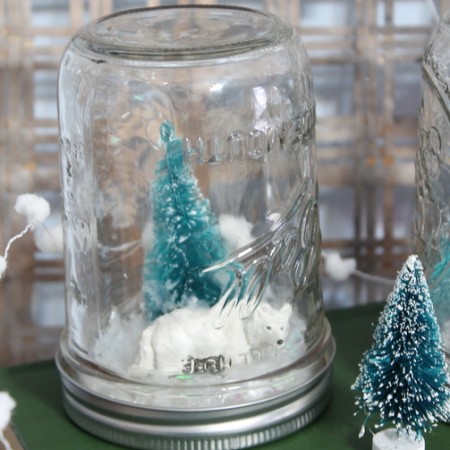 Waterless Snow Globes
Make waterless snow globes for Christmas – it's a fun craft you can do with kids.
Supplies
3

mason jars

with lids

1

package

faux snow

3

bags

Christmas miniatures

or as many as you want.
Instructions
Hot glue the miniatures to the inside of the mason jar lid.

Add glitter and faux snow in the mason jar.

If you want, you can hot glue some of the faux snow around the miniature.

Attach the lid to the mason jar and seal tightly.

After it all dries, shake and watch it snow!
Notes
If you can't find faux snow, you can also cut up cotton balls and use them instead.
Tried this project?
tag us to show off your work!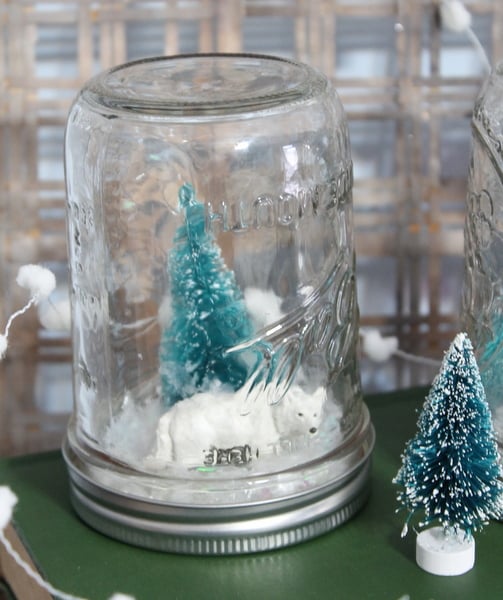 A Year of Jar Crafts
Sign up for our email list to get a FREE book with an entire year of jar crafts! 12 months, 12 crafts, tons of fun!