This post and photos may contain Amazon or other affiliate links. If you purchase something through any link, I may receive a small commission at no extra charge to you. Any supplies used may be given to me free of charge, however, all projects and opinions are my own.
Wedding invitations can be pricey, but I have these free printable mason jar invitations that you can customize right here and download for FREE!
What?! Yep! Download yours today, and then have them professionally printed at a store near you. Your guests will love these wedding invitations and you will love how cost effective these are!
These are a part of mason jar wedding week so be sure to scroll to the bottom of this post for even more great wedding ideas from our blog partners for this series! If you have missed any of the series this week, be sure to check out the mason jar wedding ideas from day 1 here.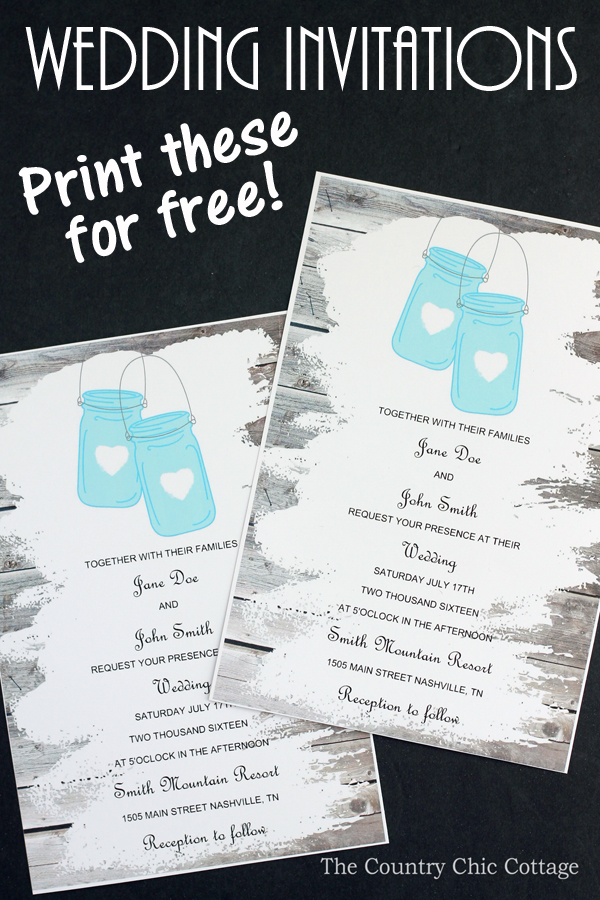 Free Printable Mason Jar Invitations for Wedding:
Just click here to download the form for the invitations.
You can click on each field and change the words once opened. Change it up to suit your wedding or event then save as a PDF file. That file can then be sent to a printer who will print your gorgeous wedding invitations for you! Brilliant right?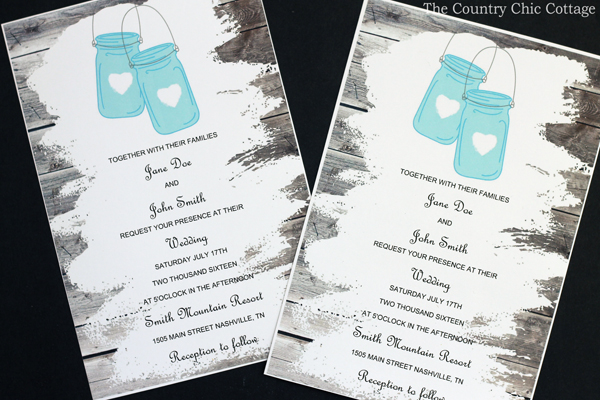 If you have trouble with the fonts, be sure to download French Script and Helvetica to your computer. These are both free download fonts and should make your wedding invitations look just like my example. Y'all enjoy!
Love these and want the matching save the date cards? You can see more about those here.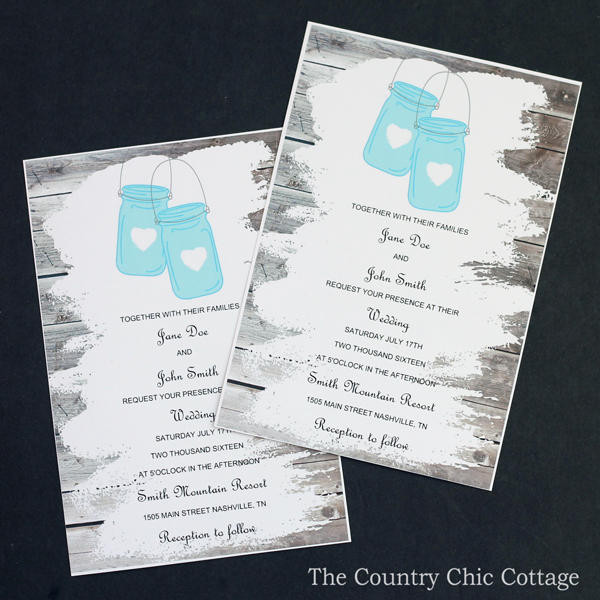 What to Know About Printing DIY Free Wedding Invitations
Now that you have free printable mason jar invitations that you can use and download, here are tips you need to know when printing wedding invitations.
Consider the Cost
Even if opted to print at home, the cost of ink and paper will still cost you a bit. Even more so if you spring for high-quality paper stock or heavily saturated inks.
Factor in details such as the size of your invitations, paper type, whether your invitations will be flat or folded, and the likes. All of these elements will help you determine if the cost savings outweigh ordering from a pro.
Know Your Style
Before spending hours searching online for the perfect wedding invitation template, consider the style that suits you perfectly.
Do you want elegant and simple? Bold and colorful? Modern and contemporary? Look at a variety of styles before quickly jumping the gun and then regretting it later on.
A useful tip is to create a Pinterest board. Pin everything that you love and you'll soon realize what your style is based on what you're pinning a lot of.
Double Check the Font Specifics
Fonts are tricky. If you download a template that is a Microsoft Word file, but you don't have the same fonts on your computer, you will most likely end up with a template that looks different from what was advertised.
Most vendors will detail directions around fonts in the description, so make sure you have a good understanding of the necessary fonts before you download.
Be Detailed When Customizing
The most inexpensive option is to download a free template and change the details on your own, but if you want any of the design elements changed, you can get a designer to professionally edit it for you.
As you're editing the wording and finalizing your design, be sure to run it past multiple sets of eyes before you hit the print button to avoid any mistakes.
Free but Professional
Just because you're taking the DIY route, doesn't mean you should settle for mediocre design. Make your invitations look hot off the professional press. One way to do this is by choosing a wedding invite template that uses the "full bleed" design. This effect is achieved by creating a design slightly larger than the final cut size, to ensure that there are no white margins visible.
Your best bet is to center the design on larger paper, giving you space for margins and plenty of room to trim neatly.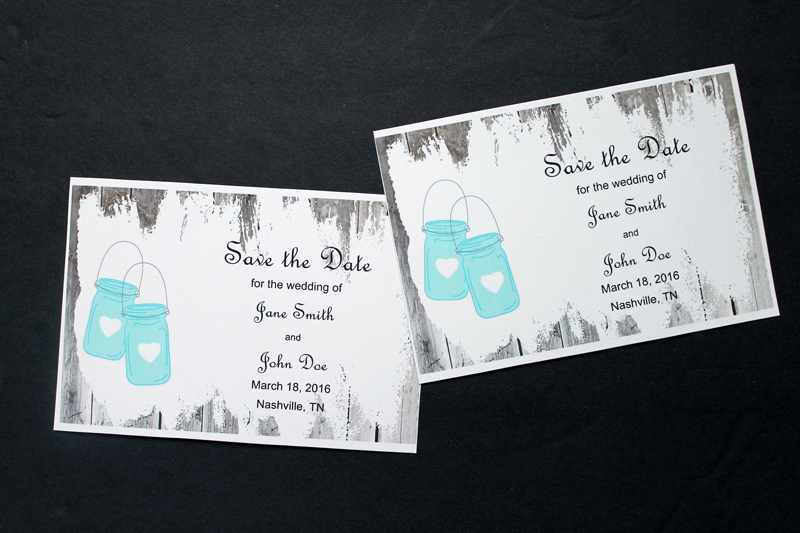 Choose Your Paper
When it comes to wedding invitation paper, you should opt for something other than regular thin printer paper. Generally, the thicker the paper, the more luxurious the feel. Consider using something with a bit of texture to it as well, such as a linen or felt texture.
Plan Your Ink Usage
You've thought about how much the paper will cost, but ink costs money too. A colored background will use a lot of ink, and this can really affect the cost of your invitations. Letting the paper show through, while including colorful touches in the design, may be the best way to go when printing at home.
Consider File Types
Before downloading a free printable wedding invitation, you must first identify what the file type is. Know that printing as a PDF will be higher quality than a JPEG will. But each option for printing, whether it's online or a local print shop, will have a different file type requirement.
Equipment Check
If you're printing at home, make sure all of your equipment is working properly. Your computer screen may not correctly show you how the design will actually print, specifically the color.
Home printers also tend to be a shade or two darker, while cost-effective web or local printers are usually a bit lighter.
Spend time printing tests and adjusting the settings on your printer to get the colors you want, and invest in a sample or two if you're getting services from a print shop.
Plan Ahead
Printing your own invitations may be more affordable than having them printed by a pro, but it may not be faster. There's also a chance that it may be more stressful.
Save yourself the anxiety by giving yourself enough time when printing at home. Count back from your wedding date and plan your printing time accordingly.
If you think it's too much trouble and you might eventually find yourself in a time crunch, it would be best to have a professional do the printing.
Choose the Right Print Shop
When you've opted to outsource the printing of your wedding invitations, make sure you choose a print shop that can properly accommodate you and understand your requirements.
Quality doesn't necessarily mean expensive, so if you can choose a printing shop that provides quality service at an affordable price, all the best!
That's it! A free mason jar wedding invitation template and all the tips you need to know to properly print this DIY wedding invite.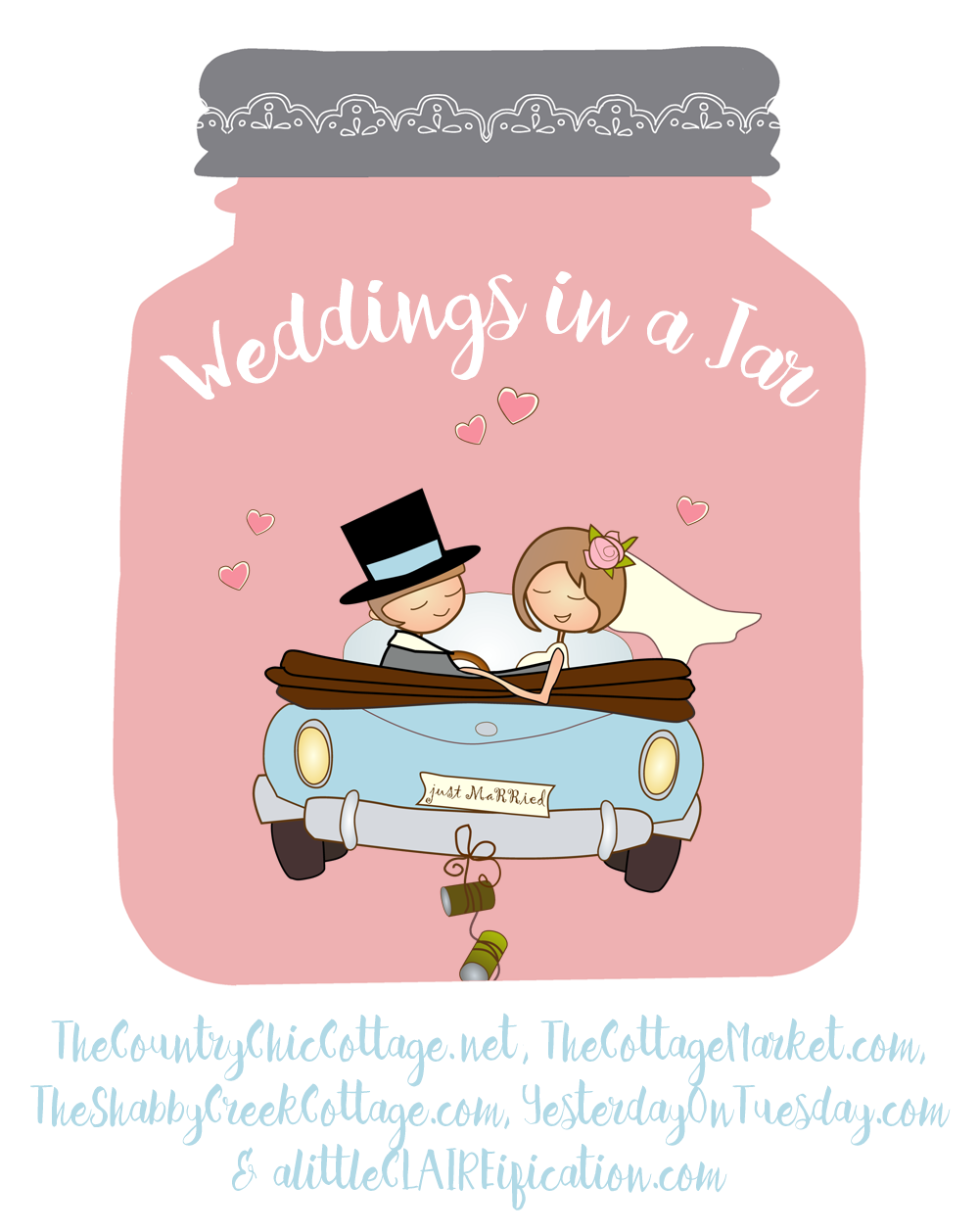 If you love this idea, you will love what my blog partners for mason jar wedding week have in store for you! Click around to each blog to see the mason jar wedding ideas.
Y'all enjoy these free wedding invitations with jars and stay tuned for even more mason jar wedding ideas all week!
Love this and looking for more? Click here for even more mason jar wedding ideas from our series last year.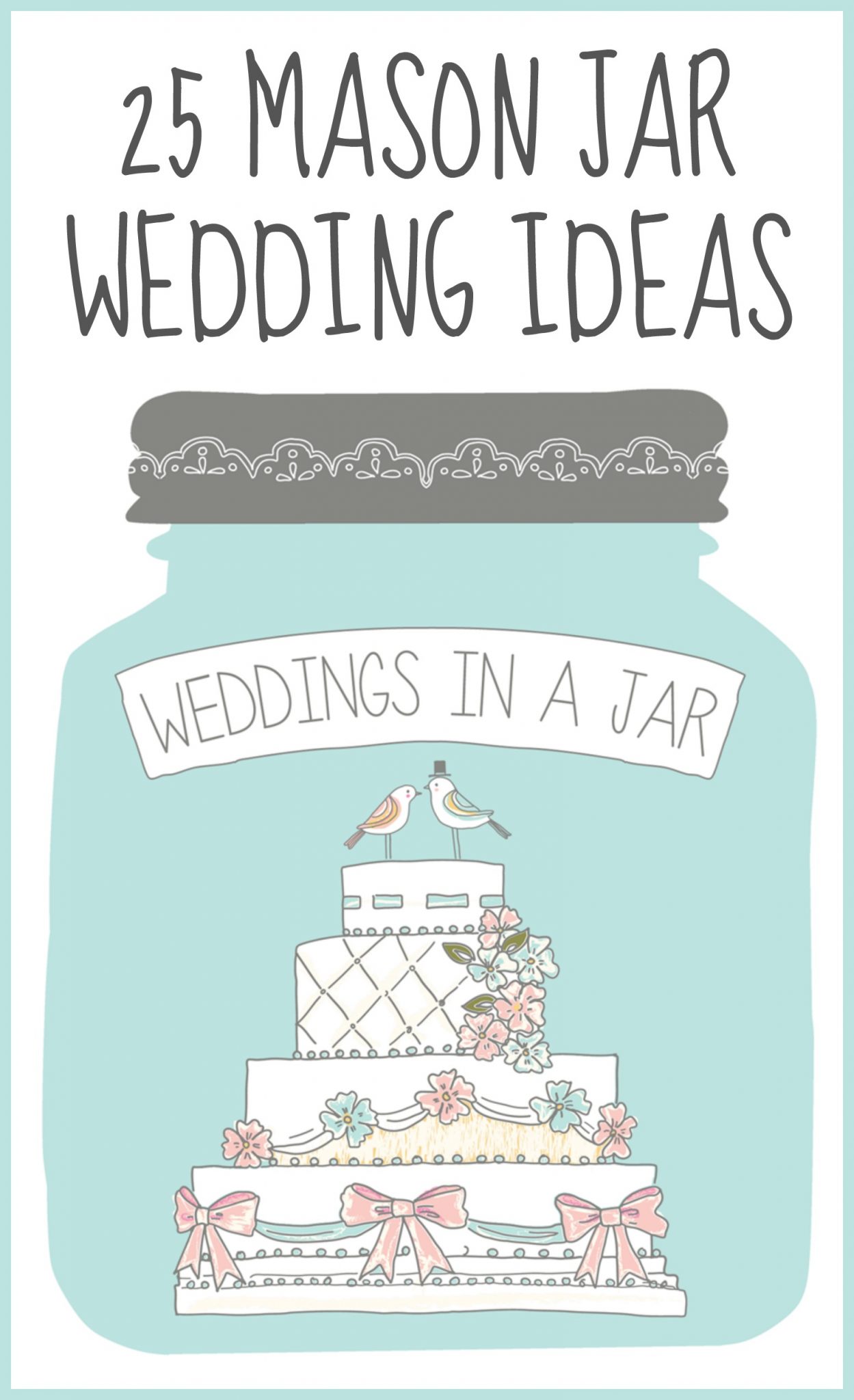 You can also shop for mason jar wedding supplies at Amazon by clicking on the links below. These are affiliate links which means a portion of your purchase will go to support this site.
If you love these ideas, don't miss our collection of over 80 MORE mason jar wedding ideas here.

A Year of Jar Crafts
Sign up for our email list to get a FREE book with an entire year of jar crafts! 12 months, 12 crafts, tons of fun!