Wedding invitations can be pricey, but I have these free printable mason jar invitations that you can customize right here and download for FREE!
Say what?! Yes, you read that right!
Download yours today, and then have them professionally printed at a store near you. Your guests will love these wedding invitations and you will love how cost-effective these are!
You might want to add some of our other mason jar wedding ideas to your list as well!
This one was first published February 23, 2016, however, I am republishing with more information.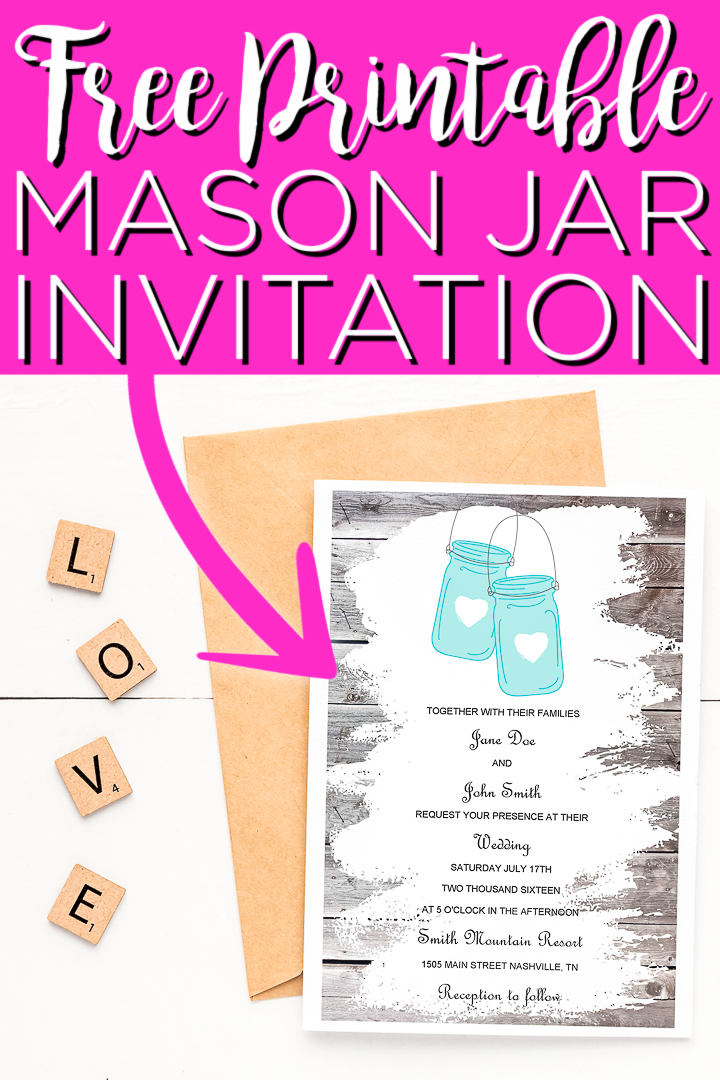 Free Printable Mason Jar Invitations
To get your free printable wedding invitations, you will need to sign up for our newsletter in the form below. You should see a form with a picture of the file you want. Add your information and the invitations will be sent to your email address. From there you can download to your computer.
Please note that these are for personal use only and they are not to be sold. You can also email me if you have any issues with your download.
How to Use These Free Printable Files
You can click on each field and change the words once opened. Change it up to suit your wedding or event then save as a PDF file. That file can then be sent to a printer who will print your gorgeous wedding invitations for you! Brilliant right?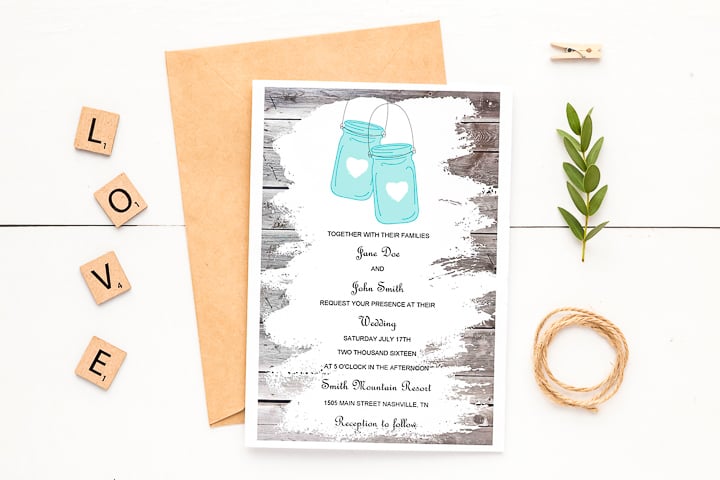 If you have trouble with the fonts, be sure to download French Script and Helvetica to your computer. These are both free download fonts and should make your wedding invitations look just like my example. Y'all enjoy!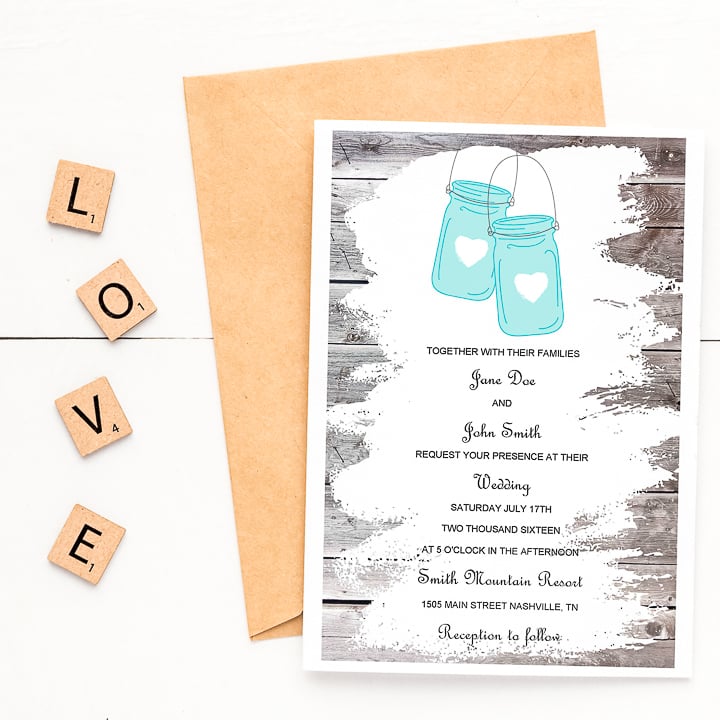 Tips for Printing Your Free Wedding Invitations
Now that you have free printable mason jar invitations that you can use and download, here are tips you need to know when printing wedding invitations.
Be Detailed When Customizing
As you're editing the wording and finalizing your design, be sure to run it past multiple sets of eyes before you hit the print button to avoid any mistakes. It is so easy to make a typo and you want your invitations to be perfect.
Free but Professional
Just because you're taking the DIY route, doesn't mean you should settle for less. Make your invitations look hot off the professional press. Try using a paper trimmer to cut your invitations so that they are neat and clean. You can find my favorite paper trimmer here.
Choose Your Paper
When it comes to wedding invitation paper, you should opt for something other than regular thin printer paper. Generally, the thicker the paper, the more luxurious the feel. You might even consider using something with a bit of texture like a linen paper or one with a felt texture. You will want to make sure that the paper will run through your printer, however. Do a test run before ordering a huge amount.
Plan Your Ink Usage
You've likely thought about how much the paper will cost, but ink costs money too. Things like a colored background will use a lot of ink and increase the cost of your DIY invitations. Try services like HP Instant Ink to reduce the cost of the overall project.
Equipment Check
If you're printing at home, make sure all of your equipment is working properly and you get the quality you are looking for when printing. Home printers also tend to be a shade or two darker than what appears on your screen. Do a test run and consider using the highest quality print setting on your printer. This will use more ink but will yield a better result. You can find my recommendation for a home printer here.
Plan Ahead
Printing your own invitations may be more affordable than having them printed by a pro, but it may not be faster. There's also a chance that it may be more stressful. Be sure to leave yourself plenty of time to print and trim all of the invitations you will need.
Go with a Print Shop
You may consider outsourcing the printing to a print shop. Download your file then send it to a quality printer. Make sure you choose a print shop that can properly accommodate you and understand your requirements. Quality doesn't necessarily mean expensive, so if you can choose a printing shop that provides quality service at an affordable price, all the best! I personally have order invitations from VistaPrint and loved them!
That's it! A free mason jar wedding invitation template and all the tips you need to know to properly print this DIY wedding invite.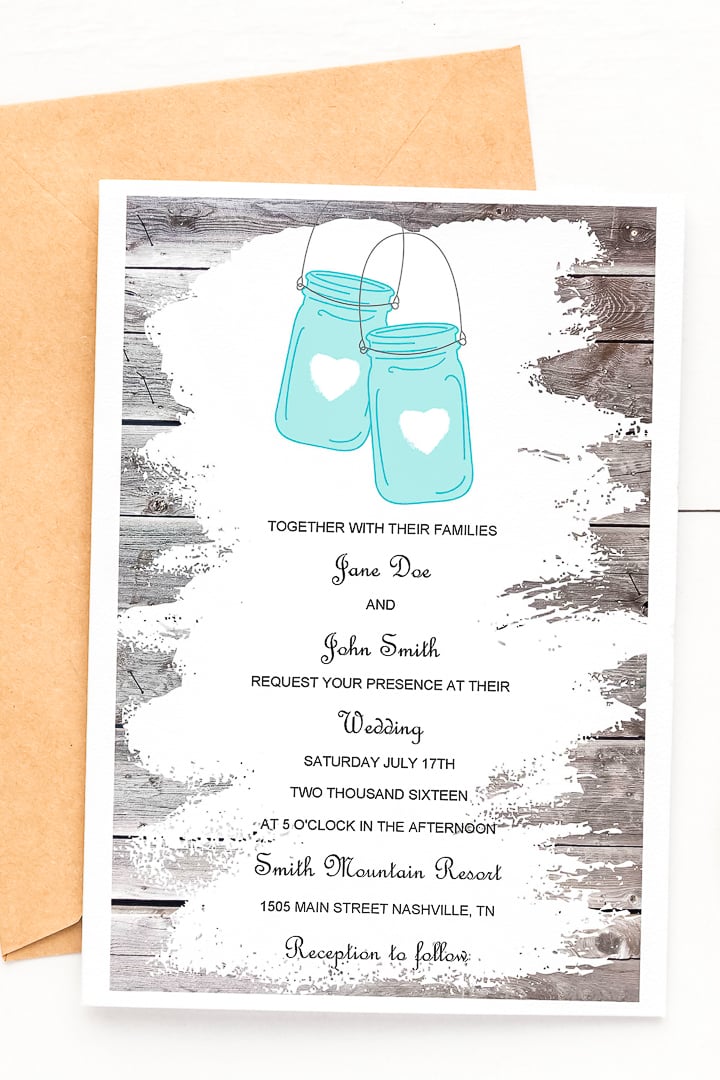 More Mason Jar Wedding Ideas
If you love these ideas, don't miss our collection of over 80 MORE mason jar wedding ideas here.
If you love this idea, you will love what my blog partners for mason jar wedding week have in store for you! Click around to each blog to see the mason jar wedding ideas.
Y'all enjoy these free wedding invitations with jars and be sure to click here for even more mason jar wedding ideas from our series last year.
A Year of Jar Crafts
Sign up for our email list to get a FREE book with an entire year of jar crafts! 12 months, 12 crafts, tons of fun!