Today, we're going to talk about the wet vinyl application method for adhesive vinyl. Why would you use this method? How well does it work? Are there any issues with the vinyl after application? I am answering those questions and so much more in the post below. I will say if you are looking to avoid bubbles when applying vinyl, you might just want to try applying vinyl when wet! It is a life-changing Cricut hack that you will use again and again.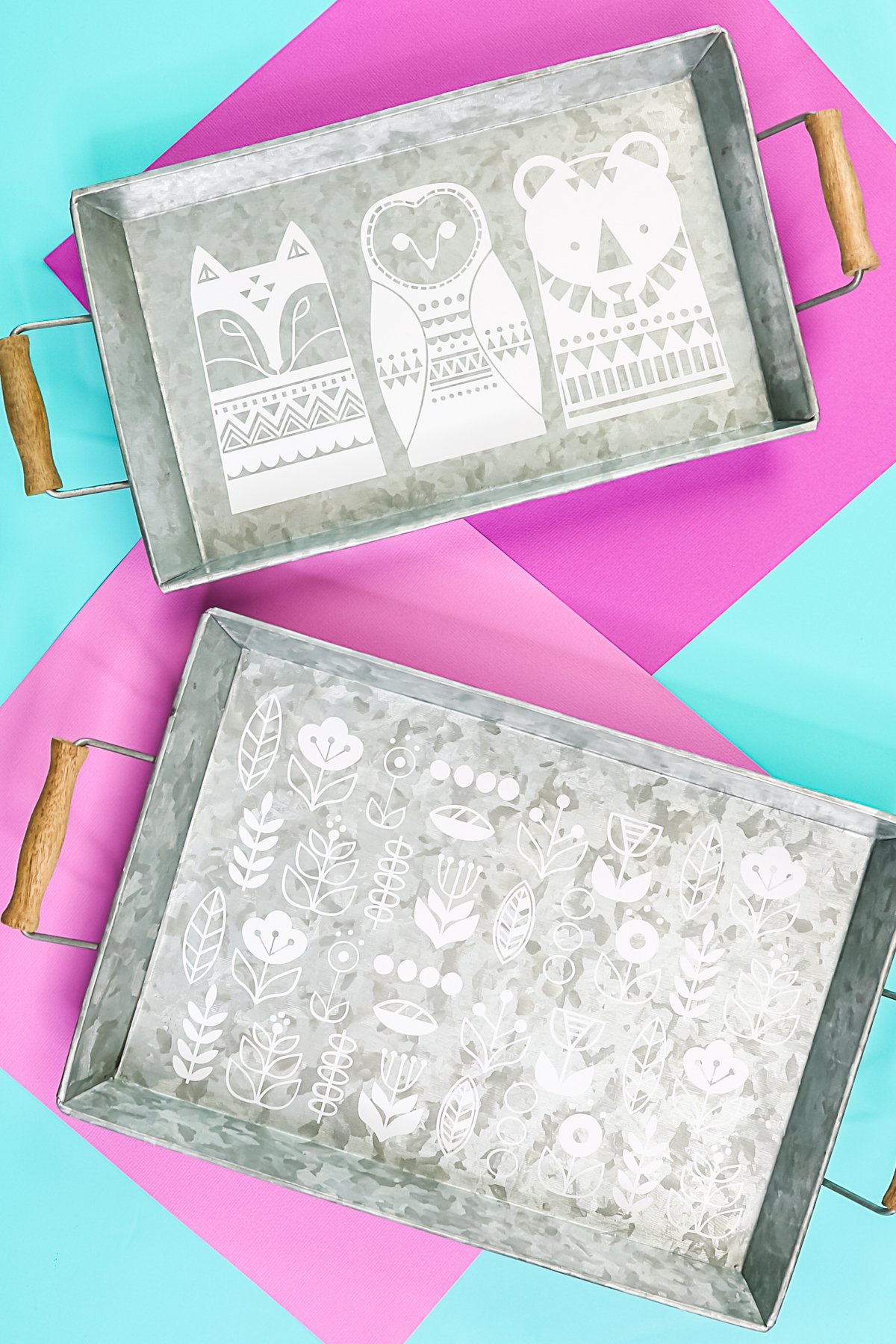 Wet Vinyl Application Method
You can actually click play on the video below. You can then watch me use the wet vinyl application method on two galvanized metal trays. You will love how easy this method is and how great it is for applying vinyl to non-porous surfaces.
Supplies Needed: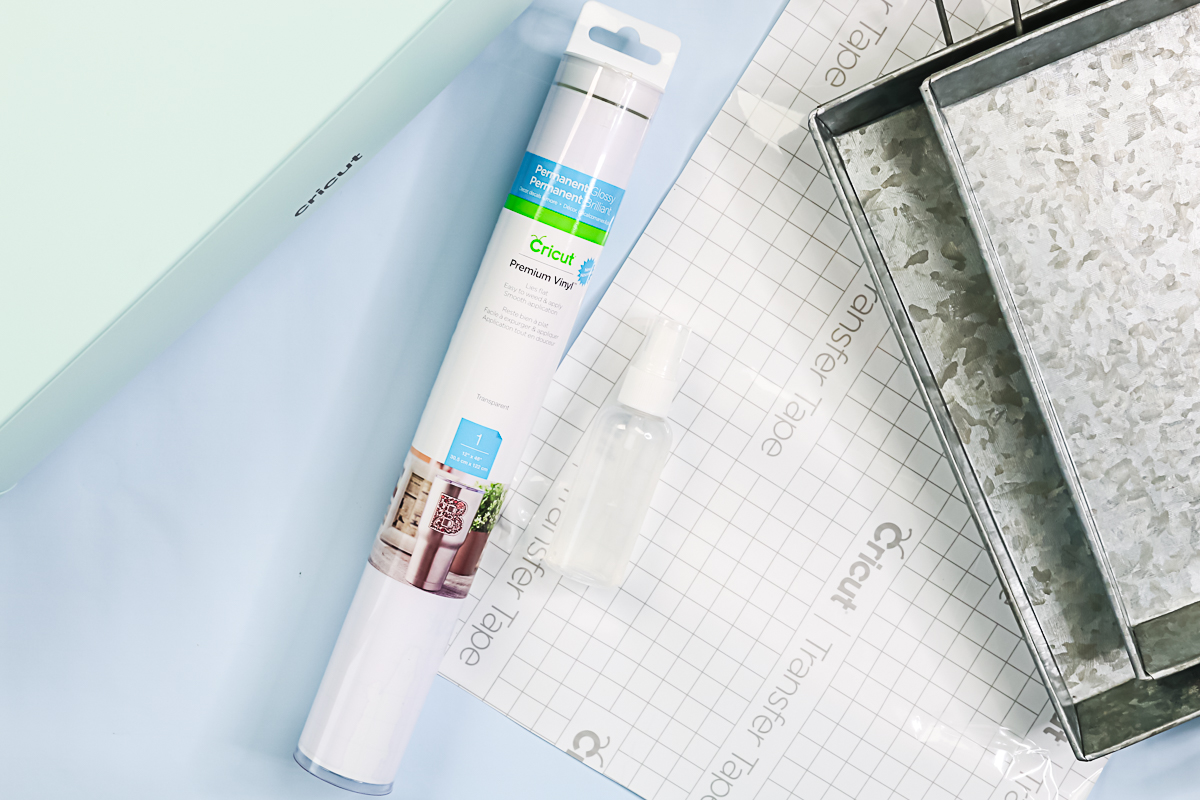 Why use the wet vinyl application method?
So, why would you want to apply adhesive vinyl to a surface while it's wet? My favorite reason for using this technique is to eliminate those bubbles. If you've ever applied a large piece of adhesive vinyl to a non-porous surface like glass, or in this case, metal, you may notice that you get bubbles underneath that flat surface. When you use water to apply your vinyl, it helps to push those air bubbles out and eliminate those from your final project.
The second reason I love the wet vinyl application method is that it allows you to float that vinyl on the surface and get it exactly in location before you commit to actually sticking it down. You can also do this with the parchment paper hack but this is another option.
Designs in Cricut Design Space
You can use any design you want with this technique. I've chosen a couple as examples. Both of these are single-layer designs, meaning that I'm going to cut them all out of the same color. You can do that, or you can use this with multiple colors. I'll talk a little bit about multiple colors and this technique at the end of this post.
For these two, I went ahead and measured the bottom of the tray. I used a sewing tape measure to do that so that I could take into account the sides, which are tapered. I made sure my designs would fit in the bottom of the tray, and then attached them together in Design Space. I used images in Design Space already and you can click here to get those. You could search for anything you want in Cricut Design Space and find images that work with the project that you have in mind.
Cutting Your Vinyl
Add your vinyl face up onto a light grip mat. The grid side of the Cricut vinyl goes down on the sticky part of the mat.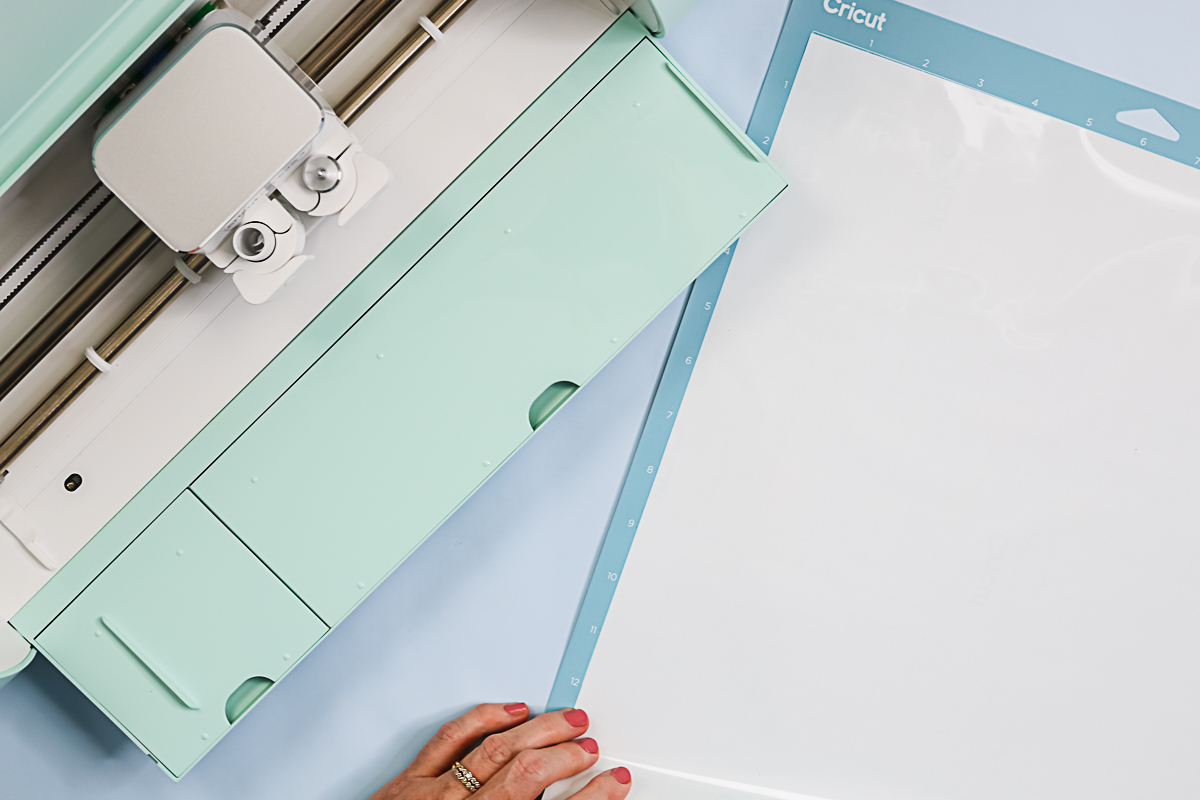 Vinyl cuts with a fine-point blade. Load your mat into your machine and press the "go" button to cut. Once your cut is complete, just press the button to unload your mat.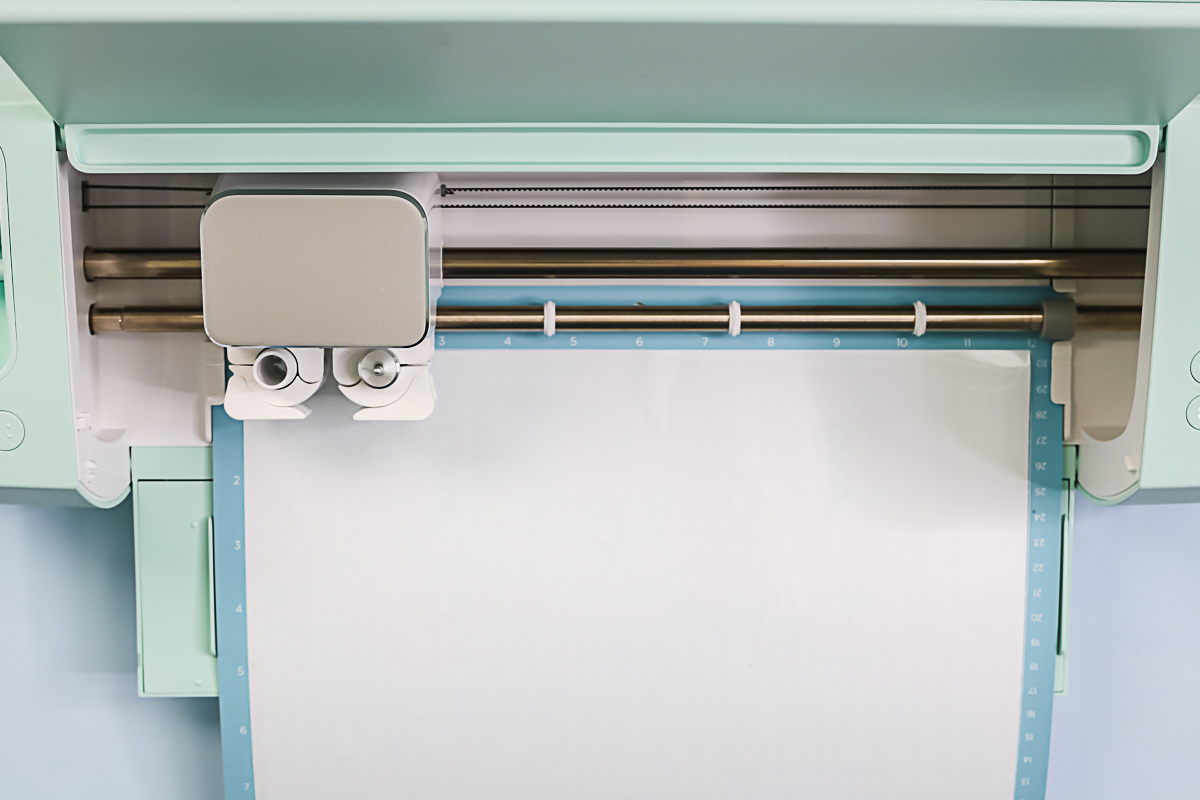 Weeding Your Vinyl
I like to leave my vinyl on the mat a lot of times to weed it. Just pull down from the corner and start pulling it away, removing all the excess from around the outside. We'll also remove anything else like the centers of the leaves and the letters.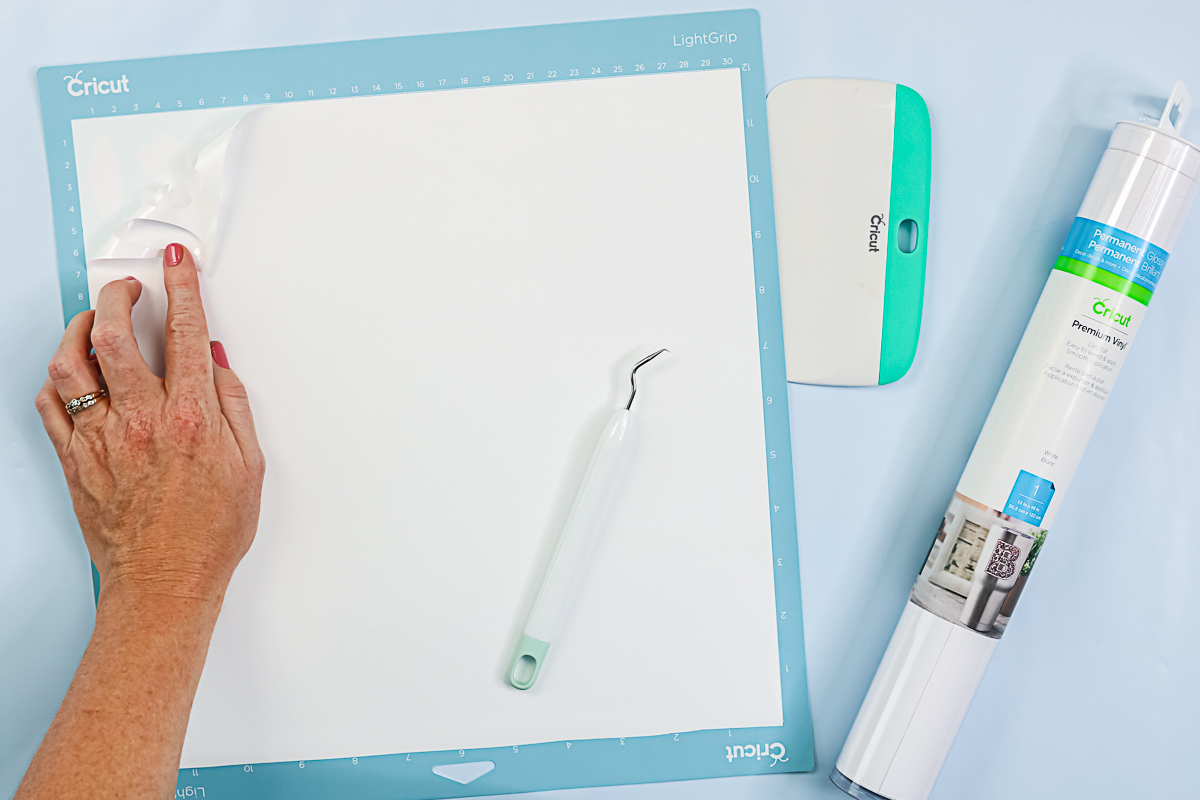 Here are my two weeded pieces of vinyl, and then I cut transfer tape to approximately the same size.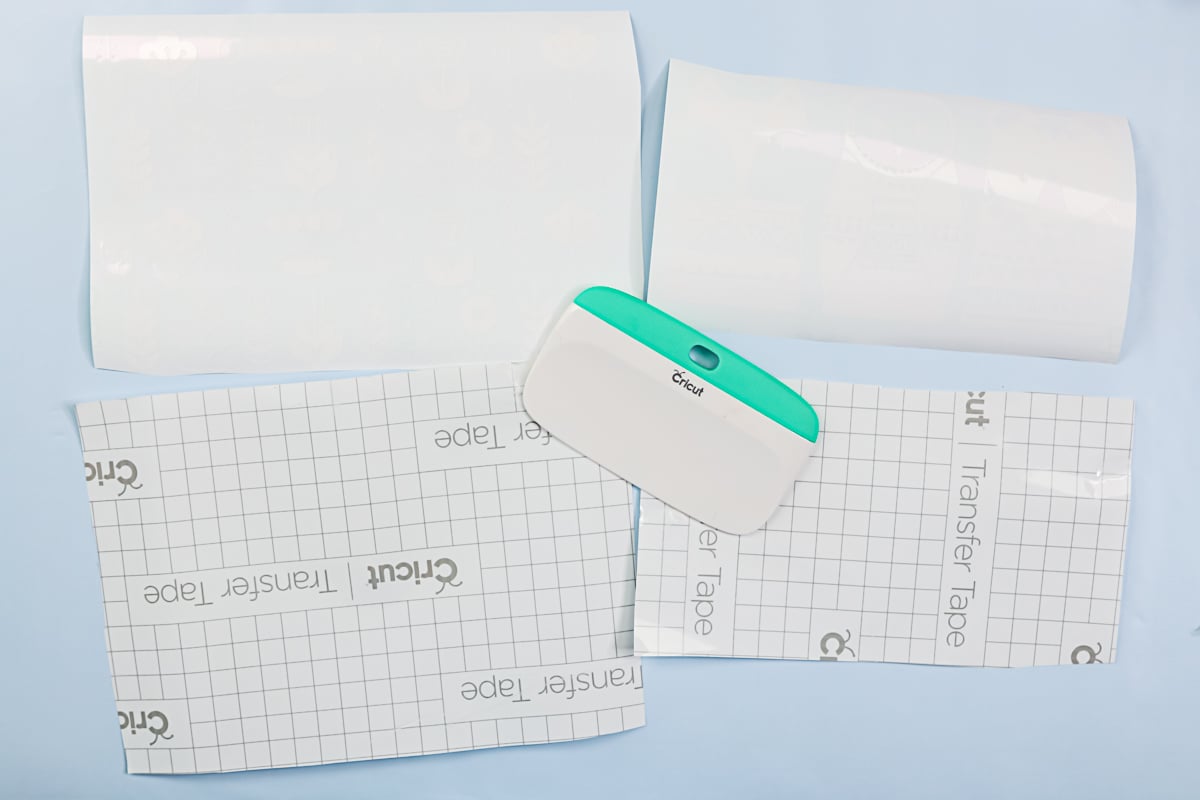 Applying Vinyl with Water
Apply the transfer tape to the vinyl and burnish it down really well. Then, flip that over and peel back the backing paper from the back, leaving just the vinyl on the transfer tape.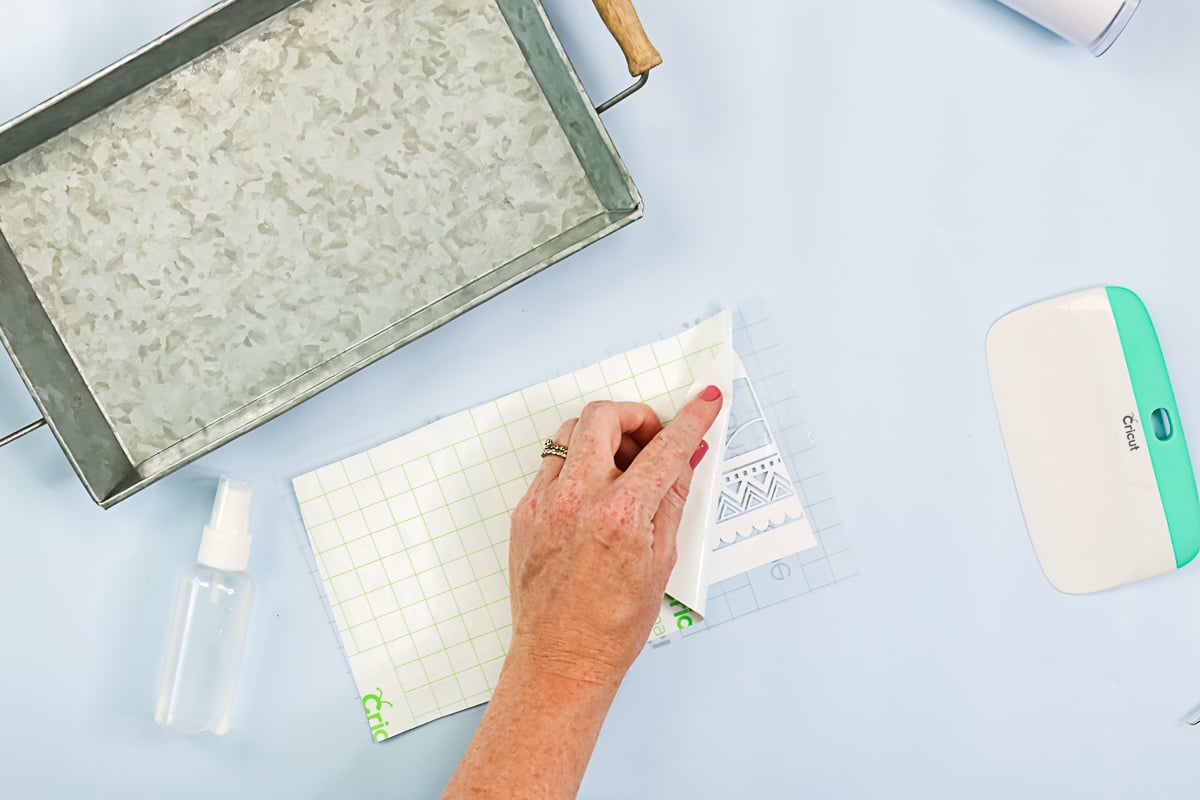 Apply the water to the surface. It can just be barely damp. Mist the back of your vinyl just to make sure everything is wet. Then turn it over onto the surface.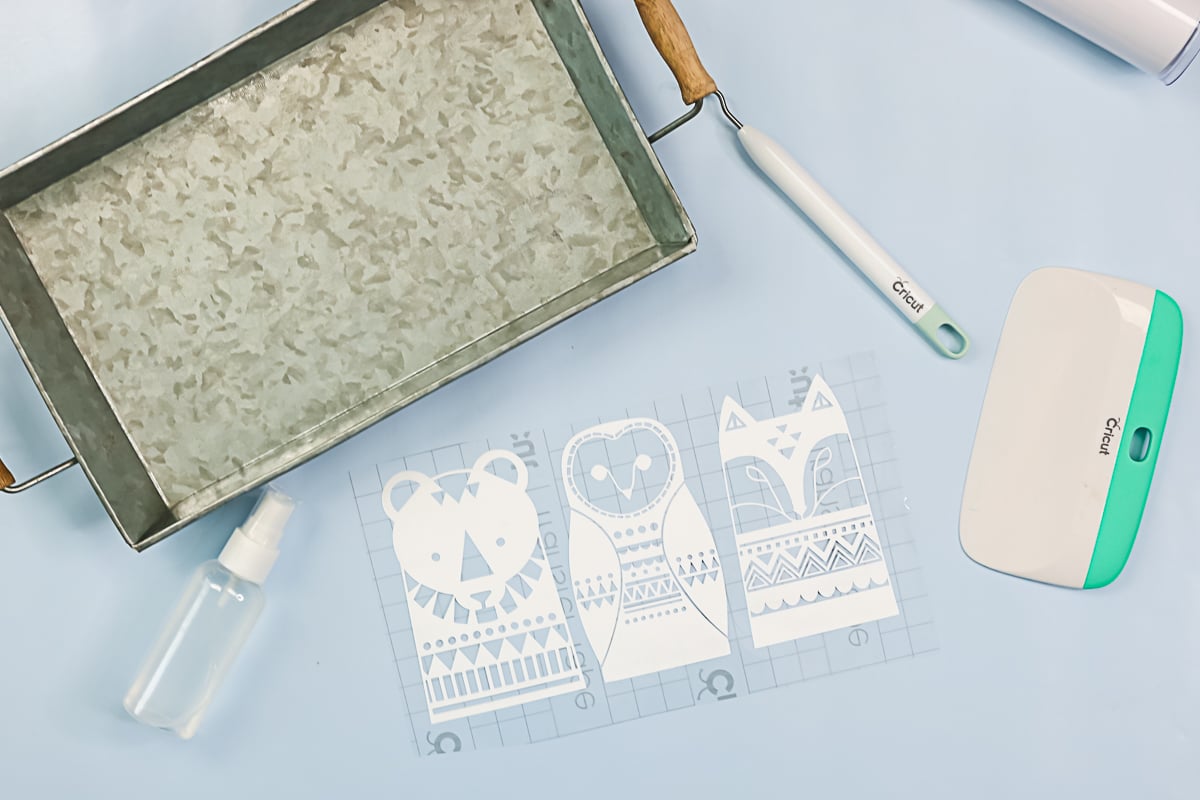 Since everything is wet, you have a few minutes to play with the vinyl and locate it. It will not stick to the surface for several minutes. Locate the vinyl then start pushing the water out with a scraper. You will want to continue to push the water out and allow it to dry for 60 seconds or so.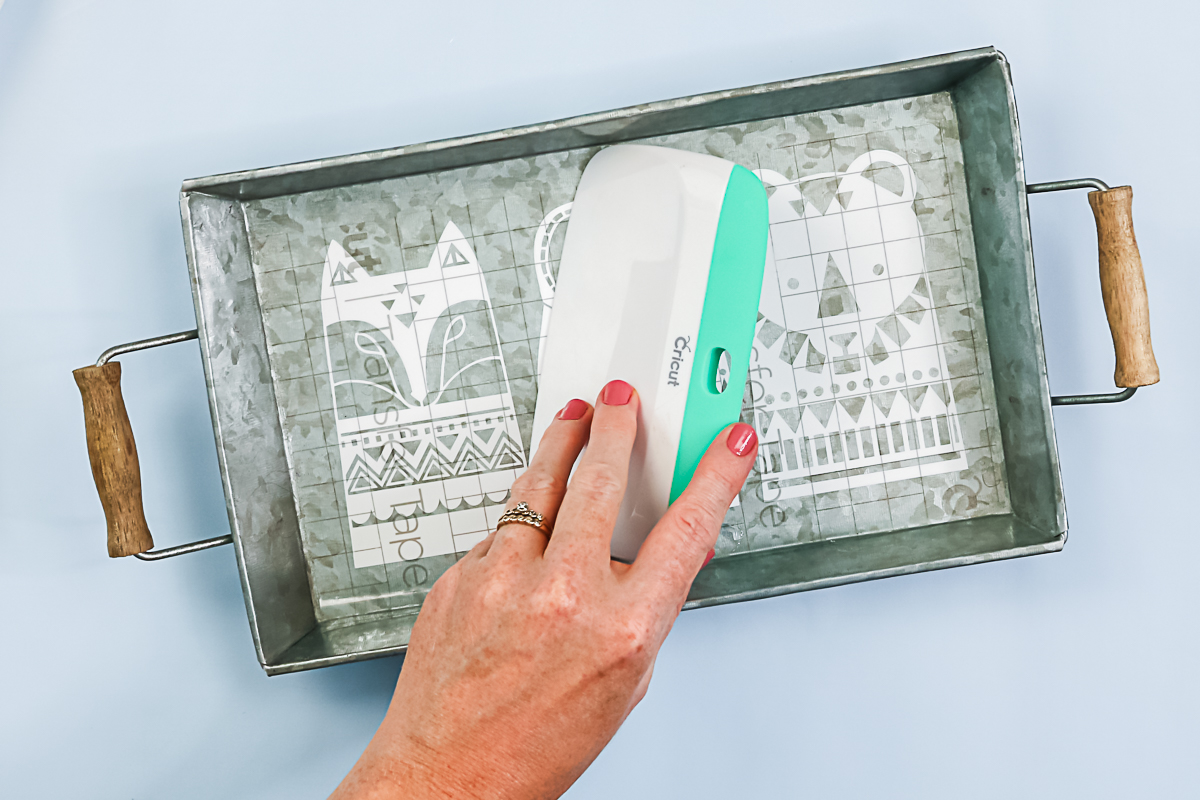 As you push the water out, use a paper towel to dry the surface. Repeat this process for a few minutes until everything seems to be really dry.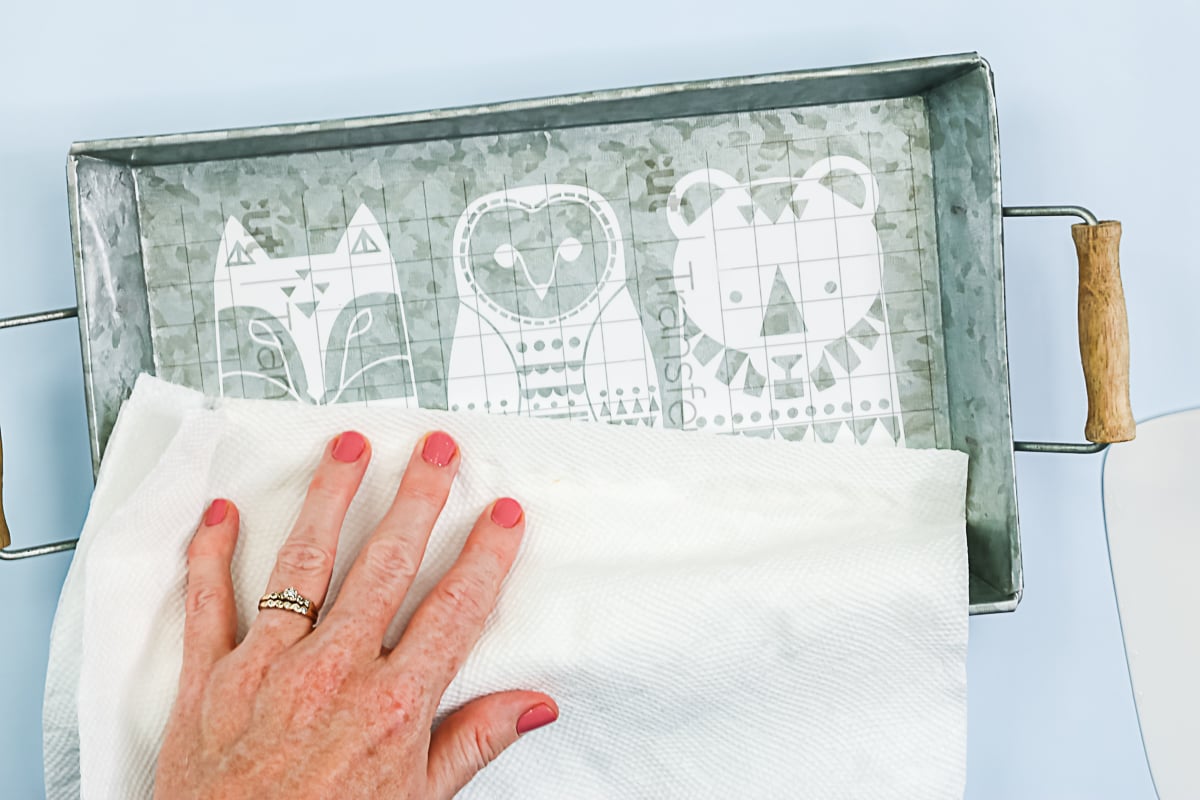 Once you think you have everything pretty dry, go ahead and start trying to peel the transfer tape back. If the vinyl does not stick, the water is probably not all the way out. Just keep pushing more of that water out and drying until the vinyl is really stuck down onto your surface. Once it's stuck down, peel back the transfer tape, leaving the vinyl on your surface.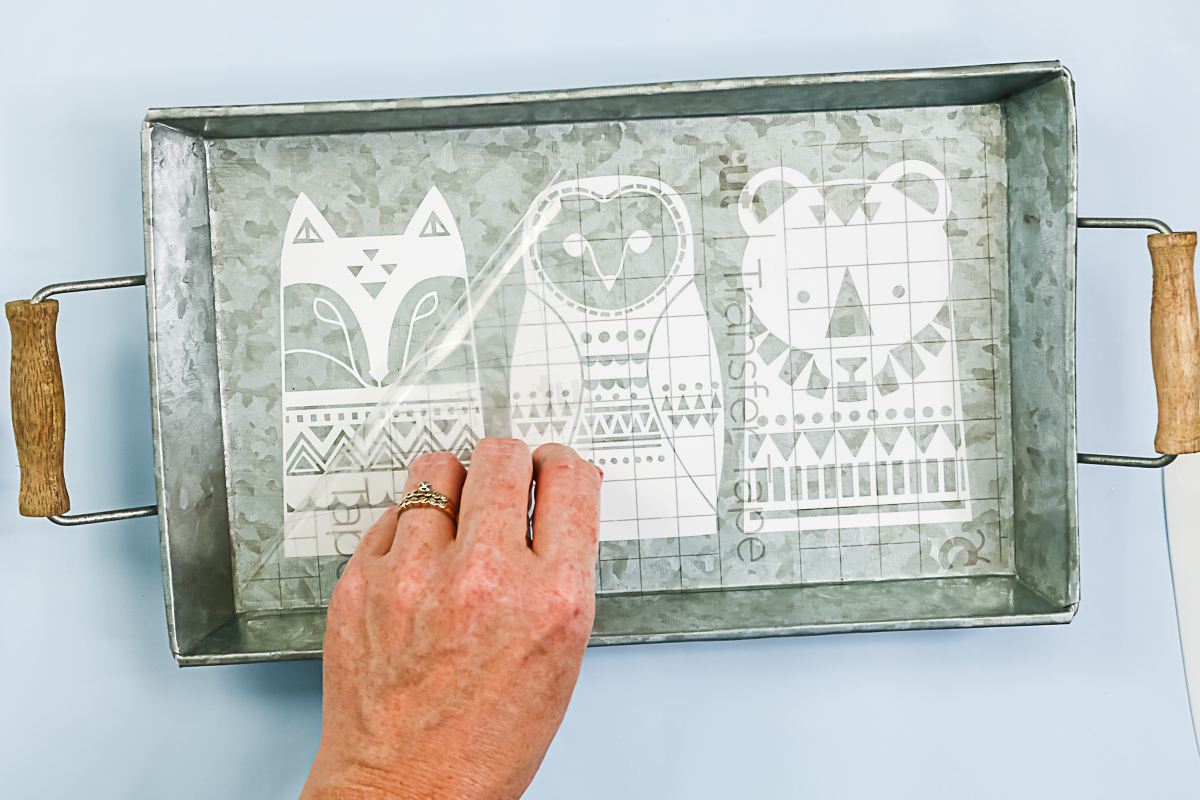 You may find some water in some areas and you can just dry that up as you go along with a paper towel. Remove any additional moisture that's on the surface.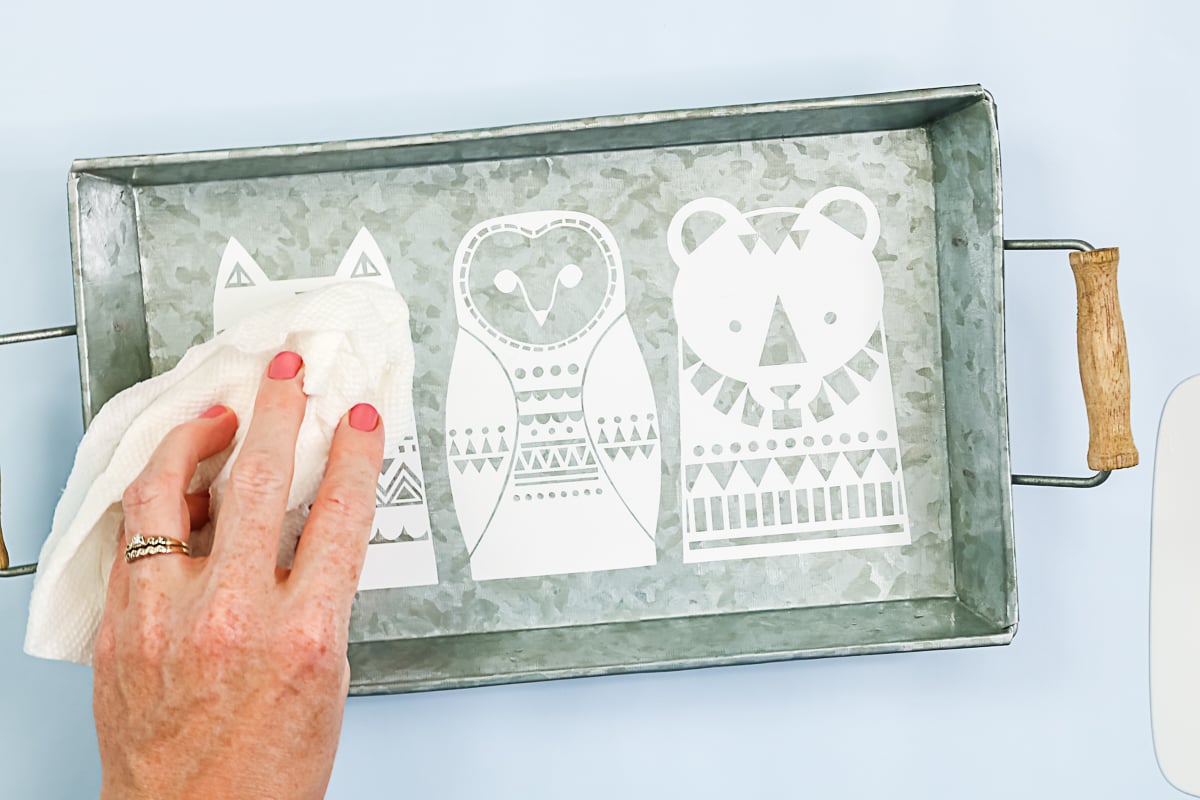 Burnish down your vinyl even more just in case there's still some water underneath some of your pieces. Once everything is on there and dry, your project is ready.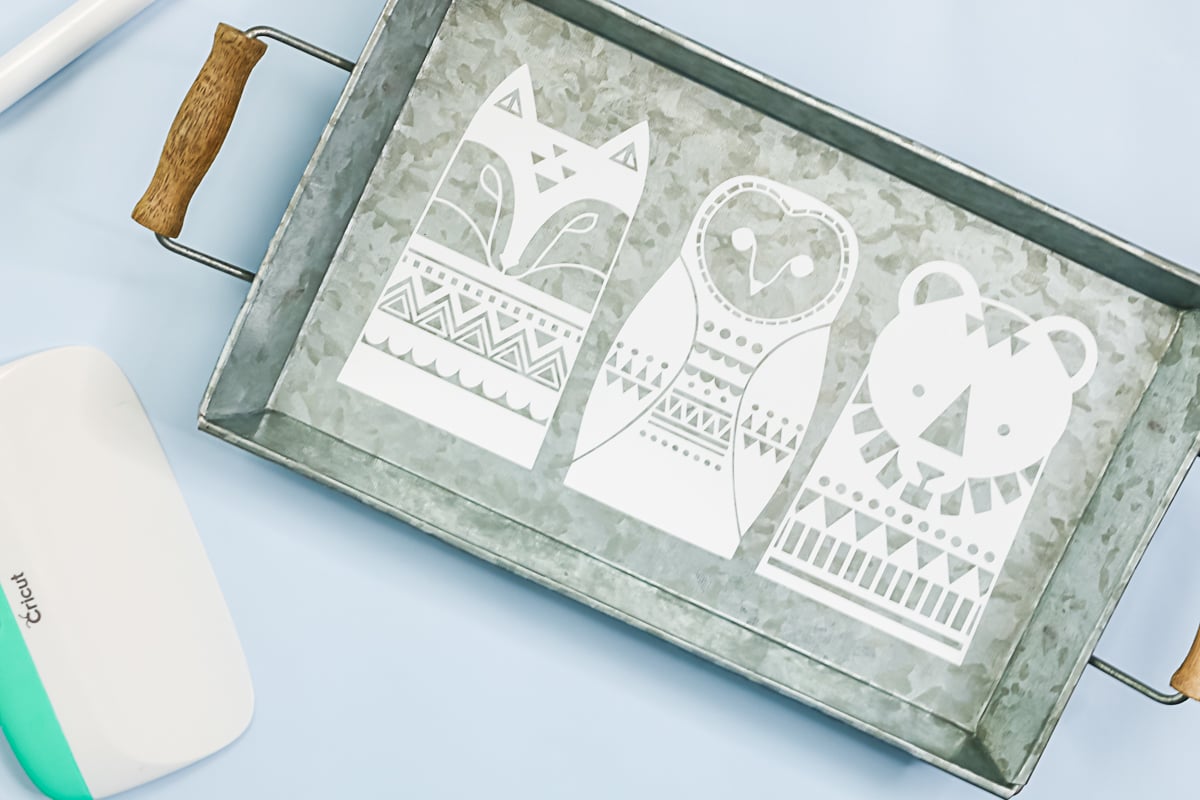 FAQ
I know there are some common questions about the wet vinyl application technique. I am addressing several of those below. If you have additional questions, feel free to leave those in the comment section.
Applying More Than One Color
You could do two colors in a similar method. You could do one color with a wet vinyl application method, and you can apply another color on top. Or you could layer your pieces on your transfer tape and then apply them all at one time with the wet vinyl application method. You could do it either way, but this method will definitely work for one, two, three, four, or however many colors you have in your project.
Will the Vinyl Last?
The second question I get all the time with this method is: will my vinyl last as long? This application method actually comes from people that apply vinyl stickers to cars, because it helps get those bubbles out when they're applying the vinyl to cars. When I've used this method, I haven't seen any deterioration in how long my vinyl lasts on my project. Now, I get comments all the time that you should not use this method with Cricut vinyl. I haven't had any issues using it with Cricut permanent vinyl. That's in my experience. I would say, try it out if you would like to. Try it on metal, try it on glass, see how it works for you.
Do I need to seal my vinyl?
I do not seal over the top of my permanent vinyl. I find it lasts a long time on the surface just with the adhesive on the vinyl. A word of caution: you need to allow this project to dry for at least 72 hours before using it because it does take that long for the adhesive to bond with whatever surface you're putting it on. That's whether you do the wet vinyl application method or not. Vinyl needs time for the adhesive to cure before you use your project.
So now that you have seen that you can use the wet vinyl application method to eliminate bubbles as well as locate your vinyl correctly, will you be trying this technique on your project? Be sure to give it a try on glass, metal, and more.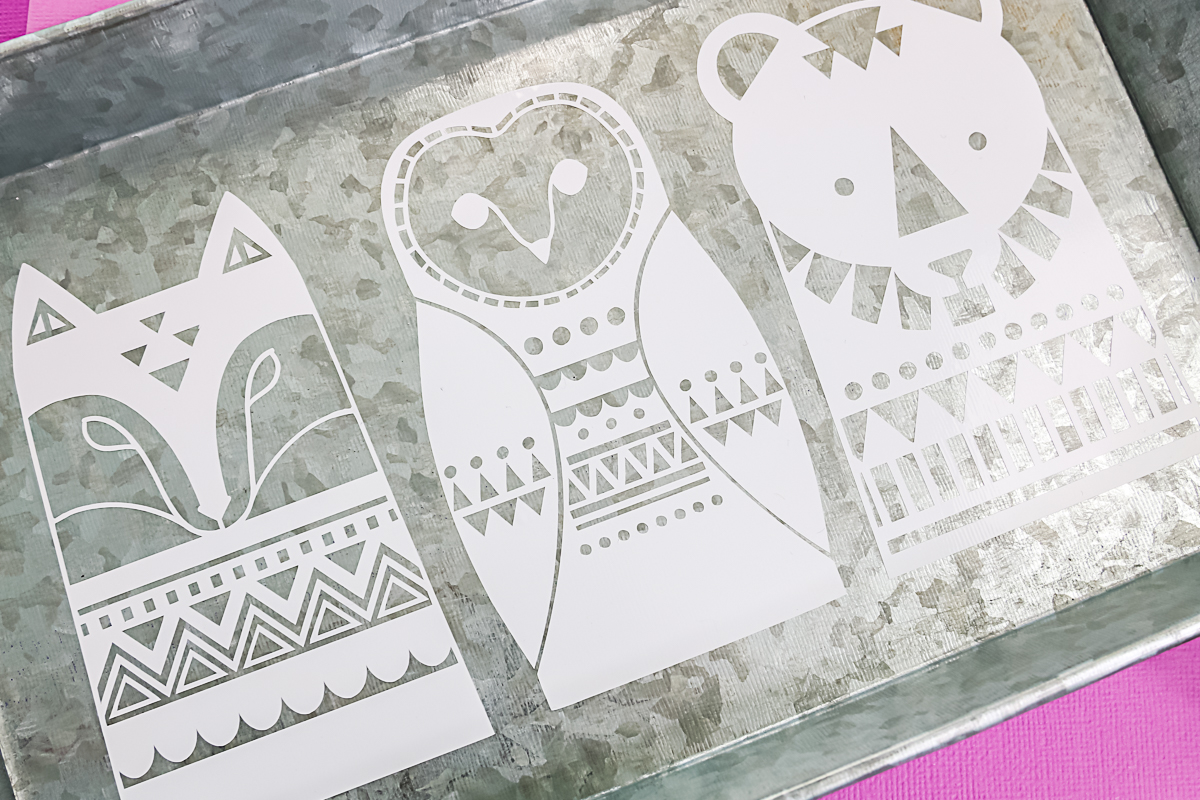 I love using water to apply vinyl to get it as smooth as possible. This is quite possible one of my favorite techniques for Cricut crafts.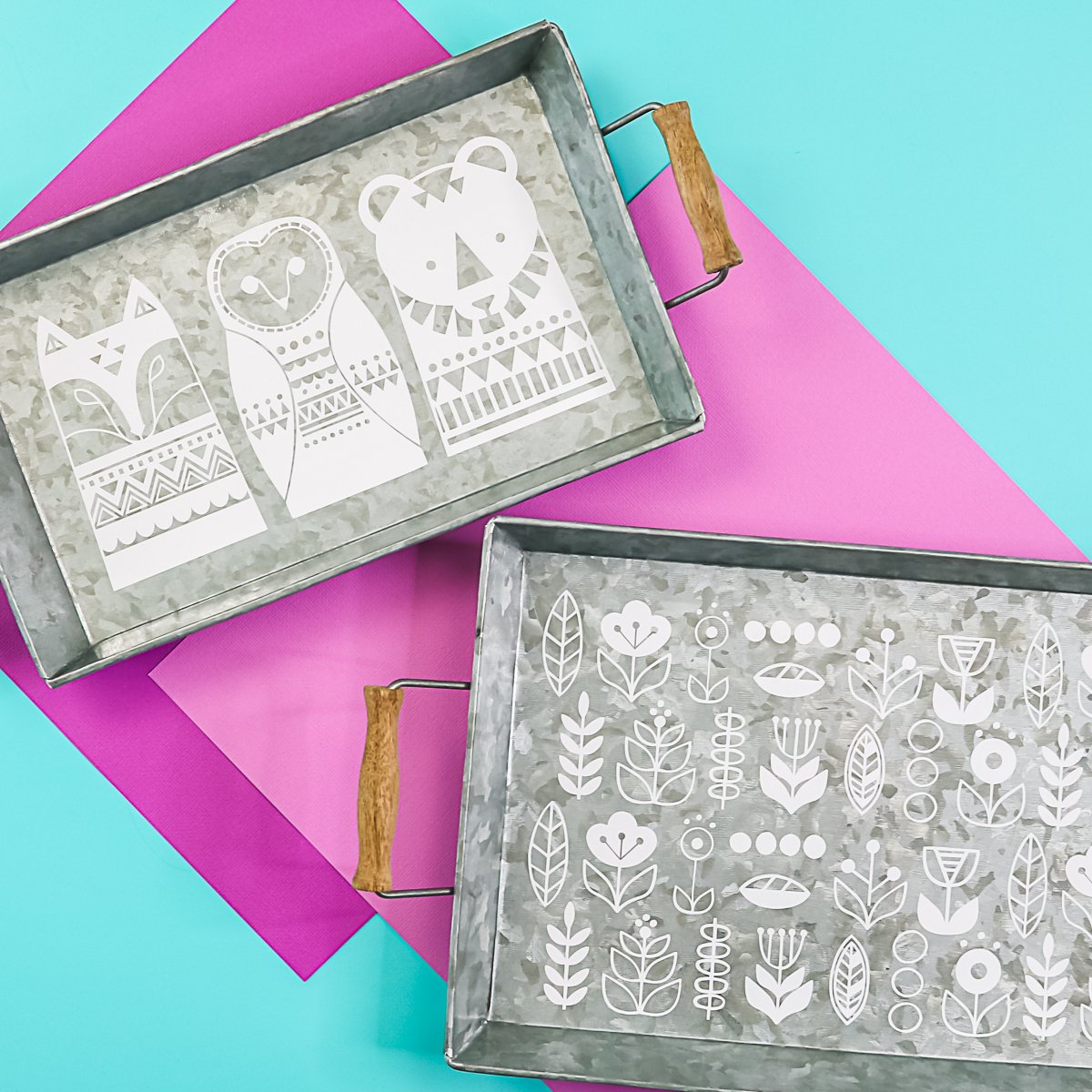 So, give the wet vinyl application method a try the next time you have a Cricut vinyl project. I think you will love the results!