Ever wondered how to clean Cricut mats? Did you know that you can actually wash them and extend their life? Well, you can! I am here with the details on what works for me. I have ideas for everything from a strong grip to standard grip to light grip and even fabric grip mats. So, read on and learn all about washing Cricut mats for extended life.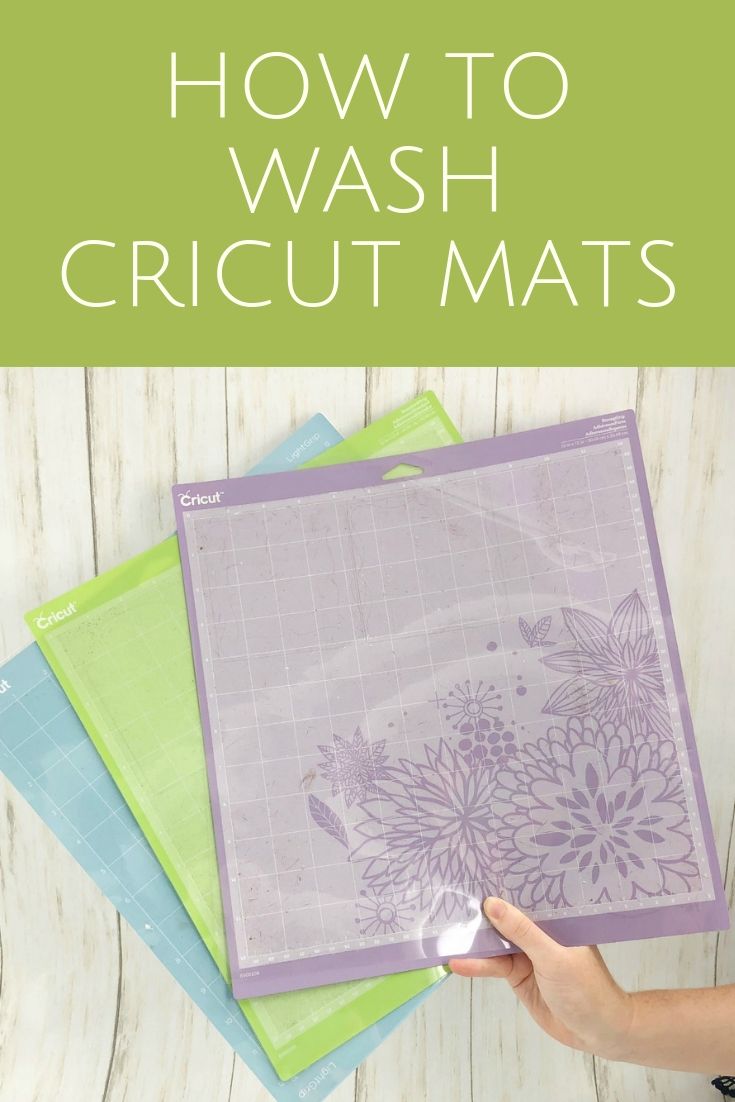 Some links below may be affiliate links which means that you do not pay anymore, however, a small commission will go to this site.
What Are the Types of Cricut mats?
First, let's run down the types of Cricut mats.
Video on How to Clean Cricut Mats
I thought I would put all of the information on how to clean Cricut mats into a video for y'all. You can start by watching it below.
Can't watch or missed some of the steps? Just follow along below!
How to Wash Cricut Mats: Step-by-Step
Please note that this information applies to the strong, standard, and light grip only! The pink fabric mat must be cleaned differently and there are care instructions further down in this post!
Are you ready to wash those mats! You will need the following supplies:
Hard bristle brush
Cookie sheet
Water
Paper towels
That is it! Super simple right! Just place the mat in a shallow pan of water. I find that a cookie sheet with a lip works great for this. Then scrub in small circles with a hard bristle brush all over your mat until most of the debris has been removed. Remove from the water and dry lightly with paper towels. Set aside to dry completely. Your mat is now ready to use and you will probably notice that it actually has some of the stick back!
I find that this method works best but I know others use different methods. Feel free to leave any method that works for you in the comment section below. I might just find a new method to use! I have not, however, had any luck with adding new adhesive to any of my mats so I just toss them once I can't revive them with washing any longer.
Caring for the Fabric Grip Mat
The fabric grip mat is completely different! The adhesive is a different type so let's talk about care for your fabric grip mat.
First, the rotary blade on your Cricut Maker will cut through small threads and fuzz easily. Unless you are losing tons of grip strength, consider just leaving the debris on and continue cutting.
A brayer is a great tool to help push your fabric down into the adhesive and will help you get more life out of your mat.
Did you know that the oils in your hands can break down the adhesive on this mat? Try a pair of tweezers when removing your materials from the mat to make sure you don't touch the surface.
Don't use your scraper across the surface to remove debris! That is detrimental to the adhesive on this mat.
If you need to remove stray fibers from your mat, apply strong grip transfer tape to the entire mat and press down well. Then pick up to remove. You will lift the debris away from the adhesive. Repeat as many times as needed.
Washing is not recommended but I usually give it a try as a last-ditch effort. I can usually get a few more uses out of a mat by using the procedure above.
Extending the Life of Your Cricut Mats
How do you get the maximum life out of your Cricut mats? After all, this is one expense that you want to keep low so you have more money for craft supplies. My best advice is to start with the strongest grip mat that you need. Then once your adhesive starts to wear down, that mat just becomes the next grip down.
So, for example, I purchase a purple mat and use it for many months. I have washed it several times. The adhesive is wearing out and it no longer can hold my pieces. But does it grip similar to a green mat now? The answer is probably yes! You can use a marker to write "green" in the corner and use this mat for maybe a few more months as a standard grip. Then once that is really wearing out, perhaps it is now similar to a blue mat. This method is great for getting as many uses as possible out of every mat you buy!
So, I hope you learned a little about how to wash Cricut mats as well as some tips and tricks for caring for the mats you own. Hopefully, this helps you get as many uses as possible out of each one and save a bit of money as well! Y'all enjoy!
So, do you love this post on how to clean Cricut mats and want more? Try the links below!
New to Cricut?
Sign up for our email list here to download the Beginner's Guide to Cricut Design Space for FREE today!
Sign up to get the guide emailed to you!