When to replace blades on your Cricut? Perhaps you are new to the machine or perhaps you are using a blade you have never used before. Either way, we have the answers you need for both the Cricut Explore Air 2 and the Cricut Maker. Don't struggle with your machine because of a dull blade!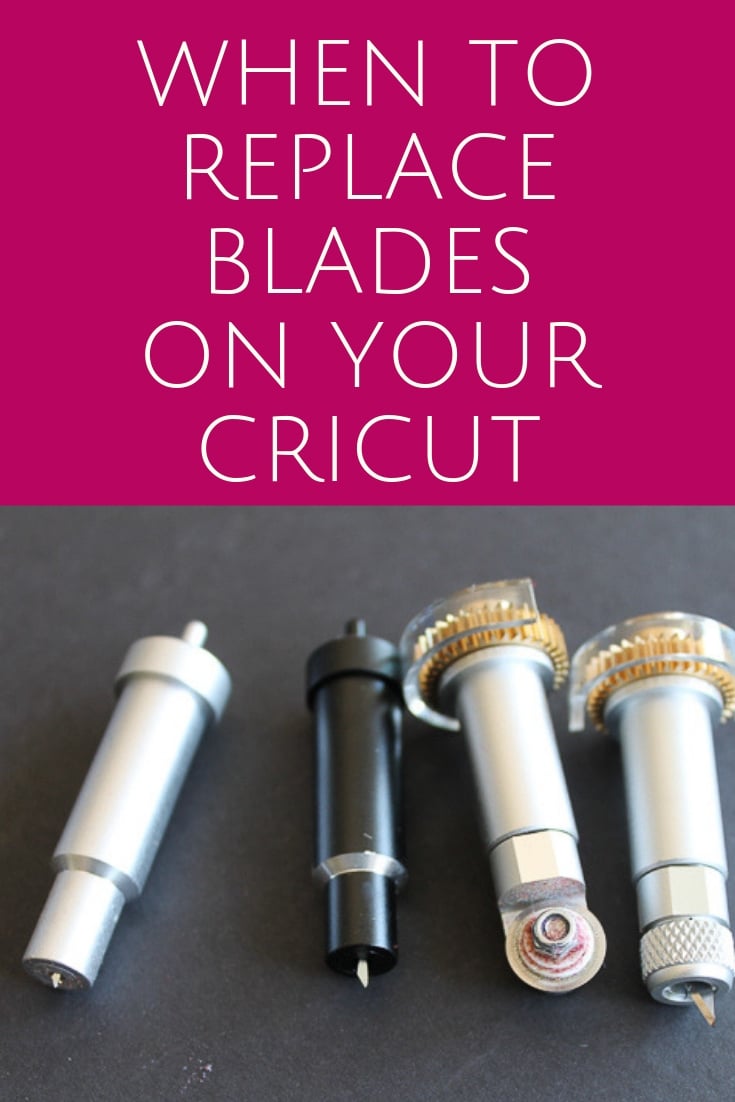 Some links below may be affiliate links which means that you do not pay anymore, however, a small commission will go to this site.
What are the different Cricut blades?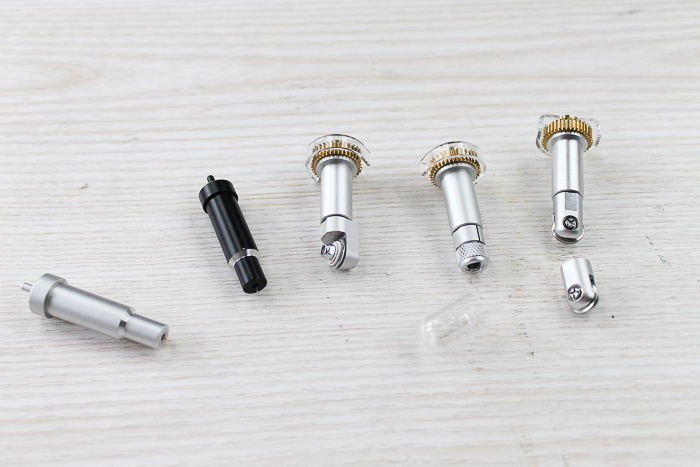 First of all, what are the different Cricut blades? What are they used for? What machines are they compatible with? Here is a rundown of all of the blades.
Premium fine point blade – For thin to medium-weight materials on both the Cricut Explore Air 2 and the Cricut Maker. Use this blade for paper, cardstock, posterboard, iron-on, vinyl, and so much more. This blade is shown in the image above in silver but is now a rose gold color. You can also use this one for bonded fabric but may want to look into the bonded fabric blade below in order to keep it as sharp as possible.
Bonded fabric blade – This is just the premium fine point blade above in a pink housing. Why? Just like you want a different pair of scissors to cut fabric, you may want to separate your blades as well. This is only for use with fabric that has a backer added and can be used on both the Cricut Explore Air 2 and the Cricut Maker. There is actually not one of these blades pictured in the image above.
Deep point blade – This blade has a steeper angle (60 degrees vs 45 degrees for the other fine point blades) and harder, more durable steel. Try this on thicker materials like magnet, chipboard, stamp material, thick cardstock, stiff felt, foam sheets, cardboard, and so much more. These are black in color and can be seen in the image above. It can be used on both the Cricut Explore Air 2 and the Cricut Maker
Rotary blade – Can use only with the Cricut Maker and it is the ultimate tool for cutting any fabric (no backer required). You can also use this blade with other soft, delicate, or less-dense materials, such as tissue paper and cork. I frankly love my rotary blade for so many materials. The recommendation for image size is 3/4″ or larger when using the rotary blade. Smaller images than this may cause the blade to scrape as it tries to make a small turn, which may leave a gouge in your mat, and may diminish the life of the blade. You can actually see more about this blade here.
Knife blade – Go even deeper! The extra-deep knife blade slices through dense materials up to 3/32" thick with unprecedented ease and safety. It's ideal for cuts of moderate detail in thicker materials like balsa wood, mat board, and chipboard. It is only for use with the Cricut Maker and you will need to run a calibration before use. You can actually see more about this blade here.
Scoring wheel – This is not a blade per se but it does go in the blade clamp on the Cricut Maker. For scoring only and comes with a single and double scoring wheel. You can see more about it here and how it compares with the scoring stylus.
Please note that I have a link to the blades with the housings above but all of these come as replacement blades that you can change out as well. So, keep the same housing and save a bit of money. You can find replacement blades for all of the above here.
When to Replace Cricut Blades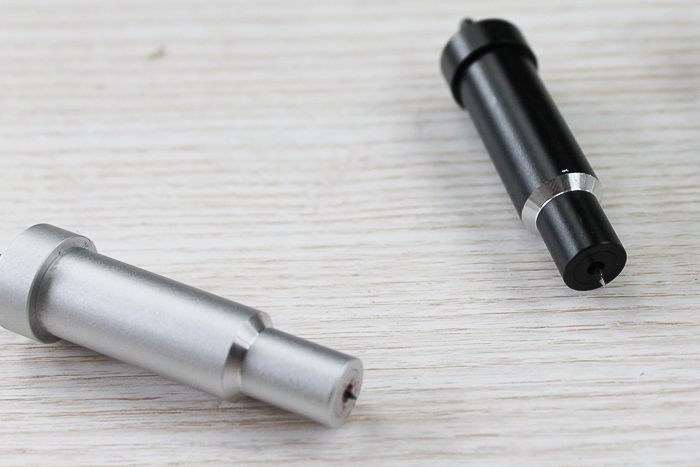 Now let's get down to it! How do you know when to replace your Cricut blades? Here are a few guidelines you should go by:
Do you have to increase the pressure of your cuts regularly? Always using "more" pressure or turning your dial up a notch? Your blade is probably wearing down. You can wait for it to get worse but you might want to go ahead and order spares at this point so you have them on hand.
Once your cuts get to where they are not completely clean, it really is time for a new blade. Once again, if you want to save some money, you might get a bit more life out of the blade. But at this point, the dull blade is costing you time. You will have more time in weeding or using a manual blade to finish your cuts.
If your material is dragging instead of cutting, the blade is done! This usually happens on cardstock and vinyl. The material will tear and wad up instead of cutting. There is not much you can do at this point! A new blade is definitely in order!
The point you change your blade is completely up to you. The guidelines above are just that – guidelines! Once you use your machine for lots of cuts, you will get a feel for when the blade is ready for a change.
NOTE: On the rotary blade, sometimes the blade will get a nick. If it is missing the cuts occasionally, you have a nick and the blade will need to be changed.
NOTE: The scoring wheel will last a really, really long time. It should really never need to be changed unless you are doing a ton of scoring.
How to Extend the Life of Your Cricut Blades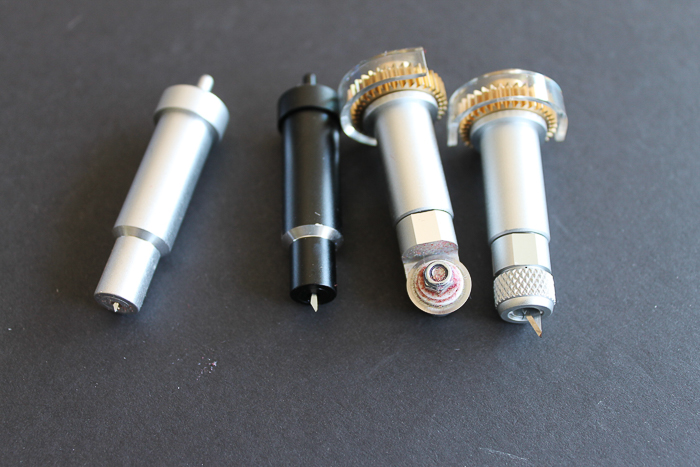 So, how do you save money when it comes to your blades? Yes, you should know when to replace your Cricut blades, but what can you do to extend the time in between changes? Here are a few tips and tricks:
Take care of your blades. Store them properly. The knife blade comes with a protective cover that should always be in place when not in use. The others should be stored where they will not land on anything hard to damage the tips.
Cutting a lot of different materials will dull your blades faster. So, if you want to have just a blade for cardstock and one for bonded fabric, you will extend the blade life.
Try a new mat before changing the blade. This sometimes is the issue instead of your blade.
Follow the recommendations for the cut sizes on the rotary and knife blade for optimum life.
How long do the Cricut blades last?
This is all dependant on you and what type of crafter you are. Do you cut a ton of different materials? Experiment with odd and hard materials? Your blades will probably have a shorter life. On the other hand, if you only cut vinyl on your machine, chances are you will get a really long blade life. Either way, you will start to get a feel for how long a blade lasts you after using your Cricut for a while.
So, when to replace blades on your Cricut machine? That all depends on what type of crafter you are and how you use your machine. Either way, you should find the guidelines in this post helpful when learning to use your machine.
New to Cricut?
Sign up for our email list to download the Beginner's Guide to Cricut Design Space for FREE today!
Sign up to get the guide emailed to you!