It is wreath week here on the CCC!! Wreaths with strange…sometimes weird…elements! So far we have had…
Today we have the Wooden Spool Wreath! Tomorrow you get to vote for your fave and then I will be linking up to The Nester's party on Monday!!
So after the rummikub tiles and the googly eyes…what was left to make a wreath out of?? Again my goal was to make wreaths out of odd things but also to use what I already had on hand. So I searched my house and the answer was looking at me the entire time! Wooden thread spools!! I love em and pick them up whenever I can find them. So I had plenty for a cute little wreath…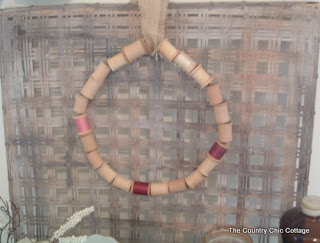 And it is SUPER easy!! You need…a coat hanger…yep that is it!!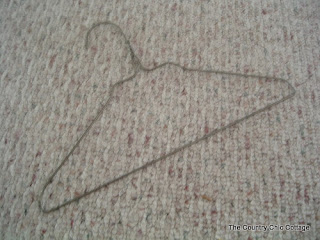 Bend your coat hanger into a circular shape (mine was not perfect) and unwind it at the top so that it is open…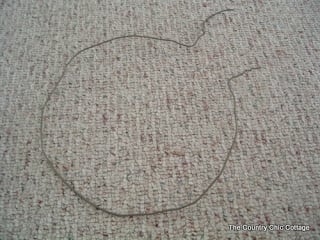 And just thread on your wood spools! The wire coat hanger goes right through the middle of the spool. I used mostly plain spools but I threw one on occasionally that still had thread on it…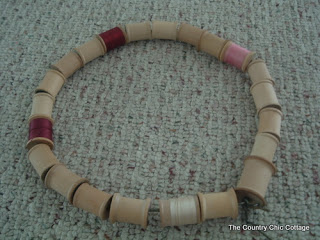 Then you just rewrap the top part of the hanger around itself. And I used the "hanger" part to hang my wreath on my homemade tobacco basket (yes I DIY'd a tobacco basket!!). Then I just covered the wire that it is hanging by with a strip of burlap…no glue…easy peasy…
I heart that rustic feeling of the wreath on the tobacco basket!!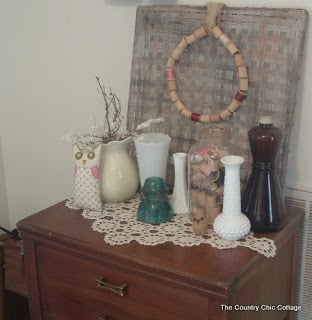 The spools really stand out against the dark of the tobacco basket. Plus it breaks up the basket some. It is really JUST what it needed!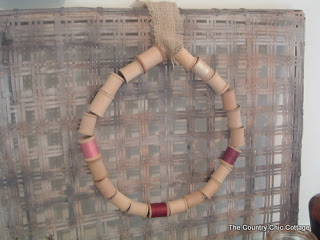 This is about a 5 minute project with immediate satisfaction! So break out your clothes hangers! 🙂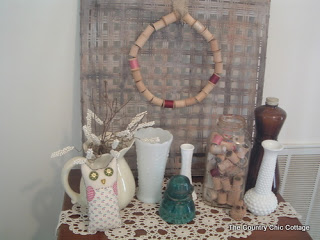 And yes that jar in front does have more wooden spools in it…it is an addiction people…an addiction!
Come back tomorrow so you can tell me which wreath is your fave!! From googly eyes to wooden thread spools…I think I offered you some variety!!
~Thanks for stopping by!~
~Angie~