I am participating in the Apartment Guide
"New Year, New Style: Decorating on a Budget"
Blogger Challenge. I am tackling my teen's room as she prepares to head off to college. See our planning process here. I wanted to update her space with items that will transition well to college. The challenge was to take $150 and refresh the space. You will have to read all the way down for the budget breakdown.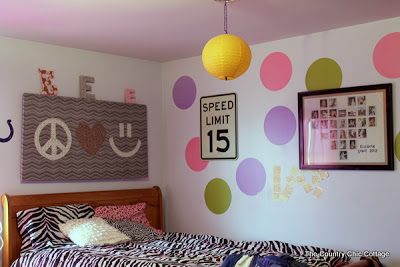 The place to start is bedding. We were adding zebra touches to the room so we had to have zebra bedding. First, I had my teen pick out the bedding she wanted. It was zebra with pink cheetah touches. (Cheetah!!) I then scoured the net for the best price. Would you believe that JCPenney had the best price by far? As in 1/2 as much as the other guys. $55 for whole bed in a bag set. The best part of this deal? She had gotten zebra sheets a few months back. I was able to use the cheetah sheets as fabric for other elements in her room. BONUS! The art above her bed I made over a year ago. It is just black and white fabric with the "peace, love, and happiness" added on with heat n bond. I then stretch the fabric over the top of an oversize frame. We collect "E's" whenever I find them at at thrift store. The ruffle pillow cover was from group dealz a few months back and it was actually given to me by a great friend.


Now for the desk area. She already had two memo boards. I used my own tutorial for covering memo boards and recovered both of them. The zebra desk lamp came from Big Lots for $15. I will be talking specifics about some of the elements more this week…so look out for more on that mirror on the left.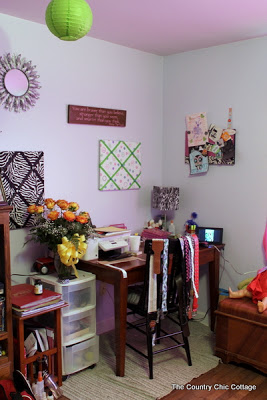 My daughter loves quotes of all types. I had purchased some quote art for her for Christmas this year. We had not hung it up so this was the perfect excuse to use it. I will be showing you more about that white and green covered memo board in a few weeks.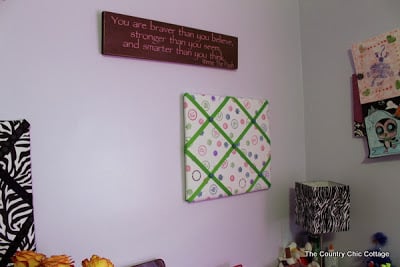 The other memo board got covered in zebra. The fabric came from Hobby Lobby and was clearanced at $5 a yard. That tone on tone black ribbon also came from Hobby Lobby at $2.99. The roses are from the boyfriend so free to me. 🙂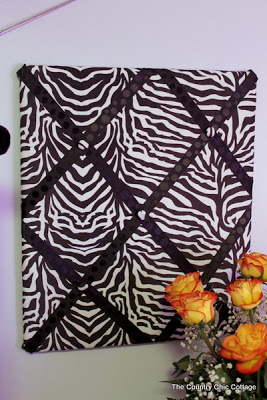 Some of that cheetah sheets ended up recovering a pillow that she already had. The colorful crochet is courtesy of my teen. Yes she is a crocheter. 🙂 The storage ottoman was $14.99 at Big Lots and will be making the college trek. Perfect to hide things in. There was also a pink hamper that I failed to get a pic of and it was $5 at Big Lots. Do you notice a trend? My fave stop for budget decor is Big Lots!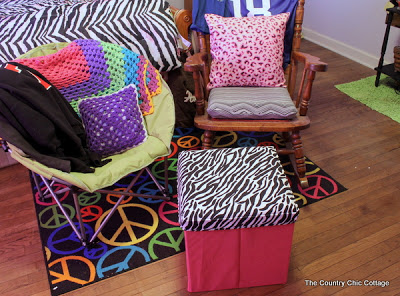 Another budget friendly idea is to frame fabric and hang it on the wall….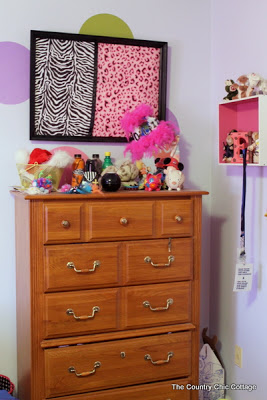 I had the frame on hand. I just added in the fabrics and a piece of the ribbon in between them. Instant art with things I already had on hand…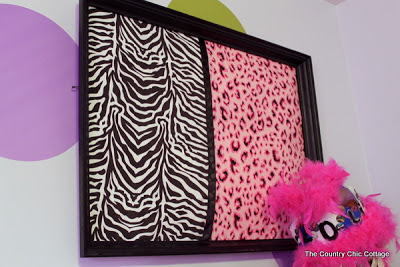 Spray paint was also my friend for this makeover. Those wall boxes were already on the wall and they are filled with momentos. Around the mirrors are post its with quotes on them. I told you…the girl loves quotes.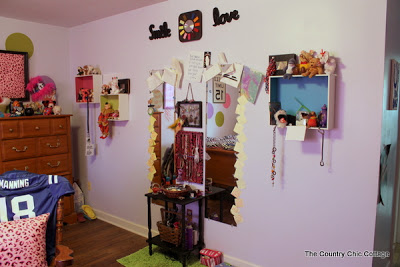 I just had to make a zebra jewelry organizer. I will talk more about that tomorrow night. This is definitely something that can go with her to college. Plus it makes a bold statement!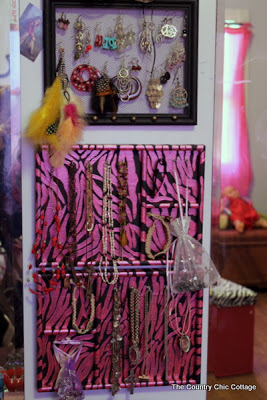 She has also became the scarf diva. So we took a scarf hanger and an over the door hanger and used it to display her scarves….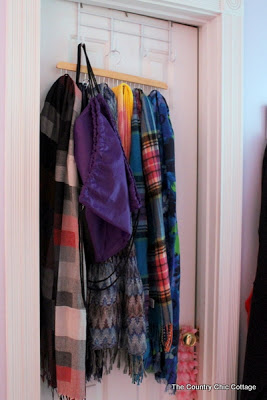 Ready for the cost breakdown?


Bed in a bag $65 (shipped)
Lamp $15
Hamper $5
Ottoman $15
Spray paint $10
Zebra fabric $10
Ribbon $6
Scarf Hanger $3
Craft Paint $2
Hooks $1
Button Kits $6
Thrift store finds $7.50
GRAND TOTAL $145.50



The best part is that every single item can transition to her dorm room and beyond. Gotta love that! Stay tuned as the rest of the week I will let y'all in on some more room details!


If you're ready for a whole new space or are looking to move,
Apartment Guide
has the photos, floor plans, features and tips to help you find the perfect apartment community
.
Be sure to
"like" Apartment Guide on Facebook at
Facebook
or follow them on Twitter
@AptGuide
for real-time tips and updates on making the most of your space.
Are you ready to redecorate your home but short on cash? Apartment Guide can help you find inexpensive decorating ideas for how to update an area or room without spending a lot of money. Apartment Guide has tips for how to decorate your apartment on a dime. Those tips can easily apply to any space whether it be your house or dorm room. Whether you're living, looking or moving Apartment Guide offers how-to tips for making the most of your space on a budget. Apartment Guide provides ideas for people in any sized home on Moving Today and the Apartment Guide blog.
Apartment Guide and owner Consumer Source, Inc. partnered with bloggers such as me to participate in their monthly blogger programs. As part of that program, I received compensation. They did not tell me what to purchase or what to say about the products used, and believe that consumers and bloggers are free to form their own opinions and share them in their own words. Consumer Source's policies align with WOMMA Ethics Code, FTC guidelines and social media engagement recommendations.
Posted at Whatever Goes Wednesday on Someday Crafts.
Posted at What I Whipped Up Wednesday on Sugar and Dots.
Posted at Good Life Wednesdays on A Beach Cottage.
Posted at the party on Organize and Decorate Everything.
Posted at Sugar and Spice on 733.
~Thanks for stopping by!~