These genius hot glue gun hacks can be used all over your house. So, learn how to use your glue gun for more than just crafts!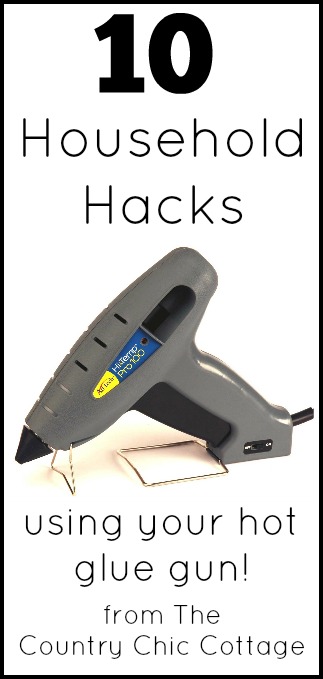 We all love a good household hack, right? That moment when you think….why didn't I think of that? Well, I grabbed my hot glue gun and came up with 10 household hacks for y'all.
You are going to love these simple ideas that can be done in minutes with any glue gun!
Hot Glue Hacks Video Tutorial
You can watch as I demonstrate all 10 household hacks using hot glue in the short video below. Grab a pen and paper as you will want to take some notes!
Note: The hot glue gun pictured is one of my favorites and can be purchased by clicking here.
If you can't watch the video, have no fear! I have listed all of the hacks if you keep scrolling!
How To Use Glue Gun Hacks Around The House
Just look at all the different ways you can use your hot glue gun around the house. It's one of my favorite tools because I can use it for more than just arts and crafts.
1. Fill Stripped Screw Holes
Nothing is more frustrating than trying to screw a nail into a hole that is too big and stripped out. Instead of wood filler or putty, just use a hot glue gun.
Fill the hole with hot glue, let it dry, and then drill it with a 1/8-inch bit!
2. Fill Nail Holes In Your Wall
Hot glue can also fill in nail holes in your wall. Add the hot glue to the wall, and then paint over it. Easy!
3. Tack Up Peeling Wallpaper
If your wallpaper is falling down, just hot glue it back into place. It really does work – and it's so much easier and less messy than wallpaper glue.
4. Keep Wall Art Straight
Hot glue the corners of photo frames and wall art. This will keep them away from the wall and prevent them from slipping and becoming crooked again.
5. Add To Back Of Rugs For A Non-Slip Grip
Stop tripping over your rugs! Add a small amount of hot glue to each end of your rugs and glue them to the floor.
The best thing about this hack is that it won't damage the floor underneath.
6. Repair to Squeaky or Loose Areas of Wood Furniture
Hot glue can also repair wood furniture. It is clear so you won't see it like you would see wood glue.
7. Tack Loose Upholstery Trim
If your upholstery trim is loose, all you need is a hot glue gun! Add some glue to the back and hang it back in place.
8. Add to Sides of Hanger to Create a Non-Slip Grip
Don't struggle with clothes falling off your wire or plastic hangers anymore. Add a little strip of hot glue to the top of the hanger, let it dry, and then your clothes won't slip.
9. Plug Bath Toys to Keep out Water
You can also use hot glue to seal bath toys so that they don't fill with water anymore. This is a wonderful idea if you won't to prevent mildew from growing inside the bath toys!
10. Clean Your Hot Glue Gun with A Ball of Aluminum Foil
This is more of a hack for the hot glue gun itself. After you use it all over the house, it might get a little messy. Just use a bit of aluminum foil to clean it out!
Y'all enjoy these great household hacks that you can use in your own home. Be sure to come back and tell us if you use one of the ideas and how it worked!
More Hacks For Your Home
Love these hot glue gun hacks and want more ideas? Try the links below!