I have been dreaming of adding pattern inside a lamp shade for some time. When Cricut asked to sponsor a post with a lamp makeover, I knew just what I was going to do. Using your Cricut, this is really a simple project. It takes a bit of time as you will have to weed quite a bit of vinyl as well as go really slow during the application. Otherwise, you will love how this lamp turns out and what it looks like when you are done!

Supplies needed for adding pattern inside a lamp shade:
Links below may be affiliate links.
Lamp and shade
Scallop pattern (from Cricut Design Space – Scale Pattern Overlay #M475F6)
Start with your Cricut Design Space and add in the pattern of your choice. I used a scallop design (Scale Pattern Overlay #M475F6) but you can choose any of the wide variety that are available. Measure your lamp shade. A drum shade works best for this project. You will need to know how tall it is between the "binding" that is on the edges. Also measure the diameter and multiply it times 3.14. This will give you the length that your piece will need to be. Stretch your pattern to the correct size in Cricut Design Space.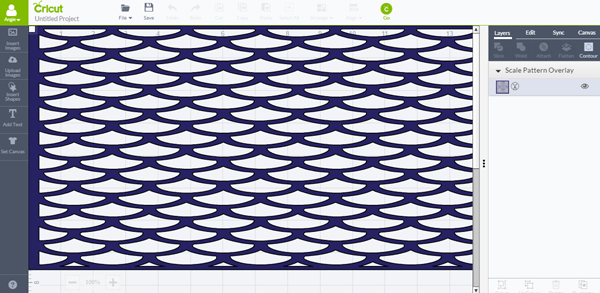 I noted in the supply list that you will need a 12 x 24 mat. Most likely this will not even get your entire piece on one sheet. I had a few inches that needed to be cut as a second piece. Pick an area where it will be good to split the vinyl (an area where it will be easy to line it back up and get everything straight). Draw a box from that area to the end of your pattern.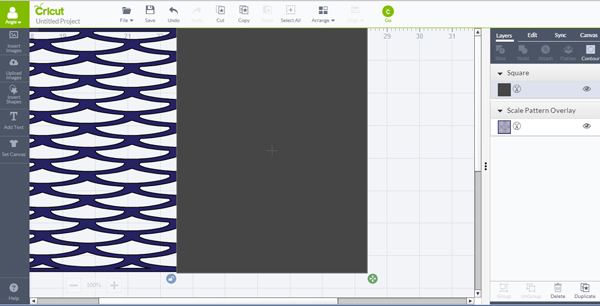 Click select all at the top then click slice under layers in the right hand tool bar. This will slice your image into several pieces.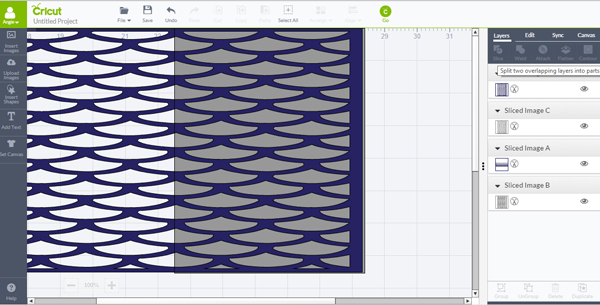 Delete the pieces you do not need until you are left with a split version of your original image as shown below.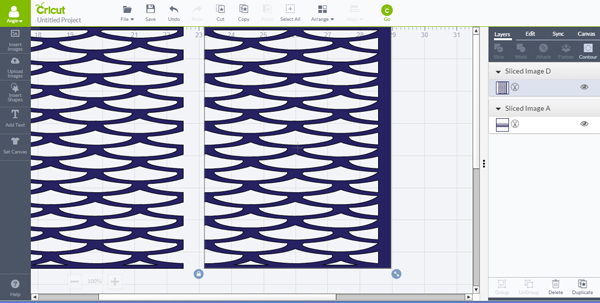 Now when you click "GO" you will see that the two will be on two separate mats. Perfect! Just what we needed!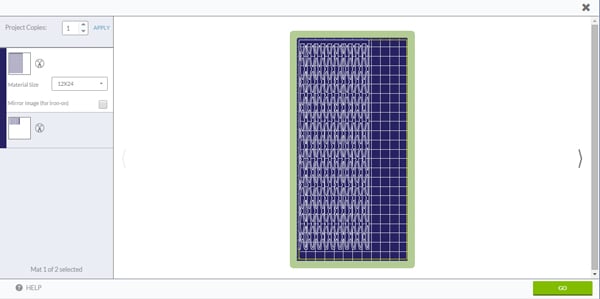 Cut both pieces of your pattern with your Cricut.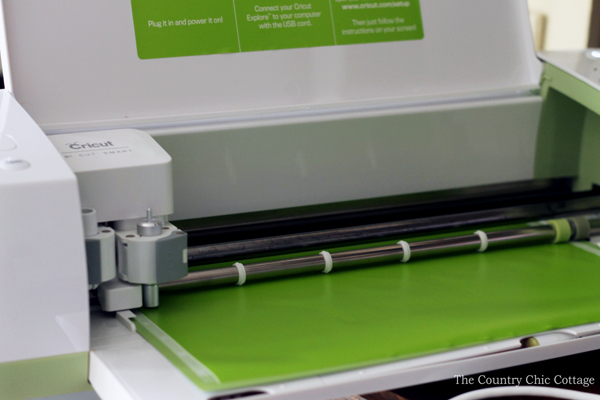 Weed away all of the excess vinyl. A weeding tool sure does make large projects like this go faster.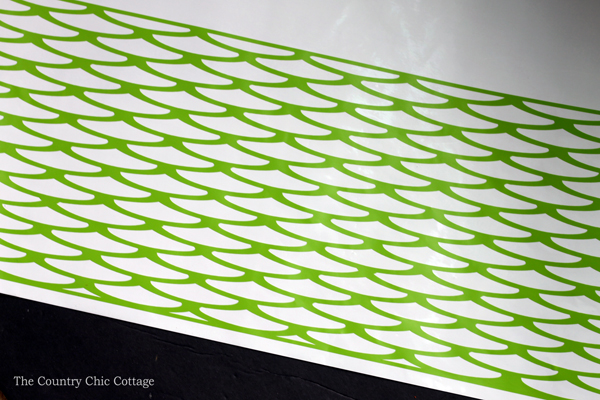 Now we are going to begin the slow and steady progress of putting this pattern on the inside of the lamp shade. Start close to where the seam of the lamp shade is located. Lay down your vinyl nice and straight and lined up with the top of the shade. You may have to trim away excess of the backing paper when starting and during the application process. Go a little at a time and keep everything straight pushing the vinyl down onto the inside of the lamp shade as you work your way around.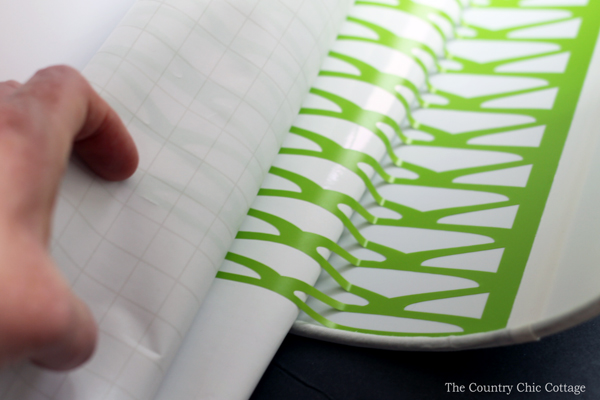 Line up the last piece where your original ends. The seam where the two come together is not very visible. You can of course see where the two ends are on my lamp shade. They are however on the seam of the shade. There you have it! You have successfully completed adding pattern inside a lamp shade! Congrats!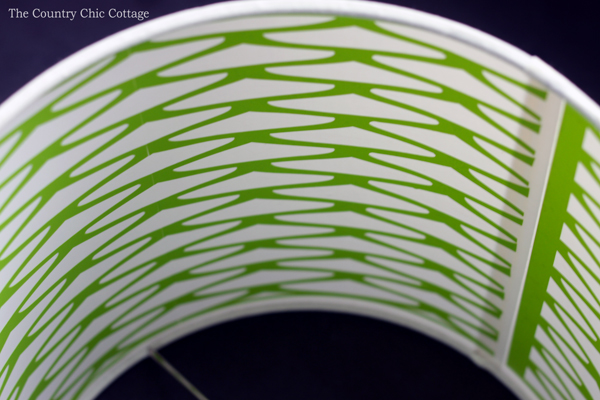 Add in a low wattage bulb to the lamp and you are ready to add this one to any room in your home. When the light is off you get a very subtle effect from the pattern on the inside.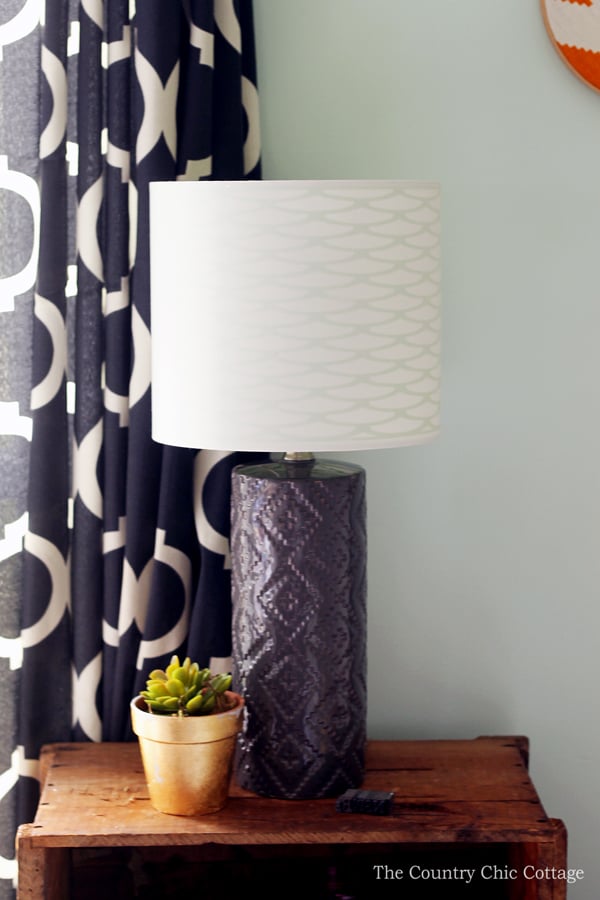 I love that it is subtle from straight on but close up your can see the green pattern peeking out from the inside.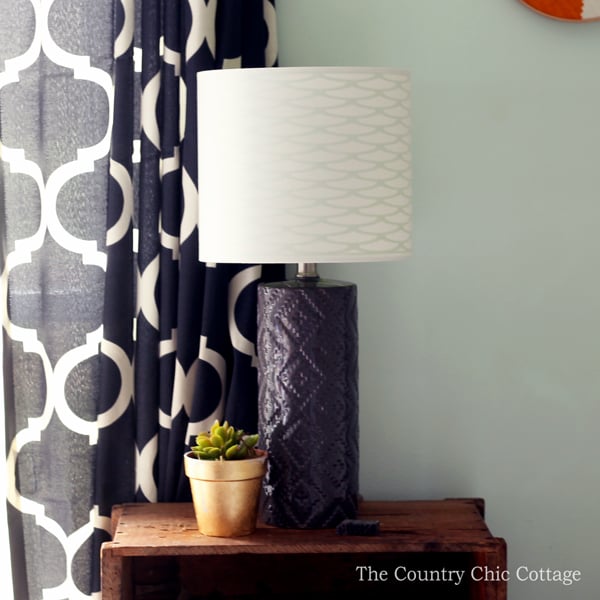 Then when you turn the lamp on….WOWZA!
Such an amazing transformation that only took a few minutes to complete. Go slowly so your vinyl lays out correctly and is perfectly positioned. You will love the effect that adding pattern inside a lamp shade has in your home decor. Grab your Cricut and get started on your own version today!