You can make your own DIY welcome sign with any Cricut machine. You may have seen these huge vertical signs on porches around your neighborhood or even Pinterest and wondered how to make them. Well, I am here to help! I have ideas for cutting these signs below along with tips and tricks for things like sealing your signs so they last a long time. So, whether you want to make a porch sign for yourself or to sell, be sure to follow along with the instructions below.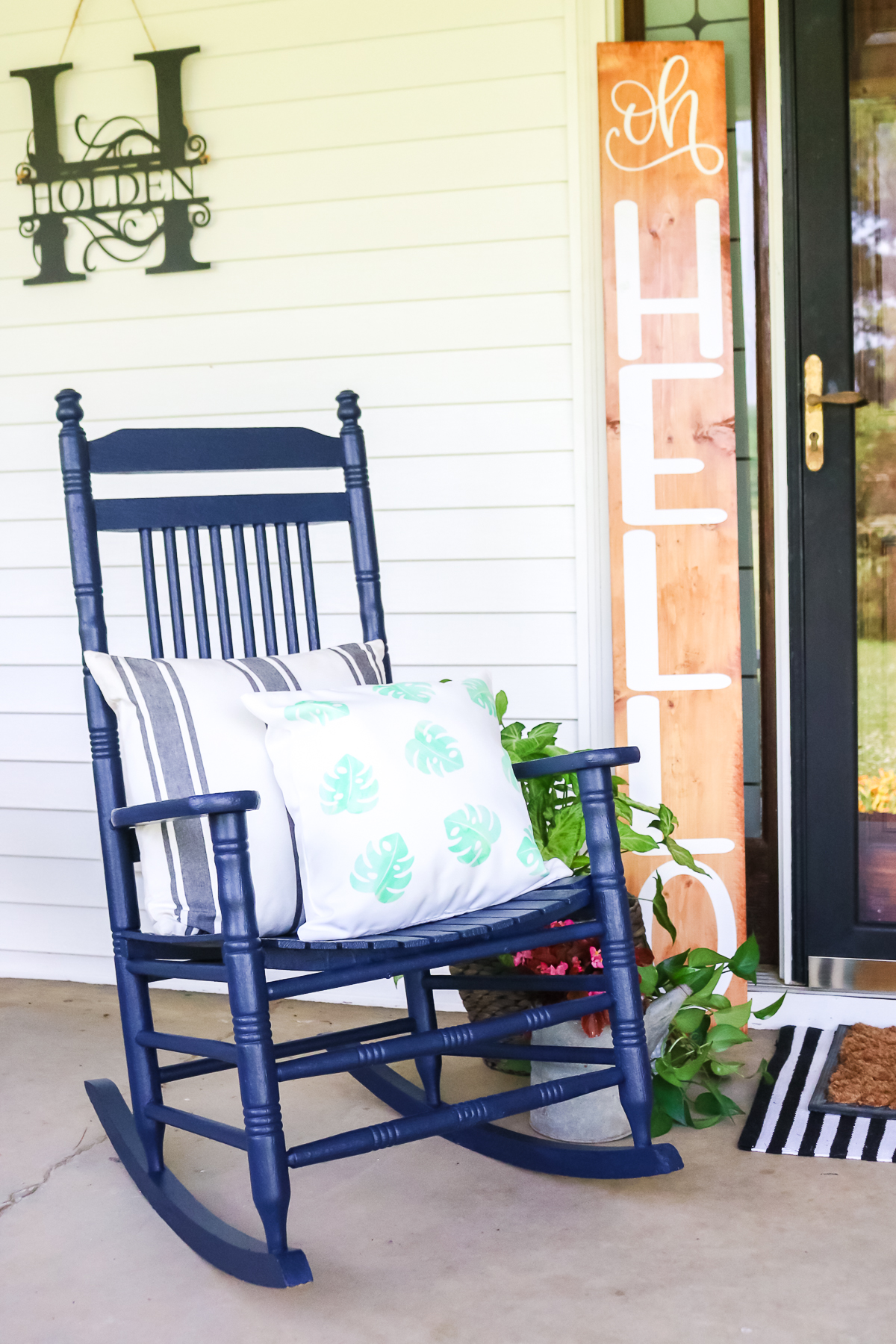 DIY Welcome Sign
You can actually watch me make both of the signs in this post in the video below. That includes designing, cutting, vinyl application, and sealing. So just click play!
Can't watch the video or missed some of the steps? Follow along with my instructions below.
Supplies needed:
Cricut Machine (The matless cutting on the Cricut Maker 3 or Explore 3 works great for these but any Cricut machine will work.)
Smart Vinyl (if you are using the Cricut Maker 3 or Explore 3)
Stain (water-based) (my favorites are Americana Gel Stains or Minwax Wood Finishing Cloths)
Paint (water-based) (my favorite is FolkArt Home Decor Chalk)
Sealer (water-based) (my favorite is Minwax Polycrylic)
Paintbrush Tape
This project is made with Design Space files. Click here for my profile. Once on my profile, find the image of the project you want to create, click it to open it up, and then you can make it yourself.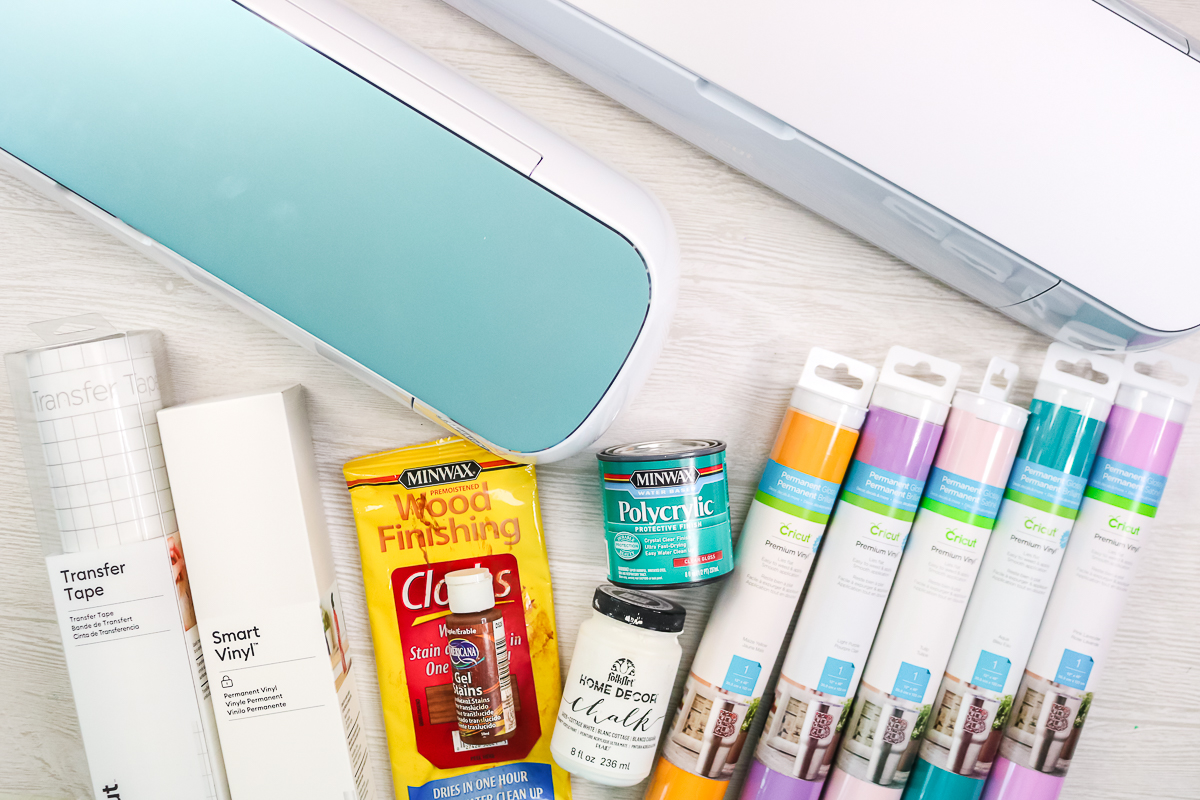 Making Sign Designs
Once you have your supplies, you will want to make your sign designs in Cricut Design Space. I like to make a rectangle the size of my board so I can visualize my pieces on the sign. From there, you can put in text or images to make whatever design you would like. You can get my designs here or create your own. Please note that for the "oh hello" sign, I am using my Maker 3 so it is all one cut. If you are using another machine, you will need to break this design up into smaller pieces.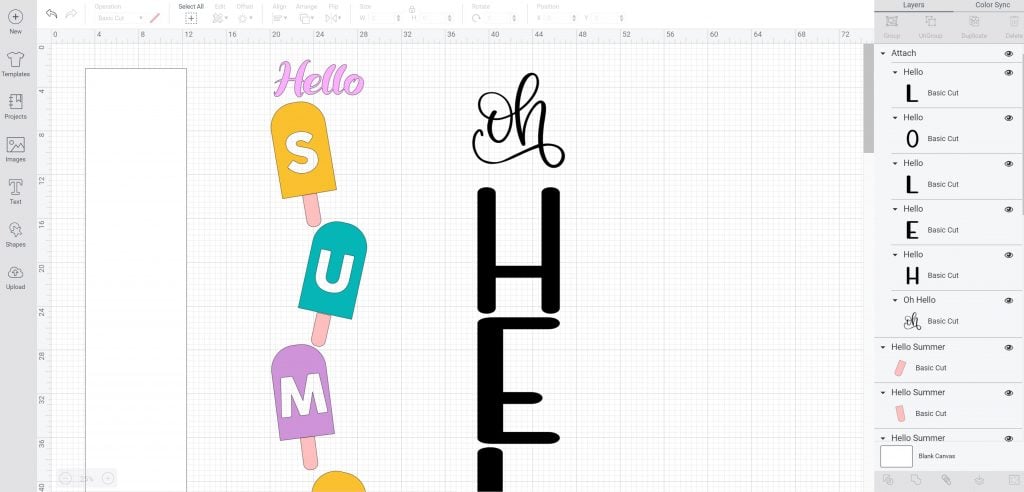 Then just click make it and cut your pieces with your Cricut machine.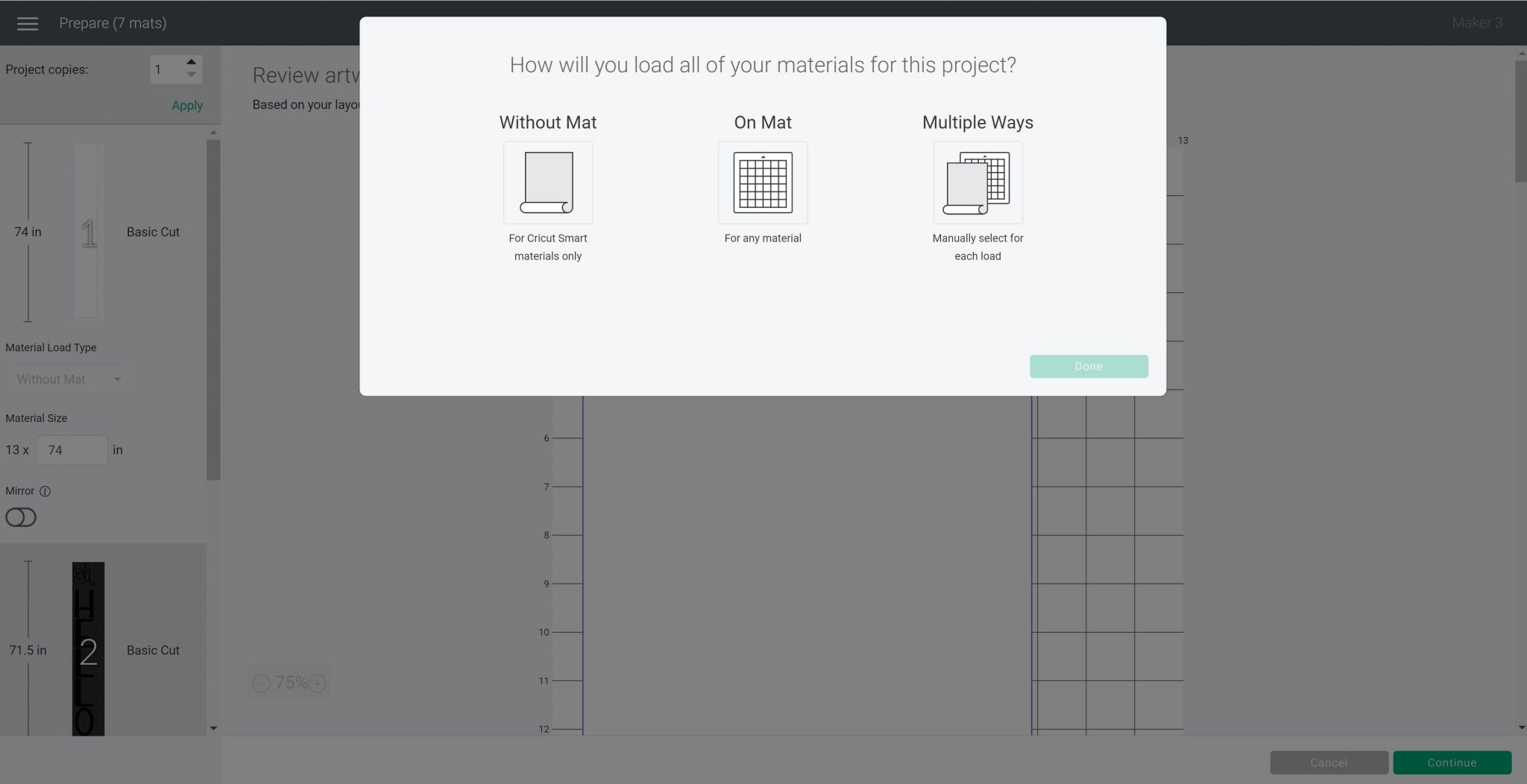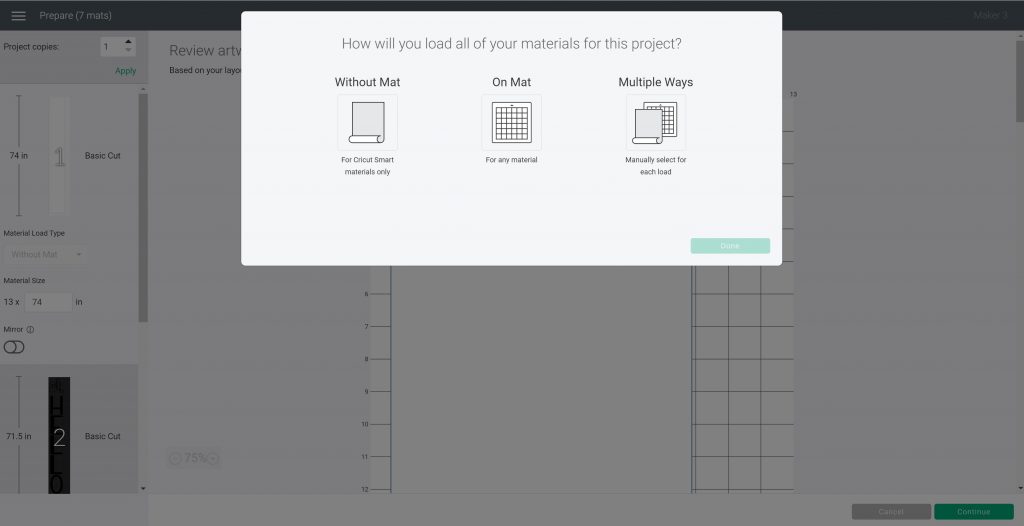 I cut the white "oh hello" in one cut with my Cricut Maker and Smart Vinyl. The "hello summer" sign was made using smaller pieces and more colors on a Cricut Explore Air 2. When it comes time to cut, you can hide the rectangle you used to size your designs so it will not cut.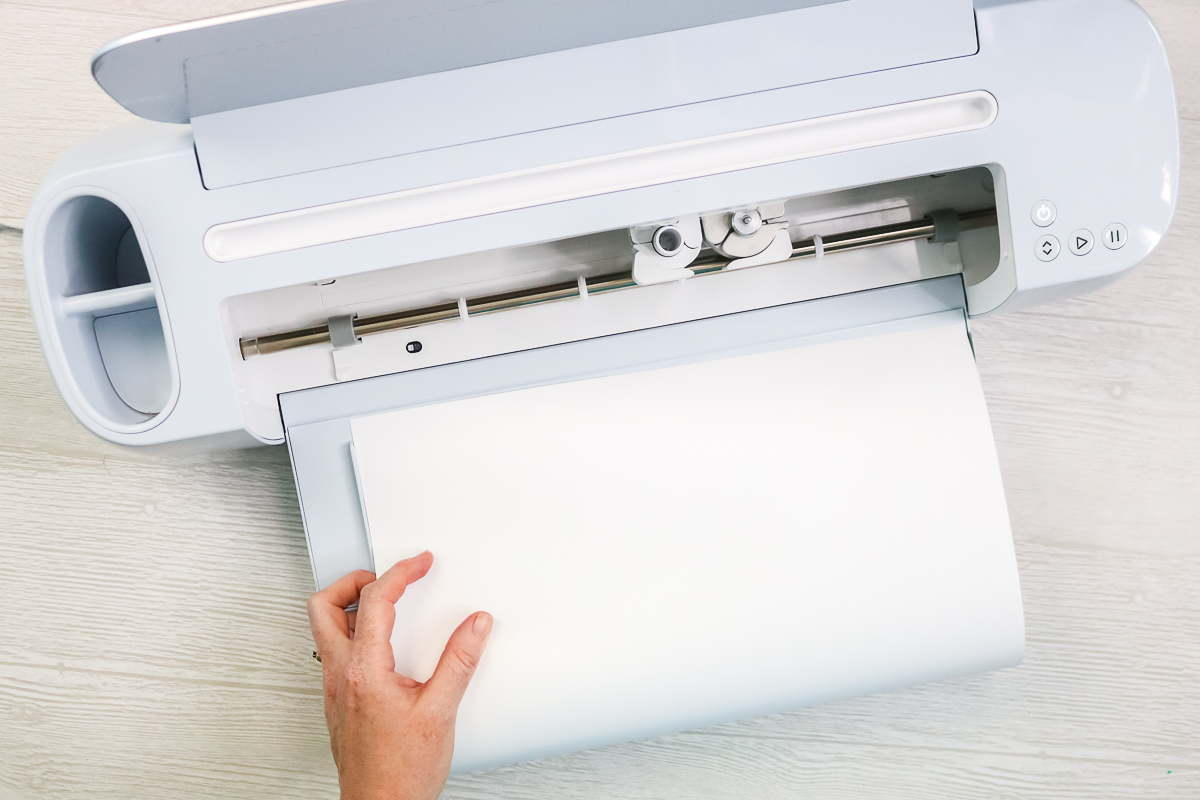 Applying Your Vinyl to Wood
You will want to weed all of your sign pieces.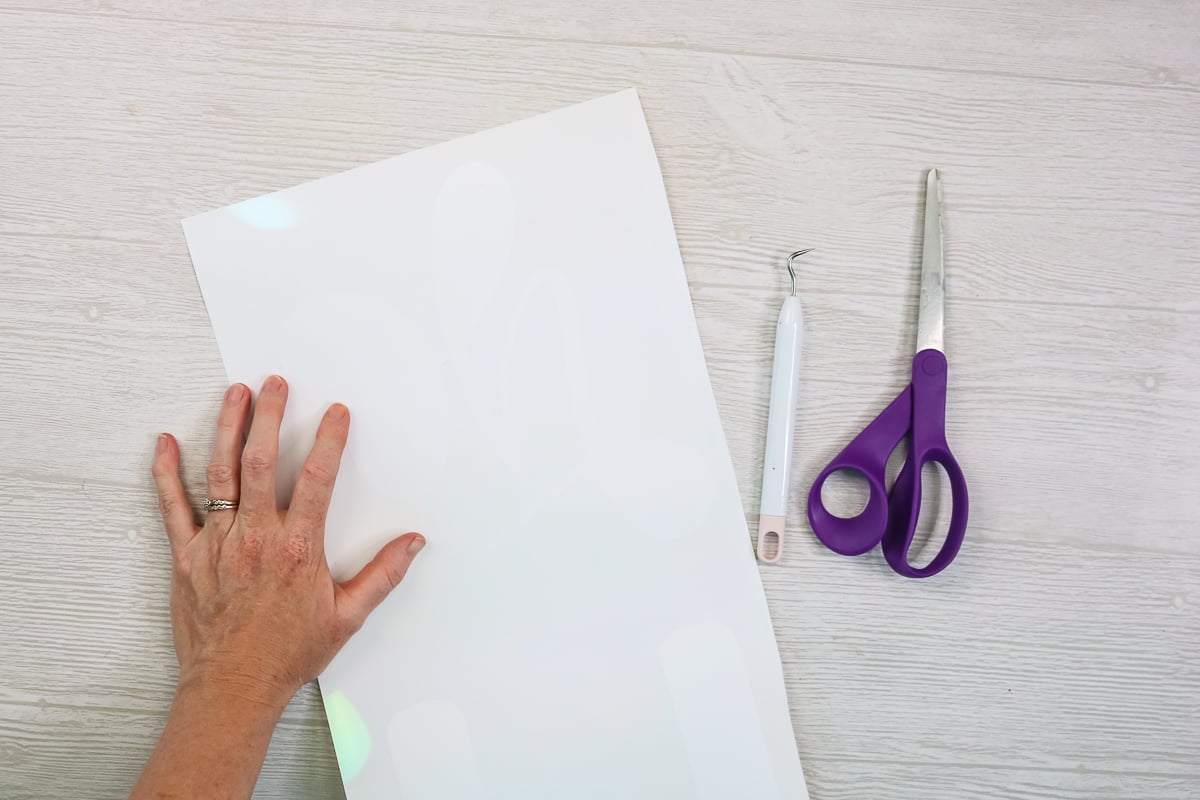 I also took my smaller pieces of vinyl and trimmed them around the carrier sheet so I could place them onto the sign in their location easier.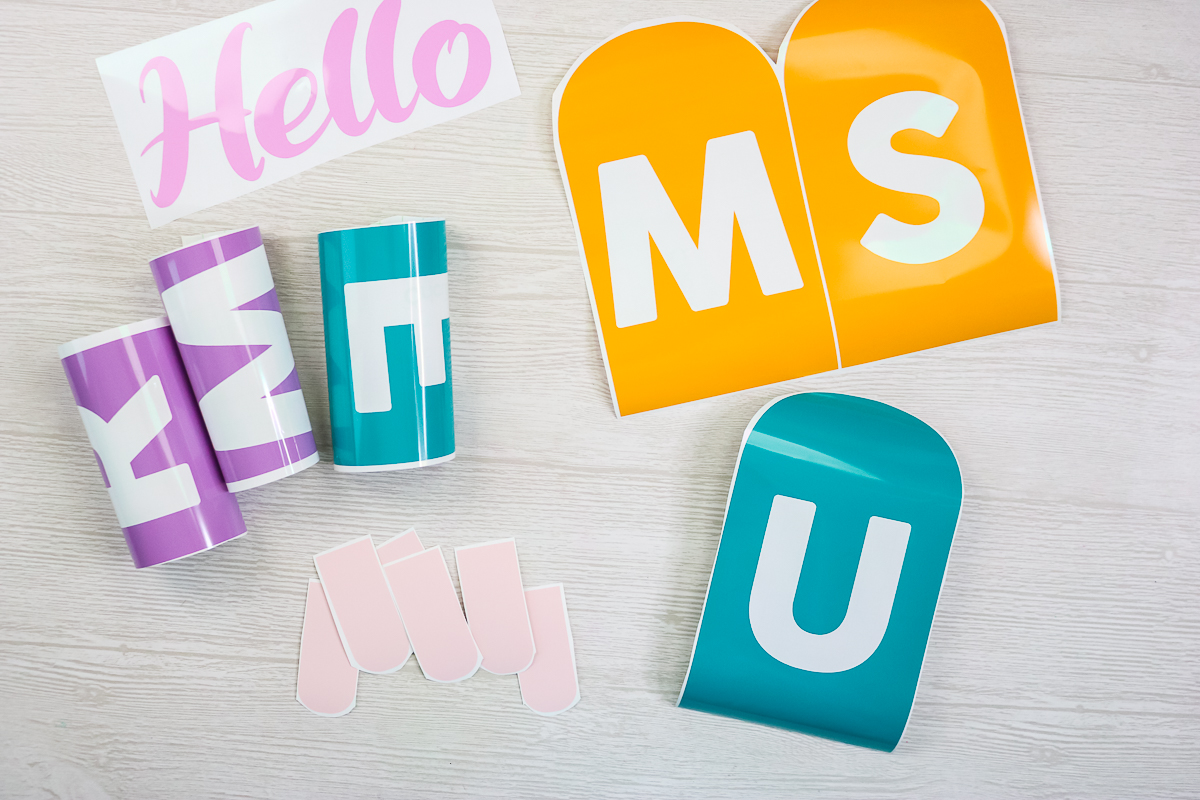 The board itself you will want to stain or paint. Be sure to use a water-based product if you are going to use a water-based sealer. I actually don't recommend oil-based products for applying vinyl. I find that it makes the application process much more difficult. You will want to let everything dry completely before continuing. I like to let the paint dry for at least 24 hours before applying vinyl on top.
Hinge Method for Vinyl Application
For the large vinyl piece, I used the hinge method for vinyl application. Apply the transfer tape to the entire piece.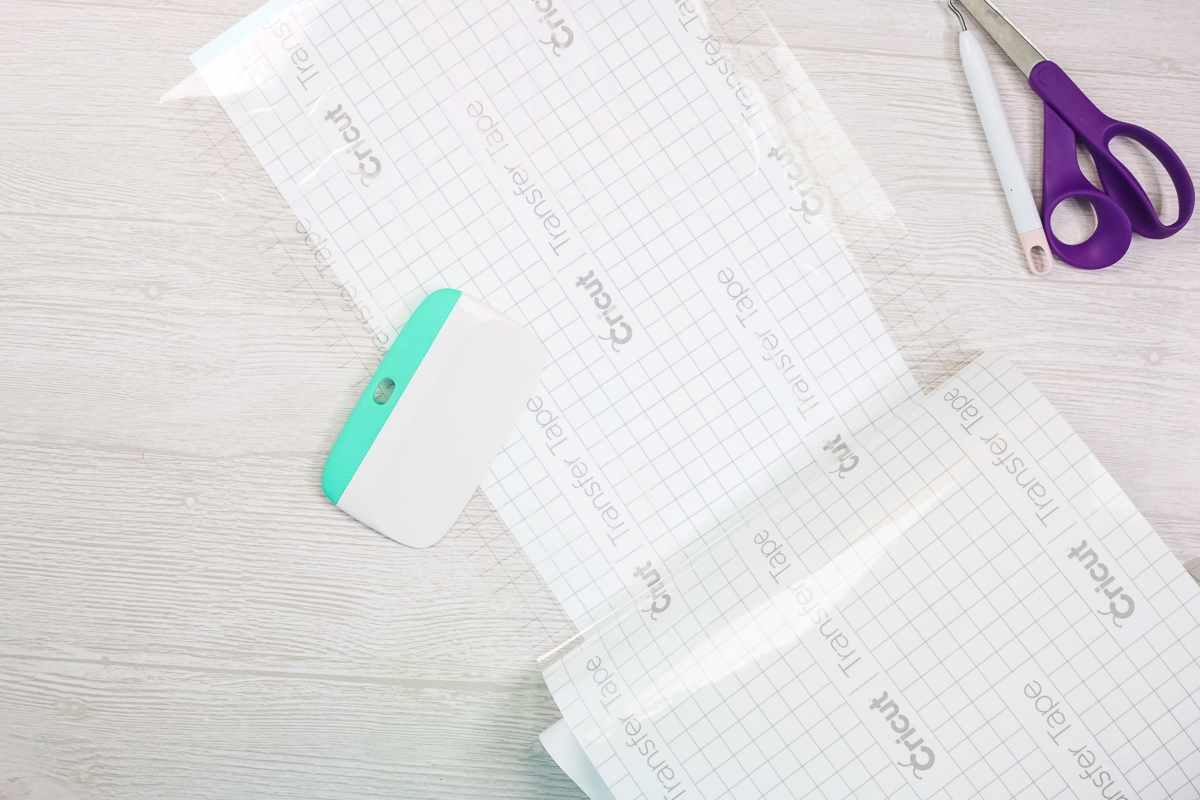 Then tape the vinyl piece into place around the center.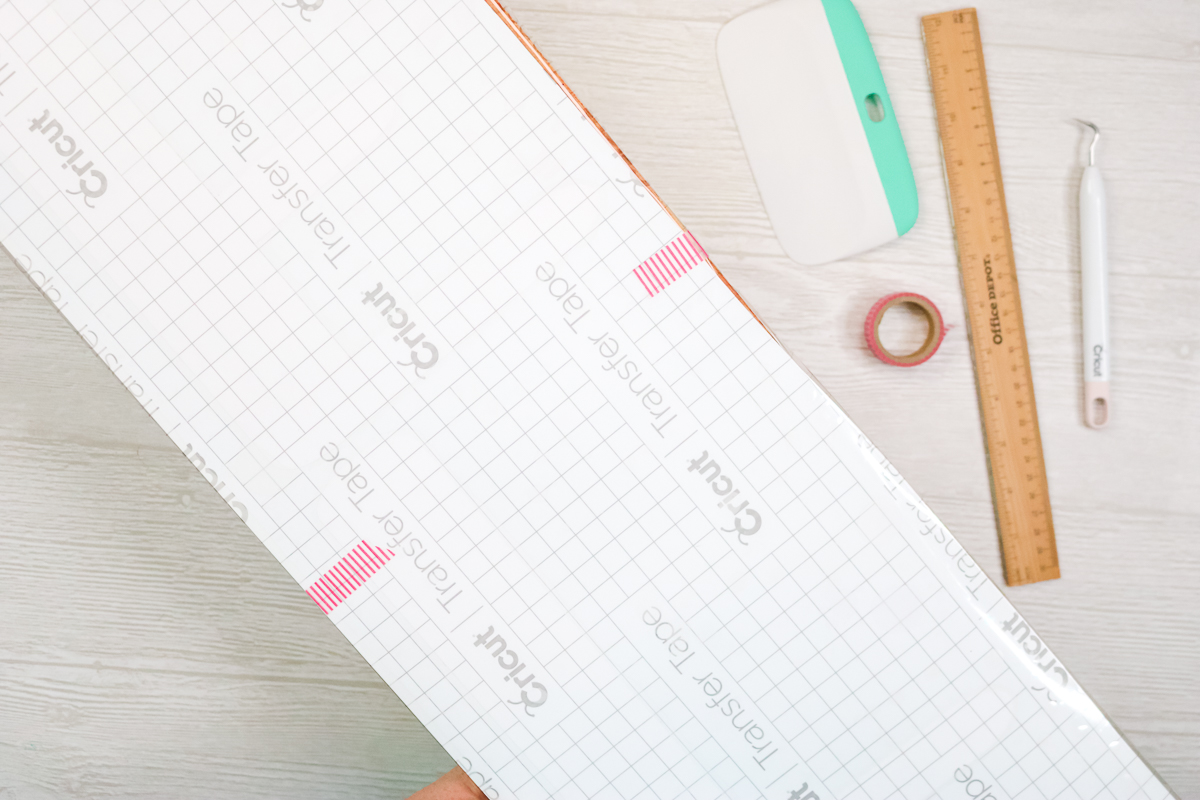 Then flip one side back and remove the carrier sheet. Burnish well to get the carrier sheet to peel back.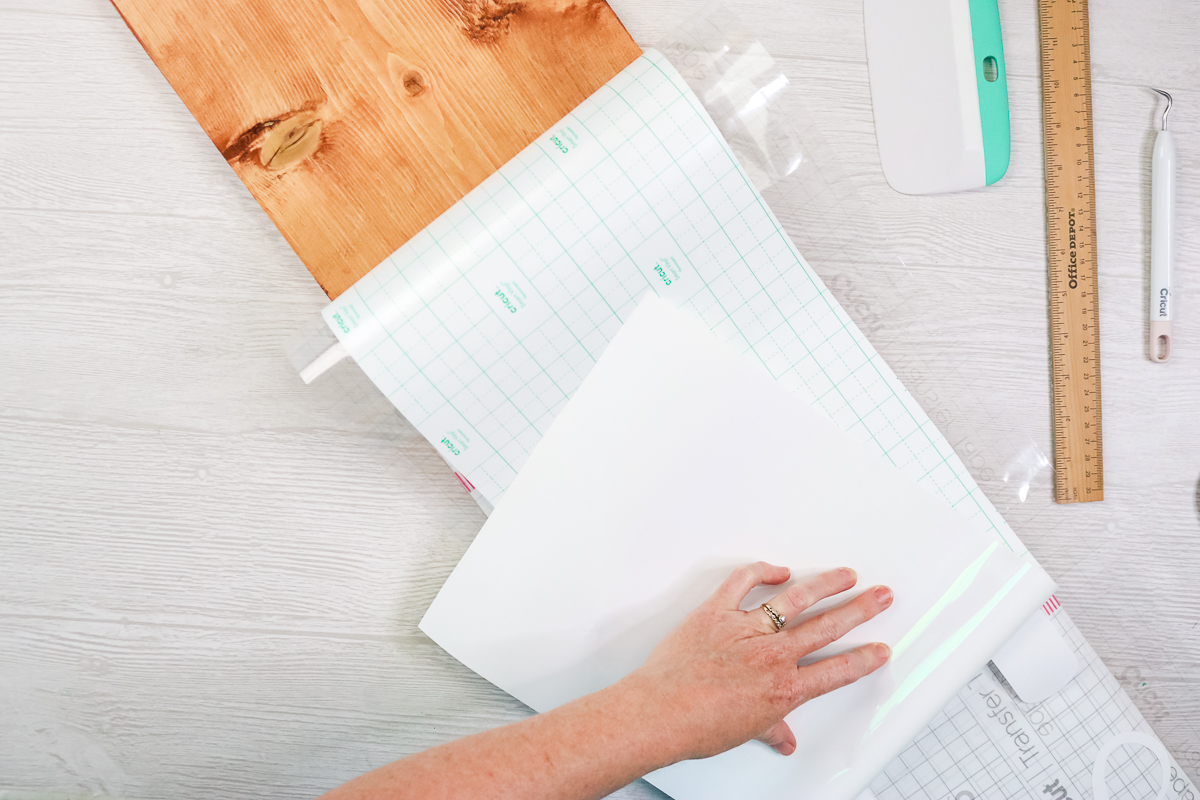 Cut the carrier sheet and discard it.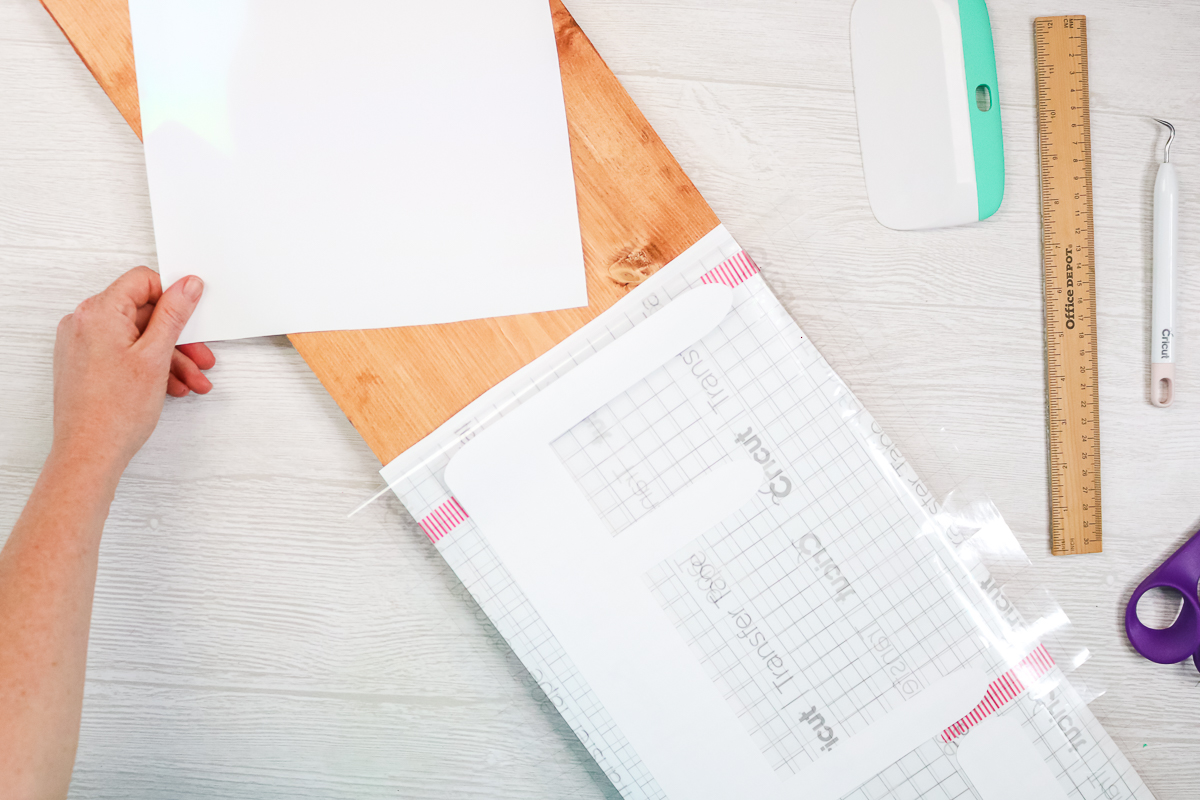 Apply the vinyl on that section to the wood with a scraper. Start at the center and work your way to the end.
Continue all the way to the end of that section burnishing well as you go.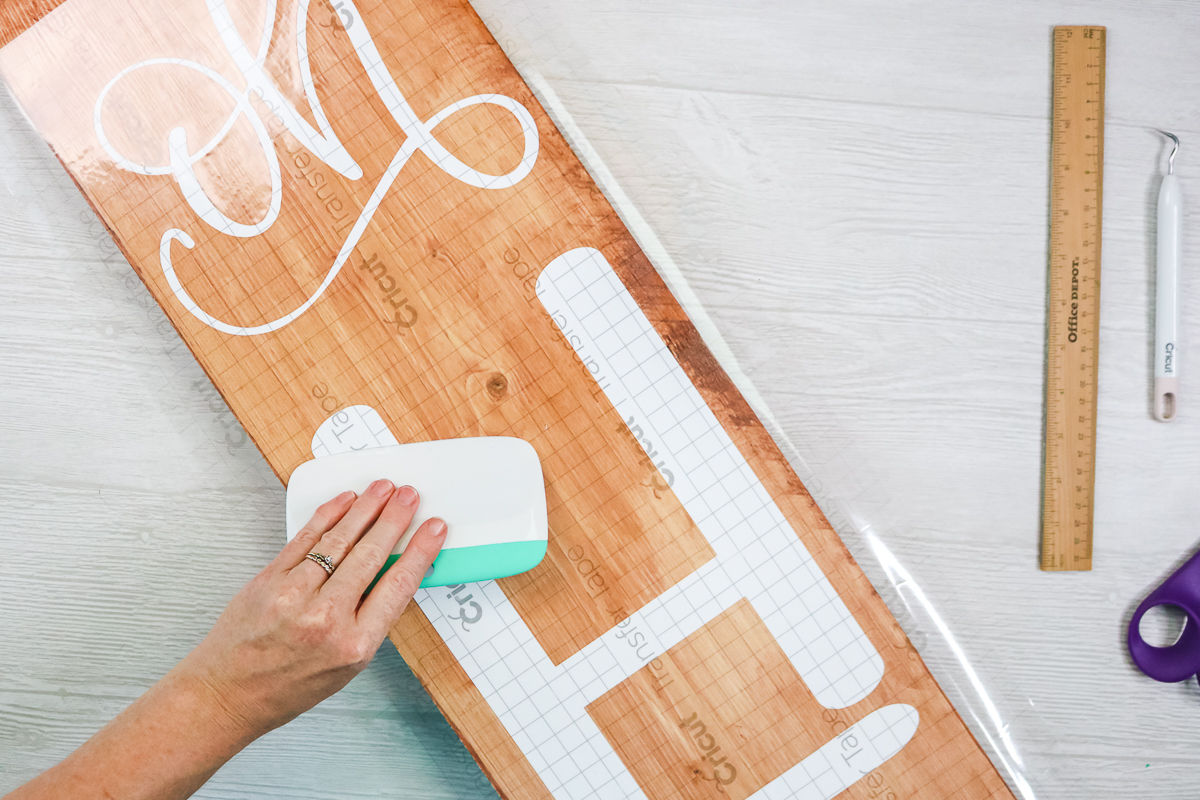 Once that first section is applied, you can repeat the steps on the opposite side of your "hinge" and your remaining vinyl.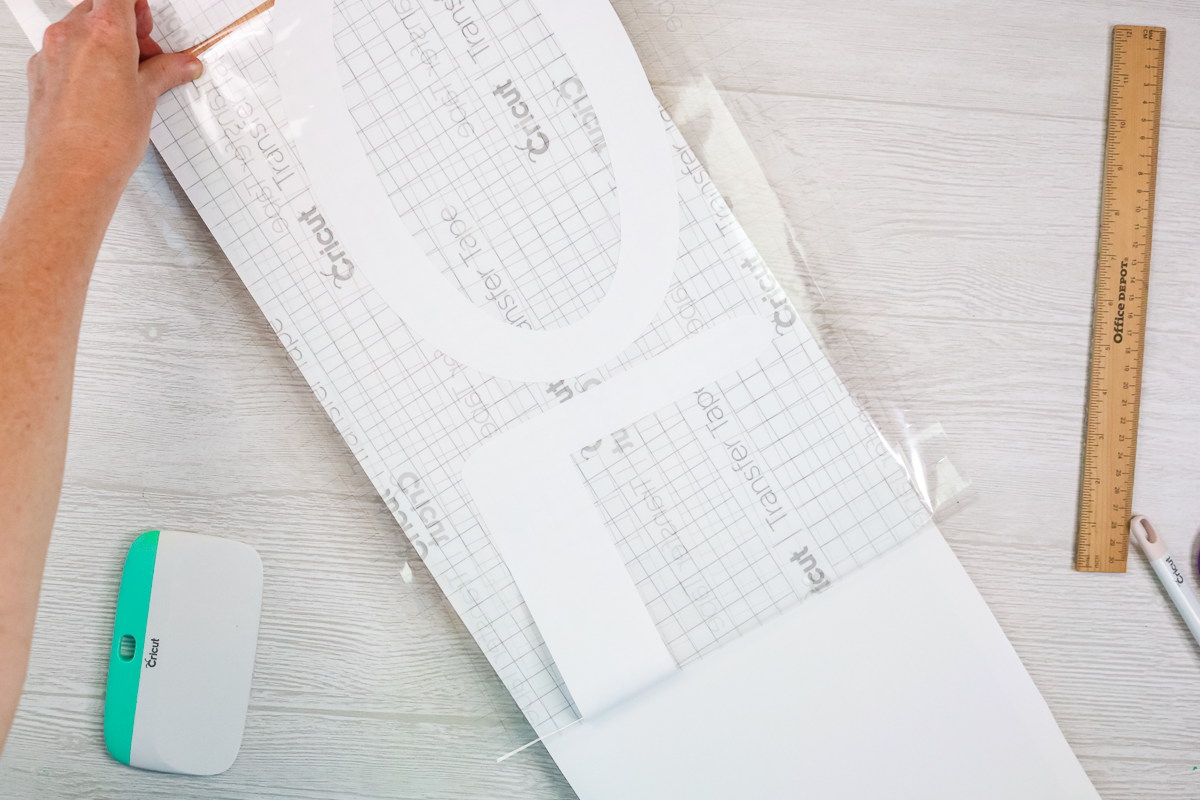 Peel back the remaining carrier sheet and press down your vinyl well using your scraper.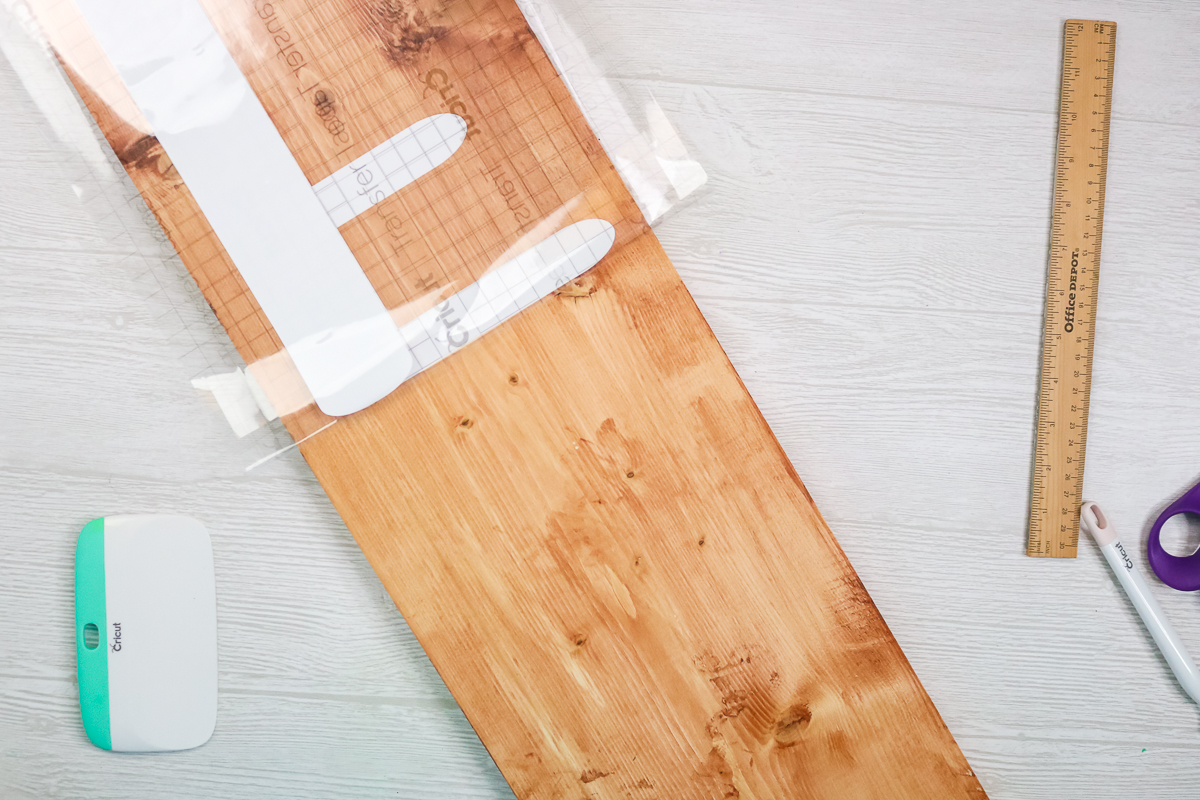 Then peel back the transfer tape from the entire thing slowly starting at one end.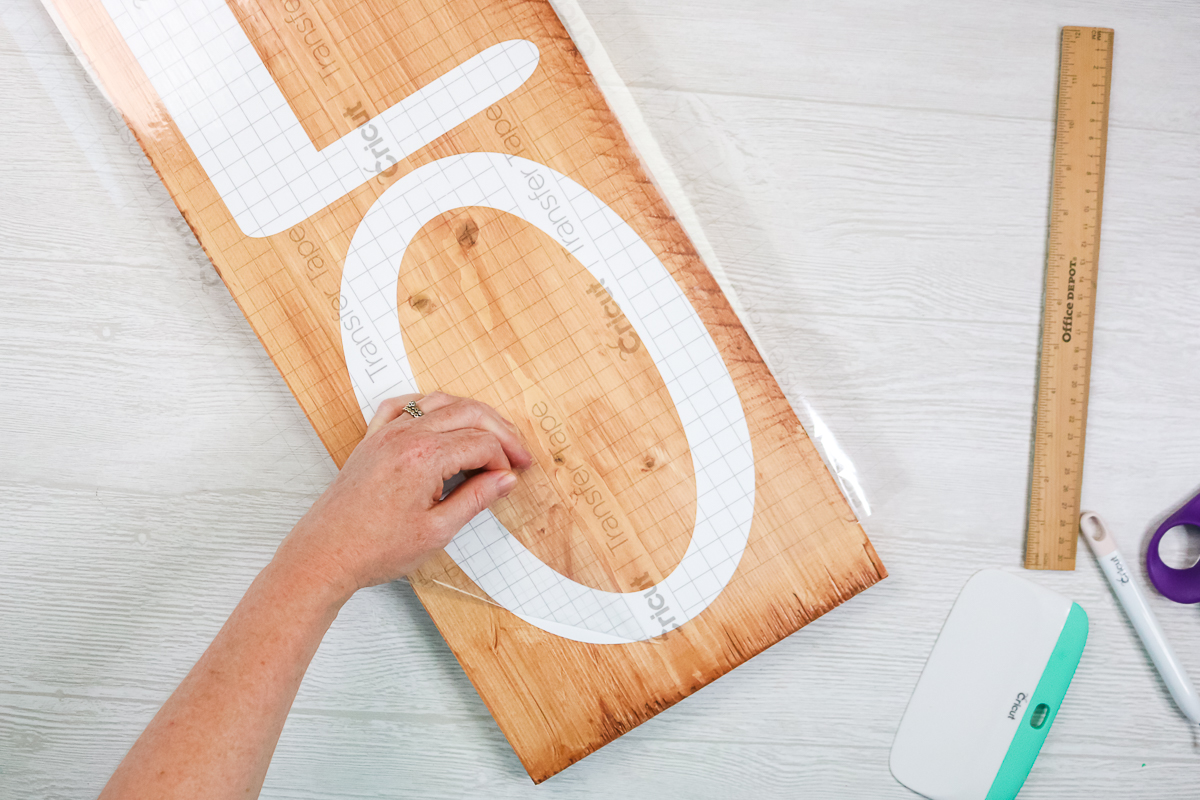 Once the transfer tape is off, be sure to burnish the vinyl to ensure it is stuck to the wood.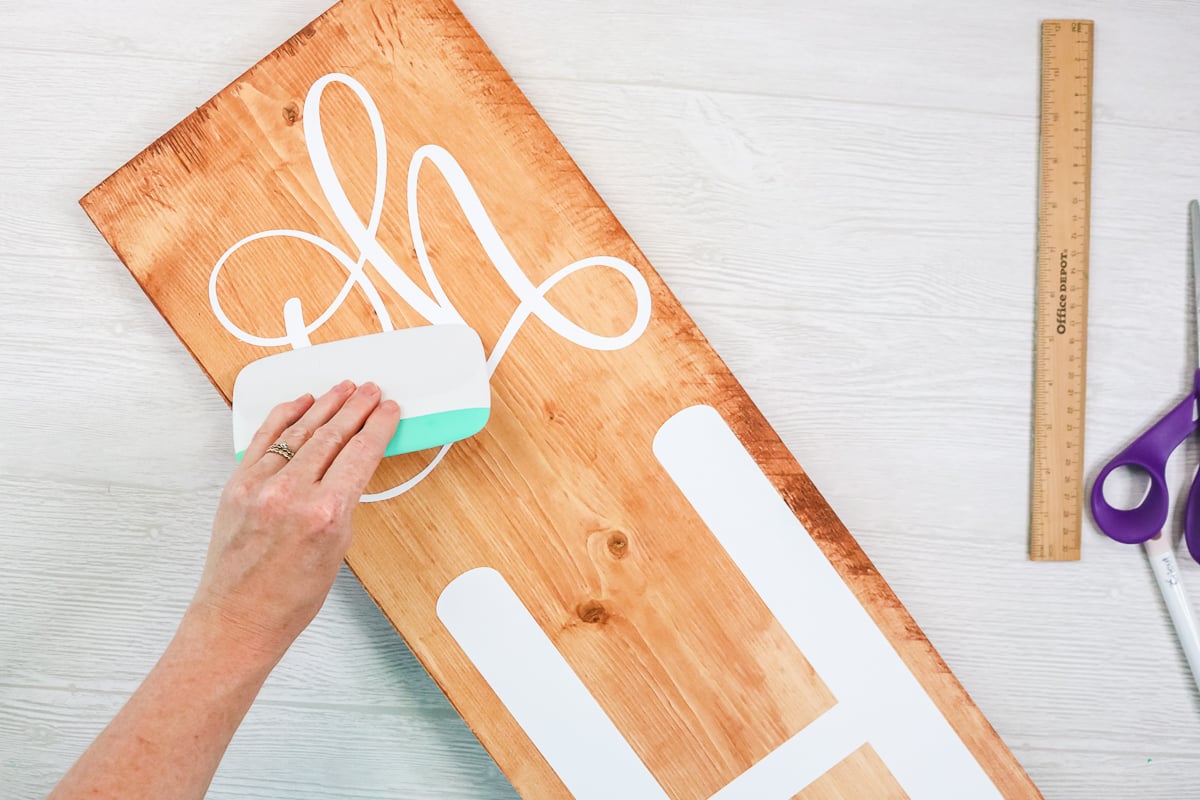 Applying Smaller Pieces of Vinyl to Make a Large Sign
If you don't have the Maker 3 or Explore 3, you will need to apply your vinyl in smaller sections. First, tape your pieces onto your sign into place.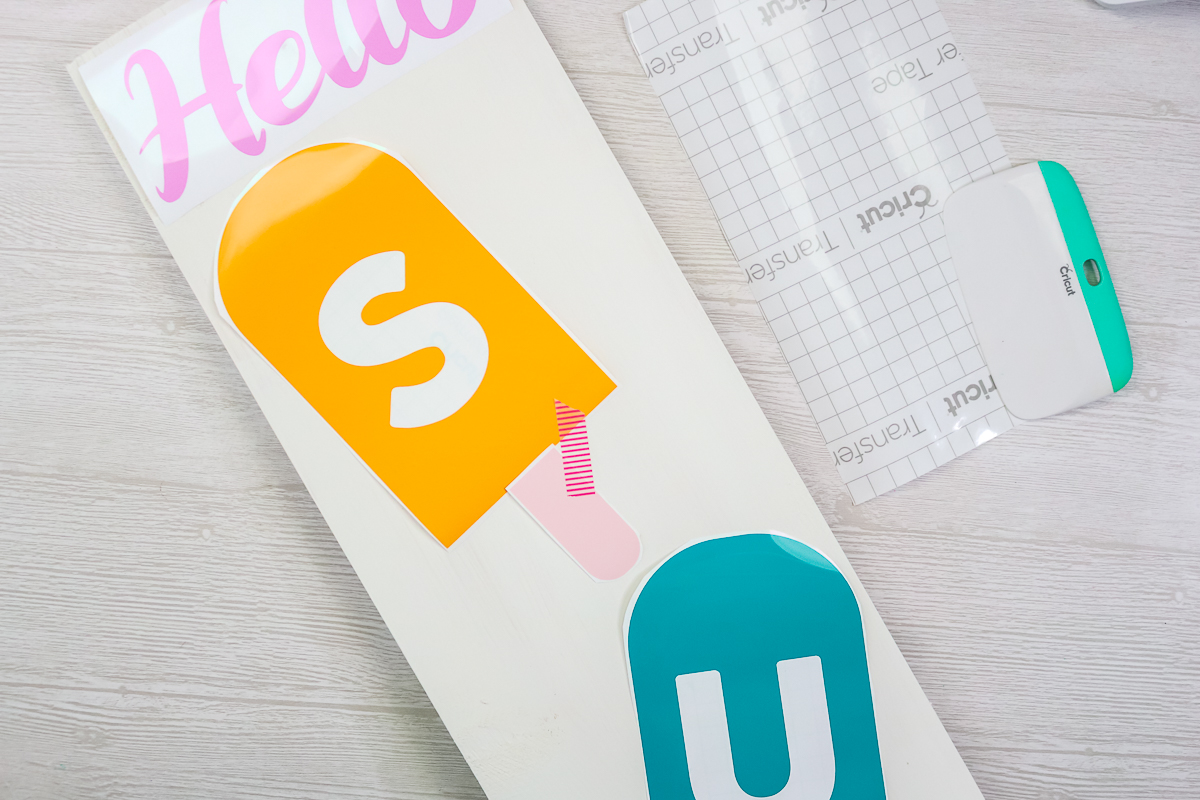 Then use transfer tape to on each piece to remove it from the carrier sheet and put it on the sign into place. Add transfer tape to each piece and peel back the carrier sheet.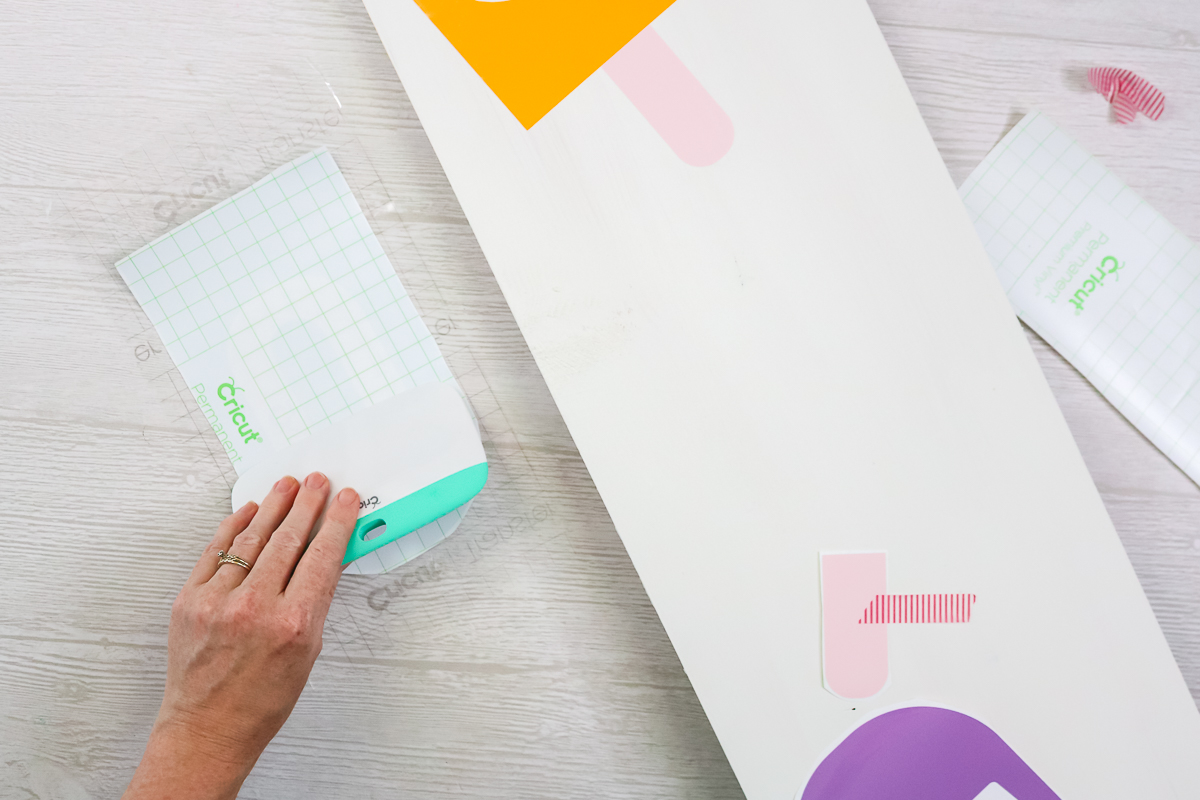 Then put onto the sign into place, burnish, and remove the transfer tape. Repeat for each of your pieces.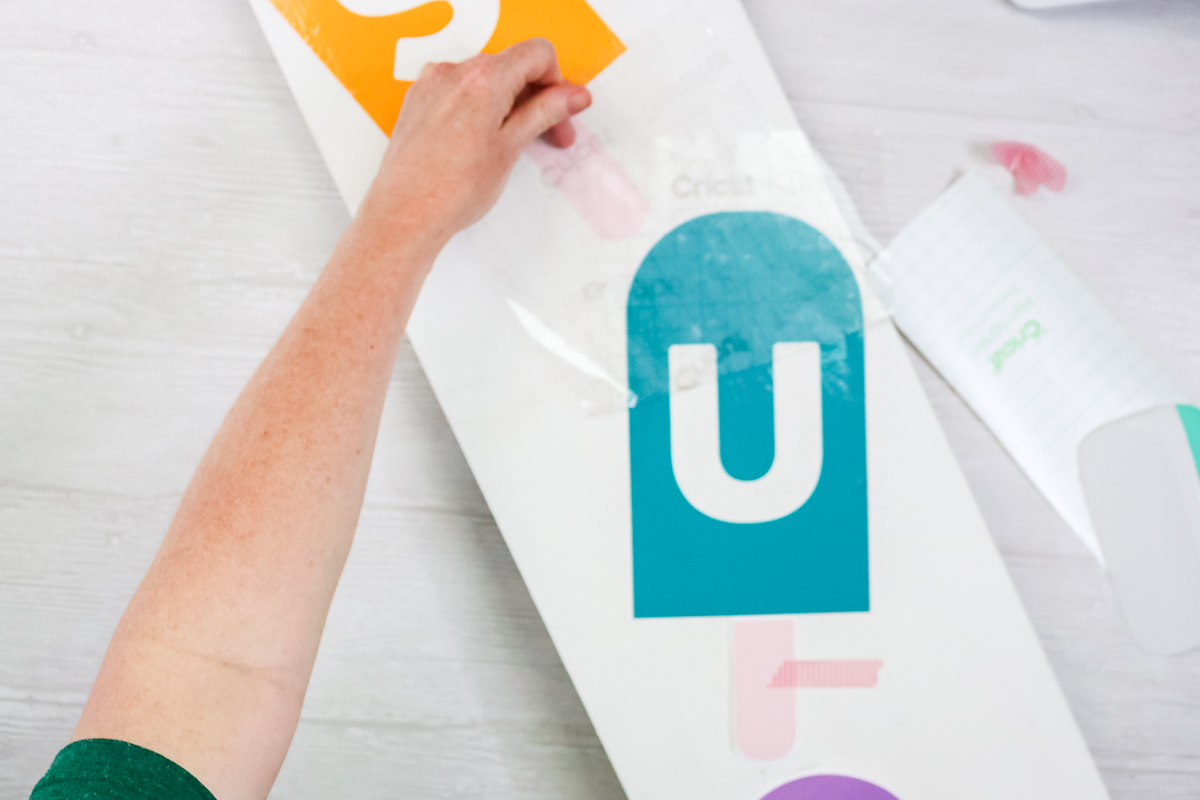 Very small pieces can be transferred without any transfer tape if you would like.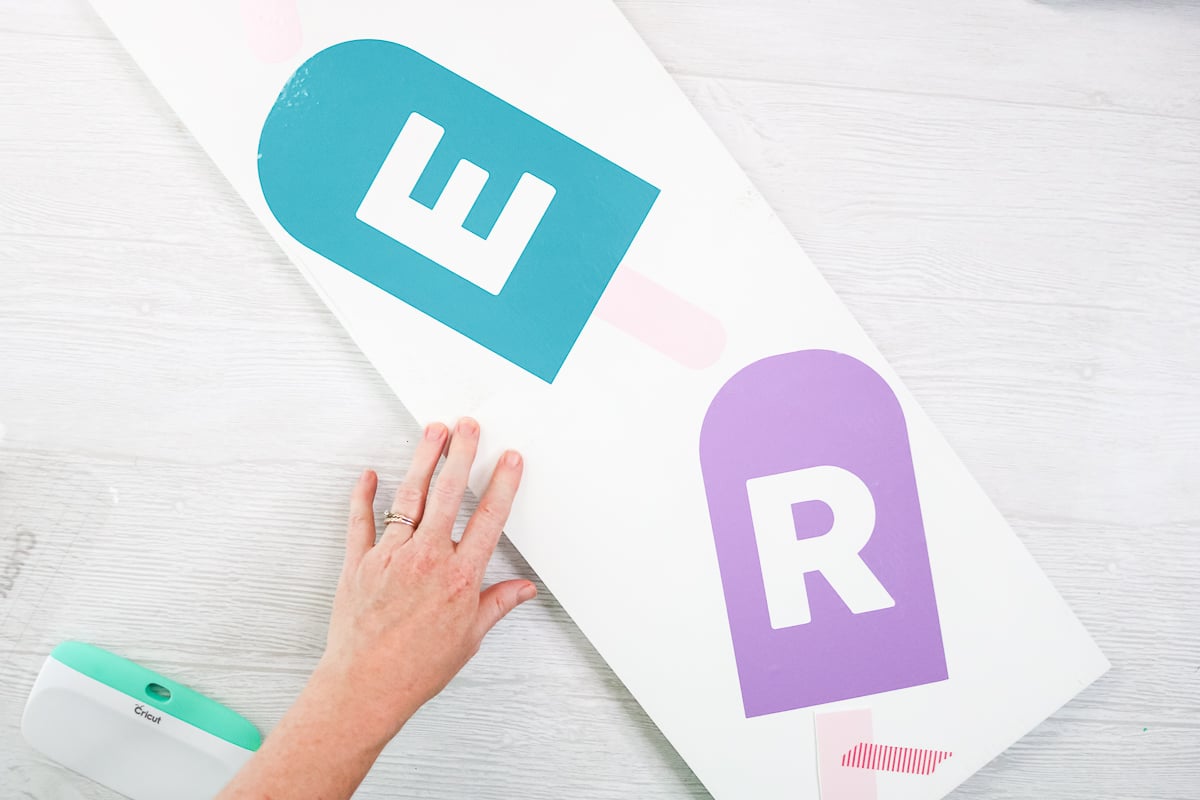 Once all pieces have been transferred to your sign, use the scraper to go over each piece so that it is stuck well on your wood sign.
Sealing Vinyl on a Wood Sign
Now that you have your vinyl on your sign, you want it to last a really long time. The best practice is to let the vinyl sit for 72 hours after application then apply a sealer over the top. Be sure to use a water based sealer if you have used a water based stain or paint.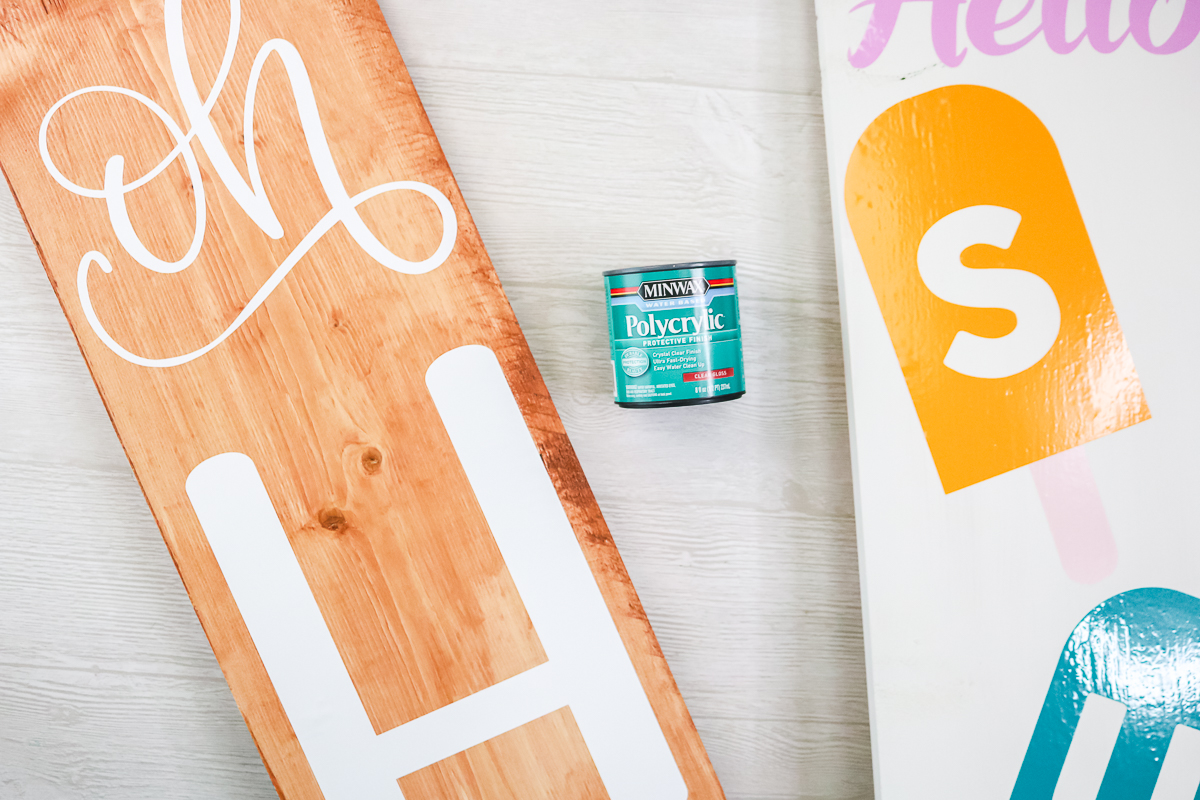 This sealer calls for stirring not shaking and three coats with dry times of 2 hours between each coat. Please note that the instructions on your sealer could be different. Read the instructions carefully and follow them exactly.
I do like to apply my sealer with a brush in the direction of the grain of the wood. I also apply it all over the sign not just over the vinyl. That way the entire sign has the same finish all over the front. I am using a gloss sealer but there are other finishes depending on your preference.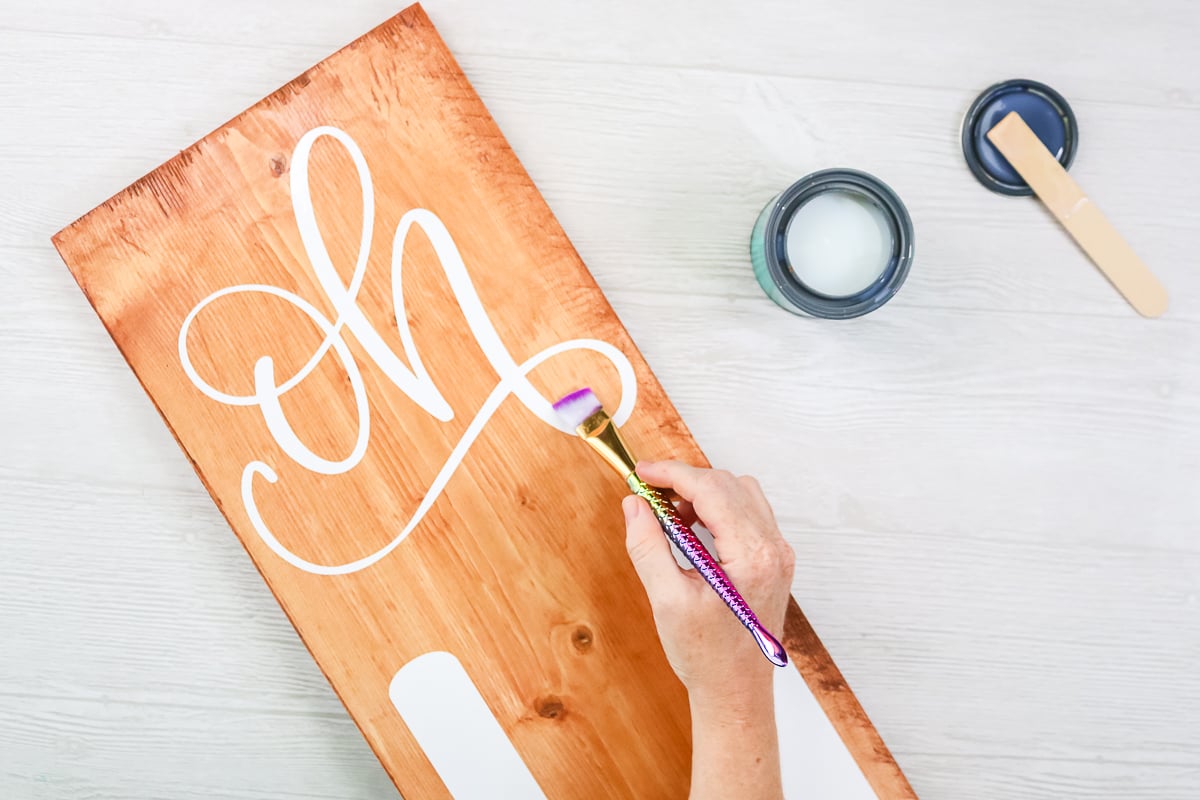 Adding a DIY Vertical Sign to a Porch
Once I gave my sign 3 coats of sealer, I waited 24 hours before putting them outside on my porch.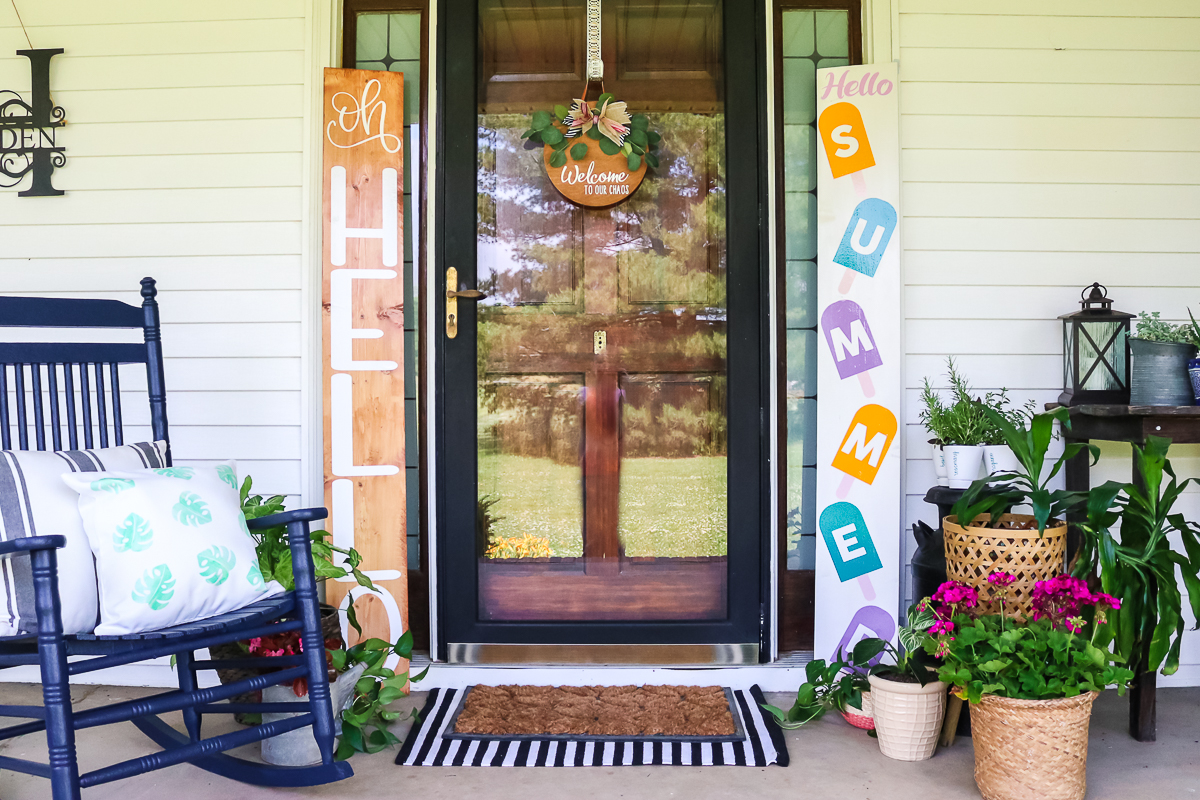 I also added a few other projects to this space including some herb planters with vinyl.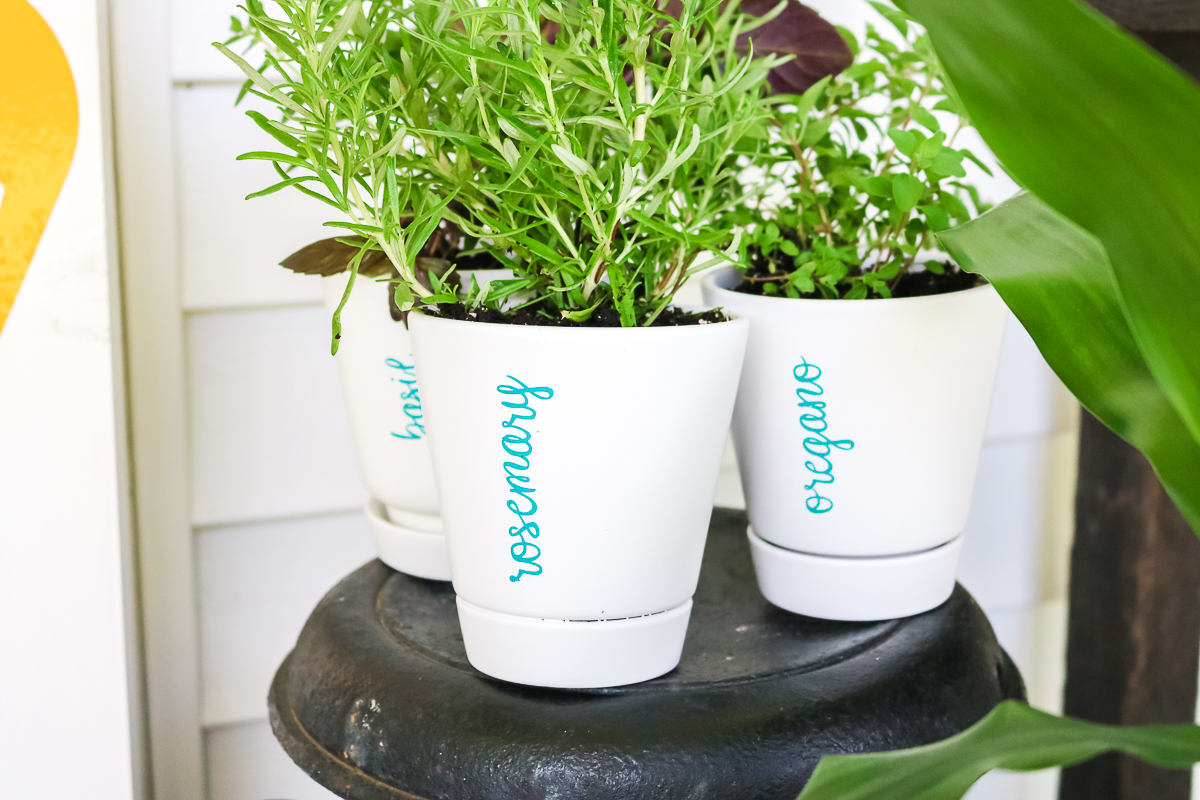 A round wood wreath with vinyl was added to the door for summer.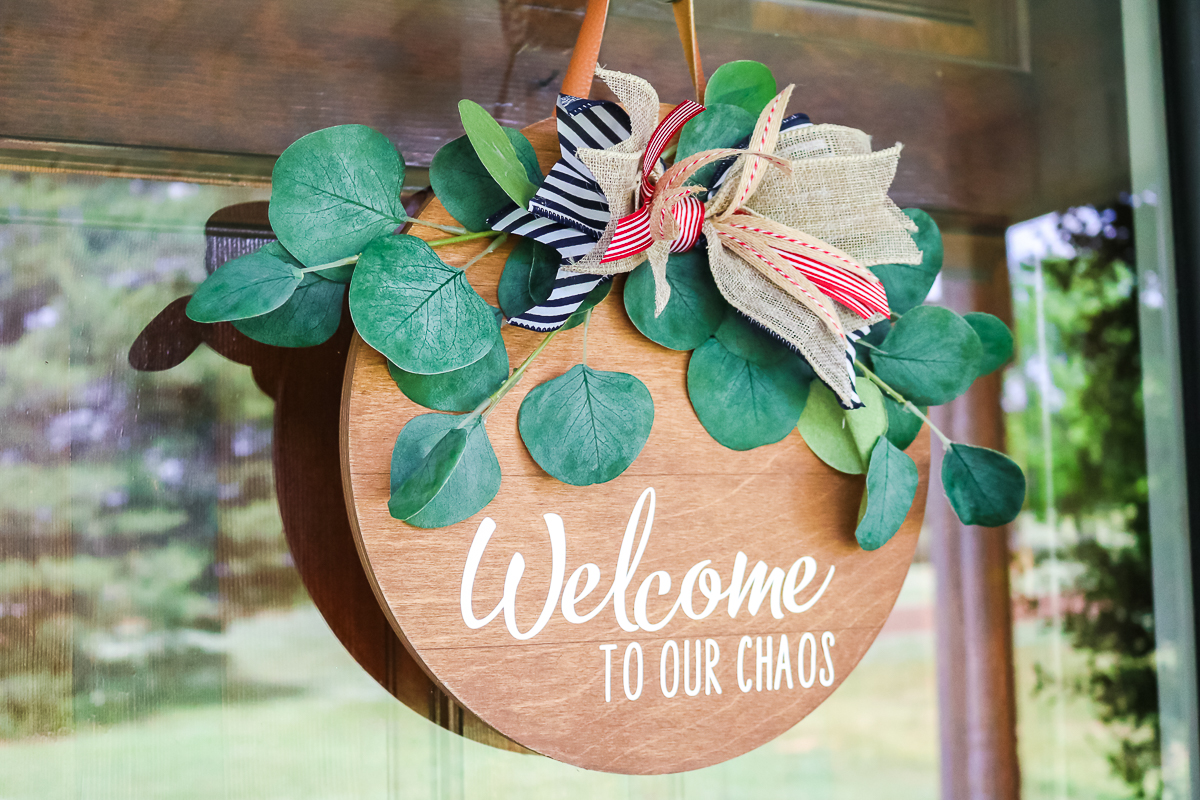 And I put a pillow I made with Infusible Ink onto my rocker.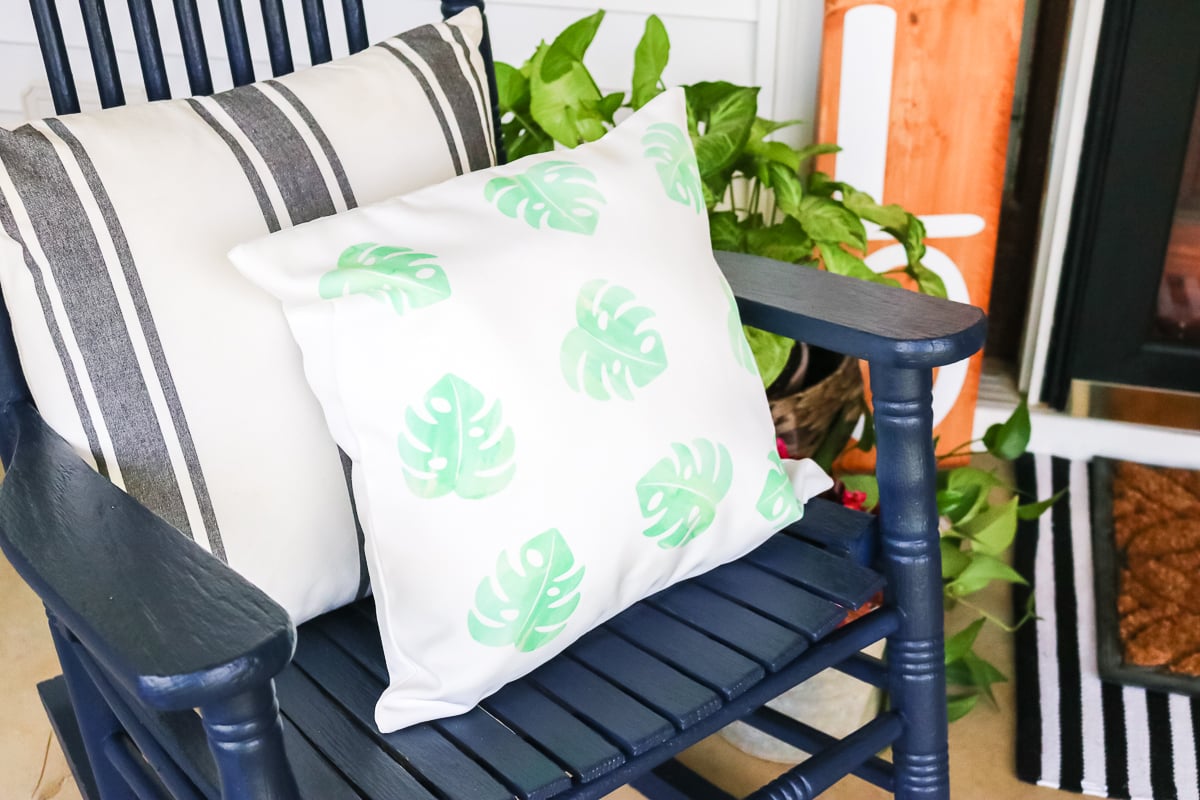 You can choose one of these designs to make for your DIY welcome sign or you can make up your own design. Make something that matches your style and overall makes you happy!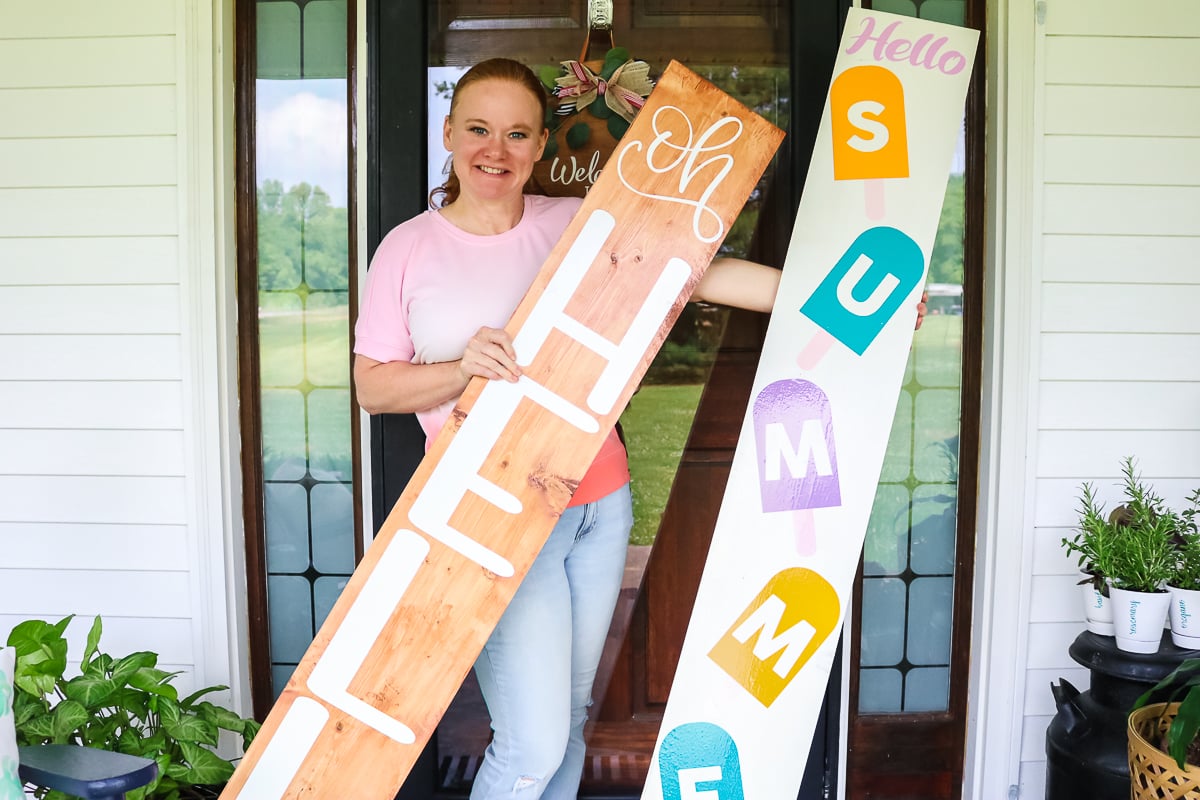 I must say that I love both of these signs. This hello summer sign is colorful and perfect for a splash of fun in any outdoor area.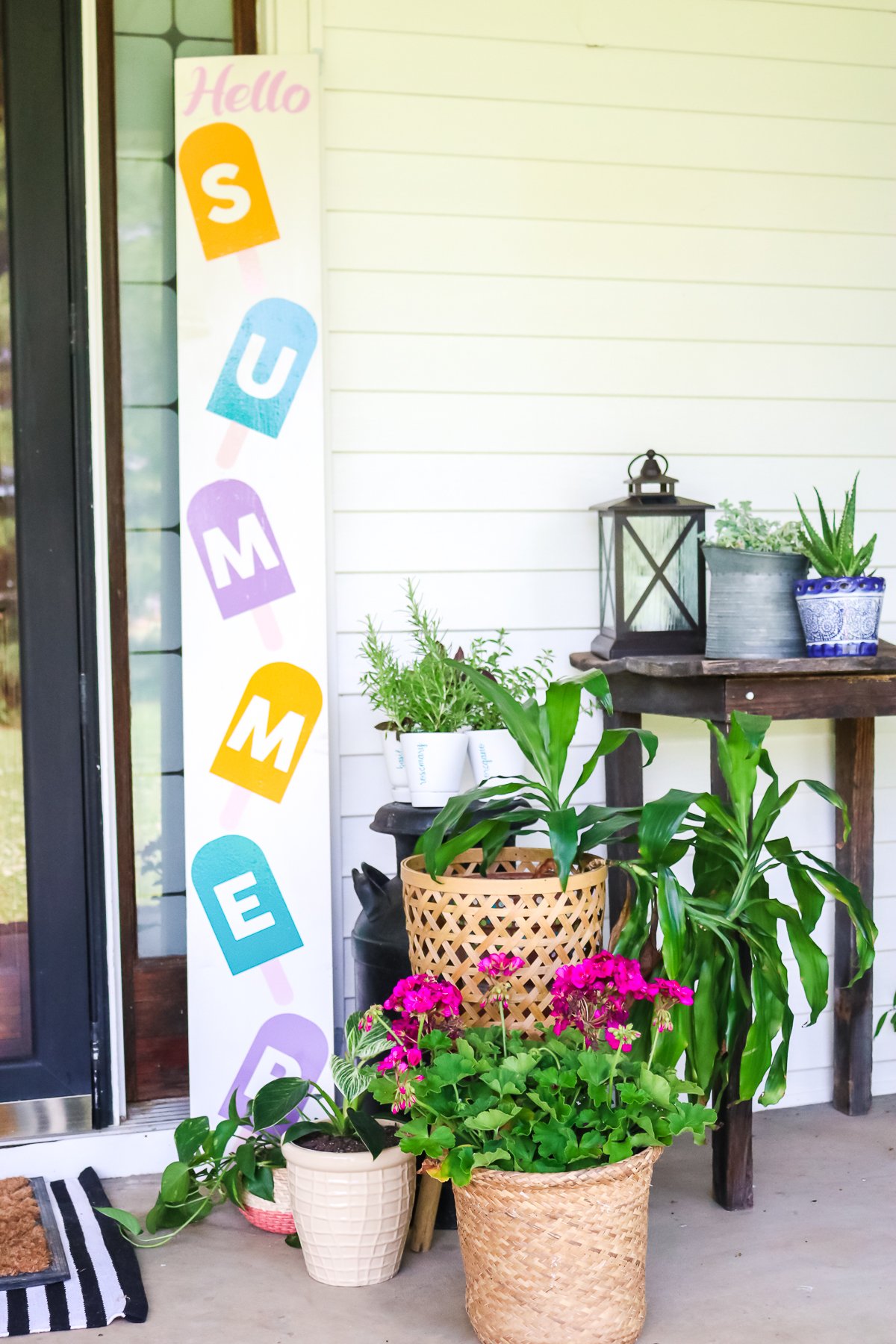 But I love the oh hello one as well as I love using items with farmhouse style around my home both indoors and out.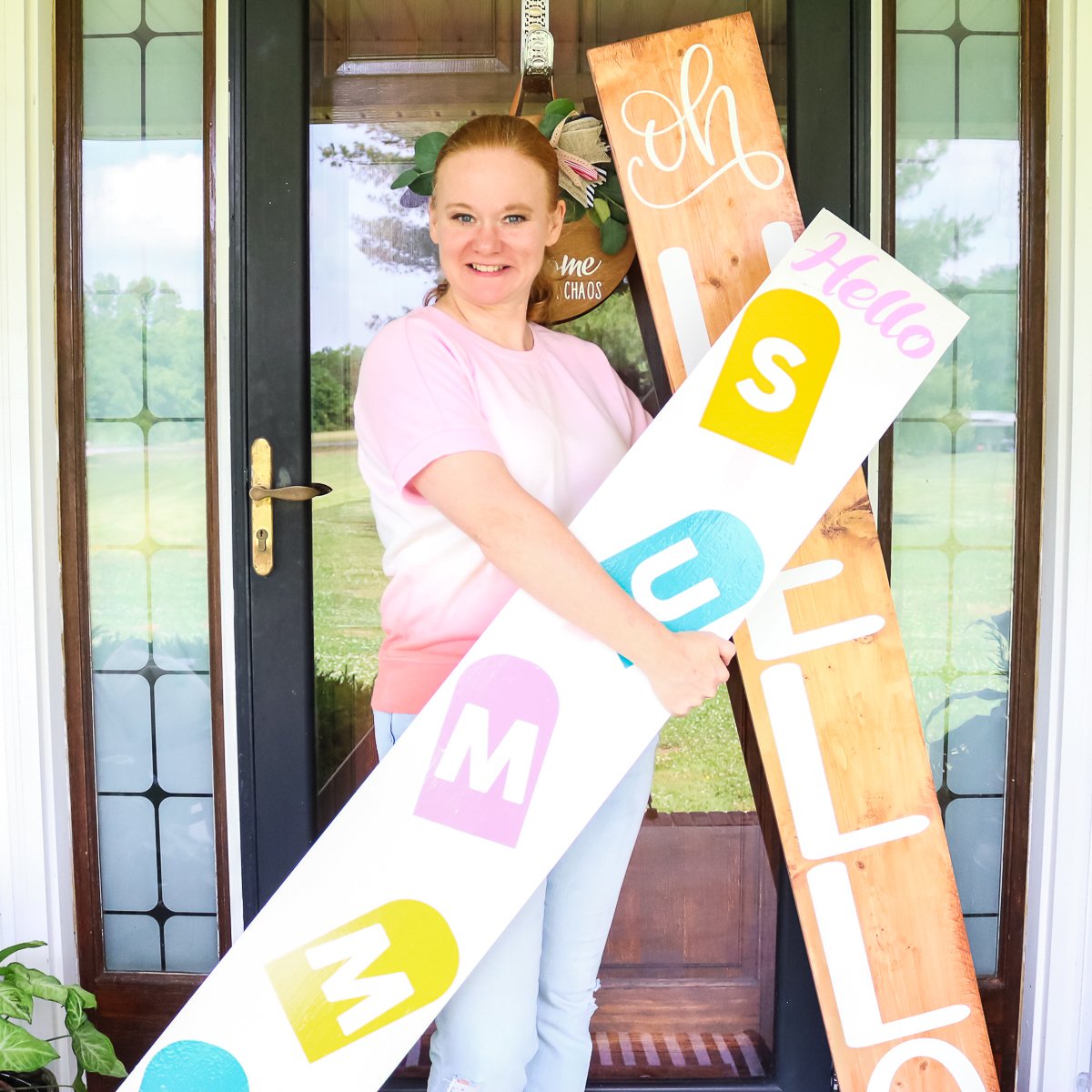 So, will you make a DIY welcome sign with your Cricut machine? I think you will really love the results.