Have you ever had an idea for a project that you couldn't wait to make? That's how I felt about my barnwood desk hutch. Today I will show you my barnwood desk hutch and give you tips for creating your own.
Since barnwood is naturally rustic it's perfect for home projects where you're wanting the natural wood to show.
You can paint or sand barnwood if you want. For my hutch, I kept the wood natural and love how it turned out.
Interested in seeing how my office corner turned out? My farmhouse-style office area on a budget article gives you a full tour of my space.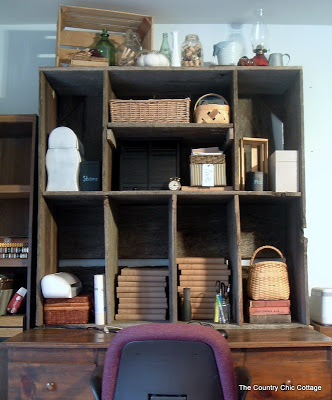 Before we begin I did want to say this is not a full tutorial for making a barnwood desk hutch. I came up with this idea after seeing some furniture and my husband helped me turn it into reality.
I have photos that will give you an idea of the assembly but I don't have plans or a supply list.
What is a Barnwood Desk Hutch?
What is a barnwood desk hutch? The simple answer is that it's a shelving system made from barnwood that sits on top of a desk.
A hutch itself is usually a cabinet of some sort that consists of drawers and shelves to give you a lot of storage options.
Since storage is something I am definitely lacking, adding a hutch to my desk was a perfect solution.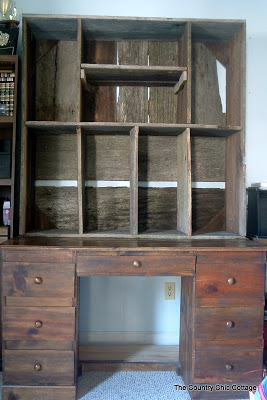 We purchased this desk unfinished about 16 years ago. We stained and polyed it and then didn't do anything else.
I had considered refinishing it but my love for barnwood won out. Instead of refinishing the desk, I was able to match the rustic look of the desk with old barnwood.
How to Make a Barnwood Desk Hutch
As I said before this isn't going to be a full tutorial, but I will give you the basic process. Also, my hutch doesn't actually sit on top of the desk. I didn't want to lose the surface of the desk so it's actually built on a base that sits right behind the desk.
For my hutch, I began with completely authentic, incredibly old, natural, weathered, beautiful solid wood.
To create the hutch I decided how big I wanted it to be overall. This helped with the shelf layout and making sure I had pieces of barnwood that were the correct size.
How to Build the Base
For the base, we kept it really simple. I used new wood that I had left over from a previous project and created a box base that is as wide and tall as my desk.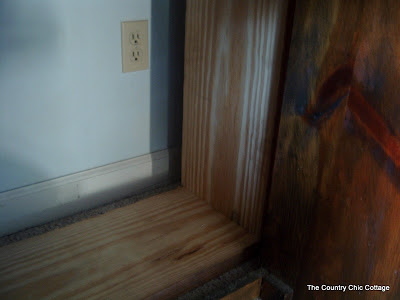 I made sure the base was as deep as I wanted my hutch to be. My hutch sits completely on this box. If you wanted yours to sit partly on the desk you would adjust your base box size to reflect that.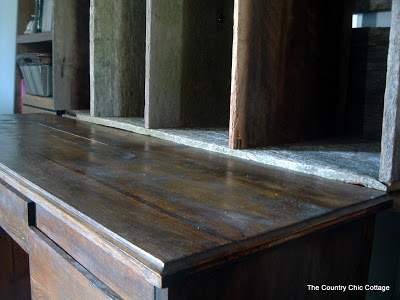 How to Build the Hutch
We built the outside of the hutch first. I used screws for the assembly.
After the outside box was built I added the shelves. The middle horizontal shelf was installed first with screws holding it in place on both sides.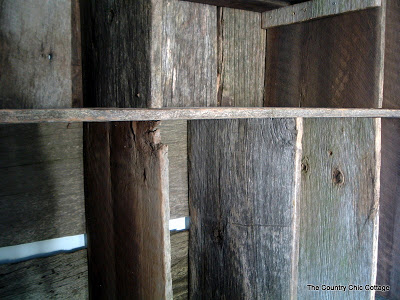 I then added all of the vertical wood pieces. These add support to the horizontal shelf and I again used screws to hold all of the shelf pieces into place.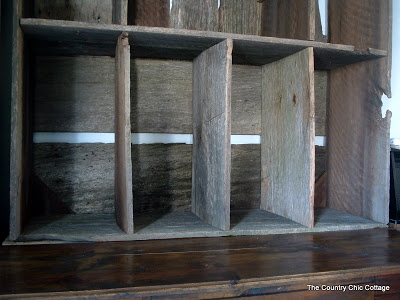 How to Add Shelf Supports
Most of my shelves are supported by other wood pieces. The top middle shelf doesn't have a vertical wood support so I had to create a different support for it.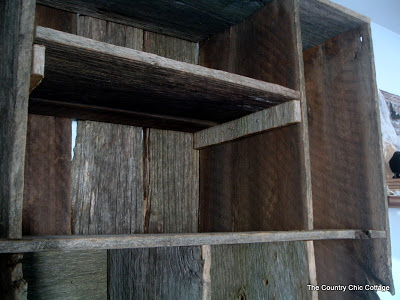 I cut matching pieces of wood about 1″ wide and screwed them level to the vertical dividers. I was then able to sit my shelf right on top of those supports.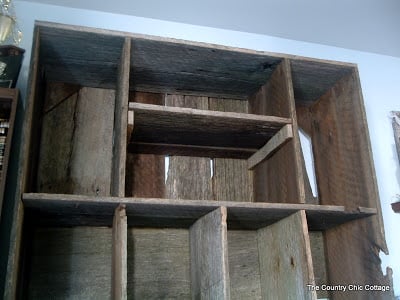 As long as your shelf sits snuggly between the verticle dividers whether you choose to hold it in place with screws is up to you.
How to Finish the Back of the Hutch
I wanted the back of my barnwood desk hutch to have the look of a crate. I added barnwood pieces leaving gaps between them to achieve that look.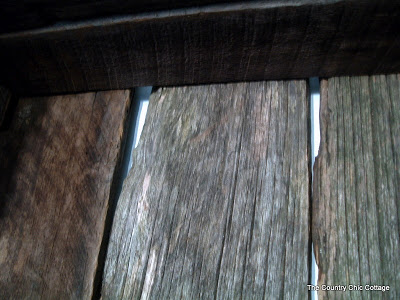 As you look at my hutch you will see that nothing about it is perfect. The barnwood has natural grooves and curves. It's perfectly imperfect.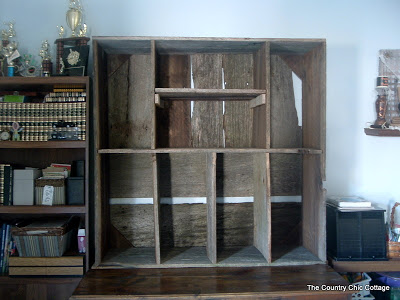 Why Use Barnwood?
To create a desk hutch you don't have to use barnwood. I chose barnwood because I love the look of it.
Barnwood matches my decor and my farmhouse style. I love the naturally weathered rustic look.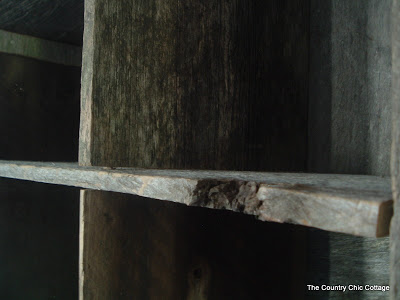 As we were assembling my barnwood desk hutch I asked my husband to intentionally turn imperfections forward facing.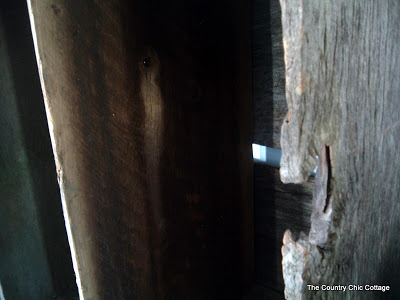 Knots, nail holes, spinters, curves. I love all of these imperfections, they add so much character. You can't buy details like this and if you tried they would be expensive.
If you want to build a desk hutch but don't like the look of barnwood you could definitely make one using straight, new wood that you purchase from a lumber store.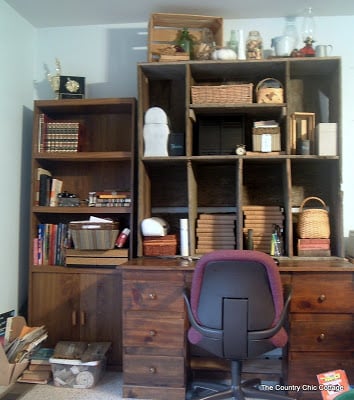 Since I love the rustic look barnwood is the perfect choice for me.
How Much Does a Barnwood Desk Hutch Cost?
I was able to create my barnwood desk hutch for the cost of the screws. Barnwood is something that is readily available in my area and because I love it I keep some on hand.
The wood I used for the base was wood I had leftover from a previous project.
How much your hutch costs will be determined by what supplies you already have on hand and the size you want your finished hutch to be.
How to Decorate a Barnwood Desk Hutch
I created my hutch to give myself more storage. While I need storage I also want my hutch to look good.
I added my cute old school covered encyclopedias and some thrifted old books along with some other decor pieces from around my house.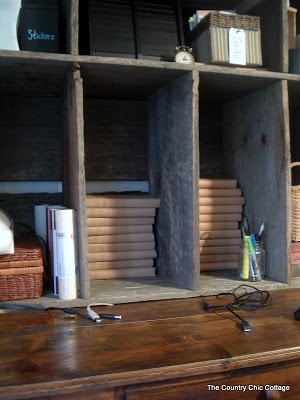 I love baskets. They come in so many different shapes and sizes and are great for storing things you don't want seen.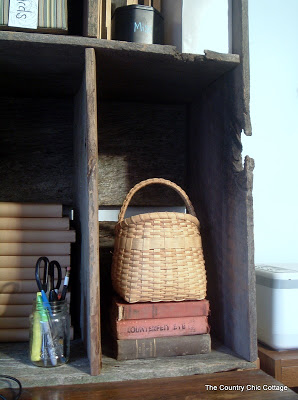 I'm storing crafting tools and supplies, cords, and anything else I need easy access to but doesn't look nice just sitting out on a shelf.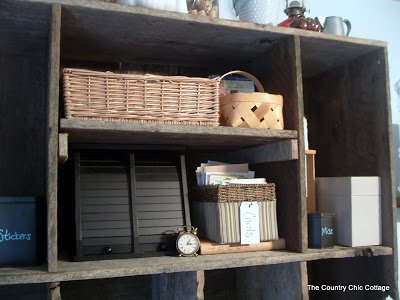 While I'm using the shelves for additional storage I've had so much fun decorating the top of the hutch.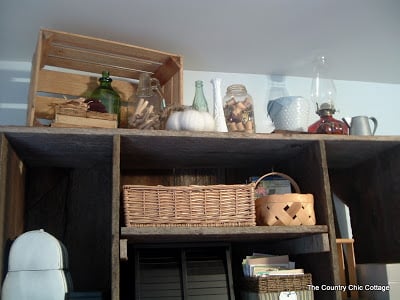 Can I show you one of the coolest things about the hutch?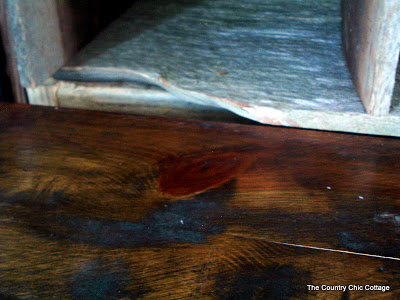 This curved spot of barnwood sits at the front left of the barnwood desk hutch. It's rustic and natural and the perfect place to feed computer cords through.
Final Thoughts About My Barnwood Desk Hutch
I am in love with how the barnwood desk hutch turned out. It's functional and beautiful.
At my house everyone uses the back door. Where the desk sits is in the direct line of sight from the back door.
I've had fun changing the decor for the different seasons. More than that I've loved the added storage it's given me.
I hope I've inspired you to create your own barnwood desk hutch. It wasn't nearly as hard as I anticipated it would be. If we can do it, anyone can.
If you have any questions about building your own barnwood desk hutch leave them in the comments and I'll get them answered for you.
Frequently Asked Questions
Can I add a barnwood desk hutch to any desk?
I think you can. Since my hutch isn't actually sitting on the desk I think you could use the same process to make a hutch that would work with any desk.
Can I buy a hutch for my desk?
If building a hutch for your desk isn't on your to-do list you can purchase one. You'll be more limited on the size of the hutch and how the shelves are set up but it is an option.
It is recommended that a hutch should be smaller than the desk you're putting it on. Do remember that my hutch isn't sitting on top of my desk. If you sit a hutch on top of it you will lose some of the work surface.
Are desk hutches still in style?
Yes! I am not sure hutches will ever go out of style. They're functional and beautiful.
Can I remove a desk hutch?
I do believe you can. Because mine isn't attached to the desk itself removing it is easy. If your hutch is attached to the desktop you'll have to look at how it's attached. If it's screwed on you'll need to remove those screws, if it's built as one piece that would be more difficult.