It is finished!! I have barnwood in my living room! And not a little barnwood…a lot of barnwood. We (okay hubby did and I held things) made a hutch for my desk in the living room out of barnwood. I adore barnwood and furniture made out of barnwood…so this one has me swooning…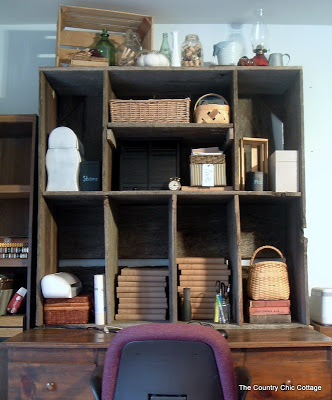 Let's talk inspiration. My inspiration was this picture from pinterest that apparently has no source. If you know the original source let me know. It is a bookshelf made out of apple crates. So of course I will be linking up with Young House Love and their pinterest party!!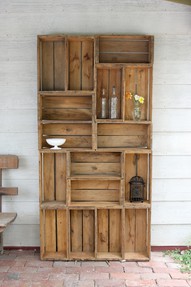 Amazing. Gorgeous. But I have been on a crate hunt for months. I can't buy enough crates to make this on my budget. So what is a poor farm girl to do?? Welllll….there was enough FREE barnwood to build one! So we took inspiration from the bottom 1/2 of the above pic and came up with my hutch…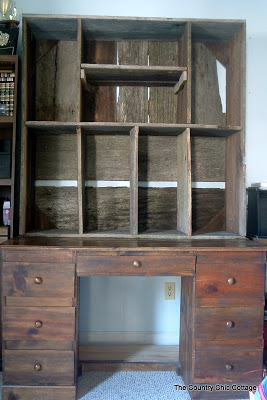 Let's all appreciate a little before pic for a second shall we…don't judge mkay??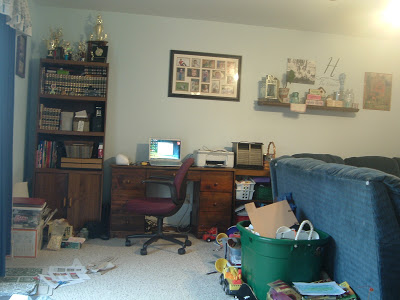 And now that same area after…just keepin it real in the fact that I have a plan for that bookshelf to the left but I am not quite there yet. That will be a post for another day.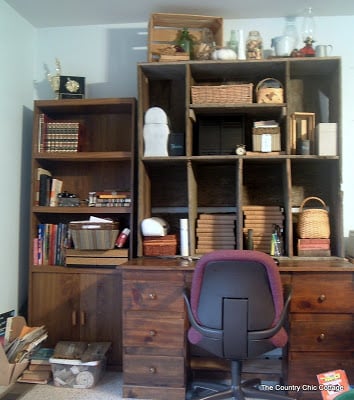 For today I will focus on the gorgeous barnwood!!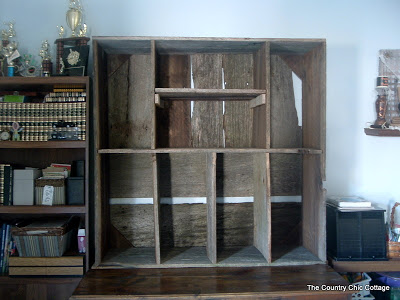 The wood is the real thing. Completely authentic. I could not even tell you how many years old real. That patina is all natural, weathered, worn, lovely…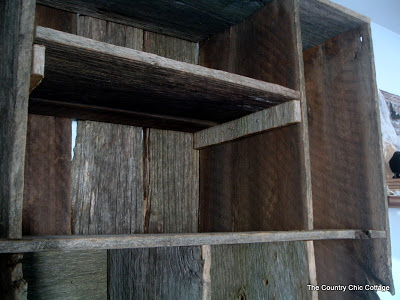 We built the box first, then added dividers, then put a back on. The back replicates the crate concept with spaces in between the boards.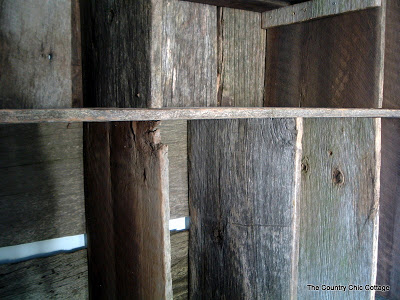 It is totally imperfect because the wood is totally imperfect. This is not perfect lumber from Lowes. It is aged and imperfect and has nail holes and knots and well….it is just yummy!!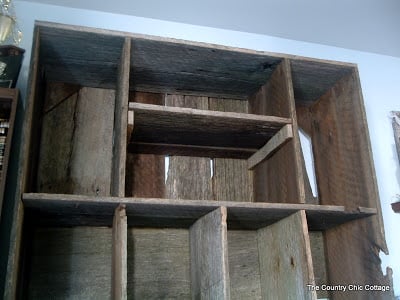 The desk that sits in front is the same one we have had for years. We bought it unfinished about 16 years ago. We stained and polyed it and have never done anything else.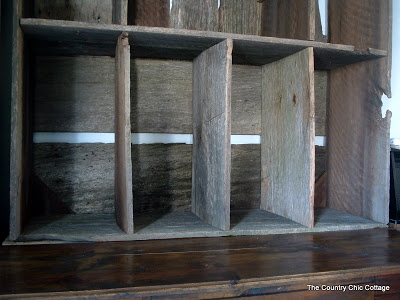 So it really is slightly worn and rustic. I considered altering the desk but instead I decided to make the hutch match the rustic nature of the desk. The desk frankly is small. The hutch concept gives us more room without spending any money. Okay we had to run to the store for more screws…$3 was the cost of the hutch. 🙂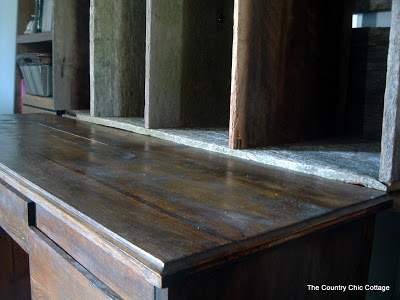 I had hubby turn the imperfections OUT towards the front…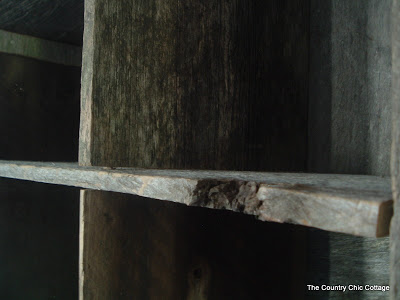 You can't BUY details like this…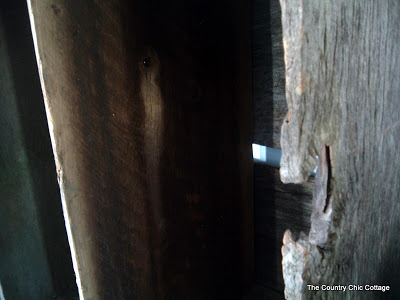 The slats that cover the back even have rustic and imperfect edges…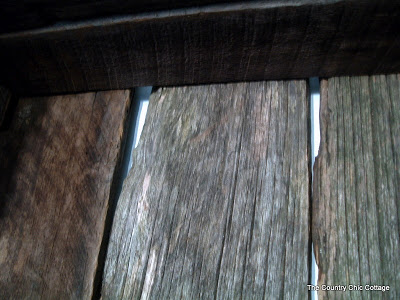 This spot is on the left in the very front at the bottom…a perfect rustic touch to put the computer cords through…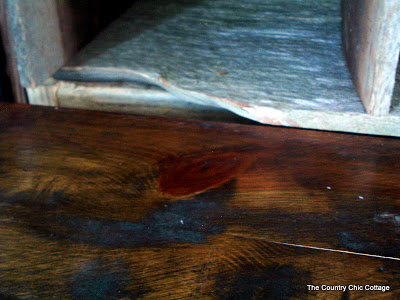 Now if you crawl up under the desk and take a peek up her skirt. You will find we used some leftover "perfect" lumber as the base for the hutch. I know you probably won't be crawling around under my desk. But just in case you were wondering how it is all held up…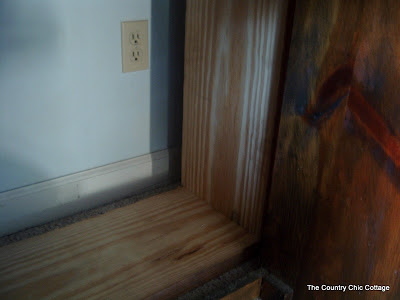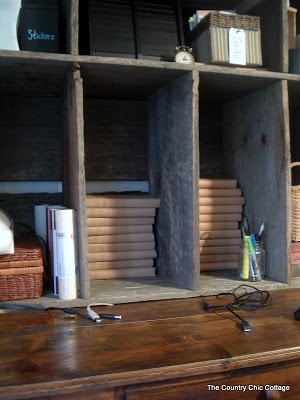 Look at the cozy little home for my Silhouette and all of her accessories…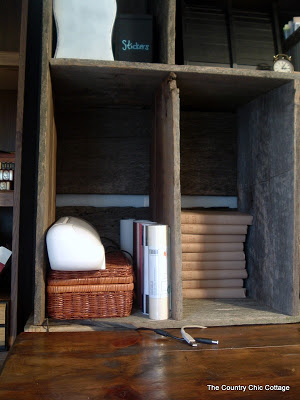 The books I found thrifting a few weekends back add even more of that rustic farmhouse look. The printer got moved to that little bookshelf on the right.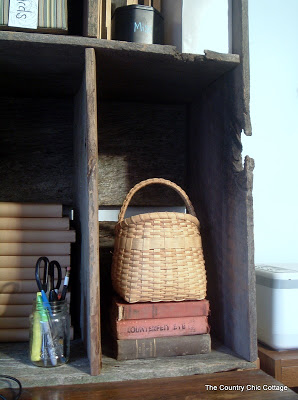 More storage spots were just what I needed. I am going to try to tame the chaotic mess that has become normal in this area of my house…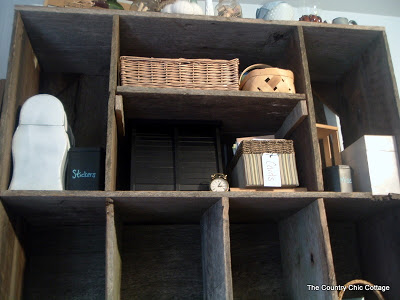 I heart baskets if you can't tell. I did not buy anything special to put in this shelf. Just pulled from what I already had…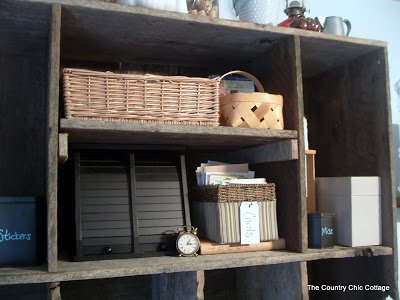 BONUS…I gained a new place to decorate!! The top of the hutch might become my new favorite place to display…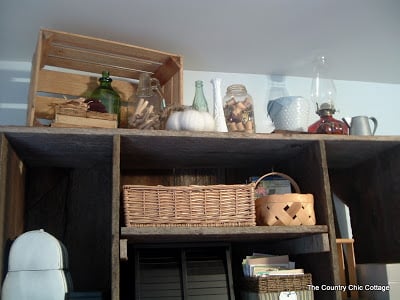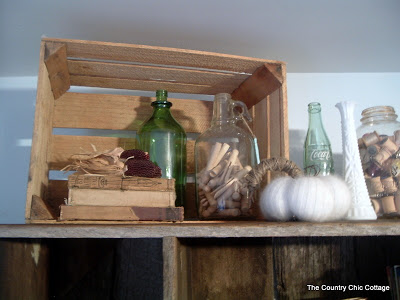 A touch of milk glass and galvanized was required…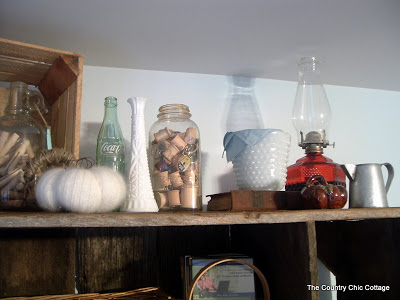 I am in love!! The best part….everyone uses the back door at my house. This is in a straight line of sight from the back door. Perfect!! Plus it totally reminds me of something you would find in Restoration Hardware. I am totally ready to add barnwood to every room of my house. Seriously. This is probably enough of a statement in the living room but I am just wondering what room is my next victim!
~Thanks for stopping by!~