Want to get a farmhouse style office area on a budget? I am here to help! I recently made some changes to the office area that is in my living room to work better for my business and productivity. Of course I needed the changes to have a bit of farmhouse style. I shopped for some accessories, organization supplies, and more that you all will love. I started this project when At Home asked me to do a sponsored post. I fell in love with the farmhouse items once I entered the store and the rest just fell into place. At Home stores are the place to shop for home decor on a budget all with a huge selection.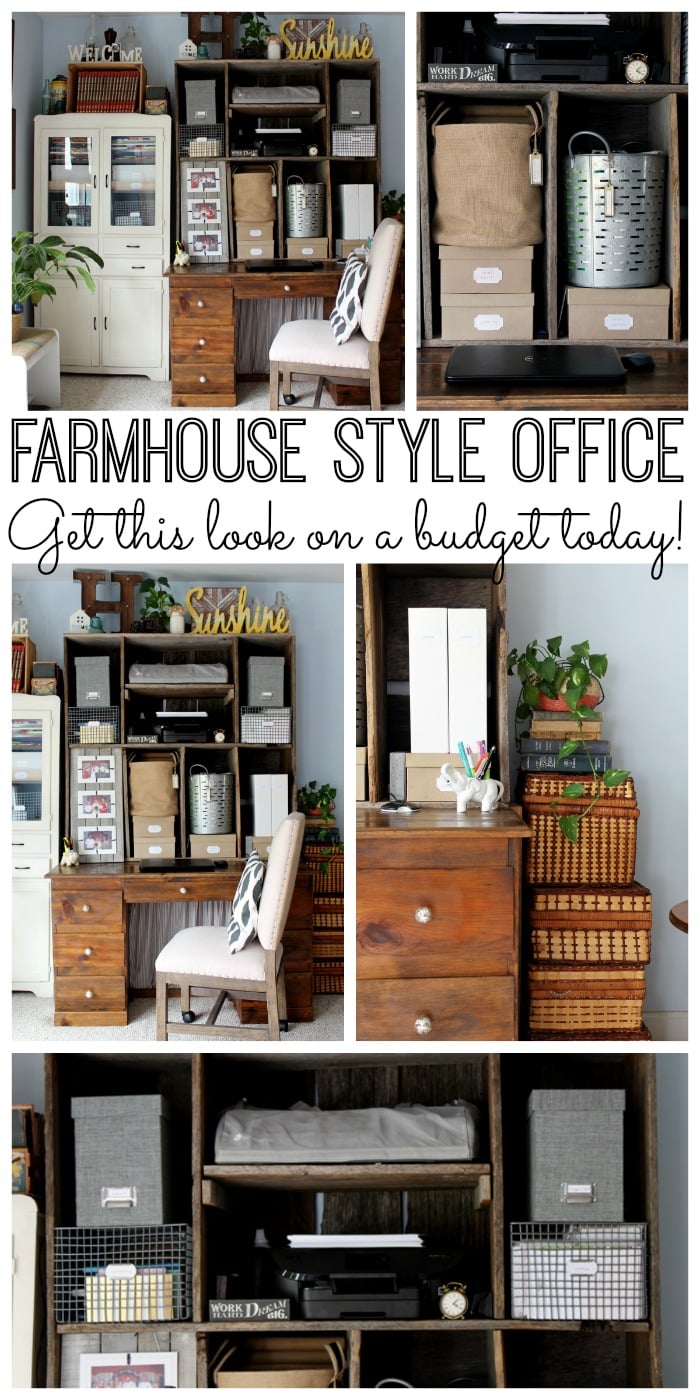 You can click here to get an idea of what my office area looked like before. My husband built that barn wood hutch for me several years ago but I was not utilizing it to the fullest potential. Now this small corner of our living room is full of organization and farmhouse style. I work with inspiration from major catalogs and of course everyone's favorite show Fixer Upper.
Farmhouse Style Hutches Help Keep Your Office Organized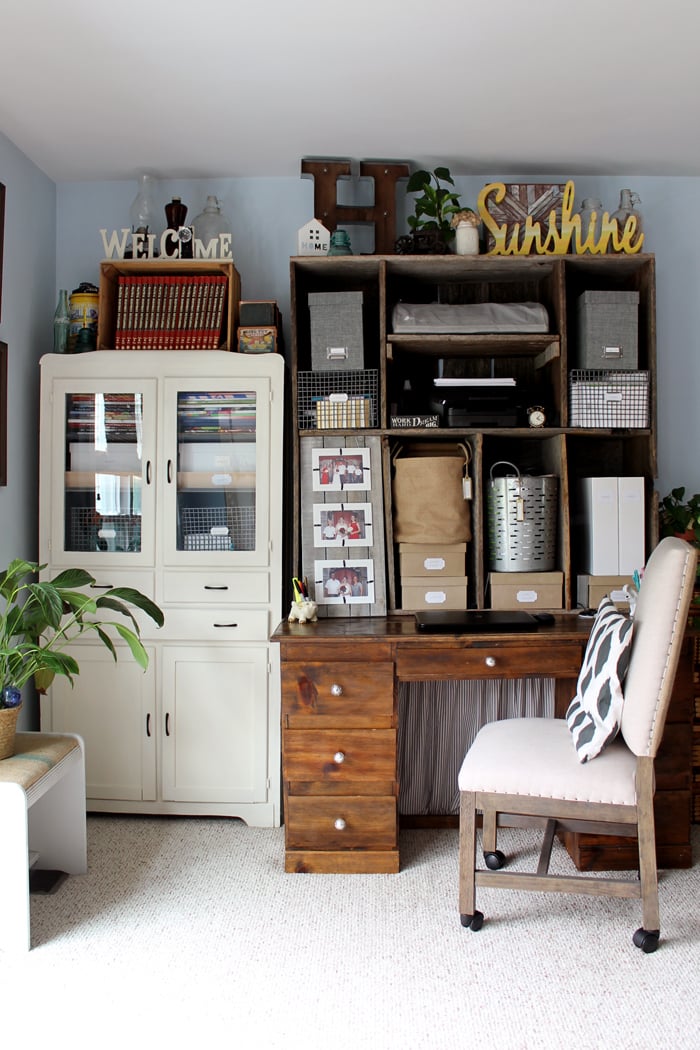 I thought I would give you a tour of the area today. I will start with a vintage kitchen cabinet that we inherited several years ago. I gave it a fresh coat of paint last week and you can see more about the first time I painted it here.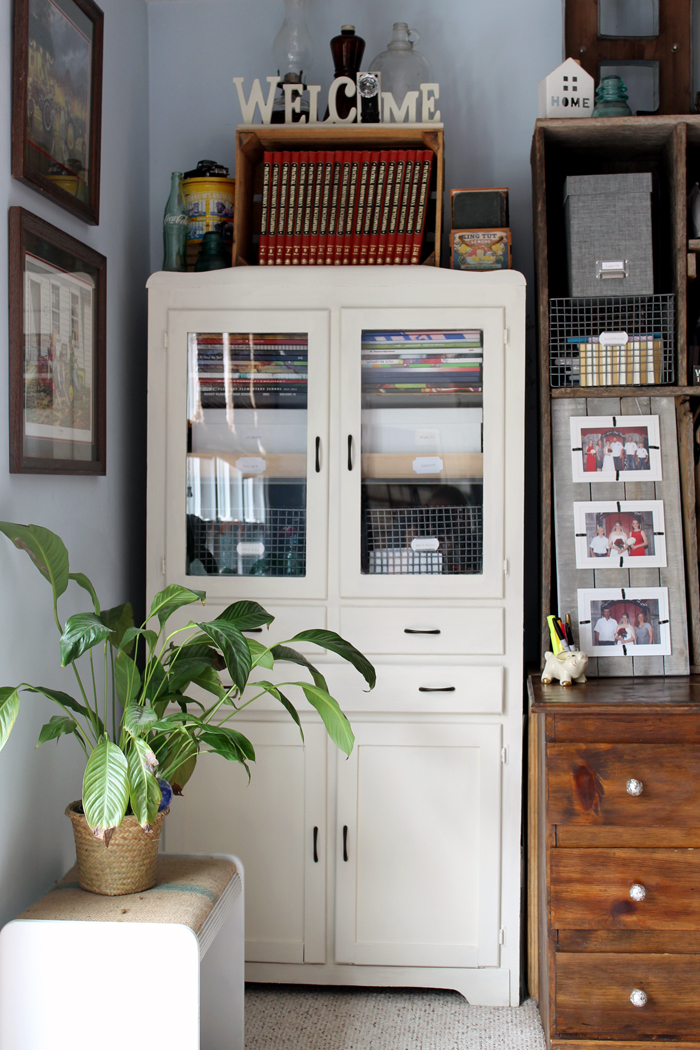 I gave the inside a coat of dark grey paint to really make my accessories pop. Those wire baskets in the bottom are from At Home and I have used them several places in this office area. I love that the weave is tight so I can add smaller items to them without fear of them falling through. The one on the left (pictured below) contains mason jars with extra pens, markers, scissors, etc.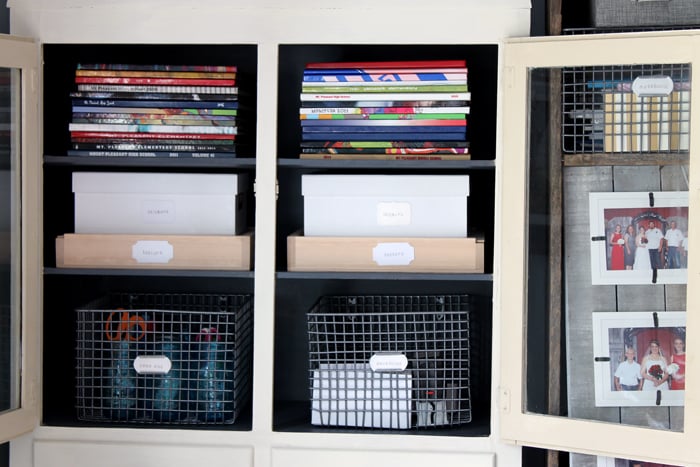 No Farmhouse Style Office is Complete Without a Functional Workspace
Now for a tour of the actual work area of this farmhouse style office. This desk hutch holds so much and is perfect for me now that I work from home. I need to start with that office chair as that may be my favorite find from At Home! It is linen with nail head trim.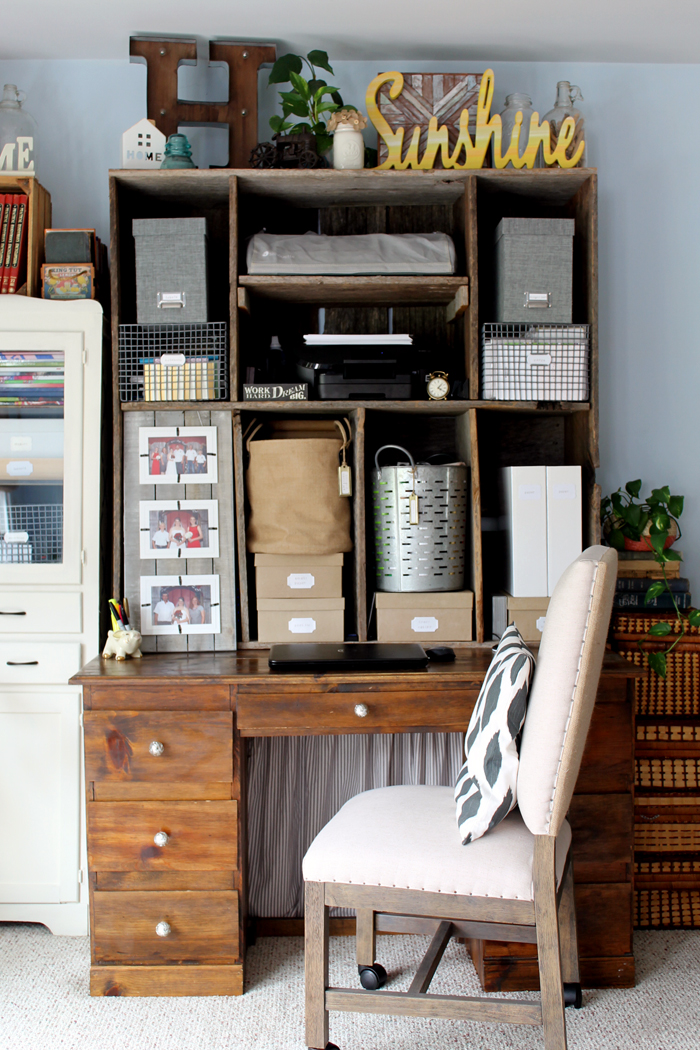 It actually is not an office chair! We cut off about two inches from the legs and added some casters from the hardware store. Yes that chair is real wood y'all and now it is the perfect chair for this desk. I also love the fact that the back of the chair is covered in burlap. It fits with my farmhouse style office perfectly.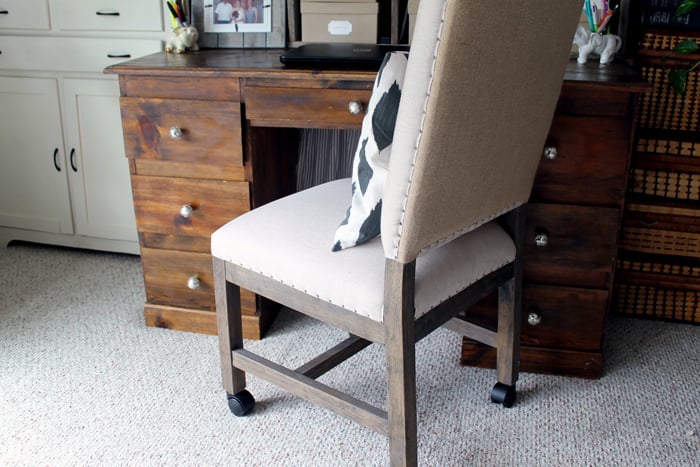 How to Decorate a Farmhouse Style Office
I am going to start with the items on the top of my desk hutch as those are purely decorative. I was given that marquee "H" a while back as a gift and this seemed to be the perfect time to use it.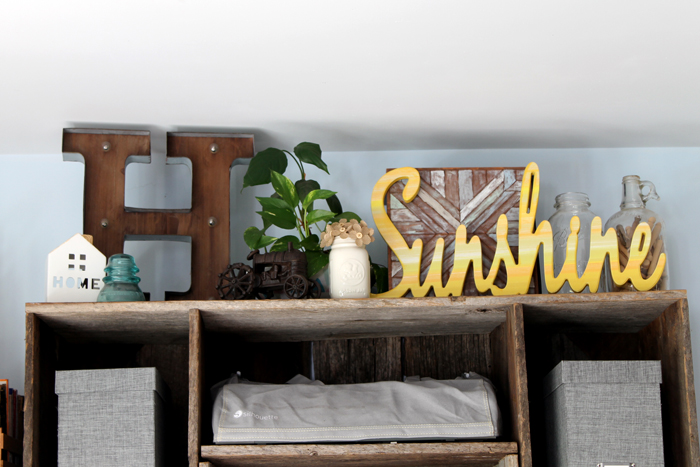 I fell in love with the "HOME" ceramic piece that was actually in the Christmas section of my local At Home. It is adorable and can be left out in my home year round. Don't overlook those seasonal areas as there are often hidden gems.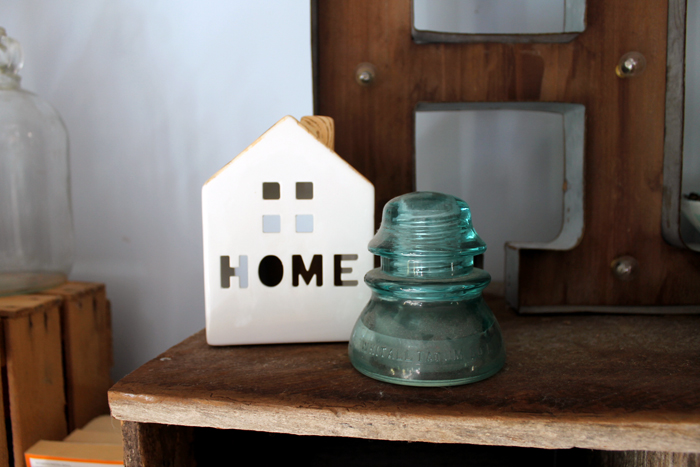 I am in love with this cast iron tractor and small white mason jar with burlap flowers. Both of these were gifts and I love that I can give them a special home.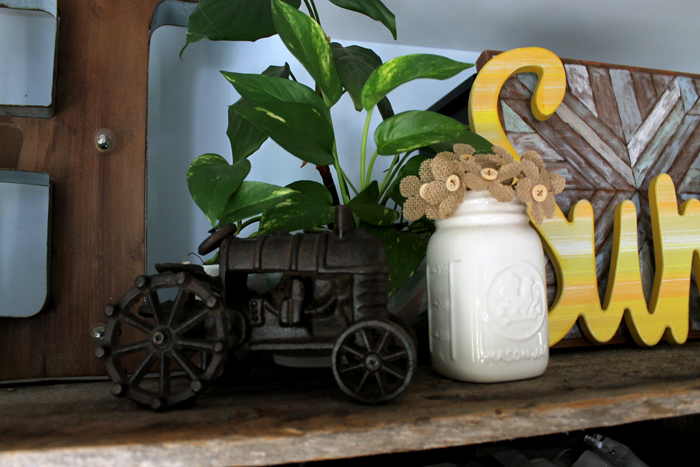 I felt like the area needed a bit of color so I had this SUNSHINE sign from At Home and added it to the top of the hutch. You can click here to see more about how to make that wood quilt square.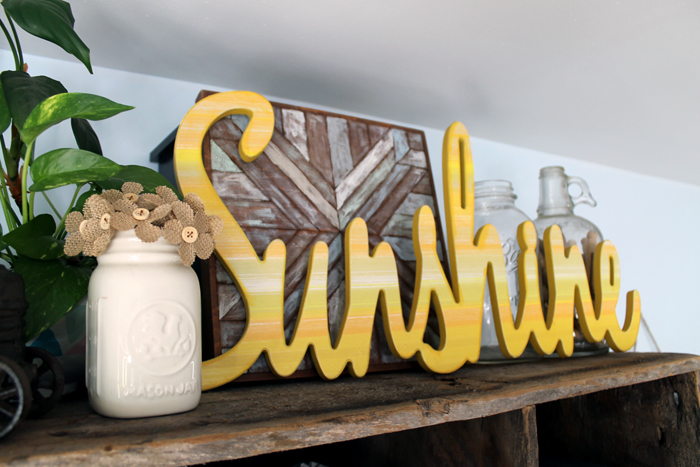 How to Add Plenty of Storage to Your Farmhouse Style Office Space
The next level of shelves in the hutch holds my electronic craft cutters in the center as well as my printer.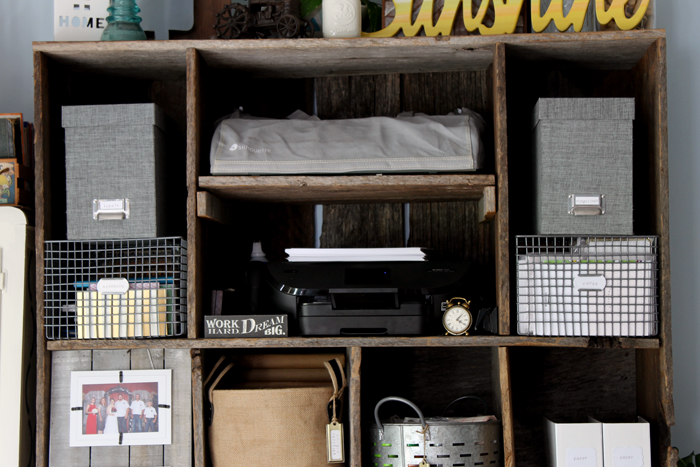 On both sides I added more of those wire baskets and some gray linen organizers both from At Home. I fell in love with the gray linen as an alternative to just plain organizing boxes. There were tons of colors available as well.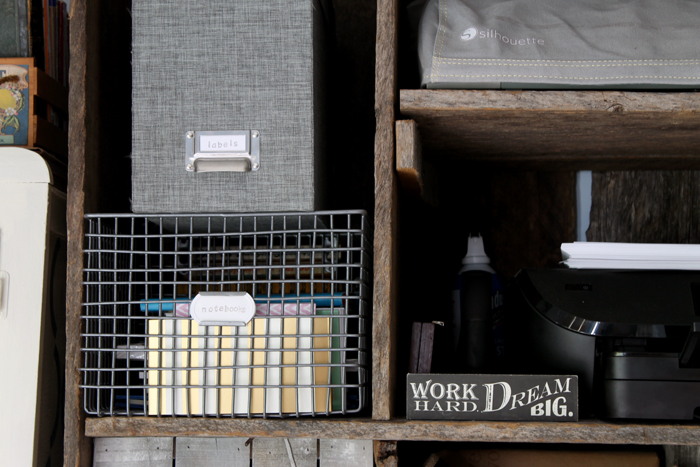 In the center is my daily reminder to "work hard and dream big". The second set of shelves holds just as much function as the first.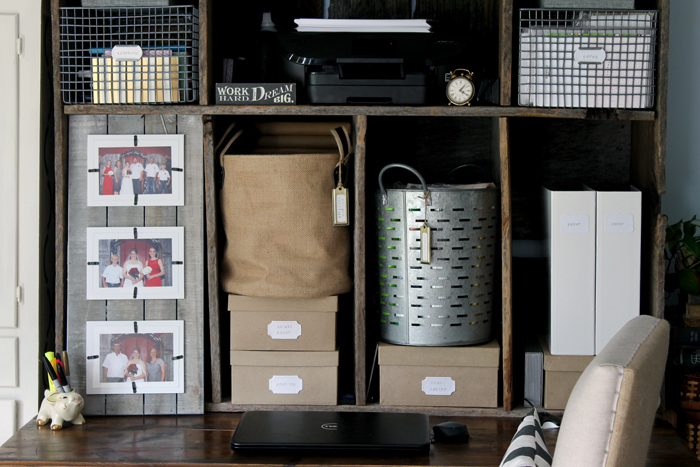 On the left, I added this gorgeous rustic frame from At Home. Now why would I add a huge frame to one of the cubes?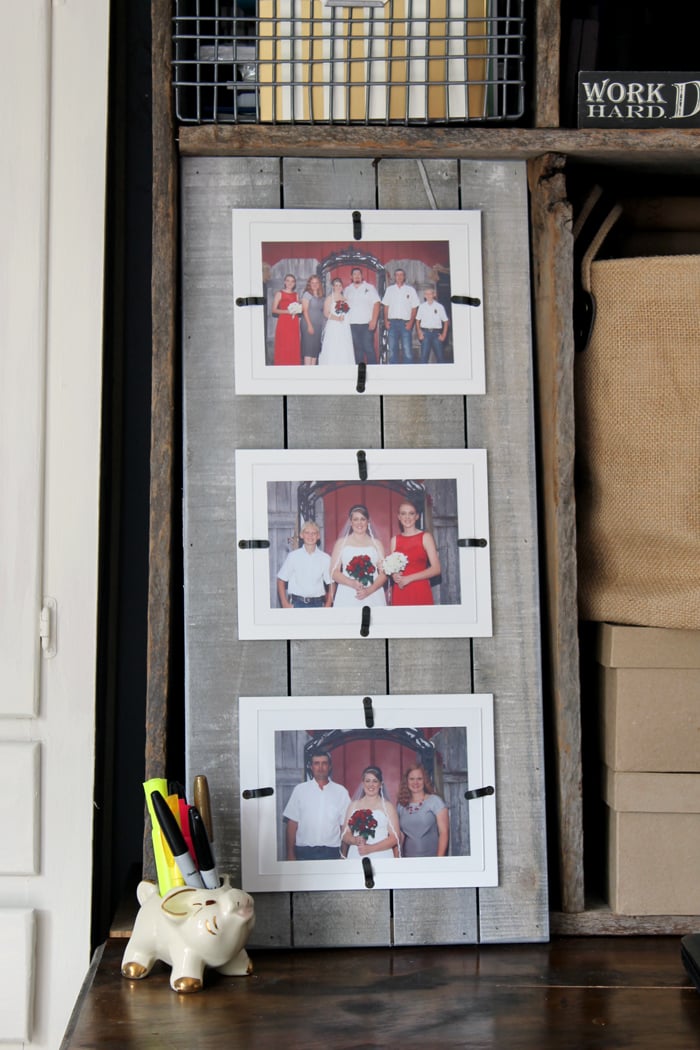 In every office there is something that needs to be hidden. In this case, the router, modem, and other blah organizers. The frame covers all of this up while still keeping the function of the cube for storage.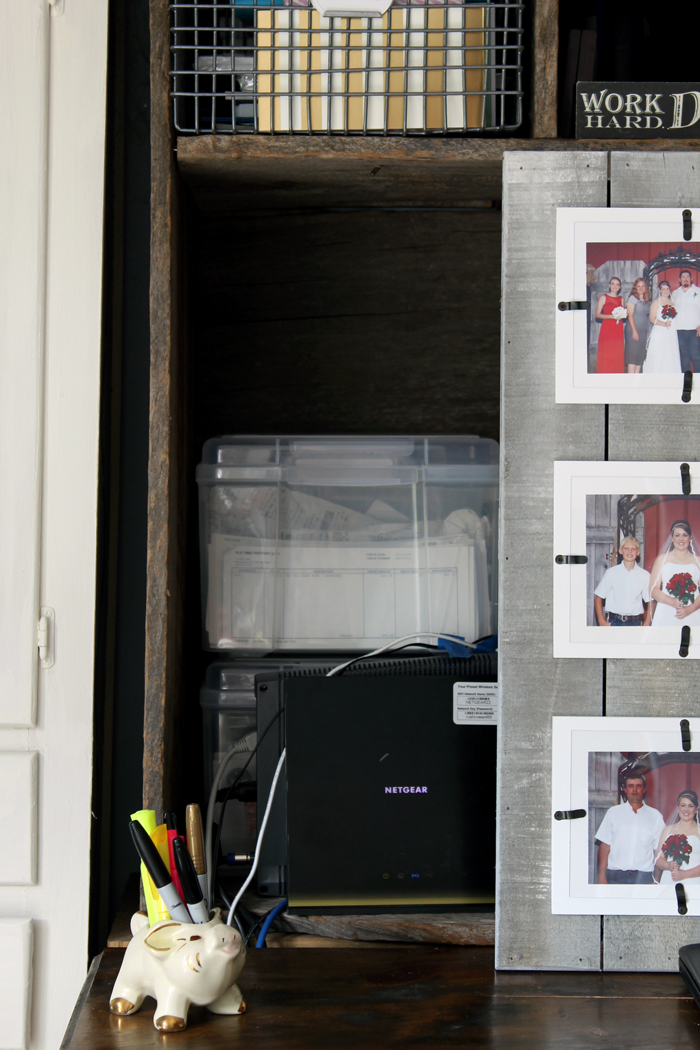 Another secret I used for hiding things in this farmhouse style office area was to add a tension rod and curtain under the desk. This hides all of those cords and makes the space look more finished.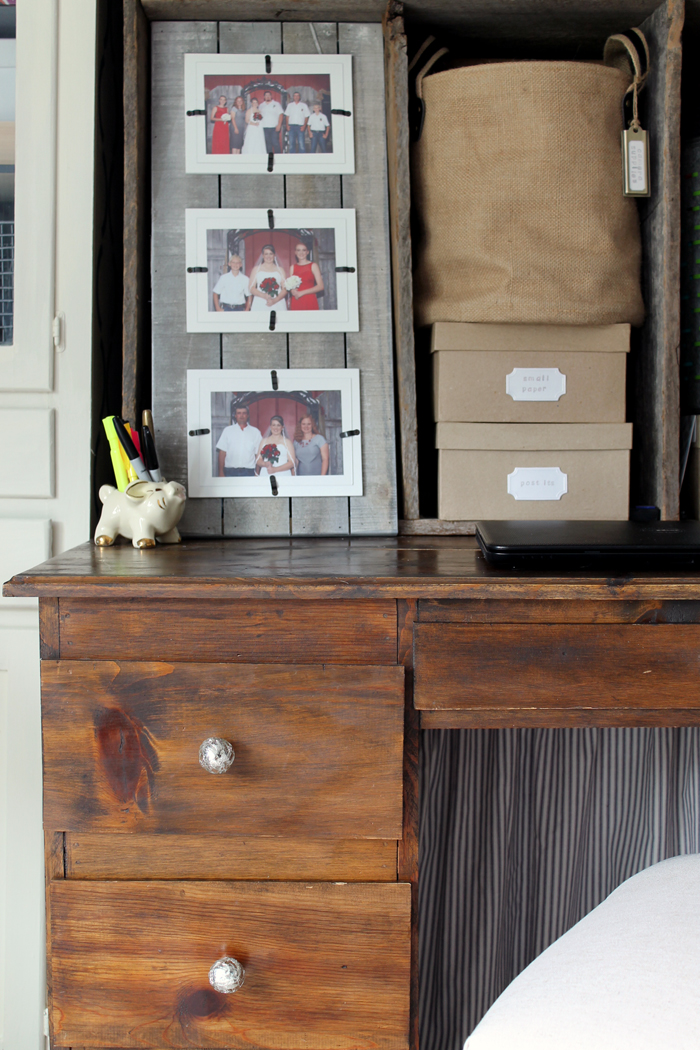 The pictures in the frame are from our recent rustic barn wedding and the little pig is a vintage piece that I inherited. It is perfect for holding some markers.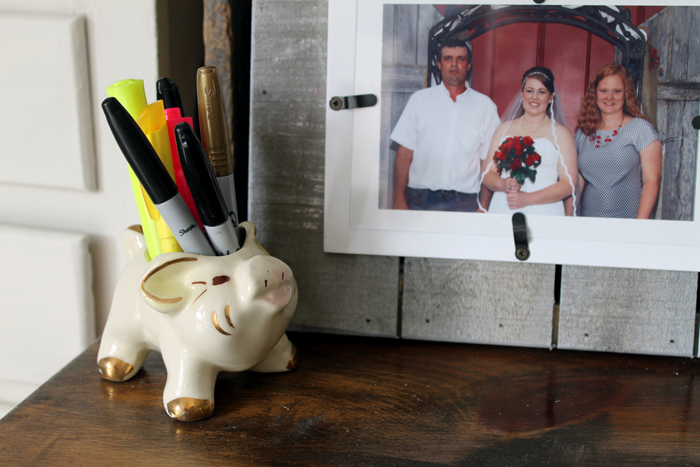 The center portion of the bottom holds more storage items. The burlap basket with leather handles is from At Home and they have those in various sizes as well. I love a tall basket! Notice how I labeled everything as well. I just can't function without some labels!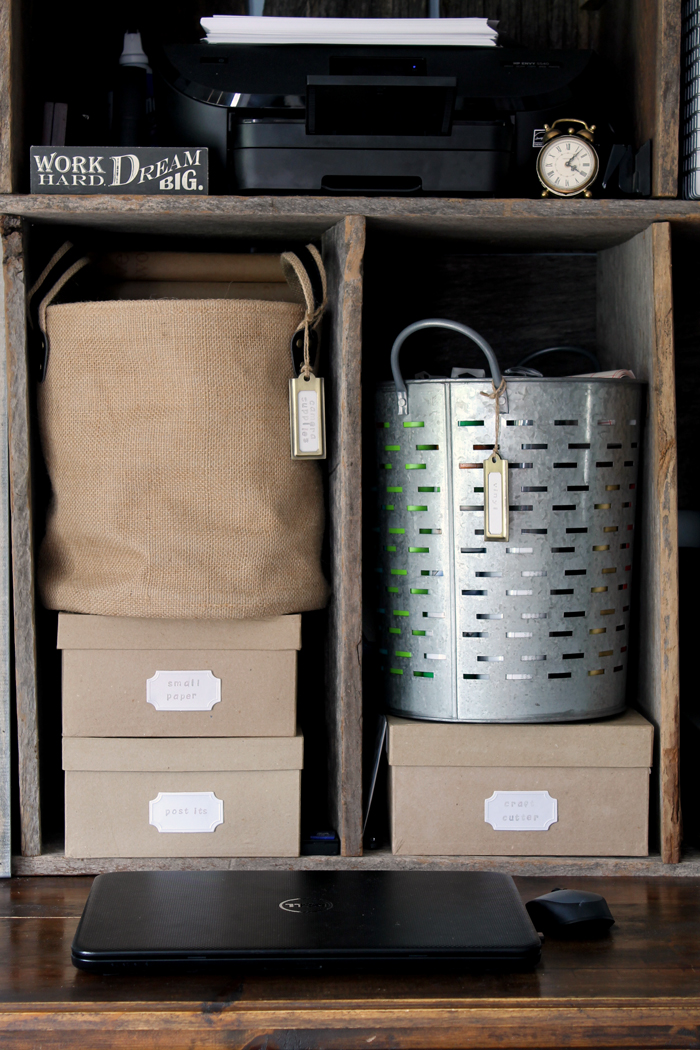 The last cube in the storage unit holds some vertical paper folders.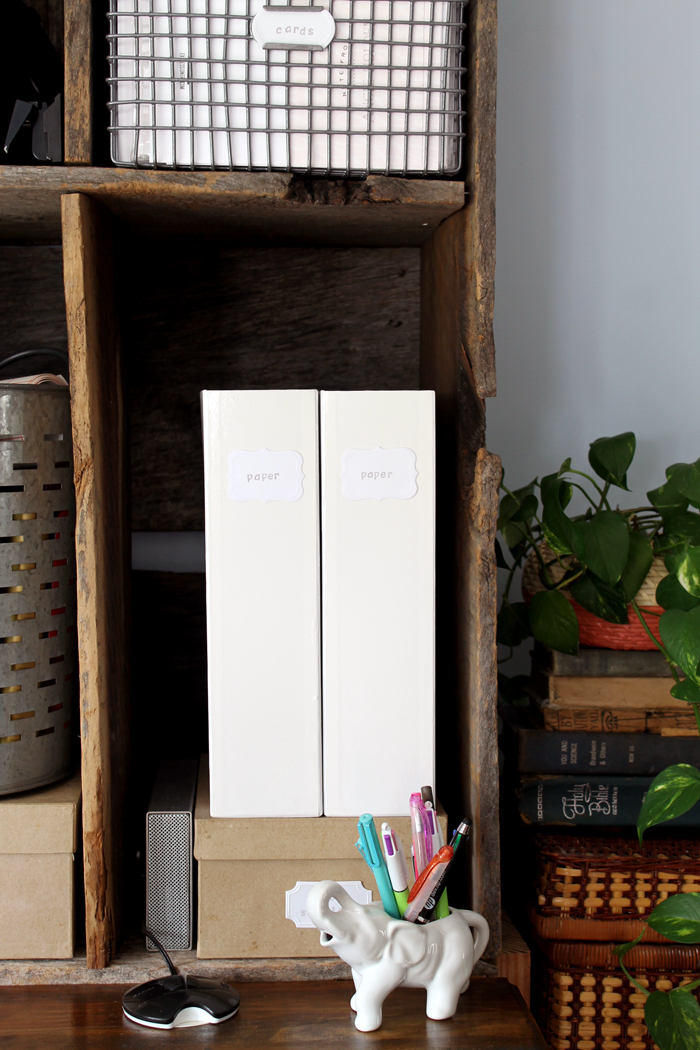 I am in love with that elephant creamer I found at my local At Home. He may have been found in the kitchen section but he works perfectly in the office.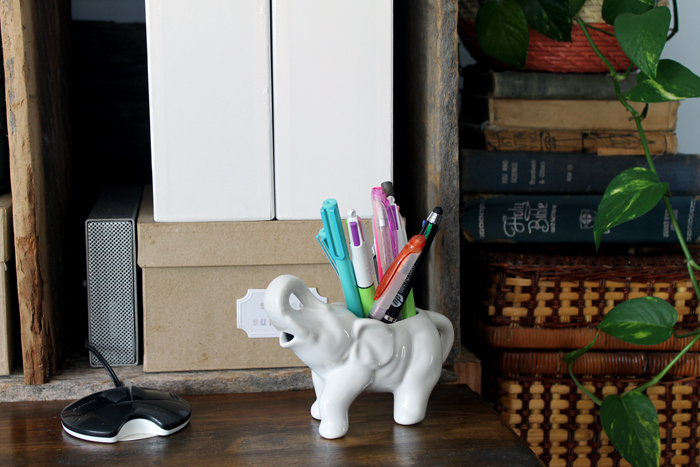 More hidden storage is on this side of the desk with a stack of lidded baskets that I have had for several years. I also changed the knobs out on the desk with some mercury glass beauties that I found while shopping At Home.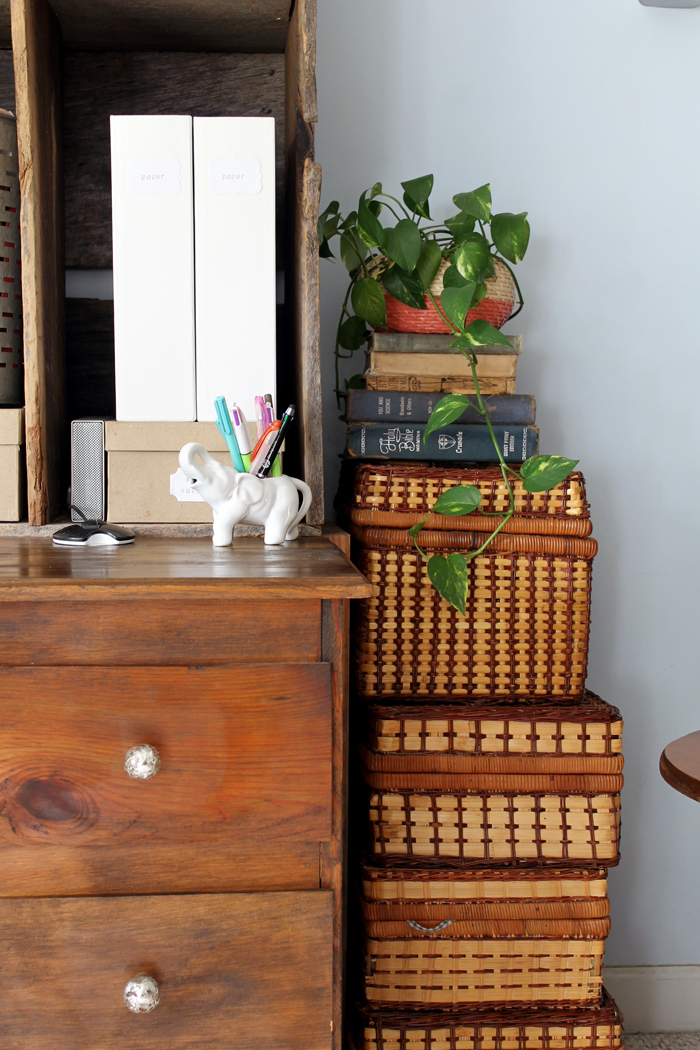 You will find me sitting here daily writing up great blog posts like this one.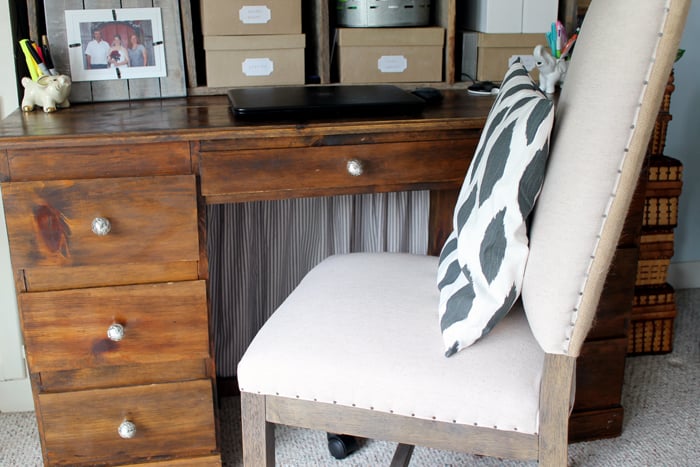 I love my farmhouse style office area and the fact that I was able to pull off this look on a budget with finds from At Home. Find a store near you and shop for your next home decor project. You will love the selection and items for every style.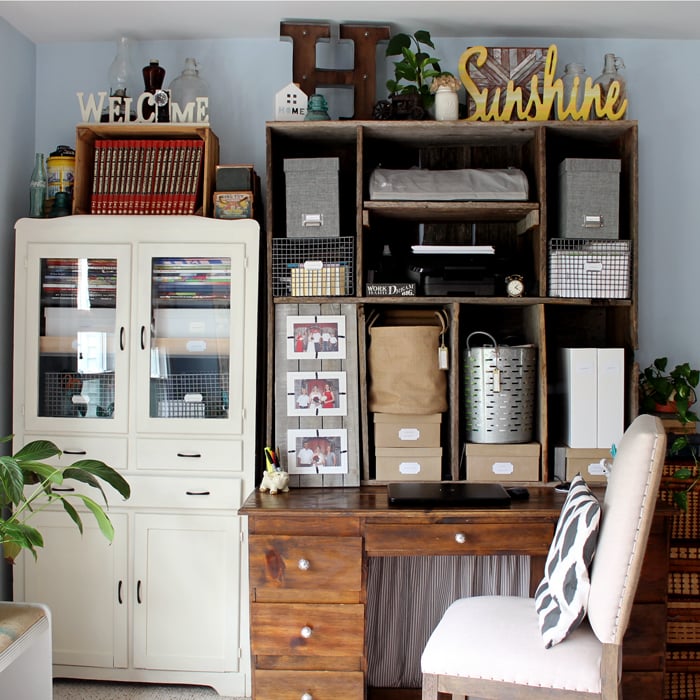 Love this farmhouse style office with creative storage solutions? Check out more organization ideas below!