Recently, I was in the market for a basic sewing machine. After some research, I found a model that has worked great for a while now. I thought I would share my experience in case you are looking as well. Plus, if you are a beginner to sewing, you can also find my essentials that everyone should own below. Want to learn to sew? Be sure to click here to see our advice on getting started and learning how to sew!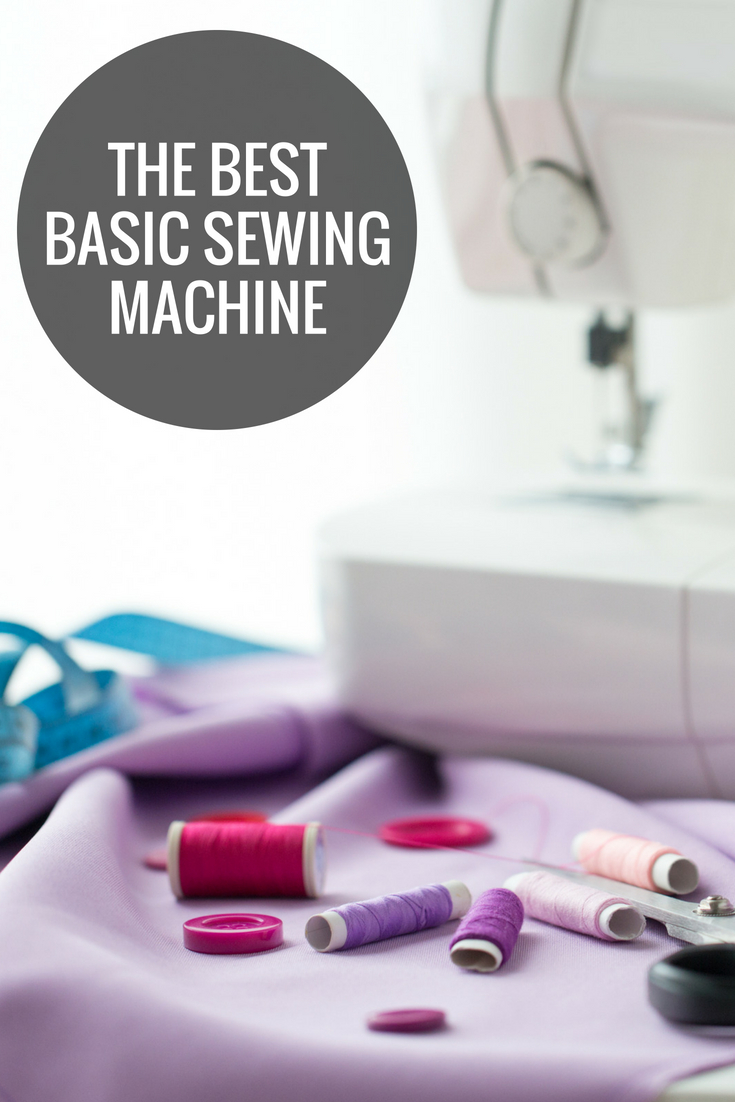 The links below may be affiliate links which means that you do not pay anymore, however, a portion of your purchase will go to support this site.
Basic Sewing Machine
First things first, you need a machine. And nothing fancy. Something to learn the basics on or sew on occasionally. These machines are for those of us that love to whip up a Halloween costume but might not touch their machine for three months after that. The occasional sewer needs a machine that is affordable but trustworthy. So, what fits the bill?
After some research, I personally landed on picking up a Brother at Walmart. They are affordable, have great reviews, and mine has worked great. I went from sewing on a 1970s auction find to this model from Brother and thought I was in heaven. So many features and so easy to use! That is my kind of machine!
Now there are a wide variety of price points and feature options when it comes to a Brother machine. You can definitely shop around but for a great basic sewing machine, this one is my pick. Now what do you need to get with the machine? Read on for my recommendations regarding sewing essentials!
Basic Sewing Essentials
Are you just beginning your sewing journey? Here is what you will need to pick up in addition to a basic sewing machine to get started.
Fabric. Yes it seems so simple yet it is essential! Fabric from your local Walmart is inexpensive and perfect for learning to sew. I would recommend starting with a cotton or cotton blend if you are just getting started on your sewing journey.
Pin Cushion and Pins. So essential! Be sure to pick this up on the same stop as your first sewing machine as you will find yourself reaching for this all of the time. You can find a wide range of choices here.
Fabric Scissors. Buy a pair of good scissors and keep them away from all of your family members. Seriously, having scissors that are designated for fabric will make your life so much easier. I am personally a Fiskars fan but you can find a wide variety here.
Seam Ripper. You are going to mess up. All of us do. When you do, having a seam ripper on hand will make your life so much easier!
Measuring Tape. Measurements are just a fact of life when it comes to sewing. Be sure to keep a soft measuring tape like these on hand.
Thread. Yes, you can't sew without thread! Start with basics like white and black then add on colors later as you get more experience.
Needles. Chances are your sewing machine comes with a needle and perhaps a few extra. You may want to pick up a pack to keep on hand for changing out the needle when it breaks.
Iron. So handy when sewing! Pick up one to keep in your craft room so you don't have to steal the household iron when sewing.
Now that you have those essentials, you can rock some sewing crafts! A basic sewing machine is all you need to create amazing projects that you will be so proud of! Hopefully this list has helped and I wish you the best on your journey of learning how to sew!