This post and photos may contain Amazon or other affiliate links. If you purchase something through any link, I may receive a small commission at no extra charge to you. Any supplies used may be given to me free of charge, however, all projects and opinions are my own.
I have changed my cleaning habits over the last 2 years to avoid harsh chemicals. One thing I have learned is that vinegar is a wonderful natural cleaner. I have never given any tips on this blog for natural cleaning with vinegar. So I made y'all a list of my top 25 tips for naturally cleaning with vinegar.
If you have missed any of our series, check out the ways to clean with vinegar, cream of tartar, peroxide, steam, baking soda, lemon, corn starch, salt and rubbing alcohol.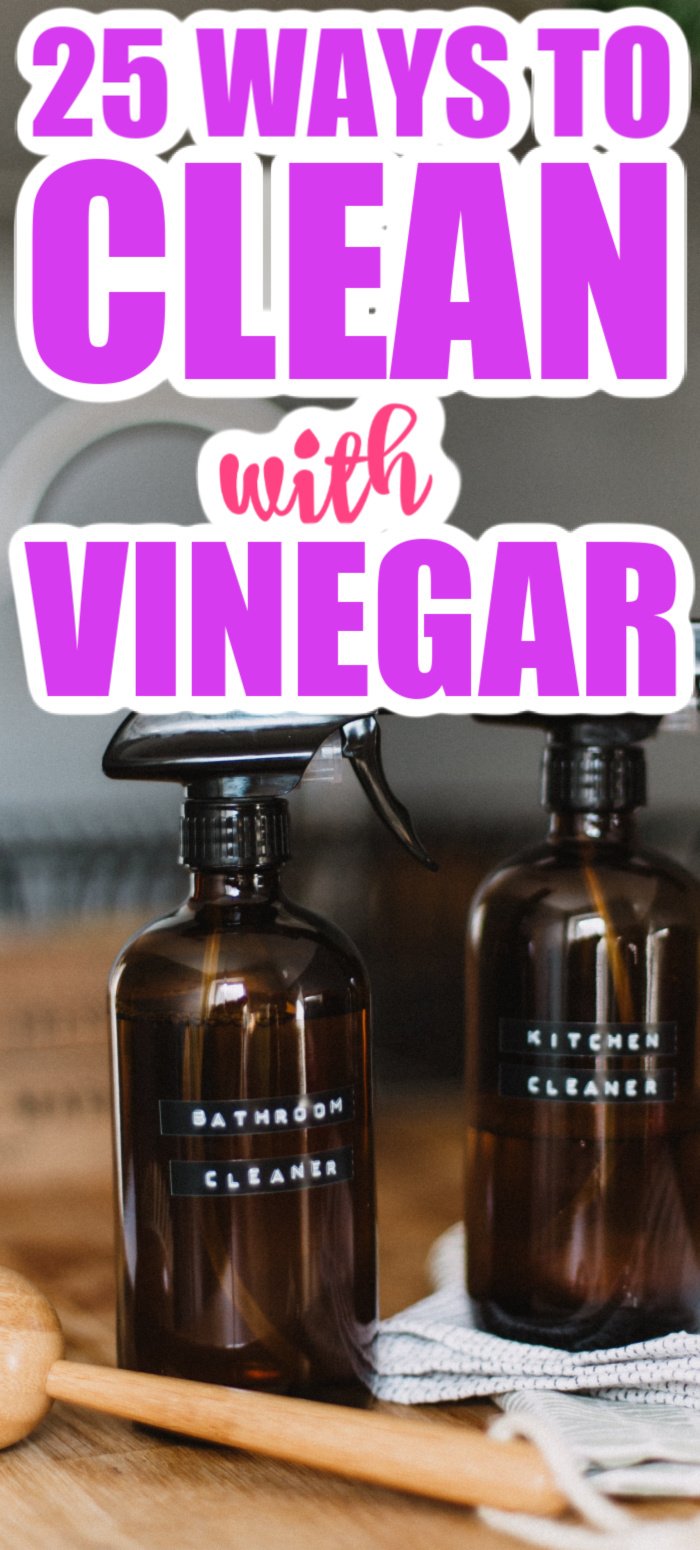 Type of Vinegar to Use for Cleaning
Before we get started, some background information. White distilled vinegar is a natural bacteria and germ killer just due to the acidity. It is environmentally friendly and very economical.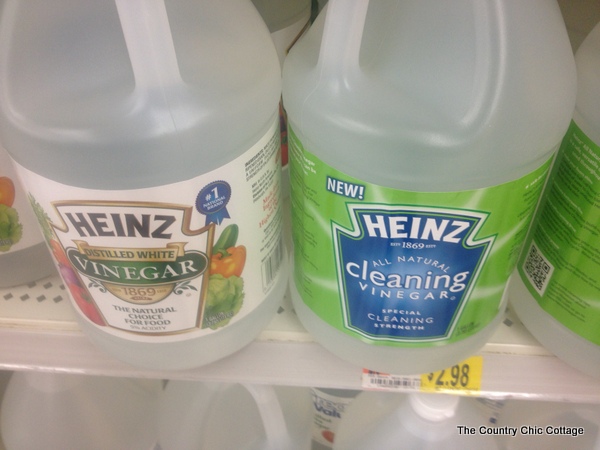 Heinz cleaning vinegar is 6% acidic where as regular vinegar is only 5% acidic. This makes it even BETTER for cleaning then the regular white distilled vinegar products.
Precautions for Vinegar Cleaning
A few precautions when working with vinegar:
Do not add vinegar directly to materials containing ammonia as this could produce harmful vapors.
Never use white distilled vinegar on marble. The acid can damage the surface.
As always please test your surfaces in an inconspicuous area before cleaning.
25 Tips for Cleaning with Vinegar
Now onto my top 25 tips for green cleaning with vinegar.
Counter tops – clean with a rag and vinegar.
Drain or garbage disposal – pour in 1 cup baking soda then one cup hot vinegar. Let sit for 5 minutes. Run hot water down the drain. (Note: some garbage disposals do not react well to this cleaning method check all manufacturer instructions first.)
Microwave – mixing equal parts vinegar and water in a microwave-safe bowl. Bring it to a boil inside the microwave. Wipe clean.
Refrigerator – clean with a half-and-half solution of water and vinegar.
Dishwasher – pour a cup of vinegar inside an empty machine and run through cycle.
Plastic food containers – wipe them with a cloth dampened with vinegar to remove stains and smells.
Lunch Box – place inside a slice of bread that has been soaked in vinegar and leave overnight to remove odors.
Glass – remove film from the inside by letting vinegar sit in them for a few hours. Add a little rice or sand and shake vigorously to loosen stubborn stains. Repeat if necessary.
Mini Blinds – Dip gloved fingers into a solution of equal parts vinegar and warm tap water. Run your fingers across both sides of each blind.
Tarnished Metal – make a paste with equal amounts of vinegar and table salt.
Grease – use a sponge soaked in vinegar.
Grill – spray a solution of half water and half vinegar on the cooking surface.
Sponges – placing in just enough water to cover them. Then add 1/4 cup vinegar. Let soak overnight.
Grout – let full-strength vinegar sit on it for a few minutes and scrub it with an old toothbrush.
Germs – spray with full-strength vinegar. Wipe clean with a damp cloth.
Mildew and soap scum – wipe with undiluted vinegar then rinse.
Toilets – pour in a cup or more of vinegar and let it sit several hours or overnight. Scrub well with the toilet brush and flush.
Stale odors – wiping down with undiluted vinegar on a rag.
Wood – remove water rings with a solution of equal parts vinegar and vegetable oil. Rub with the grain.
Scissors – clean off sticky residue with a cloth dipped in vinegar.
Odors – place a bowl of vinegar in the room overnight.
Hands – Wipe your hands with vinegar to remove strong scents like onion and garlic, as well as stains from fruit juices.
Cutting boards – wipe wooden boards with vinegar.
Dusting – use spray bottle filled with half vinegar, half water and lightly spray a rag to dust all surfaces.
Mildew – spray shower walls and shower curtain with half vinegar and half water to help prevent mildew.
Does it work well?
As a little demonstration, I decided to show y'all the power of vinegar in my kitchen. I have tile countertops that I hate but that I have to live with.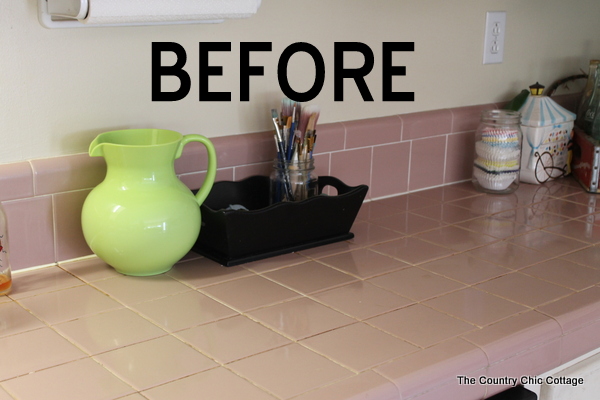 The grout gets disgusting. This is keeping it real y'all.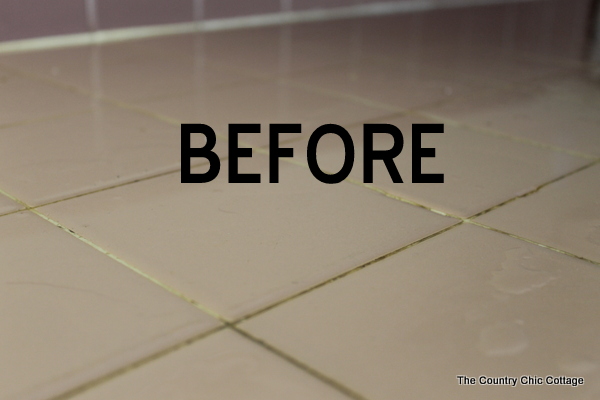 I soaked the area in vinegar and let it sit for 5 to 10 minutes. I then wiped off the area and scrubbed on the grout lines a little with a scrub sponge.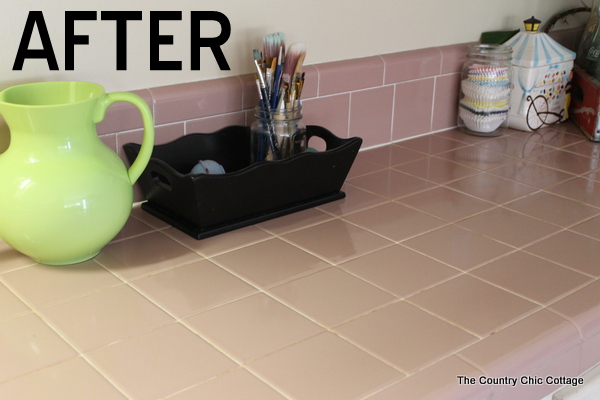 Oh so much better! Now they actually look like you would want to prepare food here!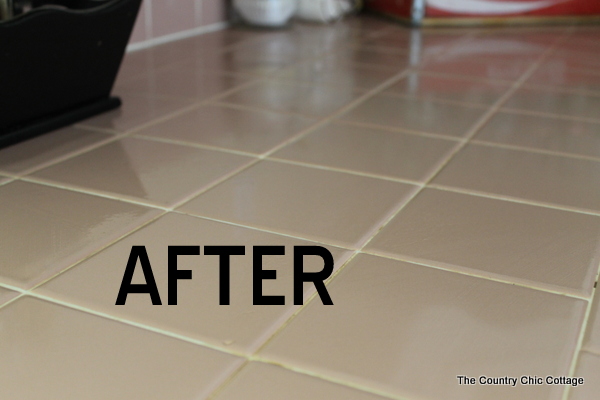 I hope that helps y'all to see just what vinegar can do for you — naturally! No need to worry about harsh chemicals when you clean with all natural vinegar.
More Natural Cleaning Ideas
If you have missed any of our series, check out the ways to clean with vinegar, cream of tartar, peroxide, steam, baking soda, lemon, corn starch, salt and rubbing alcohol.
For more cleaning and organizing printables see our list of over 50 free cleaning and organizing printables.
NEW!! Now you can print the complete guide to natural cleaning and keep it as a handy reference around your home. There are 225 ideas for using vinegar, cream of tartar, lemons, hydrogen peroxide, steam, baking soda, corn starch, salt, and rubbing alcohol to clean! Yep, all of those things you probably have around your house already can be really powerful all-natural cleaners.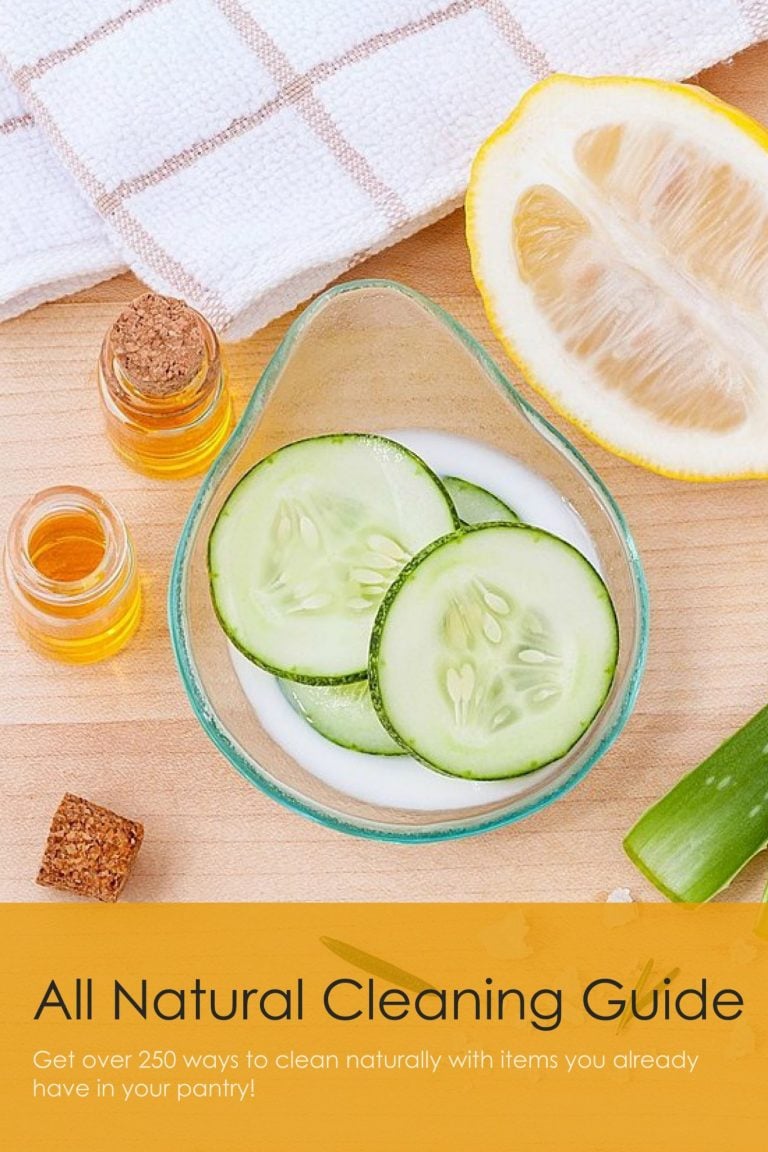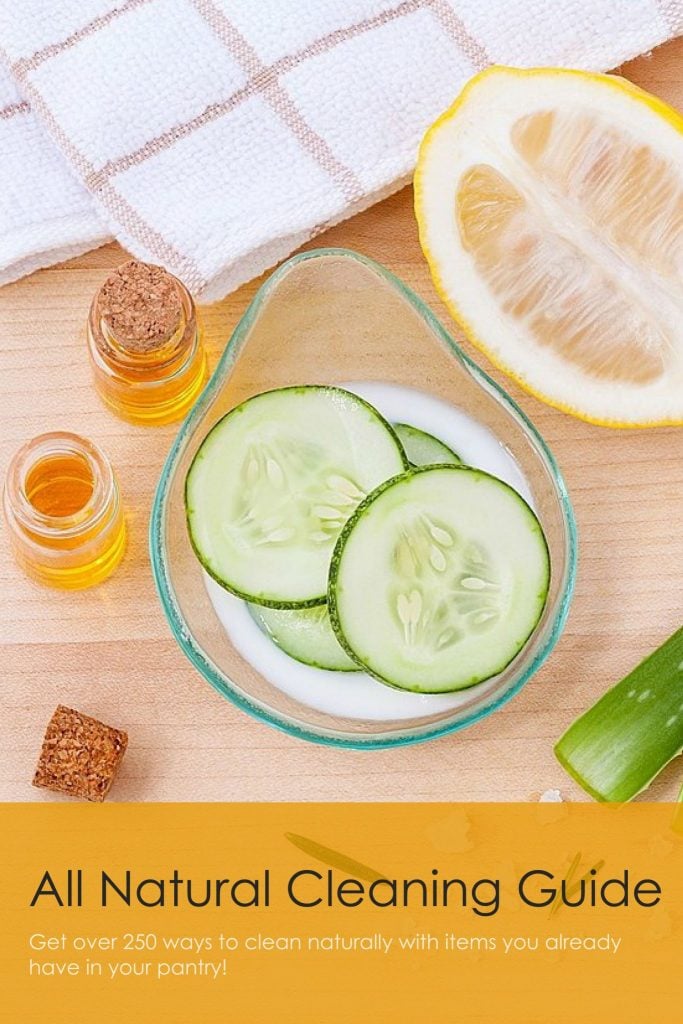 Just click here to add this download to your cart. Then just download to your computer. You can then print on your home printer and keep this complete guide to natural cleaning handy all year! I have just had many requests for a printable version of my cleaning series and thought this is the perfect time to release this series!
Looking for more genius hacks like cleaning with vinegar? Click here to see great genius ideas for your home! You can also watch the video below for hacks using vinegar and baking soda that you do not want to miss!
Want to see my favorite cleaning supplies and products?
I have gathered all of the products I love using around my home into one great section of my Amazon storefront. You can click here to shop! If you are looking for just about anything to clean your home, I probably have an option that you will love!