When I went to CHA a few weeks ago, Krylon gave out challenge bags at one of the blogger events. My birdhouse twine organizer came from items in the bag. I thought it would be fun to share a full tutorial on this one here with y'all. This is really a great way to organize bits of pieces of twine and string in any craft area.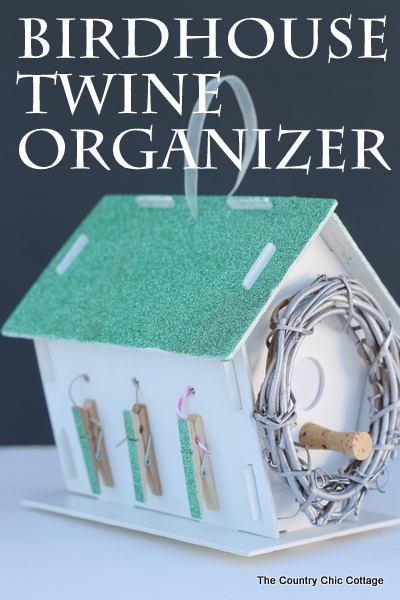 The bag contents are shown below. My challenge was to use 4 of the 6 items plus Krylon brand items to create something great. My bag contained a wood bird house, canvas triangles, a grapevine wreath, corks, clothespins, and a paper mache box.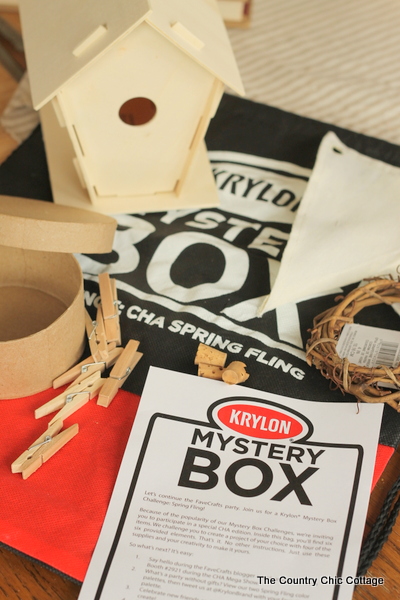 The birdhouse actually came in pieces and you can assemble it through a series of slots and tabs. I started with my personal favorite Krylon Dual. Give both sides of the birdhouse pieces a coat of spray paint. Yes both sides. That will be important once assembled because there are areas where both sides are visible. For anyone interested in making this birdhouse twine organizer, the birdhouse can be purchased from Oriental Trading.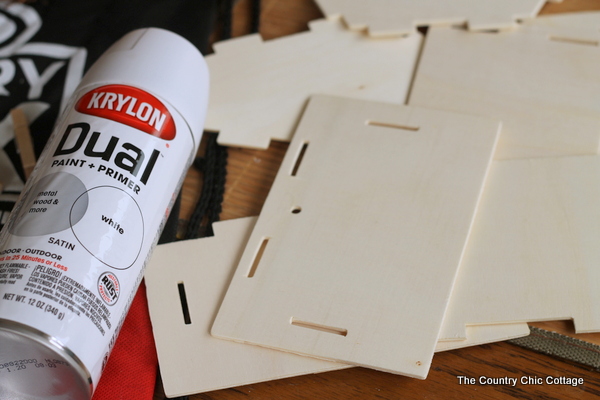 After your birdhouse pieces completely dry, measure and mark for three holes on both birdhouse sides. Drill holes in those locations using a drill.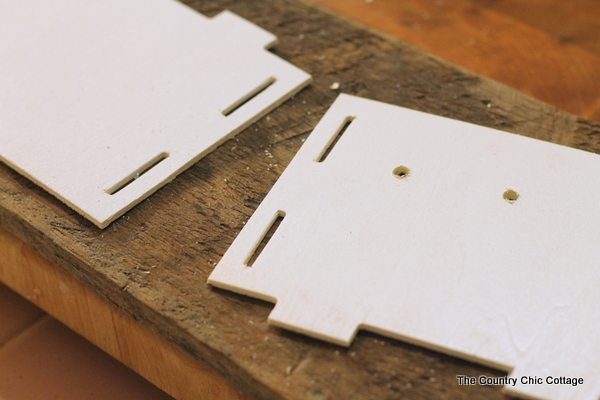 I knew I wanted to add some glitter to my birdhouse. I actually developed a super easy and less messy way to add glitter to anything using products from Krylon. Start with Krylon spray adhesive and spray the roof panels. Then sprinkle on the glitter until you get the coverage you desire. Shake away any excess. Allow to dry completely.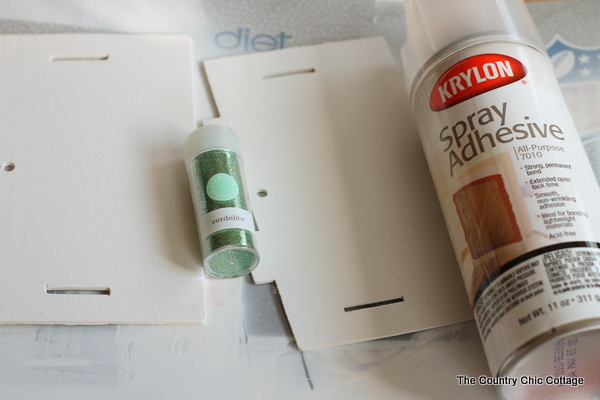 Once dry, give your roof panels a couple of coats of Krylon Matte Finish Spray. This will lock in that glitter and you won't get any of that annoying "shred" of glitter. YEA! No more glitter hands!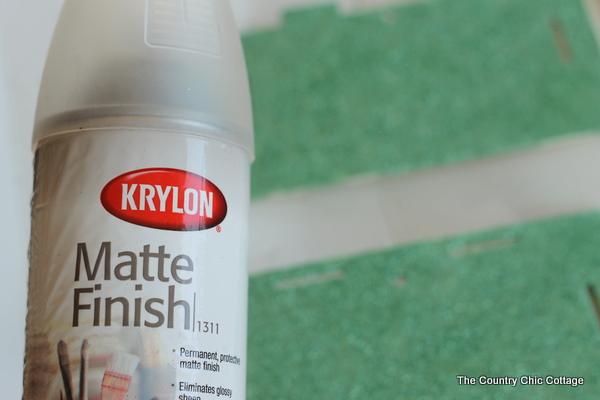 I also gave the clothespins the same glitter treatment but just on the top. I used painter's tape to tape off the rest of the pin as shown in the image below.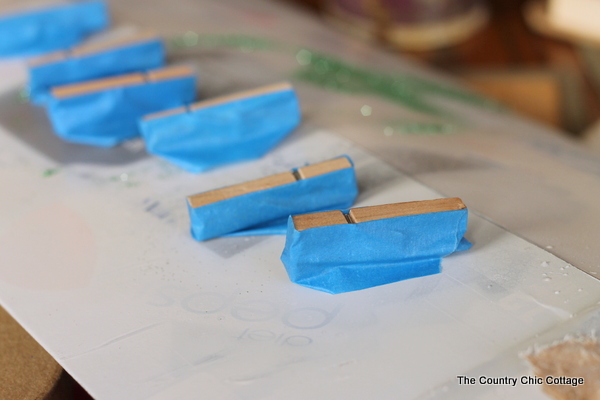 I wanted to give the wreath a silver treatment and had this Krylon Fusion on hand. One coat and my wreath was perfect.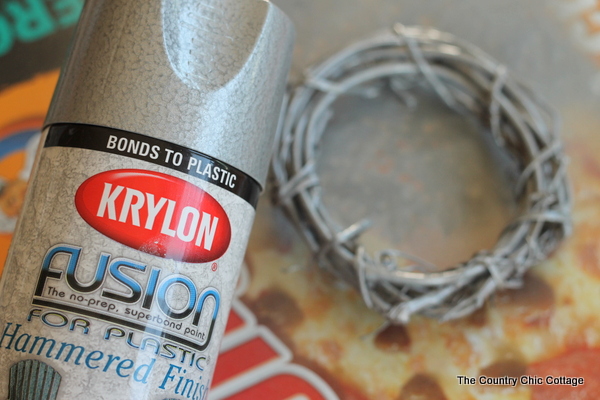 You will need to add something to the inside of the birdhouse to cover up the front hole. I actually used a piece of one of the canvas triangles in my Krylon Mystery Box. I just used hot glue to secure to the inside.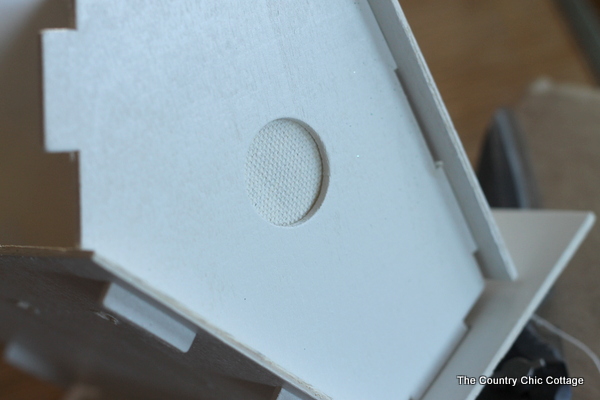 I also used hot glue to attach the wreath and a couple of corks for a perch. This gave the front of the birdhouse a little decoration.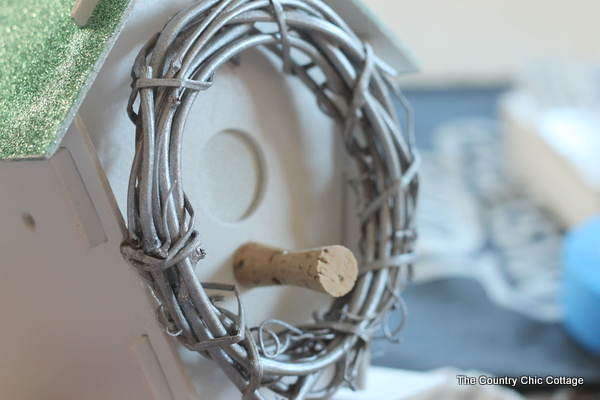 I placed one glitter clothespin below each of the 6 drilled holes. I used hot glue to secure each clothespin as well.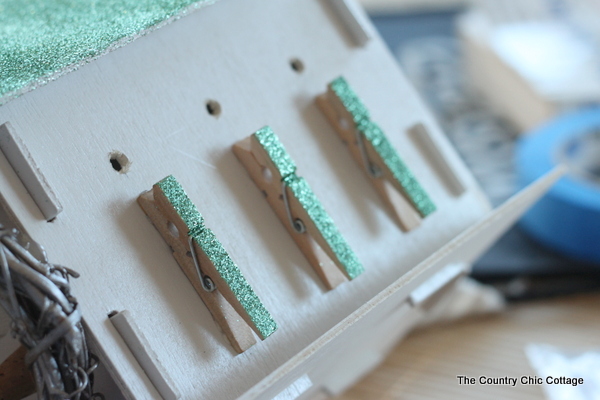 Then just open up the top, add in your twine, thread through the holes, and clip the ends. Your twine is organized and those ends won't disappear inside.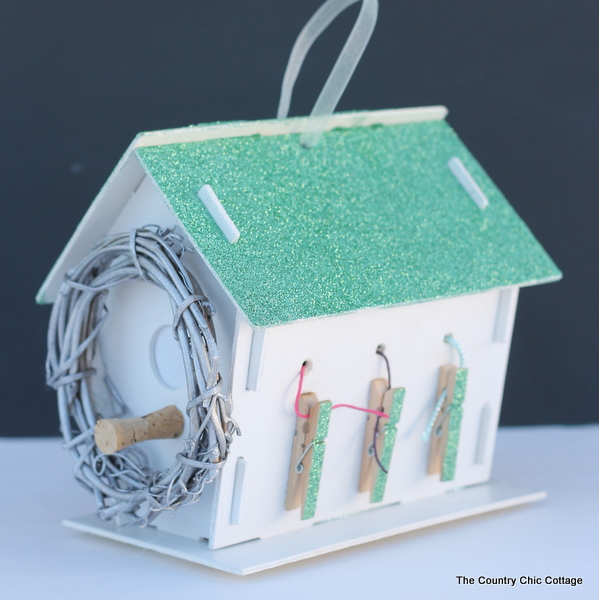 I do not recommend hanging this organizer as the birdhouse would not be sturdy enough to support the added weight of the twine. However just sitting on a shelf this birdhouse twine organizer is perfect. Those bits and pieces of random twine, jute, and string can now be corralled into one convenient place. When you need to use them you will just pull the needed amount through the hole.
If you are counting, Krylon had 6 items in my mystery bag and I used 5 of them. Pretty good huh? So what do y'all think? Do you need a birdhouse twine organizer of your very own?
I am building up to an amazing and organized craft area. If you have missed any of the posts be sure to see my paint brush organizer and button organizing system. Stay tuned as there is much more to come!
This challenge is from Krylon but I am not paid for this post in any way. Components for this project were provided by Krylon brand.
Linking up to Creativity Unleashed.