This post and photos may contain Amazon or other affiliate links. If you purchase something through any link, I may receive a small commission at no extra charge to you. Any supplies used may be given to me free of charge, however, all projects and opinions are my own.
Hey everybody, I would like to continue talking about the birthday party I threw this weekend. Today, we are going to talk about birthday cake. Well, actually, cake and cupcakes.
Because I wanted to give my little one something to share with his friends, I had to make cupcakes to send to school. and then I made a cake for his actual birthday party. Why not, right? Cake times two is always better than cake times one.
Tomorrow, I will have the full cowboy themed party details for you so stay tuned.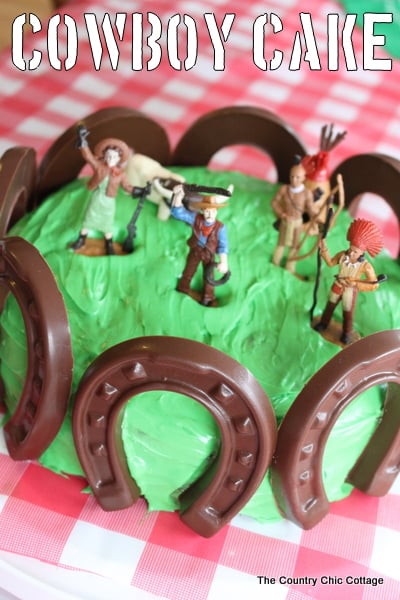 Cowboy Themed Birthday Cake
First up is the cowboy birthday cake, and it is so simple y'all. It may look complicated, but it is not!
I ordered a chocolate mold for just a few dollars off of eBay and molded a bunch of chocolate horseshoes.
Consumer Crafts had sent me this great tube of wild west figurines. I used part of them on top of the cake and the horseshoes around the sides.
Don't you just love it when something so simple can look so complicated? *Sigh*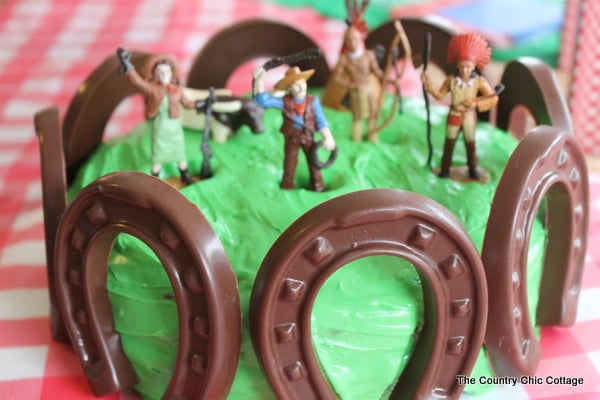 Cowboy Cupcakes
Up next is my cowboy cupcakes that went to school.
Again, I molded chocolate with a hat and boot mold I found on eBay. Molding chocolate is simple yet it looks so darn impressive. It is well worth the extra time!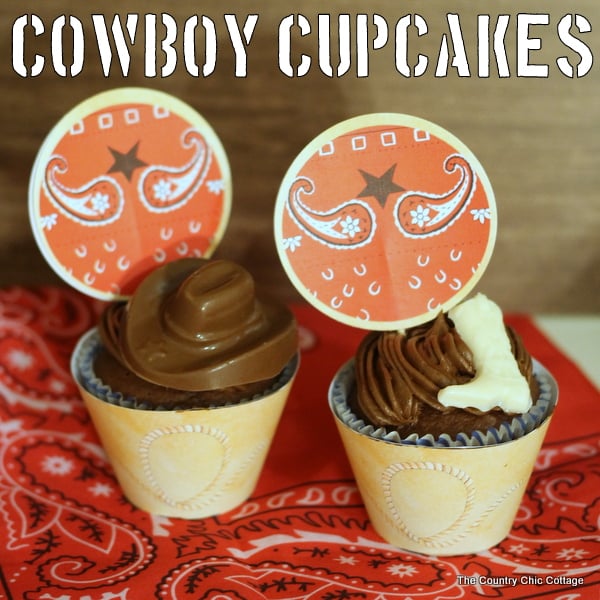 Cowboy Party Games for a Cowboy Themed Birthday
A kid's Birthday party is not complete without fun games, especially when you're throwing a cowboy themed Birthday party!
Letting the children play games would make sure they're not attacking the cowboy Birthday cake you laid out on the table.
Horse Riding Races
Have kids line up and race on stick horses. They can race one-against-one or split up into teams and race relay-style. What better way for the little ones to embrace their inner cowboy than by allowing them to "ride their horses" around the backyard.
Balloon Stampede
Scatter balloons on your backyard or play area. Then set the cowpokes loose on a balloon-popping stampede. You can place amazing prices inside the balloons, like stickers, candies, temporary tattoos before inflating.
Once all balloons are popped and the stampede is over, the children can then collect their prizes.
TIP: It will be even more fun if the kids are wearing cowboy boots!
Lasso Toss
Prepare the party guests for some Old Western lasso tossing. Because ropes can be dangerous, especially for children, you should substitute it with a hula hoop instead.
Position a rocking horse or sawhorse at a fair distance from the line where players will stand. Give each player three tries to "loop the lasso" around the horse's neck.
If you don't have a rocking horse available, you can use one of the stake horses you already have and stick it on the ground.
Rodeo Rides
If by any chance you're throwing the party in a park, or if you have a seesaw in your backyard, attach a saddle to each end. Place a child on each saddle and have a couple of adults guide the seesaw up and down.
Another way to give these awesome rodeo rides is to secure a saddle to a bicycle, wagon, or any other suitable ride on toy. Have an adult pull the rider around a rodeo ring or obstacle course.
"There's a Snake in My Boot" Relay
This game is so much more enjoyable when you have a Toy Story-themed party, because of Woody's catchphrase, "There's a snake in my boot."
Divide players into two teams. Give each team a cowboy boot to place in their area. At the other end of the play space, position two buckets filled with rubber snakes.
When the game starts, the first players for each team will race to retrieve a snake, bring it back and place it in the boot. Those players then tag the next players in line, who also race to place a snake in their boots.
The relay continues until one team has had each of its members collect a snake and drop it into the boot.
Tin Can Shooting
On a table's edge, line up one tin can per player.
Have kids stand a couple of feet from the tin cans. Give each player a squirt gun and a bucket of water for refilling.
Once you signal the start of the game, kids will squirt water at the cans, attempting to knock them off the table. When a player knocks over his or her can, he or she gets to claim a reward from a collection of prizes.
And that's it! Fun cowboy themed games to pair with delicious cowboy Birthday cakes and cupcakes!
Are you crushing on those cupcake wrappers and toppers? I know I am! My friend Colleen has some FREE printables for y'all so you can have some just like that! I know great right? I love the antique look to them and that rope is amazing.
I want y'all to know that Colleen painted those herself. Now THAT is talent y'all.
Head on over and print your own or pin them for later.
Tomorrow I have even more cowboy party fun in store. I will reveal the entire party and tell you how to throw your own cowboy themed birthday party– stay tuned!