Bunny cupcakes can be both cute and oh so easy to make. To prove it, I have some Easter bunny cupcakes that you can make in minutes with simple supplies. You may have seen other Easter bunny cupcakes ideas on Pinterest that looked impossible to create. I strive to never do that! These cute bunny cupcakes are simple enough for beginners (or even kids) and cute enough that even an expert will look great when they make them.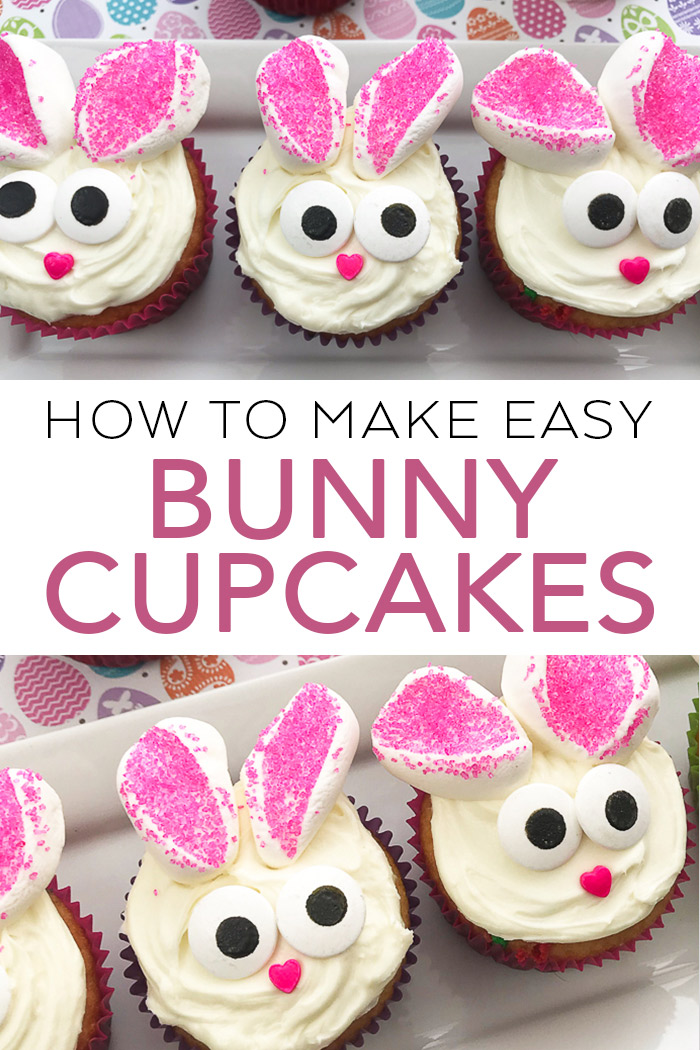 Easter Bunny Cupcakes
Ingredients:
Directions:
Preheat the oven to 350 degrees and line (2) 12 hole muffin tins with cupcake liners.
Combine the cake mix, eggs, water, and vegetable oil according to the package directions.
Fill each cupcake well about 2/3 full.
Bake for 18-20 minutes. Insert a toothpick into the cupcakes around 18 minutes. If it comes out clean, the cupcakes are done.
Remove from the oven and let cool prior to decorating.
Then generously frost each cupcake with white frosting.
Use the kitchen scissors to cut both ends off a marshmallow and then dip the sticky end into the pink crystals.
Place the bunny ears on top of the cupcakes.
Give each cupcake 2 large candy eyes.
Then give each of your bunny cupcakes 1 small candy heart for a nose.
Repeat these decorating steps with all of the cupcakes.
*Makes approximately 24 bunny cupcakes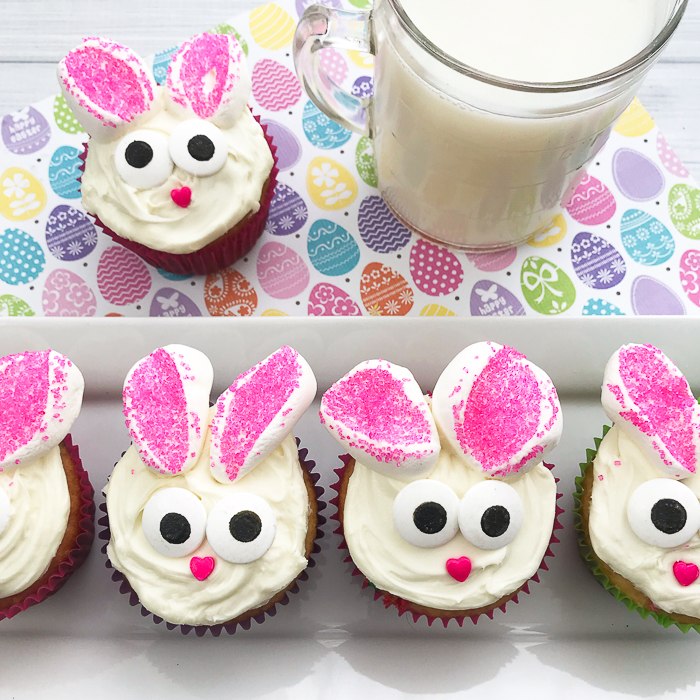 The marshmallow trick makes these bunny ear cupcakes super simple to make. And those heart noses are simply perfection!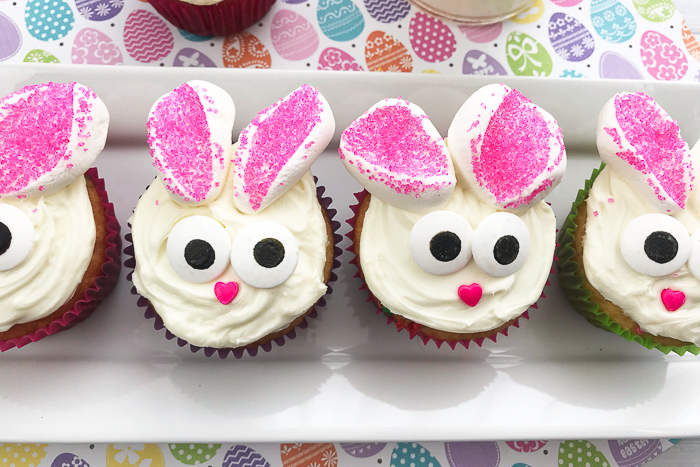 Want to make some cute bunny cupcakes for any get together you have planned this spring? Then be sure to pin or bookmark this recipe so you don't forget to make them.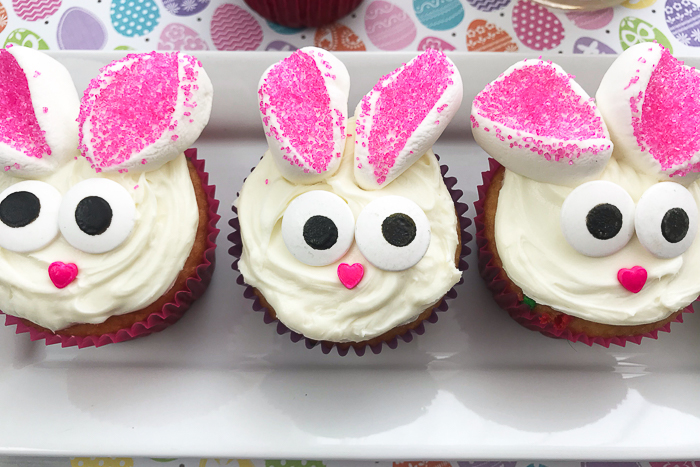 This is also a great recipe to get the kids involved in making. The decorating part is so easy that they can make some of these as well and they will look great!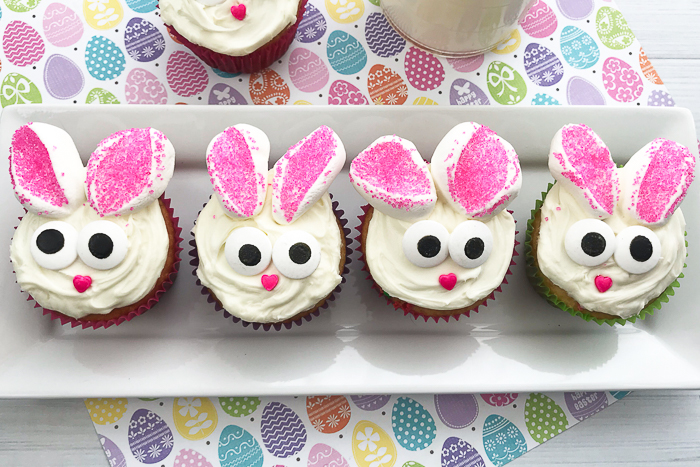 Easy bunny cupcakes even the kids can make? Oh yes! Get your supplies and plan a family baking day they will never forget!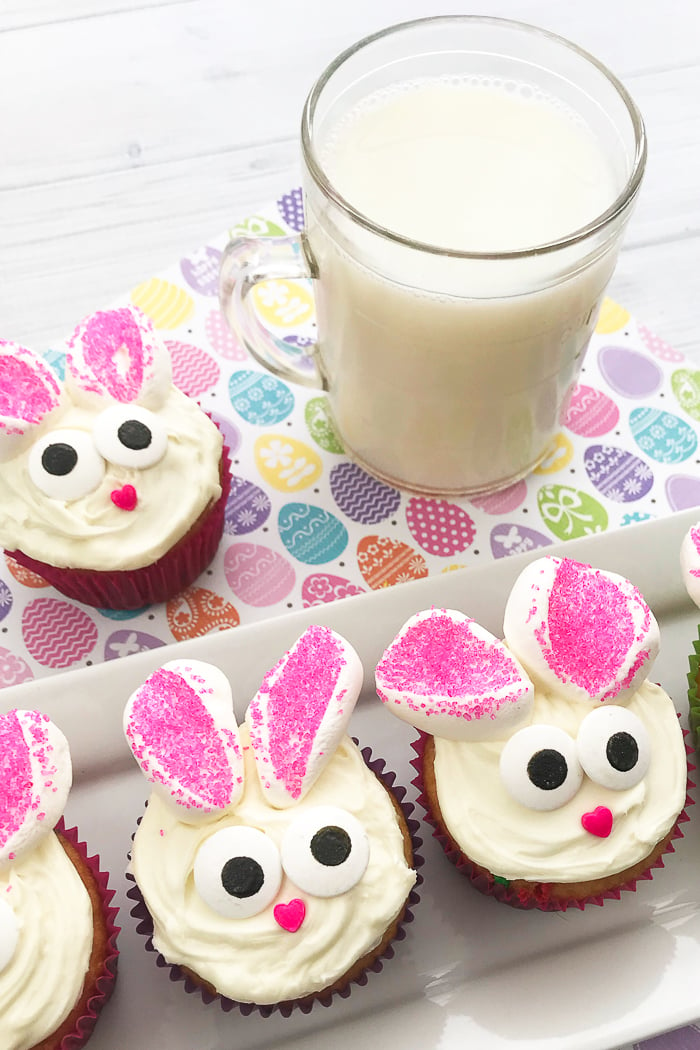 Love these Easter bunny cupcake ideas and want more? Try the links below!