It is that time of year when I love adding patriotic decor to my home. I made this button flag tray last year and posted it over on Crafts Unleashed. Y'all I am still in love with this one today. Grab your supplies and get started on your own version soon! This will be perfect for any 4th of July or summer party you are planning.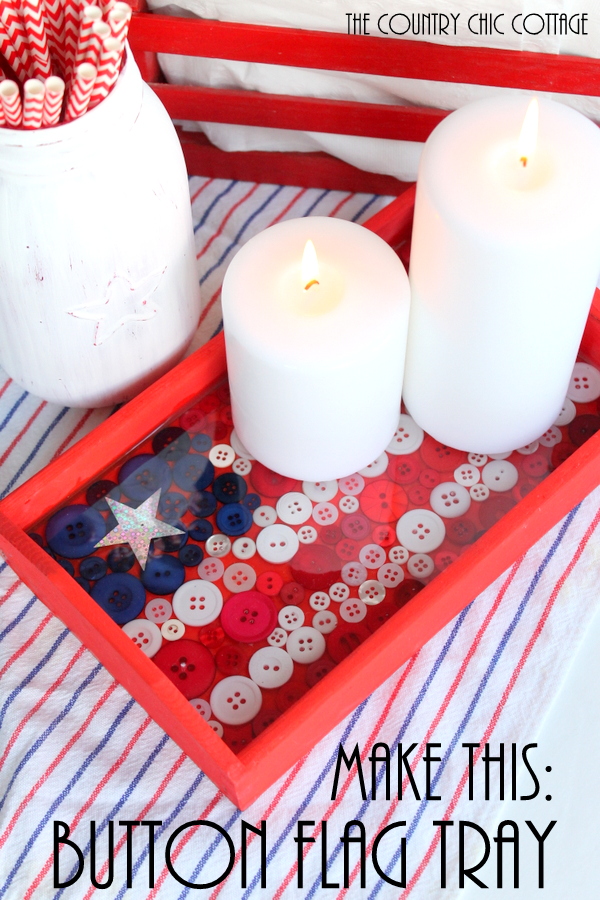 Supplies needed to make your own button flag tray:
Bright Red Paint (I used the one pictured below from DecoArt)
Assorted Red, White & Blue Buttons
Hot Glue Gun & Glue
Silver Sticker
Lighter
Wax Paper
Disposable Plastic Mixing Cups (at least two – ones with measurements on the side work best)
Stir Sticks (large wood craft sticks work great)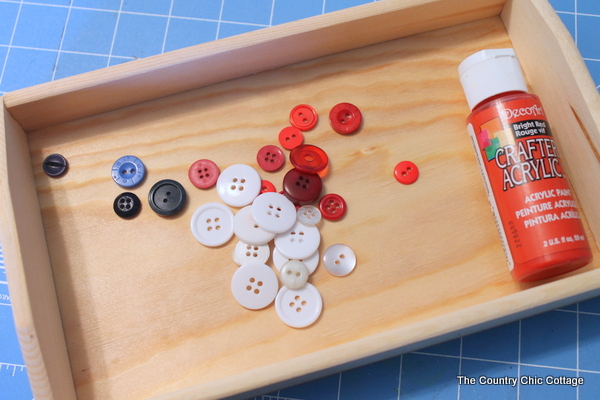 Paint your wood tray red with a few coats of paint and allow to dry. Then start laying out your buttons in a flag like pattern.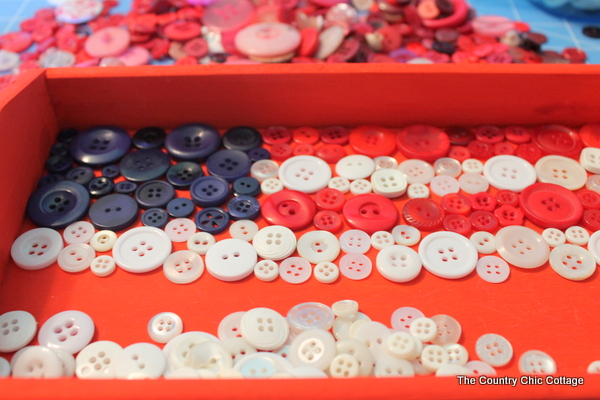 Get your pattern set before you start adding any glue.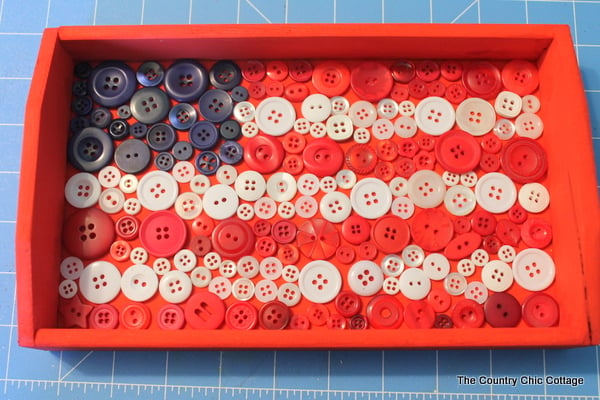 Gluing your buttons will take a while. Lift each one and add a small drop of hot glue. Glue into place and move to the next one. Repeat until you have a button flag in the bottom of your tray. Glue on the silver star as well. You might also have a ton of hot glue strings on your project. Just use a hair dryer to remove those before continuing.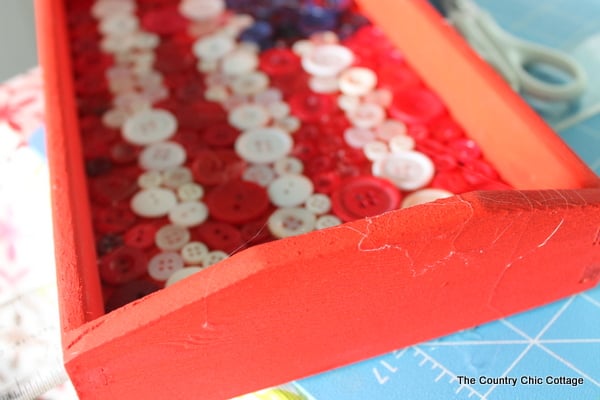 Place wax paper under your tray. Now it is time for epoxy. Don't be scared. This is simple and I am going to show you how. The most critical part is following the directions in the package. A few tips and tricks:
You need an exact 1 to 1 ratio so measure each part first in your disposable measuring cups.
Protect your work surface with the wax paper and wear gloves to protect your hands. Have plenty of rags on hand as well.
Pour the two parts together and mix with craft sticks. Again these are disposable.
Follow the mixing instructions exactly. So if it says mix for 2 full minutes do so.
When pouring, spread out as much as possible and be sure to get all areas even the corners.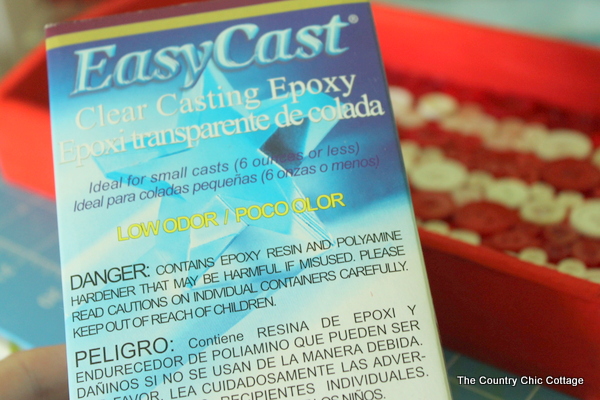 After you pour your epoxy your 4th of July decor tray will look a little like the image below. Boy all of those bubbles sure do mess things up right? The epoxy is formulated so that those bubbles will rise up to the top. Now it is time to pop them.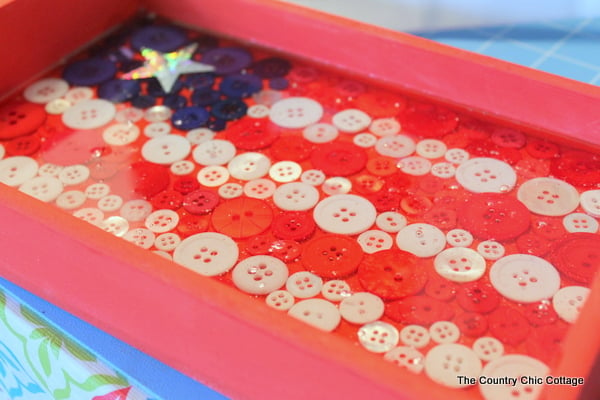 Wave a lighter over the surface being cautious not to actually touch the epoxy. As the bubble heats, it will pop and you will be left with a smooth surface. Use a craft stick to pop any bubbles around the edges. You will have to repeat this process several times during the first 30 minutes or so of drying time.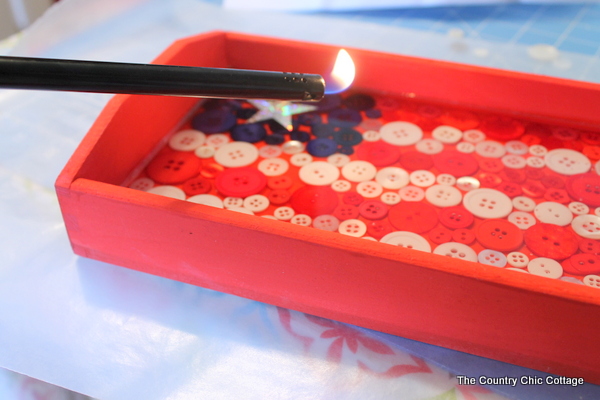 Now not every craft project is perfect y'all. I learned a little something during this one. Always protect your work surface as sometimes you look down and realize that your tray has small holes in the corners apparently.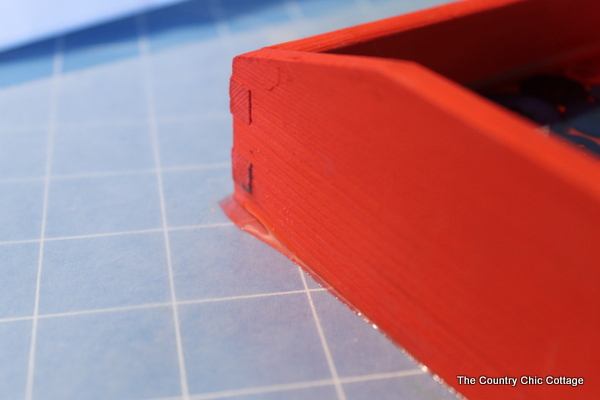 I used a rag to clean up several times and changed my wax paper once. Eventually the epoxy stopped coming out and all was fine. The next morning I did have two corners that looked a little like the below.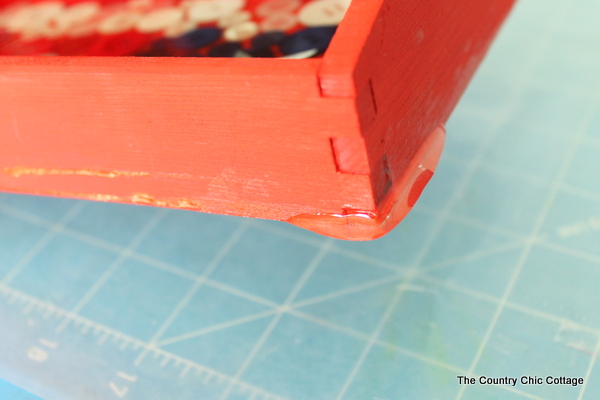 Just use a craft knife to cut away that excess and your project is done. Be sure to allow the epoxy to cure a full 24 hours before using it. You can use this method to make a small or large tray. Use your button flag tray to serve up drinks or snacks at your party. Or just display it with your other patriotic decor! You will love this one for years just like I do!