Are you ready to start your sublimation journey? If you want to try sublimation out before you go all in, you're going to love today's post. Today I'm sharing where you can buy sublimation prints so you can try them out before buying all the supplies. I talk about sublimation a lot, I love it. It is, however, an investment when you're just beginning. Keep reading to learn how I started my sublimation journey.
If you aren't sure what sublimation is, check out my sublimation beginner's guide here.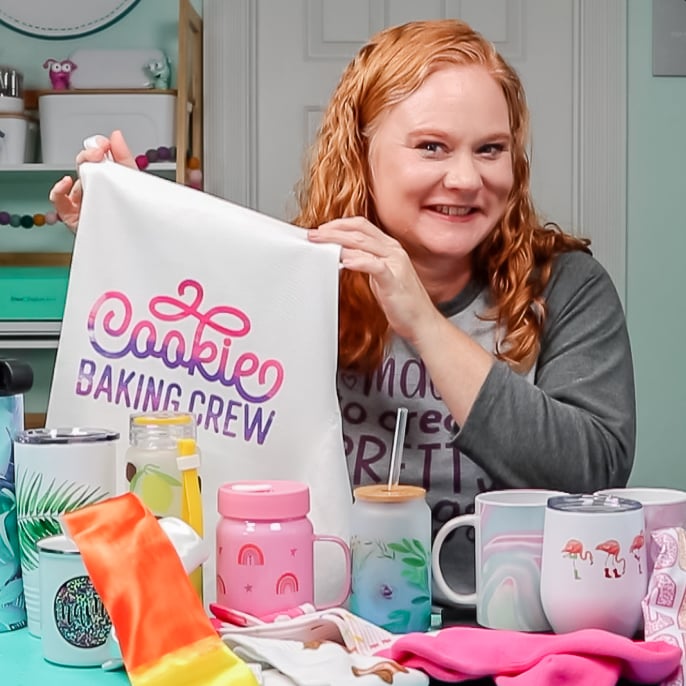 Why Buy Sublimation Prints?
As I said before, starting sublimation is an investment. It would be terrible to spend all that money only to discover you don't really like making sublimation projects. You may also find that at some point you need a sublimation print that is larger than your printer allows. This is another instance when you may want to buy sublimation prints.
Buying sublimation prints is a great way to test out sublimation so you can really decide if it's something you're interested in doing enough to make buying all the supplies worth it. This is actually how I started my sublimation journey. I had heard of sublimation, I already owned a heat press and Cricut machines so I wasn't sure if it was something I would do a lot of so I decided to order a print and see what I thought.
You can watch me talk about each of these places and see a little more about their sites by pressing play on the video below:
Where Can I Buy Sublimation Prints?
All of these are places where you can upload your own designs, and have them printed for you. They'll then be shipped to your home for you to use.
Etsy
Etsy is a great place to buy sublimation prints. A lot of people own sublimation printers now. Many of them use them to sell crafts they make but a lot of them also sell custom sublimation prints.
This is where I first purchased a custom sublimation print. There are a lot of sellers on Etsy and you likely can't go wrong with any of them. The main thing to look for in reviews is that they're printed and shipped correctly. So check the reviews before purchasing.
Craft Chameleon
Craft Chameleon is another place that I personally used before I purchased a sublimation printer. It is a small business and she allows you to upload your own image and will print your custom sublimation print for you. I do know her business is changing so she may or may not do this service in the future.
Where to Order Multiple Custom Sublimation Prints?
These next places are for people who need multiple of the same sublimation print. If you're looking to buy sublimation prints for bulk orders, these are a great option.
Heat Transfer Warehouse
Heat Transfer Warehouse is a great option if you want to buy sublimation prints in bulk. They do require that you purchase at least 10 sheets of the same image. They also have the ability to print a variety of sizes from 4×4 to 12×12 and even 11×17. Those larger sizes are likely not something you can print from your home sublimation printer.
Conde
Next up is Conde. Conde works a little differently when buying sublimation prints. They require that you request a quote. You'll tell them what you want to be printed, what size you want, etc and they will get back to you with a price.
You even have the option of them doing some design work for you. If you're struggling with how to make a sublimation print fit on a certain type of blank, they can help you with that. That fee would be included in your quote.
How Do I Buy Sublimation Prints if I Need International Shipping?
This last option I chose because they have some international shipping options. You may be able to find some options on Etsy that allow international shipping so definitely check there too.
Bright Star Crafters
Bright Star Crafters has a US site as well as an Australian site. The Australia site does allow international shipping. Both sites have a custom sublimation print option so you can upload your design and buy sublimation prints from either site and have them shipped to you. If you're an international follower, I would definitely check them out.
How Much Should I Pay for Sublimation Prints?
I highly recommend you shop around. Shop for the best price for what exactly you need to be printed. It may change depending on the image, the size, and even how many copies you need. It's likely a large sublimation print could be less expensive at one shop and a standard 8.5×11 print could be less expensive at another shop.
You may find that buying multiple prints from a shop that requires a minimum purchase ends up being less expensive than somewhere that allows for single prints. Shop around, especially in the beginning, and you'll probably save yourself some money.
Final Thoughts on Where to Buy Sublimation Prints
I really think that you're going to fall in love with sublimation after you try it. If your reason for ordering sublimation prints is you don't have a printer yet, be forewarned, you might want a printer after you receive those first prints and start doing some sublimation crafting. I know that's what got me hooked on sublimation crafting.
If you fall in the other camp and you already have a sublimation printer, these options are all great if you're needing larger prints or maybe something specific that would be easier to have someone else print for you.
Buying sublimation prints is a great option and if you only find yourself doing sublimation projects every once in a while it may be all you ever need. Just remember – there will be turnaround time, so plan that into your schedule!
Are There Other Sublimation Options?
Now, what if you want to try sublimation and you don't want to order the sublimation prints? I do have some options below for you as well. There are a lot of options on the market today:
All of these options will give you the permanence of sublimation without needing a sublimation printer. I hope this post has you excited to try out sublimation. If you have any questions about where to buy sublimation prints leave them in the comments below and I'll get those answered for you.