Homemade candy bar wrappers are perfect for showing your teachers how much you appreciate them and are simple to print out and wrap around the outside of a candy bar to give to your favorite teacher.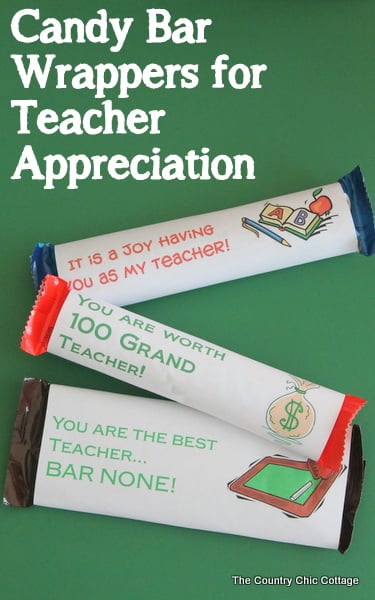 It is Craft Lightning time again, and I am kicking things off with candy bar wrappers for Teacher Appreciation. All week long, I will share a fun craft tutorial for Teacher Appreciation each morning. Each afternoon I will bring you ideas from our blog partners that will knock your socks off. If you want a chance to be featured here each afternoon, be sure to link up your quick and easy Teacher Appreciation crafts to our linky party. Now let's get the fun started with these candy bar wrappers.
If you have missed any of the fun this week, be sure to check out the round-ups from day 1, day 2, day 3, and day 4.
Candy bar wrappers for teachers' appreciation week
This is the perfect idea if you like to send a small daily gift to your teacher for Teacher Appreciation week or combine this small gift with a gift card.
I love showing our teachers how much they mean to us because I don't think they get enough credit or love. If you are looking for other ideas for teacher appreciation week, here are a few more:
If you made each one of these, it would fill up the entire week without breaking the bank. This year, skip the gift card and get the teachers something they can treasure and appreciate.
Grab your free printable:
To get your free teacher appreciation candy bar wrappers, sign up for our newsletter in the box below. Look for a box with a picture of the candy wrappers, and enter your information. You should get an email within a few minutes with a link to the download. Please note that if you already get our newsletter, just add your information again, as you will not be signed up for anything further.
Please note these labels are for personal use only.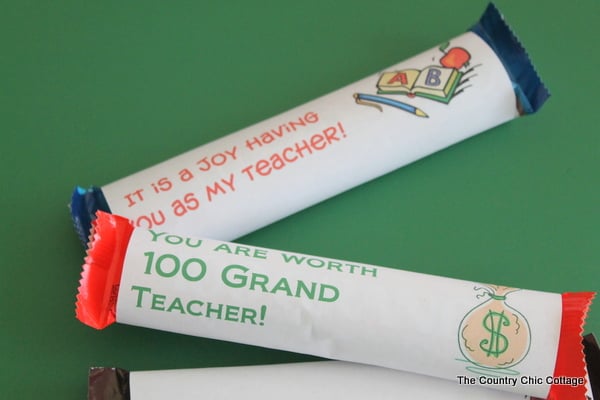 Print the candy bar wrappers, then cut them to the size of your candy bar, wrap them, and tape them around the outside of the candy bar. There is one for an Almond Joy, 100 Grand, and one generic that I am using on a plain Hershey's bar.
Either way, your teacher will love this super simple token of your appreciation. Print these candy bar wrappers for one or more than one teachers. They are so quick and easy to put together, you can make them for the entire school.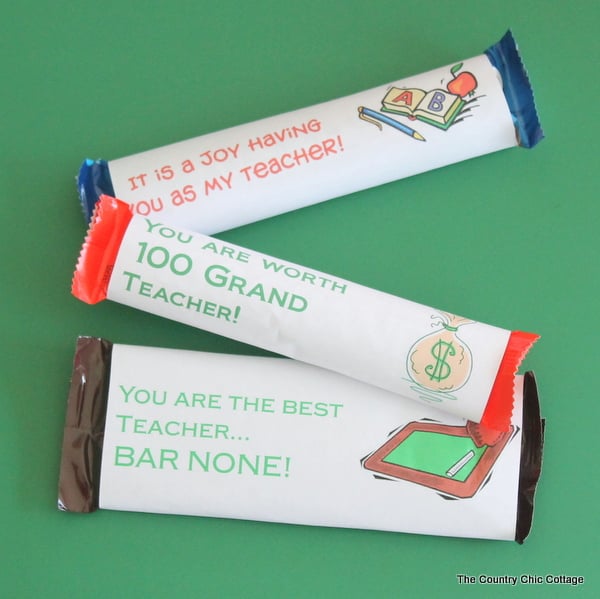 These candy bar wrappers are just the first in a series of fun I have in store for you. Don't miss any of the Teacher Appreciation Week fun by coming back each day!