Need adorable DIY teacher gifts that you can make quickly? You'll love this easy peasy popcorn jar gift. And if that's not enough, I have several additional ideas to share too!
Teachers work hard and face many challenges throughout the course of a day or week. That's why I love coming up with cute, fun ideas to spoil them a little bit. They deserve it, right?
Teacher Appreciation Week will be here before you know it. While many people wait until that week to show their teachers some love, I like doing it a few times throughout the year! With simple DIY teacher gifts like the ones I'm sharing today, you can easily show your teachers a little love anytime!
This list was carefully chosen because I've talked with enough teachers to know that most of them aren't interested in one more apple sign, mug, or tote bag. Instead, give them something they actually want or can use.
This popcorn teacher gift in a jar is the perfect quick and easy craft for your child's teacher. It's the perfect mix of cute and practical. Who doesn't love some buttery popcorn while they relax after a long day at work?
Note: Besides the ideas down below, if you want more Teacher Appreciation Week gift ideas, be sure to check out my Chill Pill Jar, Hero Teacher Gift in a Jar, and Thank You for Helping Me Grow Gift ideas!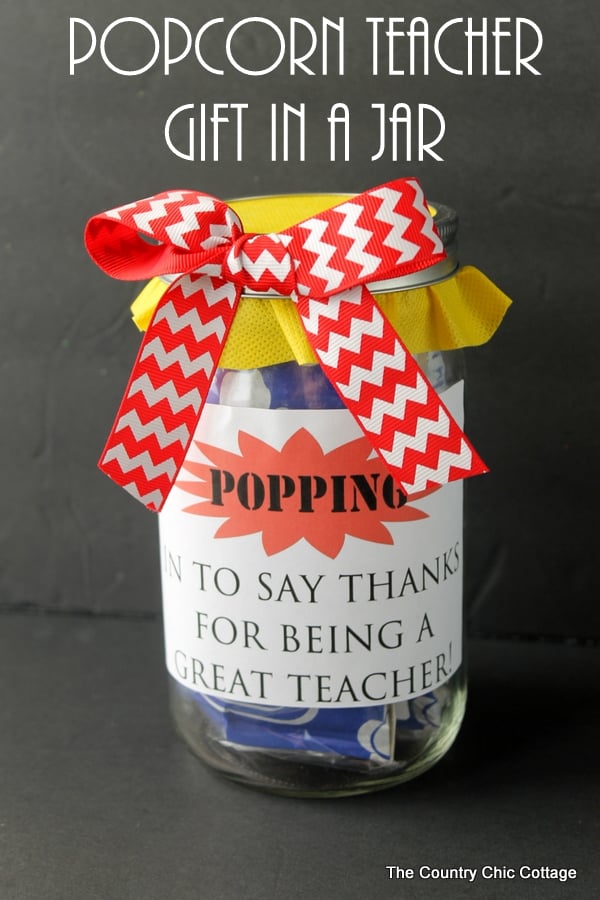 Easy DIY Popcorn Jar Gift Supplies Needed
Does your child's teacher love popcorn? If so, this is the gift to give! Here's what you'll need.
How To Make This DIY Popcorn Teacher Gift
This project comes together with practically just the snap of your fingers (warning, you may even feel a little Mary Poppins-like when you whip this up!). Follow these quick directions!
Step 1
Print as many labels as you need for the number of gifts you're making. Then, apply each one to the front of any mason jar. I recommend using large mason jars for this, especially if you want to fit ready-to-pop bags inside.
Step 2
Fill your jar with the popcorn and seasonings of your choice. I went with ready-to-pop bags, but you could get creative with bags of loose popcorn and fun seasoning blends!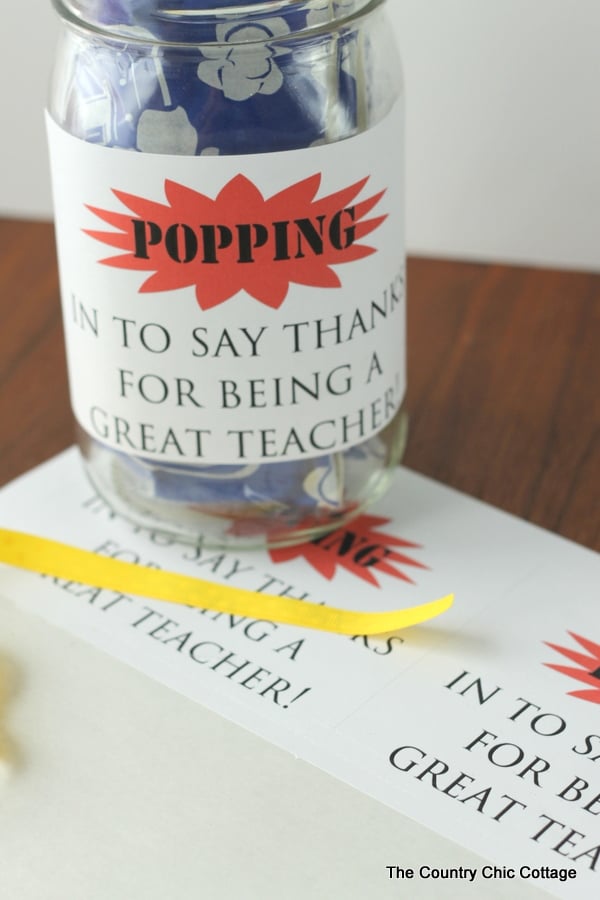 Step 3
Cut some fabric slightly larger than your jar lid as shown below. I used OlyFun since it does not fray.
Be sure to keep this in mind when choosing the fabric you want to use! Then again, sometimes that frayed look is what you want, right? 😉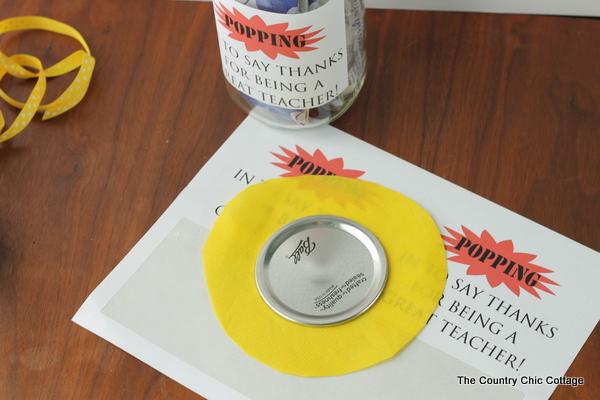 Step 4
Put the lid on the jar with the fabric sandwiched between the lid and band. At this point you can be done, or you can add a little ribbon or bow if you want!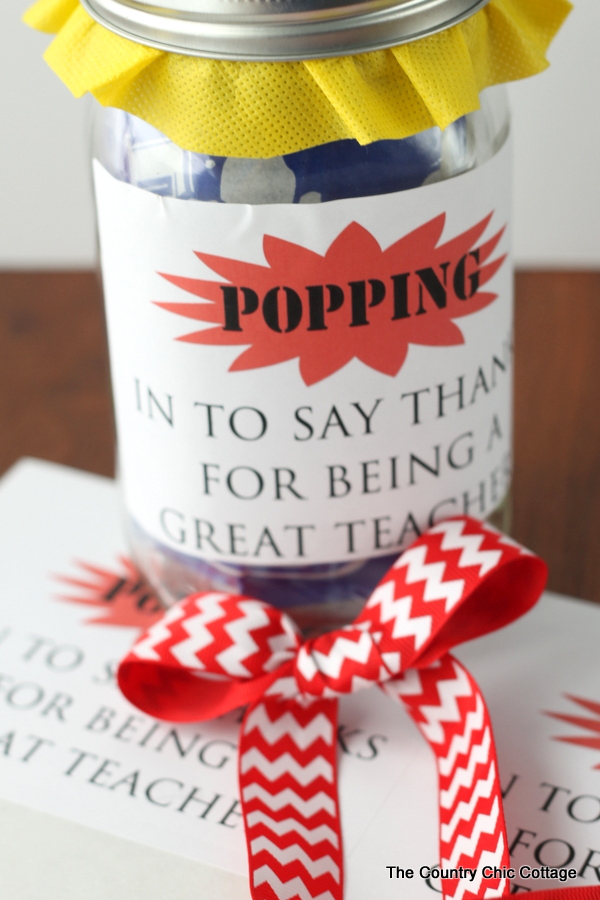 Step 5
If you want to add a bow, tie some ribbon into a bow. Then, add the bow to the front of the lid with a little hot glue.
Now, it's ready to give to your favorite teacher!
This fun teacher appreciation gift idea can be made in just minutes. Plus, it's perfect for Teacher Appreciation Week, holidays, birthdays, or even the end of the school year, along with a nice card!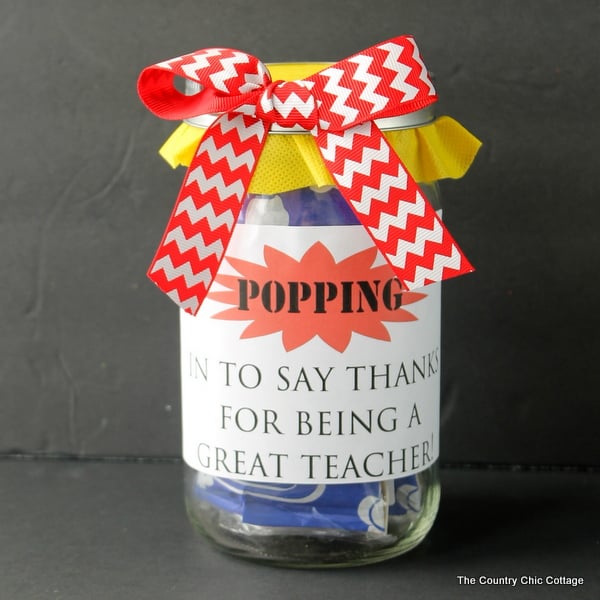 More Easy DIY Teacher Gifts You Can Make
Now, it's time for some more quick and easy teacher gift ideas. I have a collection of different types of ideas that teachers will love!
Shower Your Teacher With DIY Teacher Gifts
Teaching is often a thankless job, so I encourage you to take every opportunity you can to show how much you appreciate their hard work. With these simple crafts, it's easy to do it regularly! Here are even more ideas you may love:
If you want to see even more teacher gift ideas, be sure to click here and follow our Teacher Appreciation Day Pinterest board.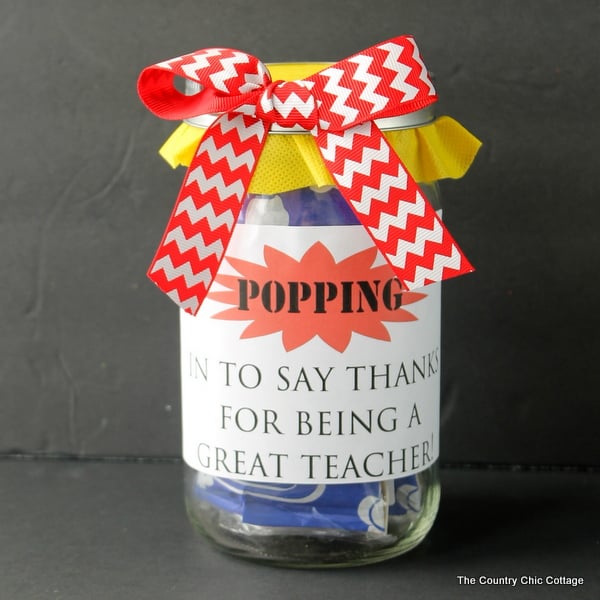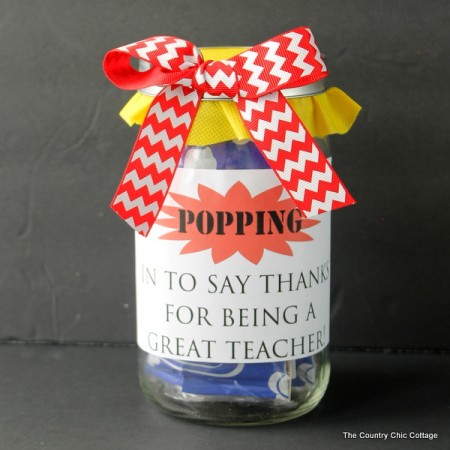 DIY Teacher Gifts: Popcorn Jar
Here's a quick and easy gift that teachers will love. It's super simple to make so you can create it in just minutes and gift it anytime!
Supplies
fabric

of your choice

Ribbon

Hot glue and a glue gun
Instructions
Download and print the labels. Attach them to mason jars.

Fill the mason jars with the popcorn and seasonings of your choice.

Cut a piece of fabric slightly larger than the size of your mason jar lid.

Put the lid on the jar so that the fabric is sandwiched between the band and lid.

If you want to make a bow, do so with a piece of ribbon then attach it to the lid with hot glue.
Tried this project?
tag us to show off your work!