I am that girl….the one that doesn't want summer to end. The one girl in blogland who is not ready to hang fall leaves on her door. But starfish? I still had starfish on the front door. So I changed it up a bit.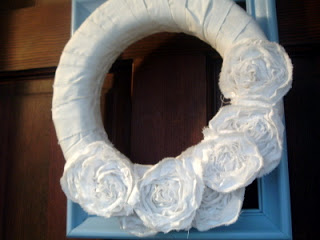 Now do you wanna know how to make it?? Start with some scraps of fabric…yep scraps. I tore some sheets into 1″ strips…any length really. And some leftover white canvas cut into squares.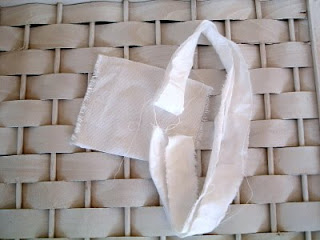 Start in the center and sew the long strip to the canvas. Sewing the middle of the shabby strip so you have both shabby edges up when you get done. In the center, you will have to stop your machine with the needle down. Lift you foot and physically turn the material. But as you sew round and round in a circle it will get easier to just turn as you are sewing along.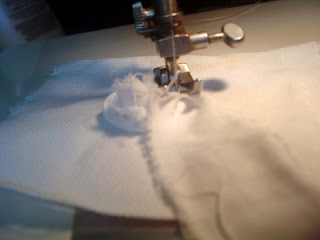 Keep pushing up the material so the shabby edges are up. You don't want to sew those beautiful edges back down.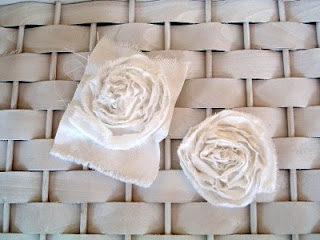 Trim your canvas like the one on the right when you have completed your sewing. See the longer your strip the bigger the rose. So play with it. Get different size roses. Then gather up a wreath (I covered mine in torn sheet strips). Plus a frame painted…for me blue was the color of choice.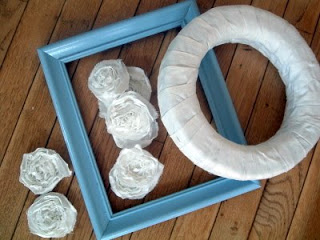 I just glued my wreath to the frame. And then the roses to the wreath.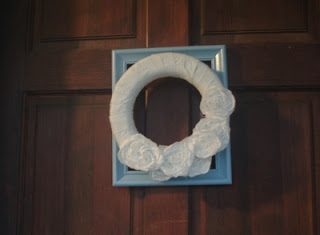 Okay…maybe in a few weeks I will embrace fall…
~Thanks for stopping by!~