I thought I would share a super simple way to decorate Christmas cupcakes today. These Santa cupcakes are the perfect addition to your holiday table or a quick and easy treat for those class parties. I absolutely love decorating just about anything with Santa's belt and belly so these are right up my alley.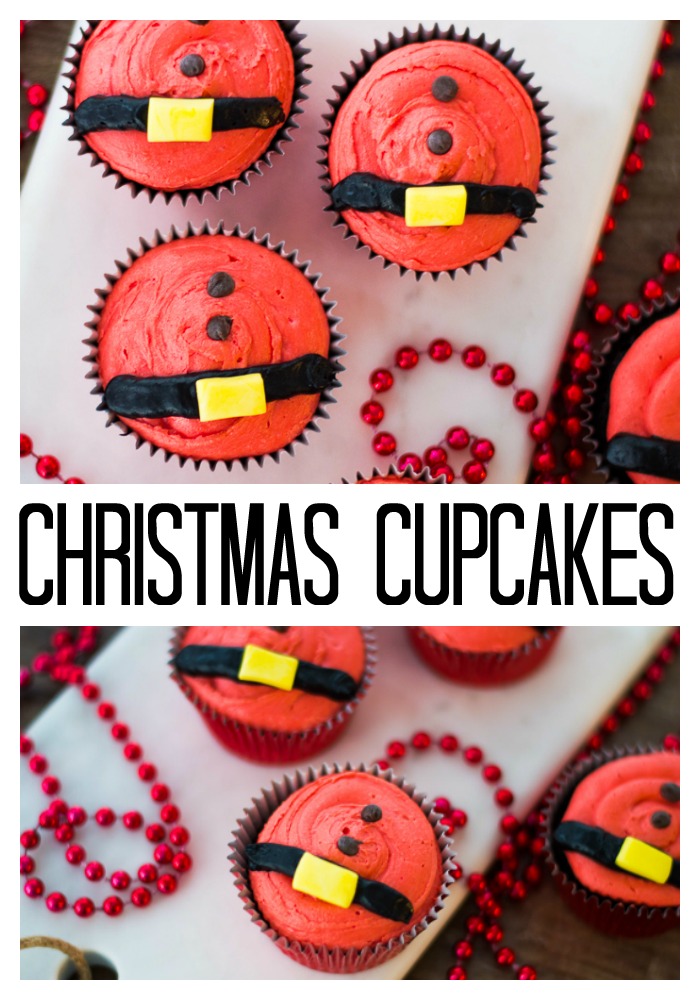 Supplies needed to these Christmas cupcakes:
12 of your favorite chocolate cupcakes
1 stick butter, softened
2 cups confectioners' sugar
3 – 5 tbsp milk
½ tsp red gel food coloring
Black decorating frosting
2 oz. yellow fondant
24 mini chocolate chips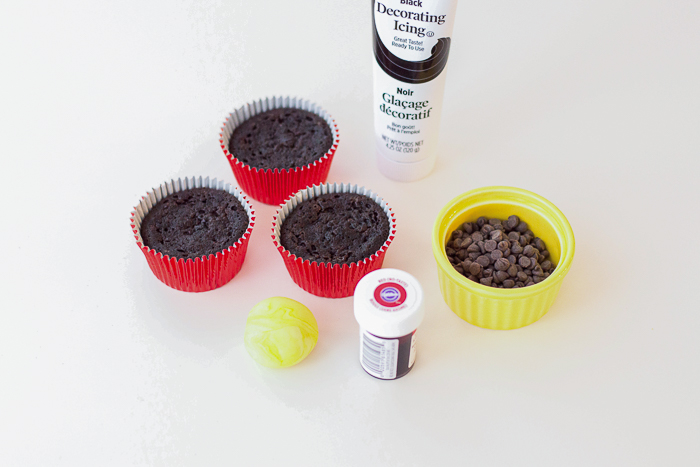 Instructions:
Once you've baked your cupcakes and they are completely cool, start making your buttercream frosting. To do so, use an electric mixer to beat butter, confectioners' sugar, and milk on high speed. Once the ingredients for your buttercream are smooth and completely mixed-in with one another, add your red gel food coloring. Continue beating until completely tinted. Then, using a piping bag, frost each of your cupcakes. With another piping tip, pipe out one stripe of black decorating frosting on each cupcake.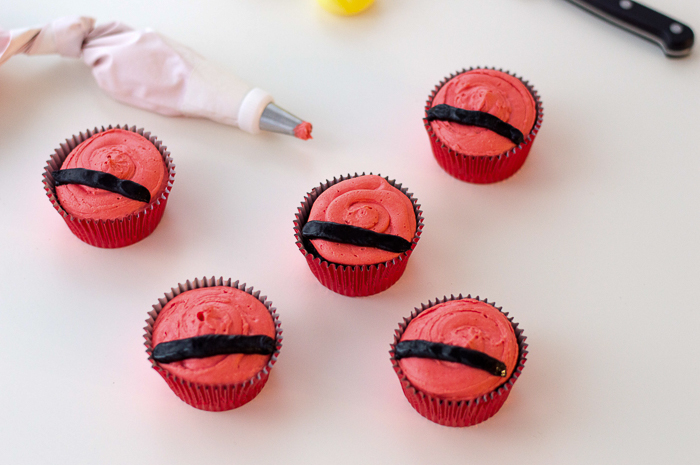 Roll of your yellow fondant and cut small rectangles, about ½ an inch in size. Place in the middle of the black frosting. This will act as the buckle on Santa's belt. Place two chocolate chips just above Santa's belt and these will be his buttons.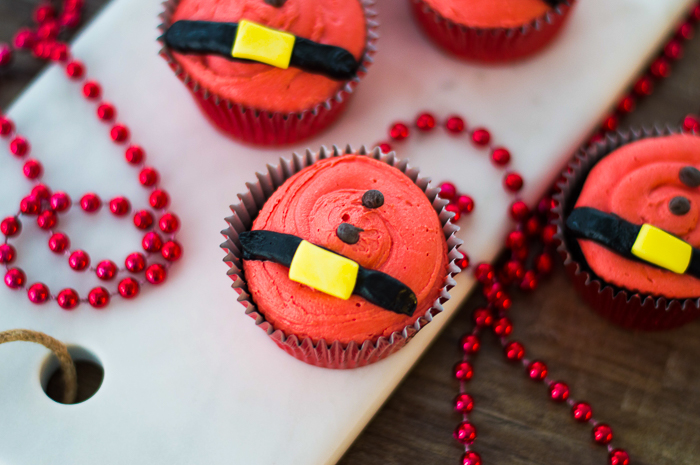 Then all that is left is to serve up these Christmas cupcakes to those that you love.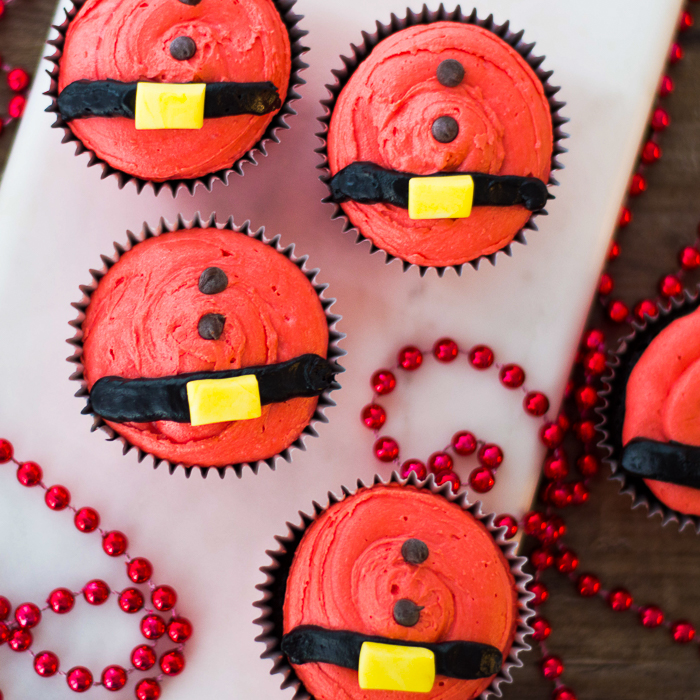 Dive into a few of these delectable treats with the fun and whimsey of Santa's belly! Who could resist these adorable cupcakes?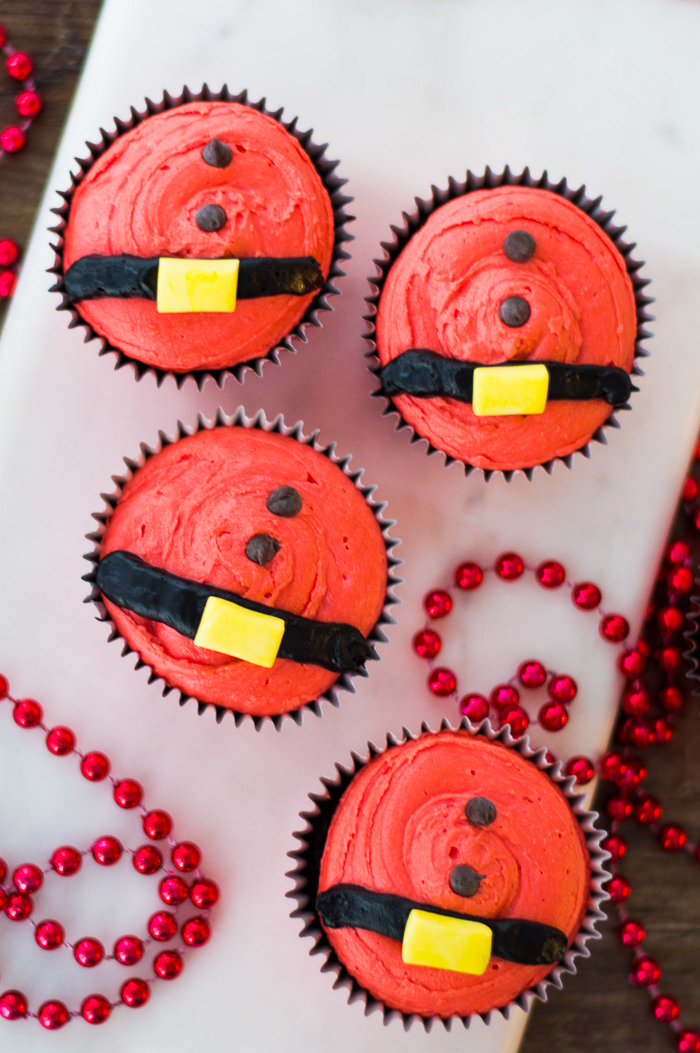 Be sure to save this idea for when holiday baking season comes around. But you know that I say it is never too early for some holiday baking. So, whip up a batch of these Christmas cupcakes today!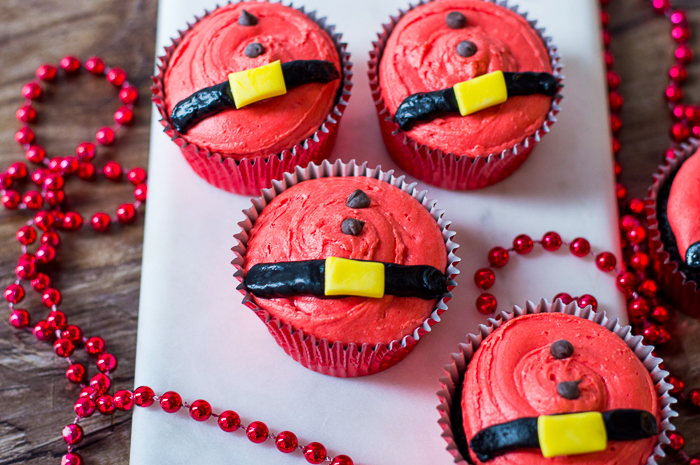 Love these Christmas cupcakes and want more ideas? Try the links below!
Looking for easy recipe ideas?
Struggling with supper and what to make? Do you wish you had a way to make meals faster? The dump recipes system allows you to make 10 meals in just one hour or less, rescuing your dinnertime and saving you time and money.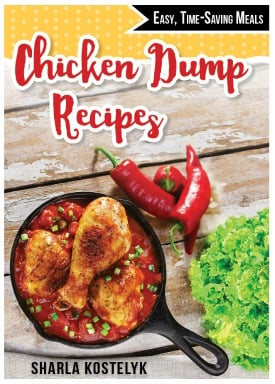 Want to try it for yourself? I have the perfect cookbook for you. Chicken Dump Recipes includes 5 plans, each with printable shopping lists and printable labels. Most of the 25 recipes included can go from the freezer to the crockpot, saving you even more time. All the recipes include gluten-free instructions as well.
What are you waiting for? Give the dump recipes system a try in your home and make meal time a bit easier!