It is here y'all! My craft room tour is ready for you to view. I have been working hard to convert a now extra bedroom into a usable space. My college aged daughter moved out last fall and this room has been a mess ever since frankly. It is finally ready for you to view and me to work in y'all. Check out tons of pictures of the space below. Then stay tuned all week as I will have links to over 30 craft room tours for you. Come back each day for the full tour schedule and links! It starts tomorrow and continues all week.
The tours have started! Don't miss any of the craft room tours. Click for the tours from day 1, day 2, day 3, day 4 and day 5.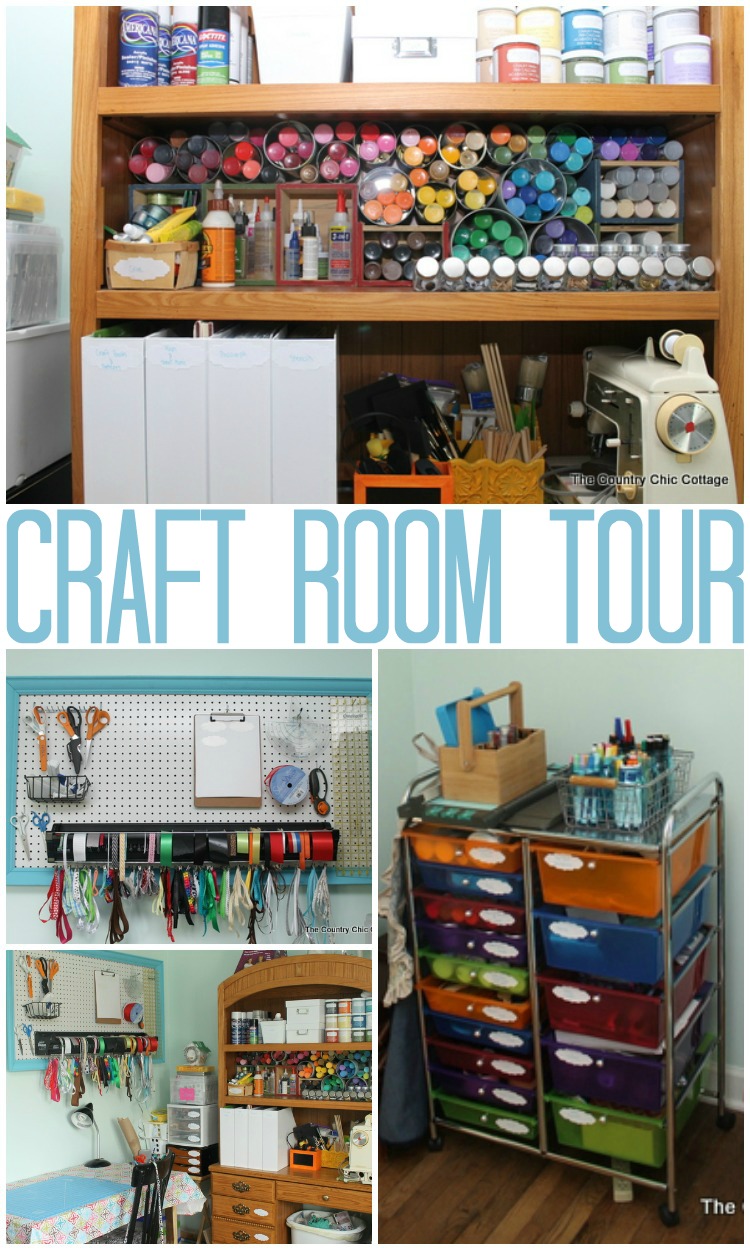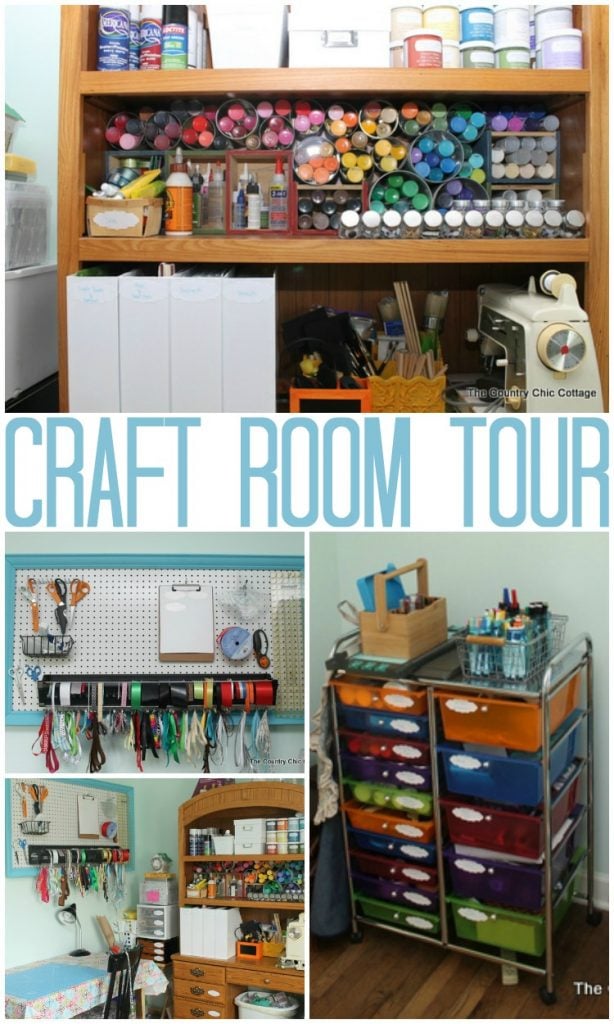 We will start in the crafty area of the room and my work table. I have had this table for years and I just covered it with a cheap plastic table cloth. Since this is truly a work area, I think that will give me the flexibility to wipe it down or throw it out if it gets really dirty.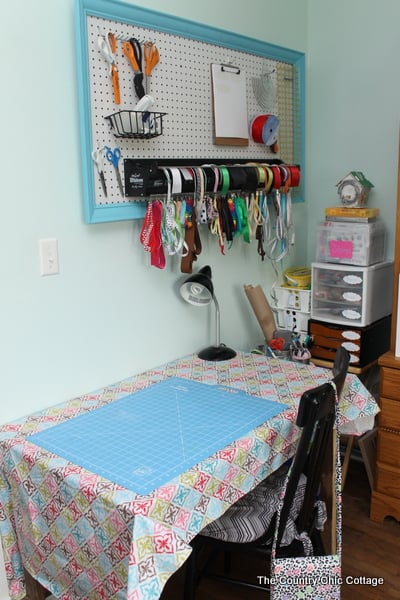 The star of this show is this AWESOME pegboard. I used a huge frame from the thrift store and painted it with DecoArt chalky finish paint. The paint did an amazing job on the frame then I added in pegboard from the Home Depot that came in white. I used this tutorial from Honeybear Lane to hang the pegboard. I have plenty of room to expand with this as well. Let the craft supplies multiply! Don't y'all love that ribbon organizer??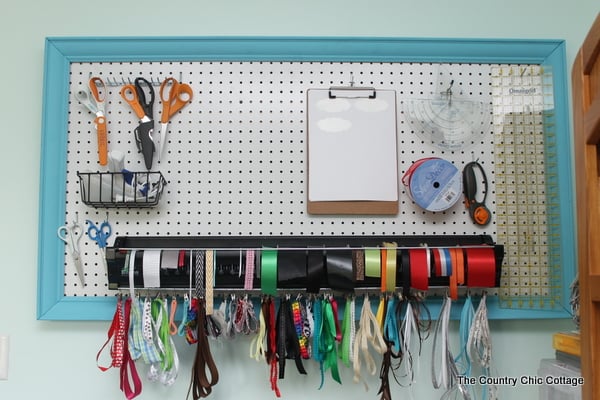 To the right of the work table, I have some organizers with various supplies in them. As well as my lazy susan craft supply organizer.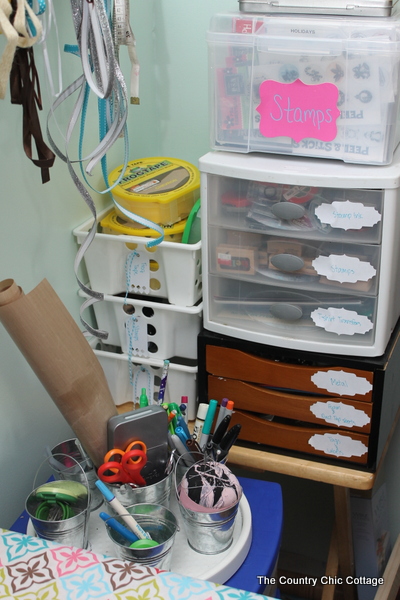 Next stop is a desk with a hutch. This fits tons of my craft supplies and keeps them organized and in place.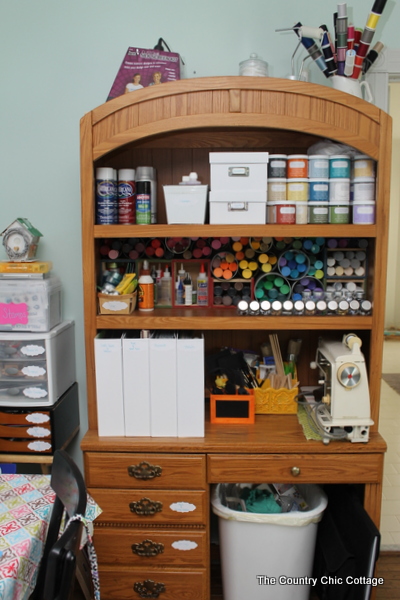 I have four of these paper organizers for books, paper, stencils, and more.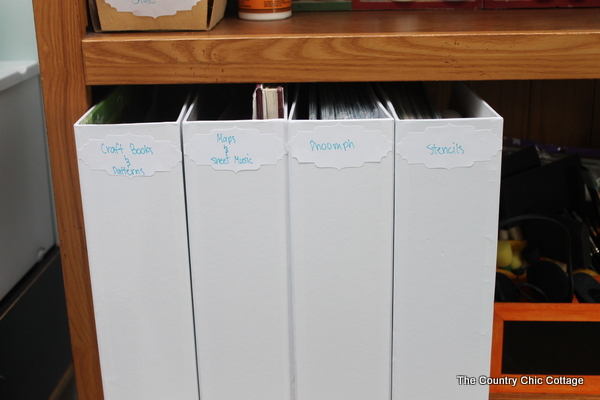 My recycled can paint organizer made its way into this room as well. My chalky paint from DecoArt is on the top shelf of this hutch as well.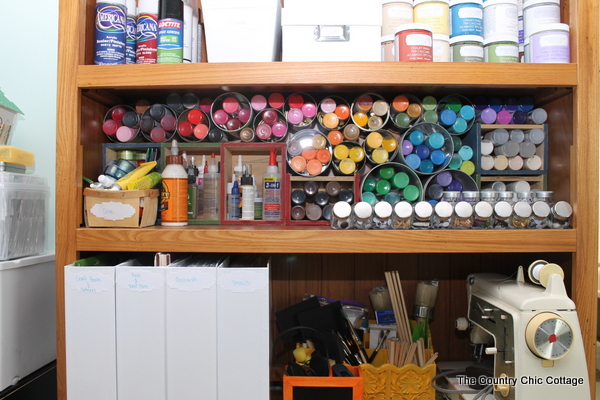 Continuing to the right around the room, this corner is multi-functional with a great roll cart that houses various craft supplies. Notice everything has a place with a label in this room. Yep I am loving it y'all.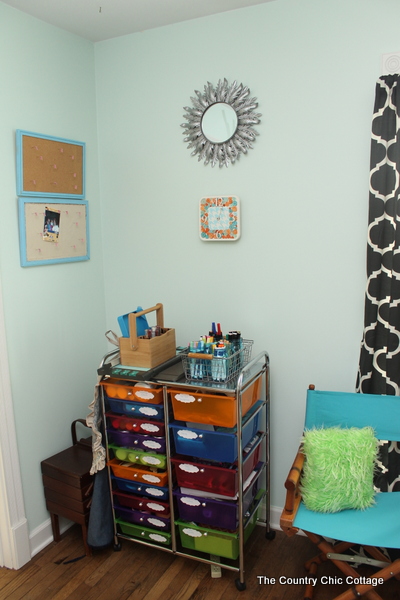 The cart is also colorful which makes this room smile a little more.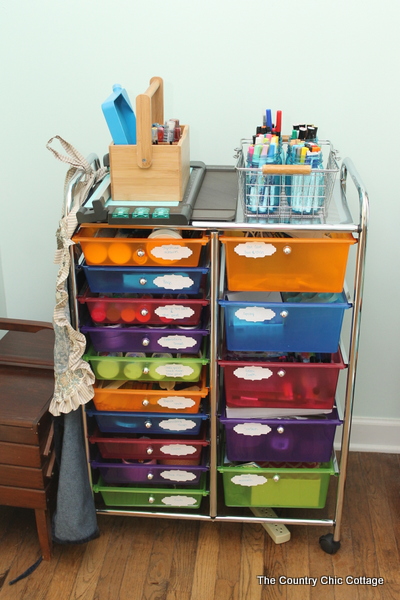 The top also has tons of craft supplies. I love the mason jars in a wire basket for holding tons of markers and pens. Those blue jars from Ball make me smile all on their own.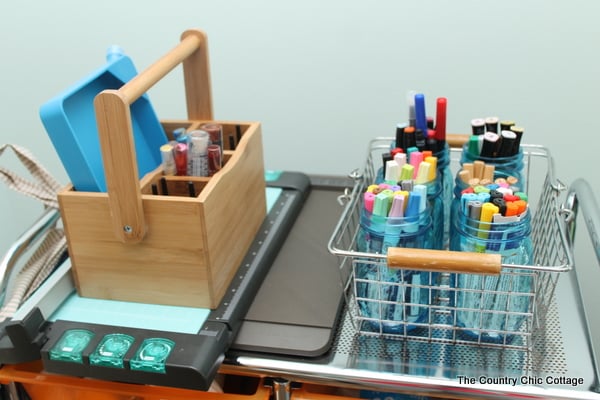 To the right of that area is a wonderful window where I have a chair and cedar chest.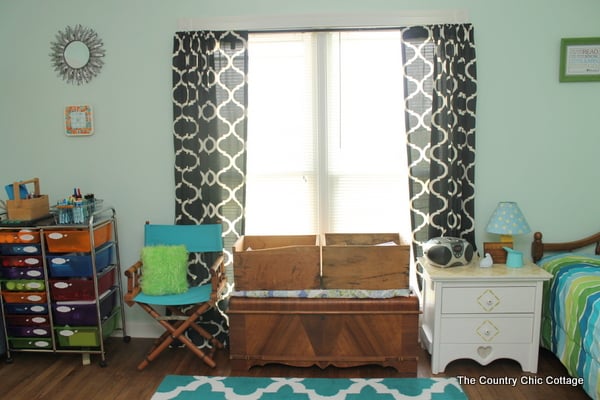 The top of the cedar chest has some vintage wood boxes. These house things that I need to finish or actually start. No peeking y'all might see something your not supposed to.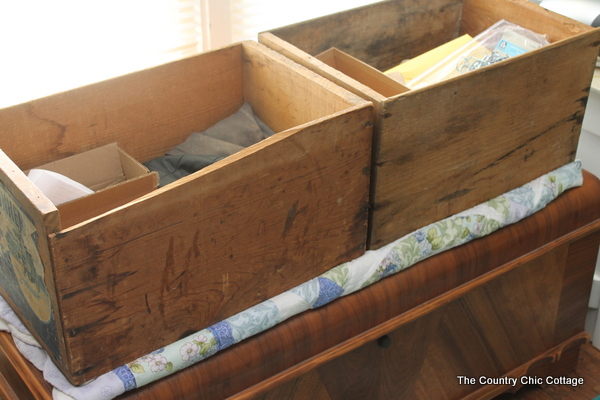 This room also has to function as a guest room so next to the window is a bed and night stand. However, I used a day bed and tons of pillows to make this more of a fun hangout area when guests are not around.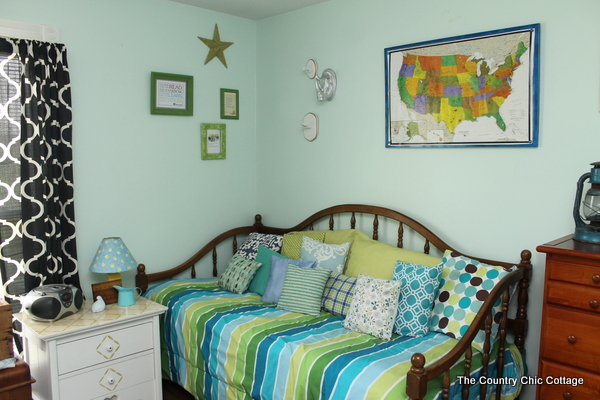 The wall behind the bed has framed pictures and a metal star.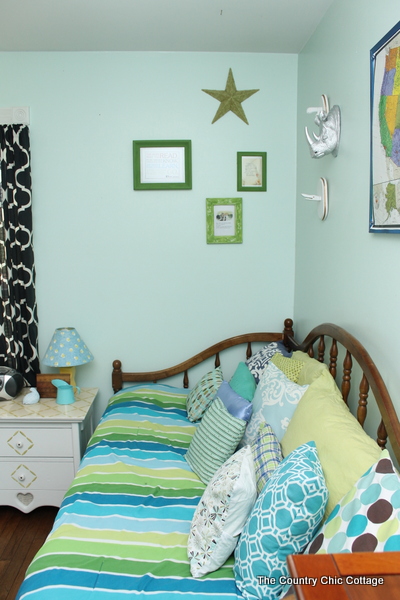 Over the bed on the wall are my latest additions. The rhino head is a thrift store find that I spray painted in silver. You can find the tutorial for the other two faux animal heads over at Crafts Unleashed.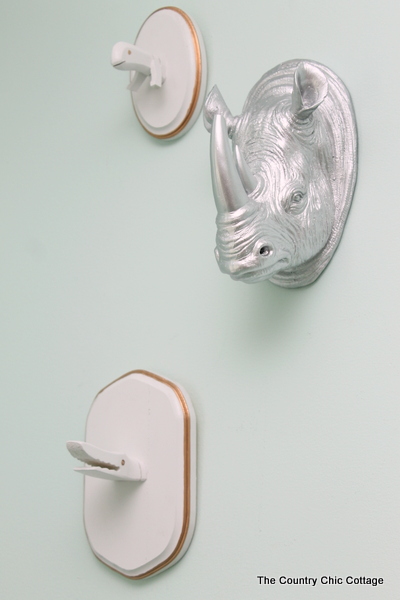 The map came from the Dollar General of all places. I added it to a cork board with a blue metallic spray painted frame.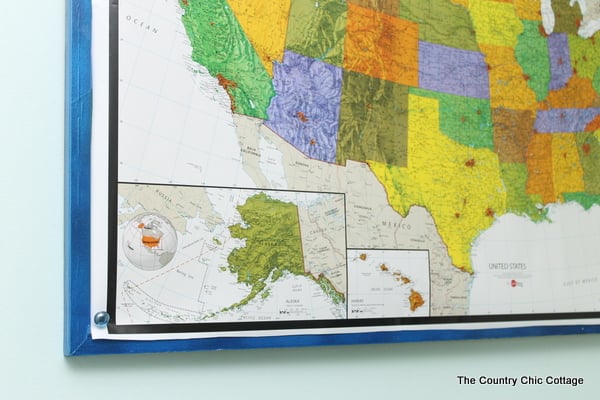 The last corner in the room has a small dresser. It actually has table linens since I don't really have anywhere else to store them.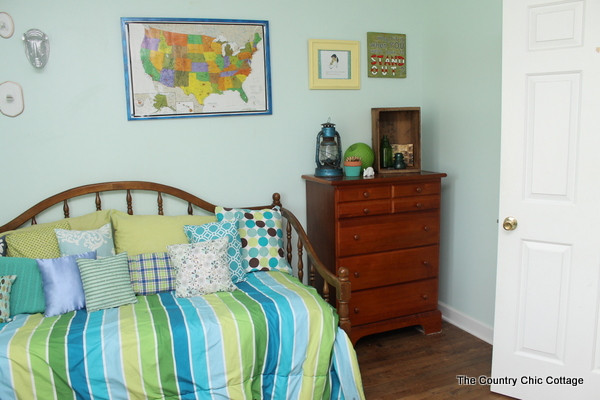 The dresser has an assortment of old and new like the rest of the room.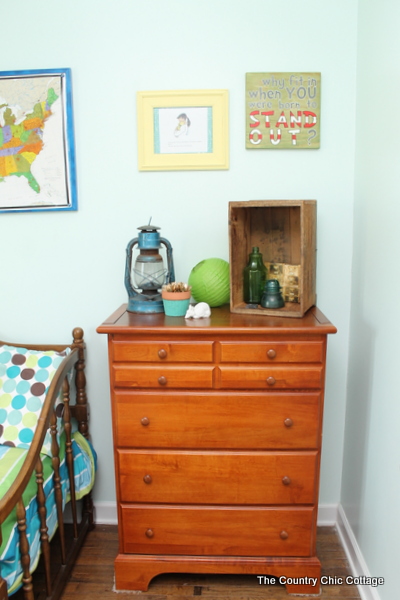 The gold painted succulents came from Wal-Mart. The other items were just around the house.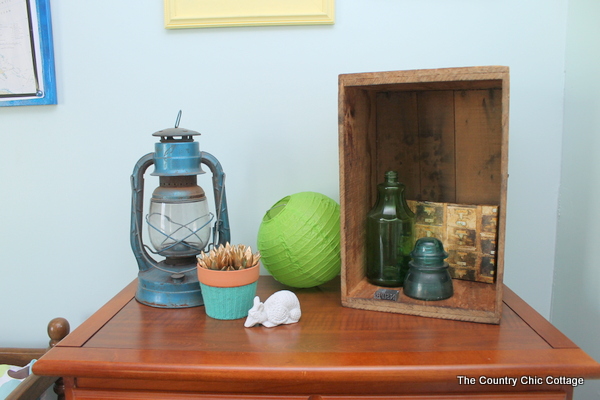 That is it y'all. Do you love it as much as I do? This room is going to be a joy to work in and I am so excited to get going.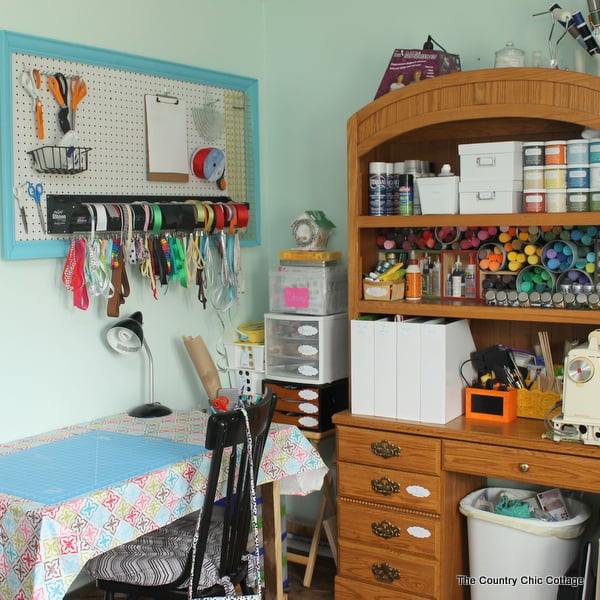 Want to see where all of my other craft supplies are hiding? Check out my craft closet post as well if you want to see my entire stash.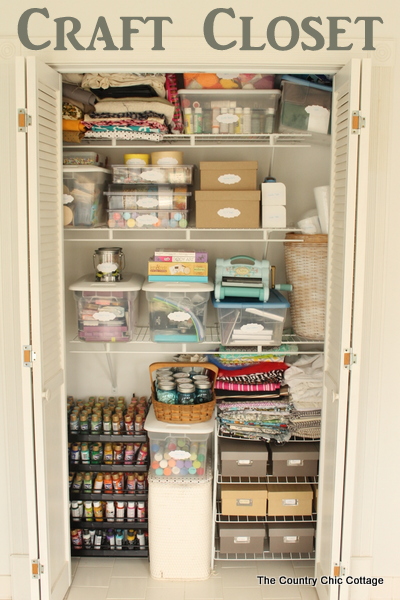 Now are you ready for an entire week of organized craft room tours? I have tons of other bloggers joining me this week to show off their creative areas as well. Y'all just tune in right here everyday and I will give you the links to go explore and get inspired.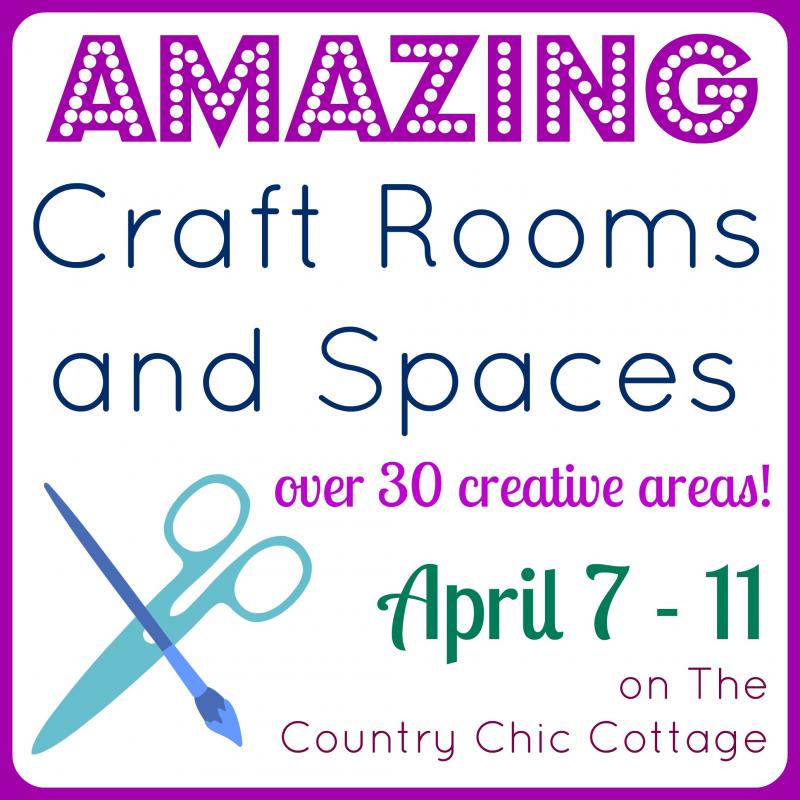 Awesome right? I am so excited that this series is finally kicking off. I thought of this series months ago and just now got around to putting it together. I hope y'all enjoy the series as well as my craft room tour.
The tours have started! Don't miss any of the craft room tours. Click for the tours from day 1, day 2, day 3, day 4, and day 5.