Let's take a look at the Cricut mug press versus oven. Which is best for your crafting needs? Which should you buy? Hopefully, this post will answer all of the questions so you can make an educated decision for what you need in your craft room.
I don't think you can really go wrong with either one, however, there are benefits and drawbacks to both. Note that both of these options can be used for sublimation as well as Infusible Ink.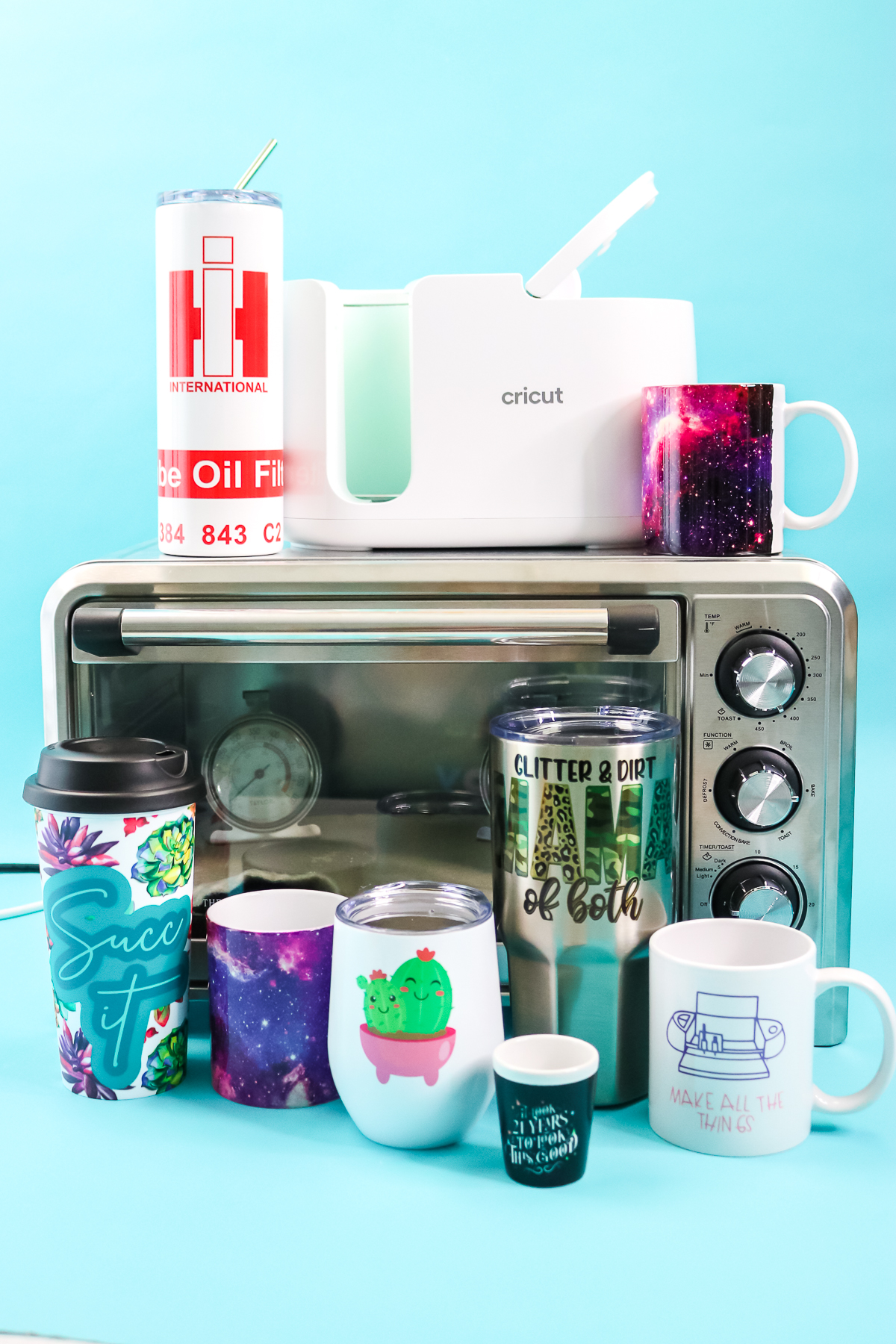 Can't watch the video or missed some of the information? You can follow along with the information below as well!
Supplies that are needed for both methods:
There are some supplies that you would need regardless of which method you choose. I thought I would list those here in case you see some of those used below.
Designs Used in This Post:
Just in case you want to make one of the projects shown, you can find the designs at the links below.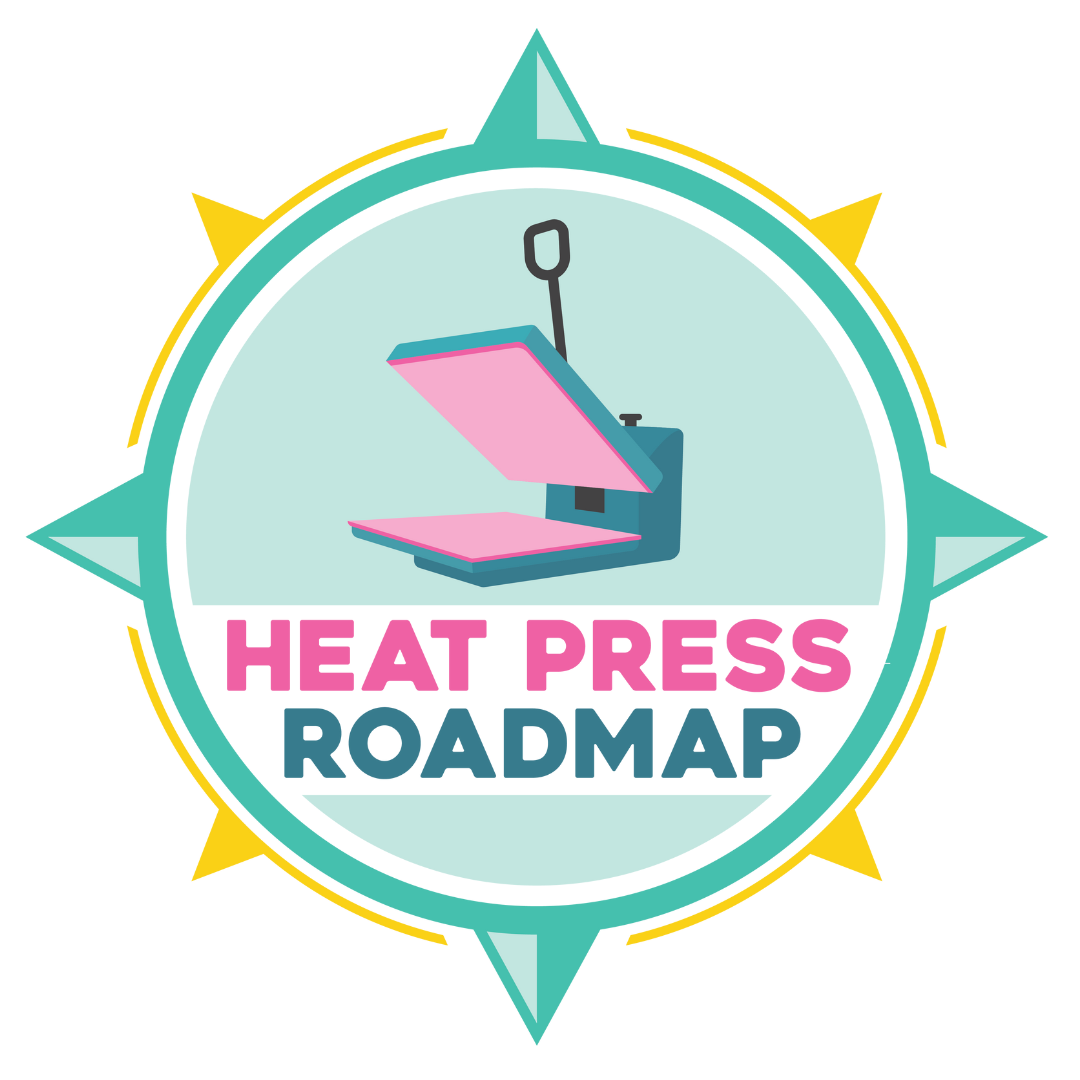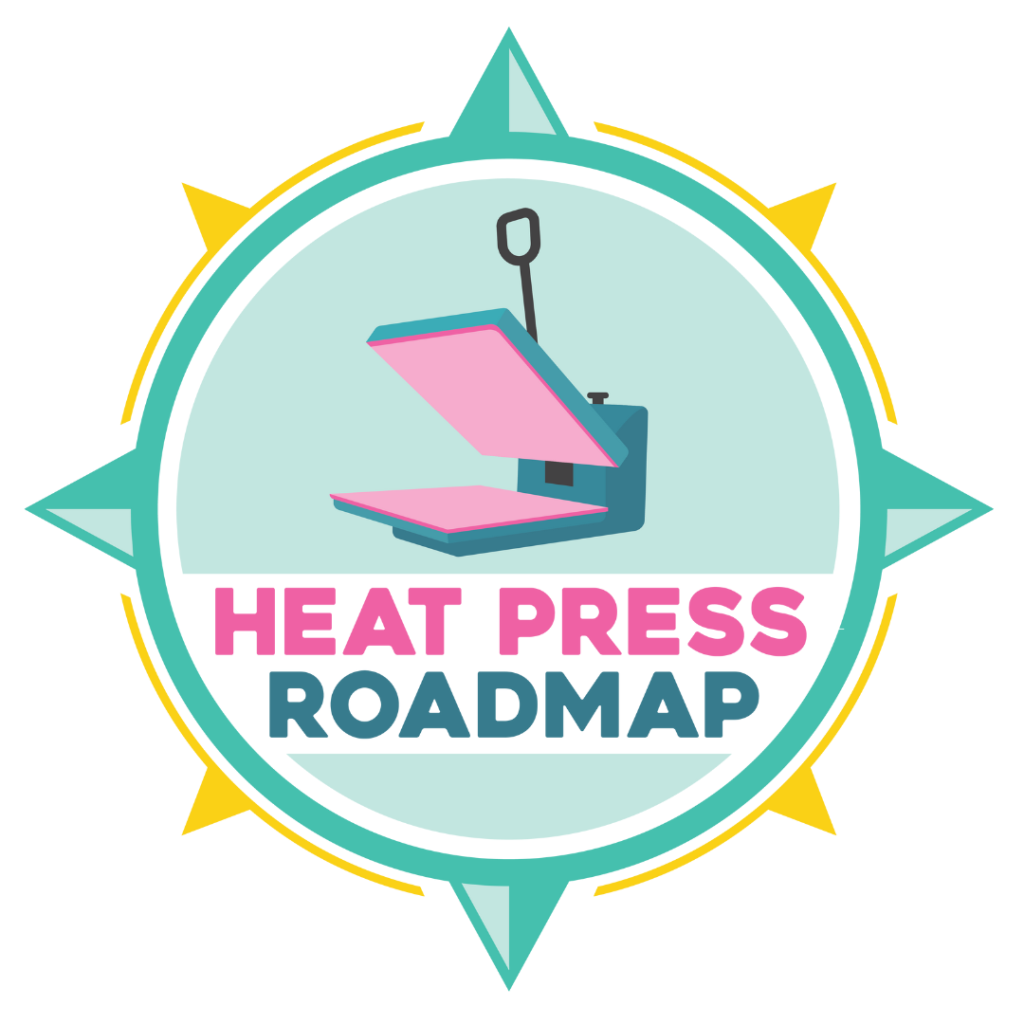 Not sure which heat press is for you? Heat Press Roadmap has your answer! This extensive course is designed to guide you on your journey to deciding on the best heat press for your needs, space, and budget.
Join Angie Holden and Cori George as they explore 17 heat presses in 27 videos. Get the details and sign up for Heat Press Roadmap here!
Convection Oven
Let's talk about an oven first and what you need to consider when purchasing and using an oven for sublimation. DO NOT USE YOUR HOUSEHOLD OVEN! You do not want the fumes from sublimation to be anywhere near food.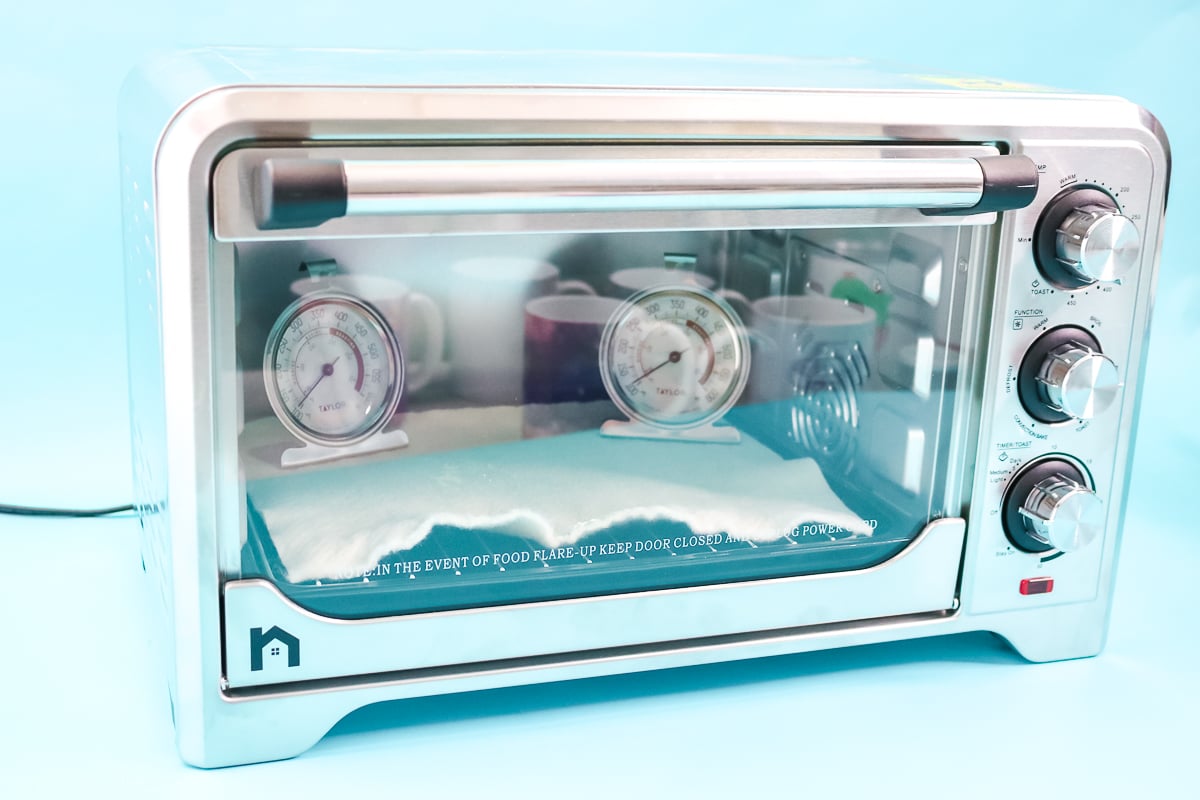 Type of Oven
The oven needs to be a convection oven and large enough on the inside to accommodate your blanks. I would also recommend a digital temperature setting if you can get it. This will allow you to set a more exact temperature. Also, mine has a timer but it turns itself off as soon as it is done. This is very inconvenient when making several different projects. I would recommend looking for an oven that has a feature where you can turn it on and leave it on.
Supplies needed for an oven:
These are all supplies that you need ONLY if you are using an oven for sublimation. That means that these are an additional expense that you would not need if you were using the Cricut Mug Press.
Size Differences
Most ovens will need to be really large in order to accommodate a wide variety of tumblers and mugs. You can actually go really large. Mine is an average size but it is still way larger than my Cricut Mug Press. If you have an issue with space, I would say you should really consider the Cricut Mug Press. An oven is just going to take up more space.
Also when talking about differences in blank size, the Cricut Mug Press is very limited to the diameter and even height of the design that it can transfer. You are not limited with an oven. If you can fit the blank in your oven, you can probably get it to sublimate. Also, the oven allows you to use blanks in a ton of shapes where the Cricut Mug Press you really need blanks with straight sides.
Inside Dimensions
It is ideal to have as many things standing up as possible. I love mine because I can put things on the bottom tray. That allows me to stand up mugs and smaller tumblers. However, even I can't stand up huge tumblers. You can lay things down in an oven, however. I would recommend you use a Nomex pad on your rack whenever you lay things down to avoid hot spots. Above all, you want to make sure you can get airflow all the way around your item when they are in your oven. So, you don't want to get one that is so small that your items come close to the top or sides.
Using Thermometers
Ovens can have cold spots and that can affect your transfer. To find those, I recommend adding two thermometers to the inside of your oven to find them. This will tell you the best place to place your blank as well as to know if you need to rotate your blank during the sublimation process.
Full Wrap Designs
If you want to put a design all the way around your blank, the oven is definitely easier. It allows you to do these full wrap designs in the same way as you would do a small design on the blank. This is a huge benefit that an oven has over any mug press. You can see more about using templates with full wrap designs here.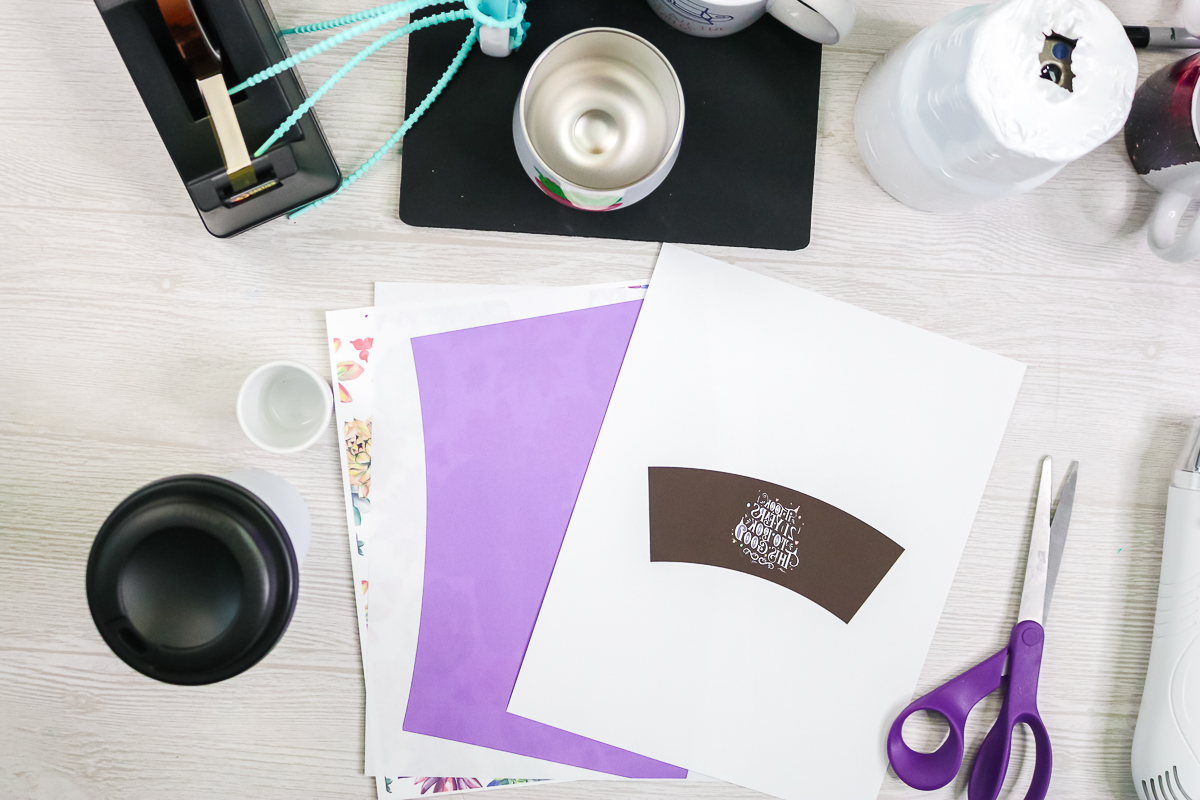 Finding the Right Time and Temperature
This is really the hardest part of using an oven. Most of the time when you purchase a blank, it comes with instructions for time and temperature. That is intended to be used with a traditional mug or tumbler press. For an oven, you generally need to do some trial and error. That means testing a bit to see what works then increasing the temperature or time if needed. This can often be really frustrating especially when you are getting started to sublimating with an oven.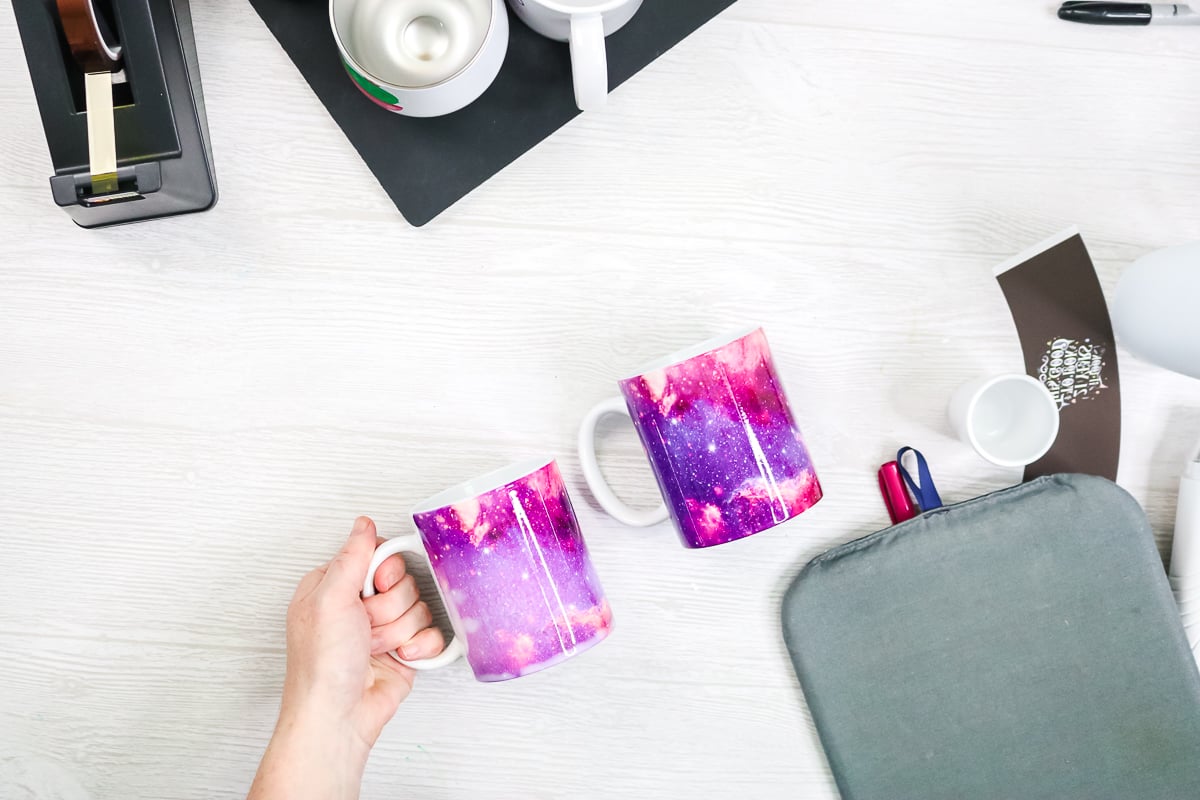 Other Considerations
I do find that my oven stinks more than my mug press. You should use either one in a well-ventilated area. I have had people tell me that they cannot use an oven as it gives them a headache. Please allow for ventilation and stand back when opening the oven door to allow any fumes to escape.
Also, with an oven, the ENTIRE blank will get hot. This means that even the handles of your coffee mug will reach a scorching temperature. You always have to use caution when dealing with sublimation as it is HOT but I thought this was worth noting. This also means that you can sublimate mugs even under the handle or on the handle itself as it will be hot.
Shrink Wrap vs. Silicone Wraps
You will need either silicone wraps or shrink wrap to cover your blank when using an oven. This is an additional expense when looking at using an oven for sublimation. Silicone wraps last about 20 – 30 blanks while shrink wrap is disposable and you can only use it one time. Also if you get ink on the wrap, you will need to add protective paper to future products to prevent it from transferring.
If you get the right silicone wrap, I find the products work about the same. Personally, I don't like buying silicone wraps for every size of blank that I will be making. I find it more limiting as I do a wide variety of sizes. I would rather purchase the shrink wrap and cut it to size. You can see how to use both methods in the video above. NOTE: Shrink wrap is easier to remove when the item is still hot.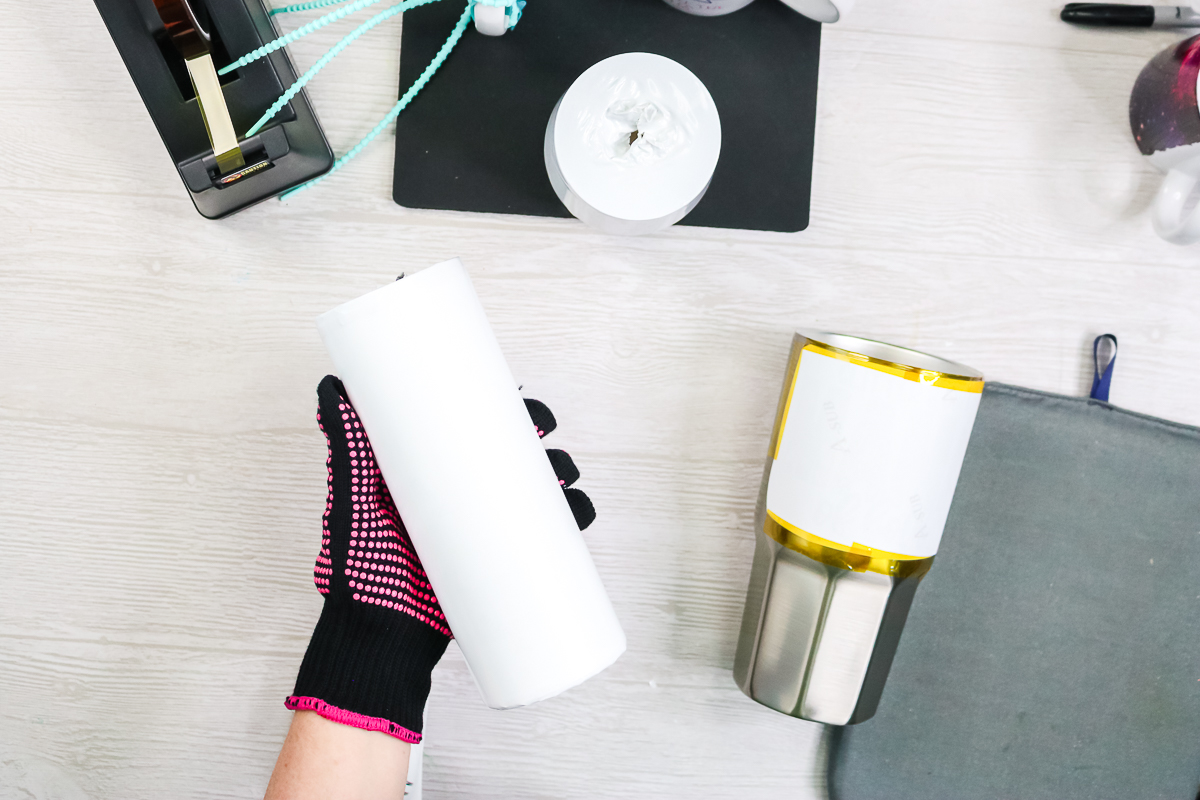 Cricut Mug Press
In comparison with a convection oven, the Cricut Mug press is actually a viable option. However, there are some things to consider. Let's do this one with benefits and drawbacks.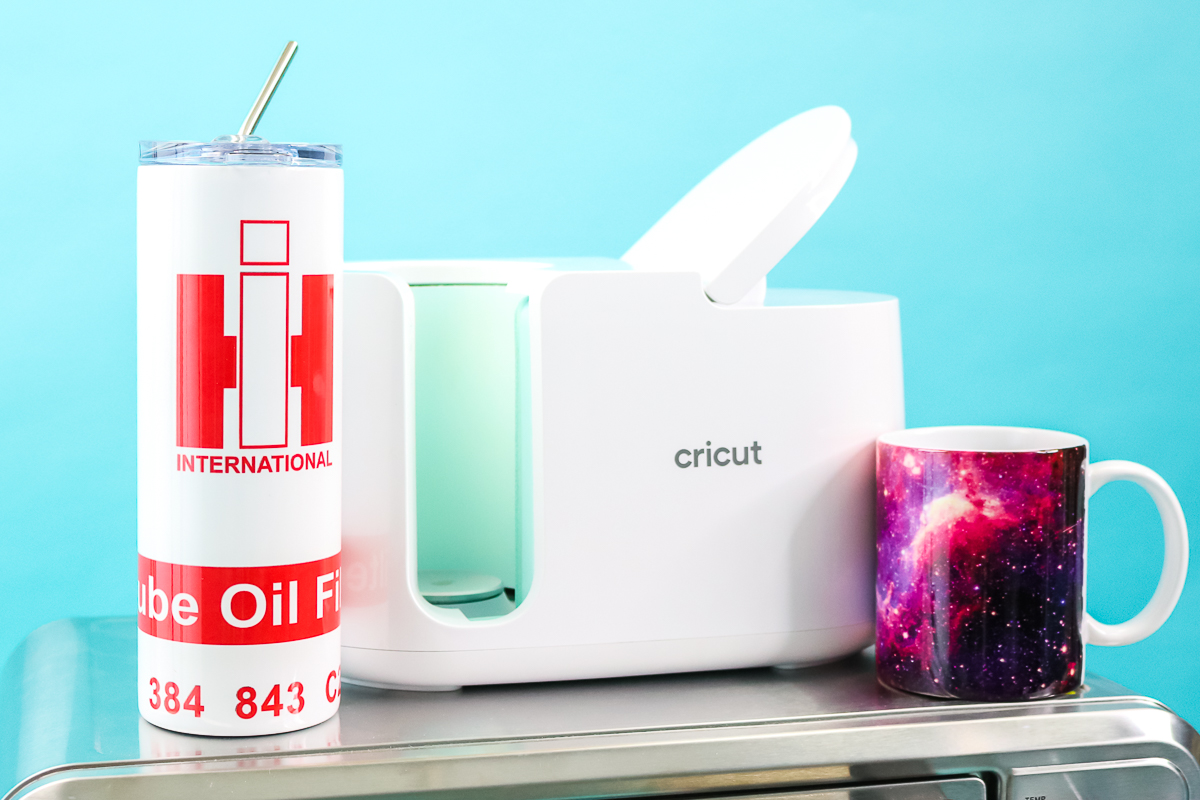 Benefits:
Small (about the size of a toaster)
Quick and easy to use
Time and temperature is set for you
No wraps needed
Drawbacks:
Limited on size of blanks
Limited to straight sided blanks
Full wrap designs harder to do
Sublimation under the handle is not possible
Want to see all of the different mugs and tumblers I have made in the Cricut Mug Press. Click here to see!
Which should you buy?
So, the only question is which is better? Which do you need in your craft room? Well, the answer is not a simple one. Which is better really depends on what you will be making, how much room you have for storage, and how much you want to spend. Think about all of these questions before you start making your purchasing decision.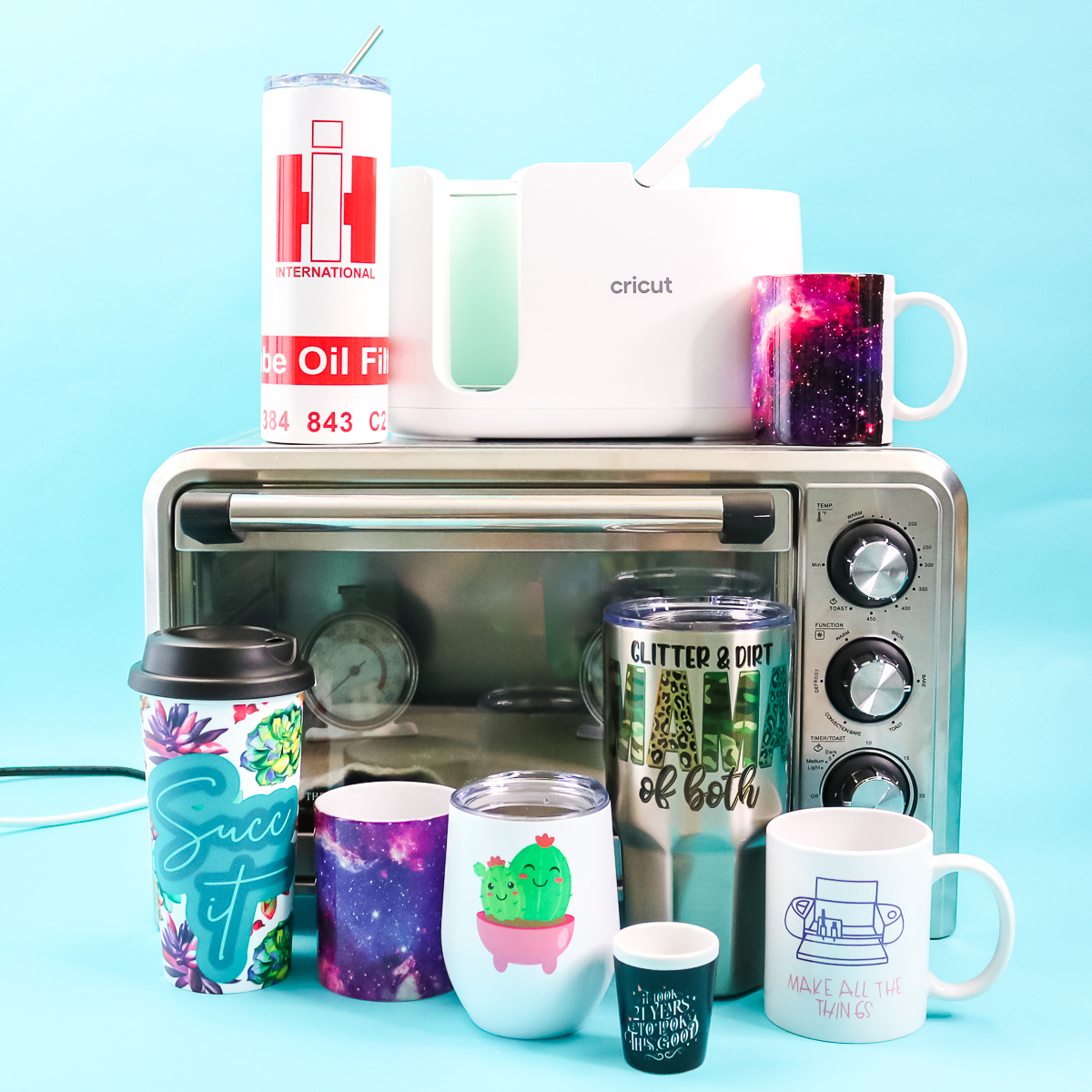 Which costs less?
I do feel that if you take all pricing into consideration that the options are about equal. There are things you have to buy with the oven that you will not need with the mug press. That statement also depends on sale prices so you may get a great deal on one or the other. I will also note that you will continually have to put money into the oven as it takes consumables that the mug press does not.
Which works best?
I do feel like the oven takes more trial and error. I get better results the first time from the Cricut Mug Press. However, there are the drawbacks of blank sizes with that machine. So, if you are just going to make mainly mugs and a few tumblers that will work in the mug press, that is definitely the machine for you. If you want to make everything from a shot glass to a huge tumbler and more, you may want to consider getting an oven instead.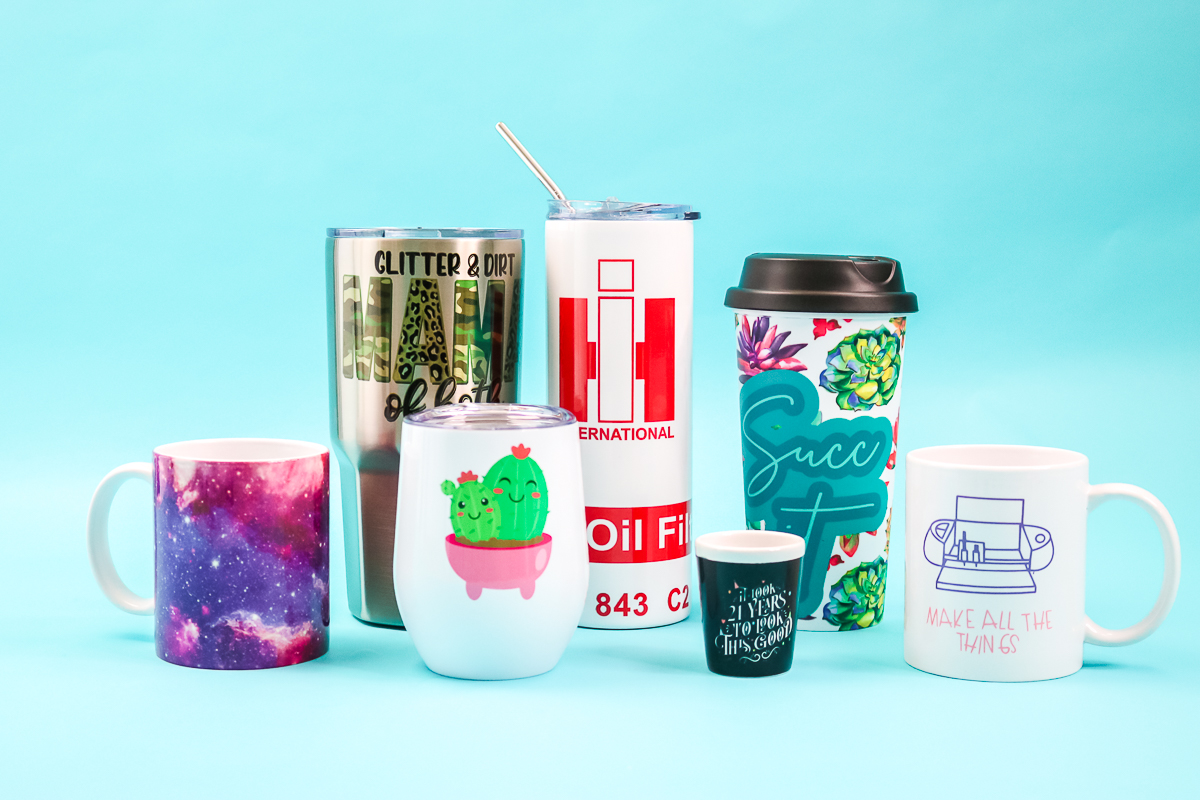 When considering the Cricut Mug Press vs. oven, you can't really make a wrong decision. It is just a personal choice on what will work best in your space and for the type of crafts that you want to make. I will be keeping both and using my Cricut Mug Press for quick and easy project ideas. Then I will pull out the convection oven when I need to make something of an odd size. I hope this post helps you to make the right decision for your space as well!