Are you ready to learn how to use tumblers in the Cricut Mug Press and other blanks as well? This is one of my most requested tutorials and I am going to share how I was able to make all of these different projects and how you can find blanks that will work with your mug press as well! The Cricut Mug Press is for so much more than just Cricut mugs. You can find a wide variety of blanks that will work and make projects for all of your friends and family!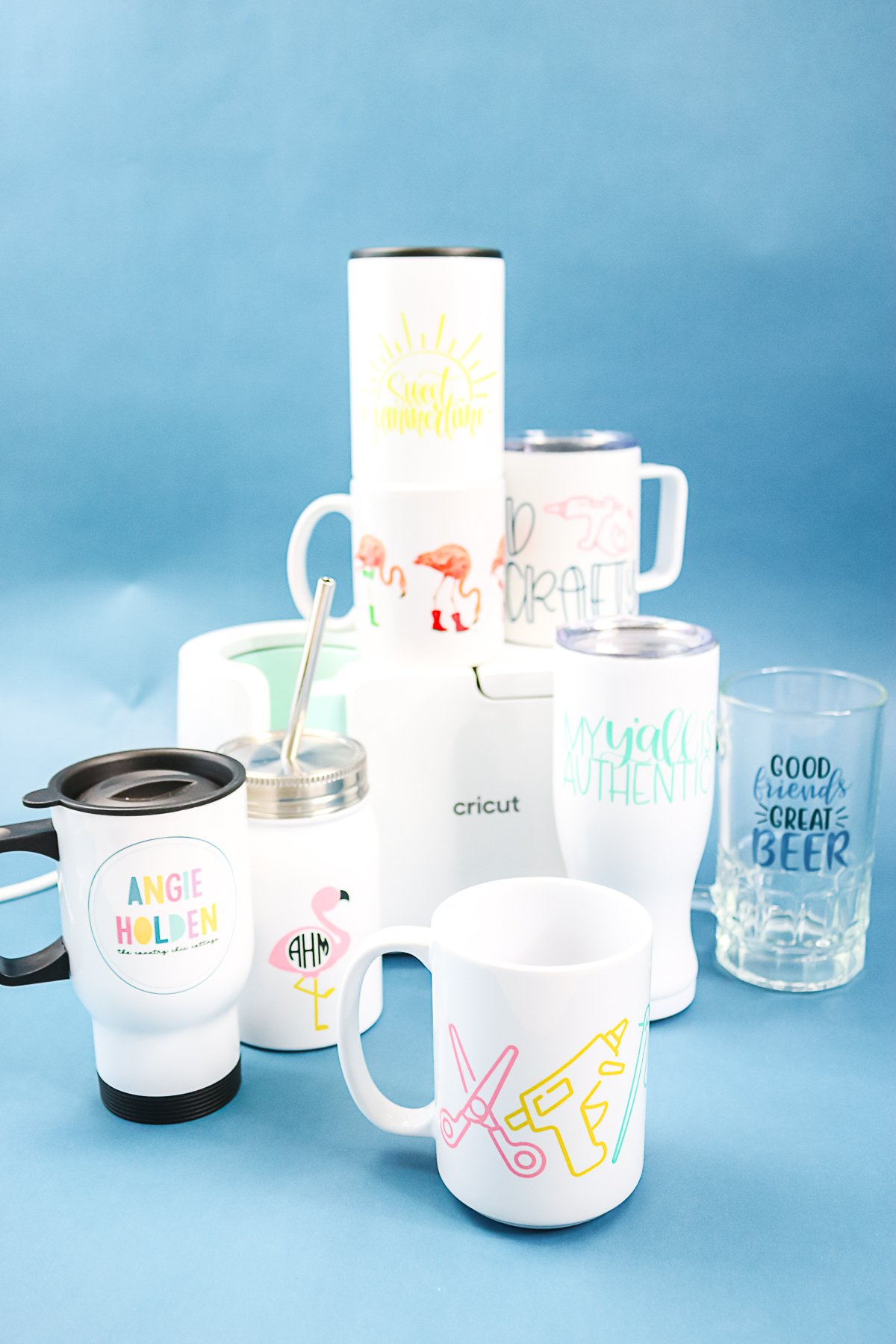 Making Tumblers in the Cricut Mug Press and Other Blanks
If you would like to watch me test each of these blanks in the Cricut Mug Press, you can watch the video below. I walk you through the steps as well as insert each blank into the press itself.
Can't watch the video or missed some of the steps? You can also follow along below as I walk you through the process.
How to Find Blanks That Will Work
When the mug press was released, Cricut came out with their own line of mugs which actually is amazing. Sublimation blanks can be hard to find and this does make it a bit easier since you can go to your local craft store and pick some up now. However, they are a bit limiting and you might find other blanks for a better price. So, how do you get blanks that will work with the Cricut Mug Press? Here is a list of things to consider:
You need to make sure whatever blanks that you purchase are coated with a sublimation coating. This is required for Infusible Ink or if you have a sublimation printer. Regular mugs like from the Dollar Tree will NOT work. Also, note that not all sublimation coatings are created equal. Often buying from a reputable source will save you money as you need a coating that is even and has really good coverage to get the best press possible.
You will also need to get the correct size. The most critical thing is to get a diameter between 3.2 and 3.4 inches. The maximum height that you can sublimate is 4.72 inches. As you will see, I use blanks that are over this height but I only sublimation the area that touches the mug press.
Blanks will need to have straight sides in the area where you are putting the design. The mug press walls are straight so it will need a flat area to press against. Tapered mugs and tumblers are not going to work.
I will have a list below of the blanks that I used that were successful but you can definitely shop around and find other tumblers and more that fit these two criteria and try your own experiments. Search the websites that I give you below or Amazon for other blanks that might fit those dimensions and give it a try!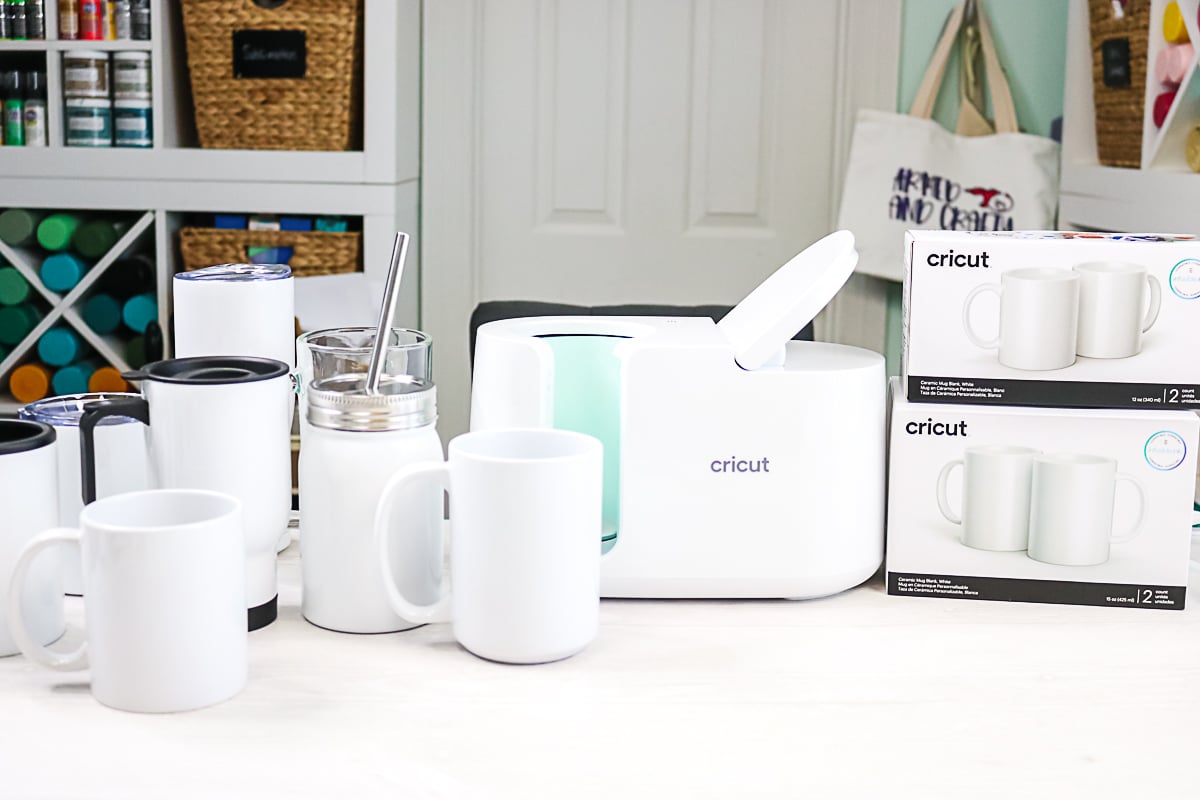 What Can You Put on the Mugs?
You will need to stick with either Infusible Ink or sublimation for adding designs to your mugs. Vinyl or HTV will not work with the Cricut Mug Press as it does get too hot. You can see more about working with Infusible Ink here and more about the sublimation printer that I use here.
NOTE: If you want to use any of the images/files that I am showing in this post, scroll to the bottom for my sources!
Other Items to Consider Buying
I will say that there are a few items that I always keep on hand when working with my mug press. Here are a few of those: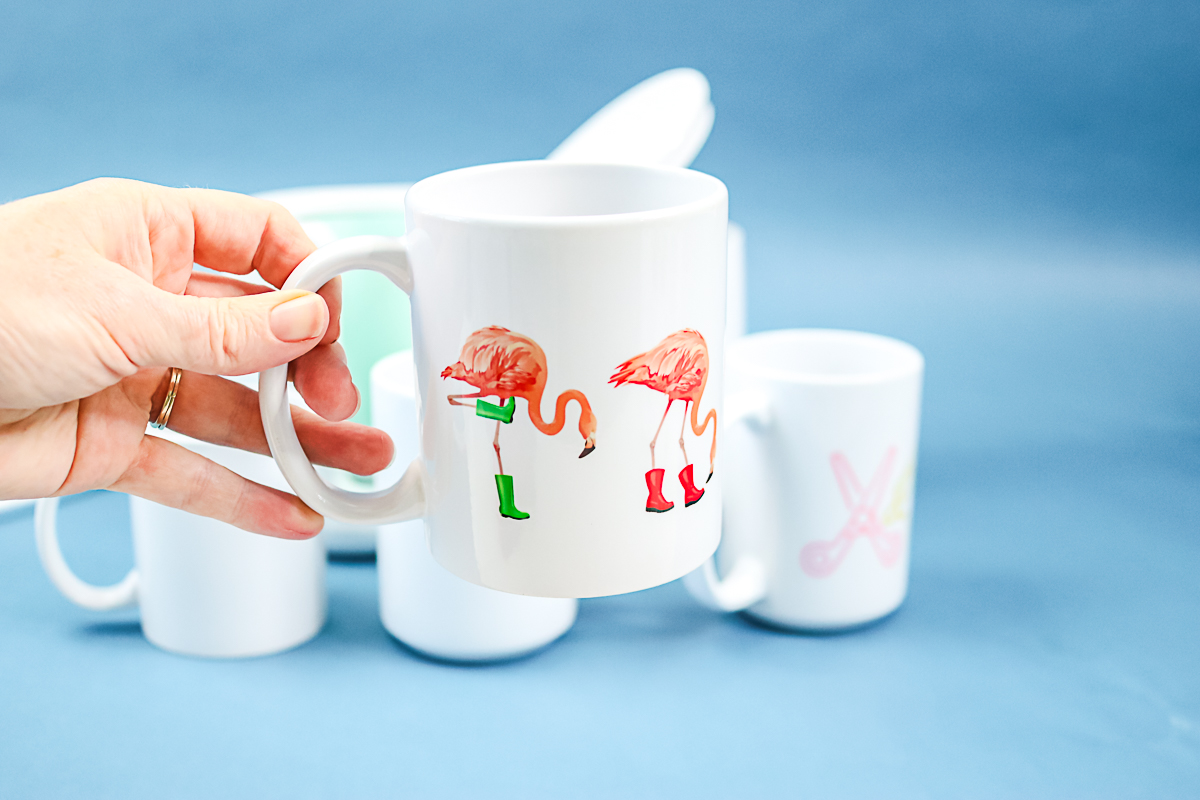 Mugs That Work
It is fairly easy to find sublimation mugs. You will want to look for mugs that are 11 to 16 oz and fit the dimensions that I listed above. Here is a brief list of ones that I know will work:
Cricut Mugs (they have a large and small size as well as one with a grey inside/handle)
Those are all of the mugs that I have personally tried but mugs should be fairly easy to find by searching a few websites. All of the mugs press the same and I went over some design options in this post. Please note that the Cricut templates may need to be altered if you buy some of the off-brand mugs in order to get those full-wrap designs.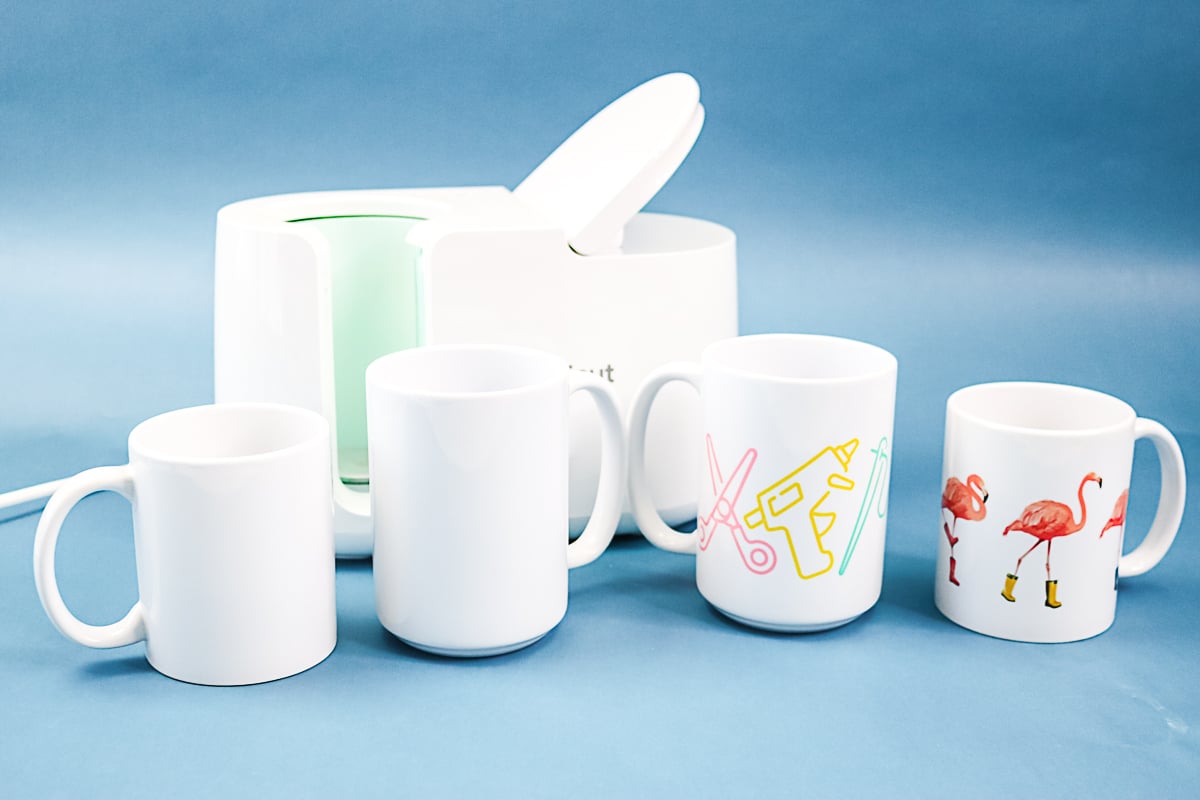 Tumblers That Work
I have heard from several people who wanted to know if you could use tumblers in the Cricut Mug Press. The answer is yes! I had success with a few options and I know that you can find one that will work for you! First, up is this mason jar tumbler. This may very well be my favorite! You can add it right to the press as the tapered top is the only thing that sticks out. I will say that this is where those heat-resistant gloves will come in handy as the entire blank will be hot when the press is finished.
You want to be sure to remove all lids, etc before pressing on any blanks!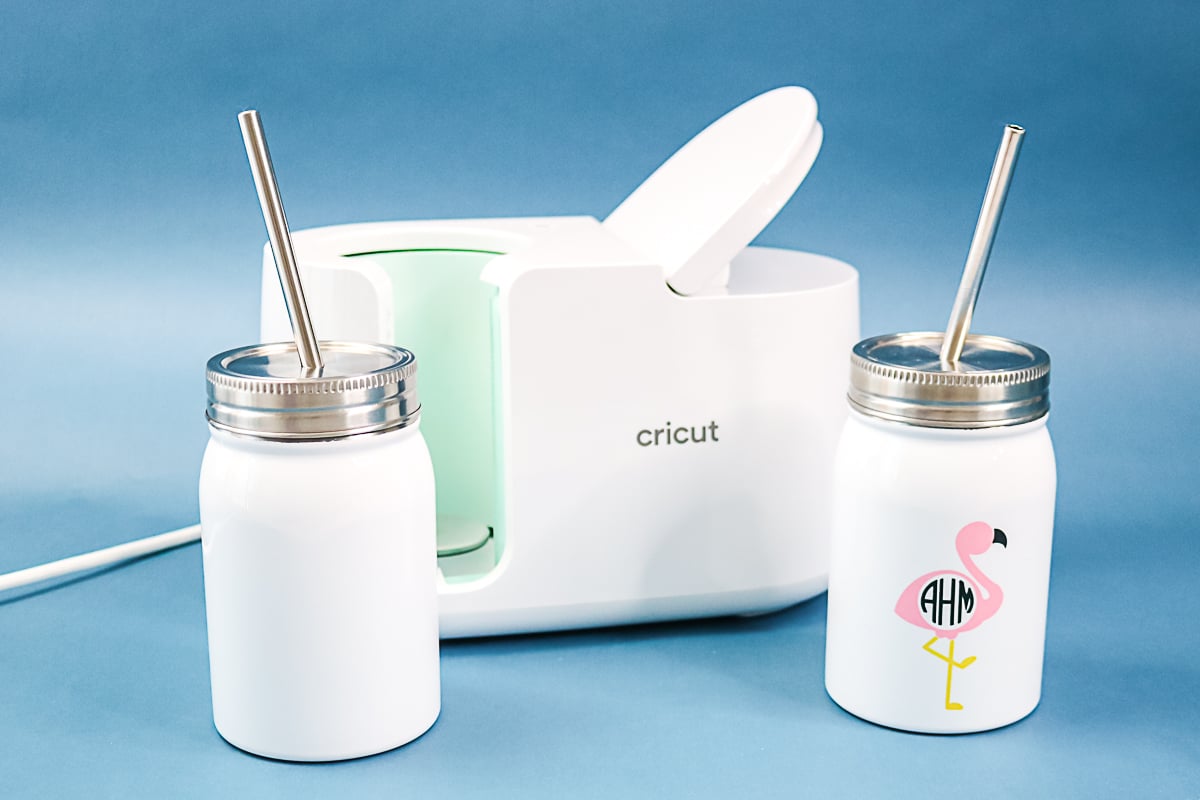 Next is this tumbler with a plastic handle. This one is a great size and has a nice flat surface on the top for adding your design. But how do you get it into your mug press? Just put it in upside down! That way the part that you can add a design to is inside of the press and the small bottom is sticking out of the top. Don't forget to remove the lid before pressing!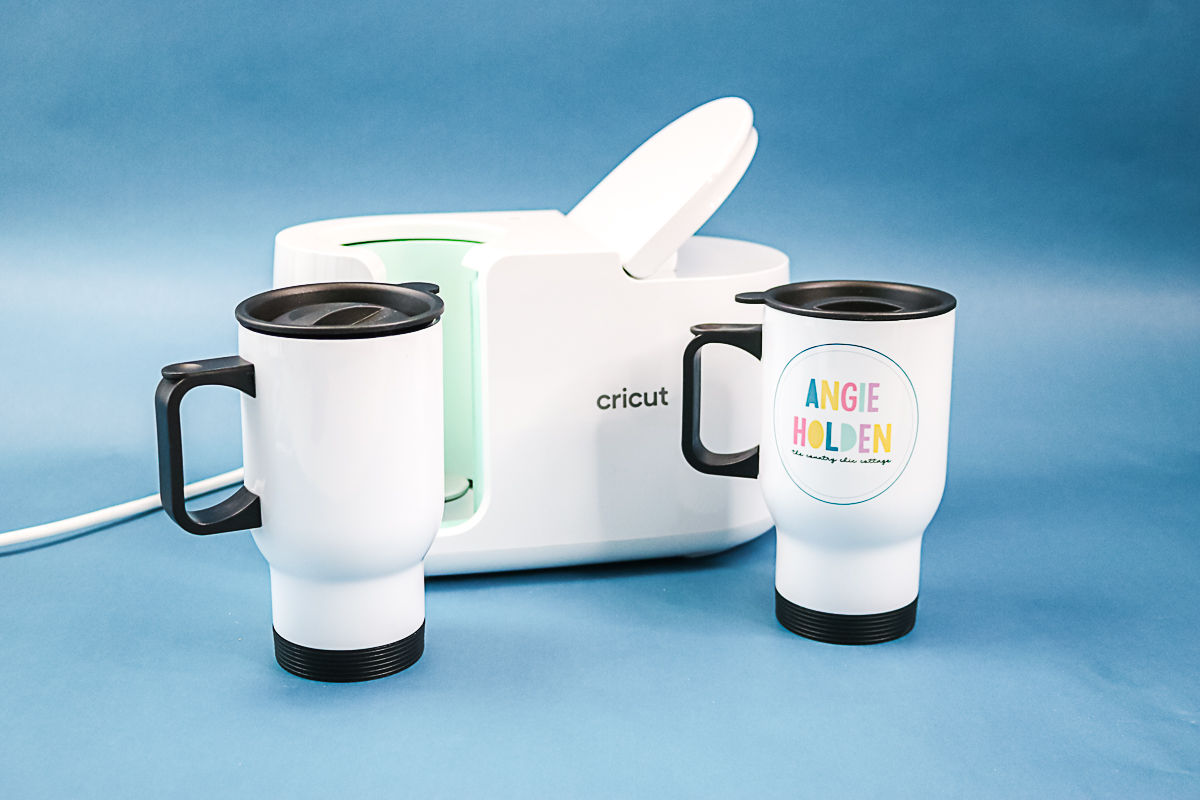 I also pressed this Pilsner tumbler in the same manner with the top down in my mug press. I love the unique look and shape of this one. As always, remove the lid before pressing!
I have also had a TON of questions about the 20 oz skinny tumblers. I have not tried them but you can click here to a video showing how to use them in your mug press. Yes, that opens up even more options!
Other Blanks That Work
Now that we have covered mugs and tumblers, what about other blanks? Well, I did find a couple of unique ones that will definitely work. The first is this clear glass beer stein. Yes, even clear glass can have a sublimation coating! This means that the Infusible Ink or sublimation fuses right to the surface and you have a design on a dishwasher-safe beer mug ready for gift giving! Once again, I pressed this one upside down in the press as the bottom really could not be decorated with the press anyway.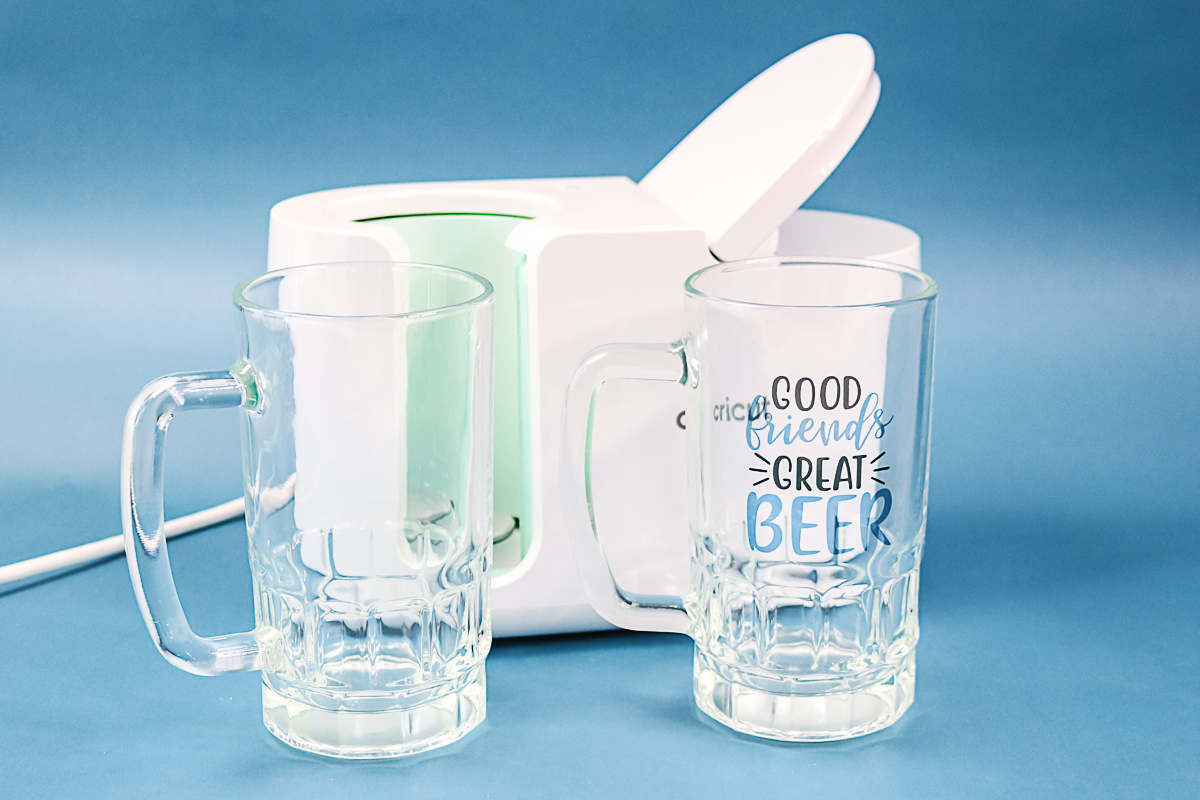 Next up is this metal can cooler that you can slip your cans of coke or adult beverages into. These are great for summer! Now, the best thing to do is to unscrew that plastic piece from the inside and then press. I could not get the piece out for anything! So I actually just placed it in the press with the plastic sticking out of the top and closed it. Worked like a charm!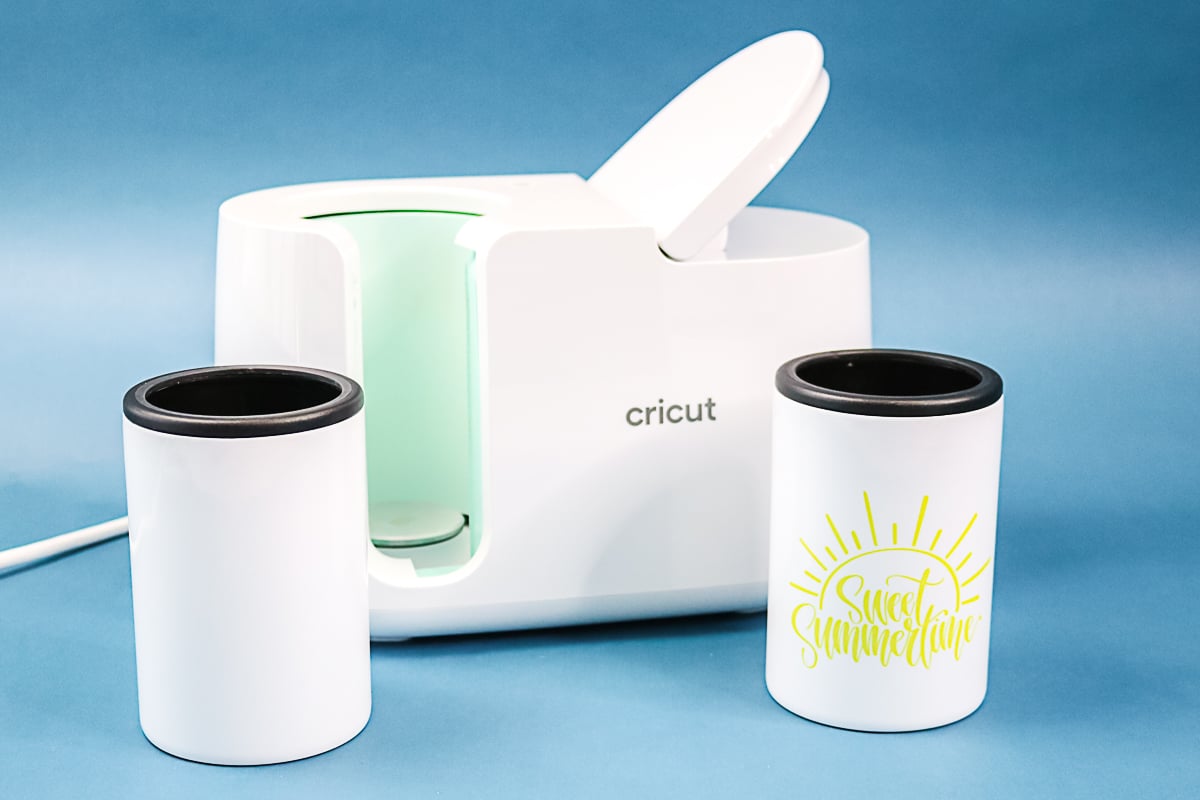 Finally, I found this metal coffee mug that was a snug fit but definitely worked as well. I will note that the largest coffee mug made by Cricut is a really tight fit so I just compared my largest items with that mug and went for it if they were the same size. Be sure to remove the lid before pressing but otherwise this can be pressed like any other mug.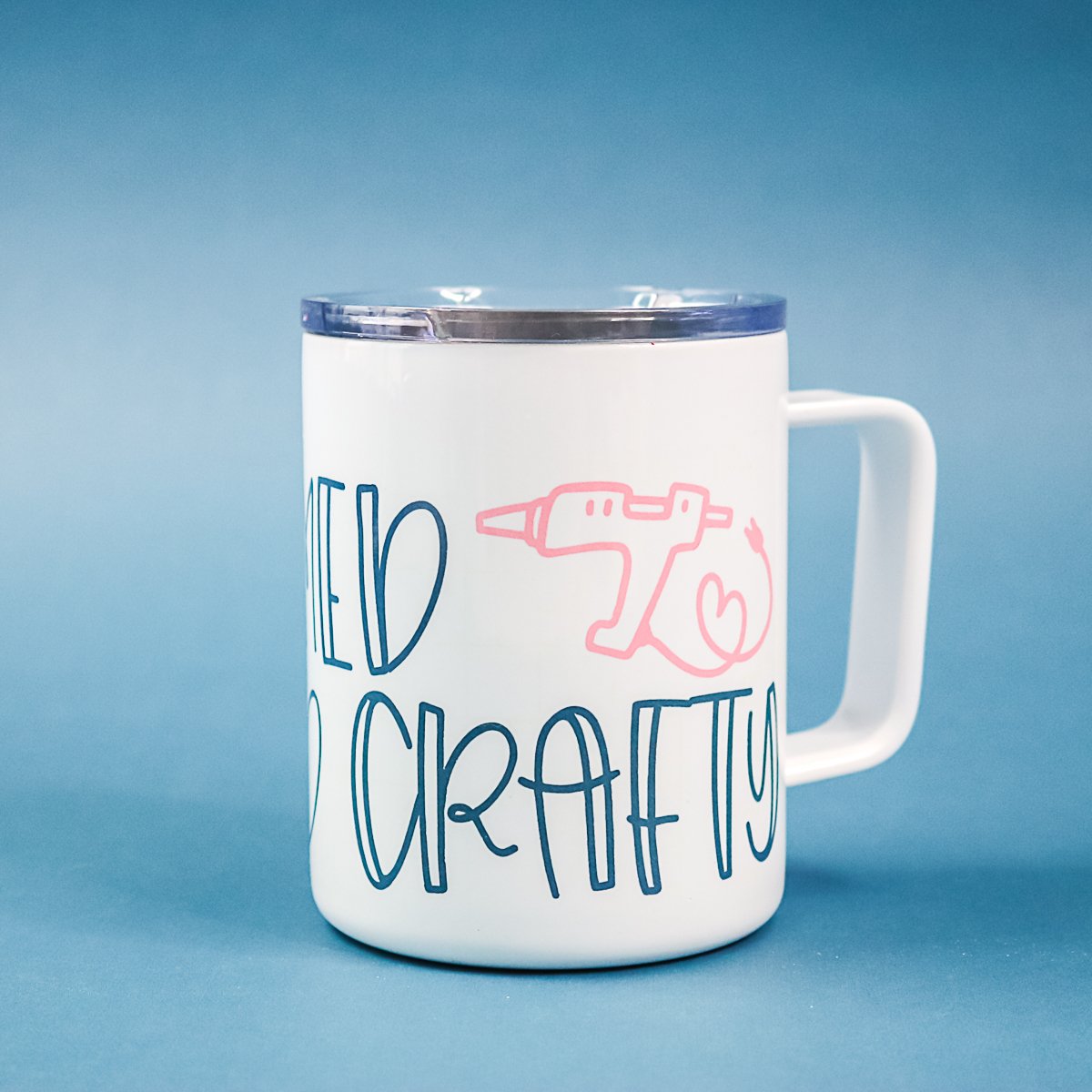 Files for Designs Shown
If you want to make any of the mugs or tumblers show, here is where you can find the files:
I did a combination of Infusible Ink and sublimation just to test them both but you can use either one on each of the blanks listed.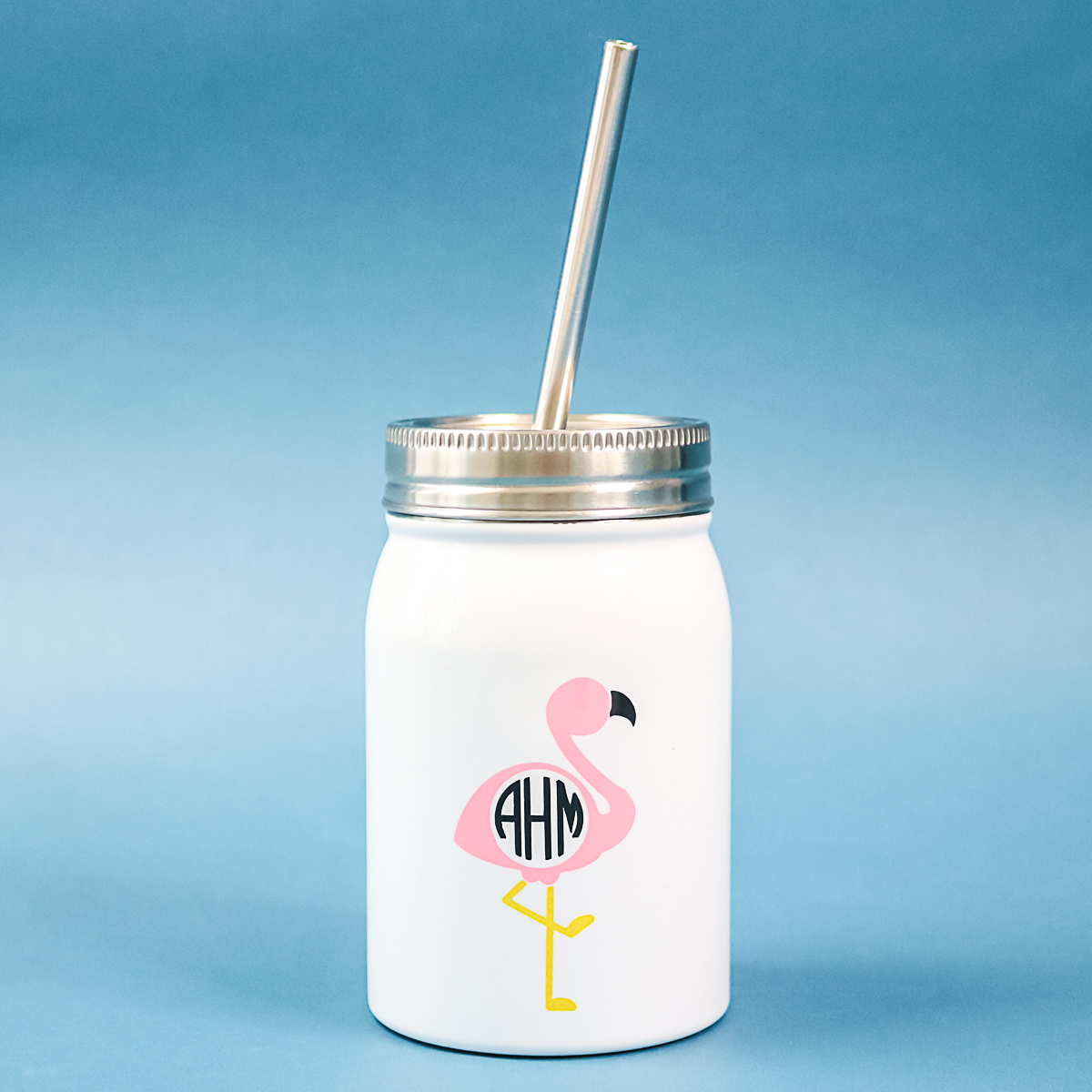 Safety Notes
The handles on the mugs stay completely 100% cool, but if you are pressing some of these other pieces, you will want to use the heat-resistant gloves to remove them. Allow them to cool, then remove all that tape to reveal your design. You can peel hot or warm just use your gloves so you do not burn yourself.
When the Cricut Mug Press was released and I kept hearing people say that you could only use Cricut mugs with it, I took that as a challenge. A challenge to find other items that worked great in the mug press! I think I succeeded, don't you?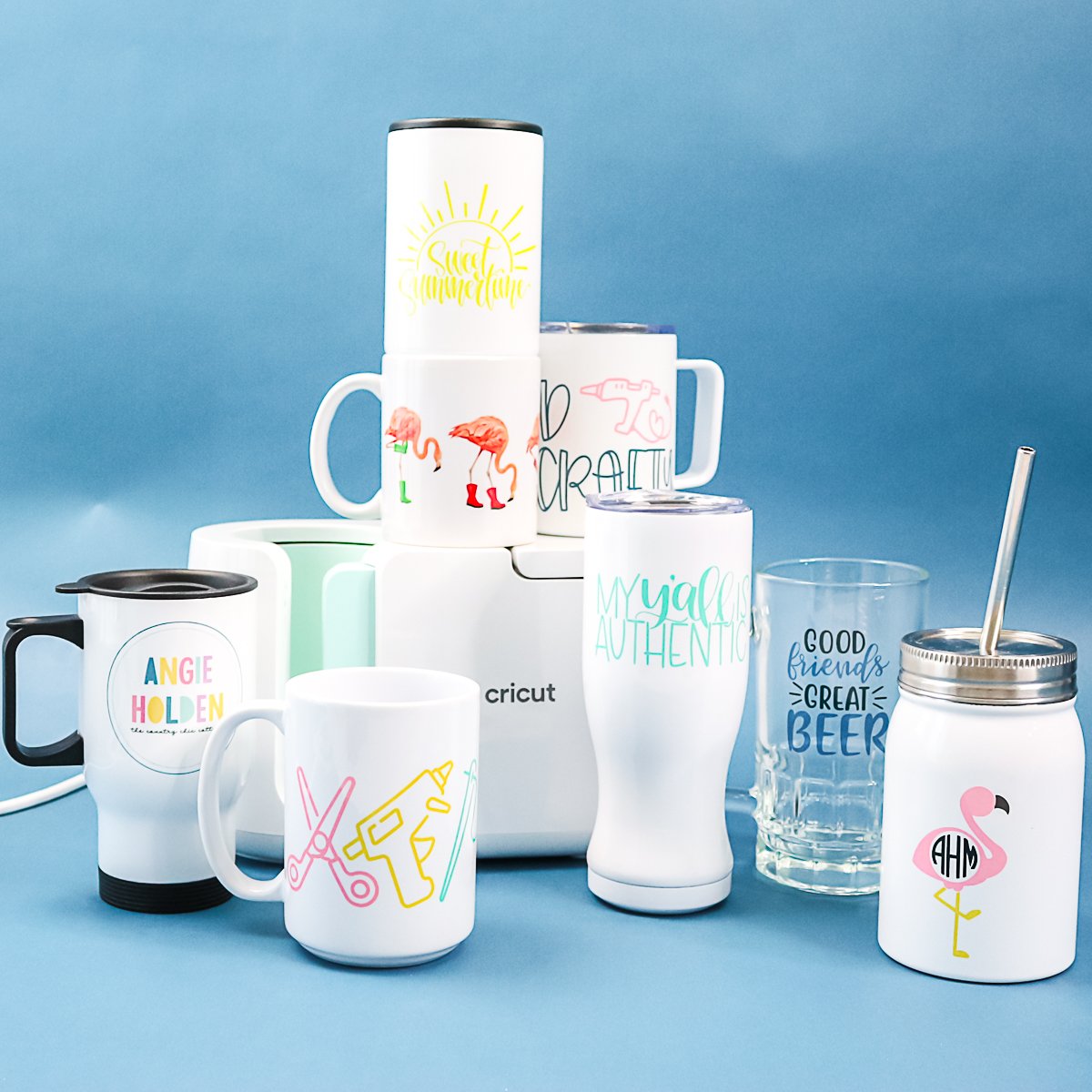 So, now that you know how to use tumblers in the Cricut Mug Press plus several other blanks, what will you make? I would love it if you find more blanks that work, please comment below and let me know what they are.