Let's make some Infusible Ink on mugs using the brand new Cricut Mug Press. I am going to cover all of the basics of Infusible Ink that you need for making mugs. From full-wrap designs to layering Infusible Ink to pens, I hope by the end of this post you are confident using this material to make mugs of all types. Trust me when I say you are going to love the mug templates that Cricut has designed. You might even get some gift ideas for someone special in your life! If you haven't seen it, start with our basics on the Cricut Mug Press so you are familiar with this new machine.
This post is sponsored by Cricut, however, all projects and opinions are my own.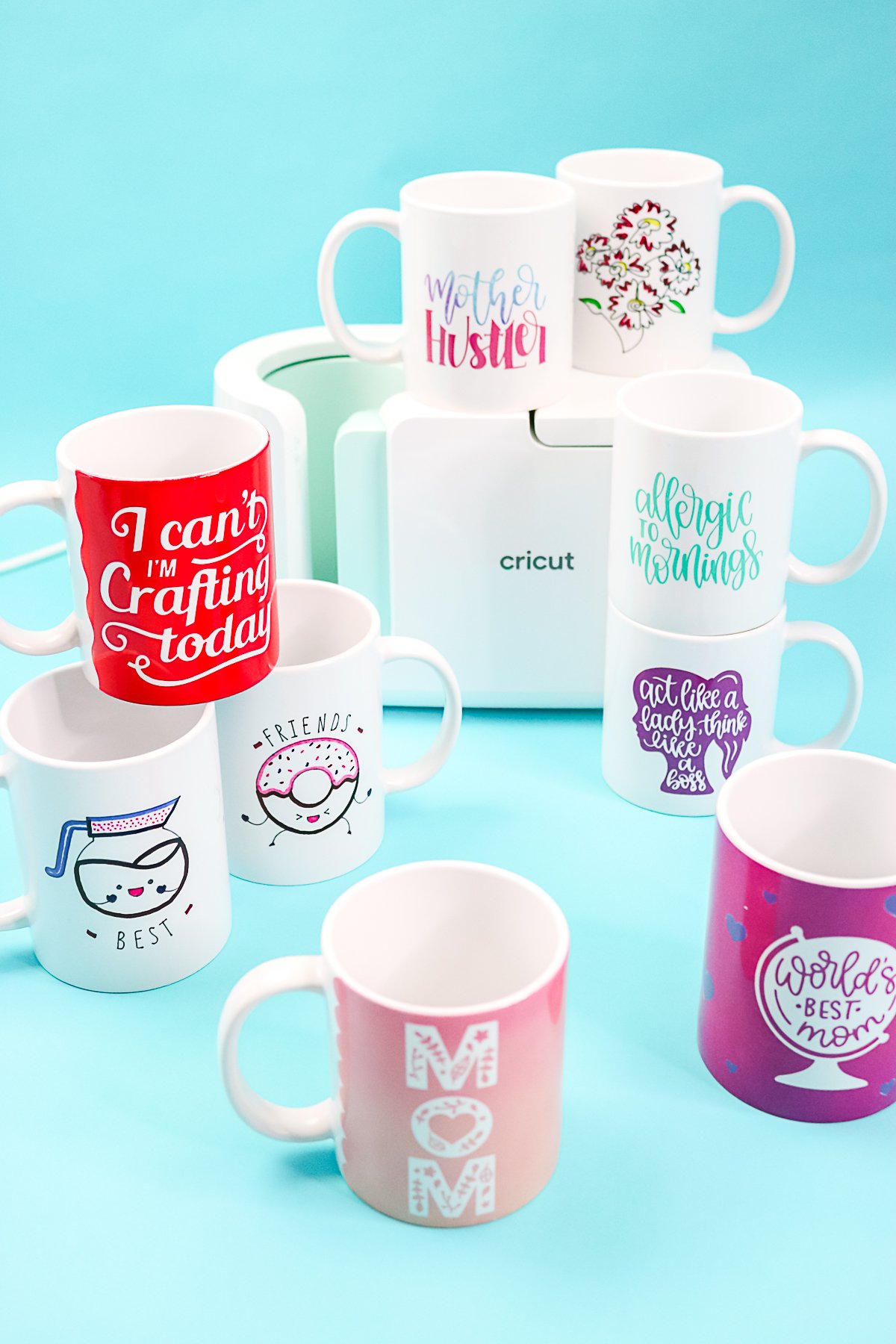 Infusible Ink Mugs
I wanted to show you all of the options with Infusible Ink in one huge post which can get a bit overwhelming. So, I made a YouTube video to go along with this. If you would rather watch me make some Infusible Ink mugs, just click play below. You will also see me make the designs in Design Space so you know just how to create your own fabulous creations.
Can't watch the video or missed some of the information? You can also keep reading to see everything you need to know about making mugs with Cricut's Infusible Ink.
Supplies needed:
Here are a list of supplies you will need when making mugs with your Cricut Mug Press and Infusible Ink: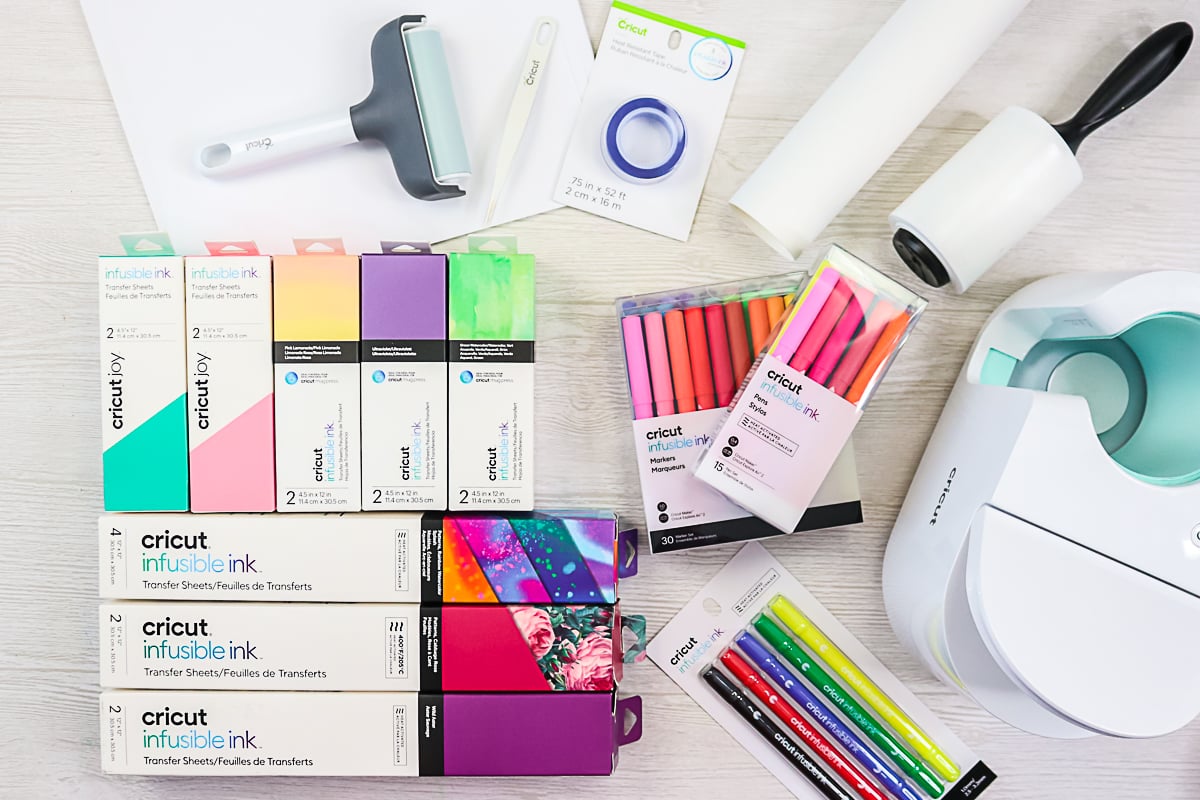 Types of Mugs
Let's talk a little about the types of mugs that will work with this process before we get started. You cannot just buy mugs from the dollar store and expect them to work. Here are a few things to keep in mind.
Mugs must by polyester coated or have a sublimation coating on them.
Capacity of 11 – 16 oz (350-450ml)
Straight-walled drinkware only, avoid curves and uneven textures
Outer Diameter between 3.2″ – 3.4″ (82 – 86 mm)
Maximum height of 4.72″ (120 mm)
The Cricut brand of mugs work perfectly with the mug press if you don't want to try and find other mugs that fit that range. They come in both a small 12 oz size and a large 15 oz size. I find the coating on them very even with very few imperfections both of which are important when working with sublimation.
They do come in a variety of package sizes. When you buy the larger 15 oz mugs, you will also get a gift box for every mug included in the package. This makes that size perfect for giving as gifts.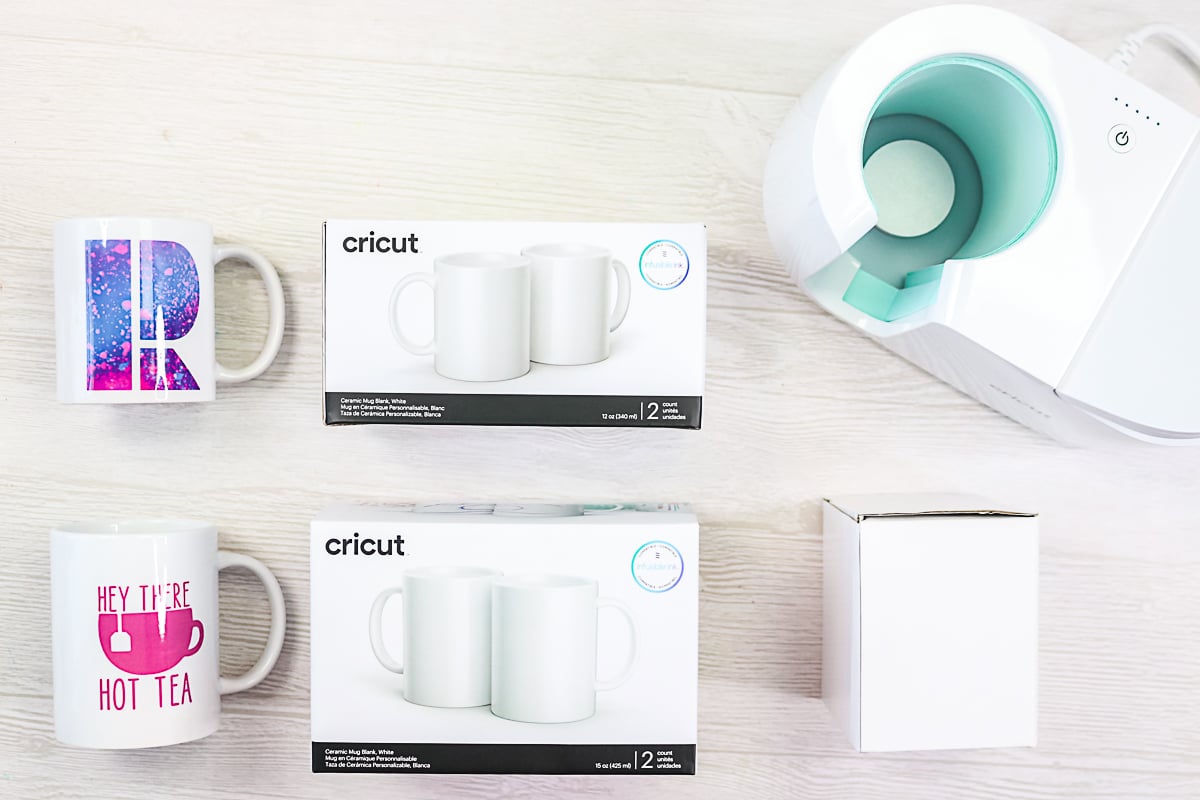 Full Wrap Mugs with Infusible Ink Transfer Sheets
I love the full wrap designs on these mugs. You are restricted to no design 1/2 inch from the handle on both sides. But otherwise, you can wrap your design around the mug and make something really amazing. Cricut has made this process really easy with templates that you can open then add any design you would like. Let's look at the process!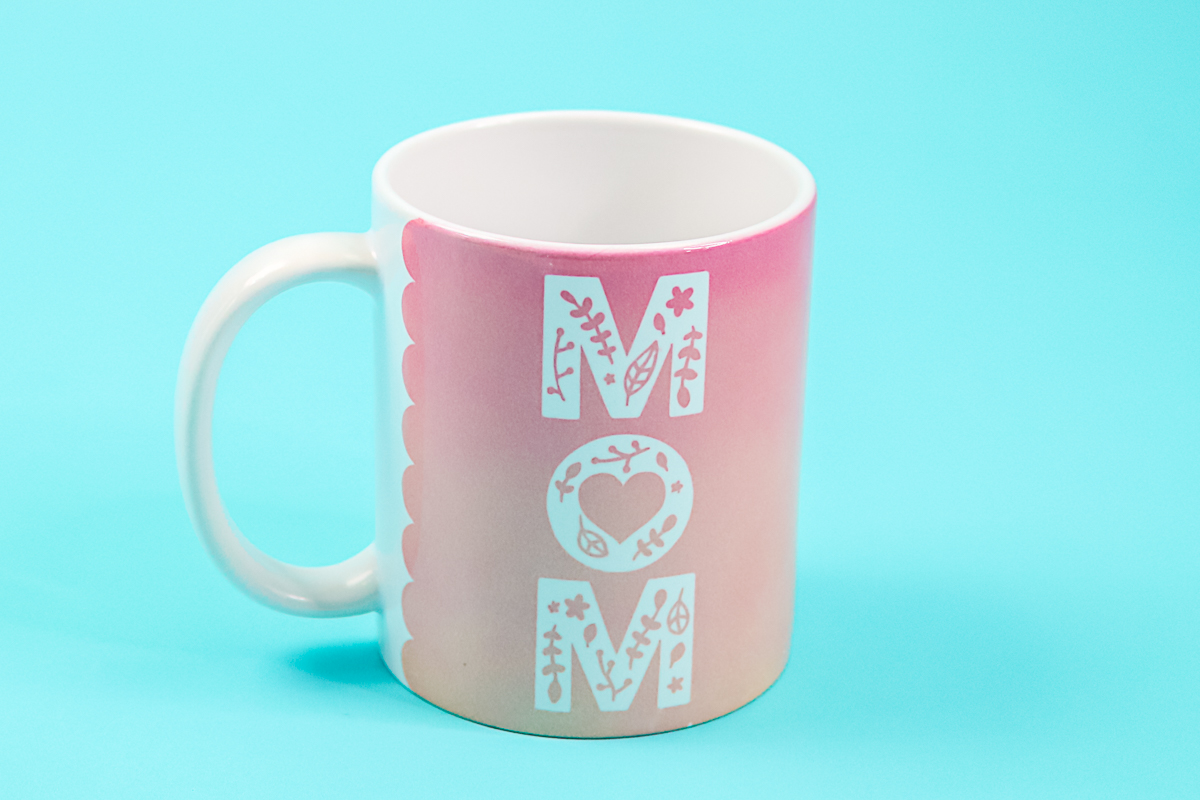 Designing Your Mugs
Start by clicking here to open up the template for making mugs. You will need to choose your size of the mug as well as your edge type first before starting to create.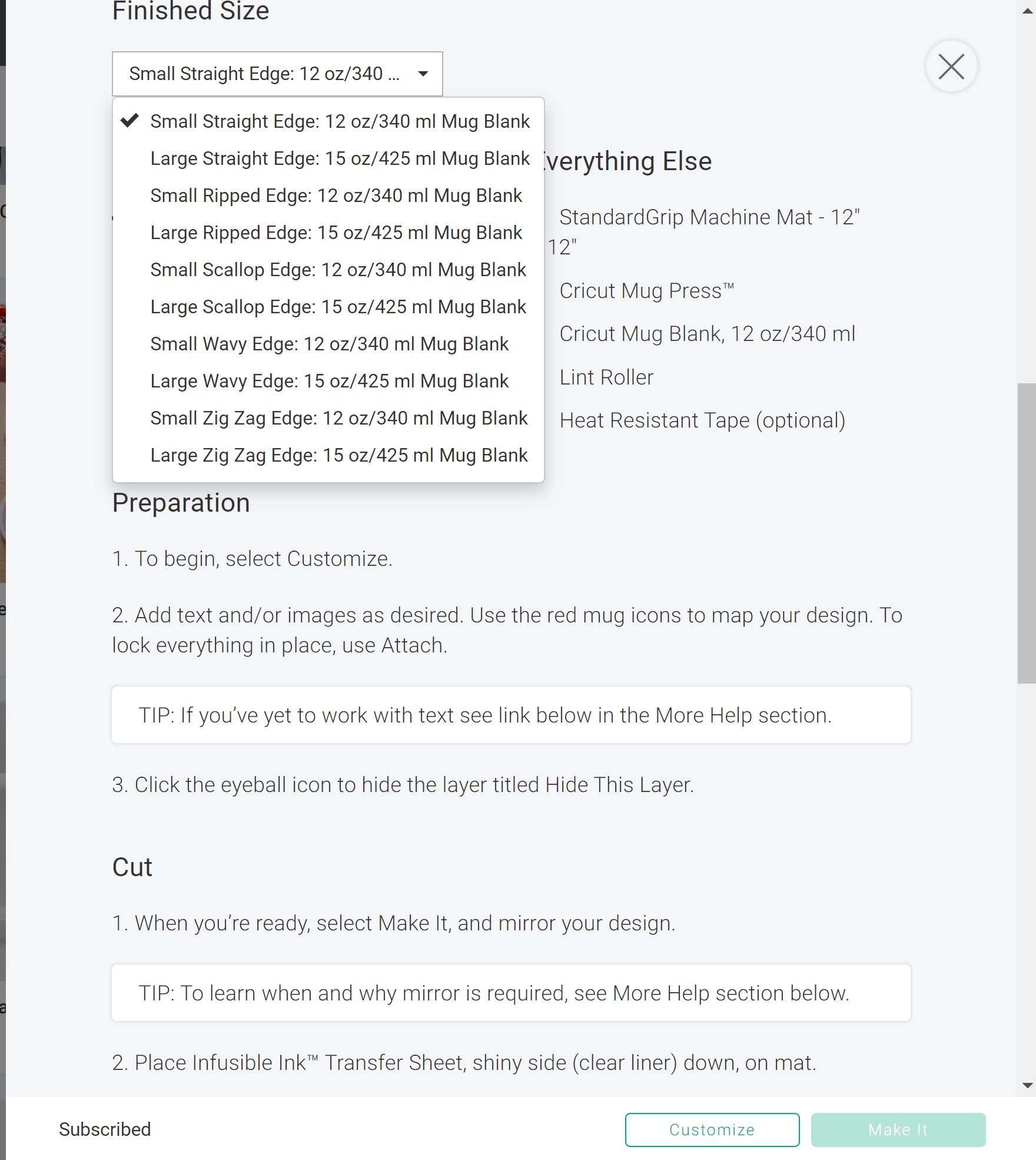 What do those options mean? The size of the mug is for the Cricut mugs and the edge treatments can be seen in the image below. NOTE: The sizes for the area in which you can add a design for the Cricut mugs are as follows: small mug: 8.75″ x 3.79″ (22.2 cm x 9.6 cm) and big mug: 8.75″ x 4.25″ (22.2 cm x 10.8 cm).
Pick the one you would like for your mug and click customize to start designing. Let's look at the layers of this template and what each of those are used for.
Red layer – this is named "hide this layer before cutting" for a reason. It is only used for your reference. The lines mark the center of the front, side, and back of the mug respectively.
Teal layer – this is the area where your design should be. You should add any elements you want to this area and use the red layer to help you locate those.
White layer – this cut layer will cut the TRANSFER SHEET of your Infusible Ink sheet so that you are left with a perfectly sized sheet to wrap around your mug.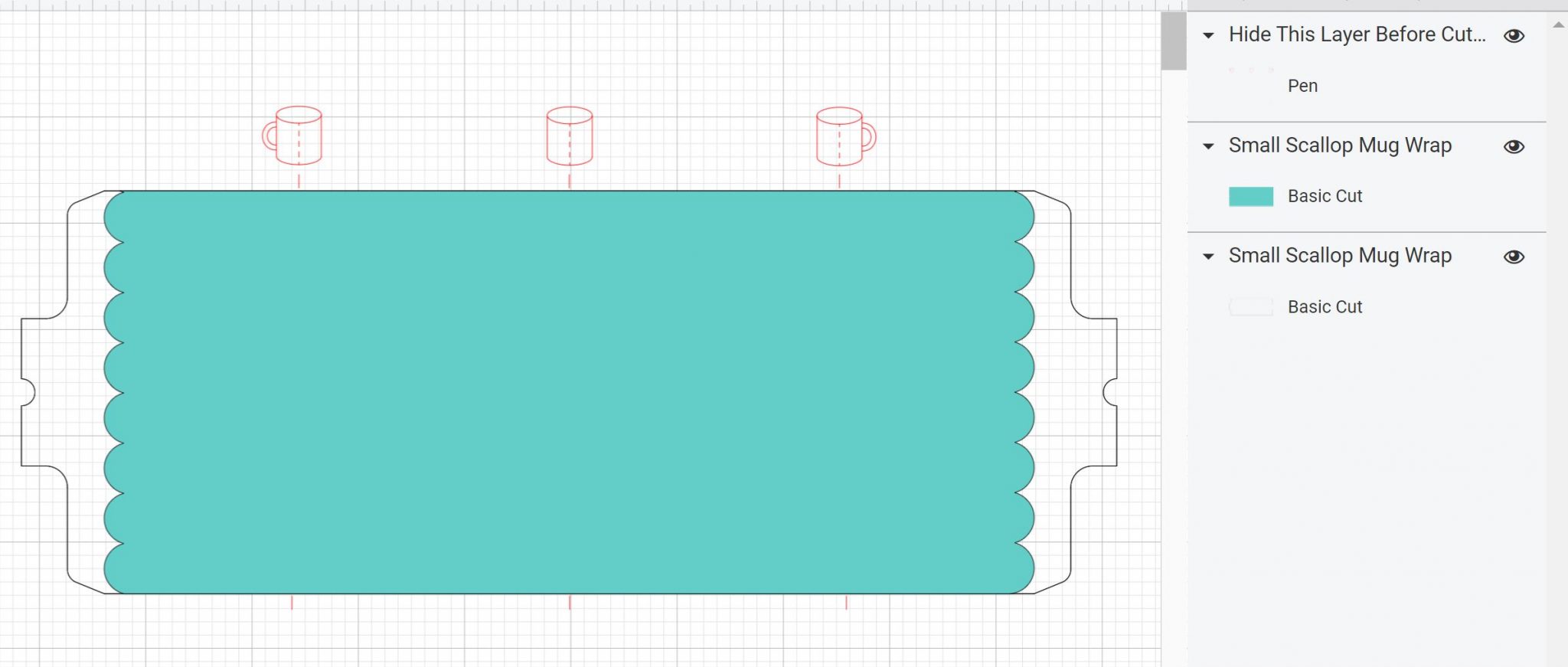 To make a design, add whatever you would like to cut from the Infusible Ink to your canvas. You can choose a Cricut image or upload a file. Then duplicate those for both sides of your mug or put different designs on the sides. Use the template to locate your design and I also like to use the align function to make sure everything is lined up.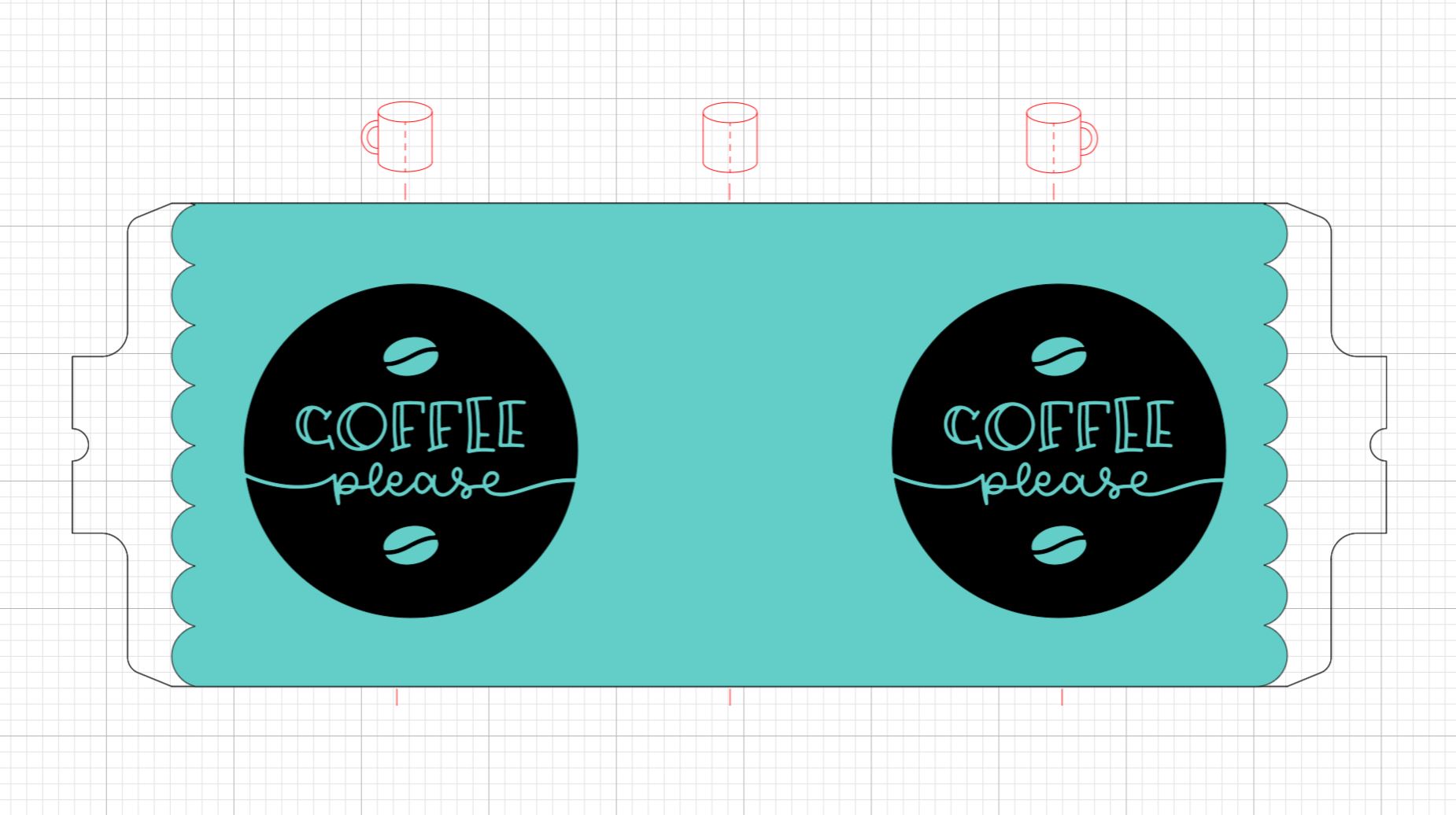 Then hide the red layer by clicking the eye in your layers panel. Pick all of the remaining pieces and click attach. You should have something that looks like the image below once you click make it. If you don't, try attaching again to fix the issue.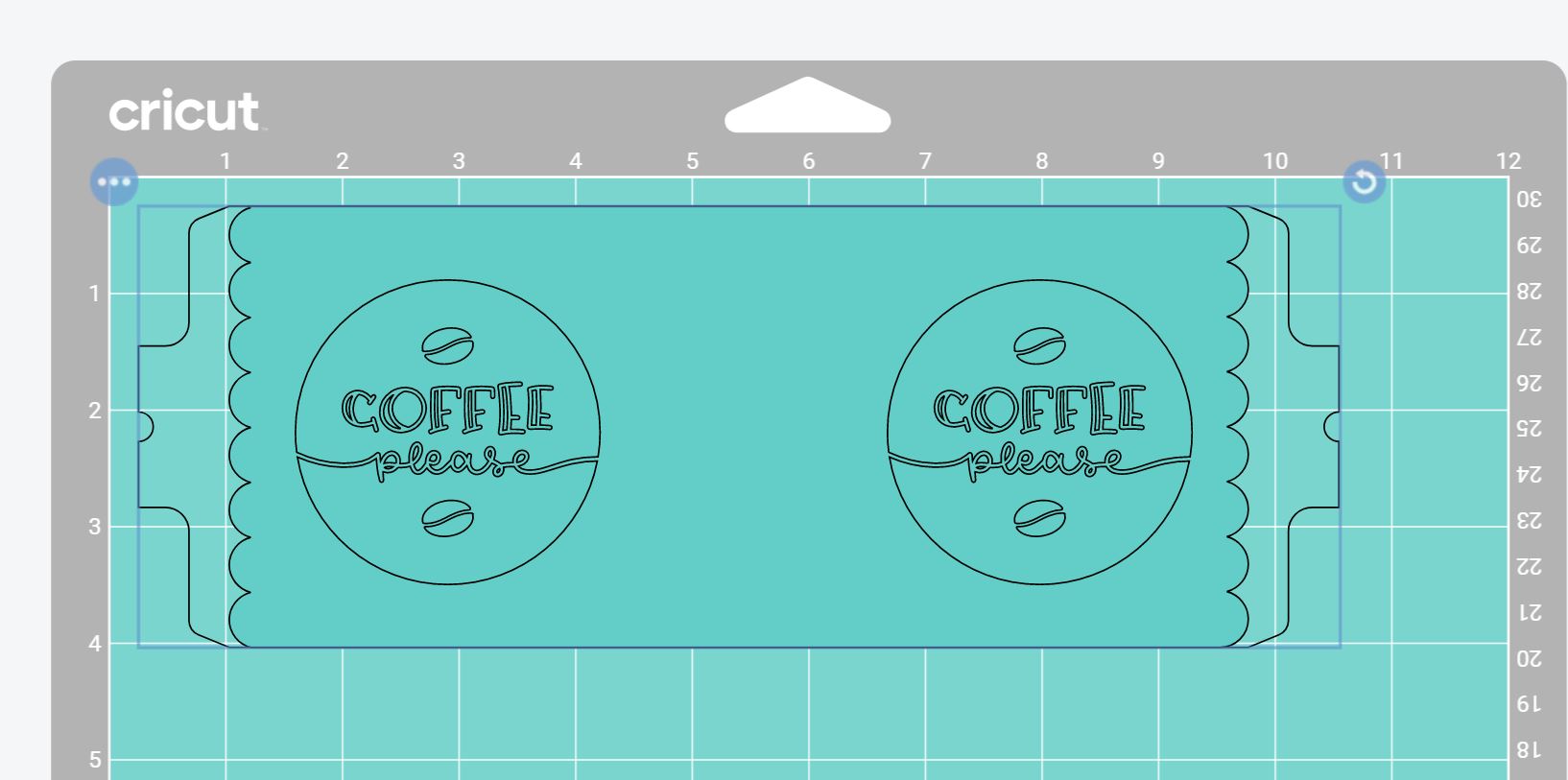 NOTE: Infusible Ink can be challenging to weed with smaller cuts. Consider using the contour feature to remove small pieces that you don't really need in your design. I did that with the letter inside cutouts in the example project. You will have to dettach to contour then attach again before cutting.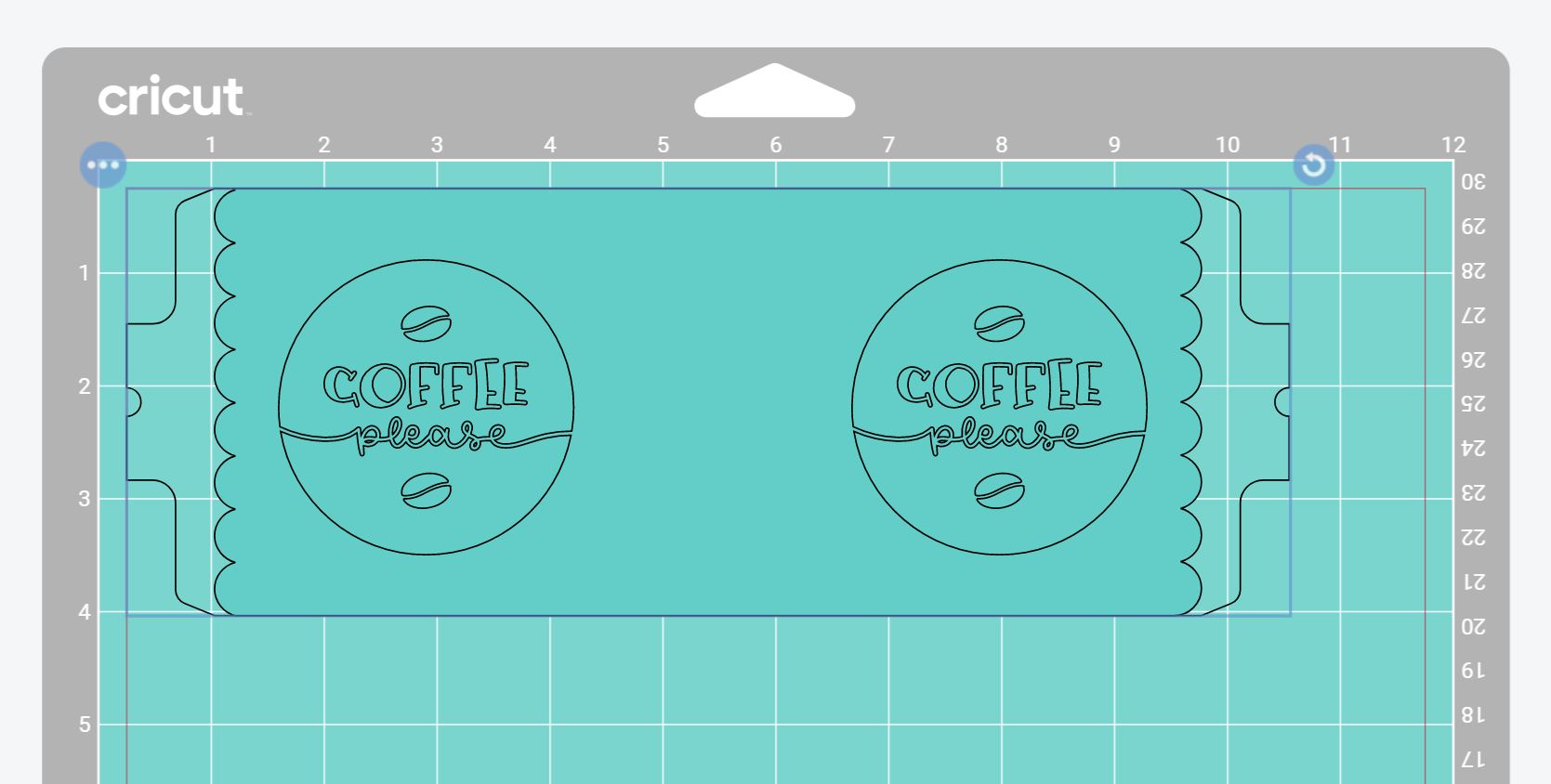 Now you just need to mirror your cut and choose Infusible Ink Transfer Sheet to cut your design. Keep reading for more tips on cutting the sheets. Want this coffee please design? Click here!
Single Color Mugs
Now that you have a design, it is time to cut and make a mug! The Infusible Ink sheets that are labeled for the mug press are sized to minimize waste for these full wrap designs so I do recommend them. However, you can use any size of Infusible Ink sheet to make these mugs. NOTE: The mug press sized sheets will work with all Cricut machines including the Cricut Joy.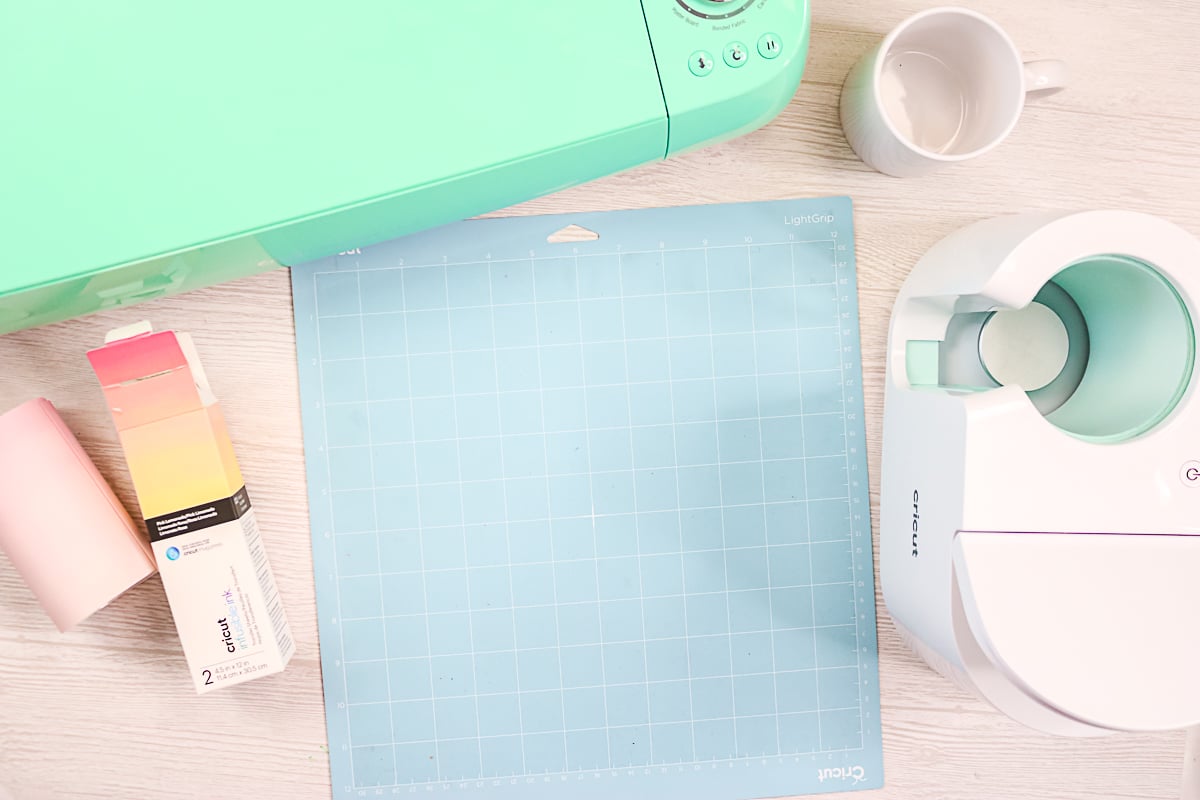 Place the sheet down ink side up on the mat and be sure to mirror your cut in Design Space before cutting. You will also want to make sure the material is on the mat well. I often use my brayer to get it stuck down to the mat.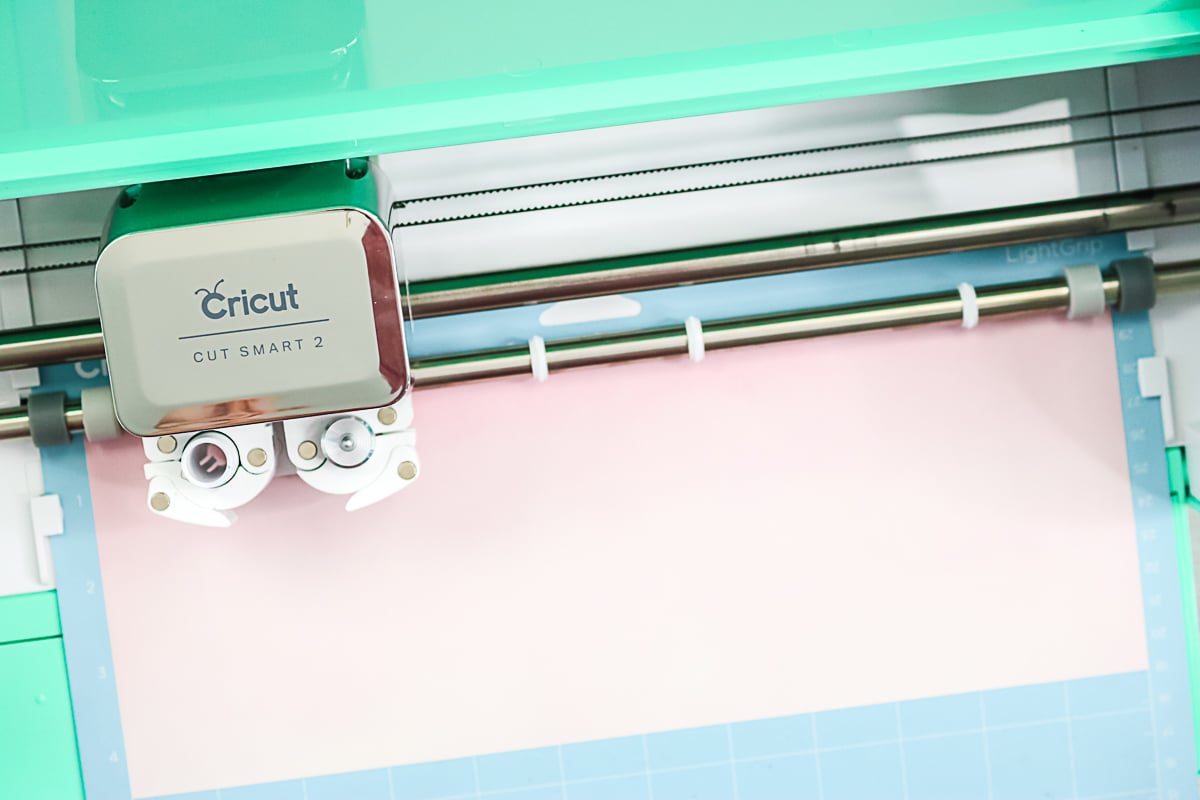 Once your Cricut is done cutting your design, it is time to weed. You want to bend and crack the Infusible Ink to get it to weed as easily as possible. There is a bit of a learning curve but I actually love to weed Infusible Ink! Just be patient, take your time, and remove all of the excess pieces. Note that it is recommended that you use just tweezers to weed Infusible Ink and avoid traditional weeding tools.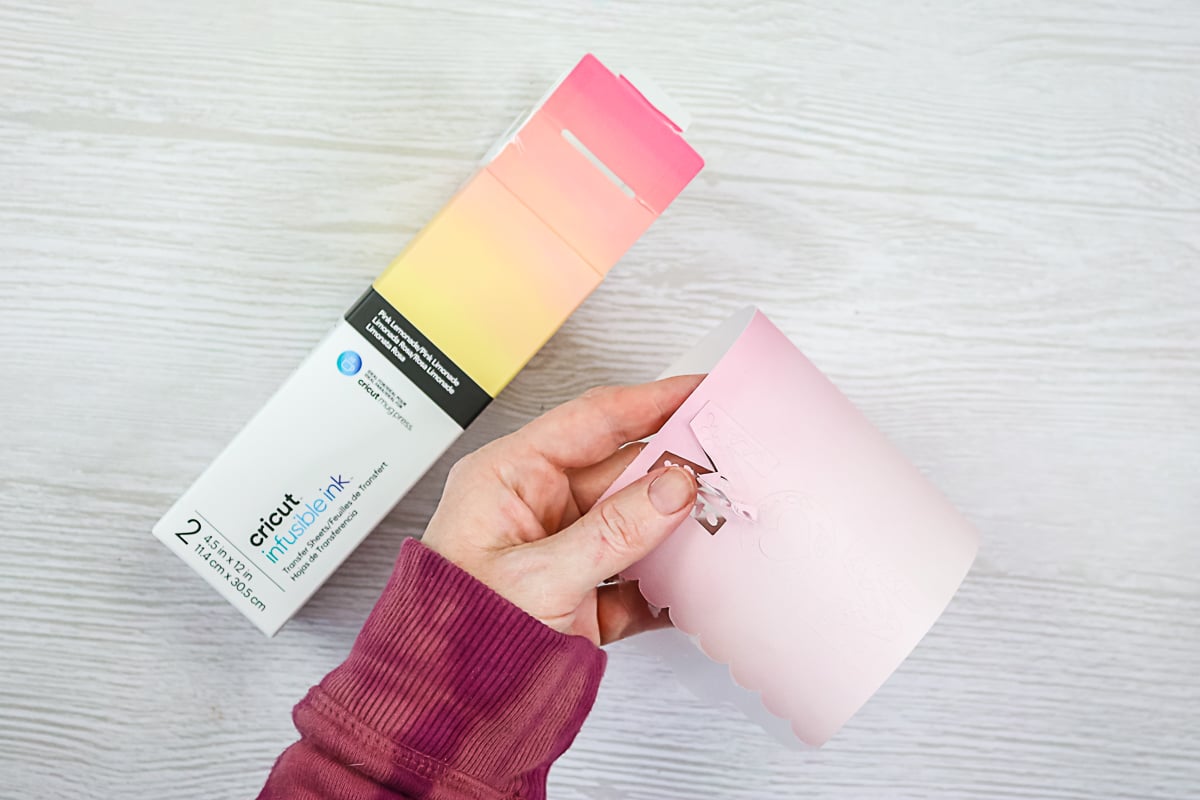 You will also want to note the color difference of the sheet versus the box. It will look like the box after it is pressed. Once your entire design is weeded, it is time to add the sheet to the mug.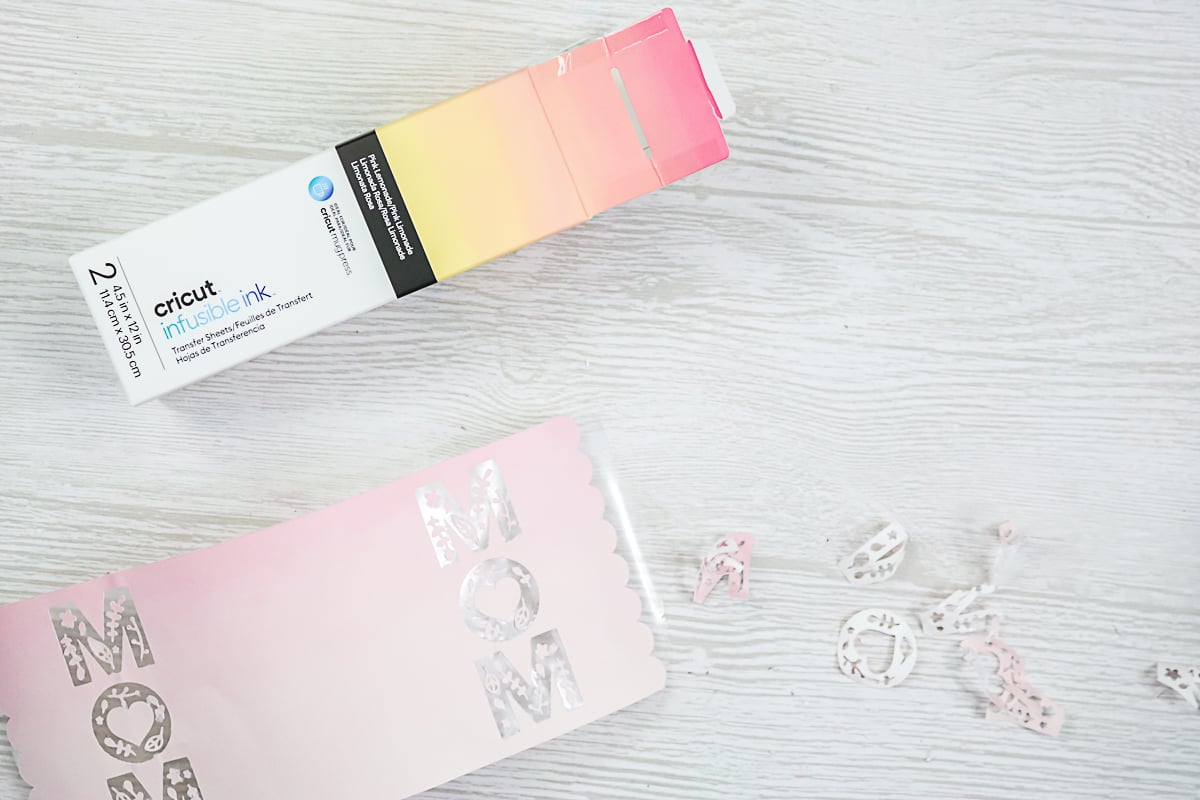 Be sure to lint roll the entire mug WELL before starting to add your design. Any debris will mess up your mug! Then wrap the sheet around the mug as tight as possible. Make sure the sheet is all the way down to the bottom of your mug.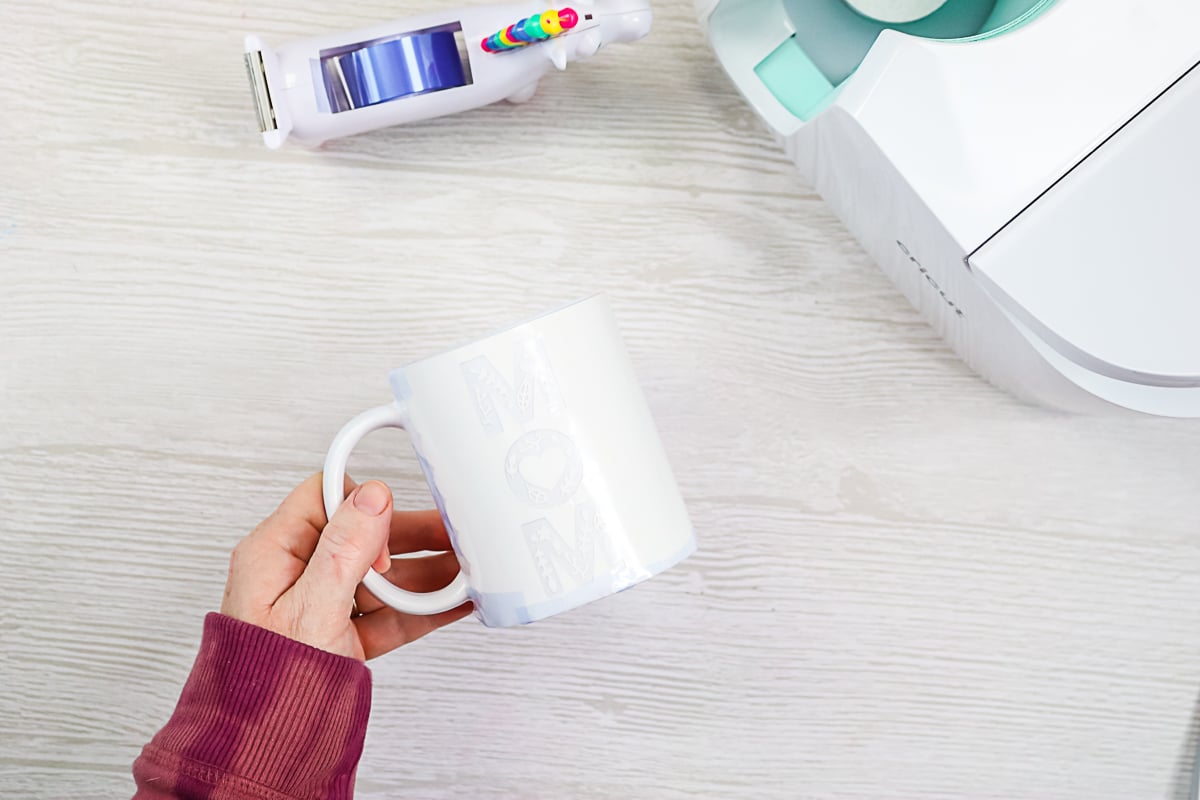 The sheet itself is sticky but you will want to use more heat resistant tape to keep the design in place. You do not want it to move and you want it tight! Use tape where the design meets under the handle as well as all the way around the bottom and a few pieces on top.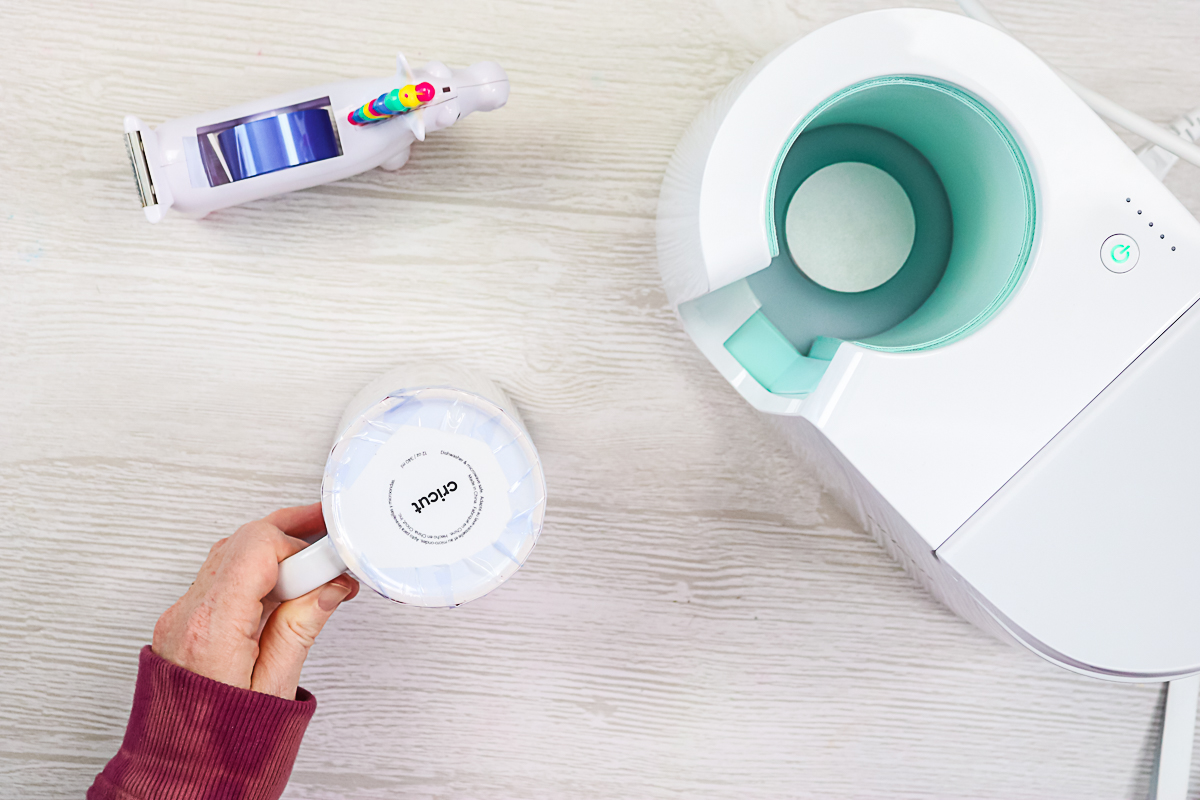 Then add your mug to the preheated Mug Press with the top facing up. Just close the lever to get the mug press to start working. Be sure that your handle ends up in the center of the opening and that the full design is covered by the heat plate.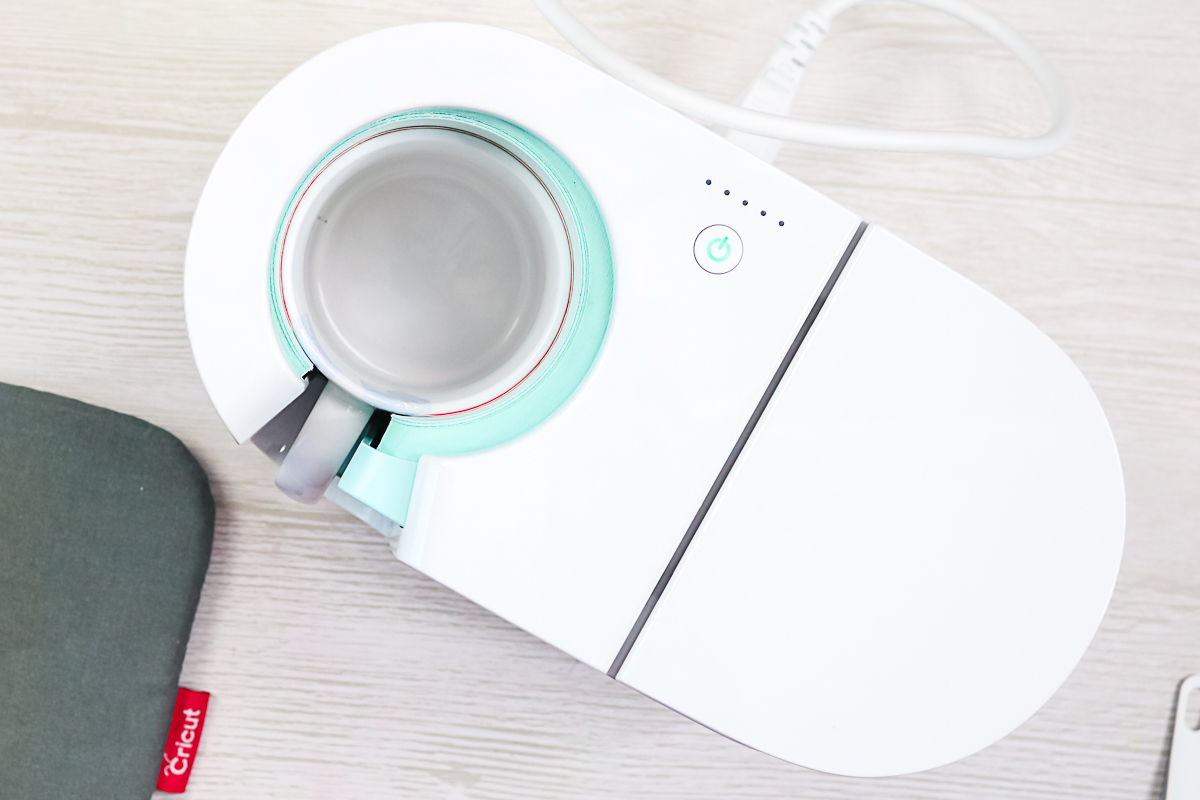 The LED lights on the progress bar will start to light up and the press will beep when it is done. This time averages 6 minutes but it does take into account things like the temperature of your room when pressing so it does vary.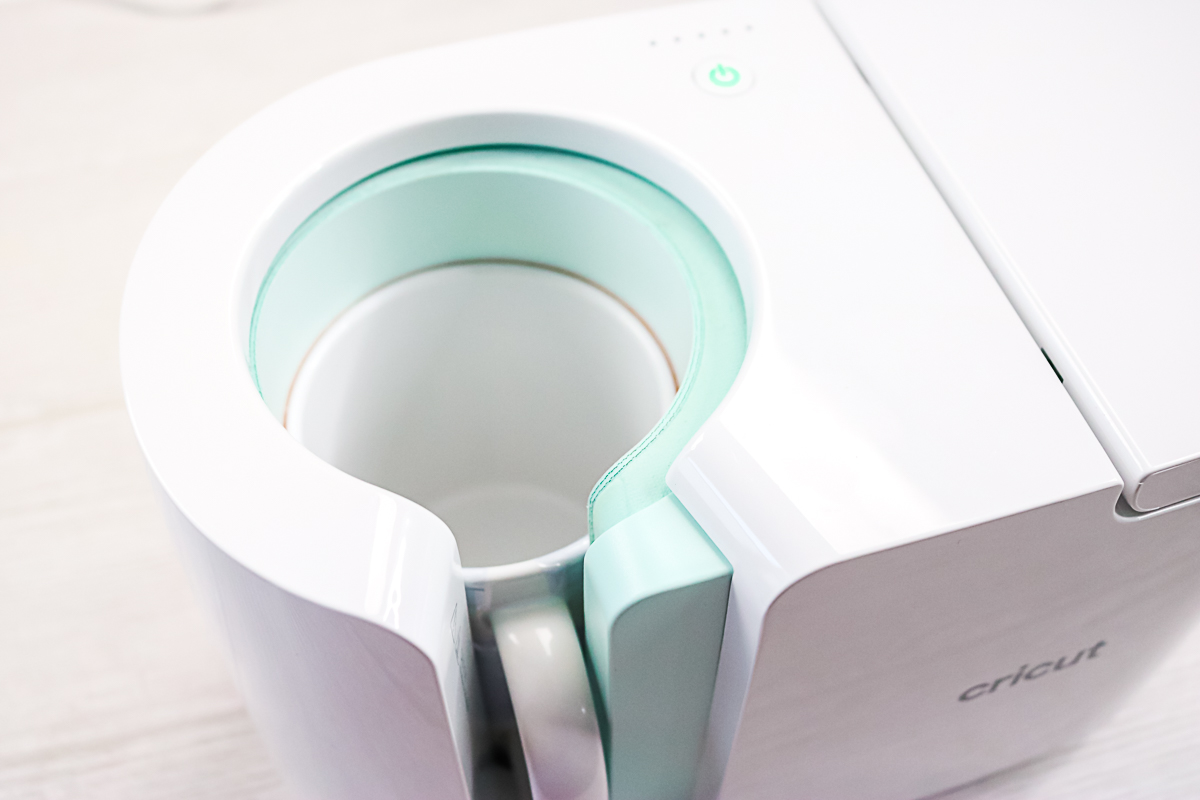 Once the press beeps, remove your mug and transfer to a heat-resistant surface to rest for 15 – 30 minutes as the mug will need to cool before you can touch it. The handle of the mug will stay cool for you to remove it from the press.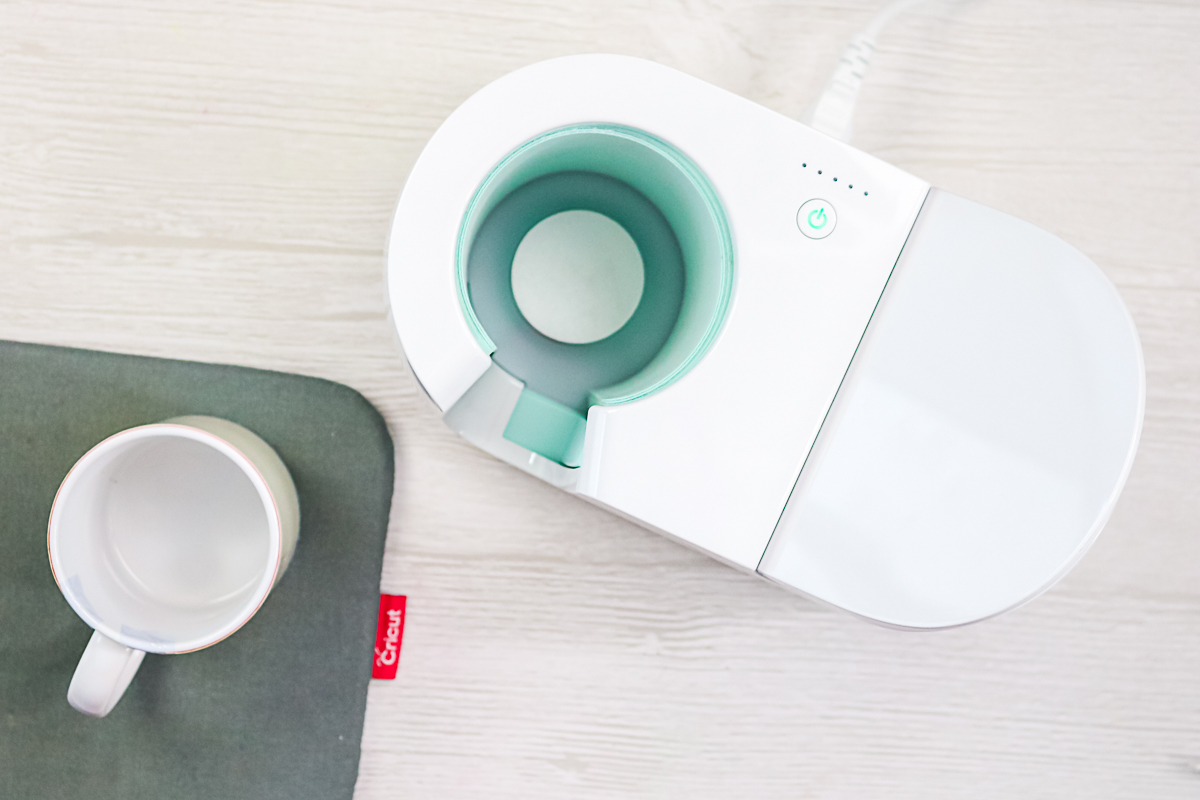 Once cool, you can remove the transfer sheet to reveal your gorgeous design!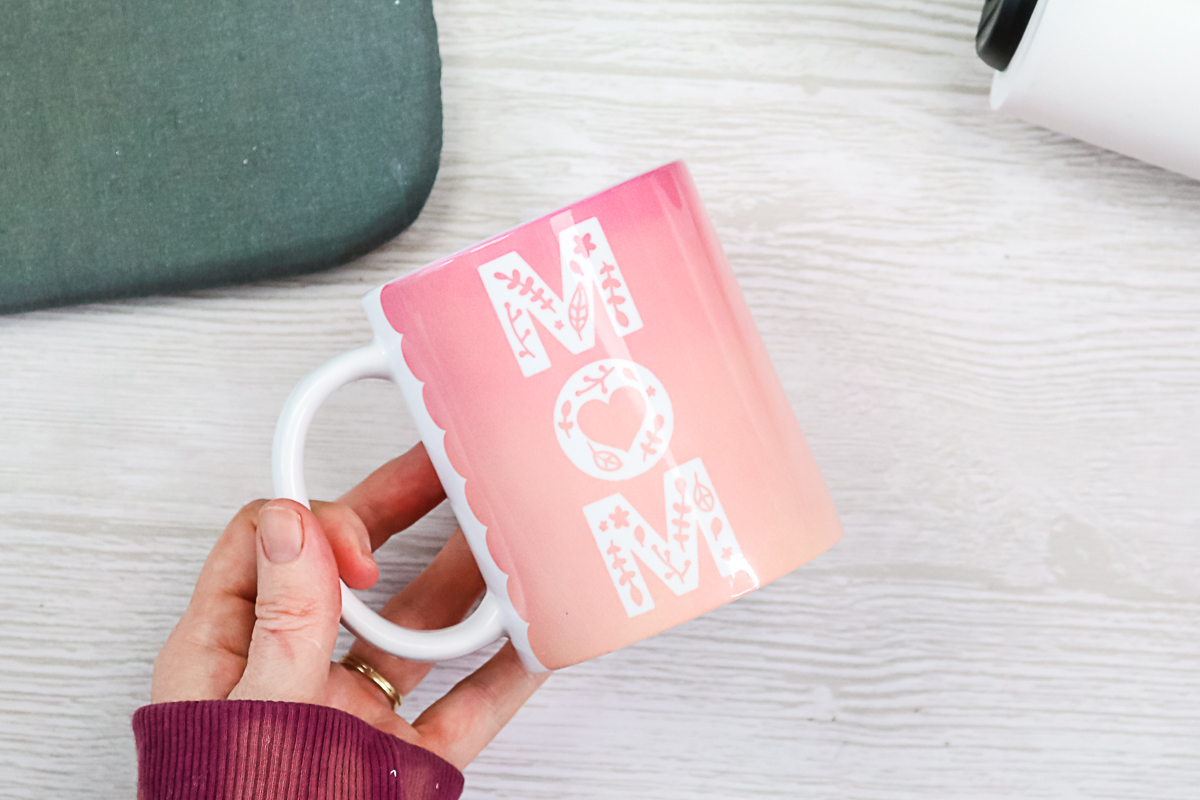 Working with More Than One Color
Want to add a second color? That is easy! Make your design in the same way but this time add another color or even two. Cut them both in the same manner as above. Once weeded, remove the pieces from the second color and put them on the transfer sheet for the first color.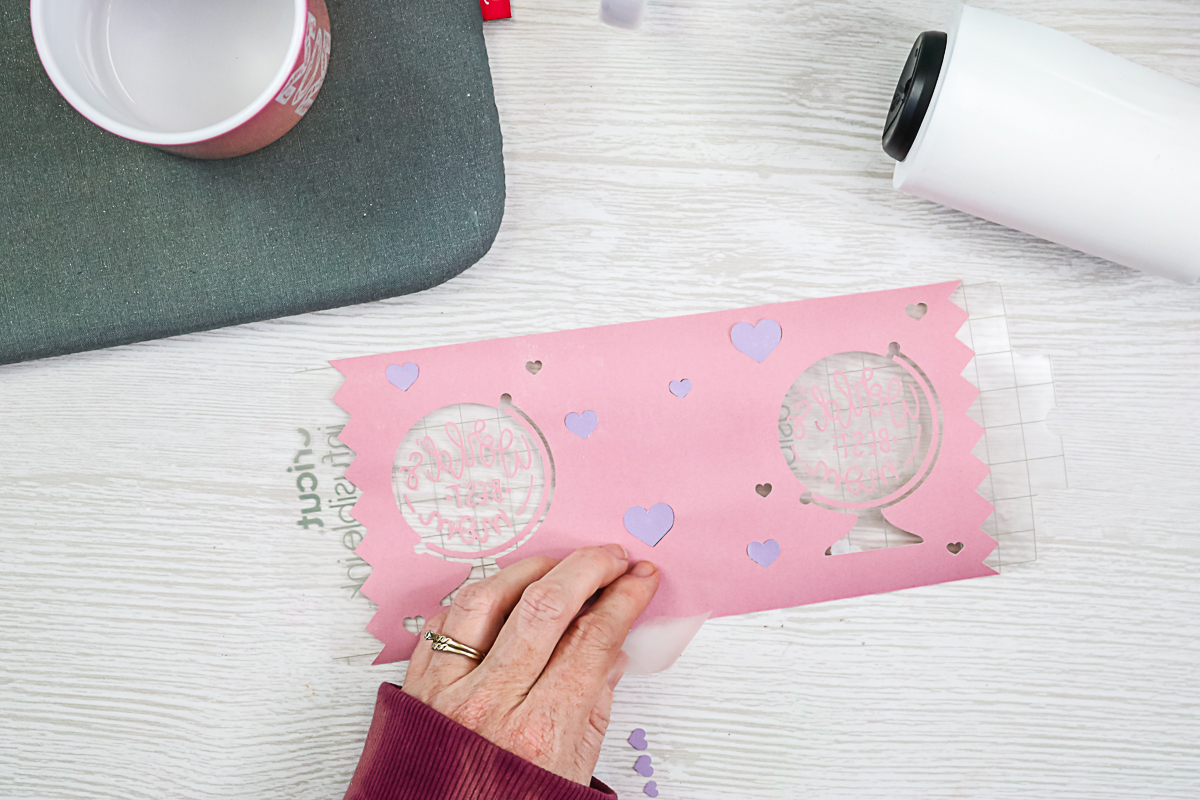 Then you can just press it in the exact same way. This is a way of layering Infusible Ink but you only need to press it once to get your design on your mug.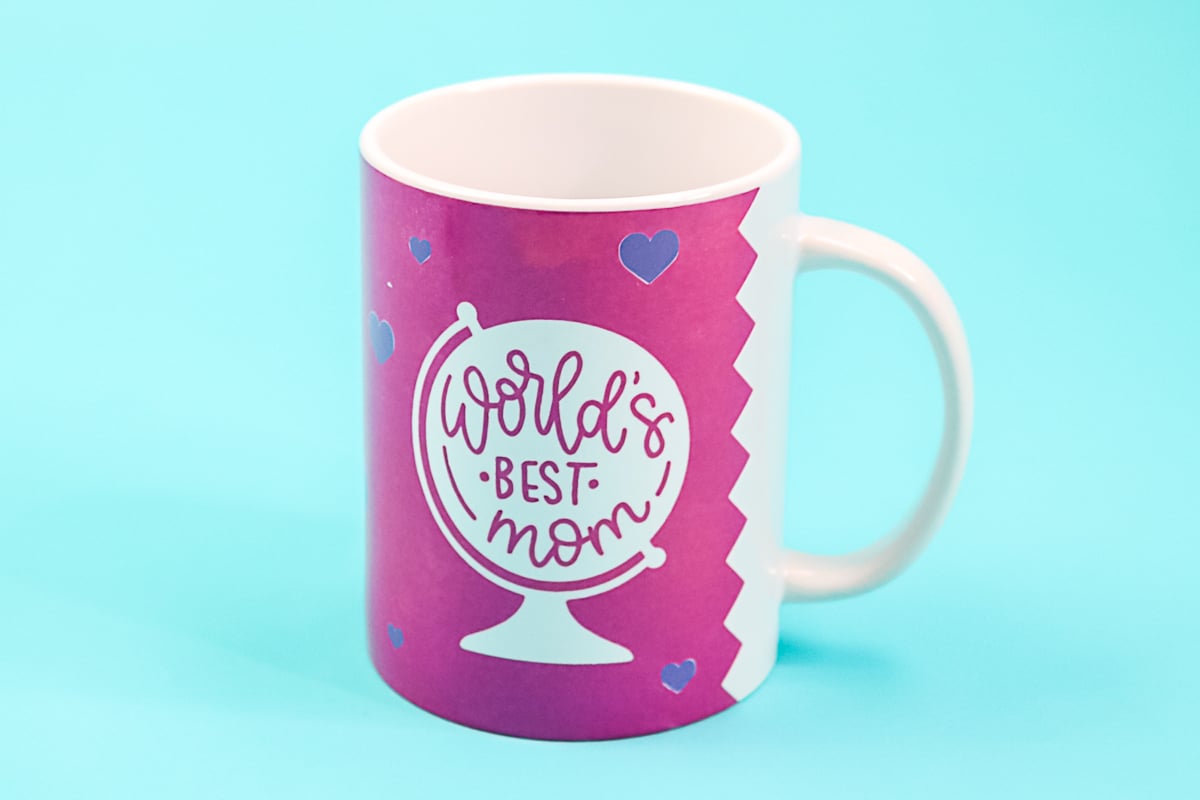 Smaller Designs with Infusible Ink Transfer Sheets
What if you don't want to make a design all the way around your mug? No problem! You can just add a design to the front or back or both to those Infusible Ink mugs instead.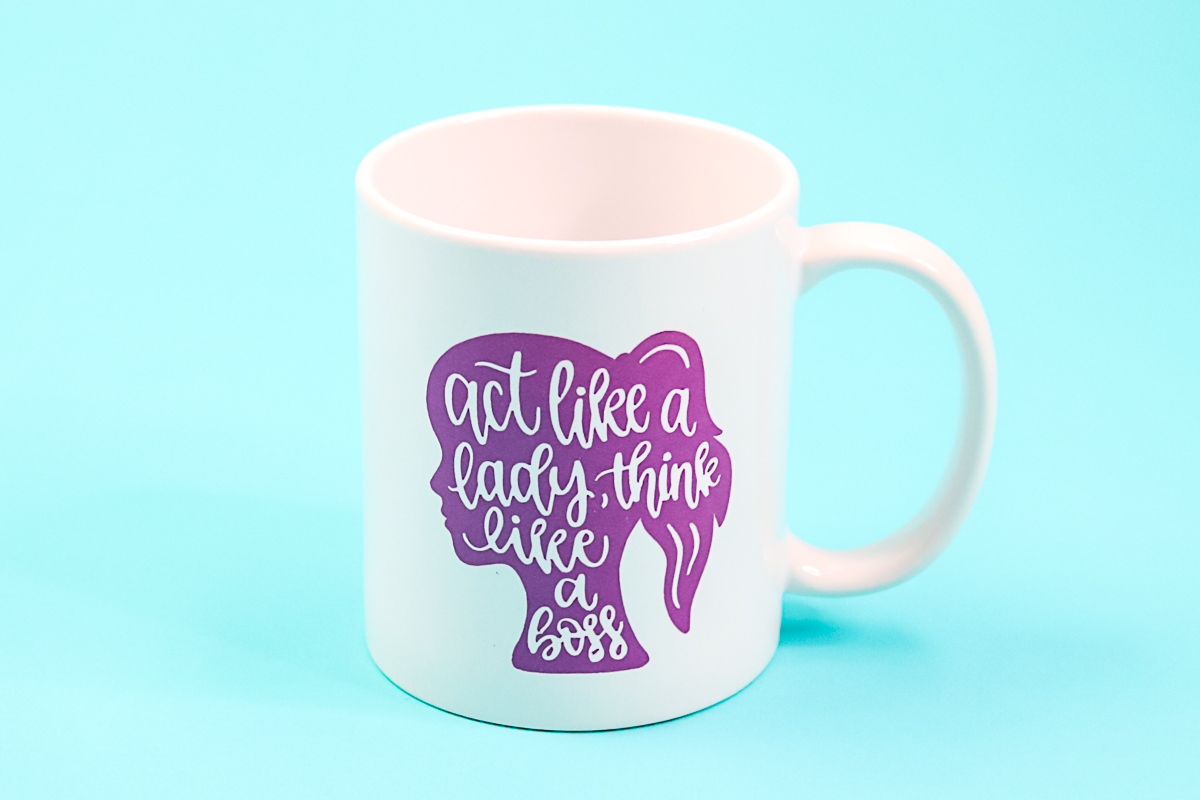 Designs and Sizing
You can still use the template as a guide for sizing your design if you would like. This is not required but can be helpful. Then just delete away the entire template before cutting so you don't waste any Infusible Ink. I like to make my designs 2 1/2 to 3 inches tall as those seem to work best but you can do whatever works for you.
Single Color Designs
Cut and weed your Infusible Ink Transfer Sheets in the same way. Remember to mirror your cut! I also like to suggest that you trim the sticky carrier sheet close to your design to minimize dirt that may be trapped on the sheet. Then you will need to find the center of your mug to get your placement as correct as possible. I like to take a piece of tape and place it on the center across the top while looking at the mug from the top.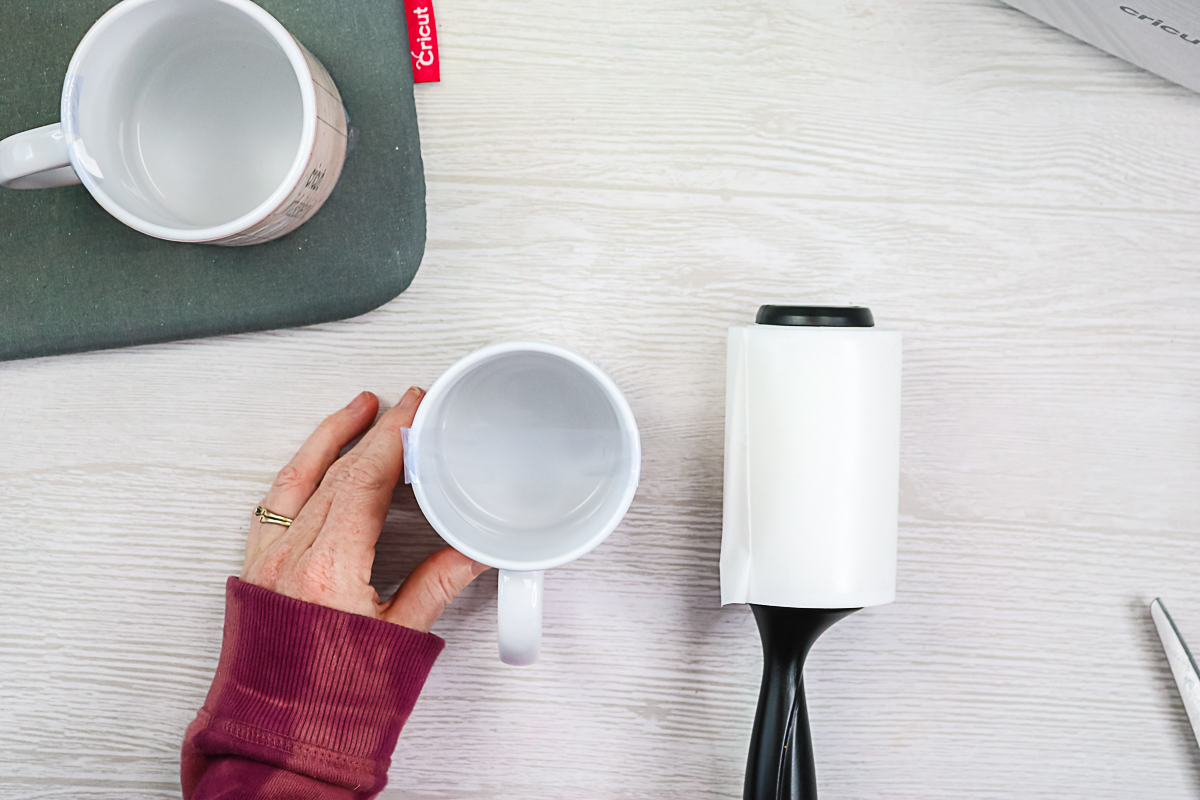 Then you can use that tape on the side of the mug to put your transfer sheet into the right location. BE SURE TO LINT ROLL YOUR SURFACE FIRST! Always remember that! Then place the design in the right location. Press it down well with your fingers and add additional tape to hold it into place. Be sure to get it tight against your mug.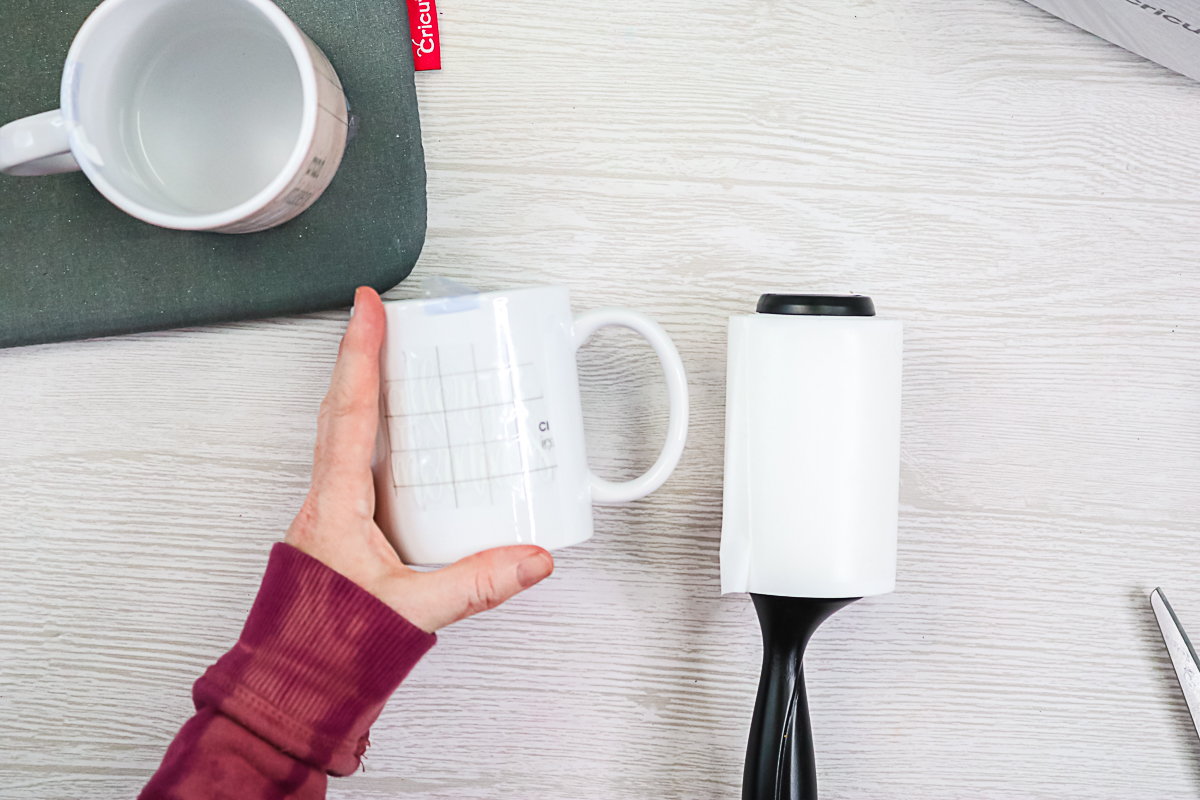 Repeat on the second side if you would like. I also like to measure the location from the bottom on both sides to make sure I get them about in the same place. When you do the second side, you can use the tape you put on the top to secure it into place so you don't waste the tape.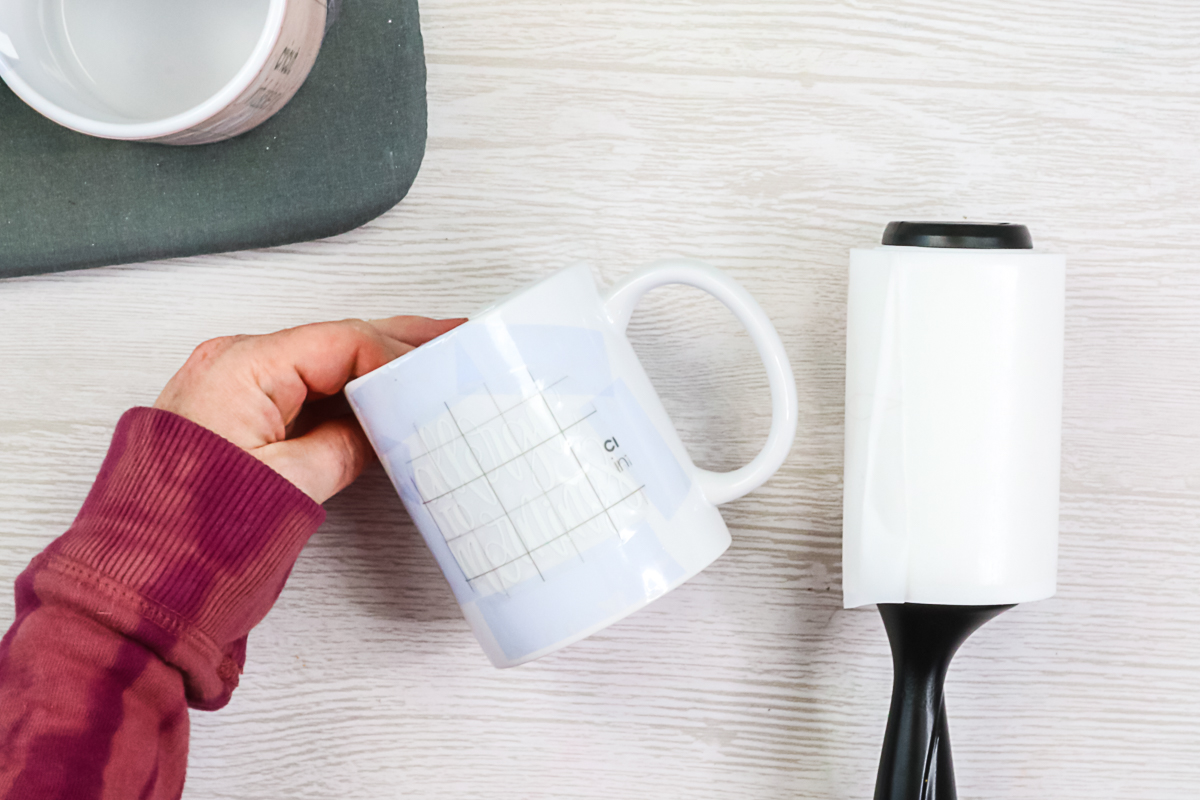 Press these designs using the same method as mentioned above. Once pressed, peel back and reveal your gorgeous design!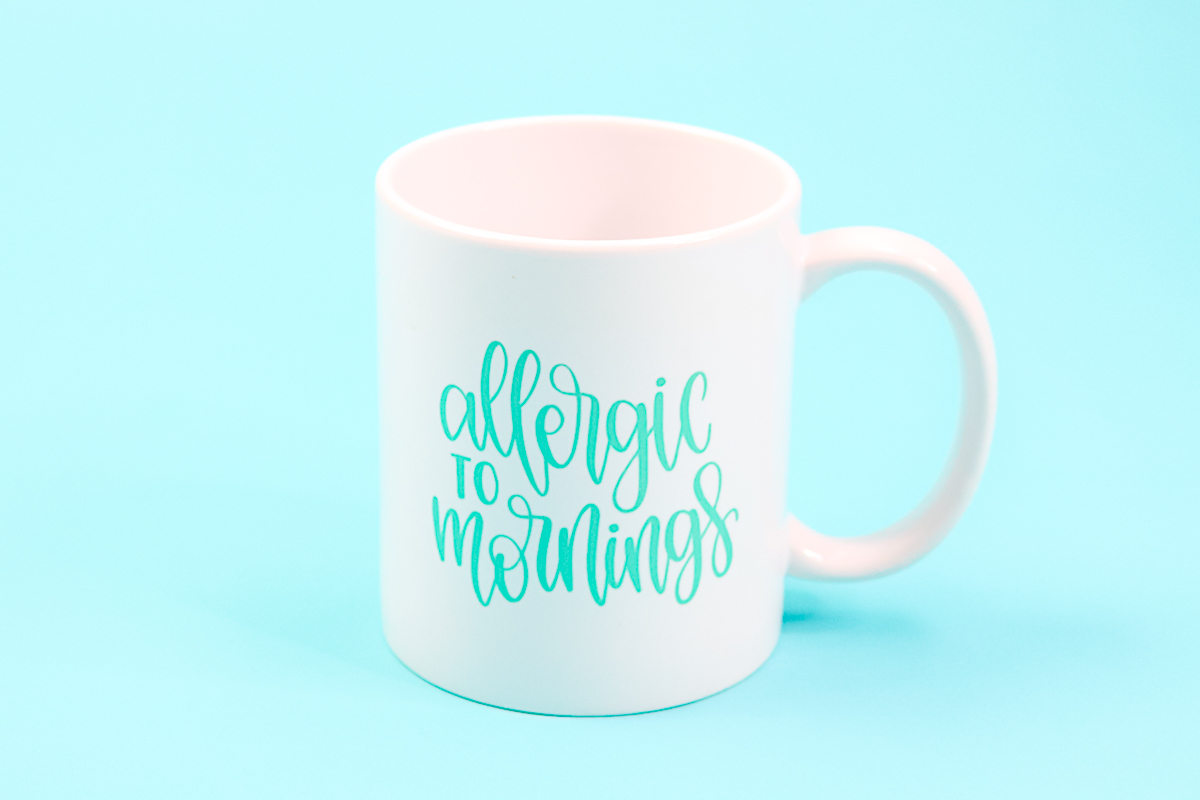 Multi Color Designs
Want to add more than one color with these smaller designs? You can do that in a similar manner as we did with the full wrap above. For this one, I actually just trimmed the carrier sheet close on both colors and added them both to the mug. I just located them together by eye and taped down well. You will want to make sure to tape across the middle where the two carrier sheets meet if you do something like this.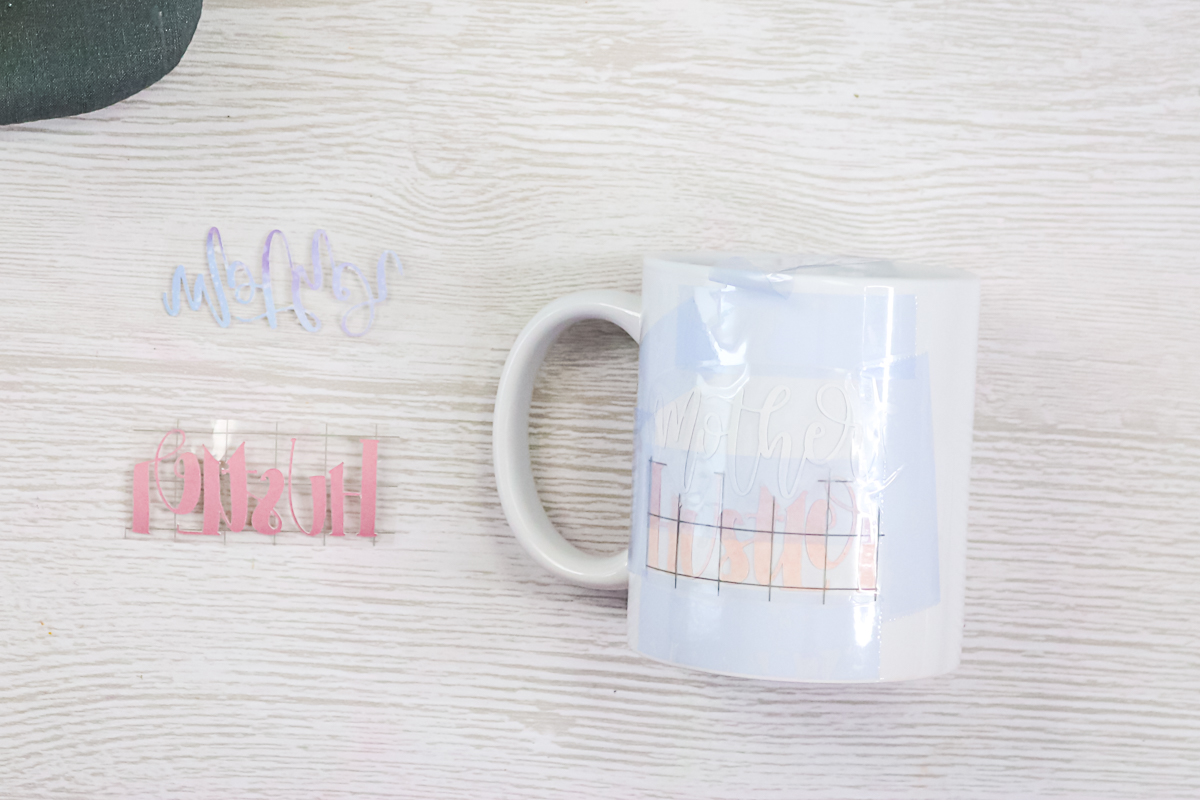 Once both sides have been taped down to a clean and LINT ROLLED mug, you can press it in the same manner. I am mentioning lint rolling a lot but it really is that important! After you press, let it cool then peel back to reveal your gorgeous mug!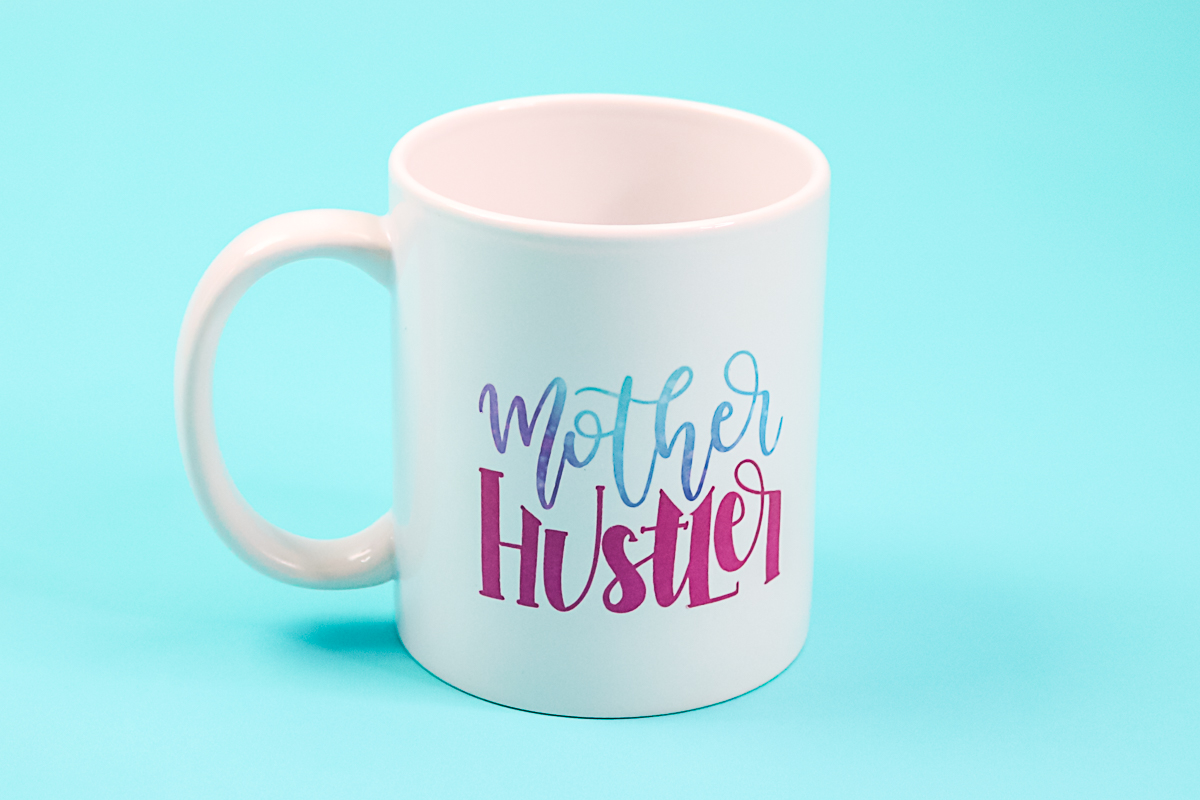 Mugs with Infusible Ink Pens and Markers
Do you have to only use the Infusible Ink sheets for these mugs? No! Another option is to draw some designs with the Infusible Ink pens.
Designing and Sizing
Again, you can use the template for locating your design and sizing. If you are not making a full wrap design with pens, you may want to remove the template before drawing. Then just draw the design using your Cricut onto copy paper. You will want to remember to MIRROR before drawing!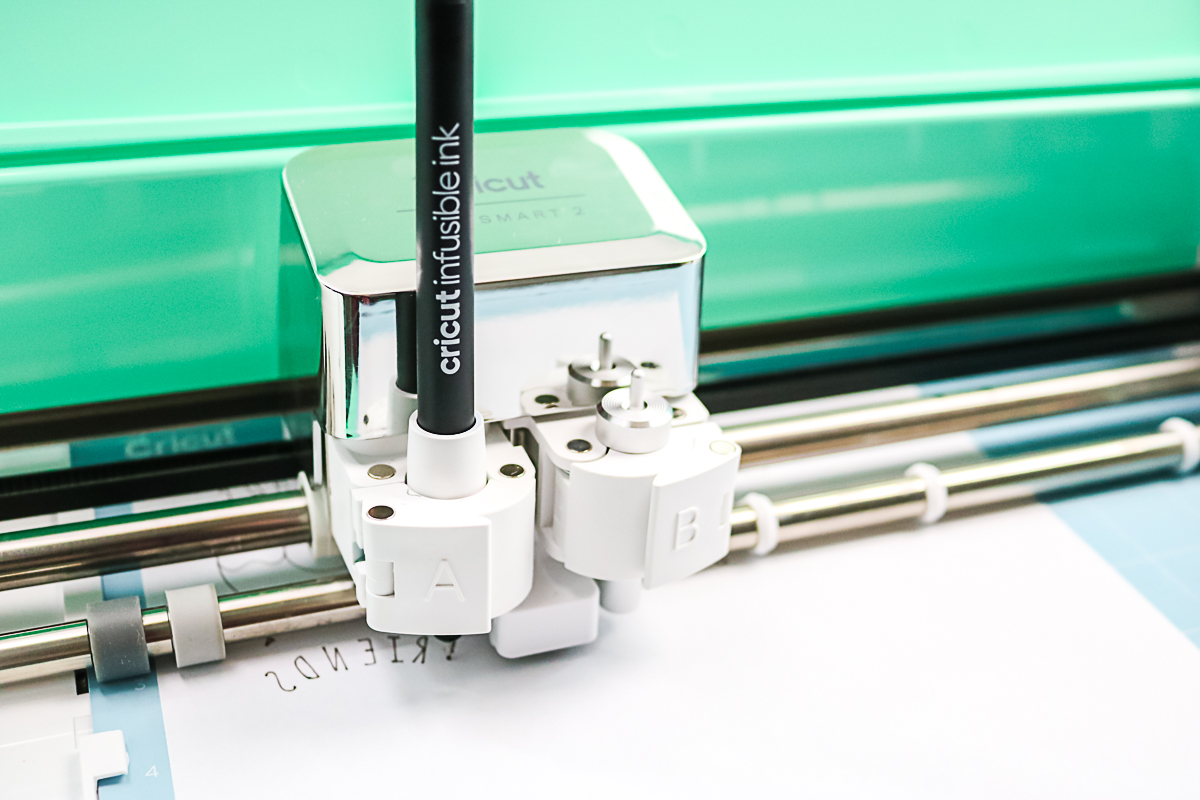 You can use several colors in the design just by changing the line colors right in Cricut Design Space. Or you can use more pens and markers to color the design by hand. However you want to do it!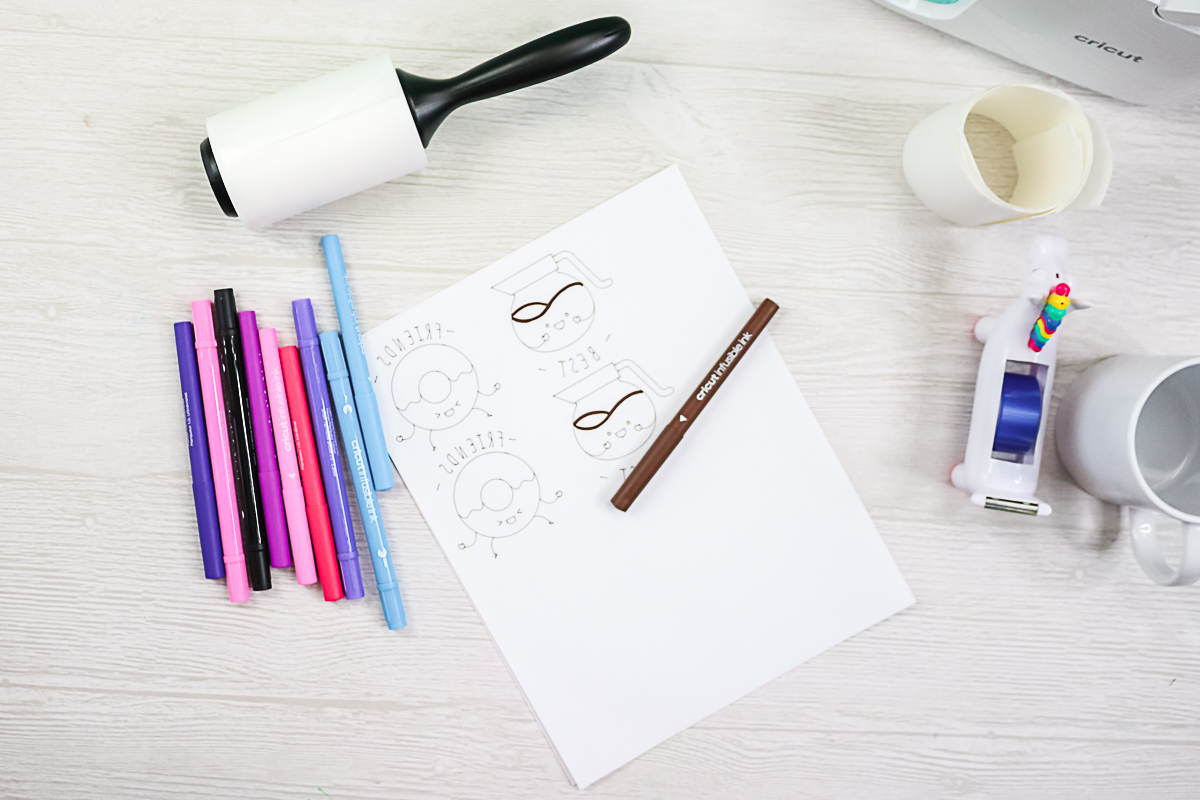 Pressing a Mug with Pens and Markers
Making Infusible Ink mugs with pens and markers takes a few more steps but it is totally worth it! First, cut the copy paper close on your designs to avoid any spots where ink may have gotten on your paper accidentally.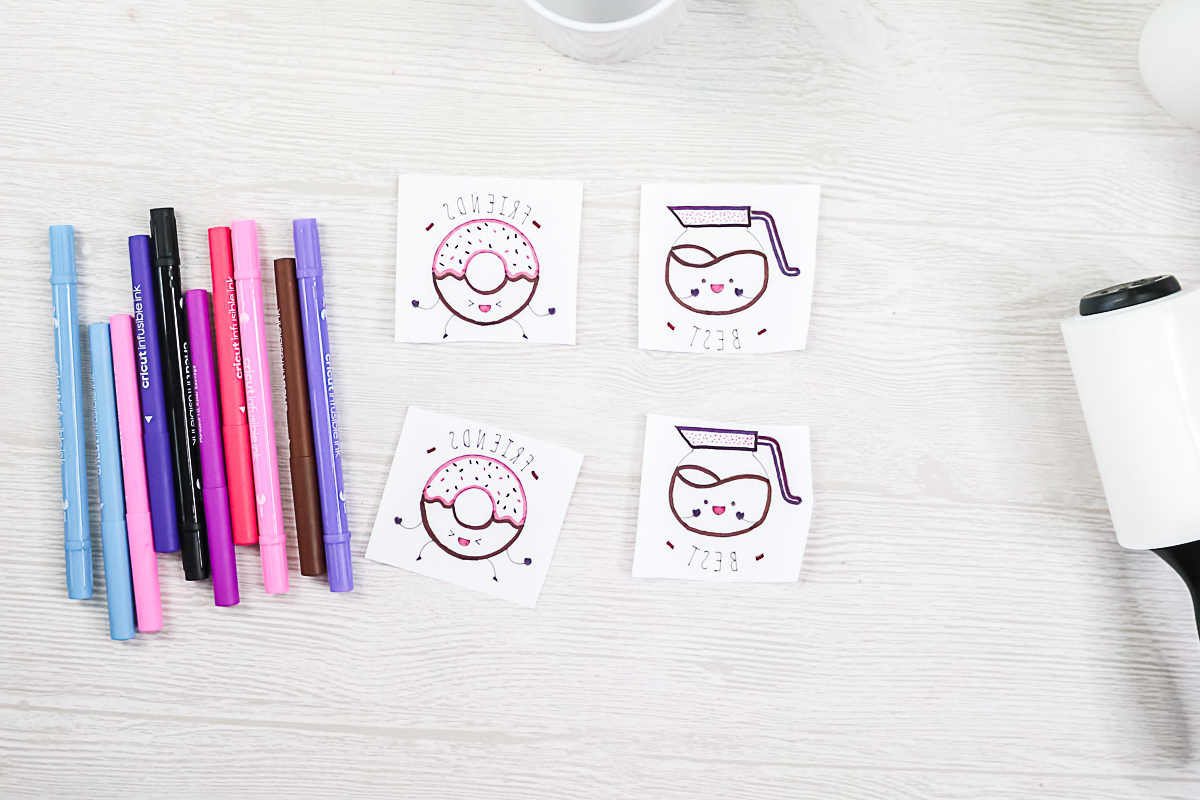 Then lint roll your mug to clean it and add your design ink side down to the side. You can find the center of your mug in the same manner as we discussed above. Tape your design down well on the side. Be sure it is tight against your mug! Repeat for both sides if you are adding a design to the back.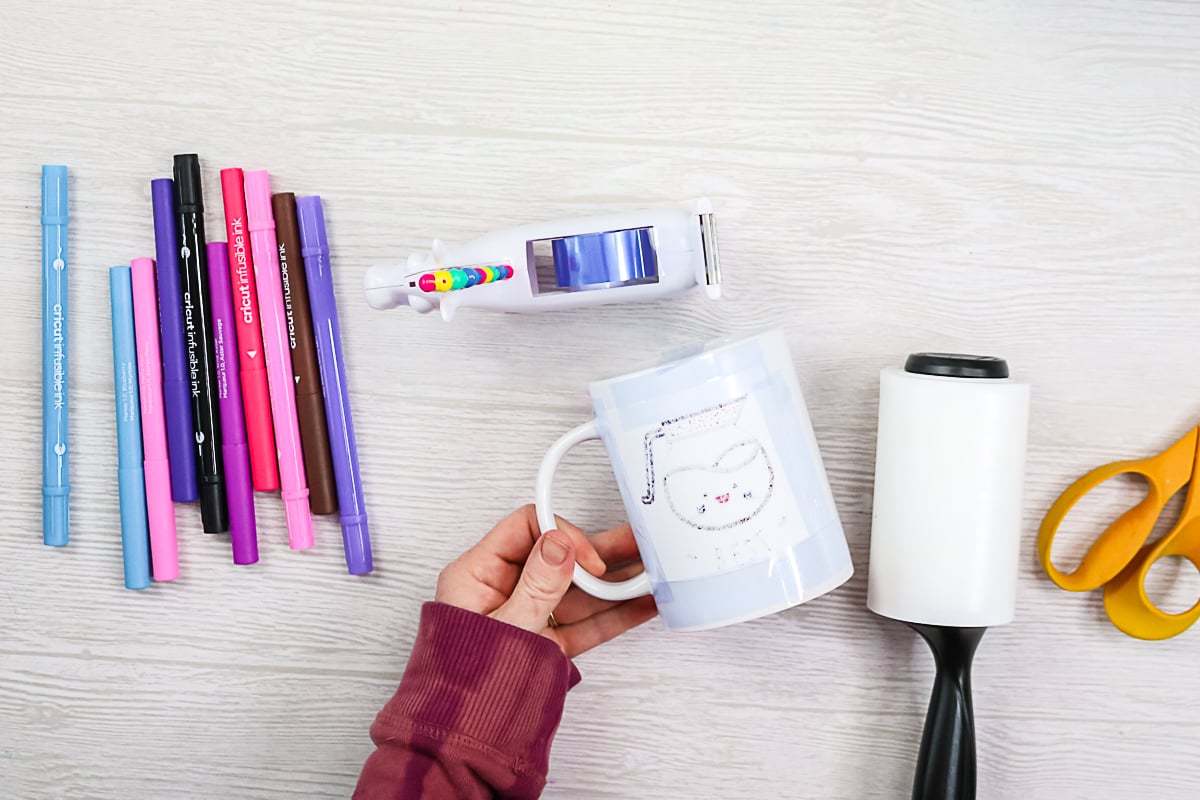 Then add FOUR layers of butcher paper to your mug. Trimming your butcher paper to the approximate size of the mug works best. Then tape the butcher paper down really well. You will want to tape it all the way around the bottom to ensure it doesn't get caught when trying to put in your press.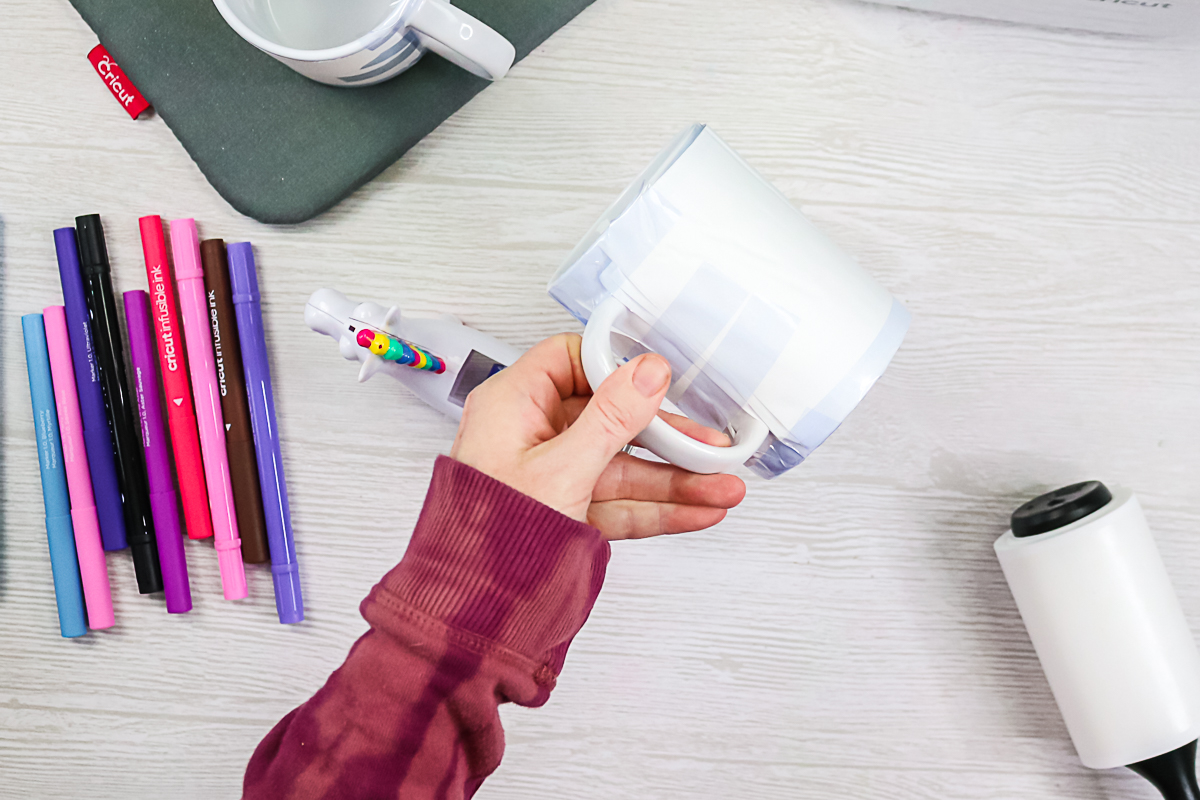 Then you just press your mug in the same manner with the Cricut Mug Press. Once cool, peel back the butcher paper and your copy paper to reveal the gorgeous design. The butcher paper is not reusable and will need to be thrown away as it will have ink on it.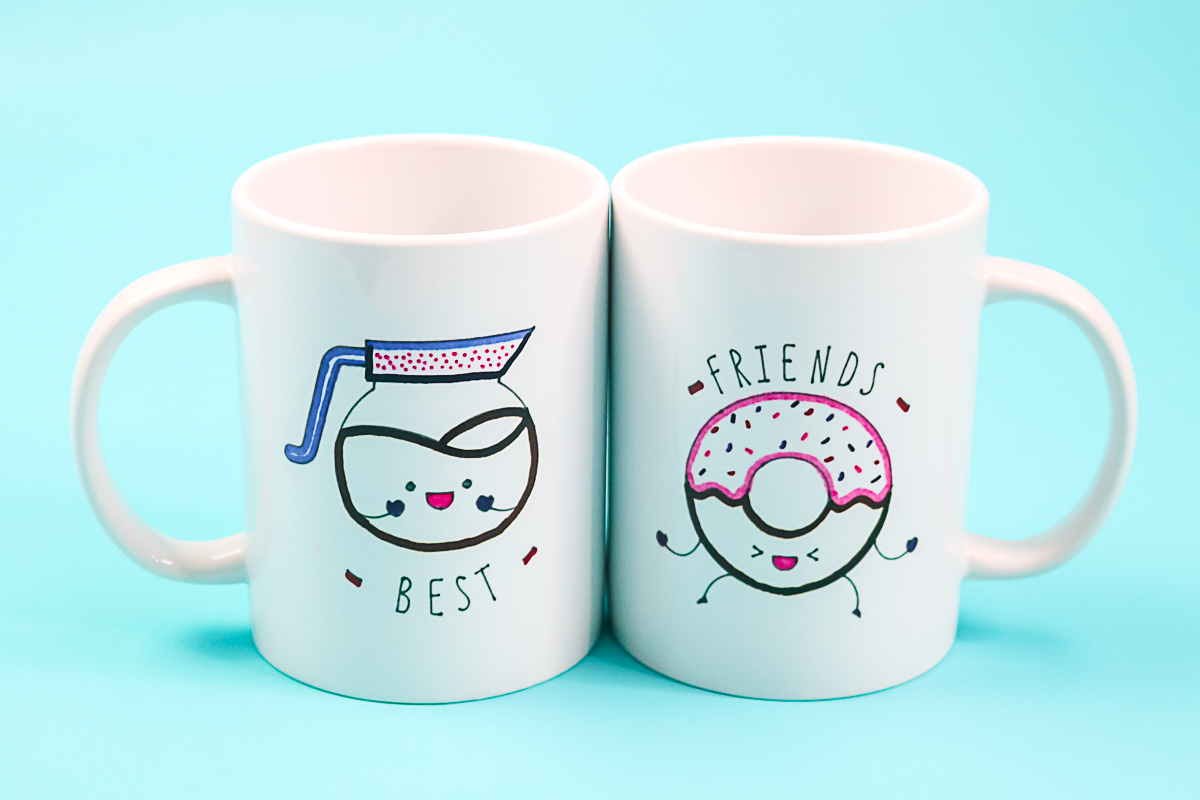 FAQ
I know you may still have a few questions about Infusible Ink mugs so let's address a few of those. You can also drop down to the comment section and ask me about anything that I did not cover.
What mugs can I use?
We talked about the Cricut mugs above but I also gave you mug sizes that will work in the Cricut Mug Press. As long as the mug is a sublimation blank and within those sizes, it will work in this press.
What designs can I use?
Any! Use designs in Cricut Design Space or your own designs. I do think the template directions above will really help you create mugs that you love.
What is the size of the design area?
The small mug is 8.75″ x 3.79″ (22.2 cm x 9.6 cm) and big mug is 8.75″ x 4.25″ (22.2 cm x 10.8 cm). That is for the Cricut mug brand. I cannot tell you the size of a sublimation mug that you purchase.
What machine will cut Infusible Ink?
You can use any Cricut machine to cut Infusible Ink Transfer Sheets or to draw with Infusible Ink pens.
I am having trouble weeding Infusible Ink.
My top tip is to be sure your blade is in good condition and that you get your ink is down on the mat well. Then be sure to bend and crack your design as you weed. Practice makes perfect in this situation and the more you do it the better you will get at it.
Are these designs dishwasher safe? Microwave safe? Food safe?
Yes, yes, and yes. All of the above!
Do I need to seal these mugs?
You do NOT need a sealer on mugs made in this manner. They are permanent right out of the press without adding any other process.
Where can I find the designs you used in this post?
Here are the links to my projects in Design Space:
That includes my favorite cactus design that I made in my Instagram video here!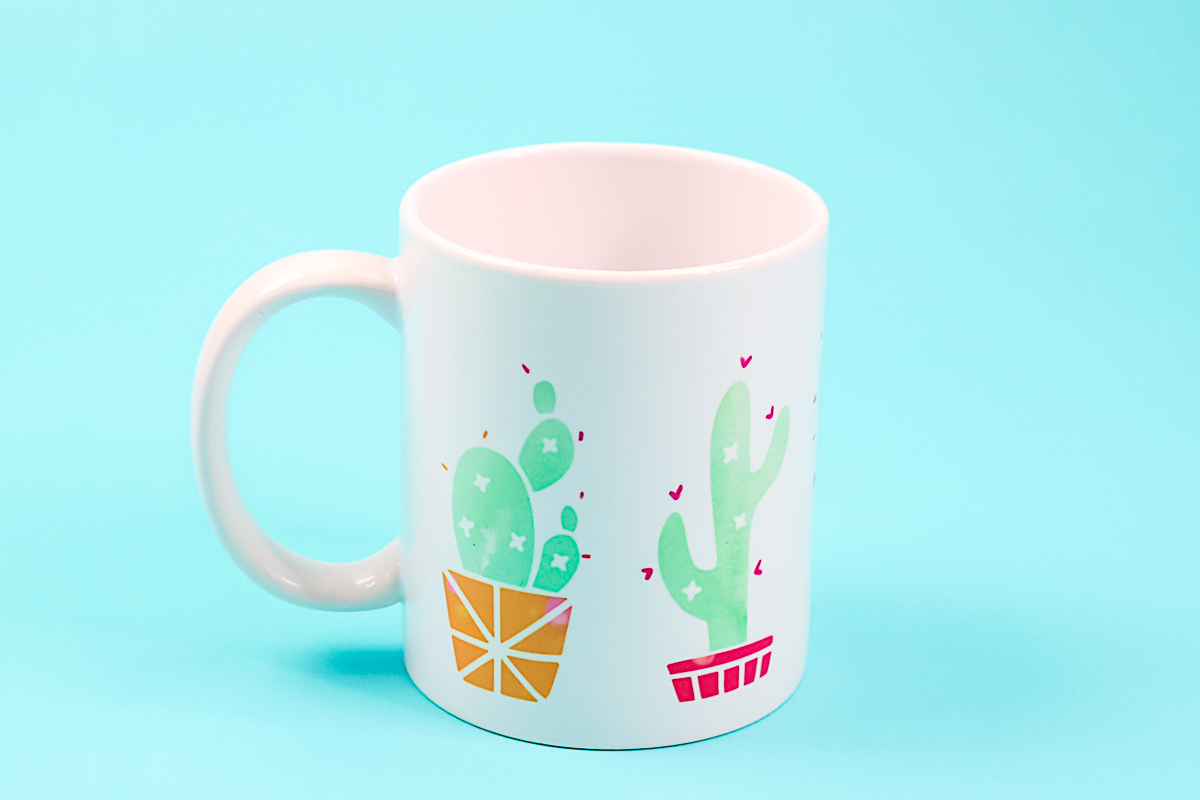 There are so many ways to make Infusible Ink mugs! I love this idea for giving as gifts and so much more. I literally have ideas for every holiday already!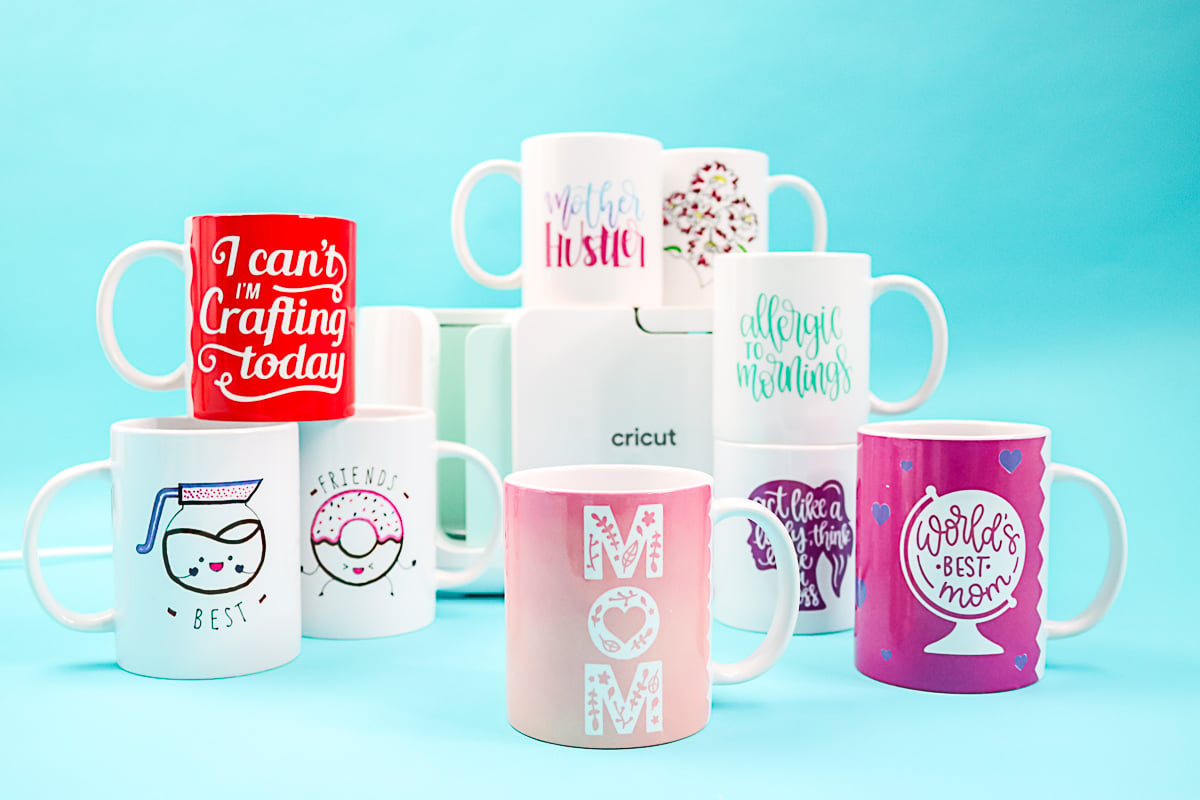 So if you need me, I will be cleaning out my cabinets to make room for my new mugs and wrapping up others for friends and family.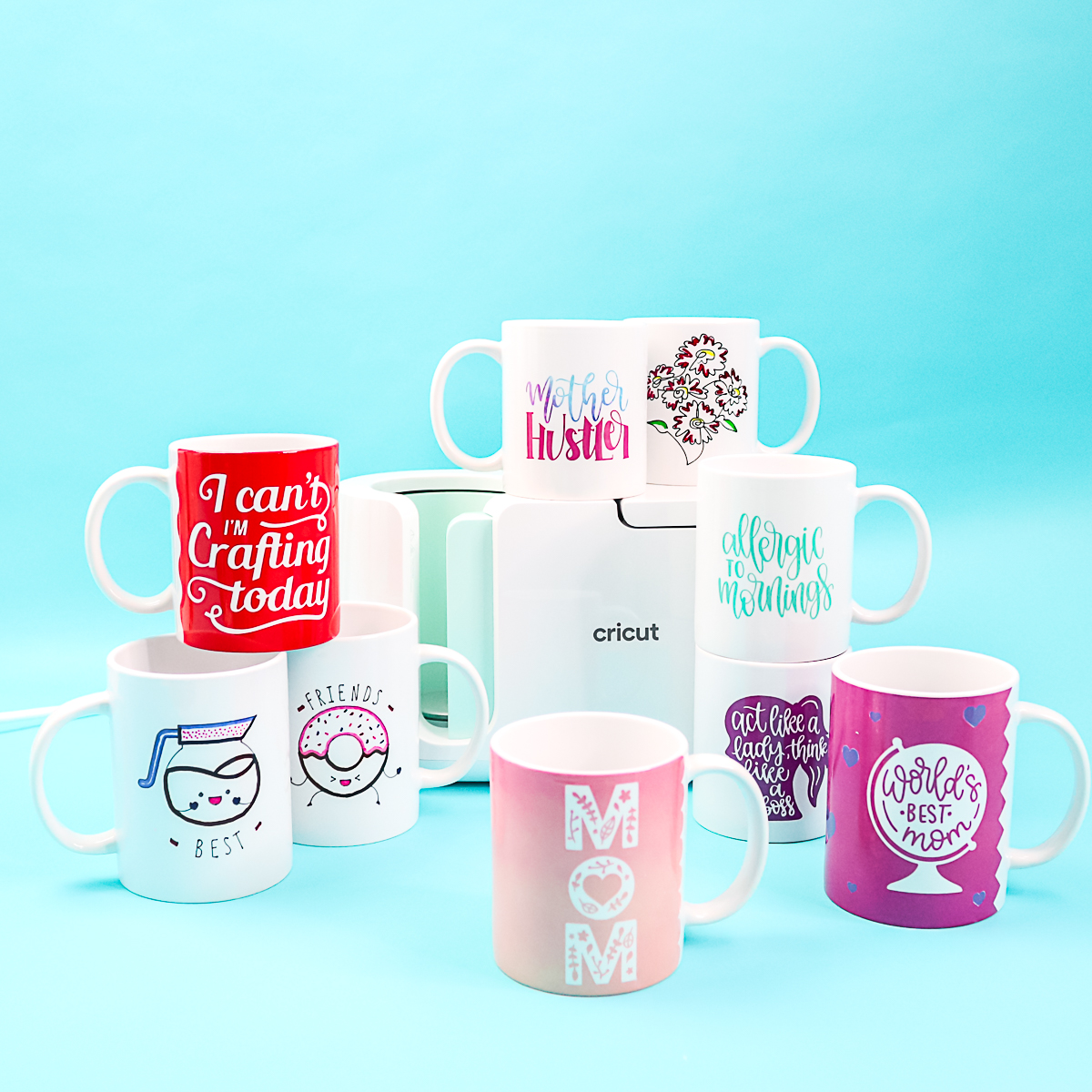 The Cricut Mug Press has me hooked on making ALL the Infusible Ink mugs! Stay tuned for more posts about this little machine!