You might be wondering how to add Cricut vinyl on canvas. After all, everyone seems to be making a reverse canvas or two for their home. If you want to jump on the bandwagon, read on! We have the best Cricut vinyl to use on canvas along with some projects that you might try using this method. Trust me, you are going to love adding vinyl to a canvas once you start making some projects.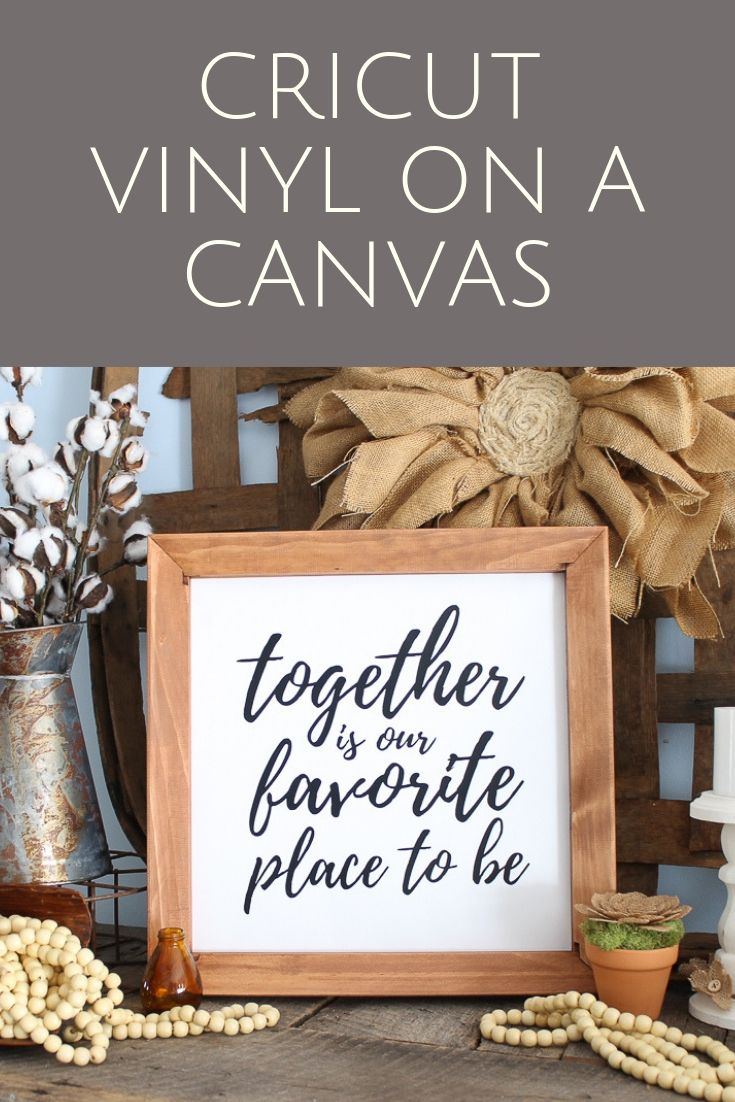 Which is the better Cricut vinyl on canvas?
There are two options when it comes to Cricut vinyl. There is heat transfer vinyl and adhesive vinyl. So, which is the better Cricut vinyl on canvas? I have actually personally used both on a few canvas projects. In my experience, HTV is way better on canvas than adhesive vinyl. After several months, I find that the adhesive vinyl will start to pull away from the canvas. So, if you want a longer-lasting canvas project, I would use heat transfer vinyl on canvas. The best part is that heat transfer vinyl is easy to add to a reverse canvas. Want to see how? Just click here for instructions.
If you don't want to do a reverse canvas, ironing the HTV to the surface will be a little more difficult. In that case, adhesive vinyl may be your only choice. Here are a few tips and tricks for using adhesive vinyl on canvas:
Adhesive vinyl will stick to a painted canvas better than a plain one.
Be sure to press it down really well!
Want to ensure it lasts a long time? Add a coat of Mod Podge over the top.
You might also try using the vinyl as a stencil instead and painting. This will ensure your project lasts for a long time.
Should you add HTV to the front or back of the canvas?
When doing a reverse canvas, you can add HTV to the front or back of your canvas. But which is right? Is it supposed to be on the front or back? The answer is it is completely up to you! The front of your canvas will be a bright white and works fine with HTV. The back is usually a creamier and more rustic look but once again the HTV will work fine. So, whichever side works best for your project will also work with the heat transfer vinyl.
What projects should you try?
Now that you know how to add Cricut vinyl on canvas, here are a few projects that will inspire you to make your own craft!
Heat Transfer Vinyl Canvas Projects
I actually have a video on adding HTV to canvas and you can watch that below. I think you will be surprised at just how easy it is!
In fact, you can get that wash your hands cut file here. You can also try one of the projects below to get you started:
Adhesive Vinyl Canvas Projects
Want to use adhesive vinyl on canvas instead? Give one of these projects a try!
Adding Cricut vinyl on canvas can really make your DIY projects pop. Give a reverse canvas a try or add vinyl to a canvas just as it is! Either way, you are going to love experimenting with this Cricut craft project idea!