What better way to celebrate National Cupcake Day than with this marbled cupcake stand made from clay pots? This quick and easy project is the perfect way to end our celebration of obscure holidays and Craft Lightning Week. If you have missed any of the fun, be sure to catch up with the projects from day 1, day 2, day 3, and day 4. You will also want to scroll to the bottom of this post to see the ideas from today's bloggers.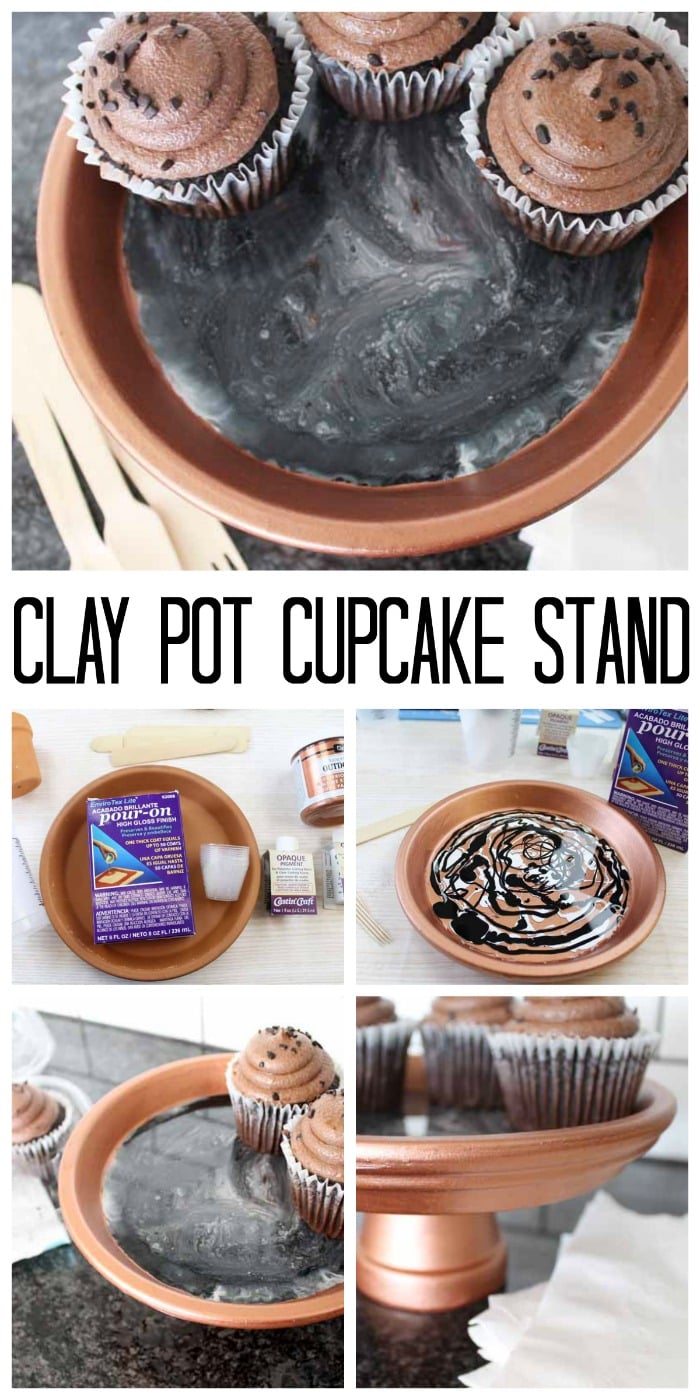 Supplies needed to make this DIY cupcake stand: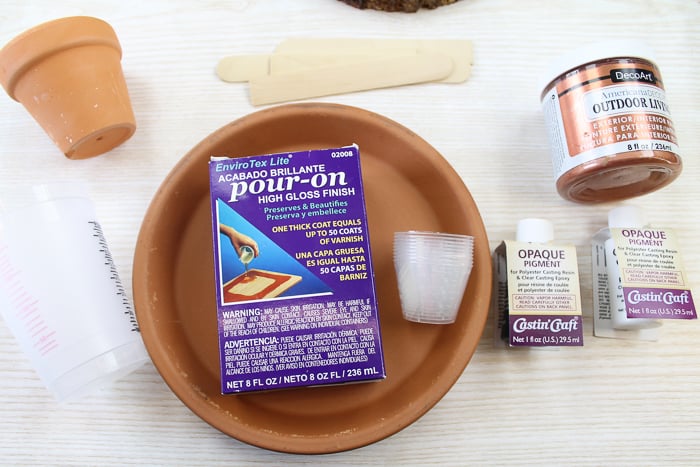 Instructions:
You will need to paint both the clay pot and the saucer with paint. Any paint color you love is fine but I do recommend an outdoor paint for clay pots. You may need more than one coat. Be sure to allow to dry completely before continuing with this project. Once dry, you can measure and mix the pour-on resin. Be sure to mix equal parts of each component and mix well according to the package directions.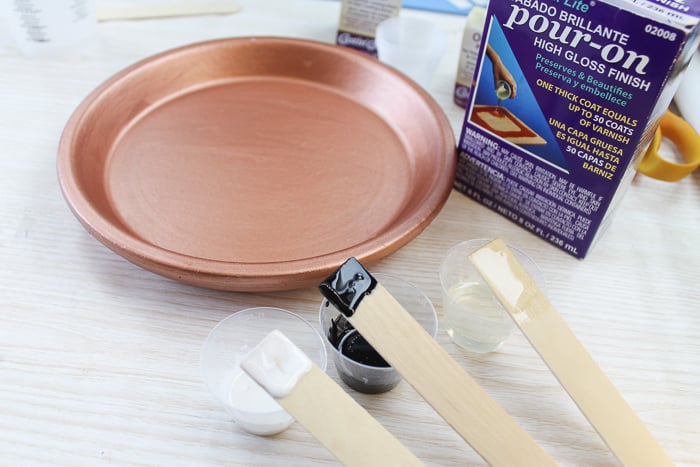 Divide mixed resin among some small cups. Leave one untinted and tint the others as desired. I am using white and black but you can use as many or as few colors as you would like. Start with an even layer of untinted resin in the bottom of your saucer.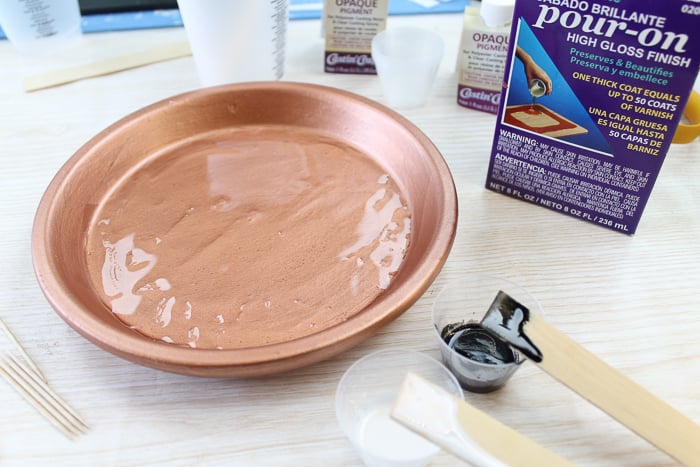 Then drizzle on your colors with your stir sticks.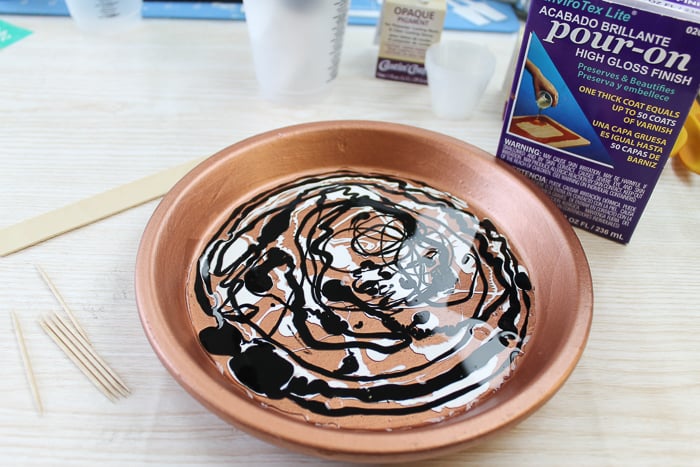 Use the stir stick or even toothpicks to marble the resin until you have the look you desire.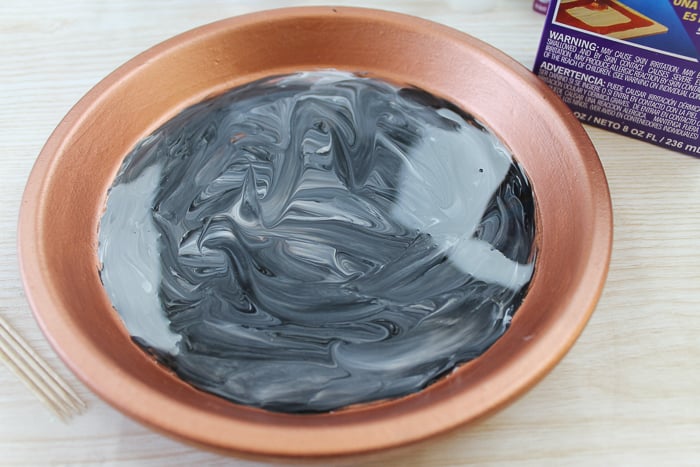 You will see reactions happening within your project as it sits. Pop any bubbles that rise to the top according to the package instructions. Allow to sit someplace level until the resin has cured completely. This should be at least overnight.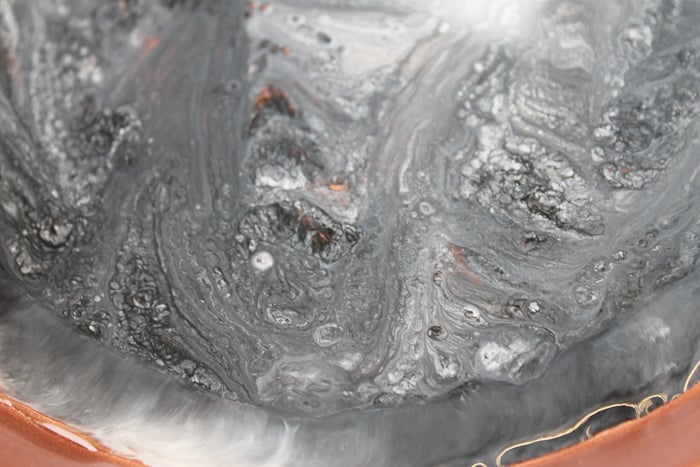 Then glue the clay pot to the bottom of the saucer with some adhesive. Your cupcake stand is complete and ready for display.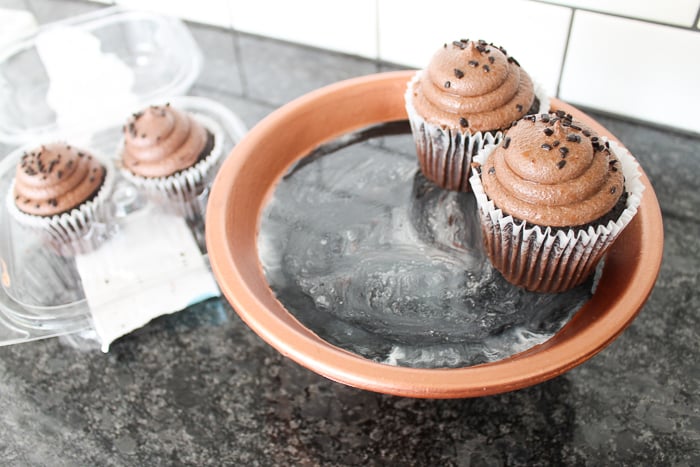 Make one of these for any party you are hosting. You can even make it in colors to match your theme.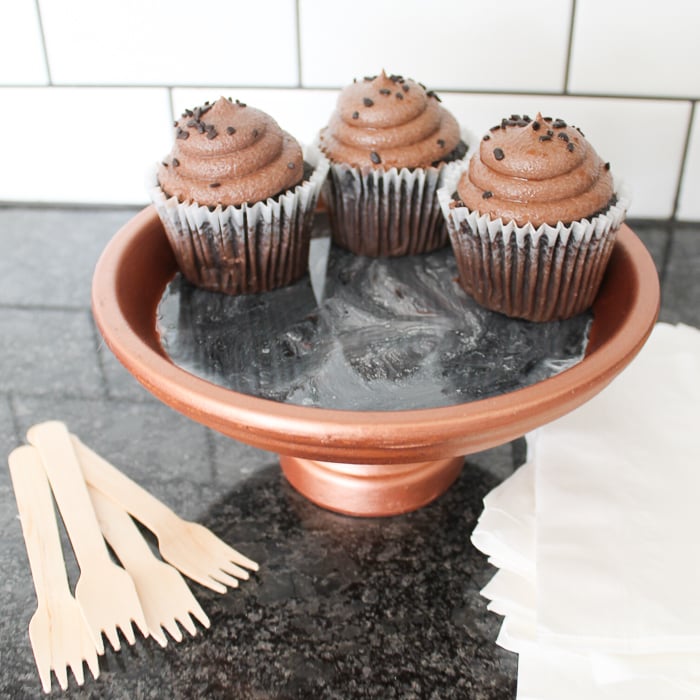 Vary the size of your clay pot and saucer depending on how many cupcakes you will have. You can also add on more pots/saucers for a tiered cupcake stand.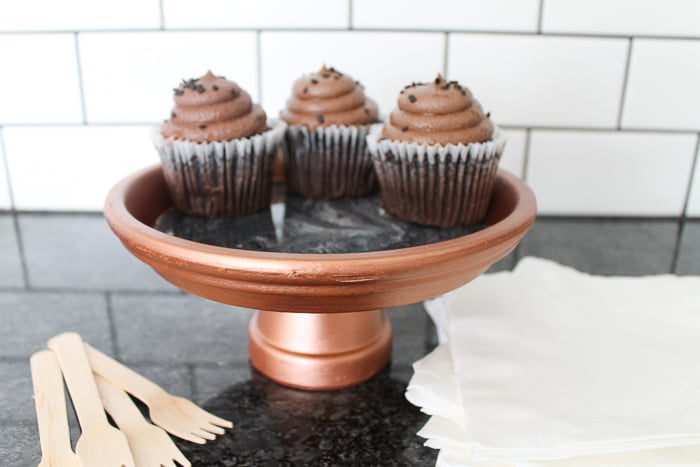 Will you add a cupcake stand to your next party?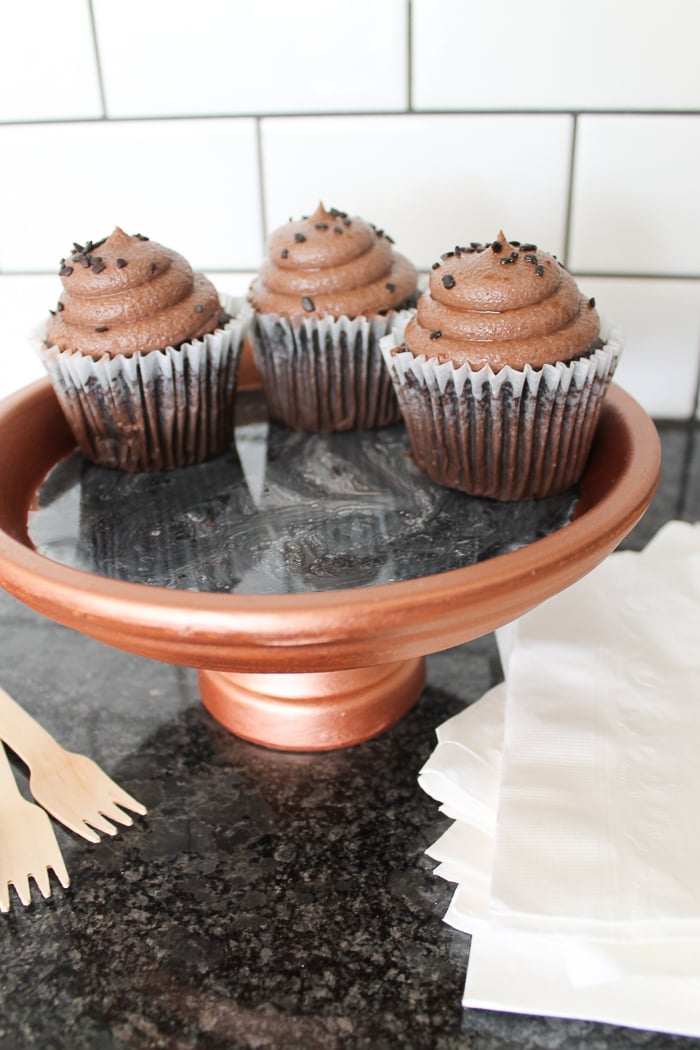 Use this super simple method to make your own and celebrate National Cupcake Day or serve up an after-school snack.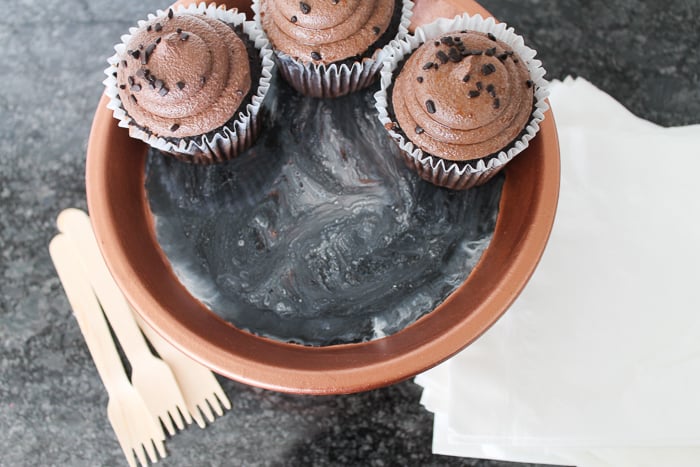 Love this cupcake stand and want more ideas? Try the links below from our blog partners for this series.
Celebrate National Margarita Day with the free margarita cut file from The DIY Village.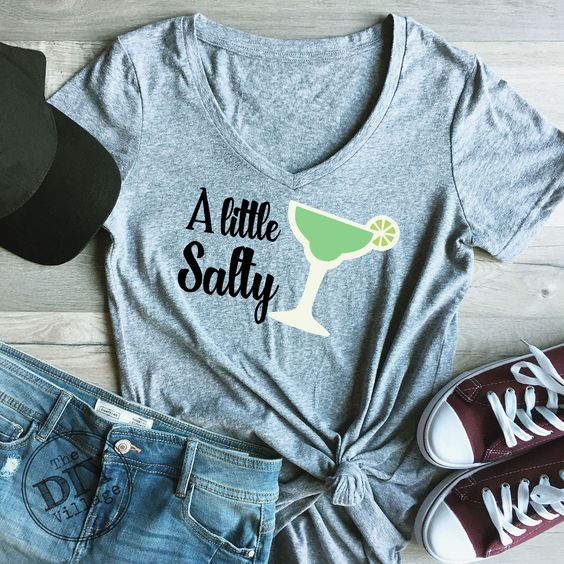 Love coffee? Make a coffee bar sign like this one from Michelle's Party Plan-Its to celebrate National Coffee Day.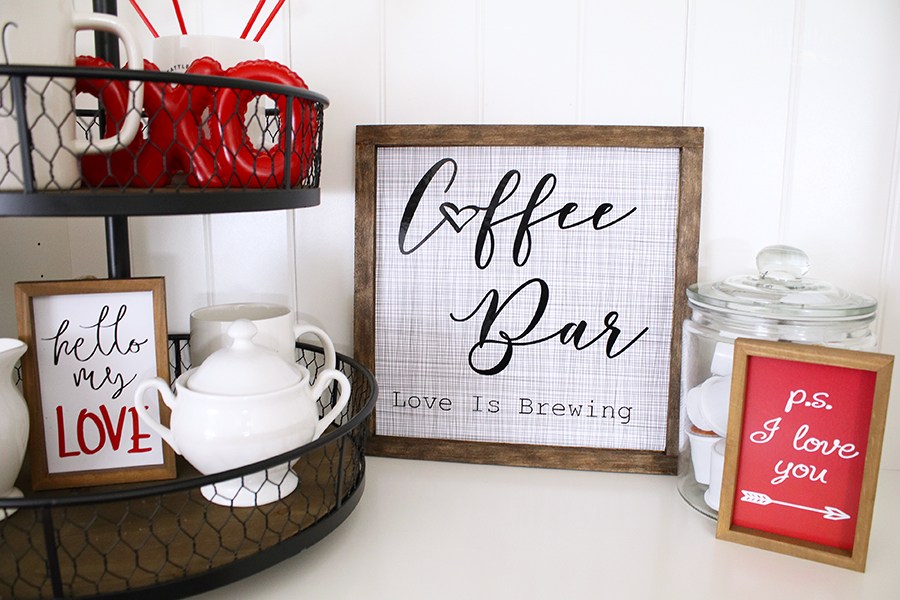 Who doesn't love mermaids? Use the two mermaid cut files from Happy Go Lucky to create something amazing for National Mermaid Day.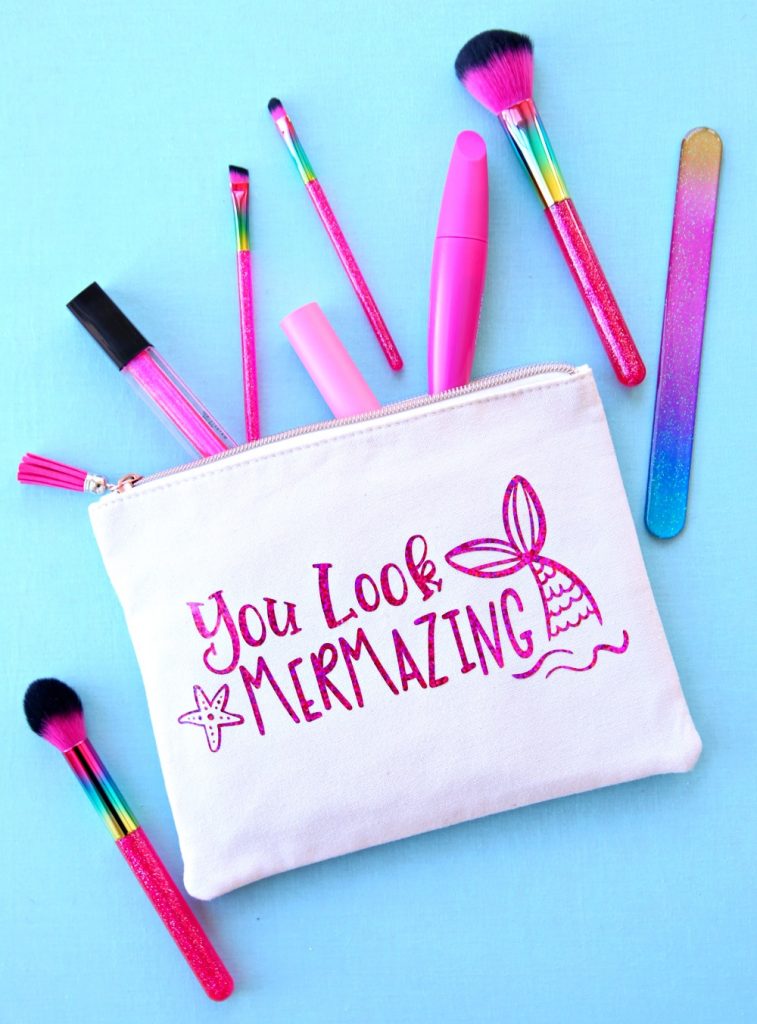 National Gumdrop Day just happens to fall in the same month as Valentine's Day. Make a cute valentine card like this one from A Sweet Berry to celebrate!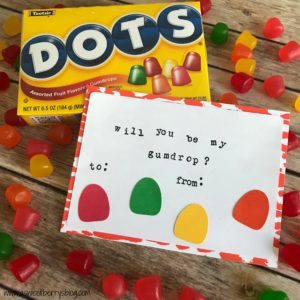 Speaking of cards, you can also celebrate send a card to a friend day with this best friends card from Creativities Galore.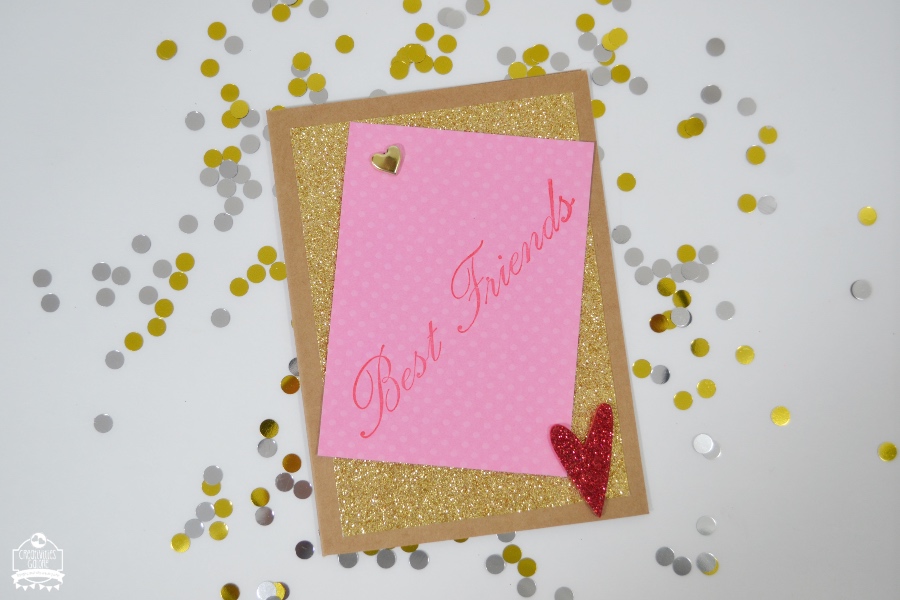 National Raccoon Day may be the cutest of all holidays especially if you celebrate with this raccoon coffee cozy from Creatively Beth.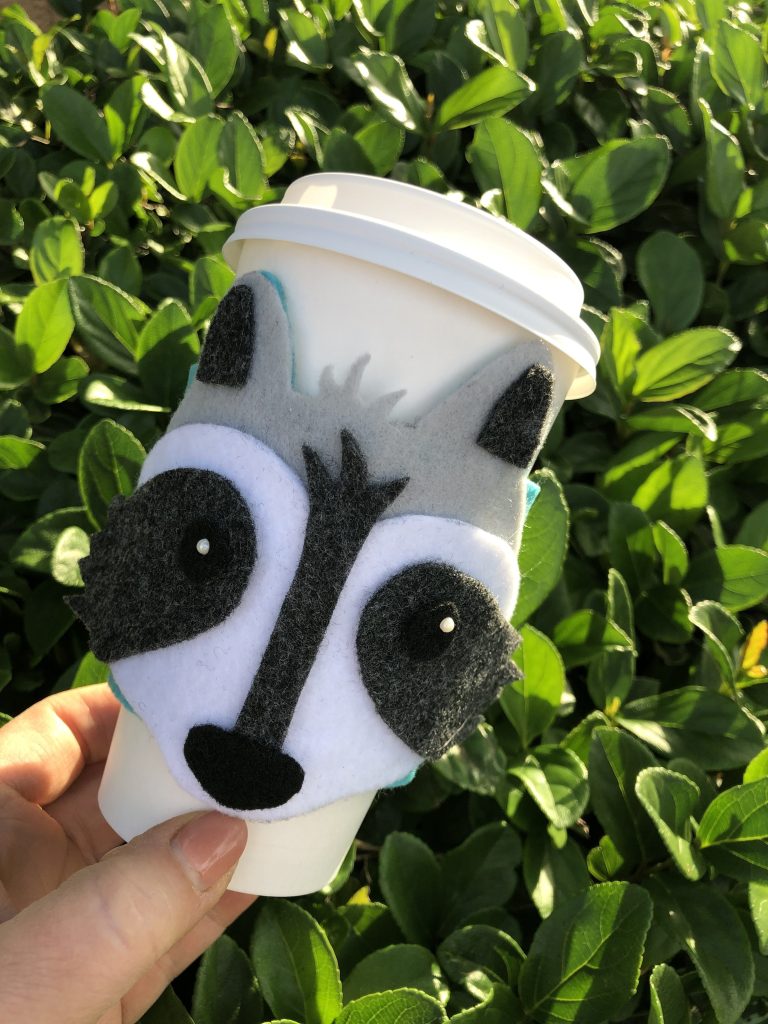 Apparently we are sending a lot of cards to friends today! See Lindsay is our guest co-hostess and she has a friends card free printable you don't want to miss.
Make this cupcake stand or any of these other crafts and celebrate an obscure holiday this year.
Struggling with resin and need help?
I know that a ton of you are intimidated by resin. Don't be! You just need to know the basics and gain some experience with the medium. I have a course that will help you to master epoxy resin and give you the confidence you need to tackle this project and so much more.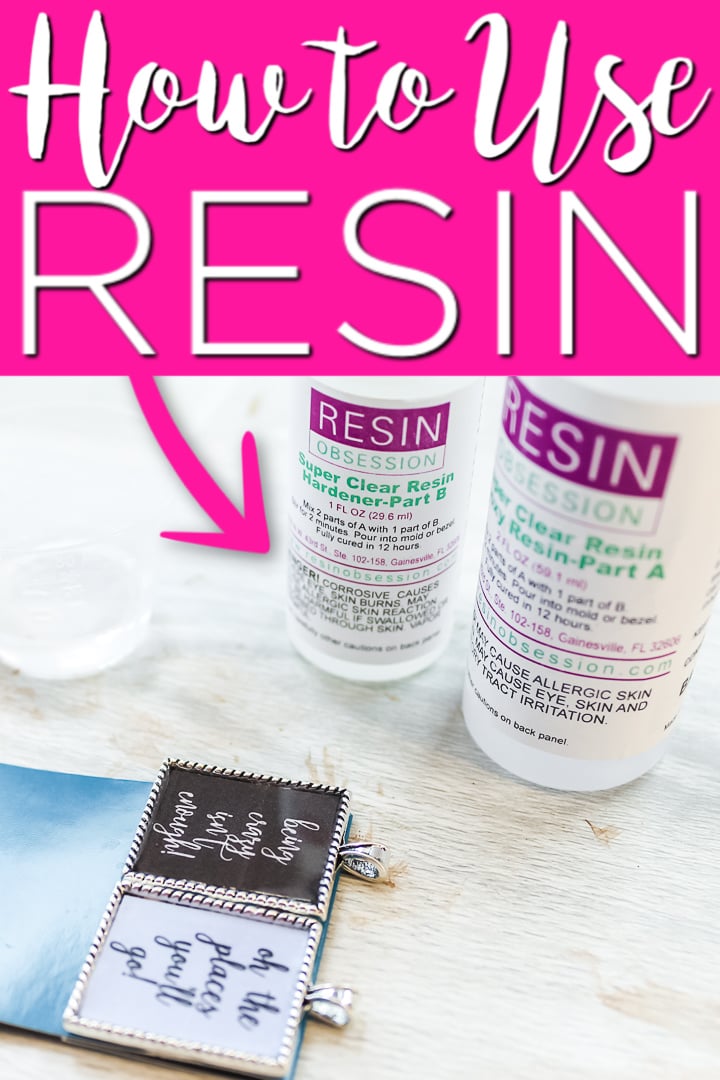 With unique insights drawn from more than a decade of creating and selling resin jewelry worldwide, this course is from an Amazon best-selling author on the topic. This class goes beyond making a few projects. You get thirty video lessons to give you clear directions on how to make resin jewelry you can confidently share and sell. Want to see more?