Did you know that you can cut faux leather on a Cricut? Have you struggled with cutting this material before? We have all of the tips and tricks you need to successfully cut this material on your Cricut Explore and Cricut Maker. Follow along below and your Cricut will be cutting faux leather like never before.
Want to cut even more materials with your Cricut? Try our tutorials for wood and metal.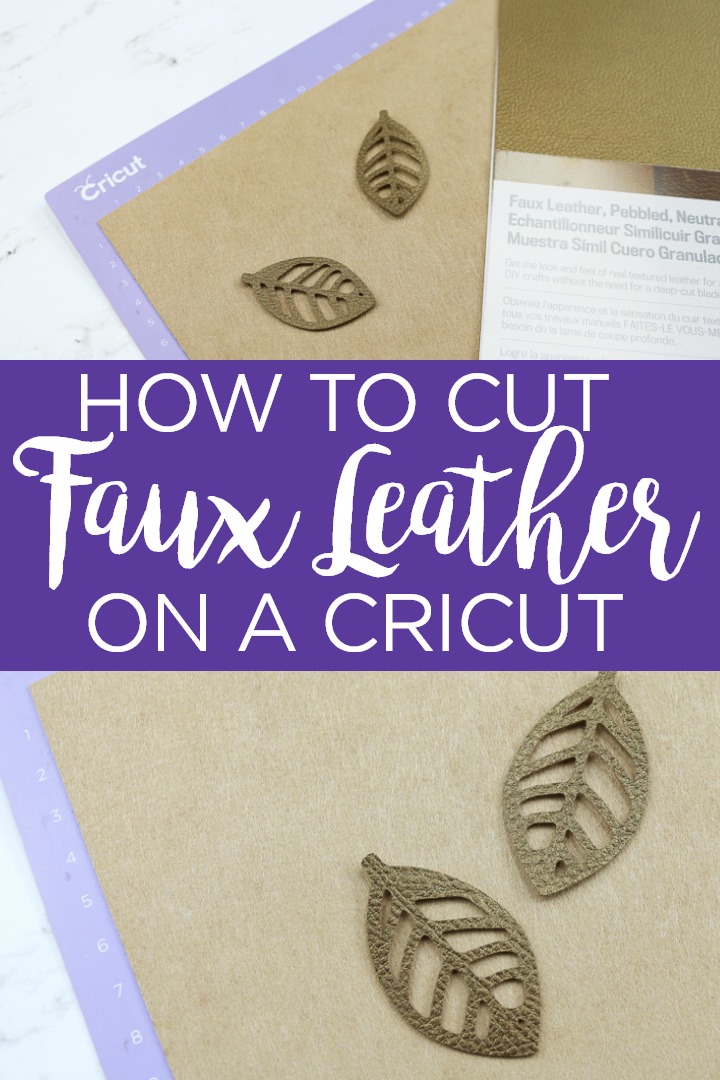 What is Faux Leather?
Faux leather is easier to cut than regular leather and it is vegan. Most products give you the look and feel of real, textured leather for your DIY crafts. This means that you will not need a special blade to cut this product and it is perfect for all of those crafts where you think leather might be needed. You can buy faux leather in a variety of colors from Cricut here. It has a wide variety of faux leather textured finishes on one side and a felt material on the reverse side. It is also less expensive than real leather making it a win-win really!
How to Cut Faux Leather on a Cricut
If you just want to watch a video on cutting faux leather, we have that for you! Hit play below and watch all of the details.
You can also keep reading to learn more about how to cut faux leather on a Cricut if you don't want to watch the video.
Cricut Cutting Faux Leather
Any of the Cricut machines can cut faux leather since it uses the standard blade that comes with all machines. Plus, you can make some gorgeous projects with it! I cut some faux leather earrings to demonstrate the cutting. You can get the leaf earring cut file here. Then just follow our steps below for optimal success.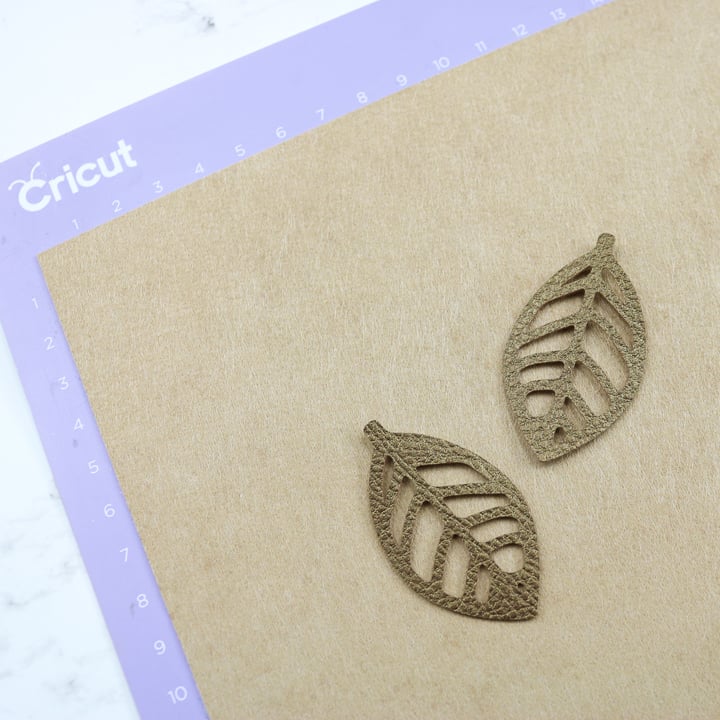 Which Cricut Mat to Use
You will want to use a strong grip mat for cutting faux leather. This is REALLY important. The material will need to be stuck really well on the mat to cut properly. If your strong grip mat is old and worn, I would get a new one before attempting your faux leather Cricut project.
Adding Material to the Mat
You will want to add the material face down on the mat. It sticks a bit better this way and the face of your material will not be marred by the wheels on your Cricut. Once you have your material on the mat, I recommend using a brayer to really push it down. This will ensure that every part of the material is stuck down well on the mat. REMINDER: You will need to mirror your cuts before cutting since the material is face down on the mat.
Which Blade to Use for Faux Leather
The fine point blade that comes with all Cricut machines works for faux leather. If you are having issues cutting, the first thing I would check is your mat then I would change the blade. A dull blade is a common issue when cutting this type of material. You can also keep reading as we have a few ideas below for troubleshooting.
Tips and Tricks for Faux Leather Cutting
Here are a few more things you can try when cutting faux leather with your Cricut:
Don't forget to mirror your cut since your material is face down.
If you do put your material face up on the mat, be sure to move the white star wheels on your Cricut all the way to one side so they do not mark the surface.
If you don't like the look of the felt side of the faux leather, you can cut two mirrored pieces for your project and glue them back to back. I personally do not mind the felt side but others don't like the look.
When cutting, pick the faux leather (paper thin) setting in Cricut Design Space. You will need to move the dial to custom on your Explore series machine to get to this menu.
Are you still having issues? We have some instructions below for changing the order of your cuts. This helps if you are having trouble with your machine cutting the outside first and then trying to cut the inside and moving on the mat.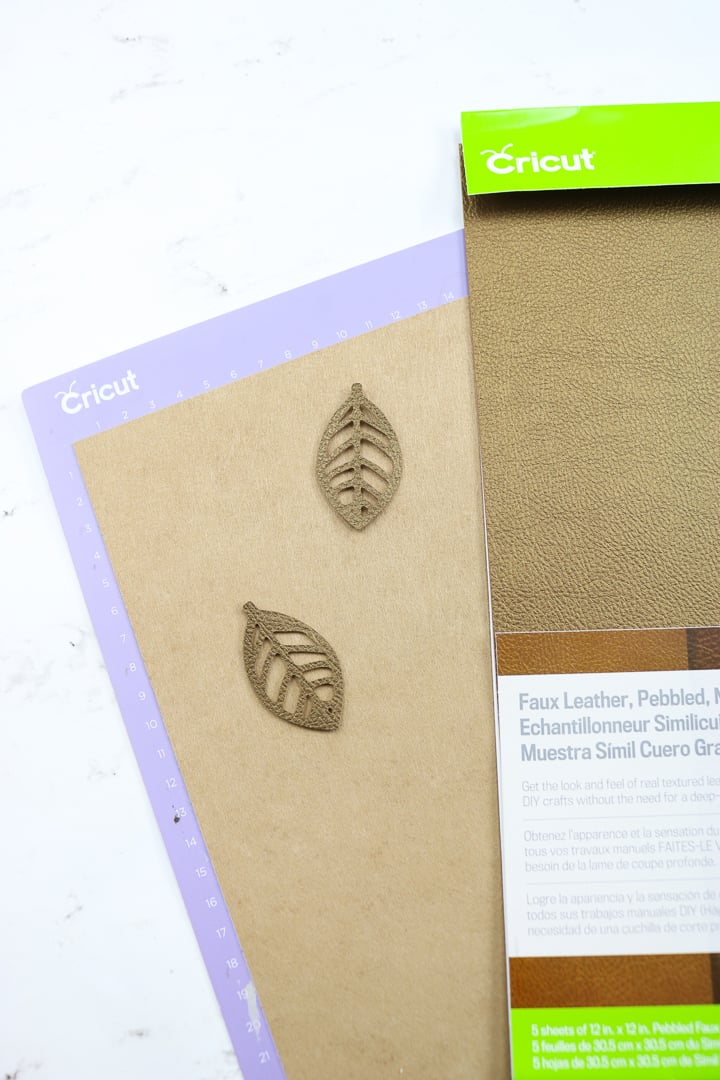 Changing the Order of Your Cuts
You can use these instructions as a last resort. Sometimes it helps to cut the interior portions of your project first then to cut the outer edge. But how do you make your Cricut machine do this? Try these instructions to control the order of the cuts.
Duplicate your piece so you have two copies.
Use the contour feature on the first piece to remove all of the outside cuts. You can see more about using contour here.
Use the contour feature on the second piece to remove all of the inside cuts.
Put these two pieces on top of each other on the mat.
In the layers panel, make sure that the piece with the inside cuts is above the piece with the outside cuts.
Choose both pieces and click attach.
Now you are ready to cut. The inside cuts should cut first with the outside cuts cutting second.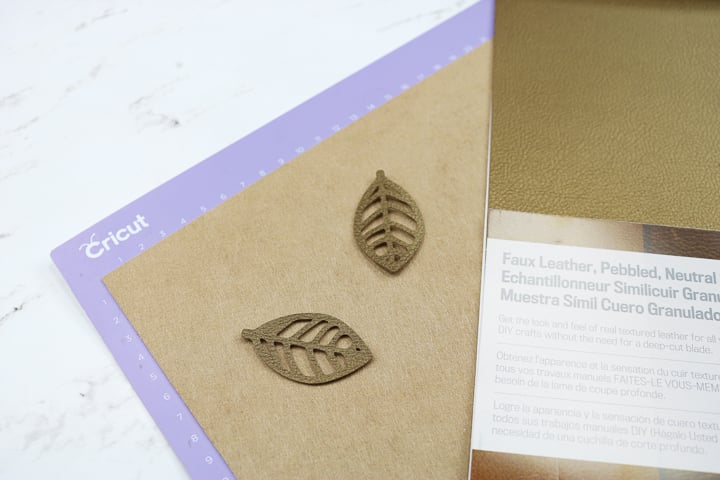 Faux Leather Projects to Make on Your Cricut
Now that you know how to cut faux leather on a Cricut, you might need a few projects to get you started. Try the links below for gorgeous crafts that you can make with this material.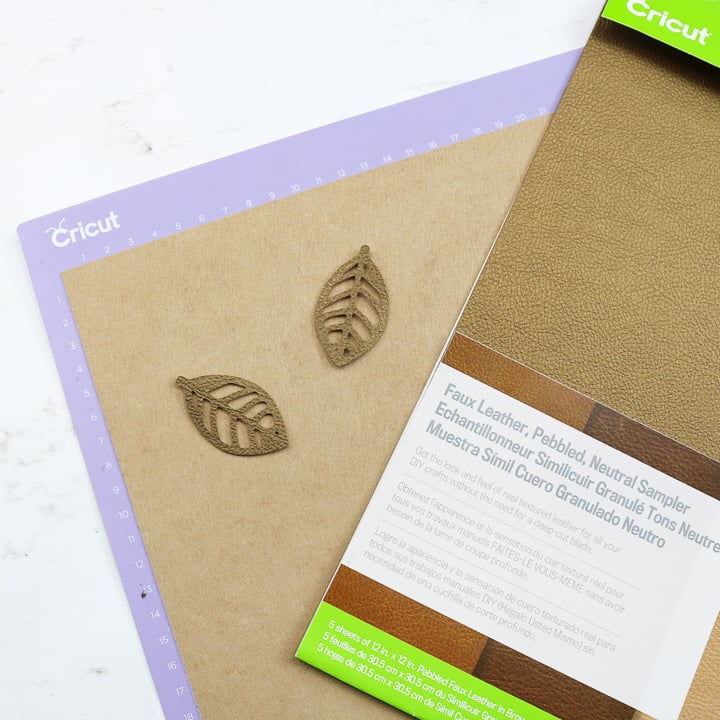 Now all that is left is to buy some faux leather and fire up your Cricut machine. If you have any questions or have more issues, please ask those in the comment section below. Learning to cut faux leather on a Cricut machine is easier that you think!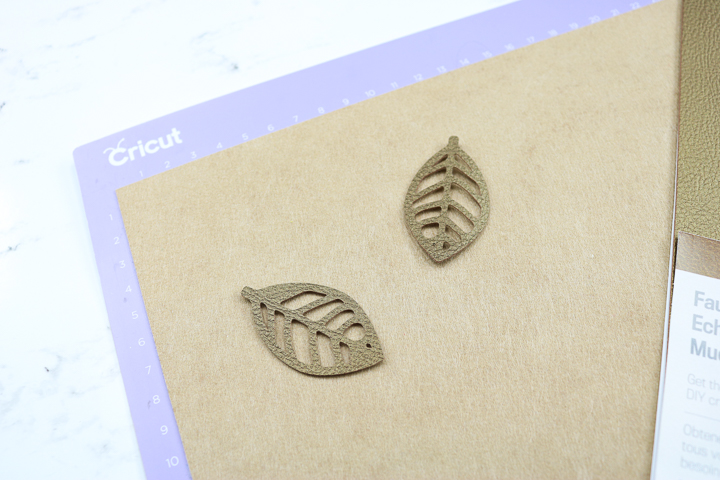 New to Cricut?
Sign up for our email list here to download the Beginner's Guide to Cricut Design Space for FREE today!
Sign up to get the guide emailed to you!