I thought maybe you could use some scrap fabric ideas right about now. After all, you may be making all the face masks and have a few scraps around your craft room. What can you make with scraps? So many things! I am going to walk you through how to cut scrap fabric on your Cricut then a few project ideas that anyone can make. Remember that you can cut fabric on ANY Cricut machine so these projects are not just for those with a Maker.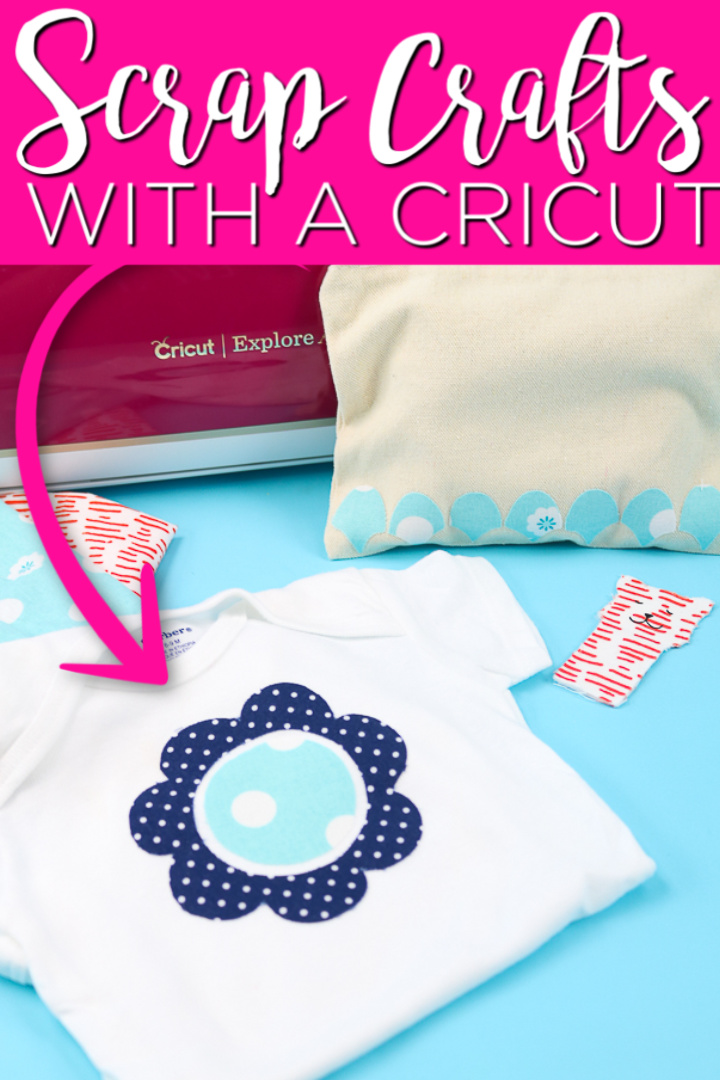 Table of Contents
How to Cut Scrap Fabric on Your Cricut
I thought first we would go through the steps for cutting then I will give you a few project ideas. You can actually watch the entire process in the video below if you like video learning better.
I am going to cover cutting with each machine below. You might also want to see our tutorial on how to use SnapMat as it will help you locate the cuts on your fabric if you need to.
Supplies needed to cut fabric on a Cricut:
Scrap fabric
Fabric grip mat (or light grip mat if you don't have the fabric grip)
Interfacing (see below for best options)
EasyPress or Iron
Surfaces and supplies for any projects you are making with your scraps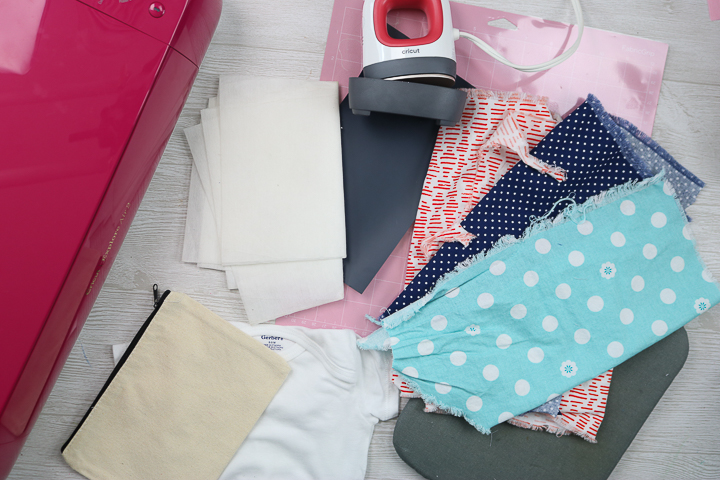 What type of Interfacing is Best?
I know I am going to get this question so I am going to let you know what I generally use for my projects. I think any interfacing would be fine but this is what I use.
Heat N Bond No Sew Adhesive – This is a double adhesive product. So, you will iron one side on your scrap fabric then cut it. Then after that you can iron it onto your surface as there is an adhesive on the second side as well.
Heat N Bond Non-Woven Fusible Interfacing – This is single sided so you iron onto your fabric then use for applications that don't require an adhesive.
Again, this is the brand that I love but others will work as well. Just remember that sometimes you need a double adhesive product and other times you need adhesive just on one side.
Cutting Scrap Fabric on All Cricut Machines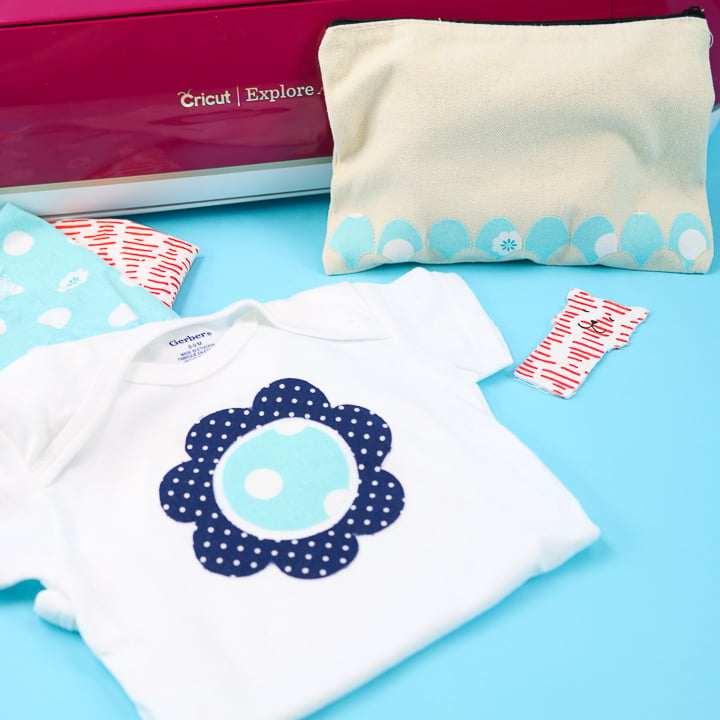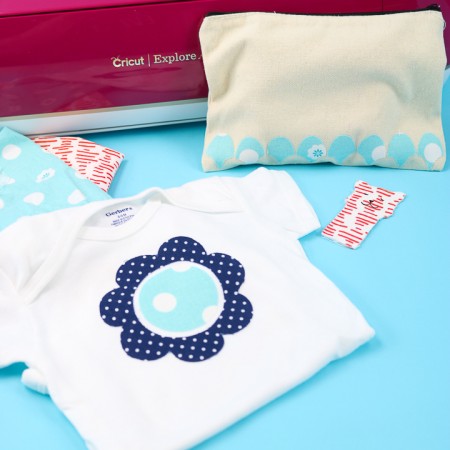 Using Scrap Fabric on a Cricut
Don't throw away those scrap pieces! Use your scrap fabric on your Cricut to create something new.
Equipment
Cricut machine (any will work)

Iron or EasyPress
Supplies
scrap fabric

interfacing

this will depend on the machine you are using as well as the project you are making

fine point or rotary blade

fabric or light grip mat
Instructions
If your fabric scraps are really wrinkled, you may want to iron them first.

Then add interfacing if needed. When is it needed? If you are using a Cricut Explore or Cricut Joy, you will need this in order to cut the fabric. If your project uses something like Heat and Bond as an adhesive, you will also need to add that at this step. If you want to use your Cricut Maker with no adhesive or stabilizer, you can skip this step.

You will want to add your interfacing as per the instructions on whatever brand you are working with.

You will want to remove the backing from your interfacing before continuing with cutting on your Cricut machine. NOTE: Backing is only present on double-sided adhesive products.

Place your fabric on the fabric grip Cricut mat. This needs to be interfacing side down if you are using it. If you are not using interfacing, you can put either side down but be sure to mirror your cut if the good side is down on the mat. If you don't have the fabric grip mat, a light grip mat will work for bonded fabric.

Then you can cut your design from your fabric using your Cricut machine. For the Cricut Maker, pick the fabric you are cutting. For the Cricut Explore, pick a bonded fabric setting. For the Cricut Joy, use the medium card stock setting. Remember that ONLY the Cricut Maker can cut fabric that is not bonded.

Then you can remove your cut pieces from the Cricut mat and continue on with your project.
Tried this project?
tag us to show off your work!
Have more questions or want to see more? You can see an entire tutorial on how to cut fabric on a Cricut machine here.
Scrap Fabric Ideas
So, now that you know how to cut fabric on your Cricut, what can you make? First, you can watch the video below which walks through the cutting of fabric scraps for three different projects on a Cricut machine.
Can't watch the video or missed some of the steps? I am also covering all three project ideas below along with giving you even more ideas for using those scraps to create something amazing.
Finger Puppet from Scrap Fabric
Finger puppets are a great scrap busting project as they are small. You will want to make sure to bond your fabric no matter which of the machines you are using as you will need the stabilization for the puppet to stand up. You will also need to use the single-sided adhesive version. I also added some iron-on details to my little tiger.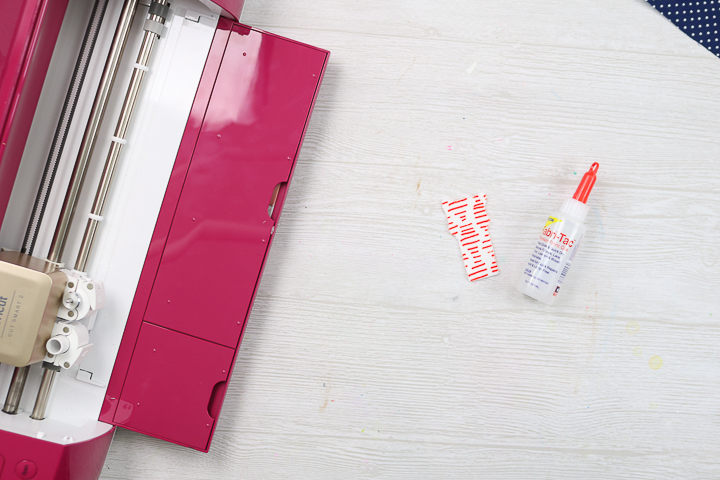 Just cut two pieces that are the mirror image of one another. You can get the cut file for the tiger here. Then attach them back to back around the edges leaving the bottom open. You can sew this or use fabric glue. Then add facial features with iron-on and your EasyPress Mini to complete your project.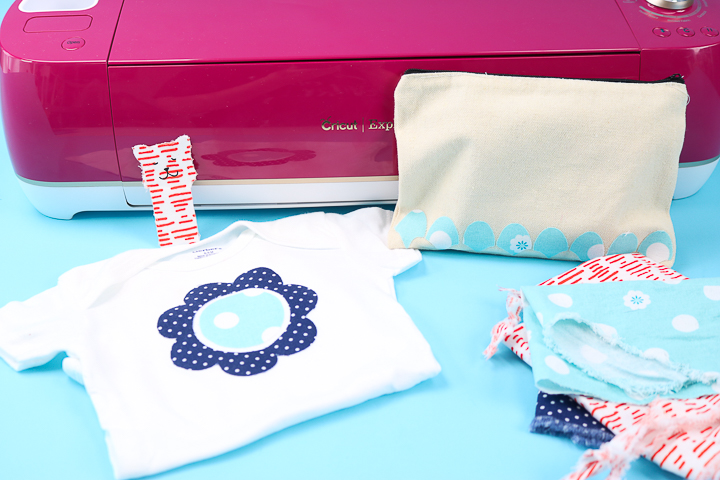 Scallops on a Zipper Pouch
The next thing I love to do with fabric scraps is to cut shapes with my Cricut. You can use these shapes on a zipper pouch as I am doing but you can also use them around the neck of a shirt, the pocket of an apron, the sleeves of a dress, the bottom of a tea towel, and so much more. Just add the double-sided fusible onto the back of your fabric. You can find the scallop I used in the cut file here.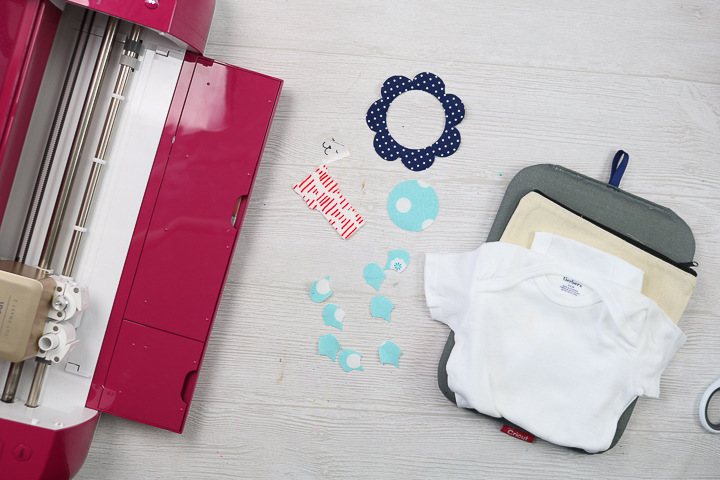 Then cut out the scallop shapes. You can actually change this shape up to whatever you like. Place those on the bottom of a zipper pouch or on another project. Then press to activate the adhesive and put on your material. This project is so easy and yet makes any surface cuter.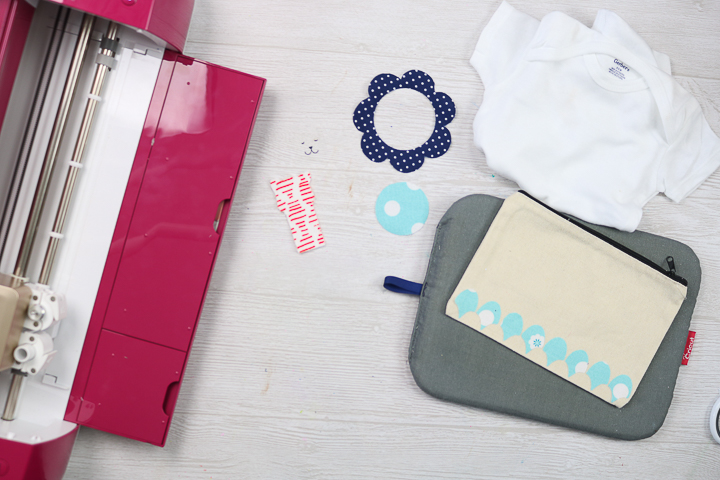 Scrap Fabric Onesie
Cut larger scrap pieces into shapes and make a cute onesie or add to a pocket of an adult shirt or even multiple shapes on a pillow cover. Again you will need to add the double-sided adhesive fusible to the back before cutting.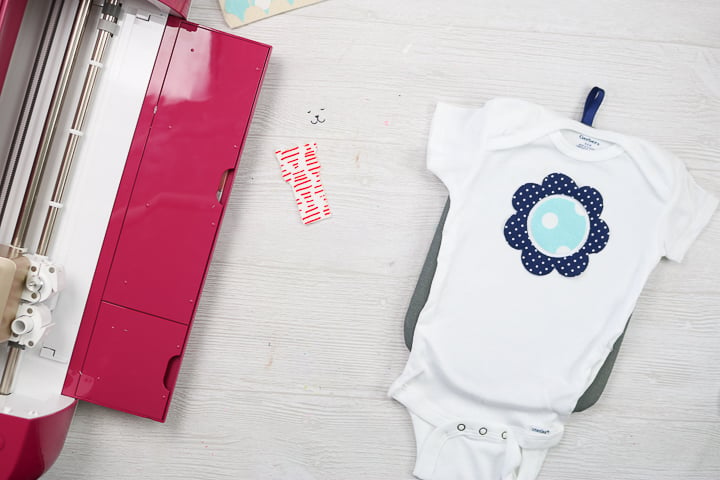 Add into place on your onesie and press with your EasyPress mini. These types of projects take a little prep but the pressing is so fast! That makes these scrap fabric ideas quick and easy.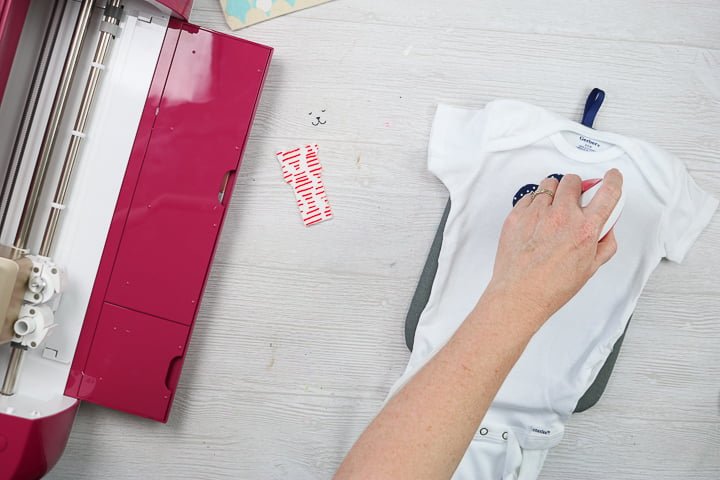 You can go around your fabric with a zig-zag stitch but you can also just leave it as is. I am using a flower shape but literally any shape will work with this. Think about butterflies, cars, tractors, Mickey heads, and more. You can find the flower design I used in the cut file here.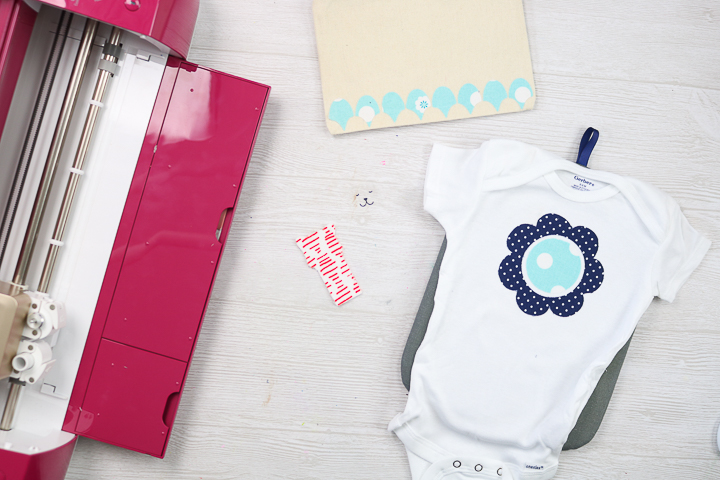 I hope you have enjoyed these scrap fabric ideas and will use your Cricut to make a few of these projects.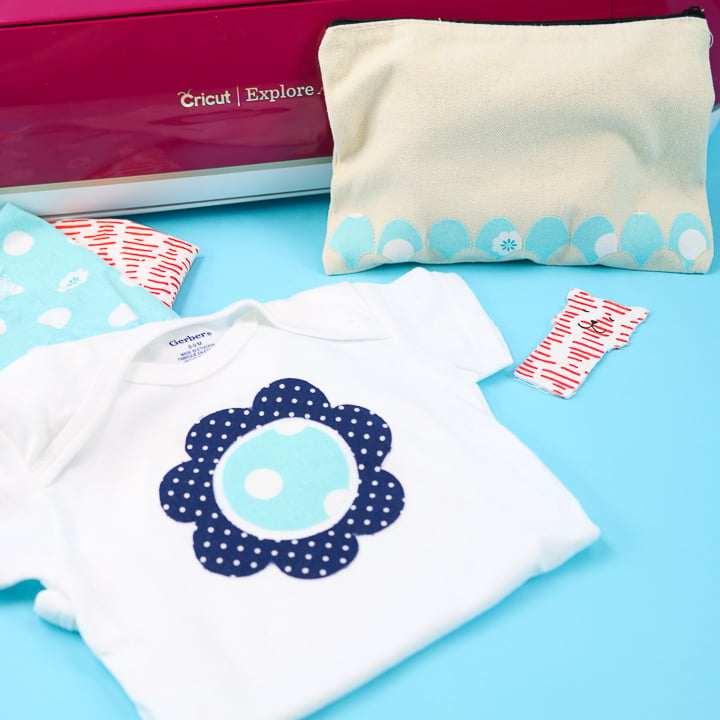 Don't throw away those small bits of fabric! Use them to make something amazing for yourself or to give as gifts.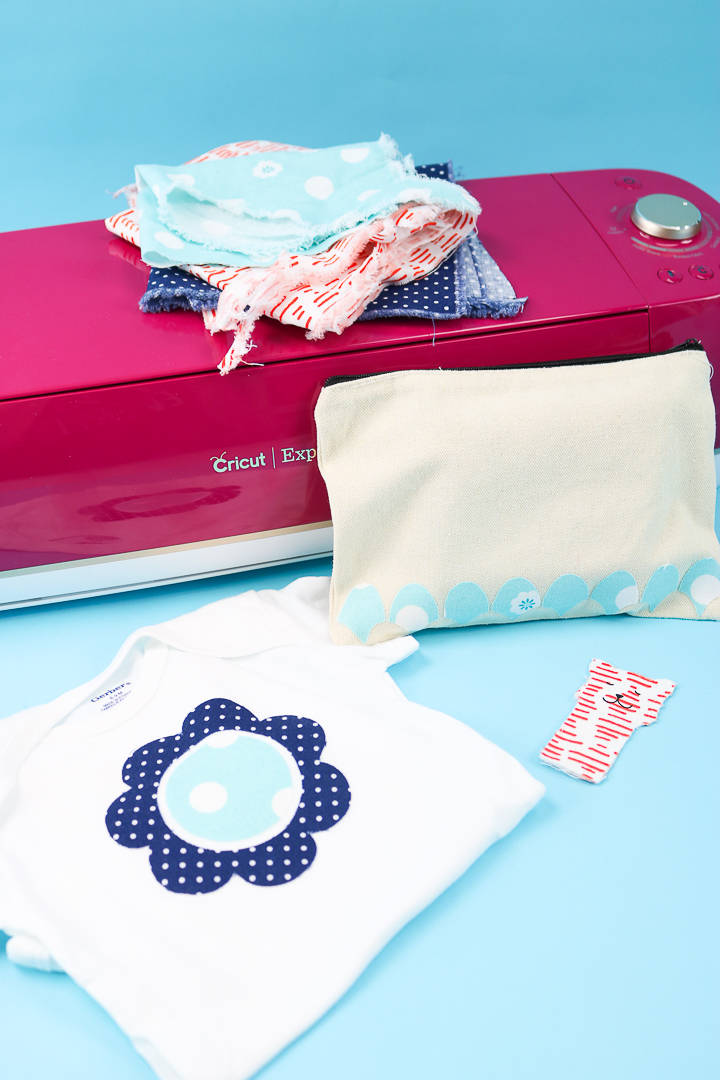 Love these scrap fabric ideas and want more? Try the links below as well!
Scrap Fabric Decor Ball
Use those small pieces of fabric to make decor ball for your home.
Read More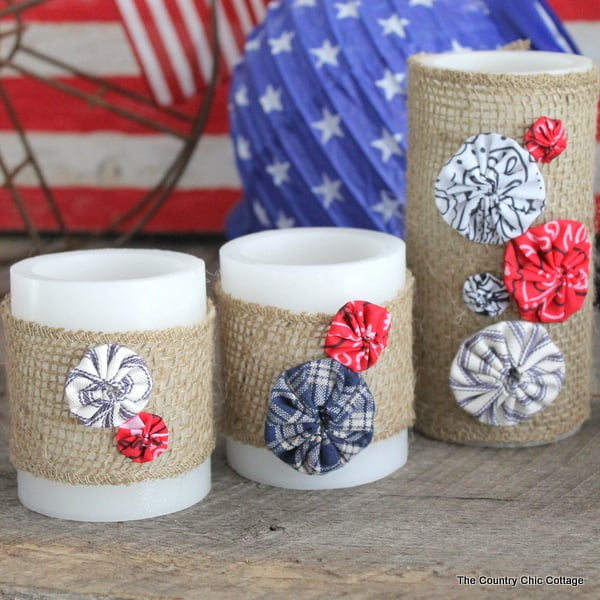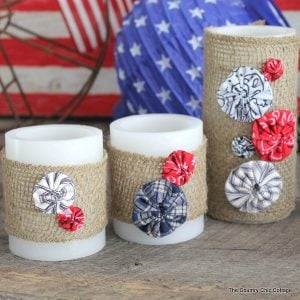 Patriotic Burlap Yo-yo Candle Wraps
Even the smallest pieces of fabric can become yo-yos to decorate your home's decor.
Read More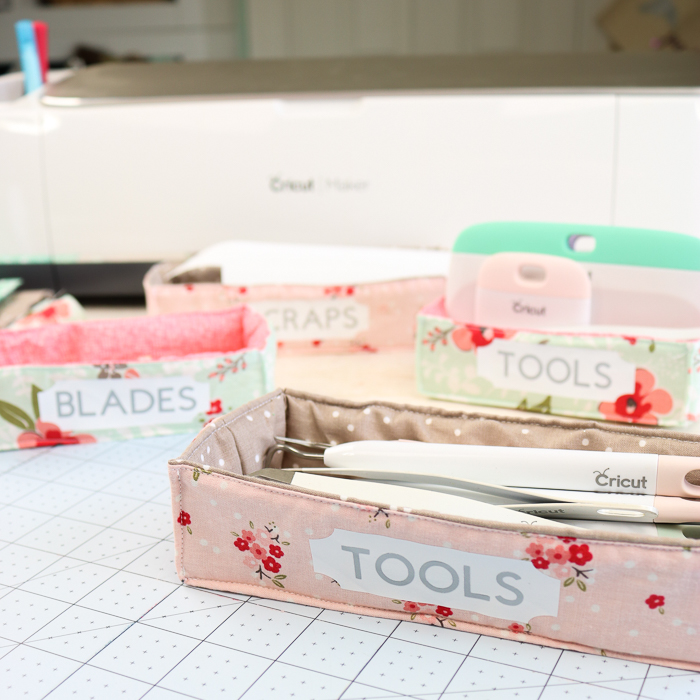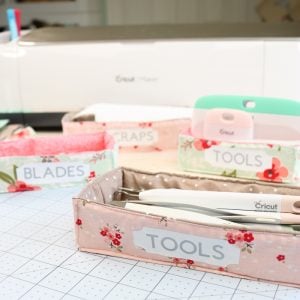 Fabric Storage Bins
These small fabric storage bins are perfect for your Cricut tools and more!
Read More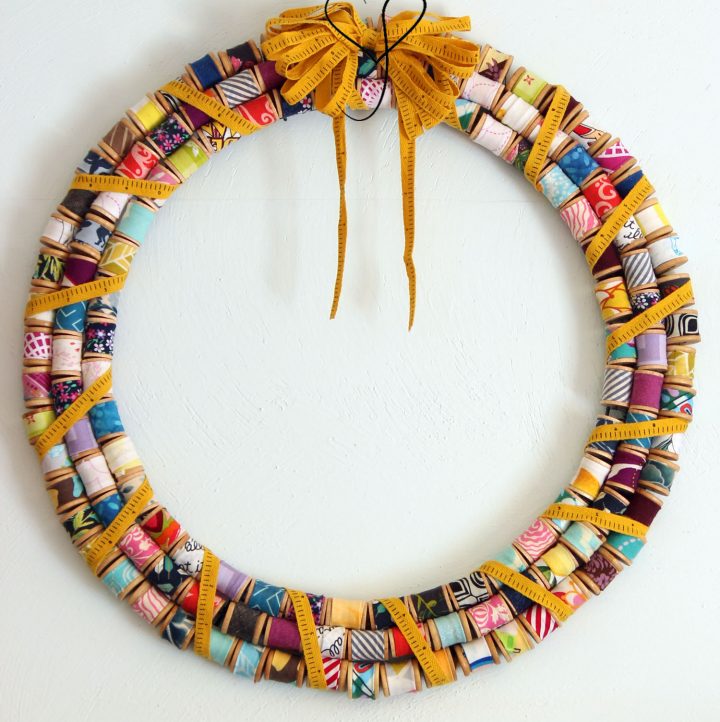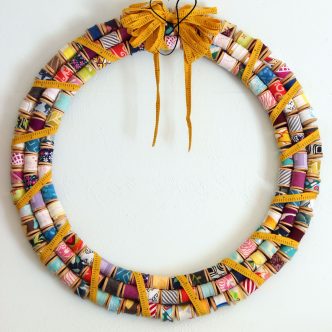 Vintage Spool Wreath
Wrap those fabric scraps around vintage spools to make a wreath!
Read More
New to Cricut?
Sign up for our email list to download the Beginner's Guide to Cricut Design Space for FREE today!
Sign up to get the guide emailed to you!