Are y'all ready to learn how to make a DIY sock stick horse? You may just die from cuteness y'all! This is the perfect tutorial for a gift for that special kid in your life. I think girls and boys alike would love these stick horses. I actually made a whole herd of them for a cowboy birthday party I threw this past weekend. Y'all stay tuned all week for details on my cowboy bash. Lets get started on our stick horses first. This tutorial takes a ton of steps but trust me y'all it is easy and YOU CAN DO THIS!
Items needed for the DIY Sock Stick Horse: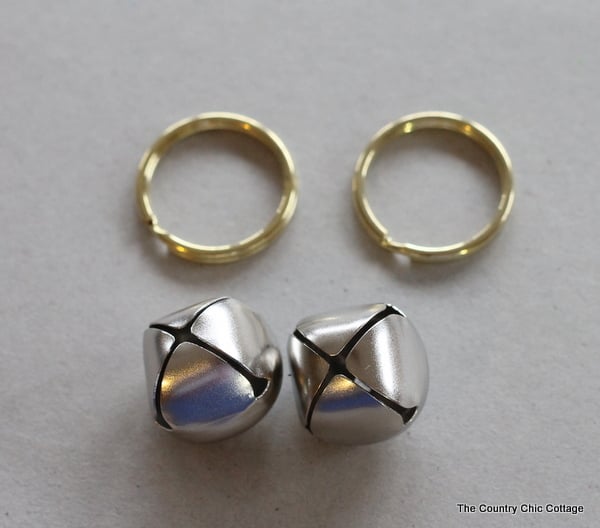 2. Cut your faux leather into 1 inch strips. You will need 2 pieces 5 inches long and one piece 16 inches long.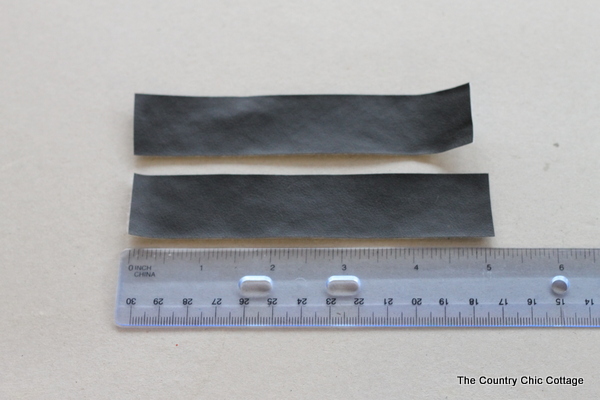 3. Use the zig zag stitch on your sewing machine to assemble your halter. Sew them to the key ring as shown below.
4. After all the pieces have been sewn to both key rings you will have a halter for your stick horse as shown below.
5. Next is the mane. Cut your yarn into 9 inch pieces. You will need many cut pieces for the mane.
6. Mark your sock approximately 2 1/2 inches in front of the heel.
7. Add a little fiberfill stuffing into the toe of the sock.
8. Add your halter then add some more fiberfill to the sock. Stop when you get close to your mark for 2 1/2 inches.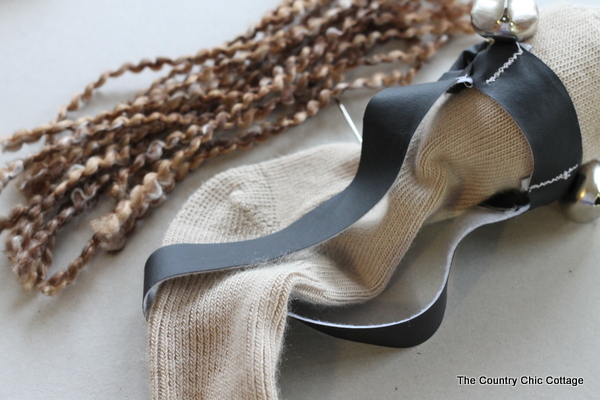 9. Using that same zig zag stitch, begin at your 2 1/2 inch mark. Fold each piece of yarn in half and sew the fold to the sock. Pull the sock tight as you go slowly adding in yard mane pieces. Be sure to stretch and pull the sock as you sew. The halter should fall right on the back of the heel of the sock. Sew it into the mane. Stop sewing when you reach the ribs of the sock.
10. Add fiberfill until you get to the heel area of the sock. Then add in your Styrofoam ball.
11. Add more fiberfill UNDER the ball to make that area of your horse wider.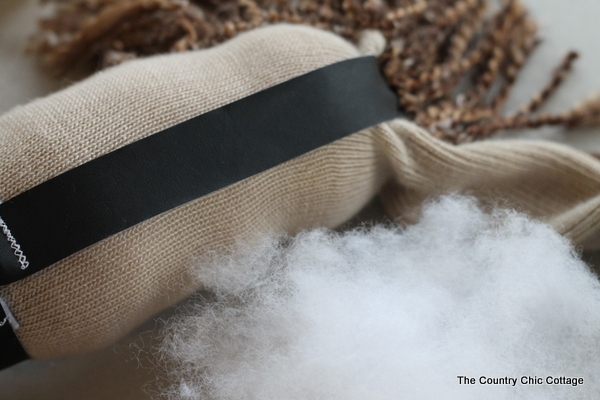 12. Continue adding fiberfill and work and shape your horse until he looks right. You can move the ball once inside the sock if you are not happy with the placement. It is looking a little like a horse now don't ya think?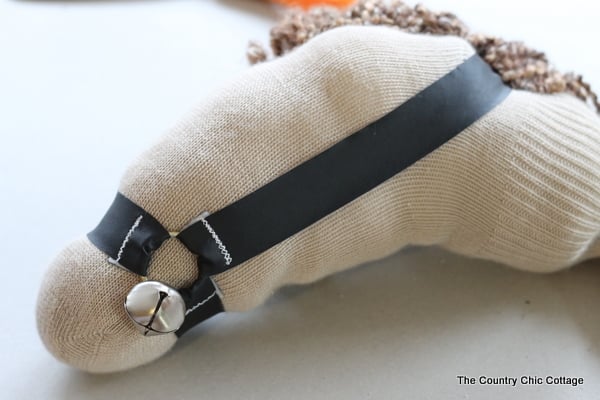 13. Now that you have a horse head, we can give him a haircut. You can keep your mane long, cut it short, whatever you think looks best.
14. Now lets add our lead rope. Tie on the suede cording to the key ring.
15. Leave a little room on the cording at the back of the head for a little hand to hold it. Then tie the opposite end to the other key ring.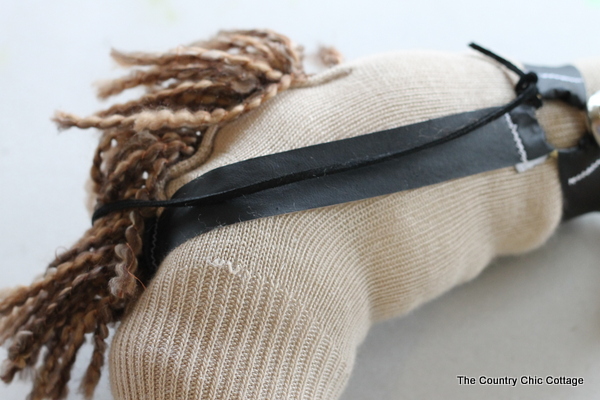 16. It is time for the details! Use brown embroidery floss to go over the toe seam of your sock. This makes a mouth.
17. One white button and one black button make a perfect eye. Just sew them into place.
18. Cut ear shapes from brown felt.
19. Fold them in half and sew them to the head by hand.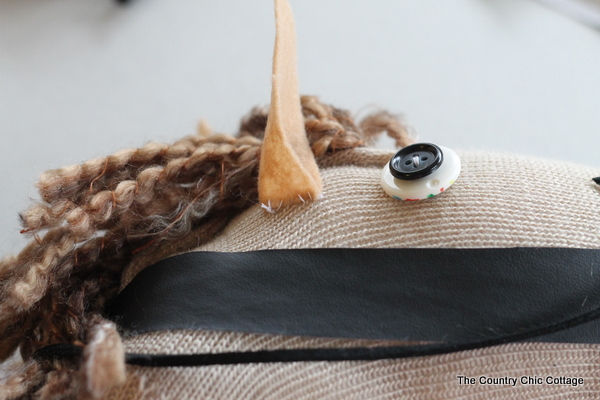 20. Now lets add the stick to our stick horse. Fold up the length of the sock as shown.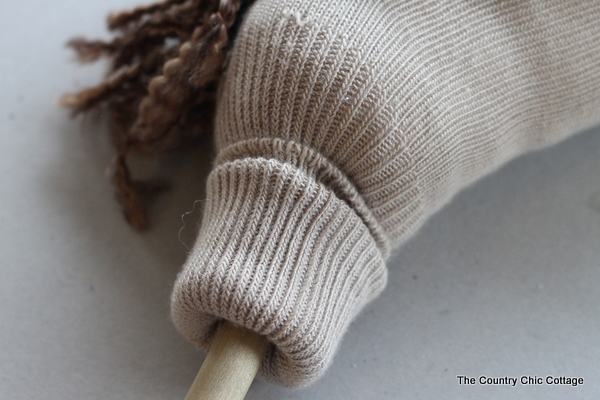 21. Insert your stick into the horse head and push it INTO the Styrofoam ball that is in your head. Make sure you press firmly and that the stick goes into the ball a few inches. Determine where you will tie your horse head into place.
22. Use a pen to mark that approximate location.
23. Remove the stick and add E6000 glue to the marked area and also the very tip of the dowel that will be in the head.
25. Tear your red checkered fabric into an 8 inch square.
26. Tie around your horse's neck to hide your twine. You can also use a bandanna for this step if you would like.
Whew. You are done! I kept on making and making until I had an entire herd of horses ready for a party.
So far so good on these horses. We have had the party and did not have any horse heads come off. I believe the E6000 is working but if you find it fails for you an alternate method for attaching the head may be in order.
Stay tuned all this week as I give you all the details of our cowboy party. You don't want to miss any of the fun.
Grab a pack of socks next time you are at Walmart and make your little buckaroo their own DIY sock stick horse. Hours of entertainment for your little one!