I thought I would share these free printable corner bookmarks with you all. I know some of you might be trying to get your kids to read through all of this and anything that might even encourage a few pages is welcome. Totally in that club with you by the way. So, I have three free designs that you can print below then make these yourself or just have the kids make them. They are literally that easy to make!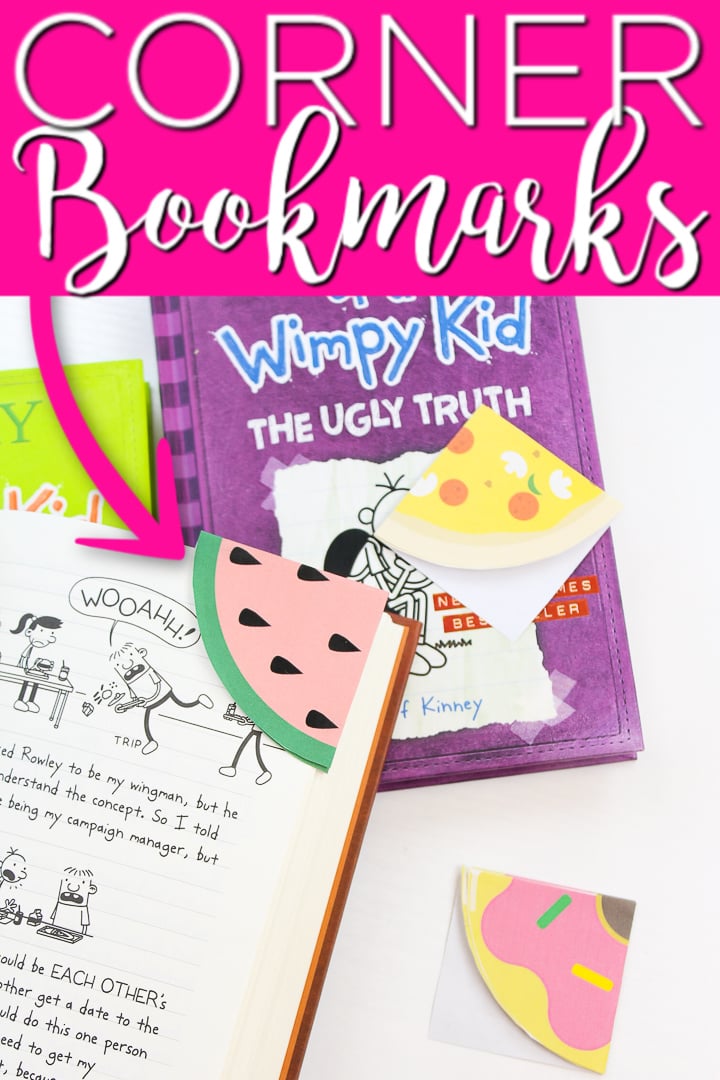 Supplies needed to make corner bookmarks:
Free printable (see below for download instructions)
Double sided tape or glue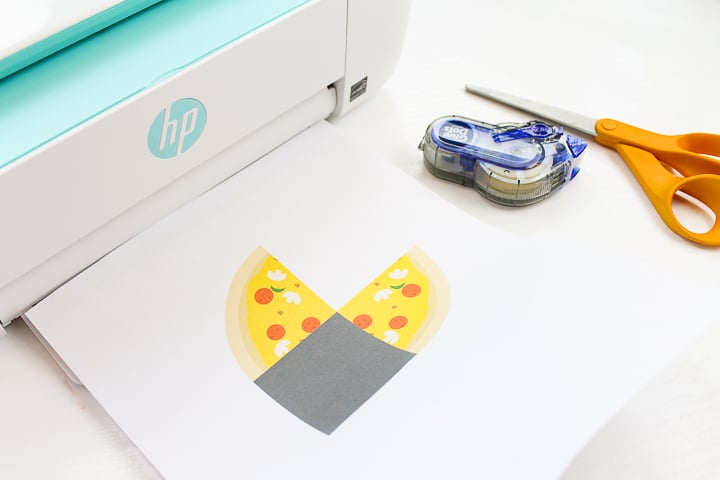 Free Printable Bookmarks
Just sign up for our newsletter in the box below and the free bookmark files will be sent to your email. These will be sent as a zip file with all three designs included. You will need to unzip the file to print each one.
Please note that these are for personal use only. You can also email me if you have any issues with the download and I will try to help. If you already subscribe to our newsletter, still sign up in the form to get the bookmarks. You won't be signed up for anything further.
How to Make Corner Bookmarks
Now that you have your free download, you can print it then follow the simple instructions below to make your own corner bookmarks in minutes. I even have a video you can follow if you would like.
Need more information? You can also see the instructions below. Choose from the pizza, donut, or watermelon designs then follow along with the how-to.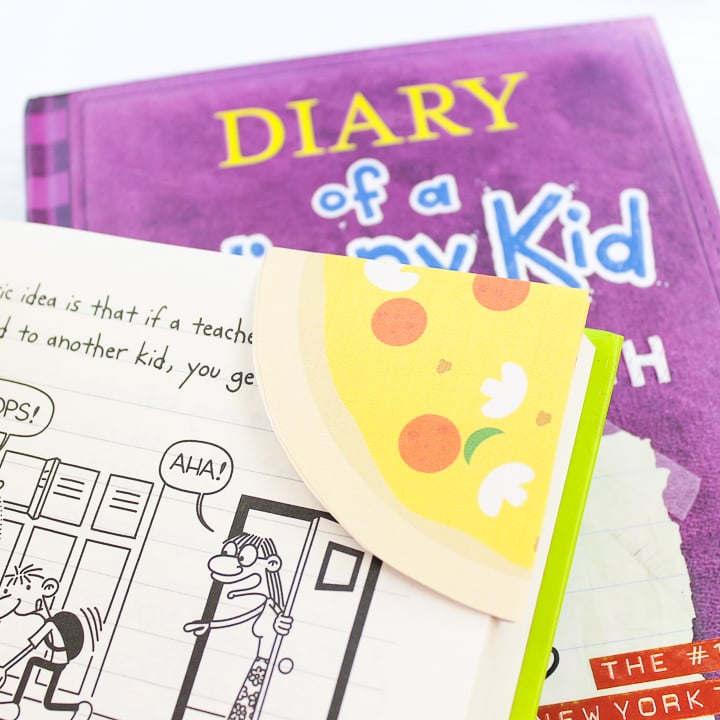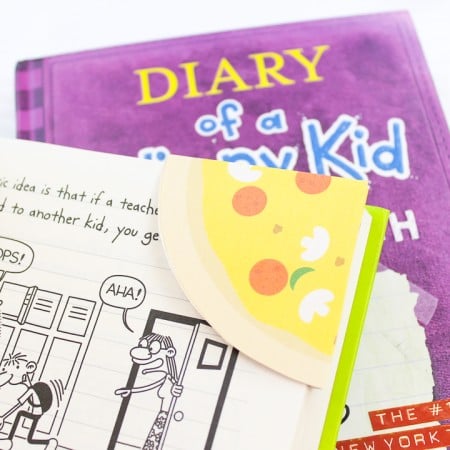 Making Corner Bookmarks
Print and fold these corner bookmarks to help encourage your kids to read!
Instructions
Print the bookmark of your choice onto regular copy paper.

Cut out the bookmark all the way around the outer edge.

Fold the semi-circles over the square as shown.

Then add tape or glue to the inner semi-circle. There should be no tape put on the square portion.

Then adhere the two semi-circles together to complete your bookmark.
Tried this project?
tag us to show off your work!
Add a bookmark like this to the corner of your book to mark your page. Just put over a few pages right in the corner of the book.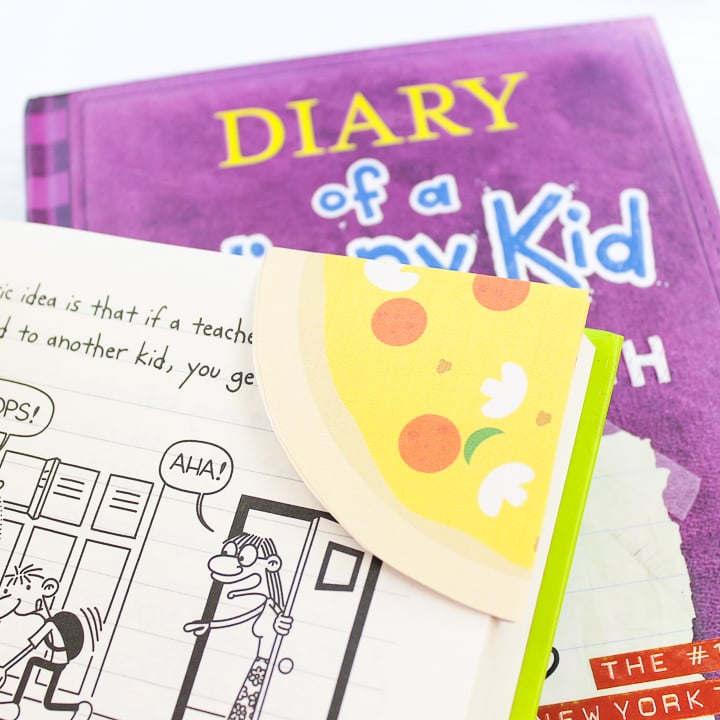 Choose from our three free printable designs. I mean when you have to choose between pizza, watermelon, and donuts can you really go wrong?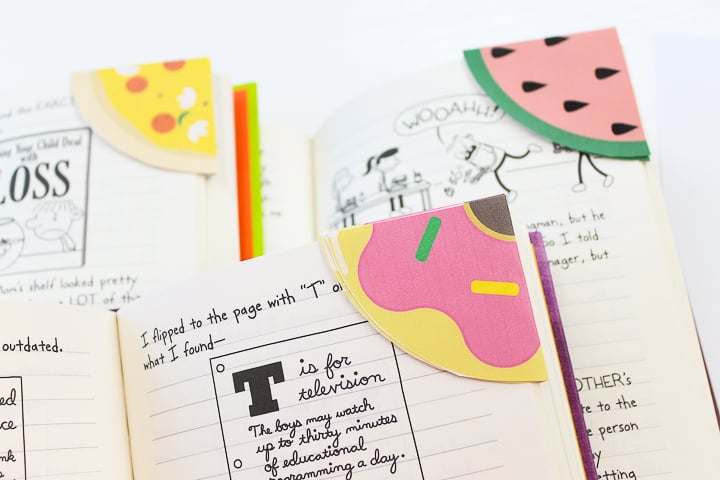 Let the kids make a few of these bookmarks to encourage reading around your home. They are easy to make and will definitely brighten up the corner of any book.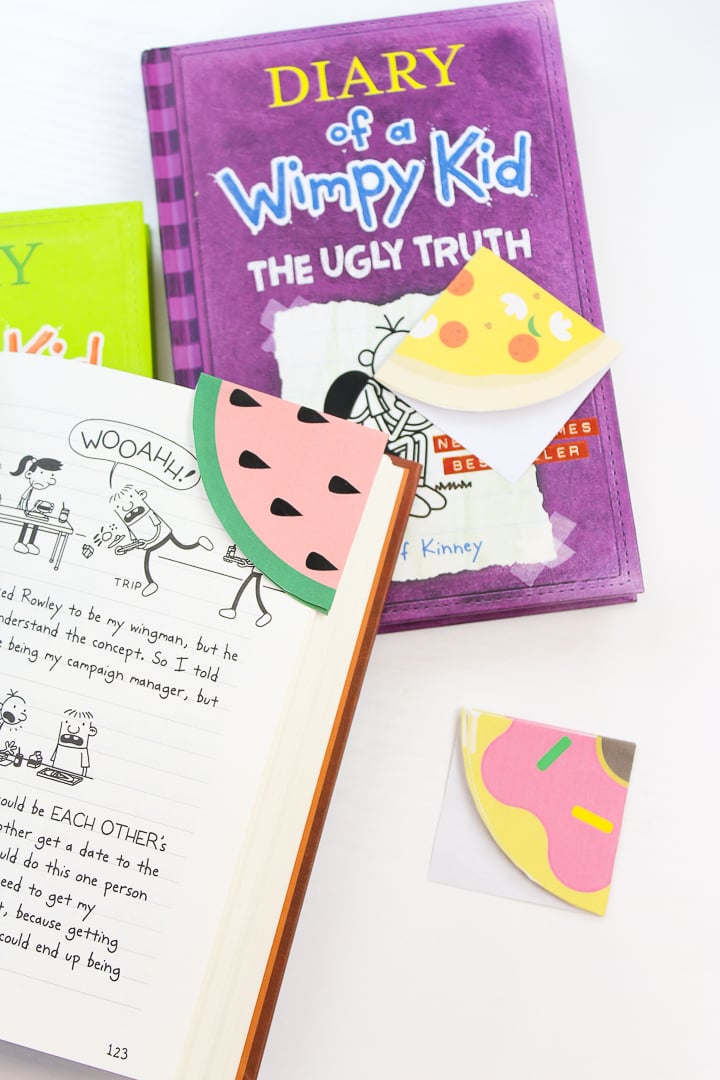 So, will you be making corner bookmarks around your home? I hope you and your children enjoy this easy project as much as we did!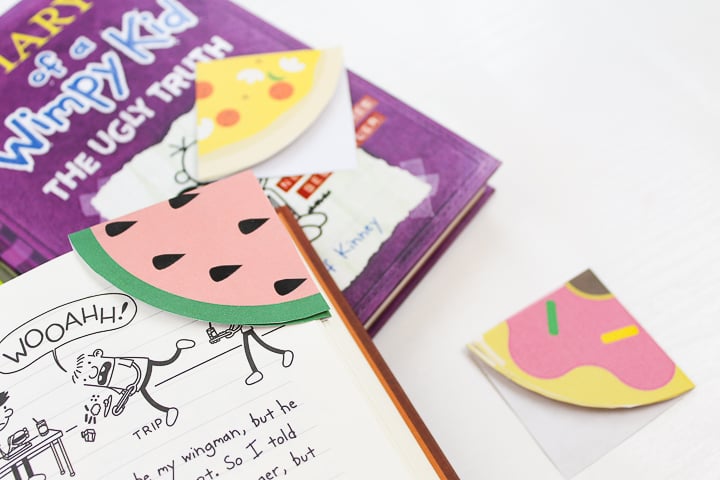 Love these homemade bookmarks and want more ideas? Try the links below as well!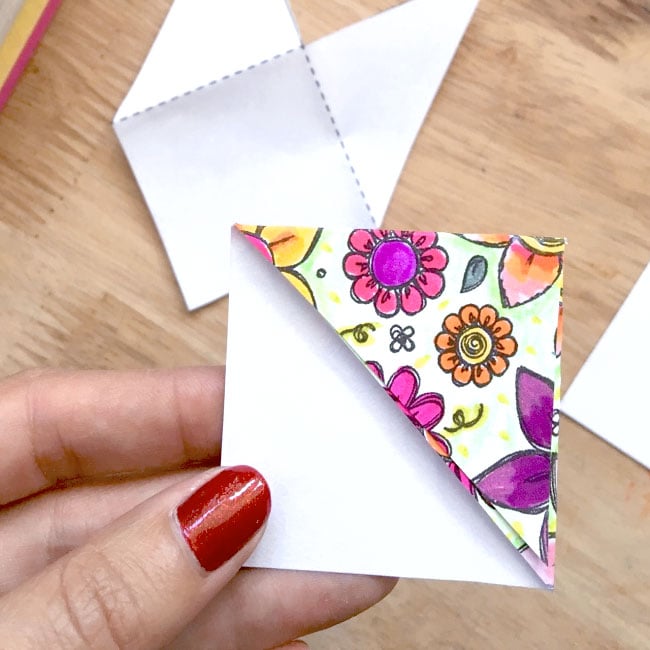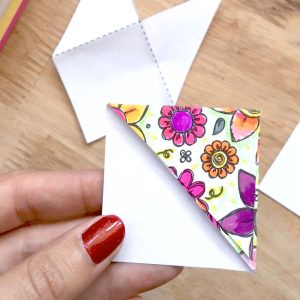 Make Coloring Page Bookmarks
Turn any coloring page into fun bookmarks with this tutorial.
Read More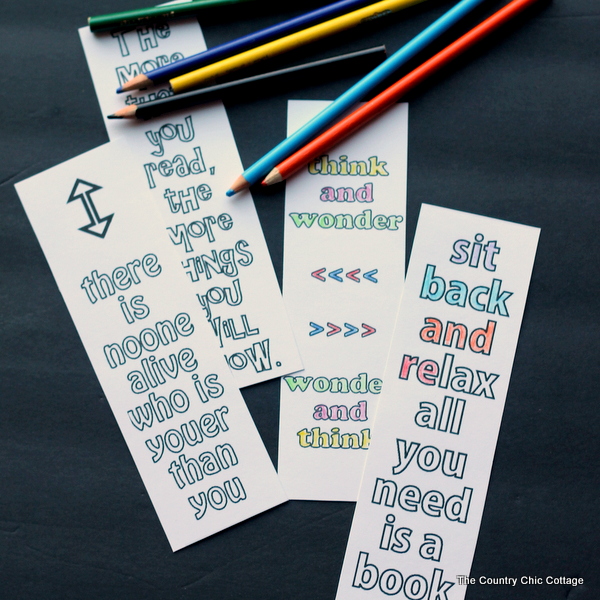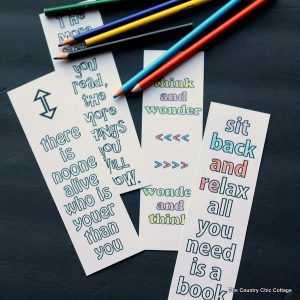 Free Printable Seuss Quote Bookmarks
Love Dr. Seuss? Print these bookmarks and color them!
Read More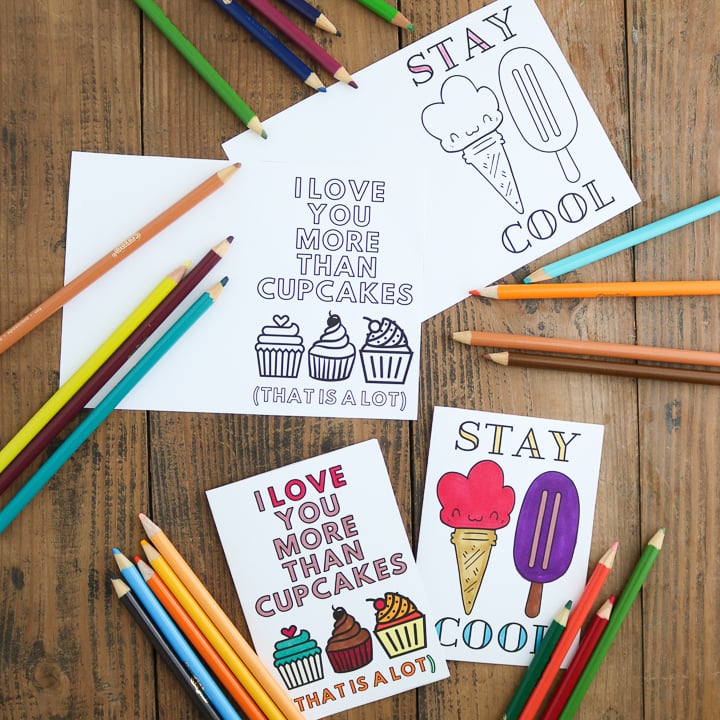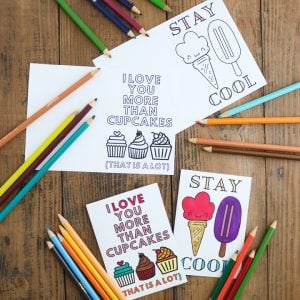 Print Greeting Cards at Home
Print these greeting cards and color them then send them to someone that can use a smile!
Read More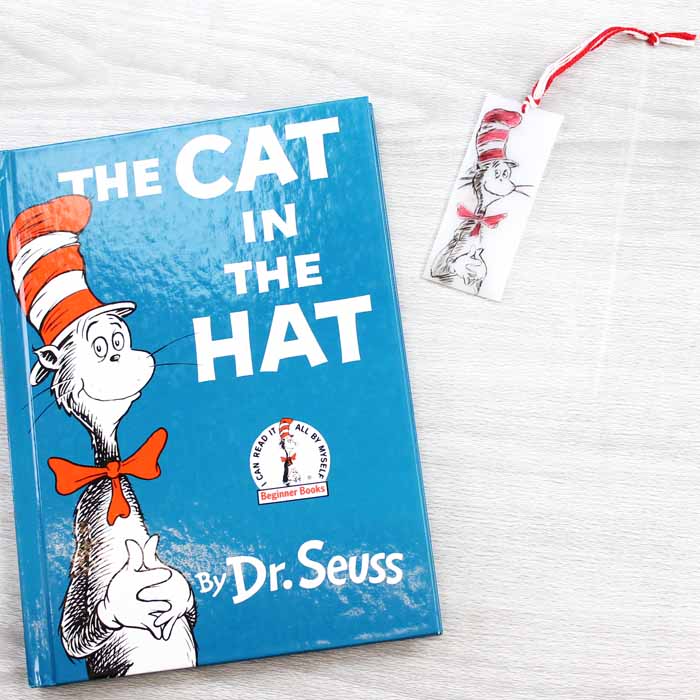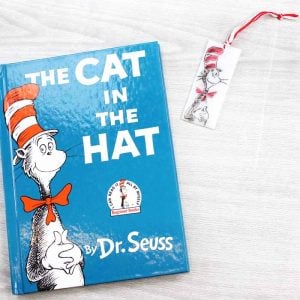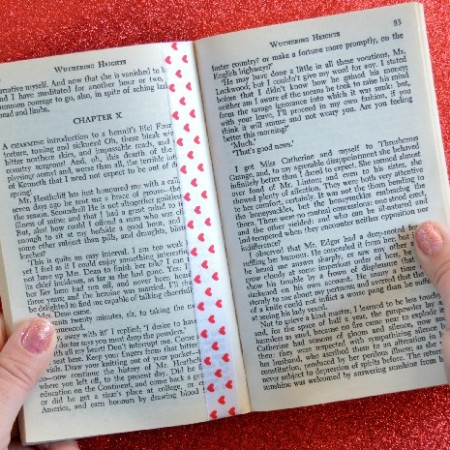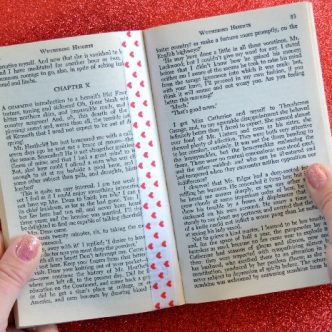 No Sew Ribbon Bookmark
Make a bookmark with ribbon in about 60 seconds with this tutorial.
Read More