This post and photos may contain Amazon or other affiliate links. If you purchase something through any link, I may receive a small commission at no extra charge to you. Any supplies used may be given to me free of charge, however, all projects and opinions are my own.
Are y'all ready to learn how to make a DIY stick horse? You may just die from cuteness! This is the perfect tutorial for a gift for that special kid in your life. I think girls and boys alike would love these stick horses. I actually made a whole herd of them for a cowboy birthday party. Let's get started on our sock stick horses. This tutorial takes a ton of steps but trust me y'all it is easy and YOU CAN DO THIS!
This one was first posted April 2, 2013, however, I am republishing with more information.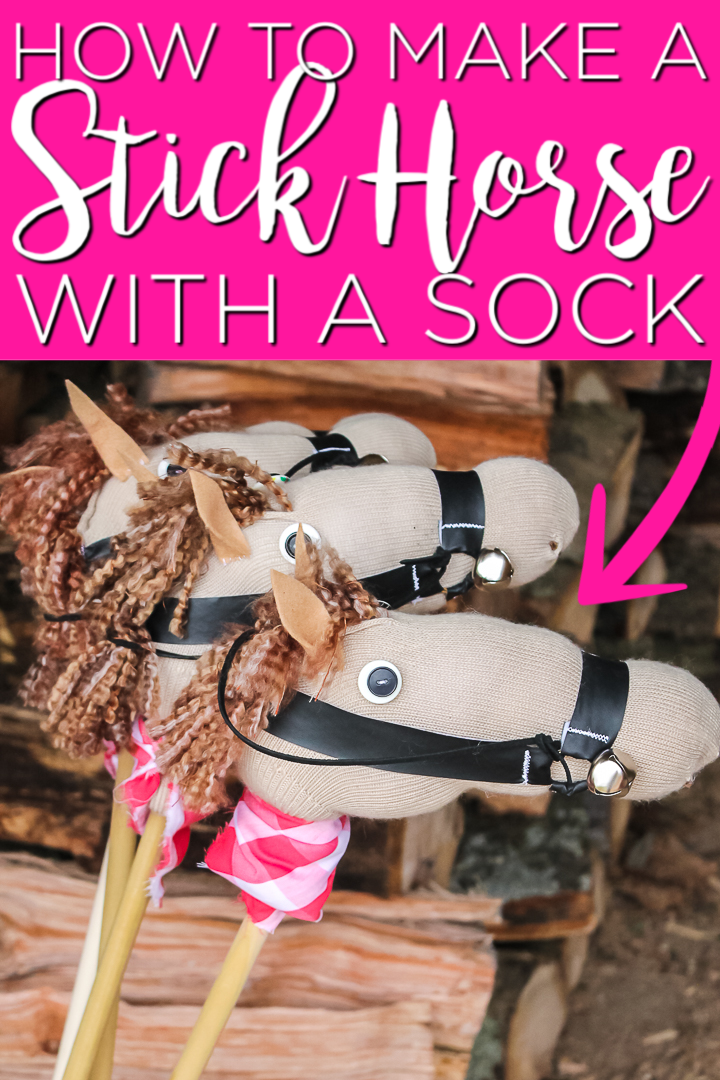 Supplies to Make a DIY Stick Horse:
Brown socks (I found mine in the men's department at Walmart.)
Faux leather fabric in black (I purchased one-yard cut of fabric. A 1/4 of a yard would have been plenty.)
Brass Plated Key Rings (2 per horse) (30 mm rings work best)
1″ Jingle Bells(2 per horse)
2 white and 2 black buttons per horse
Brown felt
Brown embroidery thread
Red plaid material or bandanna
5/8 inch dowel rod 36 inches long
How to Make a Stick Horse:
Now that you have your supplies, it is time to make your sock stick horse. You can use the directions below to do just that. Be sure to pin or print these for use later as you will need them to assemble this one.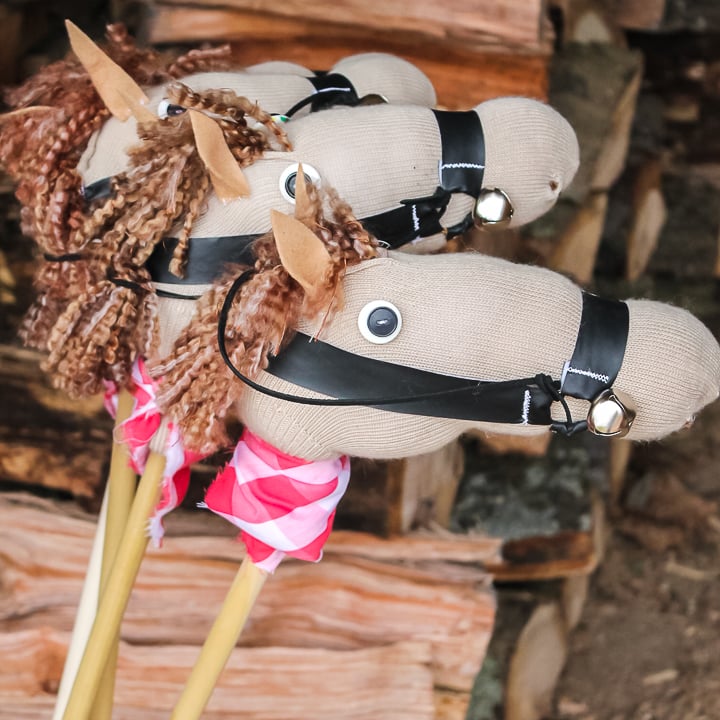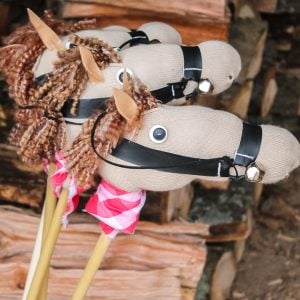 How to Make Sock Stick Horses
Grab those socks (new or old) and make a cute horse for someone special.
Print
Pin
Rate
Supplies
Brown socks

I found mine in the men's department at Walmart.

Faux leather fabric in black

I purchased one yard cut of fabric. A 1/4 of a yard would have been plenty.

Suede lace

1/8 inch

Lion Brand Yarn in Barley

Brass Plated Keyrings

2 per horse (30 mm rings work best)

1 inch Jingle Bells

2 per horse

2 white and 2 black buttons per horse

Brown felt

Brown embroidery thread

2 1/2 inch Styrofoam ball

Red plaid material or bandanna

Hemp twine

E6000 glue

Fiberfill stuffing

5/8 inch dowel rod 36 inches long
Instructions
Let's start with the halter for our horse. Grab your brass plated key rings and jingle bells. Put the jingle bells on the key rings just like you would a key.

Cut your faux leather into 1 inch strips. You will need 2 pieces 5 inches long and one piece 16 inches long. Use the zig zag stitch on your sewing machine to assemble your halter. Sew them to the key ring as shown below.

After all the pieces have been sewn to both key rings you will have a halter for your stick horse as shown below.

Next is the mane. Cut your yarn into 9 inch pieces. You will need several cut pieces for the mane. Mark your sock approximately 2 1/2 inches in front of the heel.

Add a little fiberfill stuffing into the toe of the sock.

Add your halter then add some more fiberfill to the sock. Stop when you get close to your mark for 2 1/2 inches.

Using that same zig zag stitch, begin at your 2 1/2 inch mark. Fold each piece of yarn in half and sew the fold to the sock. Pull the sock tight as you go slowly adding in yard mane pieces. Be sure to stretch and pull the sock as you sew. The halter should fall right on the back of the heel of the sock. Sew it into the mane. Stop sewing when you reach the ribs of the sock.

Add fiberfill until you get to the heel area of the sock. Then add in your Styrofoam ball.

Add more fiberfill UNDER the ball to make that area of your horse wider.

Continue adding fiberfill and work and shape your horse until he looks right. You can move the ball once inside the sock if you are not happy with the placement. It is looking a little like a horse now don't ya think?

Now that you have a horse head, we can give him a haircut. You can keep your mane long, cut it short, whatever you think looks best.

Then add a lead rope. Tie the suede cording to the keyring.

Leave a little room on the cording at the back of the head for a little hand to hold it. Then tie the opposite end to the other key ring.

It is time for the details! Use brown embroidery floss to go over the toe seam of your sock. This makes a mouth.

One white button and one black button make a perfect eye. Just sew them into place.

Cut ear shapes from brown felt then fold them in half and sew them to the head by hand.

Now let's add the stick to our DIY stick horse. Fold up the length of the sock as shown.

Insert your stick into the horse head and push it INTO the Styrofoam ball that is in your head. Make sure you press firmly and that the stick goes into the ball a few inches. Determine where you will tie your horse head into place. Use a pen to mark that approximate location.

Remove the stick and add E6000 glue to the marked area and also the very tip of the dowel that will be in the head.

Insert the dowel back into the head and use hemp twine to tie the head firmly into place. Be sure to let the glue dry the recommended time on the packaging!

Tear your red checkered fabric into an 8-inch square then tie around your horse's neck to hide your twine. You can also use a bandanna for this step if you would like.
Whew. You are done! I kept on making and making until I had an entire herd of horses ready for a party.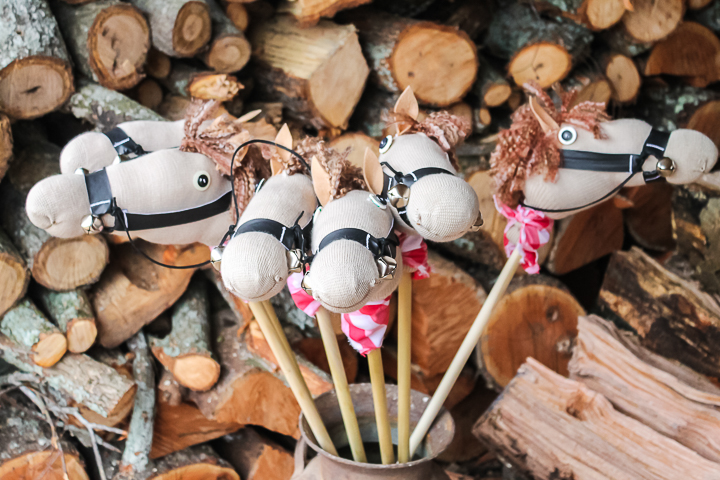 So far so good on these horses. We have had the party and did not have any horse heads come off. I believe the E6000 is working but if you find it fails for you an alternate method for attaching the head may be in order.
Grab a pack of socks next time you are at Walmart and make your little buckaroo their own sock stick horse. This will provide hours of entertainment for your little one!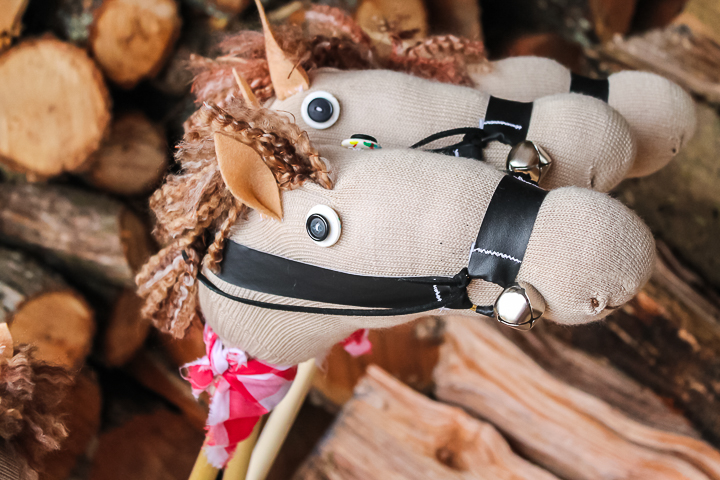 You could even recycle an old sock into this fun craft. Just be sure to follow the instructions above. I think you could substitute a lot of the supplies actually. And if you don't have things like the jingle bells, just leave them off!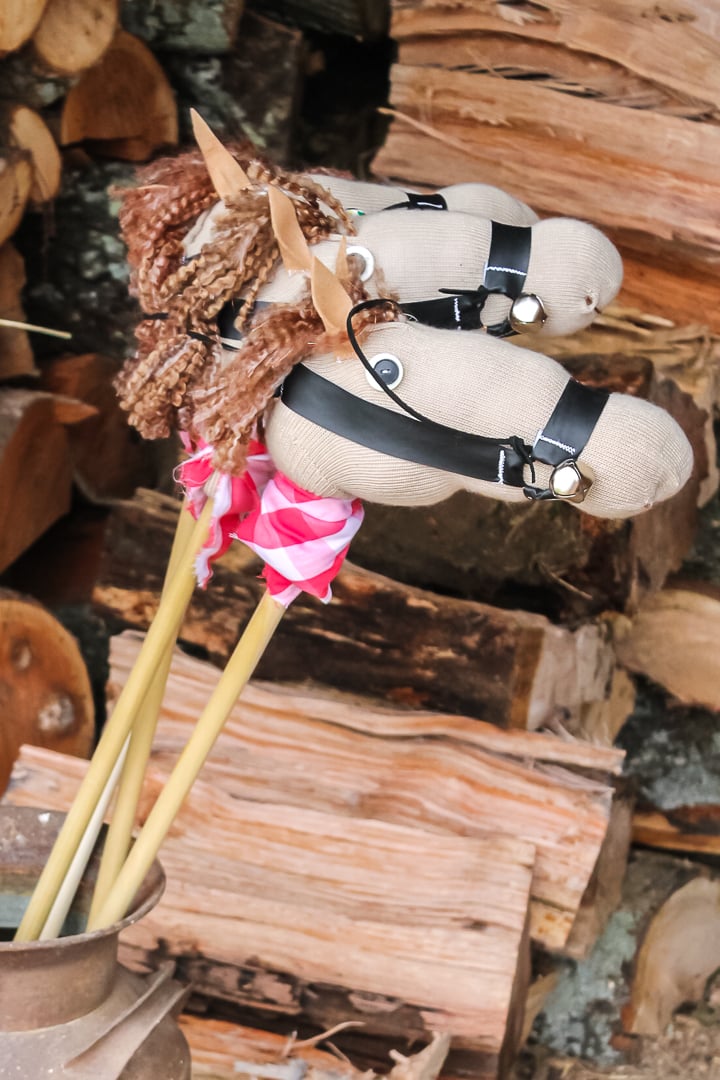 Kids of all ages will love using their imagination to ride a cute horse and they are actually pretty easy to make yourself.
So, make a DIY stick horse (or five) and get to riding! I can just imagine what your kids will think of this fun craft idea.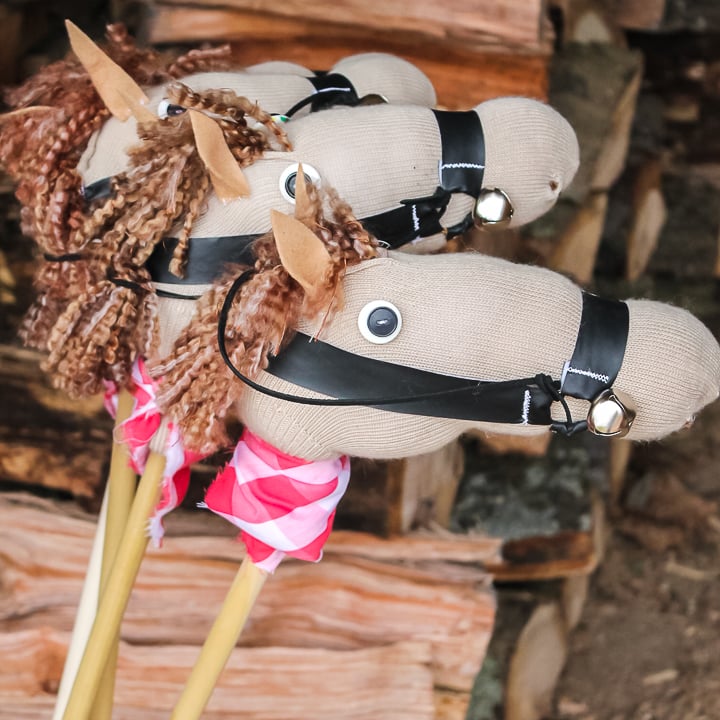 Love this project for the kids and want more ideas? Try the links below as well!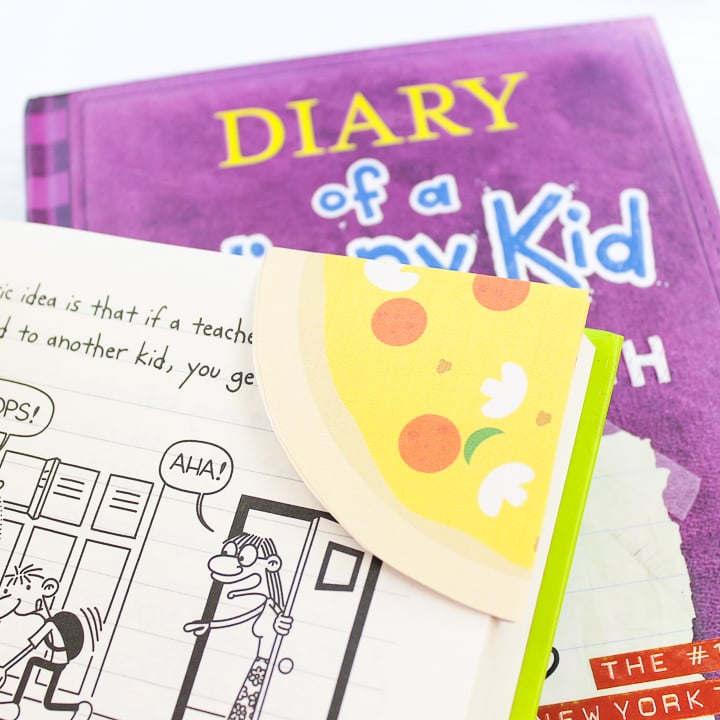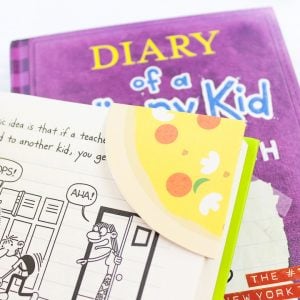 Making Corner Bookmarks
Print and fold these corner bookmarks to help encourage your kids to read!
Read More Here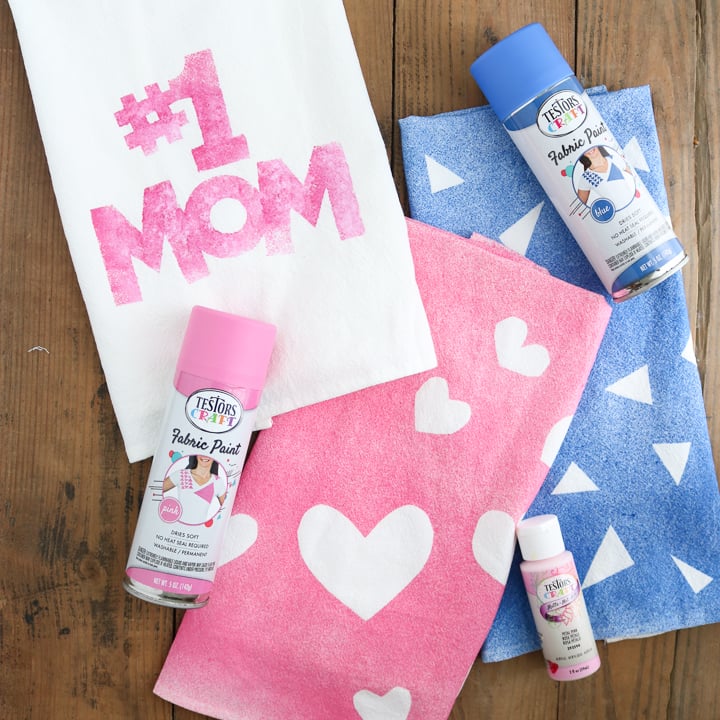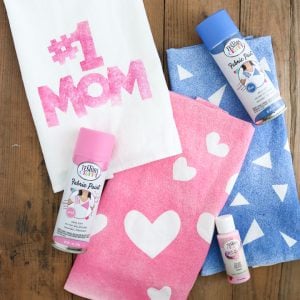 Freezer Paper Stenciling
You can make stencils with freezer paper and paint them using our two methods below!
Read More Here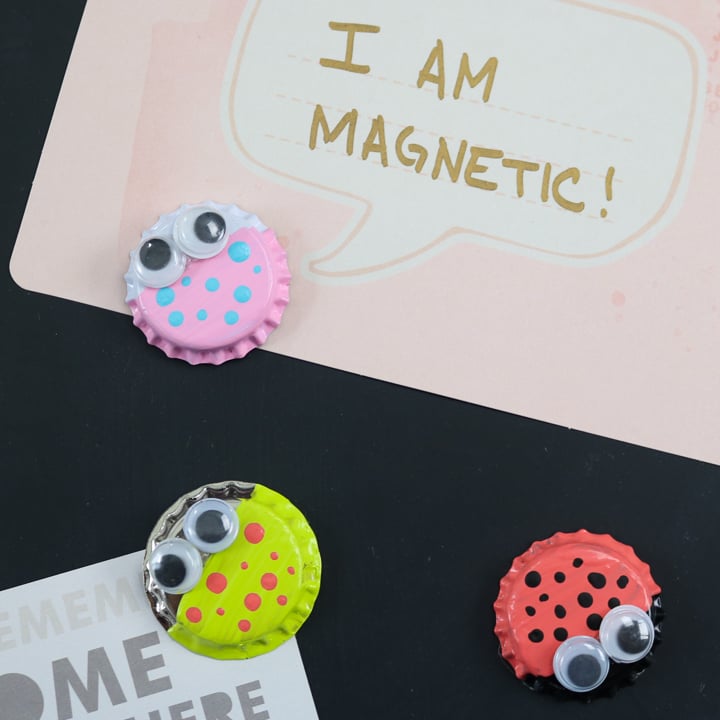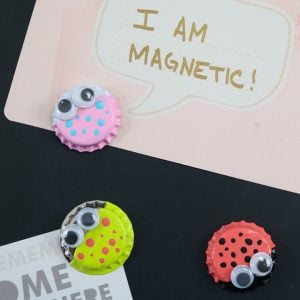 Bottle Cap Magnets: Bug Crafts
Let the kids get crafty by making these bottle cap magnets that look like cute bugs with your little ones!
Read More Here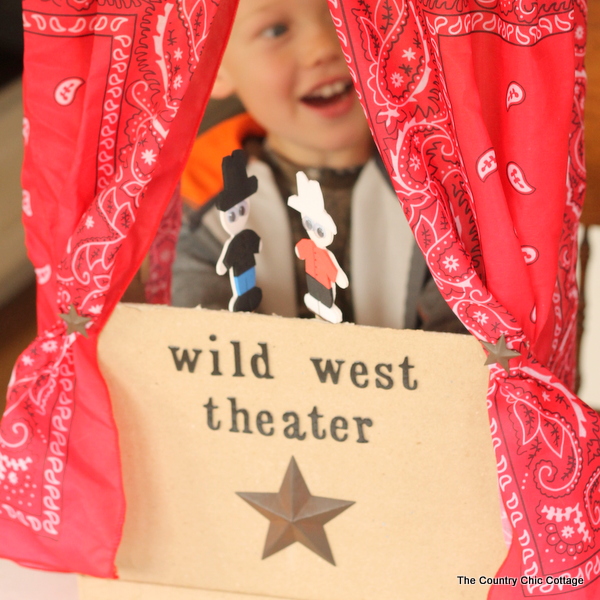 Wild West Puppet Theater
Make them a puppet theater and let them play all day long!
Read More Here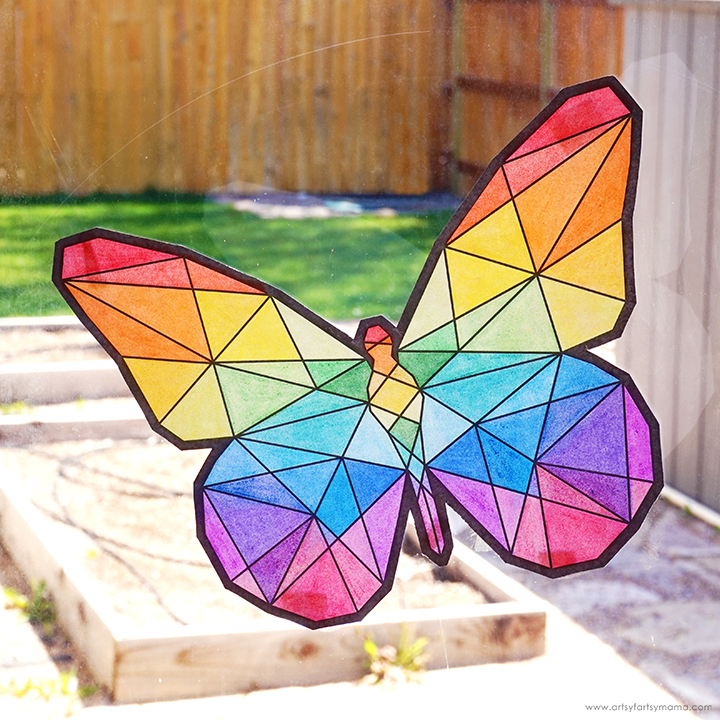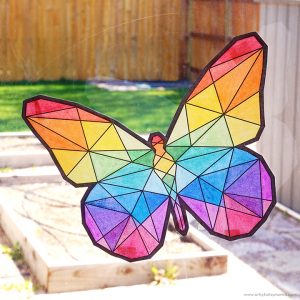 Butterfly Sun Catcher
Make this gorgeous sun catcher for your windows for some color indoors and out!
Read More Here