Map art can be frugal and beautiful! And with this easy DIY map canvas project, you get both.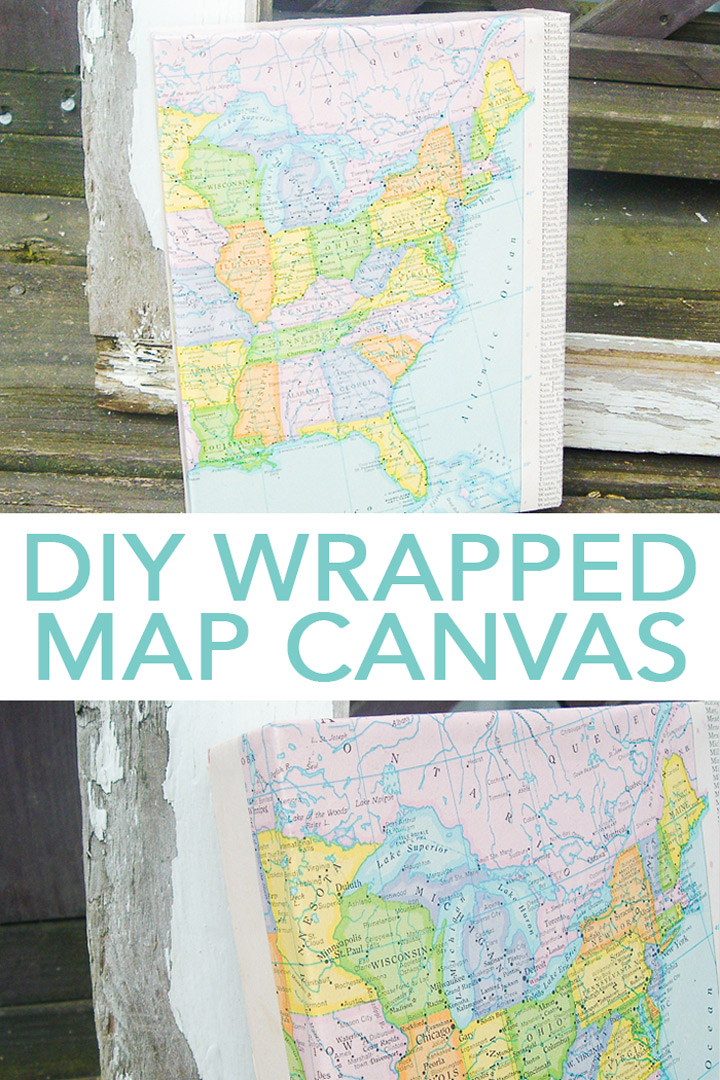 Calling all map-lovers! Today, I have a great map craft idea you'll love: a DIY map canvas.
A DIY wrapped map canvas is both easy and inexpensive (my favorite combo!).
I first saw this post from Nesting Place and just had to recreate the same look in my home. With just a few supplies from the thrift store, you too can make your own map craft to display around your home.
How To Make A Map Craft Using A Canvas
This canvas wall map project is so easy that I'm including two different versions for you so you can pick which one you like best and make one (or more!).
Supplies To Make A Map Canvas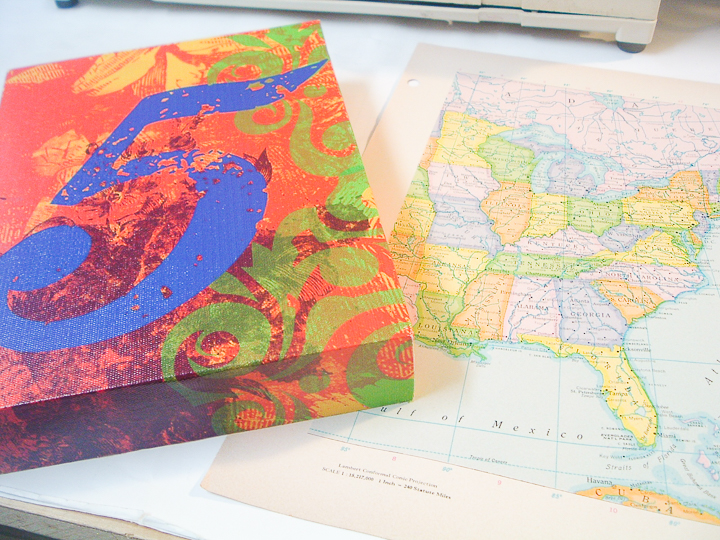 Directions For Making Map Crafts
Here are the directions for the first version of this craft. In this version, we'll use an actual canvas.
Step 1
Start with an inexpensive canvas. You can find them for very little at a thrift store, or you can pick up a new one from a craft store if you prefer.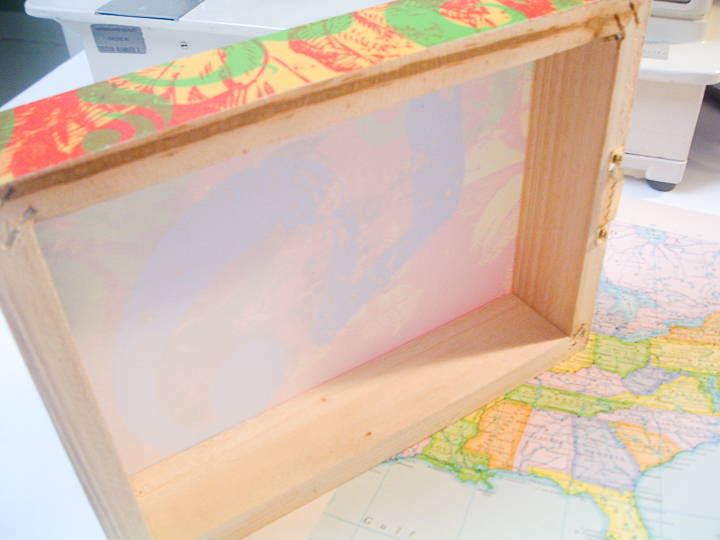 Step 2
Just wrap your map around the canvas like a present. Then, use Mod Podge to adhere it to the canvas. Trim the map to size as required.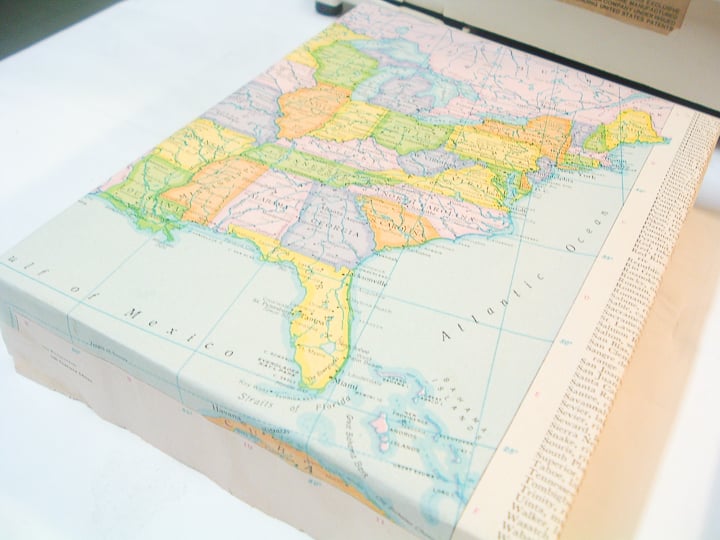 See how the corners are folded just like a present? Be sure to secure the sides and corners with the decoupage as well.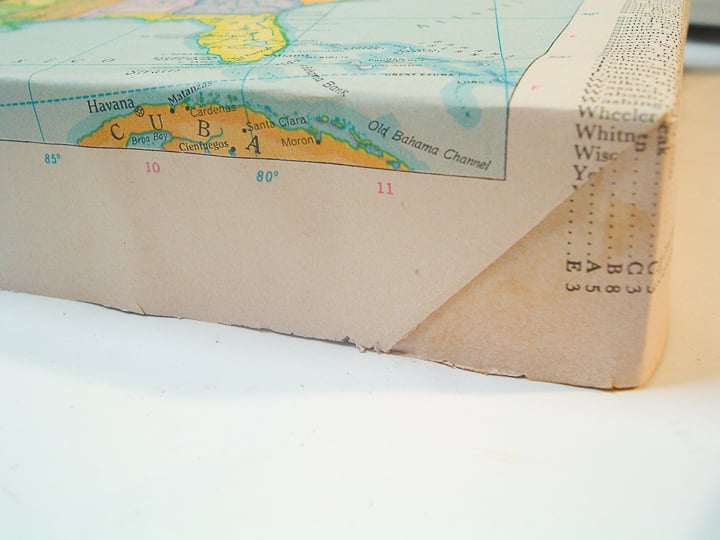 Step 3
Apply a thin layer of mod podge all over the top of your map. You will want to be sure to cover the back as well so that you adhere your map edges to the canvas.
Note: The back was the only area where I thought my map might lift up from my canvas, so I gave it a good layer of decoupage to prevent that.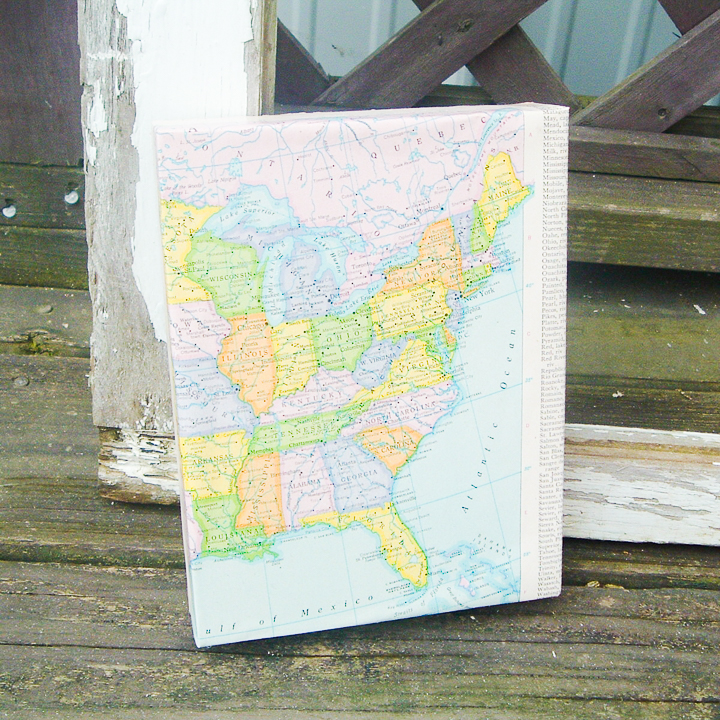 Step 4
Then, just let it dry and you have one gorgeous piece for your home!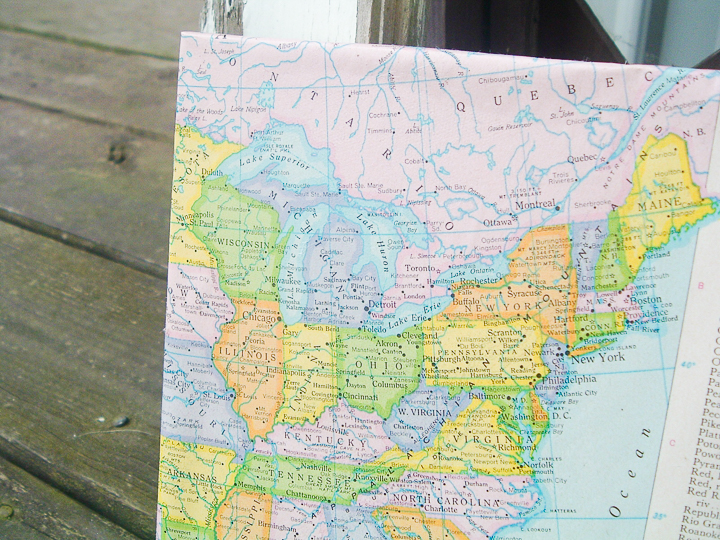 I love how the map wraps around the edges. 🙂
How To Make Faux Canvas Map Art
Don't have a canvas? I have another way to fake a wrapped map canvas below using a picture frame.
Supplies Needed For This Method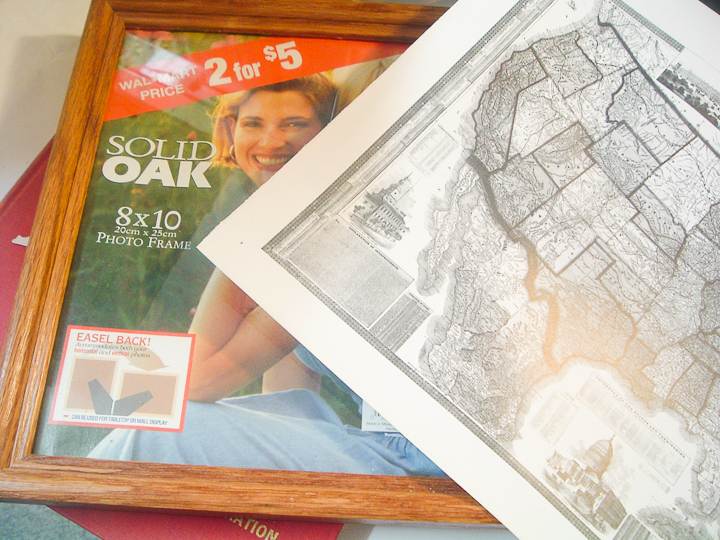 Directions For DIY Faux Map Canvas Project
What if you don't have a canvas or can't find one? Well, then you can use an old picture frame that you might have lying around your home and follow these directions.
Step 1
Take your map and turn it over. Then, put the picture frame on the back of the map.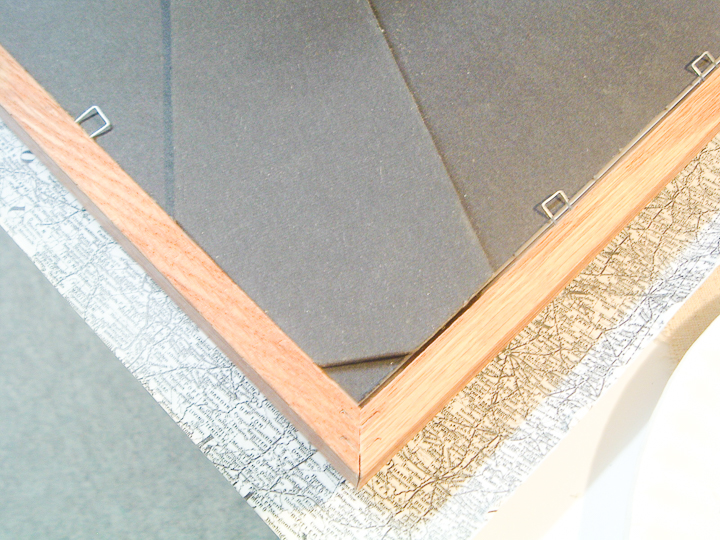 Step 2
Then, start wrapping the picture frame up like a present using the map. Secure it in place with a little bit of hot glue.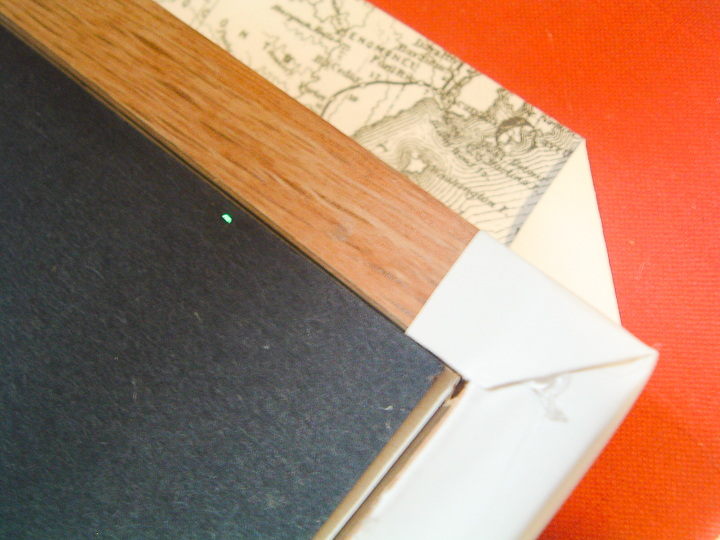 Step 3
Let it dry and you're done.
I actually love both of these map craft ideas – the differences are subtle, and they both look amazing when finished!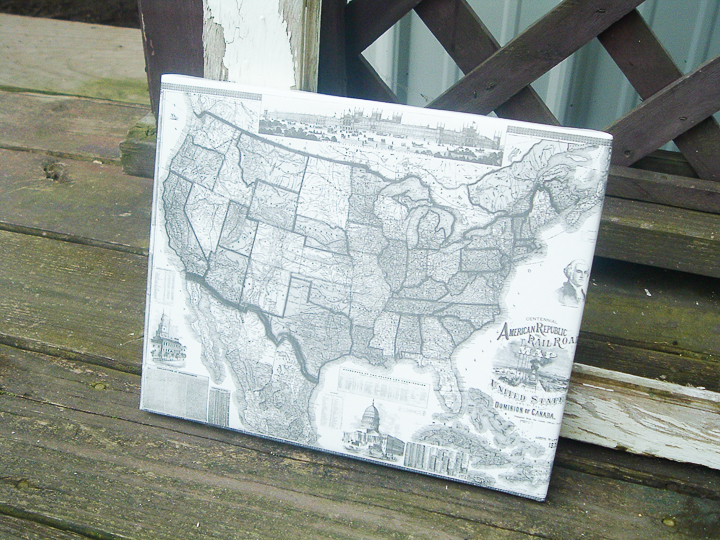 You know me…I love any craft idea that is this quick and easy to make but yields amazing results.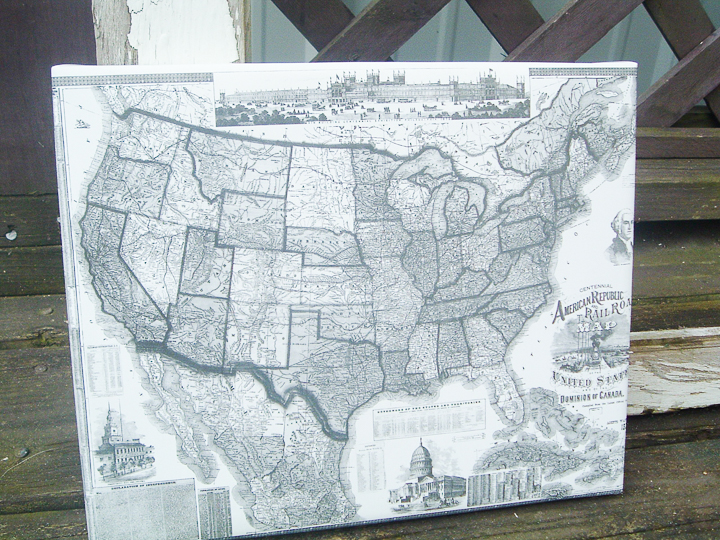 This black and white version is actually from a book of old railroad maps that I found at a thrift store and fell in love with.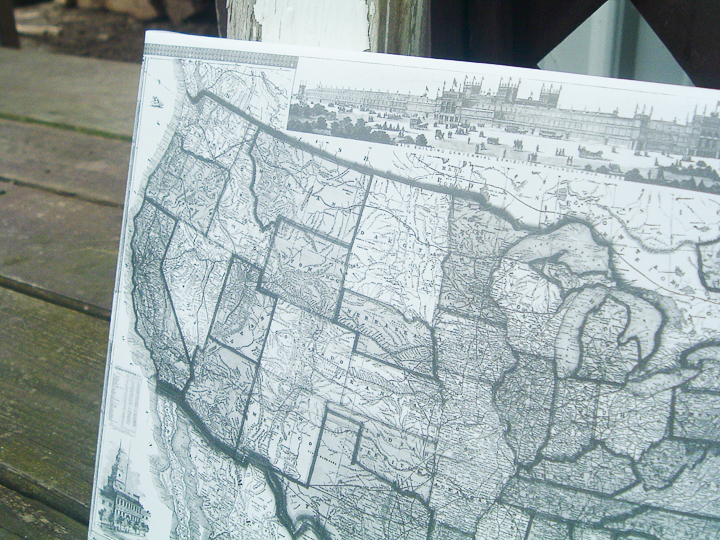 If you love old maps, this is a great idea for displaying them in your home, even if you have a tight budget.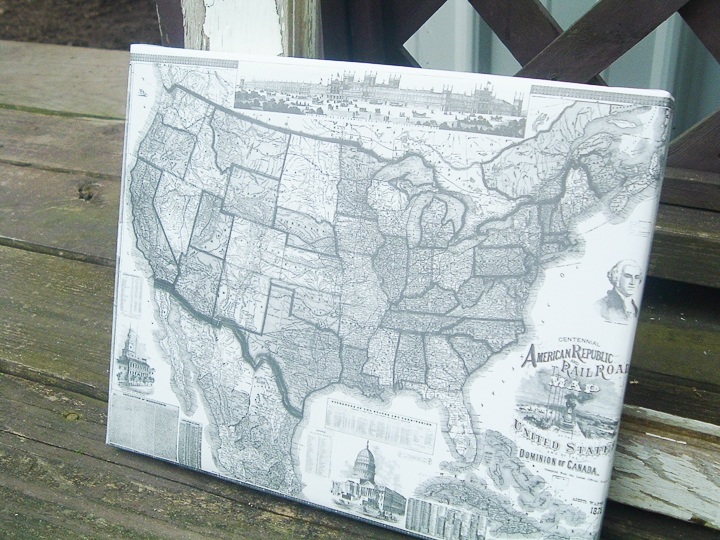 Which of these map craft ideas will you make for your own home?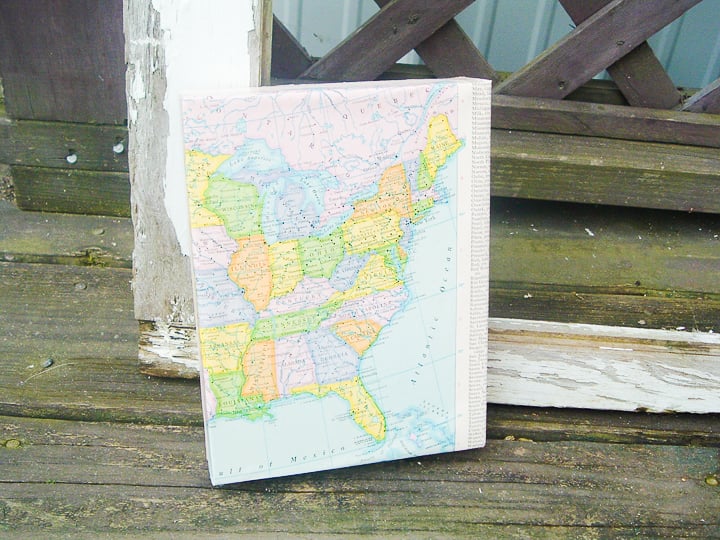 I really can't decide which I like better so I'll be adding them both to my home decor.
Grab your supplies and make a map craft like these today. You will love how they turn out!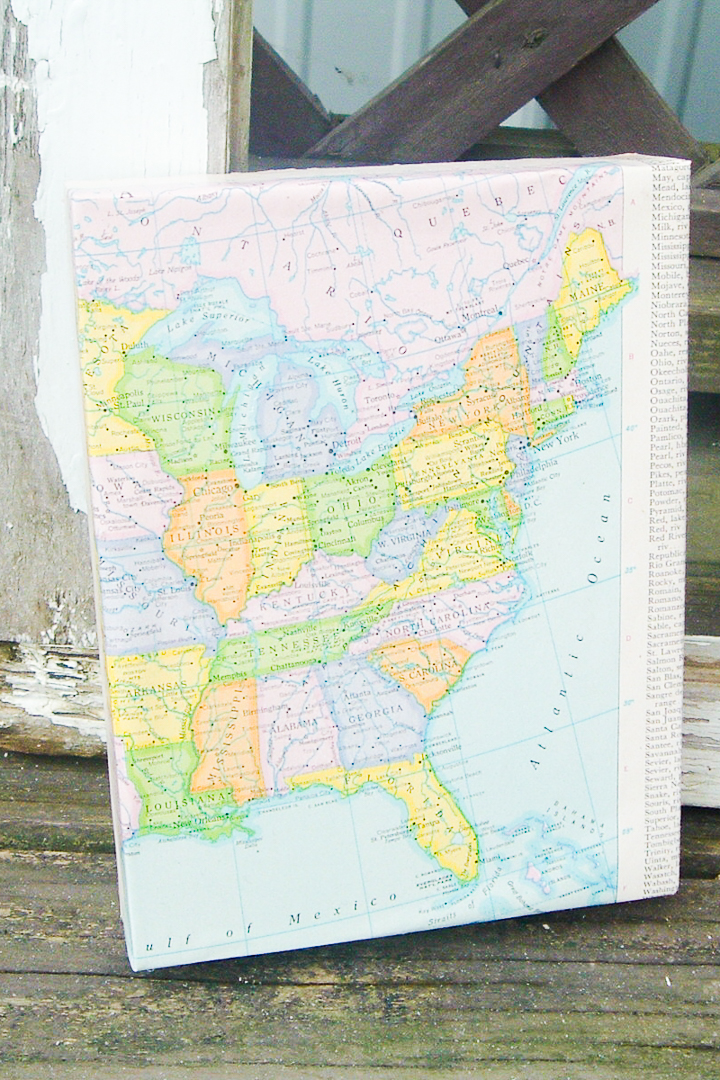 Love Map Crafts? Me Too! Here Are Some More Ideas: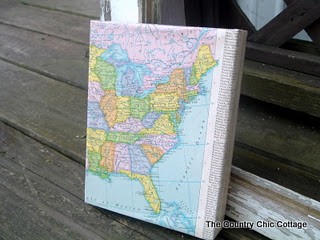 How to Make a Map Canvas
Use this quick and easy process to turn a simple map into a canvas piece of art!
Supplies
Canvas

(I got mine at the Thrift store)

Map

Mod Podge
(Style #2) Faux Map Canvas Using a Picture Frame Supplies
Old Picture Frame

Vintage Map

Hot glue and a glue gun
Instructions
Start with an inexpensive canvas and your map.

Simply wrap your map around the canvas like you would wrap a present. Trim your map if needed. Adhere it to the canvas using Mod Podge.

Apply a thin layer of mod podge to the top of your map as well. Don't forget to cover the part of the map that covers the back to prevent your edges from lifting up.

Allow time to dry, then enjoy your art!
(Style #2) Faux Map Canvas Using a Picture Frame Directions
Turn your map over so the back is facing up. Then put your picture frame on top of the back of the map.

Simply wrap the picture frame up like a present with the map. Use hot glue to secure it in place.
Tried this project?
tag us to show off your work!