These Easter jars are the perfect gift for any little ones on your spring gift-giving list. You can make them in minutes then add in an Easter bunny and candy. These will also look great around your home for home decor. So grab your supplies and get started on your Easter mason jars today. Then the Easter bunny can leave these on Easter morning.
This post is sponsored by Testors, however, all projects and opinions are my own.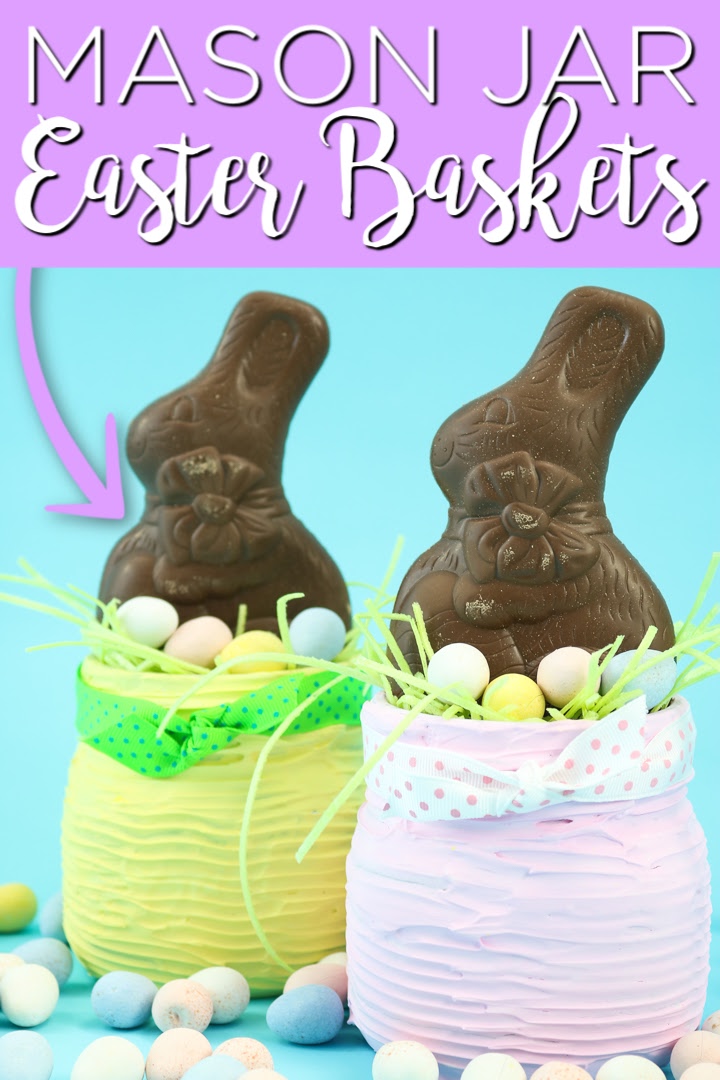 Supplies needed to make Easter jars: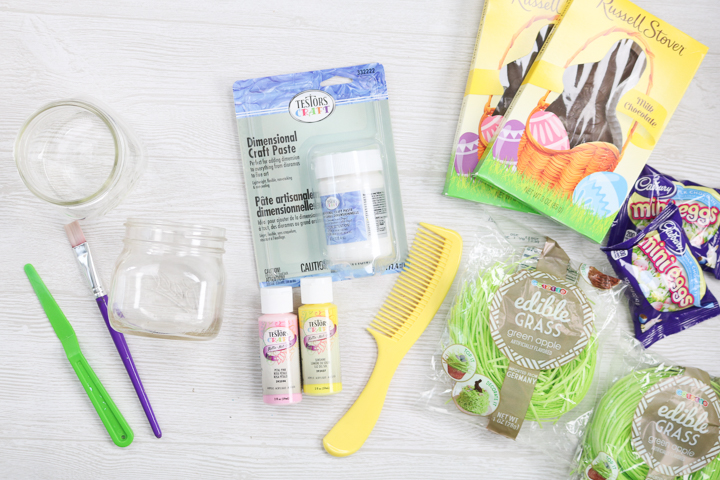 How to Make Mason Jar Easter Baskets:
This is also a great project to get the kids to help with. They can help add the texture to the jars then fill them up with candy and give to their favorite teachers!
Easter Mason Jars Video
If you want to see just how to make these Easter jars, just watch the video below.
Can't watch the video or missed some of the steps? We have step-by-step instructions below as well.
Making Mason Jar Gifts for Easter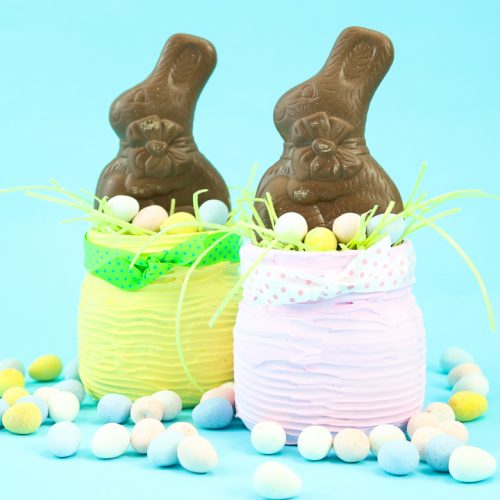 Making Easter Jars
Making your own mason jar Easter Baskets is so easy to do! Give them a try following the instructions below.
Supplies
Palette knife or Craft stick
Mason jars

I find that this size works best.

Old comb

Ribbon

Edible Easter grass

Chocolate Easter bunny

Easter egg candies
Instructions
Start by making sure your jars are clean and dry. Then apply the dimensional craft paste to the outside of the jar. Use a medium to heavy coat making sure to cover the entire jar. You can use a pallet knife or craft stick for this.

Once your entire jar is covered you can start pulling the comb through the craft paste to create a basket-like effect. Use an old comb for this that you are going to keep in your craft room as you don't want to use it for anything else after using it for crafting. Do this over the entire jar so that your entire jar has a texture.

Once your jar is completely covered as well as texturized with the comb then you'll want to set it aside to dry completely overnight. Once dry, you are ready to paint the jar in any color that you like.

Just add the paint with a paintbrush all over the jar. I found that one coat was fine but you can add two if you feel it needs it. Then allow the paint to dry completely.

Once everything is dry, add a ribbon around the top. Tie into place and trim any excess with scissors.

Fill the jar with edible Easter grass.

Then put in a chocolate Easter bunny. Finally, add in a few chocolate Easter eggs around the bunny.

Now your Easter jars are complete and ready to give to anyone on your Easter list. Everyone will love these cute jars and receiving them for Easter.
Tried this project?
tag us to show off your work!
Mason jar Easter baskets may just become a new family favorite! Everyone will love giving and receiving these cute jars this spring.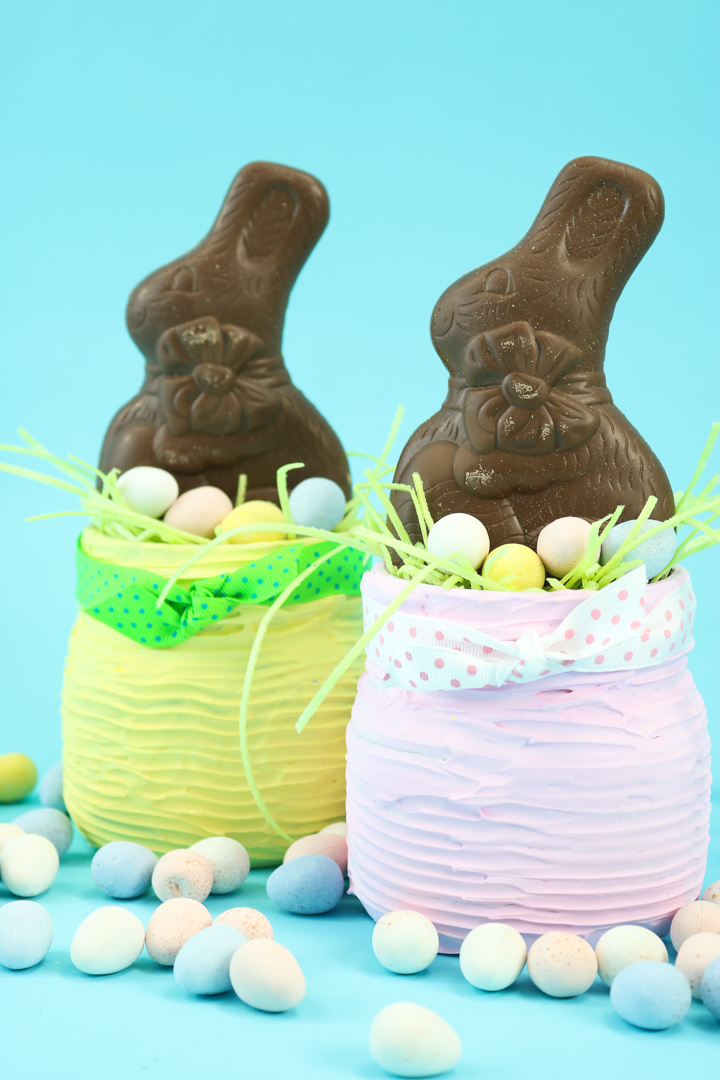 So, who will you make Easter jars for this year? I can think of a few people that may need one…or two…including me! But I am always a sucker for a good mason jar craft so that probably comes as no surprise to any of you. What about you? Do you want a cute mason jar from the Easter bunny this year?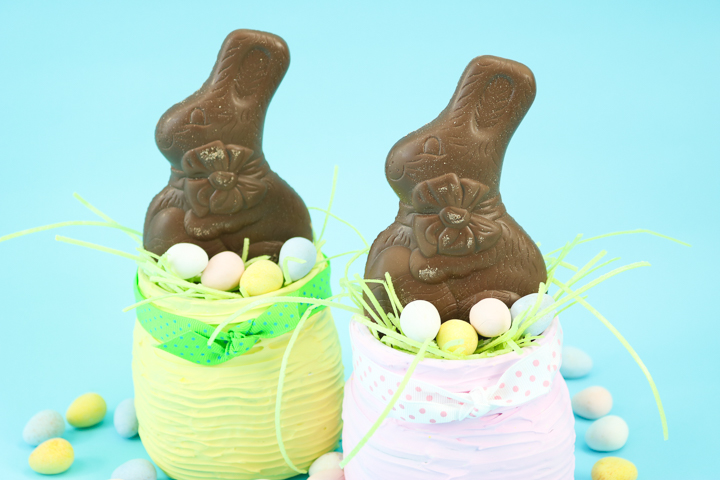 So, do you love these mason jars for Easter and want more ideas? Try the links below as well!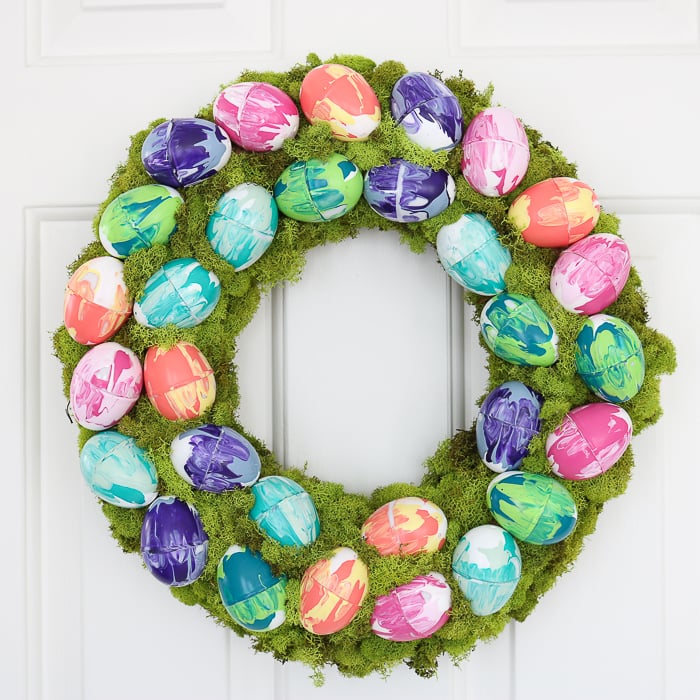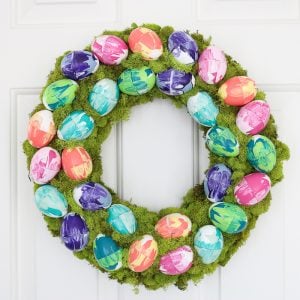 Marbled Eggs Wreath
Marble
craft paint
over plastic Easter eggs to make a wreath everyone will love for Easter this year.
Read More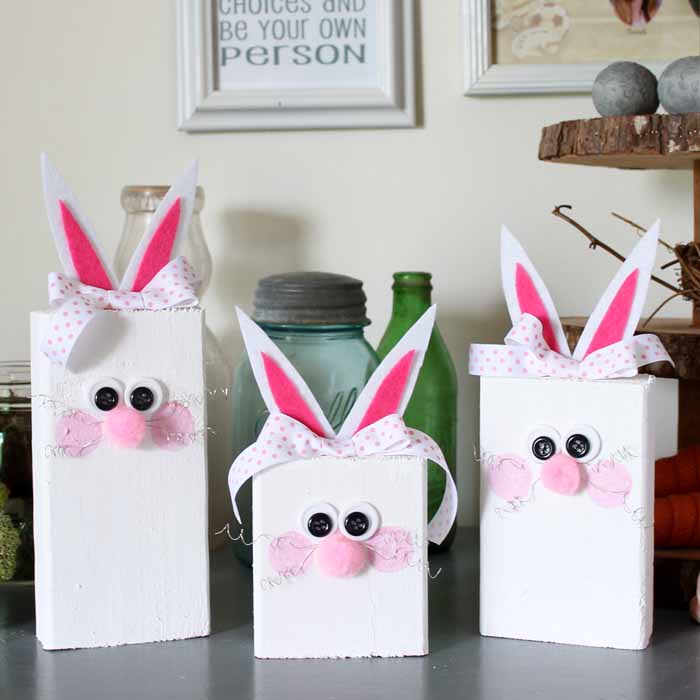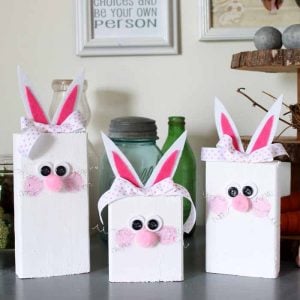 Easter Bunnies from Scrap Wood
Paint scrap wood to look like bunnies and add them to your home decor this spring.
Read More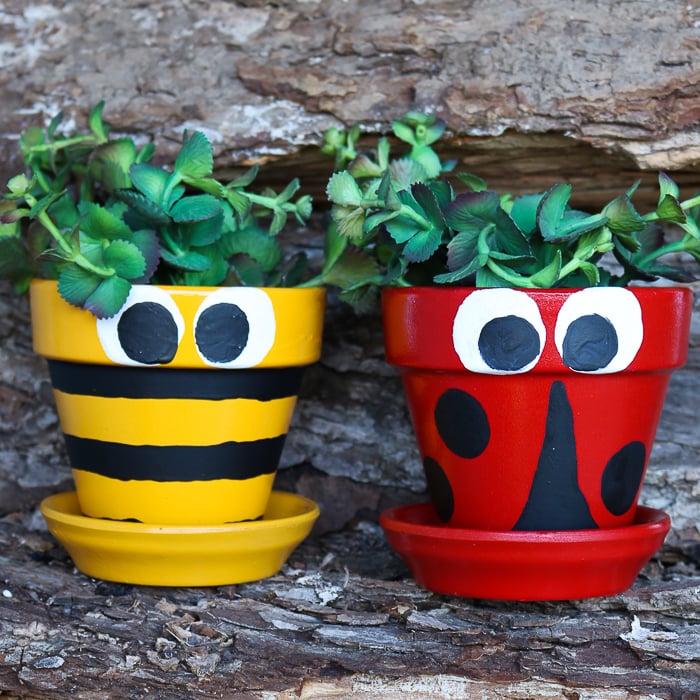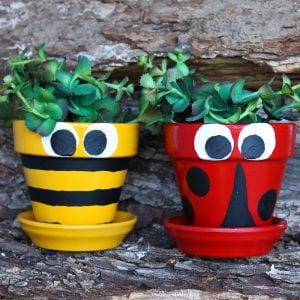 Pot Decoration Ideas for Spring
What would spring be without a few plants? Add these planters to your patio for a touch of whimsy!
Read More
A Year of Jar Crafts
Sign up for our email list to get a FREE book with an entire year of jar crafts! 12 months, 12 crafts, tons of fun!